Google Map plugins make it super simple for the WordPress users to integrate the maps into their site. Create a customized Google Map for your site with these Map plugins
Google Map is an unavoidable part of the sites that is location dependent. The Google Maps make it very simple for the online users to find local businesses.
Nowadays, most of the top quality WordPress themes come with readily integrated Google Map system, so you don't need to use an external plugin to add the map feature.
We have already listed some amazing local business directory themes here, all these themes offer you built-in Google Map option to make it easier for the users to find the business locations.
Popular themes like Divi and othermultipurpose WordPress themesoffer you this feature readily integrated.
However, if your theme doesn't have the Google Map feature readily integrated then you can use any of theseGoogle Map WordPress plugins to add this feature quickly.
Google Maps are very important part of the event-related sites as well. The Google Maps can be extremely effective and easy to guide your event attendees to reach your event location easily.
So, if you are managing any site that needs to display a map; be it in your contact form or any other location these plugins are going to be of great help.
Here is the list of top Google Map WordPress plugins that you can use to create Your Site
Top Google Map WordPress Plugins
WP Google Maps
This is a free Google Map WordPress plugin that you can use for your site. WP Google Maps with over 400k active installations this is one of the most popular map plugins.
You can use customize Google Maps on your posts and pages according to your need with the provided shortcode.
You can add unlimited number of markers to your maps, you just have a hover on the section and add the marker.
You have nine different map designs to choose from. It also supports the Google street view features to make your maps more interactive.
You can set the width, height and zoom level for your maps according to your need. Overall, it's a great Google Map plugin that covers all the features you expect.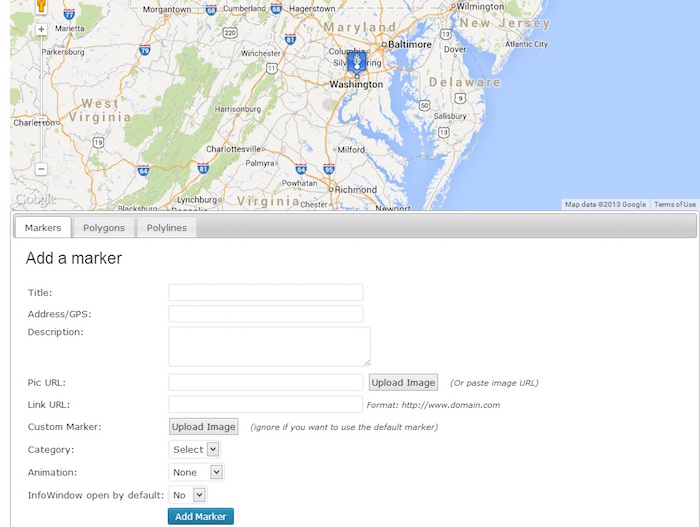 Responsive Styled Google Maps
This is a premium Google Map WordPress plugin. It's a complete solution for your location map requirement and offers you tons amazing options so that you can make it look like an integral part of your site.
This is a mobile friendly, responsive and retina ready plugin to make your location maps look great on all devices.
You can create an unlimited number of maps and multiple markers on each map you create. The plugin offers you shortcode option, so you can place your map at any location of your site.
It offers you location buttons, over 50 color options to style your maps perfectly. You also have the icons to make it perfect.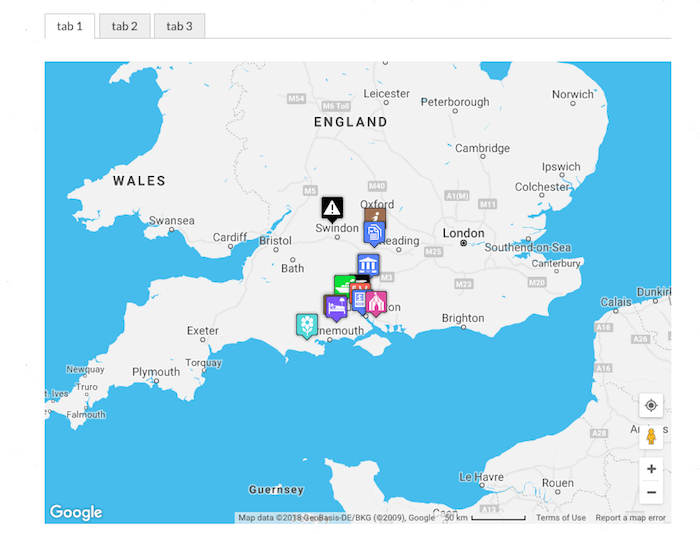 Maps Builder: Google Maps Plugin
This is a free Google Map plugin that comes with some amazing features and makes the maps an integral part of your site.
This is a complete solution for your Google Map requirement. This plugin lets you create your maps with full-screen customizer preview.
You will be able to create great looking maps with amazing themes that you ready to be used. It offers you unique icon markers to style your maps.
This plugin offers you a premium version as well that comes with amazing features such as the ability to add multiple layers to your maps, amazing custom markers and more.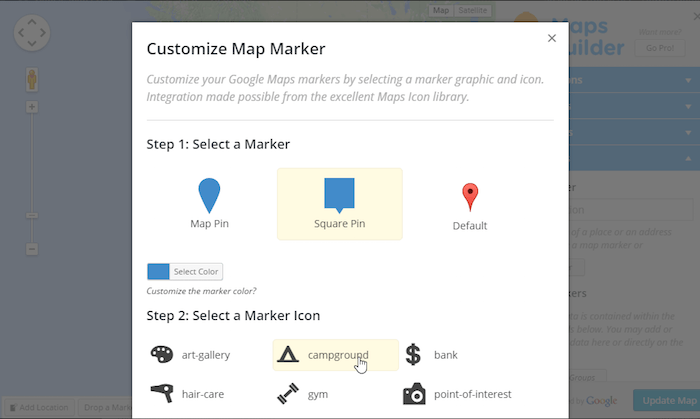 Interactive World Maps
Another very powerful map plugin for WordPress. With this plugin, you can create as many maps you want for your site.
This plugin offers you tons of amazing features to customize the look and feel of your maps.
This plugin offers you the option to create and show a map of the entire world, a part of any state or multiple states in a single map.
It gives you the option to use color as your map marker. You can highlight your maps with amazing color bubbles to make it look attractive and at the same time make it easier for your users to understand.
You have the option to add a different call to action on the maps and when a user click on any section it can show a message or open an URL as per your settings.
This plugin offers you the option to customize the plugin and add amazing features to your site.
You can add amazing markers.
Style your map with the different background color.
You can create interactive region color.
You have the option to set a different color for different regions.
Option to set custom height and width of the map.
Option to place the map at any location on your site.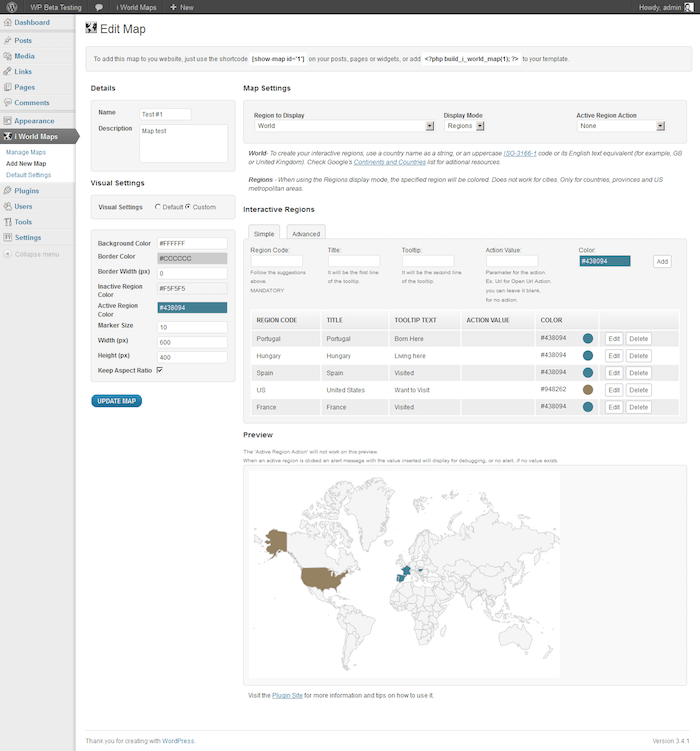 5sec Google Maps
One of the most popular premium Google Map plugins, 5sec Google Maps offer you great features and options to create professional looking maps for your site.
The map builder offered by this plugin comes with over 25 different options so create the perfect map for your business.
You can create multiple maps on a single page and set the markers to your map easily. You can place the maps anywhere on your site easily with the provided shortcode.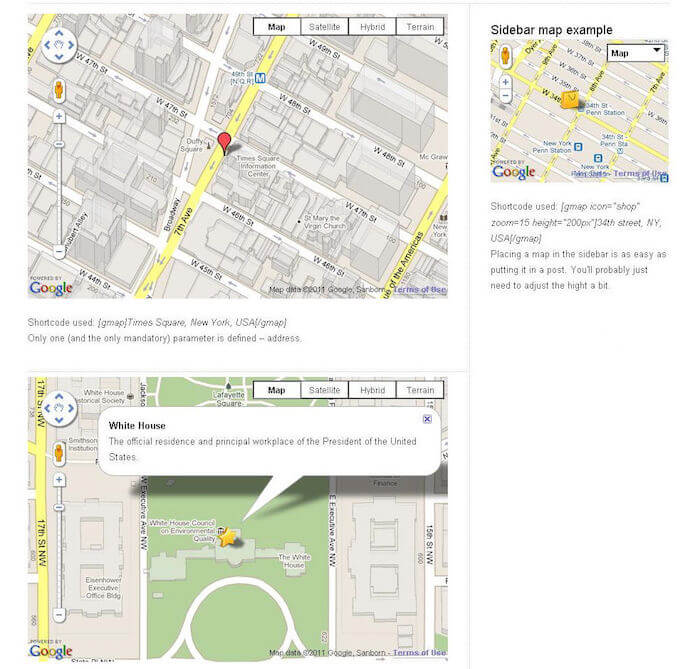 Snazzy Maps
Snazzy Maps, another free maps plugin for your WordPress site. This plugin comes with over 100 different styling option for your Google Map.
In fact, you can use this plugin to add styling to your existing Google maps on your site. It also offers you the option to create your own styling and use them through this plugin.
Please note, this is not a Google Map plugin in itself. This plugin can be used with any other Google map plugin to add amazing styles.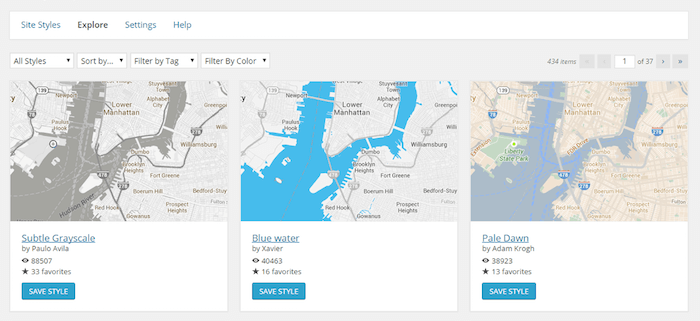 Mapify.it: Customized Google Maps for WordPress
If you are managing a directory site, an event site or any other site that needs extensive use of the Google Maps, this plugin can be very effective.
You can add any image, gallery, custom graphics to any section of the map making it a lot more interactive.
You can also add tooltips and interactive pop-ups to your maps to offer more information to your visitors about a place.
In fact, this is a mandatory feature if you are managing a real-estate related website. This plugin integrates itself with the WordPress admin panel perfectly making it easier for the users to edit the maps.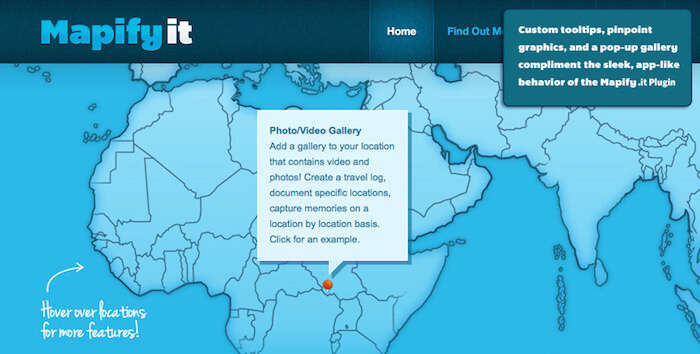 Powerful Google Map Plugin
A powerful and free to use WordPress Google Map plugin from the Themeisle team. This feature-rich map plugin offers you amazing options to create and style your maps.
You also have a pro version of the plugin with a number of top quality features. You can create unlimited maps with unlimited markers.
You have the option to add custom layers to your maps to make it more interactive, you also have the option to add Google AdSense ads to your maps.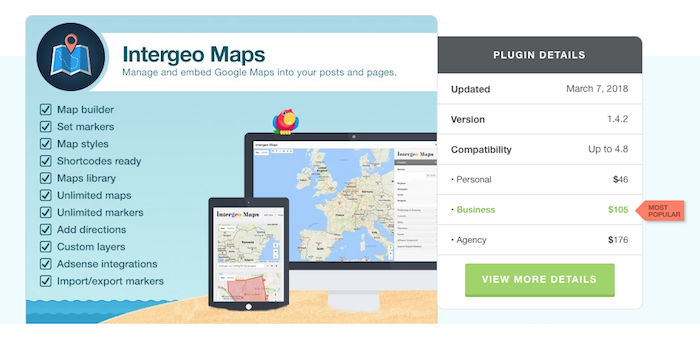 Final Word
There are a number of other Google Map plugins as well that you can use for your site. However, the plugins mentioned in this list are enough to fulfill all your map related requirements.
We will be adding more good quality plugins to this list soon, so don't forget to bookmark this list and share your feedback using the comment form below.