Tumblr is a blogging cum social networking website where you can post media and other relevant stuff. The site bestows a platform to rediscover your potential by connecting your interests with other people.
You can stay updated by following people you like and they can follow you too.
Tumblr is tailor-made for short-form microblogging which is popularly known as tumblelogging.
Even if you are not a registered user of Tumblr, it lets you read other people's Tumblr blogs whereas you have to be a registered user if you want to post something on Tumblr.
We have already published a few useful articles on the Tumblr platform such as this one about best free Tumble themes, best premium Tumblr themes and some stunning Tumblr backgrounds collection.
Below given are the best Tumblr apps that will lend a hand while tumblogging, have a look.
01

. Instasize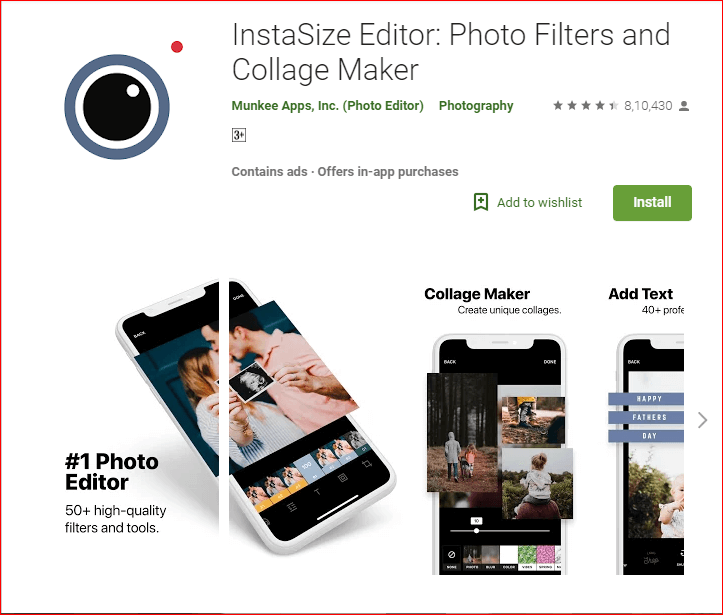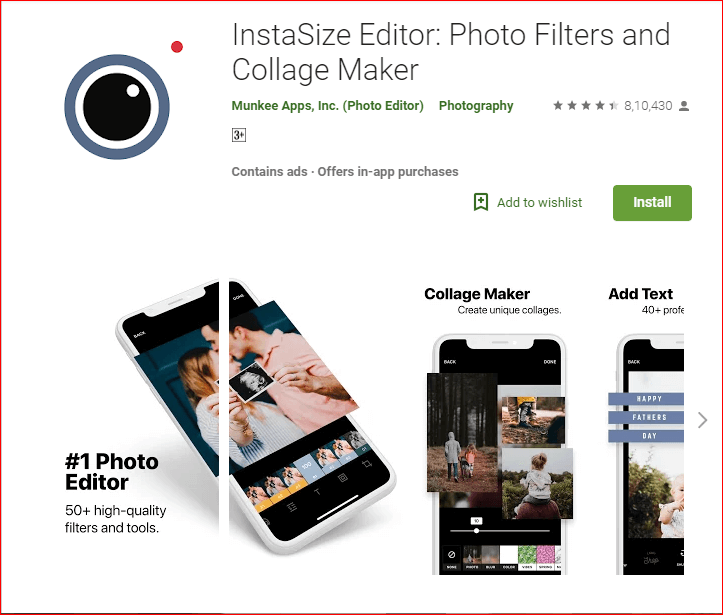 Instasize is fully packed with exquisite photo filters, collage frames, and a text editor. It's one of the leading photo editors with over 200 million downloads, it has got some advanced editing tools to get the picture ready before you upload it on Tumblr.
The only app to have a photo editor, collage maker, and text editor in a single friendly user interface, create some amazing pictures with the app.
Many of them have already tried their luck with an app on platforms like Twitter, Instagram, experience the app for Tumblr now.
02

. Tumbletail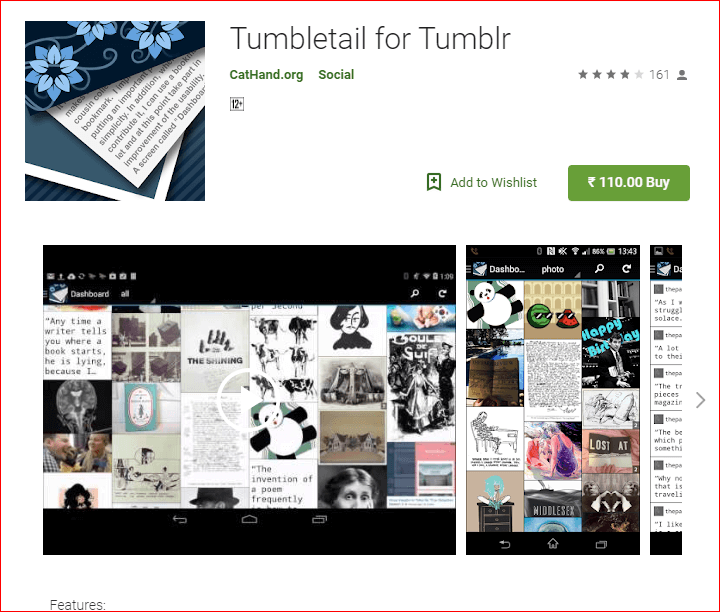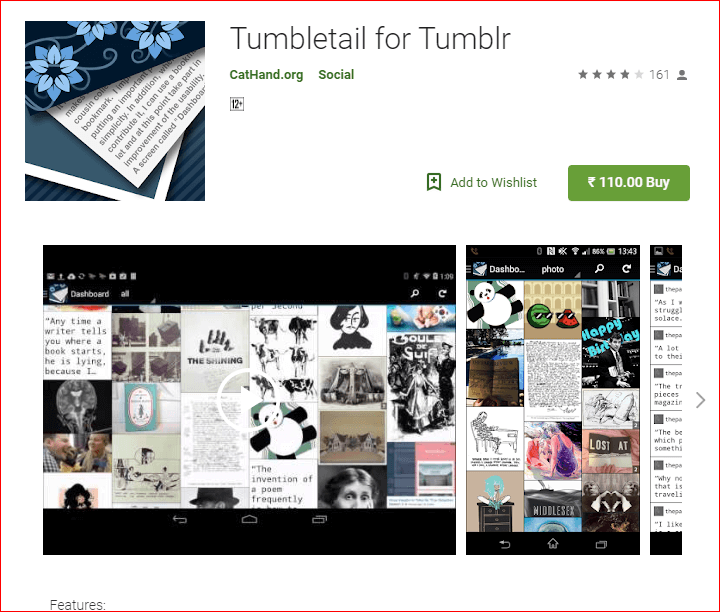 Through Tumbletail, it's quite easy to reblog a post and like it. It lets you see the likes available for a particular post. If you need to download any pictures, you can do it by saving it to Dropbox or Google Drive.
Stay updated on the happenings at Tumblr by following your favorite people on Tumblr.
03

. Tumpaca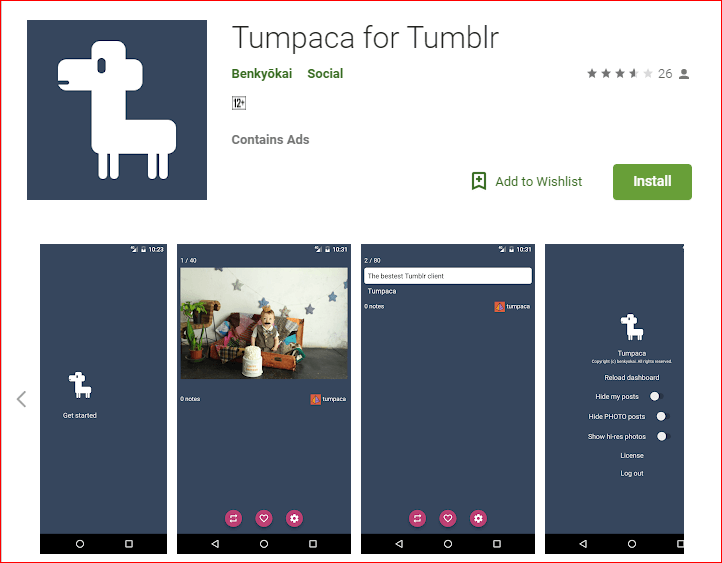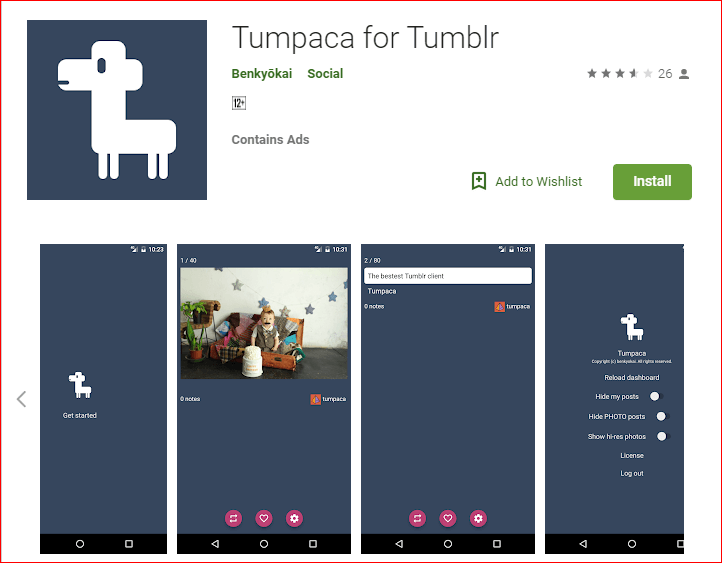 If you want to swipe your dashboard without any interruption, then this is the app for you. This app gives a great Tumblr experience, it permits only one post on the screen at a time.
It lets you play GIFs, videos, audios, and whatnot! With advanced saving and liking options, the app shows more than 260 posts. Hence this is the best Tumblr browser.
04

. Tumbpods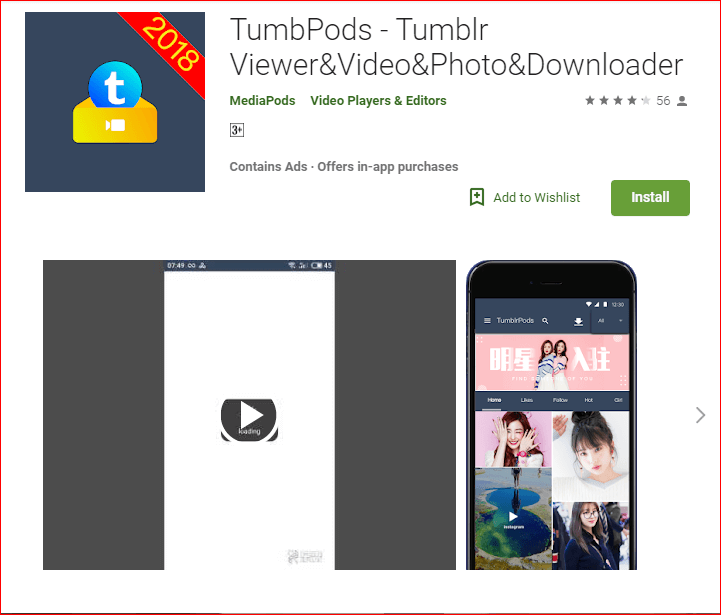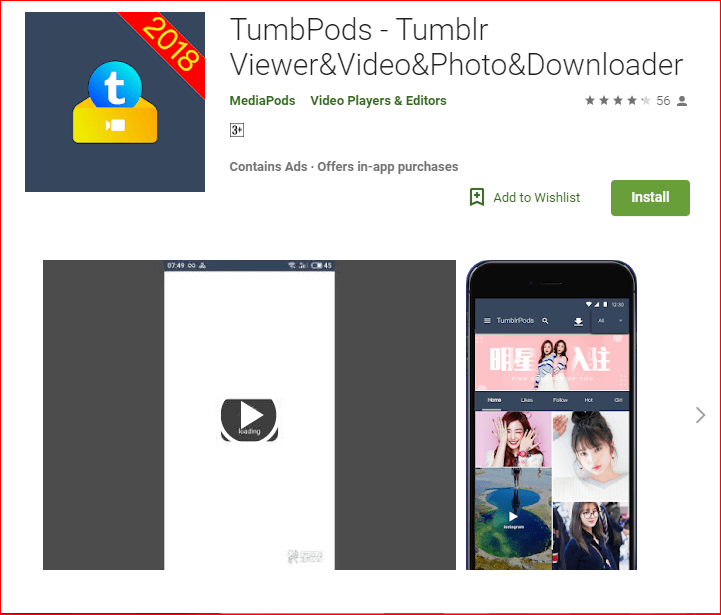 Primarily a Tumblr viewer, videos, and pictures can be downloaded through the app. The app recommends blogs according to your interests. Any Tumblr video, gif, the photo can be downloaded within a second, it also shows the tags from Tumblr.
You can like or dislike a blog on Tumblr, can view the timeline of other blogs along with your blog.
05

. Fumblizator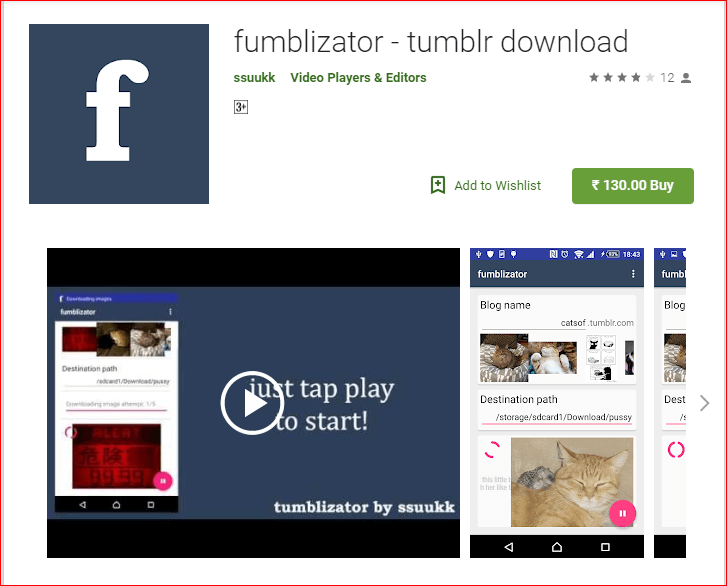 This is an image batch downloader that downloads the images with so ease. You just enter the name of your favorite Tumblr blog followed by selecting the directory after which the download starts.
You can open the official Tumblr link in the app and can download an unlimited number of images with a single tap. Also, the newest images uploaded can be previewed on the app without access from the official Tumblr app.
06

. Tumblrunning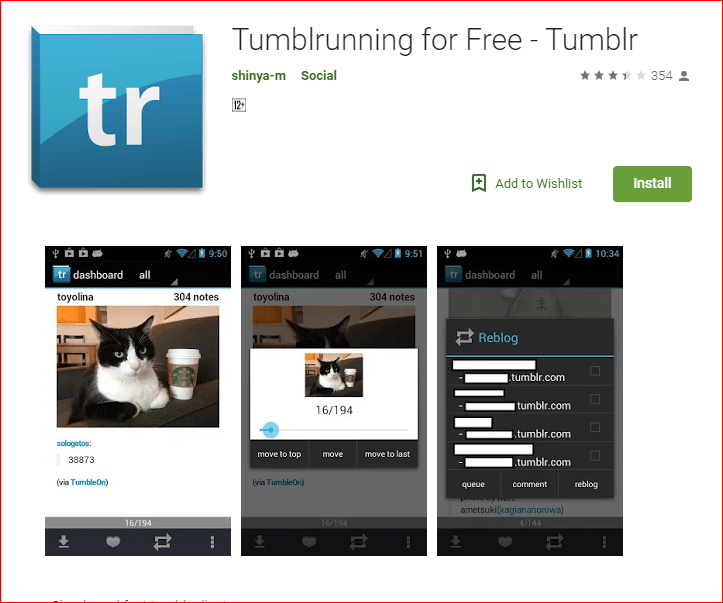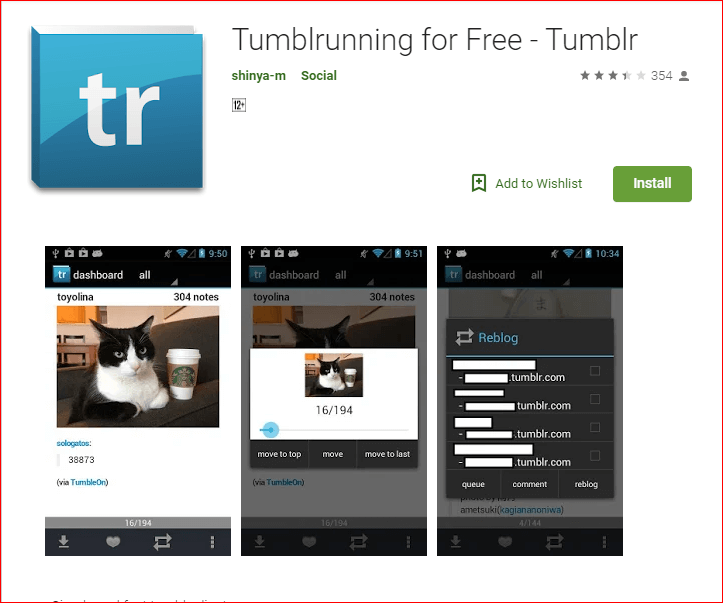 This is a very simple Tumblr client that specializes in the dashboard view. Many operations like paging by volume key, reblog by double tap can be comfortably done using the application.
If you want to delete a post, you can do it so effortlessly and if you want to like/unlike/reblog a post, the app comes to the rescue.
One of the premium features is that over 250 dashboards are available and it lets you add a post to the queue list.
07

. Tview for Tumblr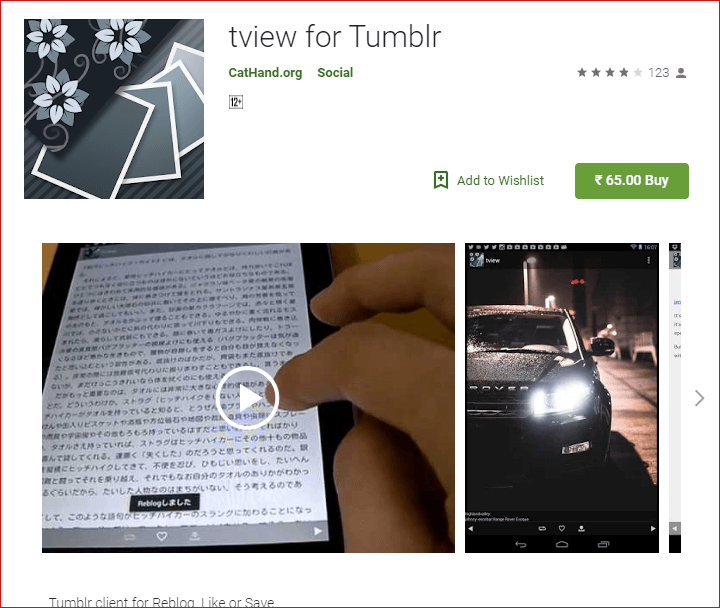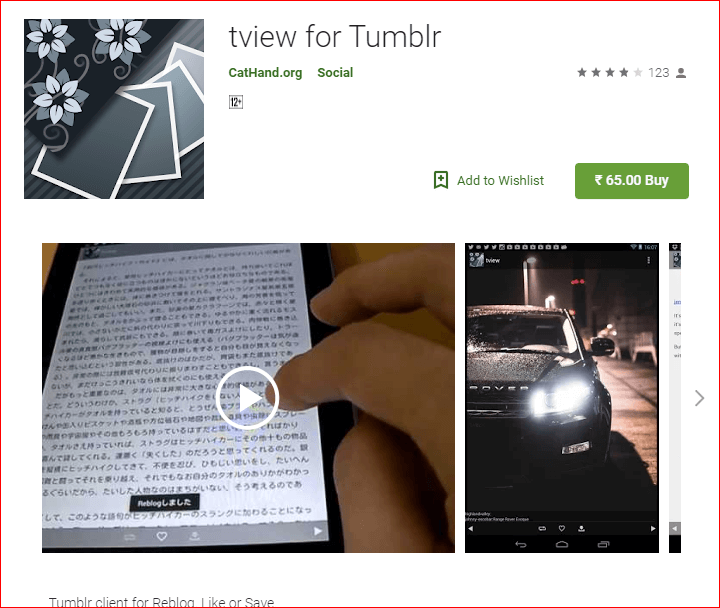 Another Tumblr client for reblogging and saving the post, Tview allows full-screen photo views.
Multiple accounts can be accessed at a time and with the help of many dashboard widgets, many additional features can be accessed.
0

8

. Tablean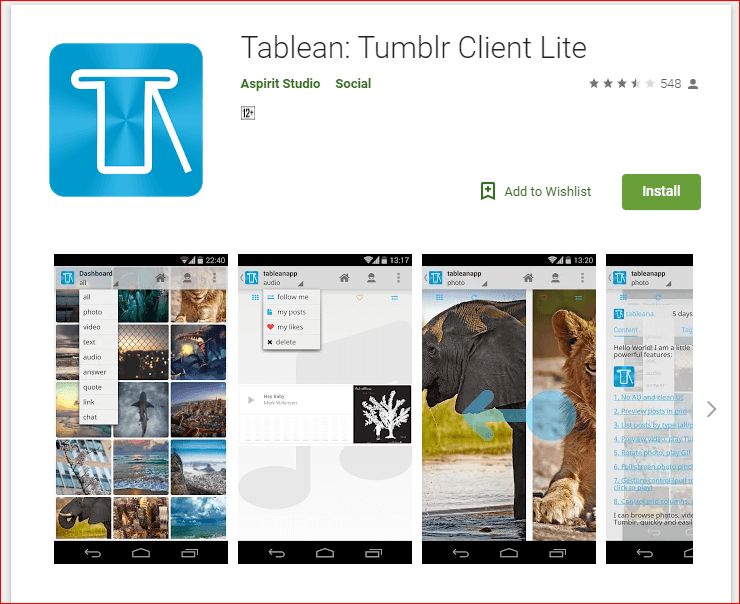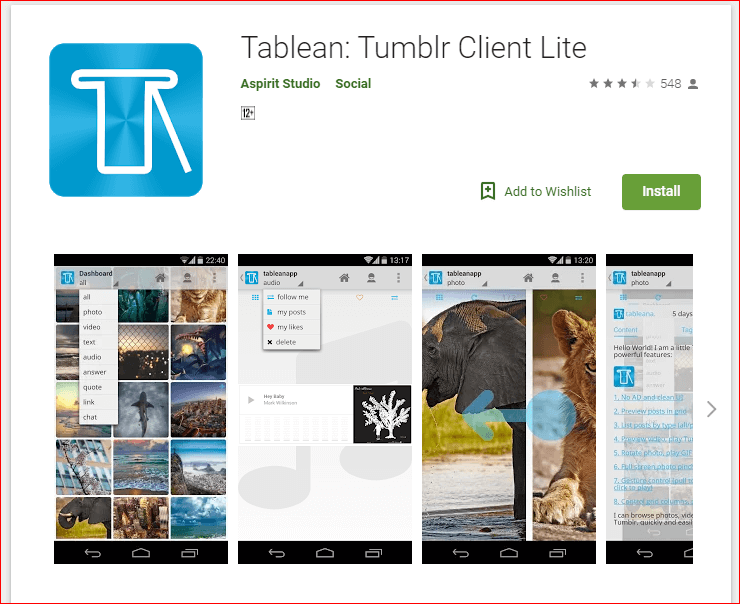 This quick, lite app helps people browse posts, photos, videos on Tumblr so efficiently. There are no ads and there are posts that get previewed in the grid.
Many gesture control mechanisms are installed within the app; like pull to refresh, click to play, etc. The photos can be saved to the external storage by double-clicking them in the detail window.
09

. Tumblast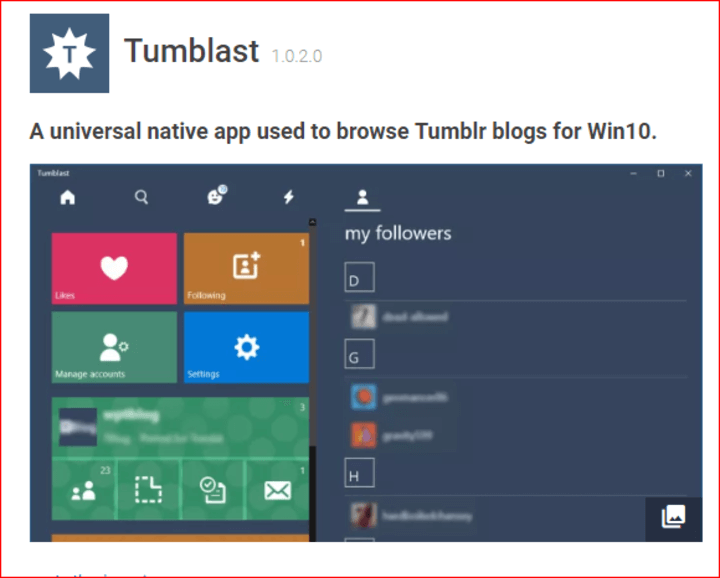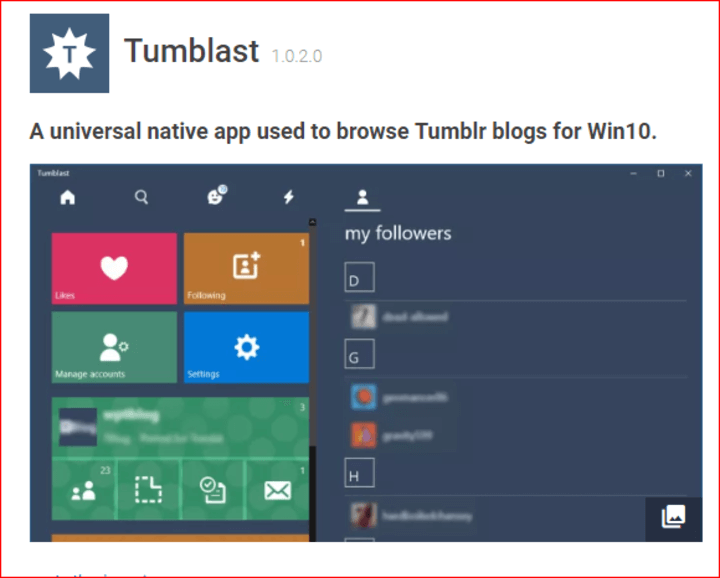 The app is used to browse Tumblr blogs in windows 10. The instant messaging system is supported. Explore Tumblr through the Dashboard in the app. You can search for blogs and posts and can visit public blogs by just entering the blog name.
Basically, Tumblast supports all types of a post; photos, videos, texts, links, etc. If you need to edit any post in the blog, queue, or drafts, you can do it. The app supports multiple login accounts and there's no issue in editing your blog theme.
The images that may interest you can be saved to local. For a quick reblog action, you just hold the reblog button.
10

. imgTumble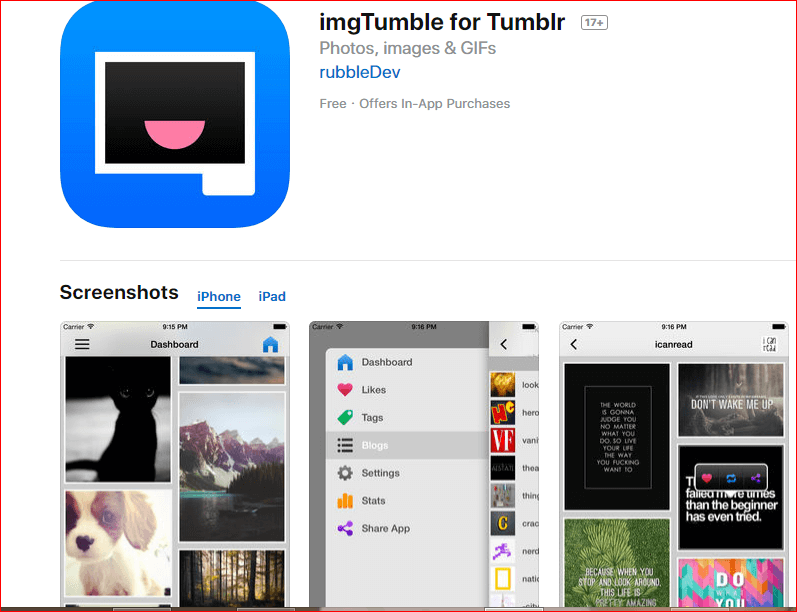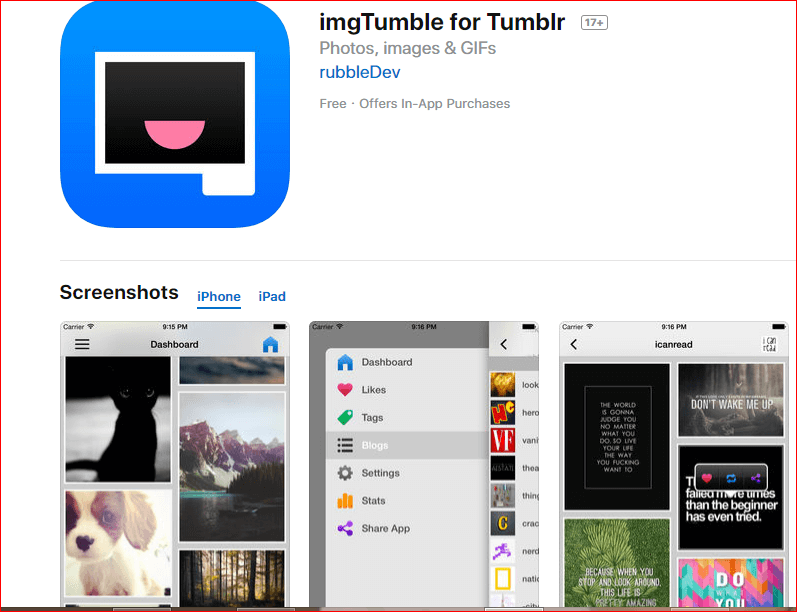 imgTumble is a Tumblr browser made exclusively for viewing images. There's an endless collection of creative images on Tumblr. These can be viewed pretty well using the browser. imgTumble unlike the rest of the apps focuses just on the photos & gifs.
Here, the Pictures are arranged in a gorgeous style wall which you can view well as you scroll down. Not only that, it allows you to reblog, like & share anything that catches your attention.
This is the perfect app to search and view photos via tags on Tumblr. You have additional options to follow and quickly start the blogs you like.
11

. Tumbsave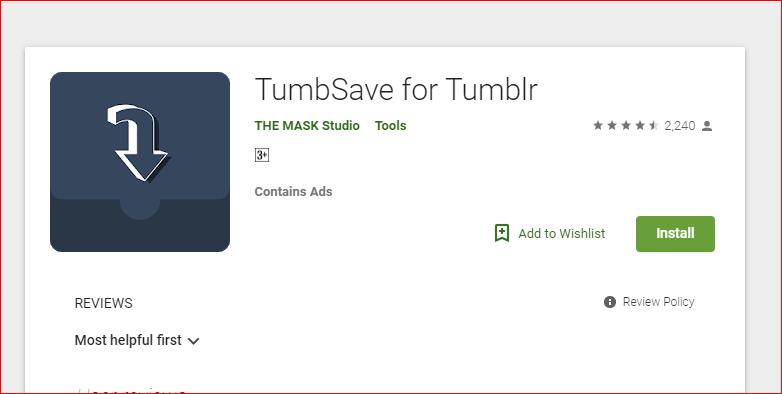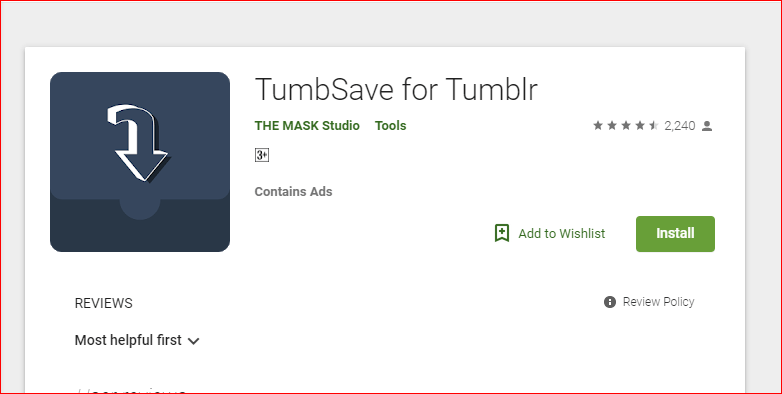 This is a highly recommended app for Tumblr users. It lets you download pictures, videos that appear on Tumblr. The app keeps everything in a well-organized manner.
There are download options on every video, it helps to download and keep it for offline enjoyment as well. Download the app here.
12

. Wallpaper Tumblr Quotes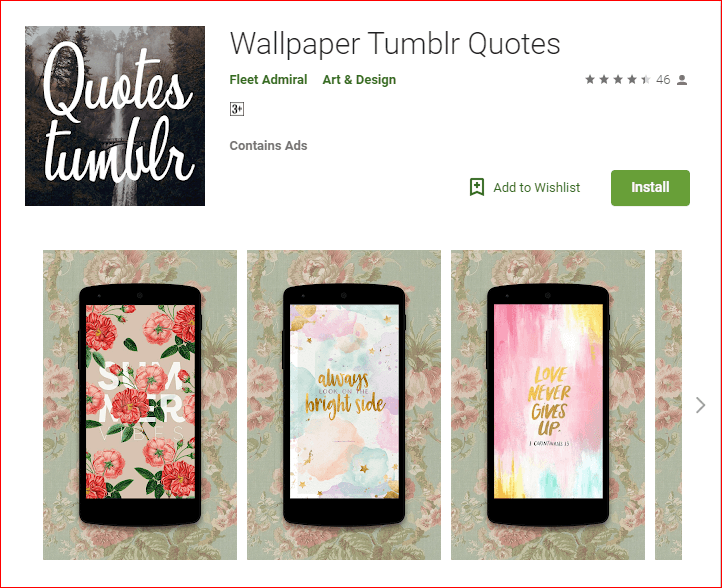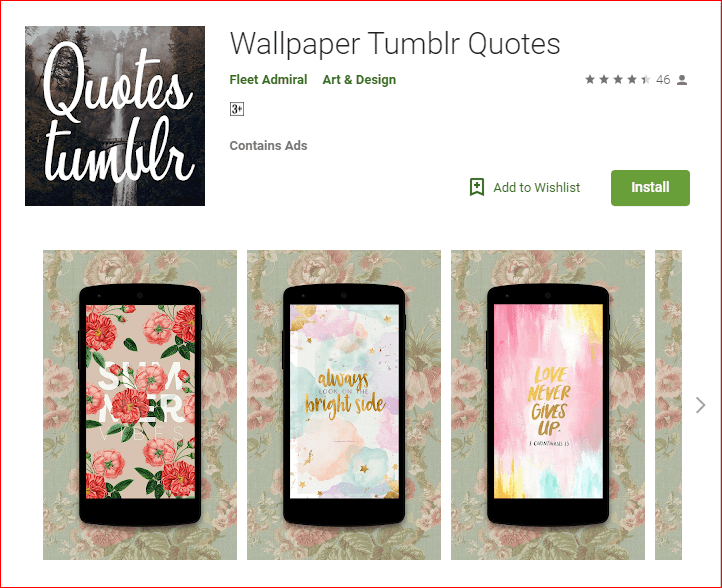 This is a spectacular collection of pictures that you can set as wallpaper in the home screen and background.
Kawaii Anime Wallpaper, Cute Kawaii Anime, Hipster Wallpaper, Simple Wallpaper are some of the highly approved wallpapers. It's compatible with any device and it gets updated monthly.
The app is very user-friendly. You just need to install the app and open it to select the wallpaper. Then click the ''set as wallpaper'' button, the wallpaper is ready. Don't forget to mark the top posts as favorites before you sign out from Tumblr.
13

. Tumble Grab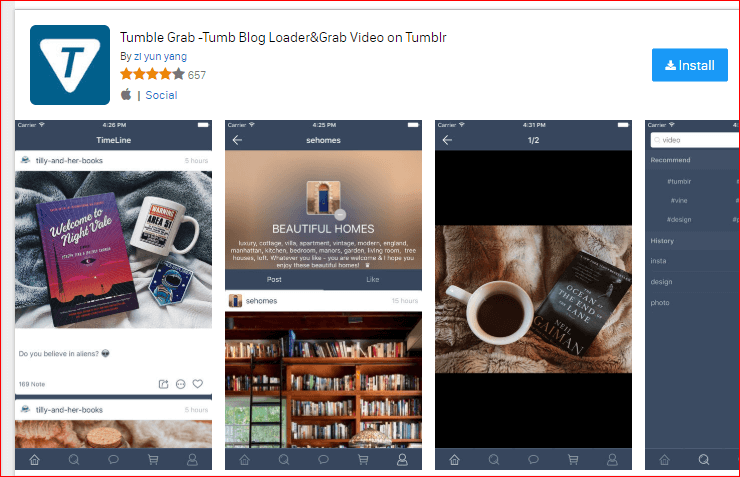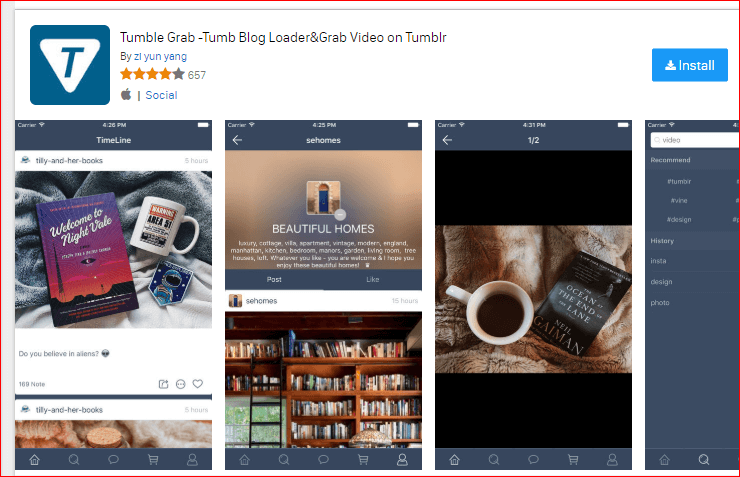 TumbGrab is an easy to download the application which helps you download pictures and videos from Tumblr. If you want to repost the same picture, it lets you do it. Here too, the media can be explored using tags mentioned in Tumblr.
You can search for photos, GIFs, texts, anything with the app. You can now follow artists, musicians, actors, anybody on Tumblr with this app. It's an iOS application and requires iOS 8.0 or above to use it.
The app is compatible with iPads and iPhones. Do like/unlike, follow/unfollow, comment on posts using this app. The app is available only in English and it's free software.
14

. Tumblog

Tumblog is the perfect way to browse Tumblr blog on iPhone and iPad. You need to install this application and can search any blog or posts you like without any login procedures.
If you like a blog, you can make it favorite and follow the posts to come after logging into your Tumblr account.
If you find a picture attractive or if you did come across a motivational video, you can easily save it by downloading it easily with the app. Many updates happened for the app after which new features to add clean cached files have come up.
The video play quality and download speed have improved far better after the recent update.
15

. Timbload


Timbload is not an official application from Tumblr, it helps you download your favorite videos and images from social networking platforms like Twitter, Instagram, and Tumbler.
No longer worry about your favorite pictures getting deleted from Tumbler, with the app you can easily and quickly download files.
There's an advanced option for sharing the downloaded file across the media. One of the helpful apps ever made.
16

. Queue+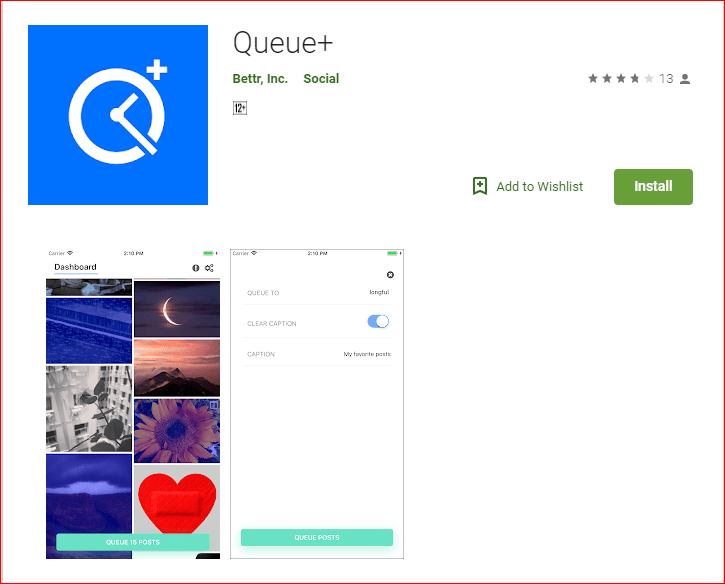 Now this one is a very convenient app for queuing the images, you can select multiple images at one go and queue them. Though you may not be told whether you have reblogged the same image more than once.
With a single click, all the posts are queued to your Tumblr account. The only requirement of the app is that you have to own a queue account. Here you cannot sign in here with your Tumblr account.
17

. Tumbviewer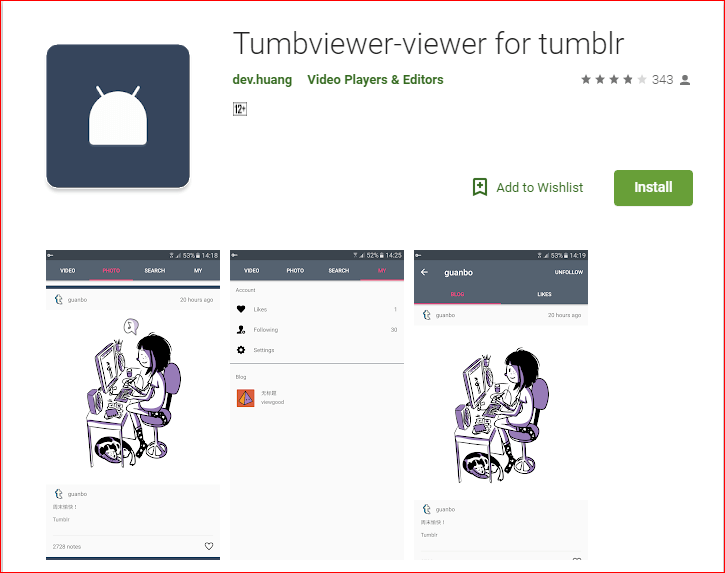 Yet another image saver and video downloader, this one is perfect for your Tumblr account. A straightforward app, which is indeed a help during Tumblr sessions.
The dashboard boasts a video-only tab which is quite useful. The application looks amazing when you start following more and more blogs.
18

. TBGallery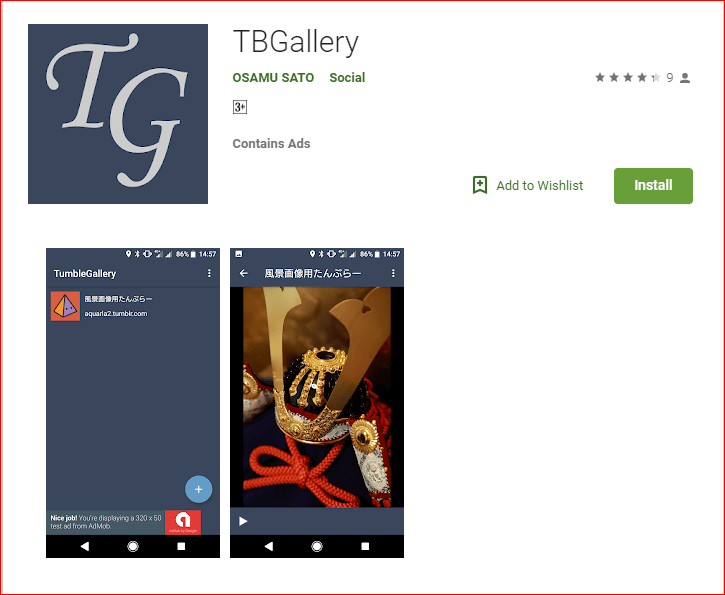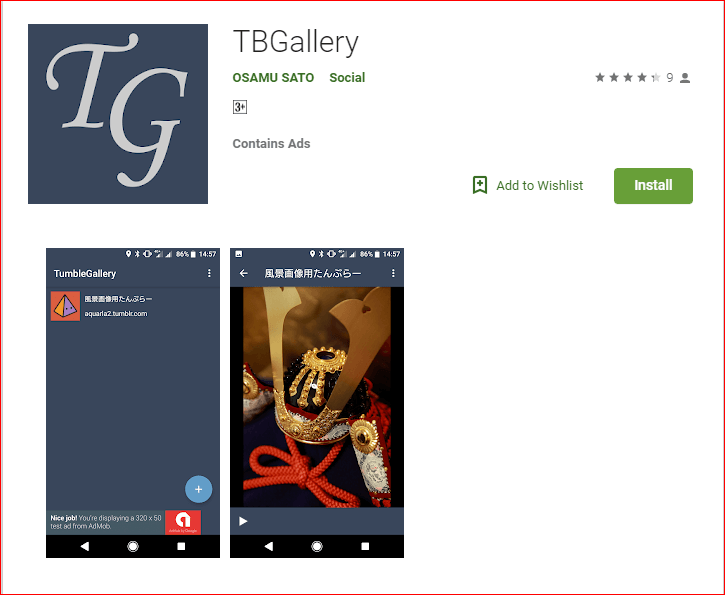 It's is a viewer app that enables you to view images in the Tumblr blog as a slideshow. Here both playbacks, Automatic and shuffle are supported. Apart from allowing a slideshow of images, your favorite images can be saved to the device.
The speed of playback can be changed; if you feel like a slow-motion run, go for it. The app can be encrypted using a PIN lock. It supports any kind of GIF animations.
Download it here.
19

. Muzei-Tumblr Photos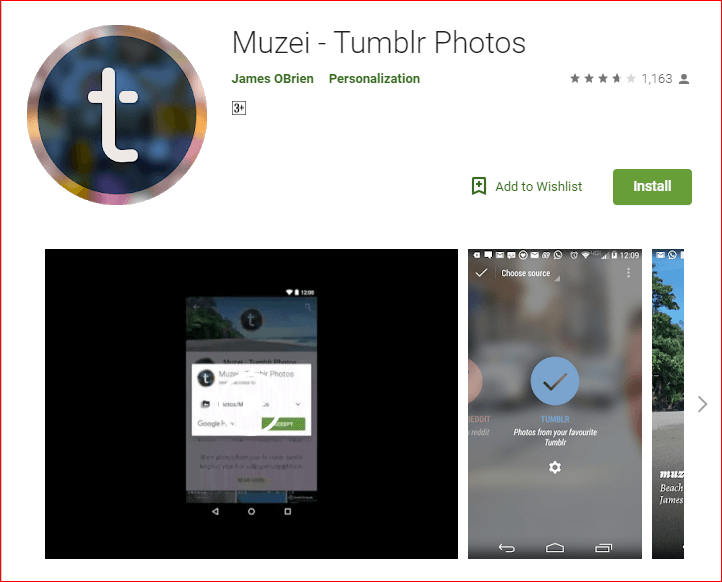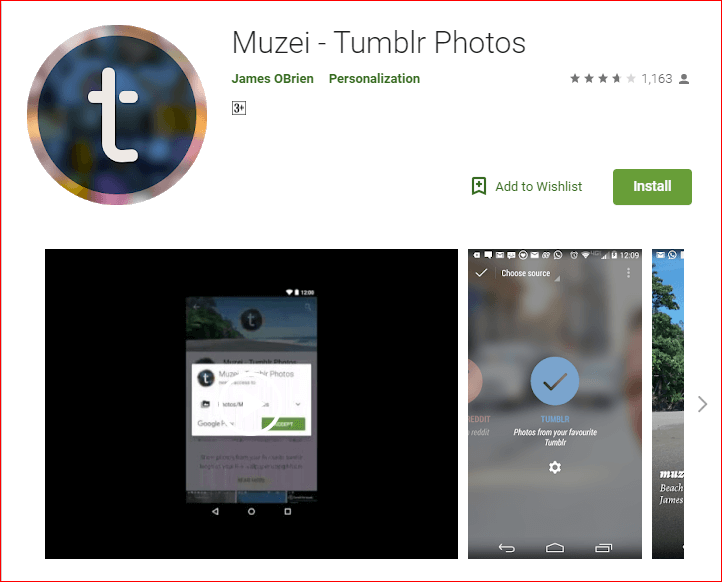 This is an extension to the Muzei app, it allows you to set images from your favorite blogs as wallpapers. It's quite simple to set wallpaper.
After downloading this application and Muzei, customize it and then click Tumblr, the wallpaper is ready for use.
20

. Likes on Tumblr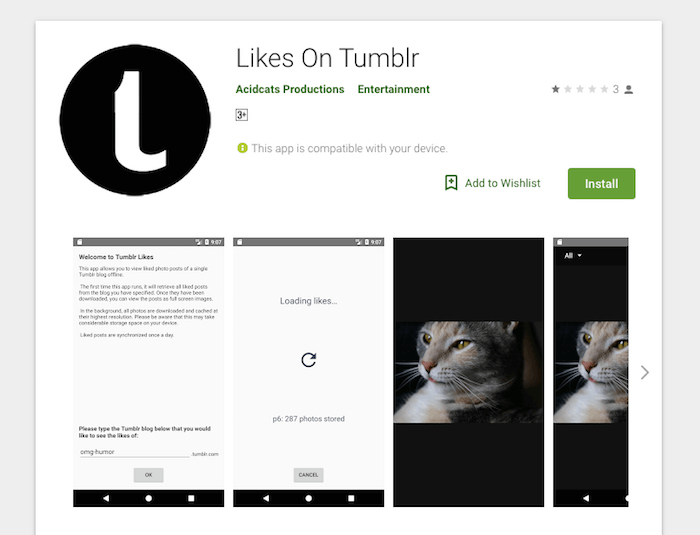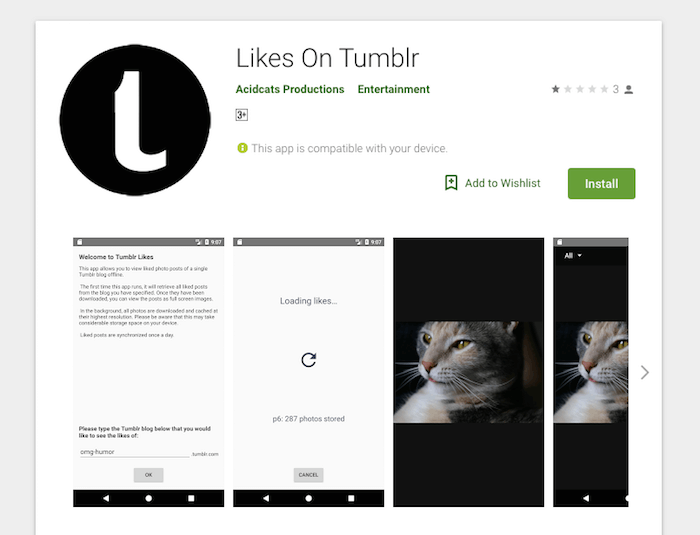 Do you frequent Tumblr often? Then this app is a highly beneficial one for you. It allows you to view all the photo posts or videos that you have liked while offline.
It further allows you to like and favorite particular posts. It contains many desirable things, find them by
21

. Timbloader for Tumblr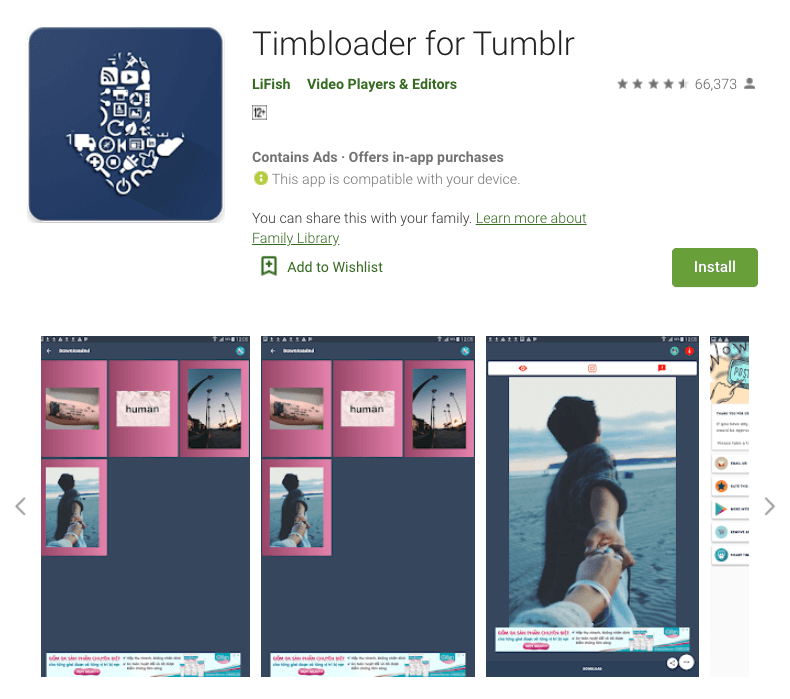 A very handy app that you can use to download any media file from Tumblr. You can download the files and share them with your friends.
Tumblr is one of the most actively used platforms to share creative works, images and other media files. So, you can make use of the app to share important files with your team or your friends for inspiration.
The app is very easy to use. You can open the app, select the file that you wish to download and choose Timbloader in the list to download.
22

. Outbox for Tumblr
Outbox is another very handy Tumblr app that will save the last outgoing asks automatically. It will save the asks from the Tumblr dashboard as well as the answers that you sent privately.
The app comes with a handy extension for Google Chrome, Mozilla as well as Opera browsers.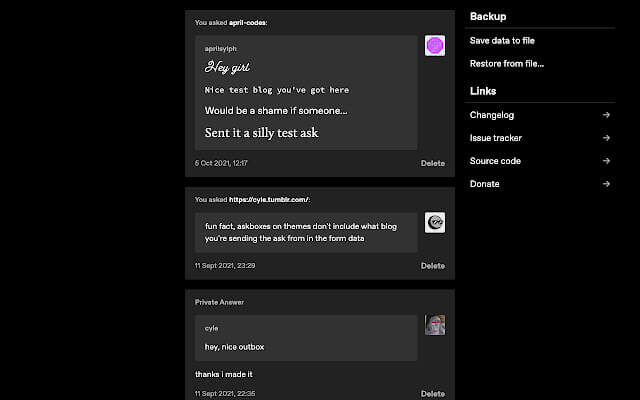 FAQs About Tumblr Apps
01. What is Tumblr?
Tumble is a microblogging platform that is also considered one of the social content-sharing platforms. If you are a photographer, an artist or just love to write about your hobbies, Tumblr is a good platform to get started.
02. Is Tumblr better than WordPress?
Certainly not. WordPress is a much better platform when it comes to blogging on a large scale. However, Tumblr is good for hobby bloggers, artists, and photographers.
Though Tumblr offers a number of social features it is not exactly a social networking platform. Rather you can consider it as a social blogging platform where you will find a ready audience base to view your content.
04. Is Tumble still working?
Yes, Tumblr is active and people are creating new fresh content on the platform. However, it is not as popular as it used to be a few years ago.
Yes, you can. Just create a profile on Tumblr and a blog. Once your blog is ready, you can start sharing the content you have published elsewhere.
Final Word
There may be varied reasons why you are using Tumblr. Somebody just felt a need for motivation while some others are looking for a scrapbooking platform.
While there are others who see Tumblr as a piece of paper for scribbling creative thoughts.
Anyways, Tumblr, the microblogging platform that allows you to post photos, articles, and links work way better with the help of certain apps that have key advantages.
Find the limitation of your blog, what it's lacking technically, identify it, and do the maintenance by installing the apps accordingly.