Best coming soon WordPress themes to create buzz about your upcoming web property before it is launched.
These are some of the best free and paid under-construction WordPress themes that will help you to create a great-looking landing page with some details about your upcoming project.
We have already published an article about the best maintenance mode WordPress plugins that can do a similar kind of job to show that your website is taking shape and it will be online soon.
However, for bigger projects, it is good to use a coming soon theme instead of the plugin as it will offer you more control and flexibility.
Some of the important features that make an under-construction theme stand out are the attractive countdown timer to inform your users about the day when your actual site will be launched, the email subscription option, the attractive background option, social media integration, etc.
The themes mentioned in this article will offer you all the options you will need to create a stunning coming soon page.
In fact, many of these themes can be used for your actual site as they are very powerful multipurpose themes and offers you the coming soon landing page as one of the many things they can do.
It is always better not to start from zero as far as possible, and these under-construction themes will help you to create the required buzz before your product arrives.
There are so many examples where people collected hundreds and thousands of emails before they launch the product making it a super successful launch.
So, let's have a look at the best coming soon WordPress themes that will help you to create a great-looking under-construction landing page.
Divi Theme
Divi is one of the most powerful and popular WordPress themes available. You can use this theme to create any site on the WordPress platform.
It's a very flexible multipurpose WordPress theme that comes with tons of design elements and features that can take your site to the next level.
Read this Divi theme review to understand how this powerful theme can help your business.
Divi theme is a perfect option for any business site as well as personal blogs. You have the amazing Divi Builder plugin with the theme that will help you to create any design you wish to create without writing a single line of code.
Divi Builder is extremely powerful and loaded with amazing page elements that you can use to create your pages.
The coming soon theme is a part of many possibilities for this amazing product. If you are using Divi theme for your project, you can set the site on coming soon mode with the readily available coming soon template.
In fact, you can quickly create your custom design for your coming soon landing page. Divi offers you all the modules that you need such as a beautiful countdown timer, social media option, email subscription options, great background option, etc.
Divi offers you amazing ready-to-be-used demo design templates that you can use to create your site. There are beautiful rich page design templates, and amazing landing pages to showcase your products in style.
Here is a beautiful countdown timer design by Divi that you can use on your coming soon page. Also, don't miss the Divi theme discount and get 10% OFF.

You can quickly select the date when your main site will be launched, and you can change it later if there is any change in schedule. You don't have to write any code or use custom code as everything can be managed from the website builder.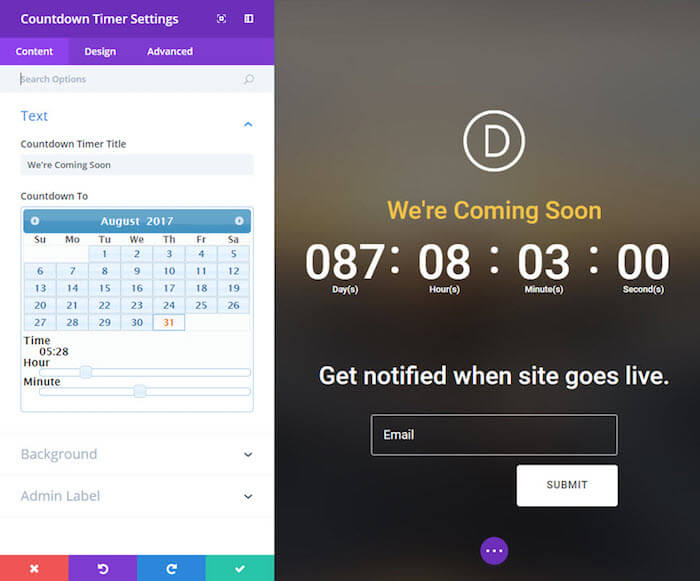 Here is how it may look. However, you are not required to stick to this kind of design as you can easily spice it up with other modules available to create your pages.
Here is good news for you. If you wish to buy the powerful Divi theme, you will get a 10% extra discount using this link.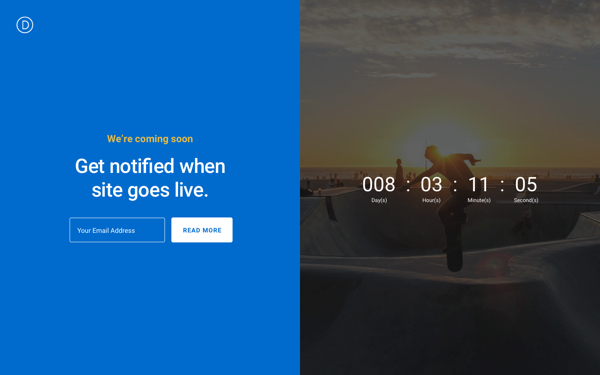 Bridge Theme
We have included the Bridge theme in this collection here in this article not only because it offers you a stunning coming soon landing page template, but can use this for your main site as well.
Bridge looks beautiful, and it is loaded with features. It offers you over 340 ready-to-be-used demo design templates to choose from, that's a huge number.
So, in a way you get access to over 340 websites when you buy this single theme. You get many options for almost every niche site you can think of.
You get the premium Visual Composer website builder in the theme bundle for free that you can use to create your site. You will never have to write any code while creating your site because you can use the available page modules to add different functionalities to your pages.
Bridge offers you the one-click demo import option which will help you to get started on your site quickly. You can choose the design you like and import it to create your site.
Be it a business site or a news magazine style site you have beautiful designs readily available. It is a mobile-friendly WordPress theme with a retina display.
The theme is perfectly optimized for search engines so that your content gets a better ranking in the search results.
Powerful and comprehensive theme admin panel, customization options, CSS animations, amazing icon packs, WooCommerce ready store designs, premium plugins such as Visual Composer, Slider Revolution, Layer Slider for free, and a lot more.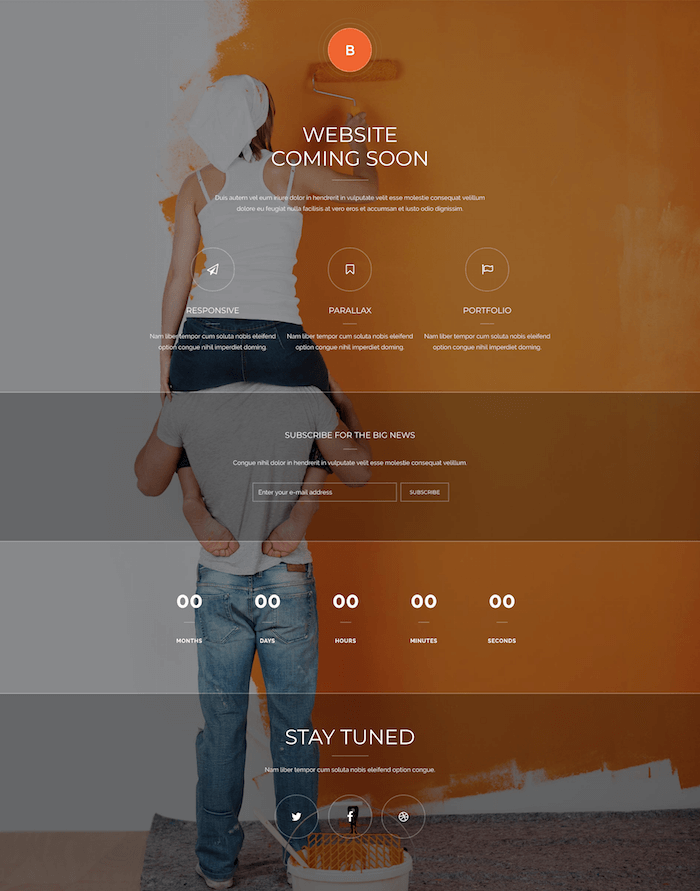 Avada Theme
The Avada theme is one of the most popular WordPress themes on the ThemeForest marketplace. It's a versatile and powerful theme that can be used for a wide variety of websites.
If you're looking for a theme that can help you create a professional-looking website, then Avada is a great option to consider. It comes with a wide range of features and options, making it easy to customize your website exactly the way you want.
Avada comes with a built-in website builder that you can use to create any kind of website design. While you are working on a business, you can use the Avada theme to showcase a coming soon page with all the customization you need.
Elementor Pro
Elementor is not a WordPress theme but a WordPress builder, and it is undoubtedly the most popular website builder at the moment.
When you look at the popular WordPress sites, and WordPress bloggers you will find that most of them use Elementor to design their blogs.
In fact, we are using Elementor for this site. And I can tell you from my experience that it is the best decision as far as designing your site is concerned.
With Elementor, you can design any kind of website without having any knowledge about coding. We have created a completely unique design for Begindot with Elementor without writing a line of code.
When it comes to coming soon, maintenance mode site, Elementor comes with a built-in option to put your site on maintenance mode by displaying a coming soon template and all other messages that you wish to display while you work on the main design.
We have written a detailed review of Elementor to help you understand the product in a better way.
OceanWP
OceanWP is another leading WordPress theme that you can use to create all different kinds of websites. It is considered as an SEO-friendly theme and preferred by bloggers and marketers.
The OceanWP works perfectly with all the leading website builders for WordPress. So, if you wanted to create a completely unique design for your site without coding, OceanWP is a great theme option for you.
The theme gives you the option to add a coming soon template and put your site on maintenance mode. If you are using a website builder along with the OceanWP theme, you can create a custom template and add a coming soon notice.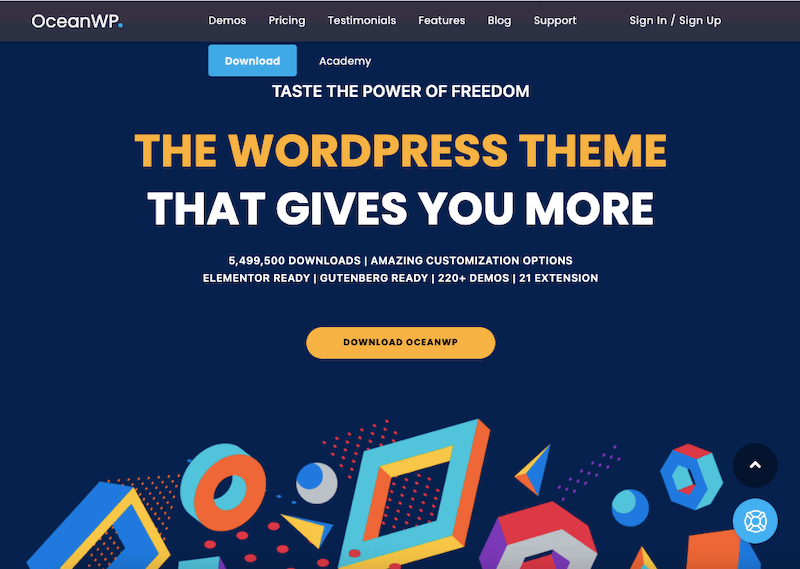 Startuply
A powerful theme for startups and agencies. This theme comes with some great-looking coming soon page designs that you can use to create a strong first impression on your visitors.
The theme comes with seven different homepage options, and you can make unlimited layout changes to make it unique with the Visual Composer plugin that comes with the theme.
You have a one-click demo import option so that you can get started on your site quickly. You have amazing layout options to change things around and make your startup site perfect.
The Startuply theme comes with a powerful theme options panel where you can manage everything about your site with ease.
You have beautiful animation; amazing video background controls to spice up your site.
As far as the coming soon under construction pages are concerned, you have a beautiful countdown timer and multiple email subscription form designs to choose from.
EOS
EOS is a beautiful app landing page WordPress theme that offers you a great-looking and well-optimized coming soon page.
If you are into app development and planning to create your website to promote your app, this is a perfect theme to create some buzz before it is launched.
You have the option to choose between light and dark versions for your site, and it comes with four beautiful layout options.
You have great-looking color combinations to style your site. The EOS theme offers you a great-looking parallax effect, amazing video background, powerful theme options panel to manage your site, and smooth CSS animation to improve the overall feel of your site.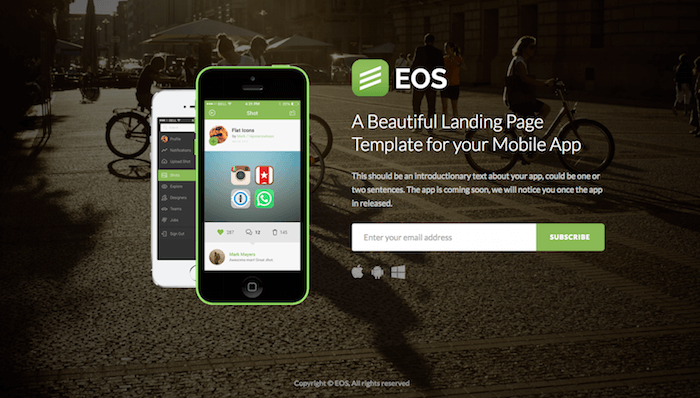 Uncode
Uncode is a powerful multipurpose WordPress theme that you can use to create any kind of website. The main advantage of this theme is that you don't have to change the theme while designing your website.
You can import the under-construction template and show it on your site while you are working behind the door and designing your website.
This time comes with a number of different templates which have ready to be used. The theme is ready with all the important updates and features that are required in a modern website.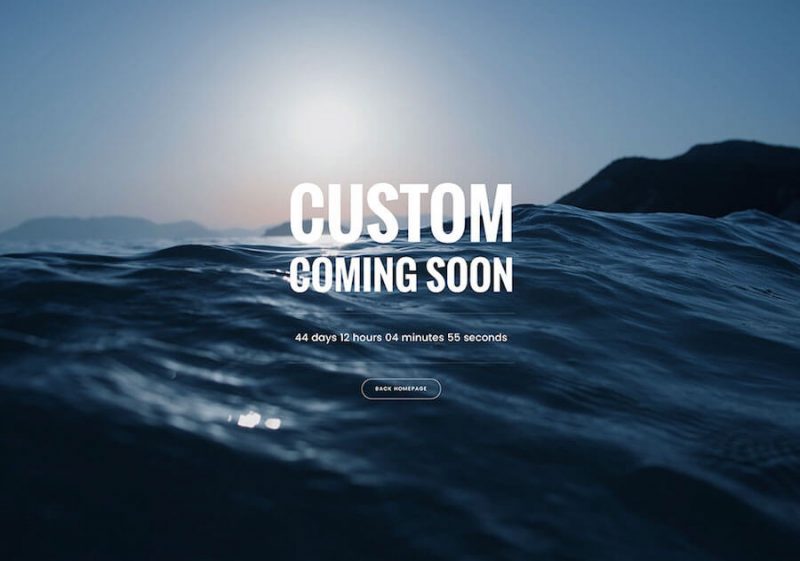 Woodsman: Coming Soon WordPress Theme
As the name suggests, this is a custom-created WordPress theme for the coming soon landing pages. This theme is perfect to create an optimized under-construction site.
Woodsman theme is super quick, minimal, and fully responsive. You can easily customize the theme to make it unique with unlimited page variations.
You can spice up your coming soon site with amazing custom background options. You can add a custom image as well as a video background so that you can give a perfect demo of the upcoming project and what your users can expect from your site.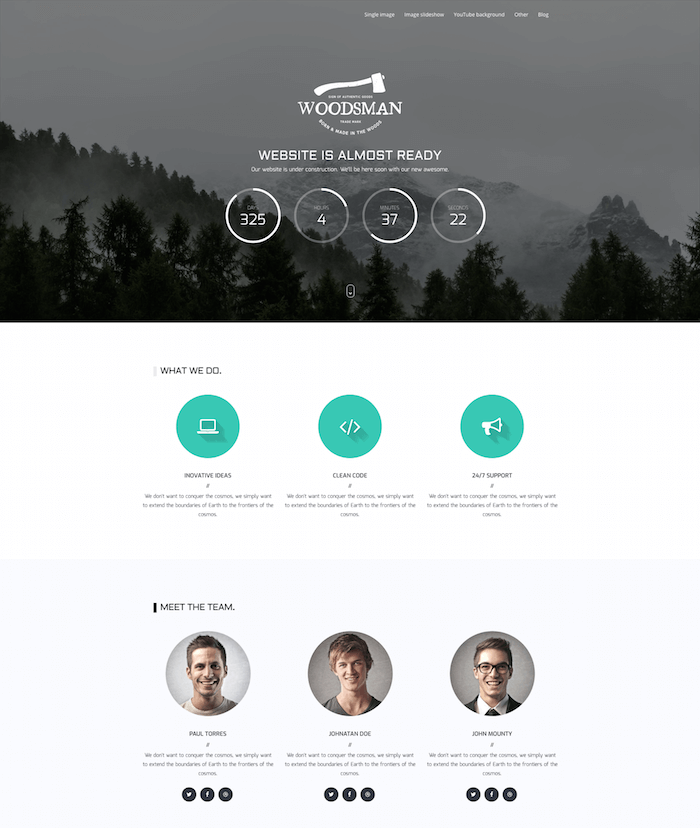 Jevelin
Jevelin is another powerful multipurpose WordPress theme that offers you a great looking coming soon template.
With this theme, you will be able to create a completely custom WordPress site without any coding. The theme is loaded with features and options.
Jevelin theme offers you multiple demo design templates and one-click demo import options making it a quick theme to get started.
Once you have this theme, you don't have to look at any other theme as you can customize it to make it perfectly fit any niche site.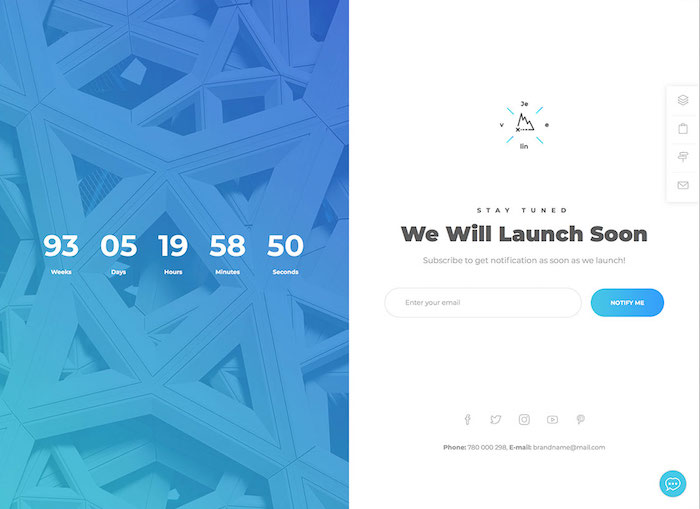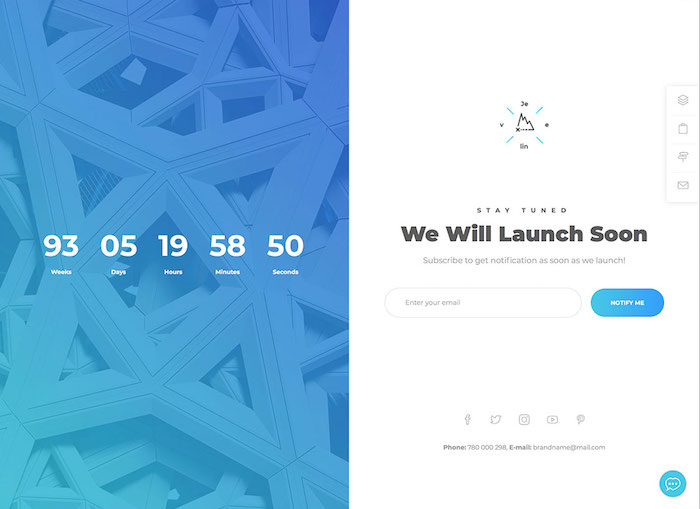 xTime
A trendy and attractive coming soon WordPress theme with a great design. This theme is created with the Bootstrap framework, and it is lightweight as well as very quick loading.
Though creating an under-construction landing page is a simple thing, an attractive design with a great-looking image or video background will certainly engage your users and make them look forward to the actual launch.
This theme offers you some amazing options to style the landing page with a custom background image, video, slider, or solid color that will reflect the brand of your site.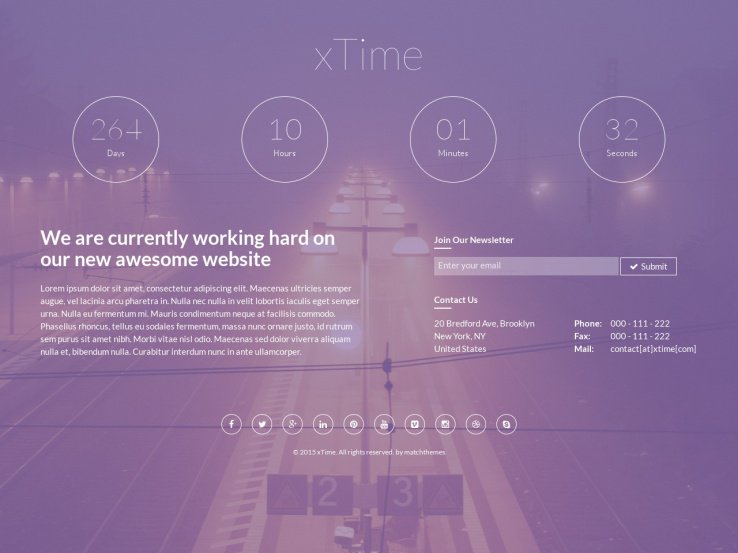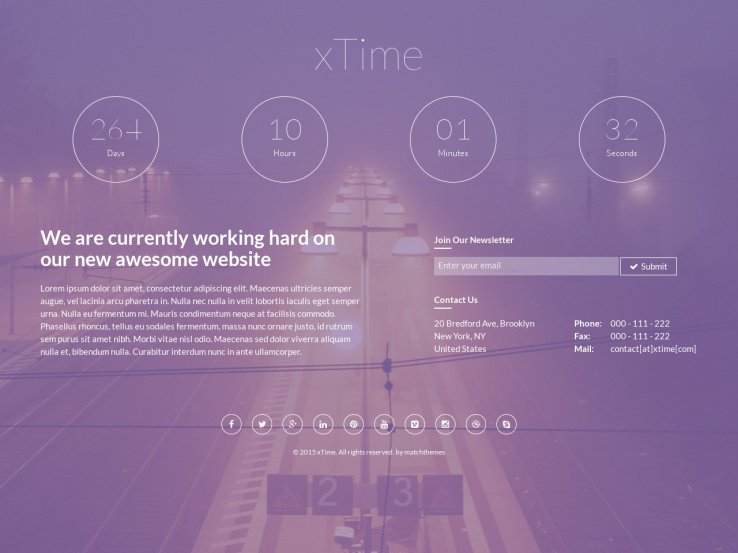 Final Word
These are the best WordPress theme options to create a coming soon landing page with all the important and required features.
It is always good to create the page and let people know that you are in the process of creating something great so that you can have a successful launch.