A collection of best event WordPress themes & templates that will help you to create a stunning event related websites to make sure you have a very attractive and modern design to get more customers for your events.
Landing Page, by definition, is a separate page that is displayed in response to someone clicking on an online advertisement or an SEO search result. The displayed page delivers the first impression of the organization that is promoting itself.
Obviously, it is justifiable that the first impression should be a good one. The organization pulls out all stops to ensure the landing page is attractive enough to keep the interest of the viewer.
Probably, a large organization would be able to create a landing page that is consistent with its corporate, marketing or advertising goals. However, smaller organizations and individuals may find it difficult to create these pages because of lack of expertise and funds.
However, advanced tools and software resources are allowing users, both organizations, and individuals, to produce incredibly intuitive and creative landing pages by using the creations on offer.
These creations are templates that are customizable to suit specific requirements.
One of the more demanding segments of our social and business life is that of either attending an event or organizing one. The event organizers have to create themes that would attract customers to the event.
The landing page assumes tremendous importance in attracting customers and retaining them to move forward to the desired goal of the organization.
Thus, many events based landing page templates have mushroomed that entice users to use them to enhance their presentations. Hundreds of templates specific to events such as sports events, entertainment events, business meets, seminars, music concerts and university programs are available.
Eventster
The ThemeForest Eventster Event Landing Page Template is an exemplary fully responsive and clean template with many features. The high-resolution template is built with Bootstrap 3.3.7 framework and is compatible with Edge, Chrome, Opera, Safari, Firefox, IE11, IE10 and IE9 browsers.
It features working contact forms, registration forms, Google map, six ready demos and Eventster QR Code. The template comes with a Gulp file and MailChimp integration. The template's modern design permits easy customization.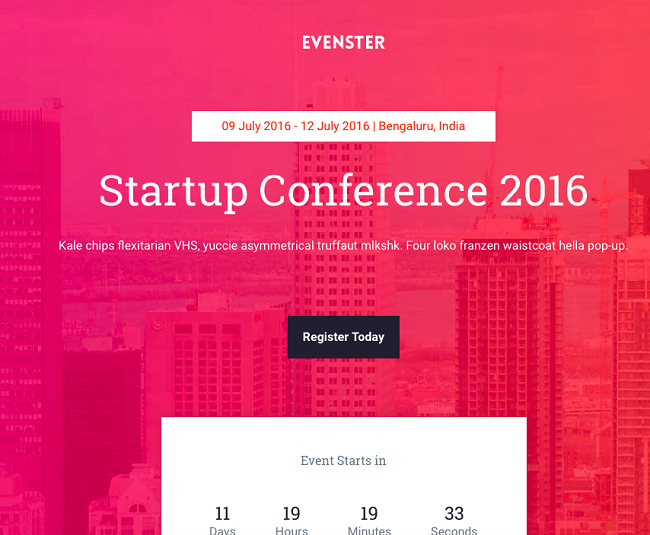 Proconf Event Landing Page
This template from ThemeForest helps event organizers to plan their events with an HTML template that is professionally designed with attractive features.
The template is compatible with leading browsers and includes JS files, CSS files, HTML files and layered PSD files.
It hosts a Working Subscribe form and a Working Simple Ajax Register Form and a Smooth Page Scrolling function that enables both professionals and individuals such as authors, speakers, seminar hosts and industry experts present their events skillfully.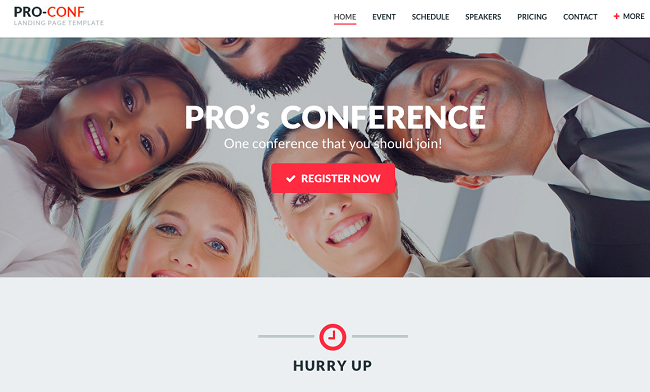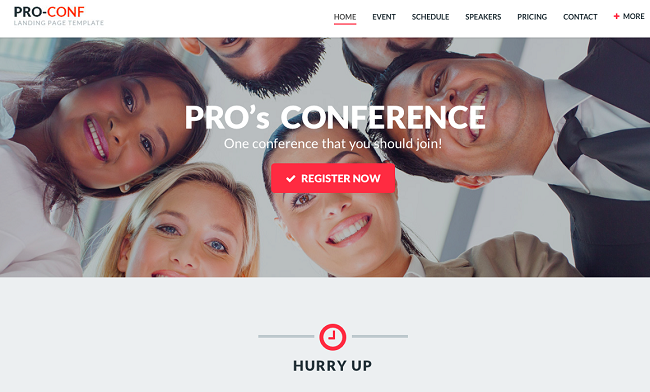 Microevent
The template is suitable for micro event managers with its one-of-a-kind flat and modern design. It comes with multiple home pages and one blog page providing excellent user experience.
The layered template is rendered user-friendly by its features that include PSD and Photoshop files, compatibility with CC Adobe version and 1920×8631 pixel dimensions.


Electron Music
This template is perfect for musical event managers who handle concerts, musicals, and related events. It is designed for them on the easy to use HTML5 markup language. Besides the many standard features, it offers several unique features such as Google Directions script to help music lovers get to the venue.
The template's 'touch enabled' carousel is very useful for showing upcoming events on tablets and smartphones. With its modern browsers compliance feature, the template is flexible enough to adapt to all types of entertainment events such as music shows and live concerts.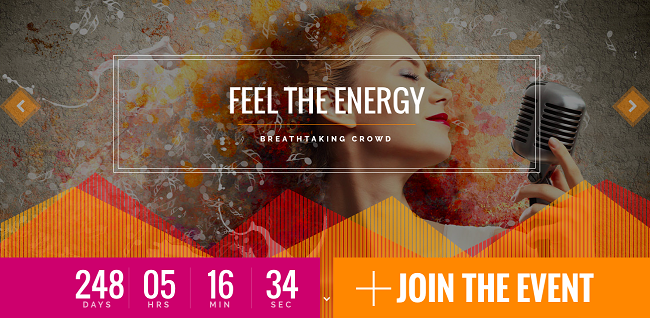 AnyPurpose
This is truly one template that suits all types of events, especially those that need lead generating landing pages. Its features are included in its new design and help to create a stunning landing page in a matter of minutes.
The click through action button ensures that the landing page acquires a high number of leads. The template provides as many as ten different landing page layouts, drag and drop section builder, desktop and mobile versions, placeholders for images and Parallax Effects.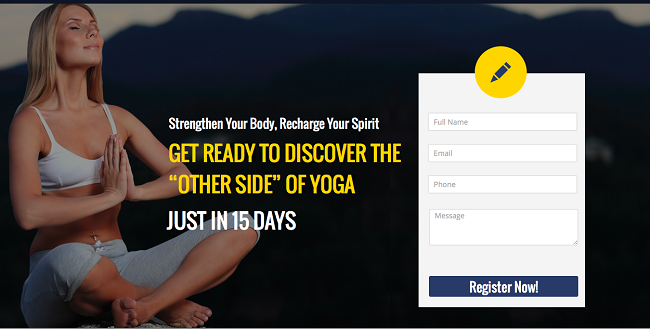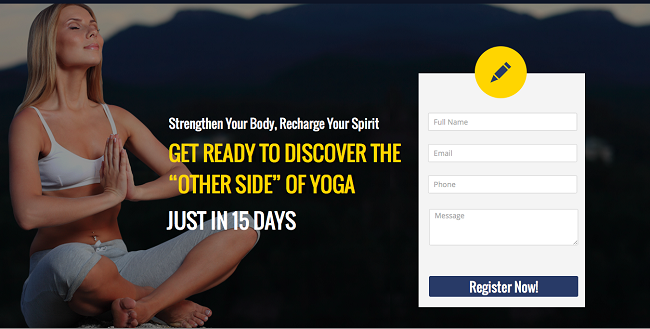 Gather
This is a resource that helps event organizers go live in very short time. The Unbounce template is rich in features, including MailChimp and Eventbrite integration. The template is also available in WordPress and HMTL versions.
Gather comes with amazing features that include video background, Image Parallax, solid color, and countdown version. Gather's tagline is 'Inspire Create Repeat,' quite apt for the phenomenal flexibility provided by the template to event managers.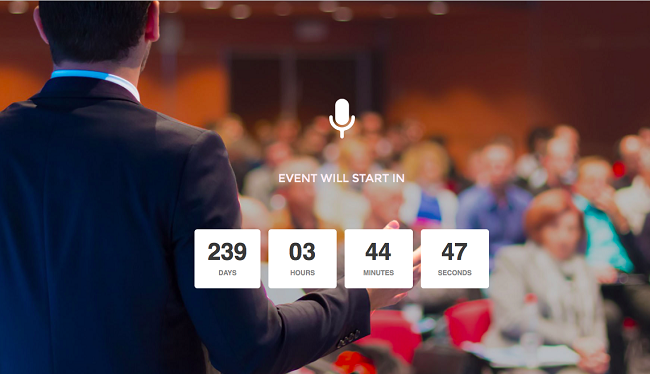 Event Planner
This TemplateMonster offering is a useful responsive template capable of producing superbly created landing pages. The features include landing page builder, clean and crispy design, unlimited updates, Zip Unarchiver and HTML and JS animation.
The template utilizes Adobe Photoshop CS+ for editing and HTML/CSS for detecting errors on the created landing pages. Event Planner also includes PSD source files and hosts a Google web fonts integration capability.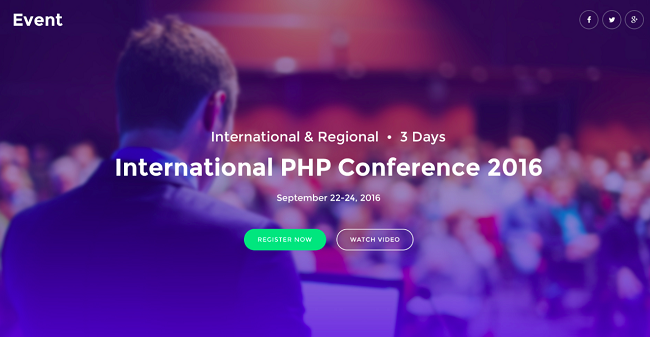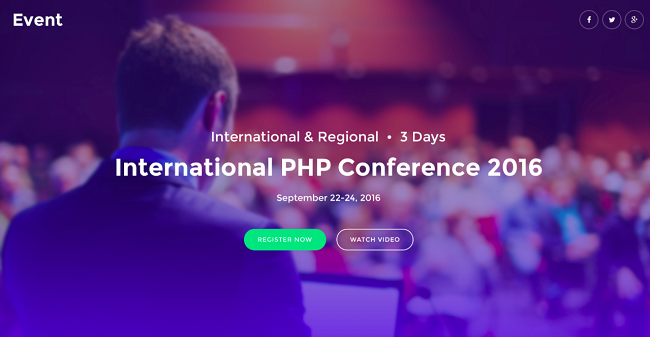 EventLand
It is extremely convenient to use with its fully responsive HTML5 theme. It has convenient features including Program Tabs, Slider, Google Map, Font Awesome Icon fonts, One Page navigation, working Register Form and Newsletter integration.
The template's other user-friendly features consist of Header with Countdown, Program Information Tabs, and MailChimp integration. It also includes files such Icons, 1 HTML page, Full Documentation HTML page, 1 HTML page, PHP file and 1 PSD Layered File.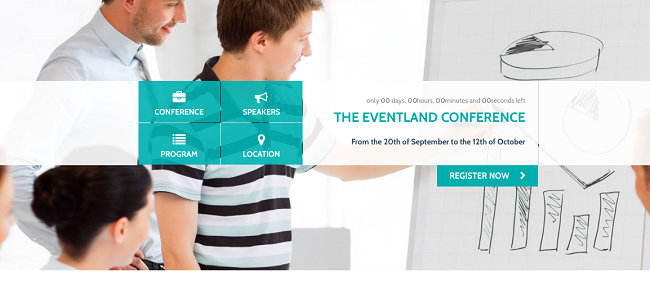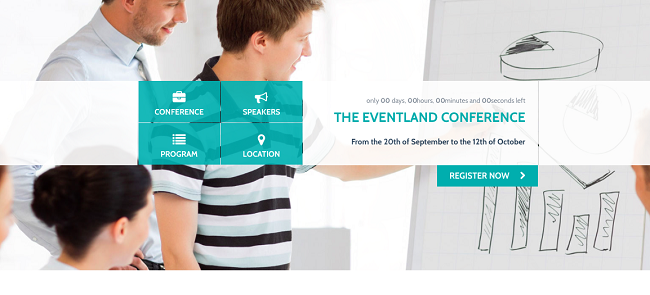 Eventix
The Eventix template is a treasure trove for event managers as it contains a comprehensive event management system. The Bootstrap 3 landing page WordPress theme offers three different page layouts besides Visual Composer Plugin and MailChimp integration.
The template's well documented complete event management system with calendar allows easy single step demo installation and provides three layout variations. One of its unique features is the design that is equipped to increase conversions and downloads.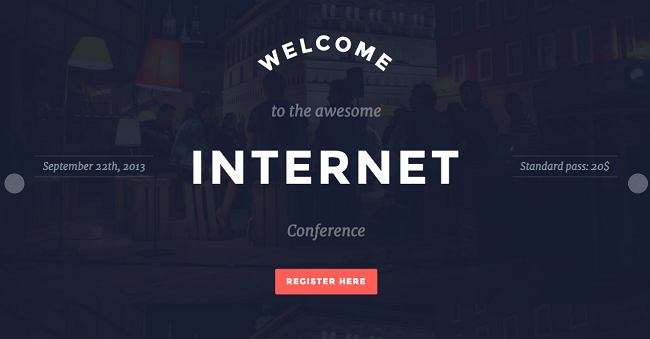 Eventer
The Wrap Bootstrap Eventer Event Landing Page Template is a full-featured resource that should be in every event manager's repertoire. The template offers an incredible 210 HTML pages, four inner colors, over 500+ Font Icons, 12 Gradient backgrounds, Parallax and Video background.
It is compatible with seven browsers, uses LESS CSS pre-processor, includes layered PSD files, provides CSS3 animation, offers Dark and Light Skins and is well documented with a fully responsive design.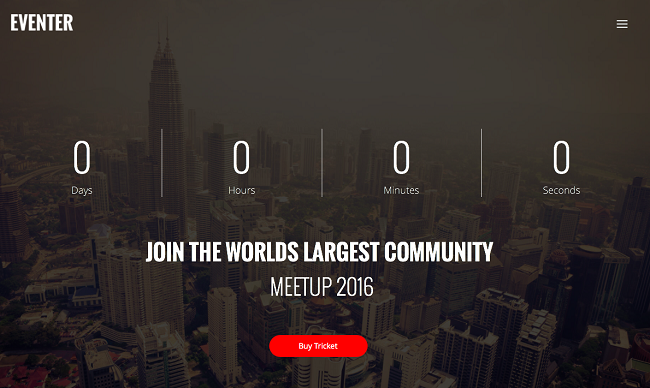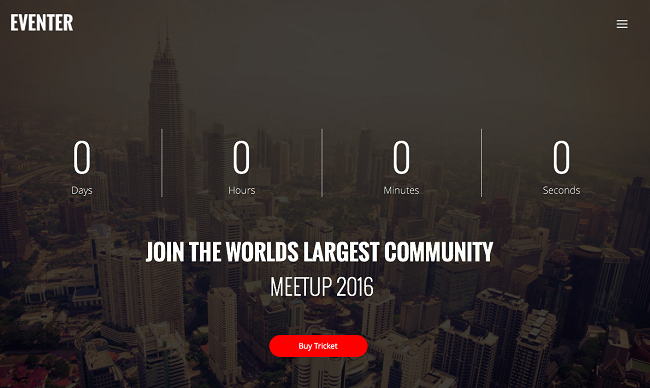 EventMe
EventMe is the all-rounder among all event landing page templates. The model understands the requirements of event managers and provides capabilities to undertake multi-task functions of promotion, scheduling, and notifications.
The template offers a clear pricing table, highlighting of past events, a separate blog section, updated timelines, and customizability. It anchors its style selector and carousel, and houses dedicated sections for client testimonials and 'about event' content.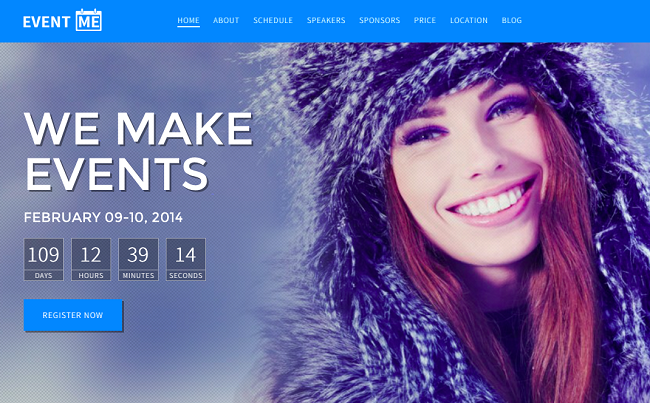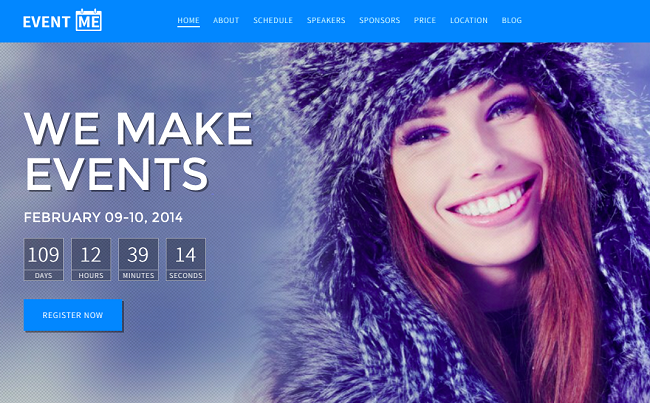 Business Event
The landing page template is Bootstrap based, clean, straightforward and easy to use. The template is easy to customize with its responsive layout, structured and commented HTML/CSS files.
It offers Google Maps and Street View apart from Subscribe Ajax Form, Registration Ajax Form, Clear Documentation and 3 Iconic Fonts. The template is flexible enough to accommodate all types of event management functions.