Asking for donation is a standard practice for the non-profit organizations because they too need money to manage the activities.
Also, if you are offering any tool or service for free, asking for donation can be a good way to make some money to support your activities, the users who want to pay some money in return they can quickly select the donation option and make the contribution.
Now, the main question is how to accept the donation for your project or services?
The answer is very simple, use a WordPress plugin if your site is on WordPress.
Many WordPress themes come with the donation option readily integrated with it, especially the ones created for the non-profit organizations, and you don't need any additional plugin.
However, if your theme doesn't have the option, you can use a quality donation plugin to make the process of donating easier for your users.
If you want to go for a custom development of the donation system, it might take a lot of money creating the whole system linking it to the payment gateways and resolving the issues that might come up.
So, why not use a free or premium plugin that hardly takes a few bucks to manage the whole system. Another advantage is that if you are using a plugin, you can change the design of your site anytime by adding a new theme without having any effect on your donation system.
So, let's have a look at the best donation WordPress plugins that you can use on your site.
Top Donation & Fund Raising WordPress Plugins
---
01. Give Donation Plugin
One of the most comprehensive donation plugins in the list Give is all about helping your non-profit organization to receive the much needed financial help.
This plugin works perfectly with any WordPress theme, so you don't have to change or work around your design, the plugin will just slip into the ready system.
Give plugin offers you the option to create a different type of donation forms that might work differently depending on your niche, you can create a simple form as well as a donation poupup.
You will be able to create recurring donation system so that you are able to generate regular financial support form your community. The plugin also gives you the option to manage your donors.
The Give plugin is tested and works perfectly with the third-party website builders such as the Beaver Builder, Divi Builder, and all popular themes.
Best Features
Works with all popular themes
Easy to manage
Comprehensive statistics of the donations
Easily manage the donors & have all the details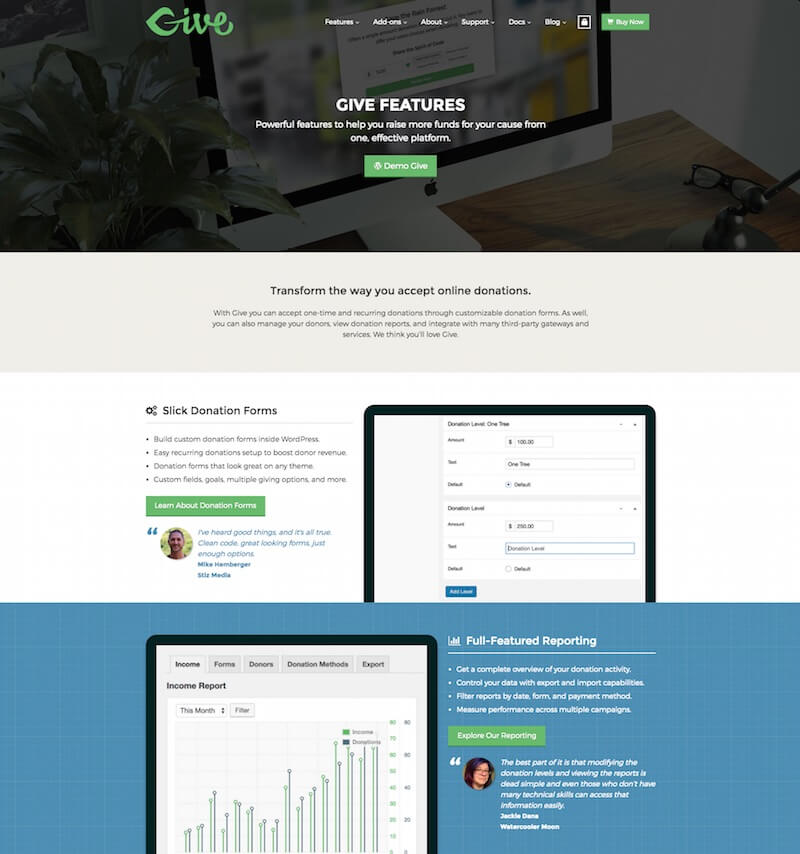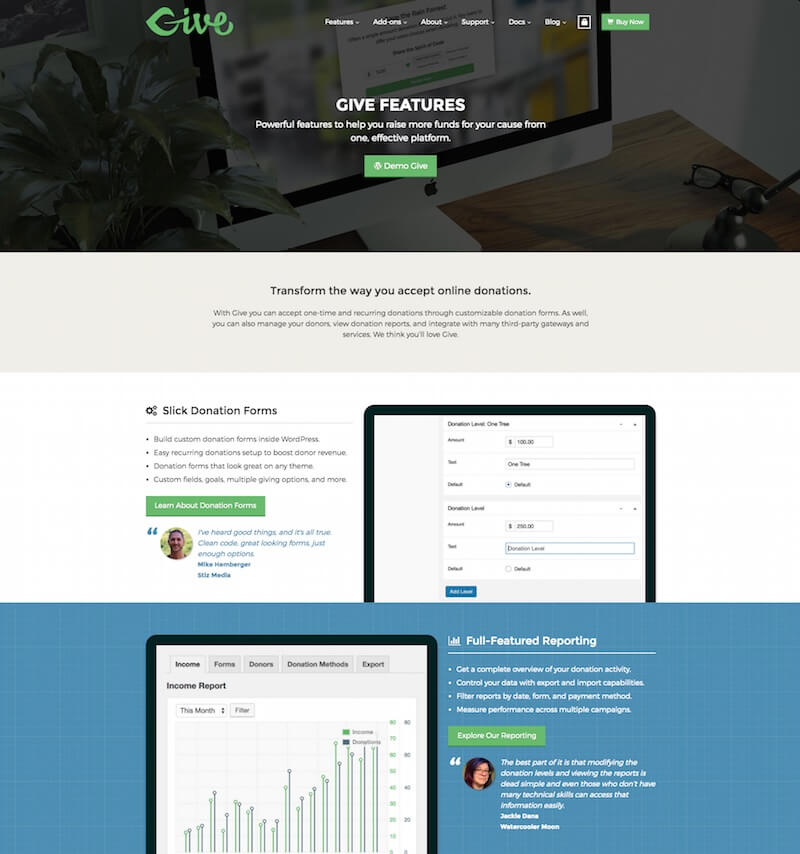 02. Donation Thermometer
If you wish to give a different and attractive look to your whole donation system, this plugin is for you. It comes with a custom thermometer image that you can customize as per your need.
The thermometer will display the amount raised so far against the amount set as the target. This will keep showing the percentage of the amount raised so far.
The plugin offers you simple shortcode that you can place anywhere on your site to showcase the donate option.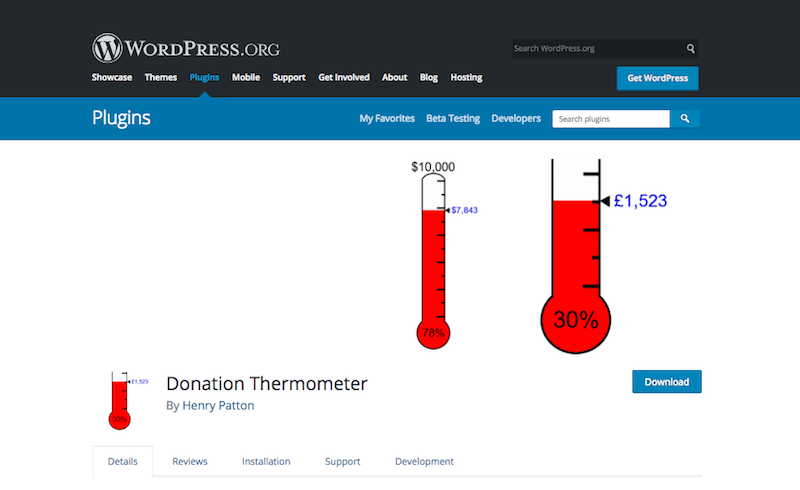 03. Charitable
Not just a donation system, you can create a complete fundraising site with this plugin for your non-profit organization or the community that you workaround.
The plugin is very easy to get started, you can set up your donation system in just five minutes. While the plugin is focused on making it newbie friendly and those users who are not technically efficient to go through complicated settings, it does offer you all the required features and make it work for an organization of any size.
You can easily connect this donation plugin with the leading payment gateways such as the Stripe, Authorize.Net, PayFast or PayUMoney etc.
Setup your donation system within a couple of minutes, go for the recurring donation option so that you have regular financial help from the users who want to support your organization.
Top Features
Works with all WordPress themes
Easy to manage
Option to setup recurring donation
Free to use, no hidden cost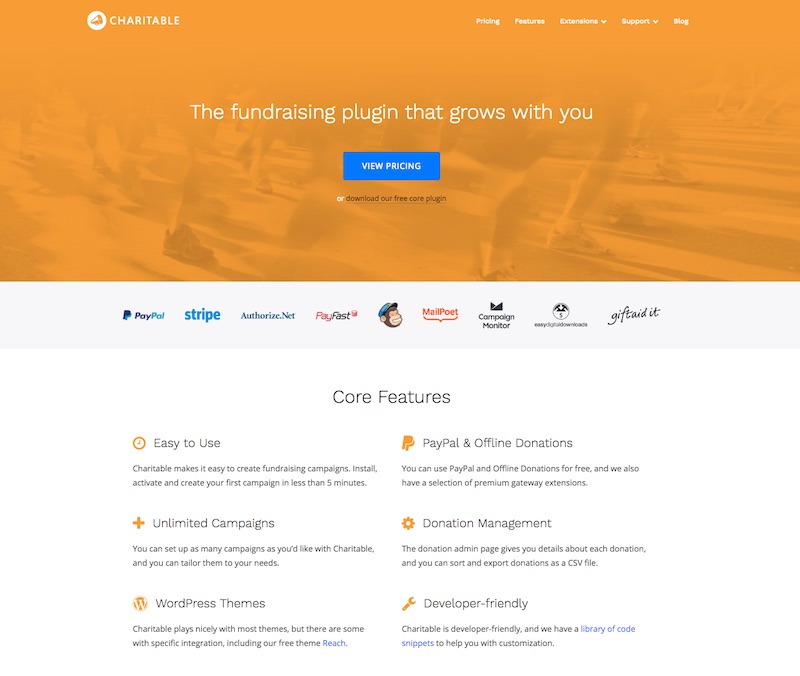 04. PayPal Donations
A quick and simple PayPal donation plugin for the WordPress sites. With over 50k active installations, this is one
This is a newbie friendly donation plugin, you have the shortcode as well as the sidebar widget so that you can place the PayPal donation option wherever you wish to.
Another advantage of this plugin is that it comes with a ready translation into a number of different languages. So, if you are managing any charitable organization that is in other languages, you can use this plugin.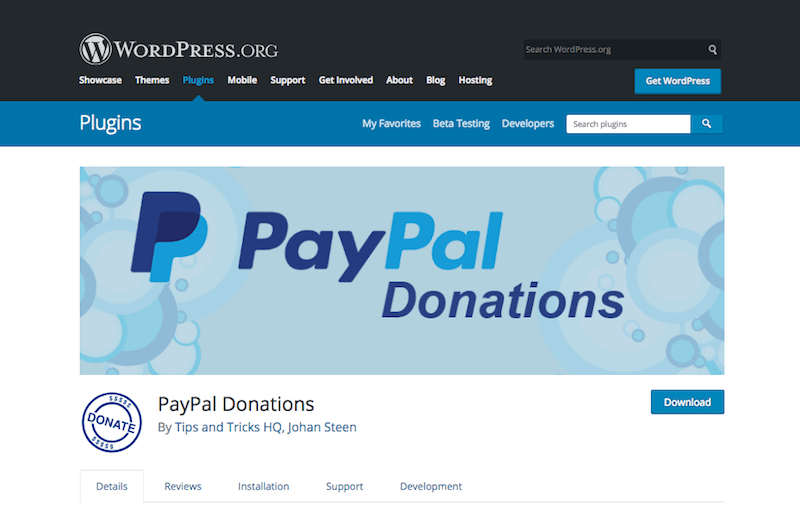 05. Donation Content Locker
As the name suggests, this is a content locker plugin. If you are creating valuable content on your blog regularly and wish to lock down some of your premium content and make it available to only those who donate a certain amount, this is the plugin you need.
This plugin makes the process simple and easy for you, all you need to do is to warp the content around your shortcode and it will do the rest.
The Donation Content Locker is one of the most comprehensive plugins in this list. It will help you to create the full proof donation system for your site.
You can amazing flexibility and options to finetune the complete process. You can set a minimum amount of donation, the system remembers the donors who made donations in the past, you can block donors etc.
Top Features
Works with all WordPress themes
Easy to manage
Multiple payment gateways support
Translation ready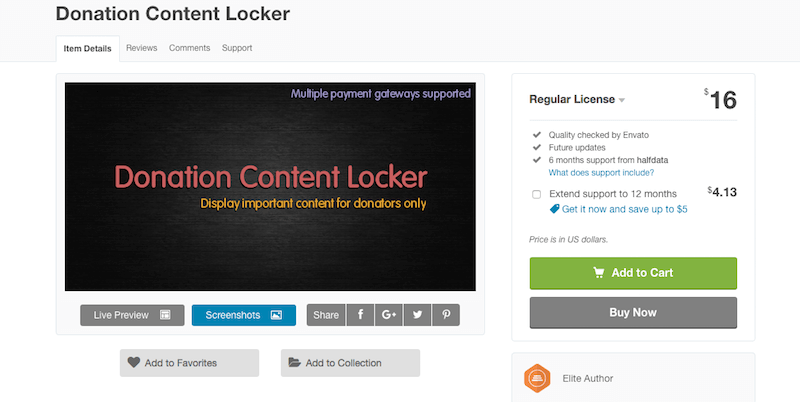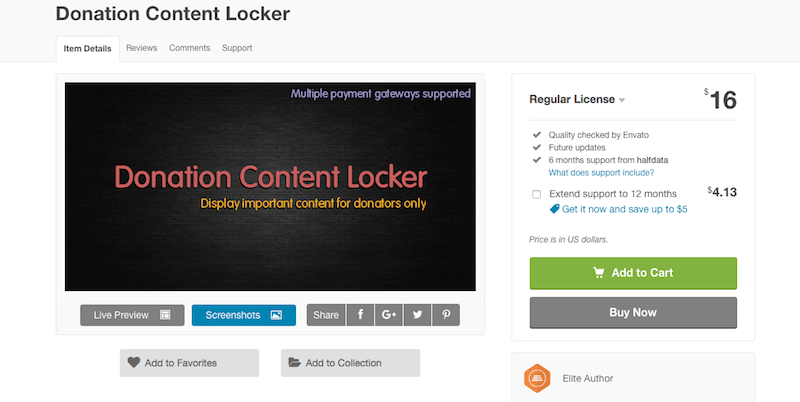 06. Donation Manager for WordPress
Another comprehensive donation plugin for WordPress. This plugin offers you the option to set up the preferred payment gateway to receive the donation, it supports multiple gateways.
The plugin is easy to get started and comes with complete documentation and support in case you need any help.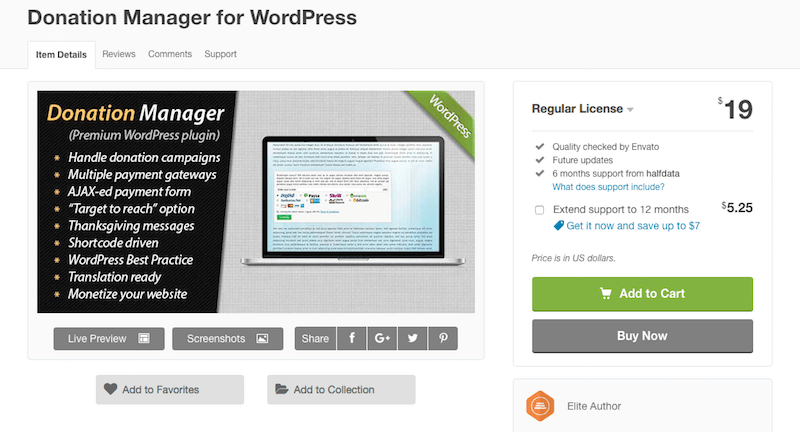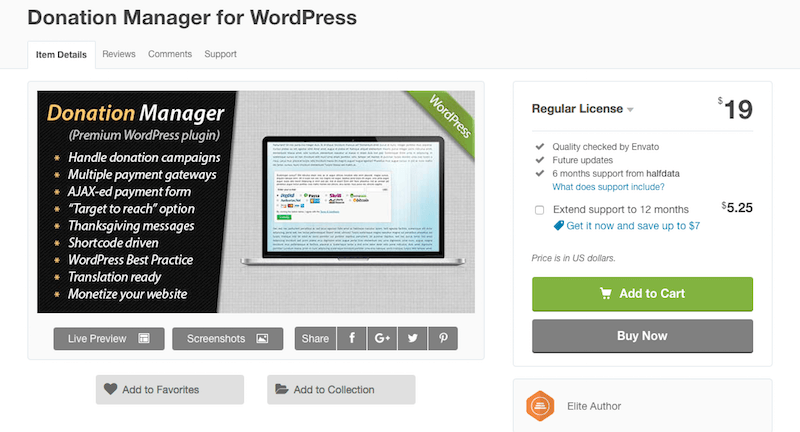 07. WP Crowdfunding
As the name suggests, this is a plugin that is created to raise funds. This is a product to create a high quality perfectly site like the best crowdfunding sites.
It is fully compatibel with the WooCommerce plugin, so you will have the ready eCommerce features. It gives you the option to integrate Paypal, Stripe to accept funds.
You can use this product to raise funds for your own as well as others by suing a completely cutsom design to maximize funding.
Like the top fundraising platforms, this product gives you the option to allow project submission from the fornt-end of your site.
All the parties involved in the process will have the options and features to make things easier for them. If a user comes to your platform as a campaign owner, they will have the option to create a campaign, raise funds and withdraw funds.
The supporters will have the option to donate funds by selecting their preferred platform to transfer money, and they can fund anonymously or visibly.
As the admin, you will have complete control over the platform to make things easier for your audience.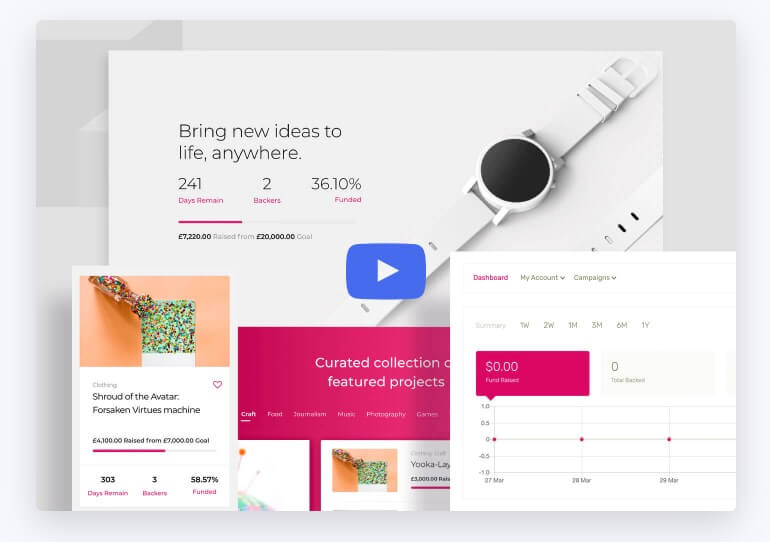 08. Donorbox
Another free donation WordPress plugin that we can use to raise funds for your organization. It login gives you customization options so that you can change the design of your donation page according to you need.
The plugin is quick and simple to get started with. And it gives you the option to select from multiple currencies fire multiple payment gateways
Top Features
Free to use
Complete customization options
Multiple currencies and multiple payment gateways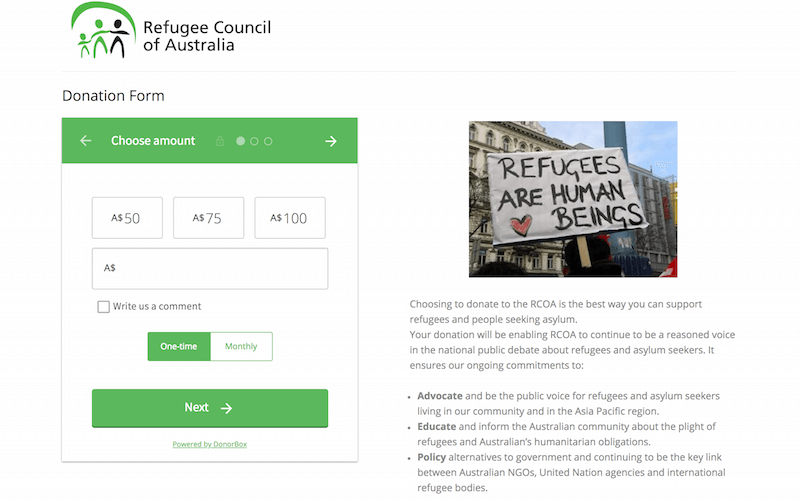 09. BitMate Author Donations
Request accept cryptocurrencies as donations, this is the plugin you need. This is free to use WordPress donation plugin that we can download from the WordPress plugin directory and start using it.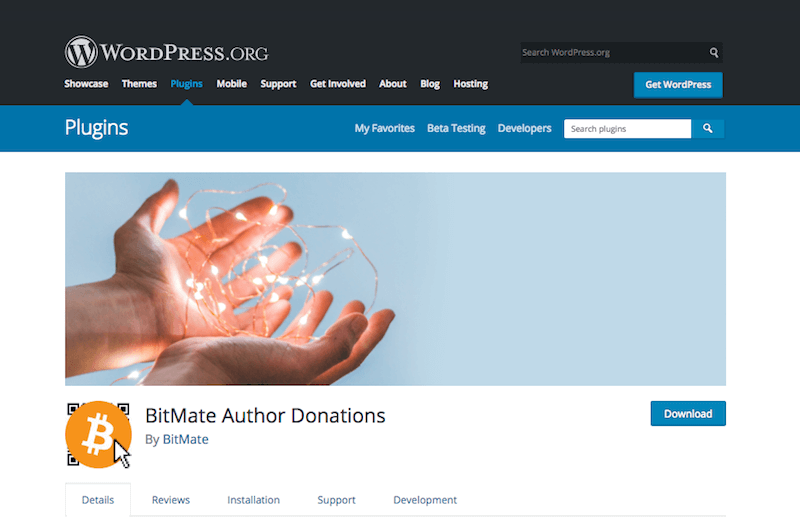 10. Galaxy Funder
This is a plugin to set up a crowdfunding website with WooCommerce. You can use this plugin to create a complete crowdfunding system and help you grow your projects that will be back to buy the general uses.
The protein comes with frontend campaign submission option in office extensive customization options so that you can make it an integral part of your overall website.
Top Features
Works perfectly with any WooCommerce theme

Call crowdfunding options

Front-end submission options

Translation ready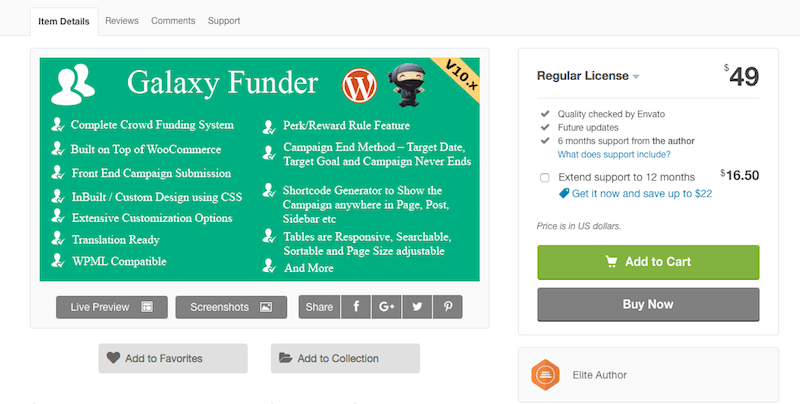 Final Word
There are a number of other donation plugins in the market, but there is no need to get confused around many options because the plugins listed in this article are the best from the lot.
If you need a very simple and quick solution, go for the PayPal donation option and if you need a little more customization and comprehensive options, go for the Give or the Charitable plugin.