A collection of best certificate templates that you can use for the various purpose. If you are looking for quality certificate designs, you must look at the options below as we have collected the best from the available lot.
Have we wondered what the Nobel Prize means to the winner? We have watched the Nobel Prize being given away on TV, and the lingering image is that of a medal.
However, we might not have considered if the Nobel Committee presents a certificate.
Well, it does give a certificate and the one received by an Indian Peace Prize winner Kailash Satyarthi is the one shown in the image that follows.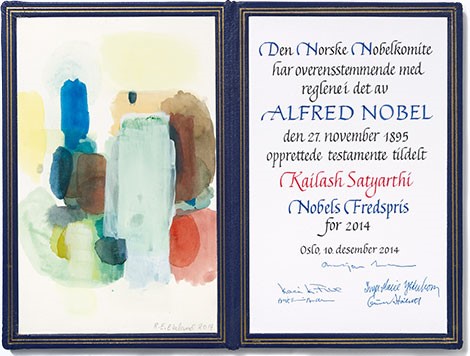 Many people perform their duties responsibly without expecting anything in return. But human nature is such that recognition always helps.
What better way than to show appreciation through a certificate that is created with care and relevance? Most of us fondly remember our graduation certificates and some of the professionals even hang them behind their desk in their offices.
These documents remind us of our professionalism and achievements. Sometimes, the popularity of the award overshadows the certificate. But, a well-designed certificate goes a long way in endearing the giver to the receiver.
Today's technology has made available a remarkable resource in the form of templates that can be downloaded in a variety of formats and custom made to suit your requirements.
The Internet is home to thousands of templates from which users can choose their designs.
Here are some of the best and handpicked Certificate Templates to choose from.
Best Award Certificate Templates
Multipurpose Certificates II
The Multipurpose Certificates II from Graphic River is a certificate template that when used imaginatively would be treasured by the recipient and in all probability framed and hung in homes or offices.
The multi-featured template includes four fully layered PSD files, 4 MS Word files, DIN A4 and US Letter.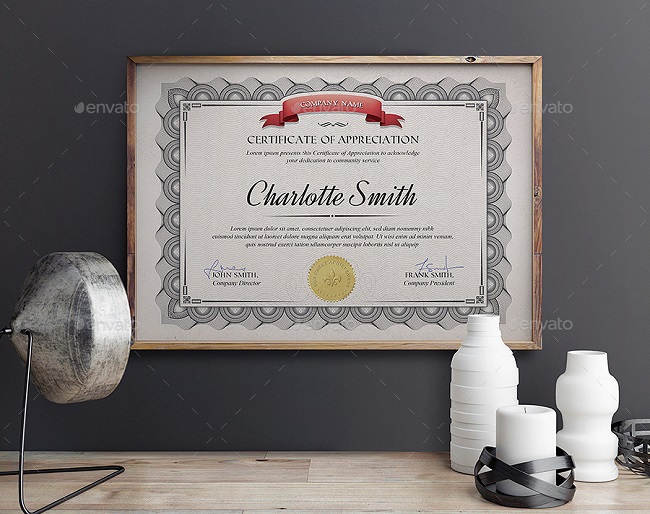 Modern Certificate Word Template
Another great looking certificate word template that you can use for your organizational use. This is multipurpose certificate template that you can use for any purpose.
It comes in both landscape as well as portrait orientation, so it is perfect for any event. It also offers you a few color variation to choose from.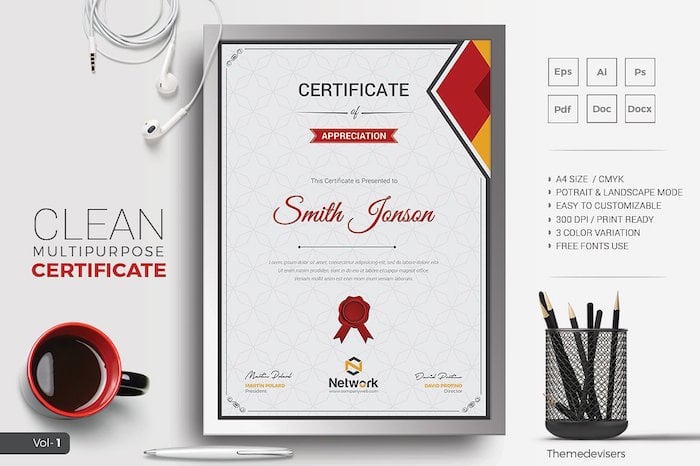 55 Printable Mega Certificate Bundle
This is a certificate bundle of 55 beautiful designs that you can print. These designs are created in MS Word and Photoshop.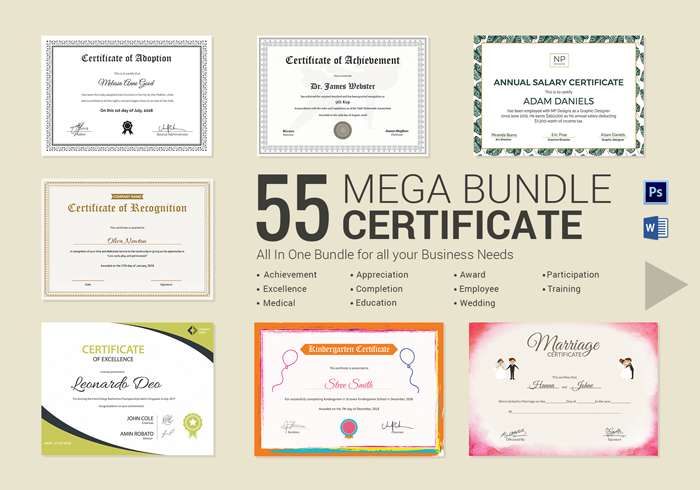 Modern Classy diploma award Certificate
Another classy template from Graphic River.
This one can be used for achievements in any field of endeavor, including attending training courses.
The template is capable of being classy and modern at the same time on account of its fully editable in Adobe Illustrator and the Encapsulated PostScript (EPS) features.
It is packed with others features that include CMYK print ready, five different colors and Georgia, Cloister Black Light and Bickham Script Pro fonts. The template is fully customizable with free fonts and is CMYK print ready.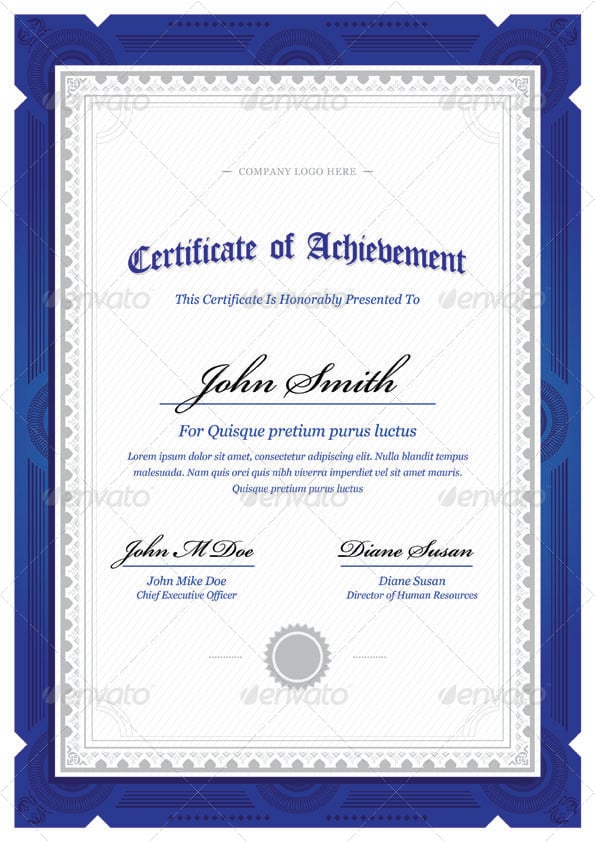 Arrow Style Participation Certificate Template
Arrow style modern and creative certificate template that you can use for your purpose. This design includes InDesign, Illustrator, MS Word, Publisher, Photoshop format.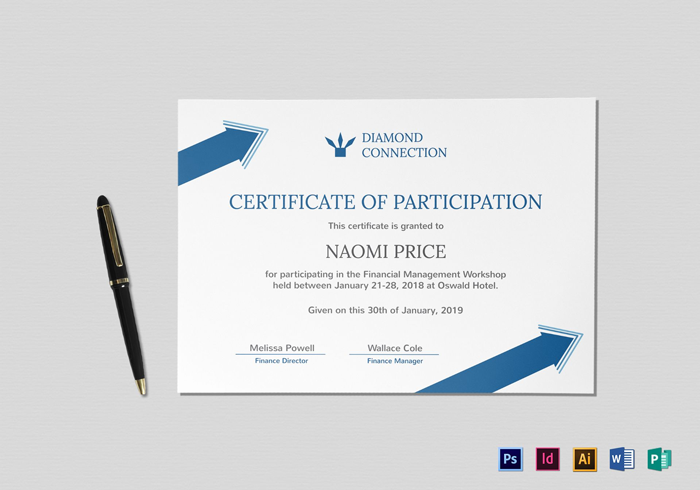 Achievement Certificate Template
An achievement certificate template in MS Word, Photoshop format.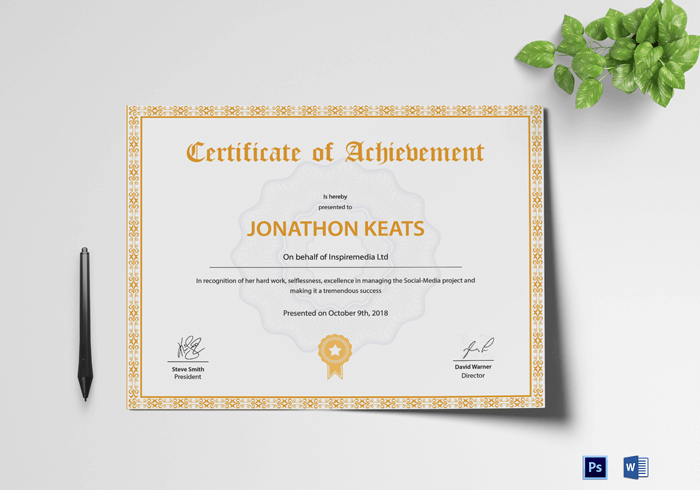 Certificate Pack template
The Certificate Pack template from Graphic River is a simple template that is presented in 5 PSD files ready for printing in 5 designs.
The template is easy to use and edit as it comes with a help file giving the names and links to all fonts used.
Certificate Template
A beautiful certificate design that you can easily brand with your logo and design changes. This theme is of an A4 size that you can customize according to your need.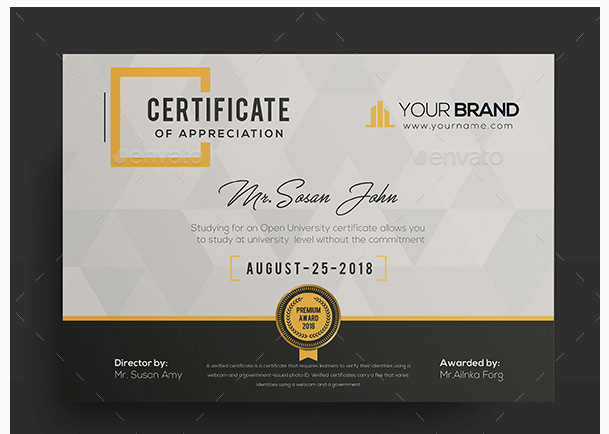 Basketball Certificate template
The template is user-friendly and is capable of high-resolution printing. The Basketball Certificate template from Graphic River is capable of producing a document so inspiring that the recipient could be the next Michael Jordan or Shaquille O'Neil.
Modern Certificate Template
The Modern Certificate Template from Creative Market is a multipurpose simple 1 PSD file layered template capable of being used to design and print sophisticated looking certificates to award deserving recipients in any field of endeavor.
The template permits printing in CMYK color in US Letter landscape format. The template offers a drag and drop feature via smart objects.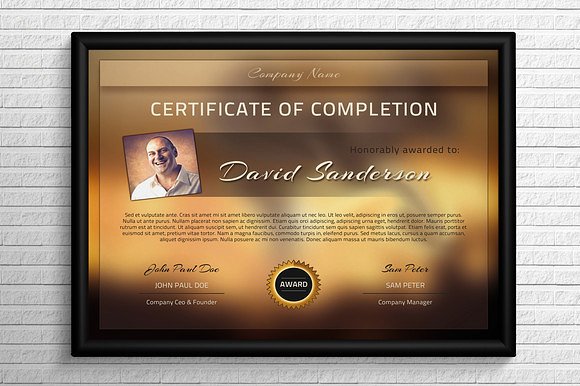 Modern MS Word Certificate
This one is another unique template from Creative Market. It is a useful template created in MS Word that helps many millions of MS Word users to create simple yet elegant certificates.
The template is easily editable in MS Word and comes with six pre-selected colors that are easy to change. The certificate comes in the traditional 8.27 x 11.69 inches size.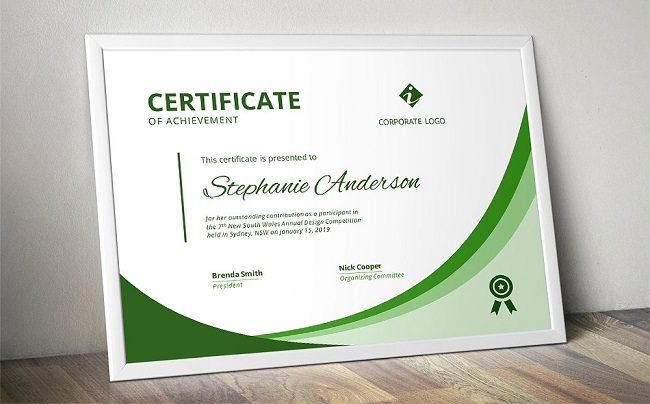 Classic Certificate Template
If you are looking for a classic certificate design, here it is. This is an elegant certificate design that you can fully customize to fulfill your need.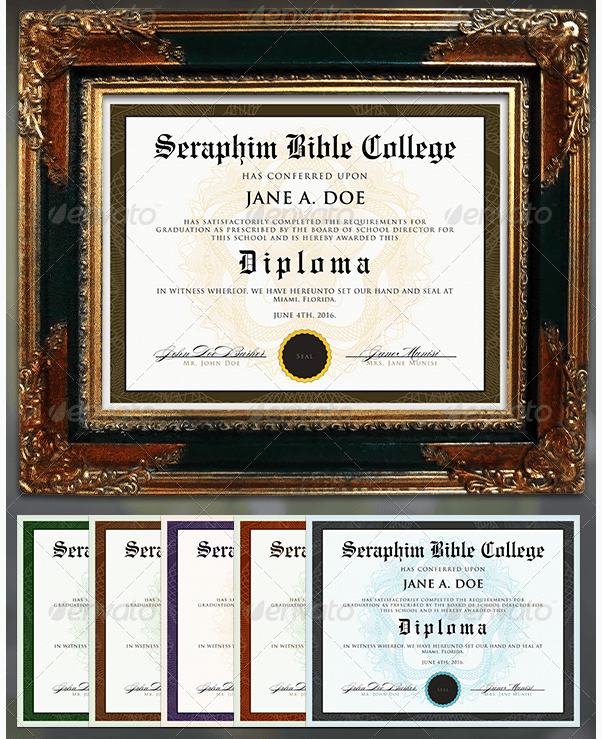 Certificate Template. Vector
It's a great looking modern vector certificate template with an amazing geometric sphere. You can get the template in EPS and high-quality JPG format.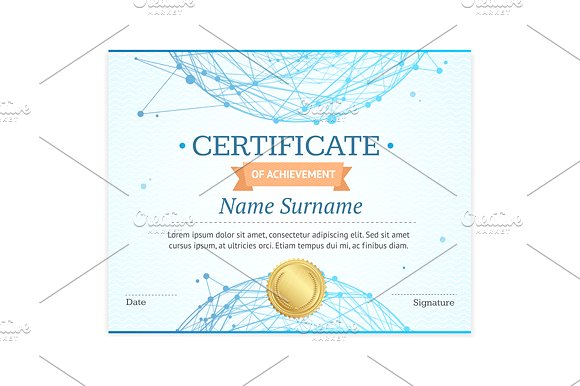 Modern Certificate Template
A beautiful pack of fully customizable certificate template with smart objects. There are different color versions and all of them look very attractive.
You have the option to portrait and the landscape version of the certificate in the A4 & US letter sizes.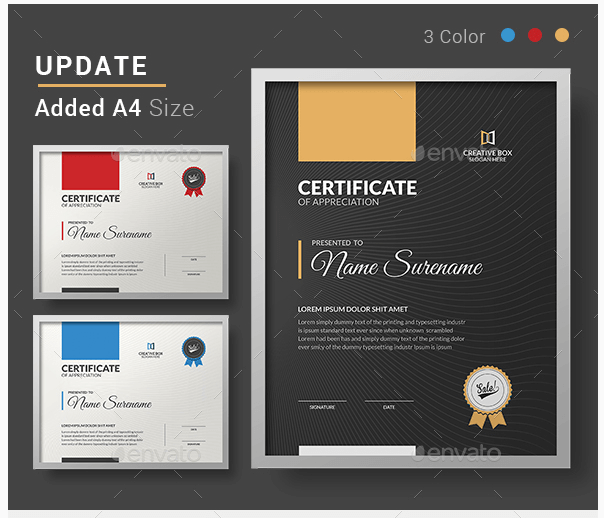 Physical Fitness Excellence Certificate Template
As the name suggests, this is a certificate template for the physical fitness programs. It's a beautiful, clean and minimal design that you can use for your program.
Vintage Style Certificate
be it a car or a certificate, the vintage designs are evergreen. You can use this certificate template for any kind of award, presentation.
It's a great looking design that offers you AI10 and EPS10 files. get this nice looking award certificate template just for $5.
Certificate Template
The Certificate Template from Creative Certificates is a free online certificate creator that enables an absolute novice to print out a certificate in 6 easy steps in under two minutes!
The six simple steps are choosing a border, choosing a ribbon, editing the text, adding text, logo or image, downloading as a picture or PDF document and finally printing. The template is excellent when a large number of certificates are needed in quick time.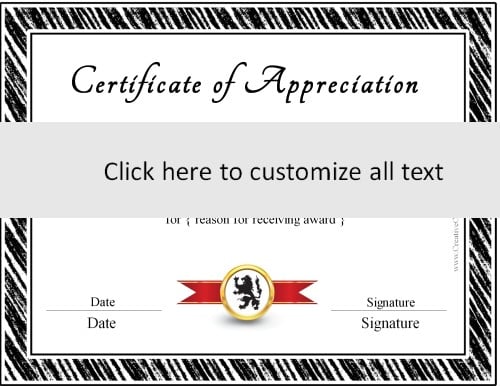 Diploma Certificate Template
The Diploma Certificate Template from Canva is a veritable treasure trove of creative templates that educational institutions would love to have.
The template imparts elegance to the certificates that are fully customizable. The versatile template provides a range of documents suitable for kindergartners to Ph.D. awardees.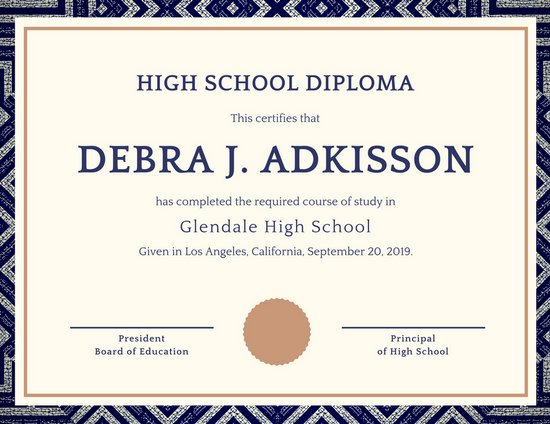 Free Citizenship Award Printable Certificate Template
The Free Citizenship Award Printable Certificate Template from Hoover Web Design is a great template that allows class teachers to create performance certificates to recognize a student's achievement in class.
The template allows new certificates to be set up out of Adobe PDF files and names inserted by hand to give the certificate a personal touch.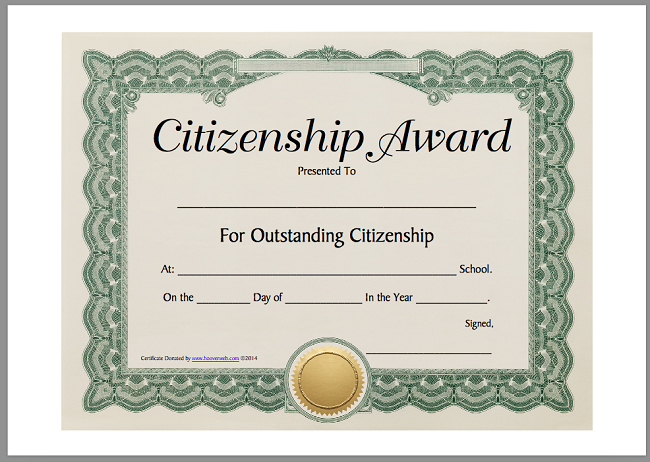 Certificates template
The template offers a range of border designs to suit any requirement. The Certificates template from Templates is a simple template based on MS Word online and PowerPoint online suitable for users familiar with MS products.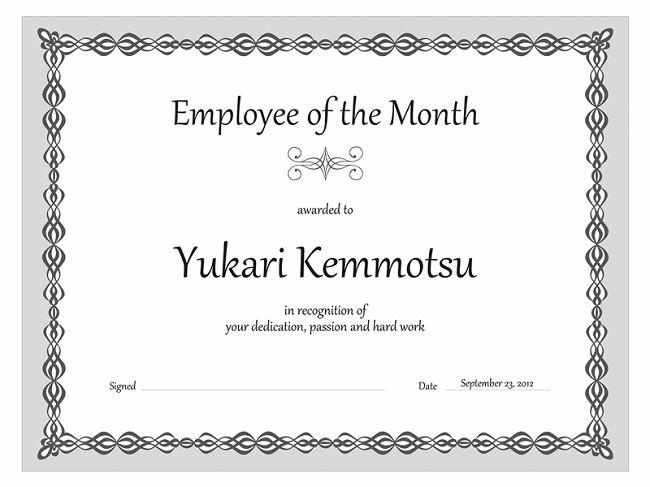 9 Free Certificate Templates Bundle
The template offers designs for a variety of uses ranging from training to employee of the month. The template allows the get-up of the certificates to be customized with different borders and colors.
The Templates Bundle from Template is a very useful well-documented template in the traditional A4 letter size. It comes in a Word or PDF format and offers vintage and classic designs as well as a contrasting gold border on cream background design.
The template is easily customizable allowing for bleed and is print ready in CMYK mode with a high resolution of 300 dpi.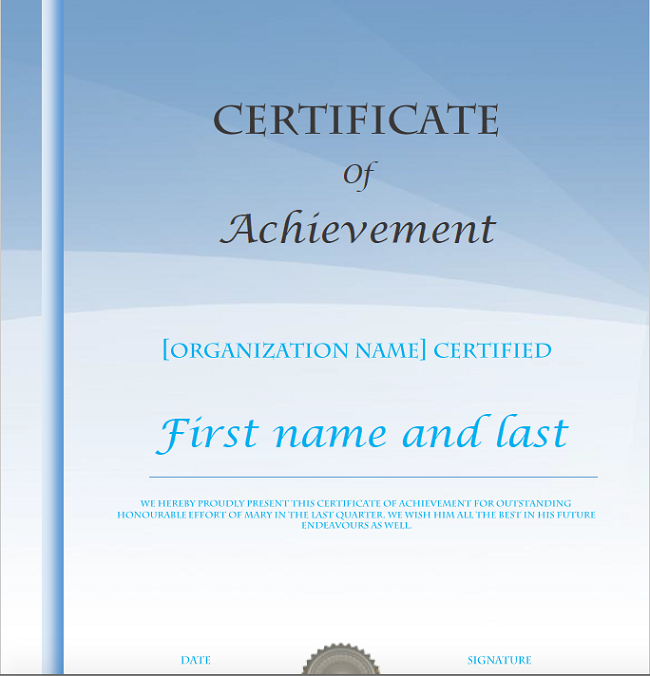 123Certificates
123 Certificates is entirely easy to use a template for printing all kinds of certificates. The template, as the numerals in the company name suggest, is as easy as saying 1, 2, and 3.
The user chooses a style, enters a name and prints, and the certificate is ready for presentation to the awardee.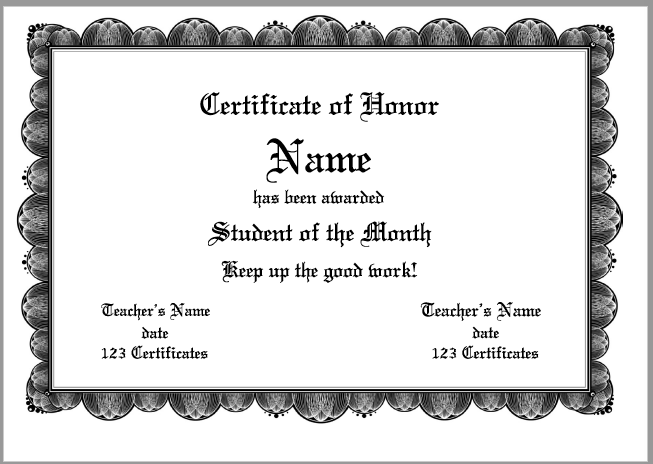 Certificate template from Certificate Street
This one assists a broad cross-section of users to print certificates. The template offers exclusive designs for sports, schools, special occasions, business, and relationships.
Within each particular design, the templates provide an exhaustive list of options to satisfy any requirement all in the PDF format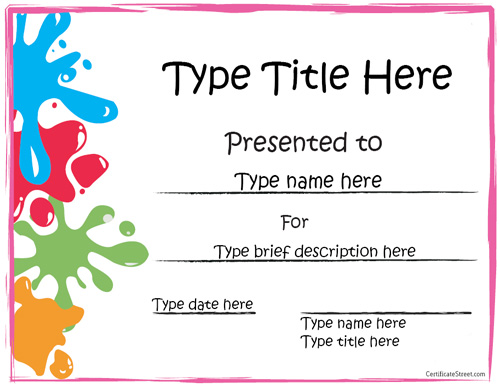 Certificate Templates Online
Certificate Templates Online have over 20 designs in number covering categories from awards certificate to event certificates and from gift certificates to training certificates.
Within the categories, the template offers designs that match the category. It downloads in Word and PDF formats.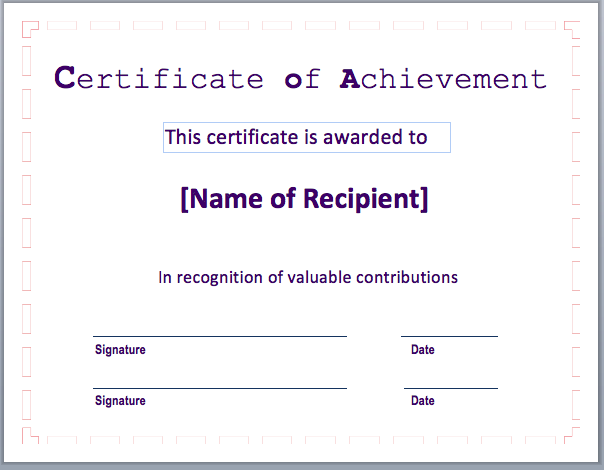 50 Amazing Award Certificate Templates
This collection of frameworks from Template Lab can be useful for large companies to utilize while giving away awards to winners of awards programs.
The template is suitable not only for employees of the organization but also for other stakeholders such as vendors and consultants. The template is a repository of many award options, some of which even large organizations are not privy to.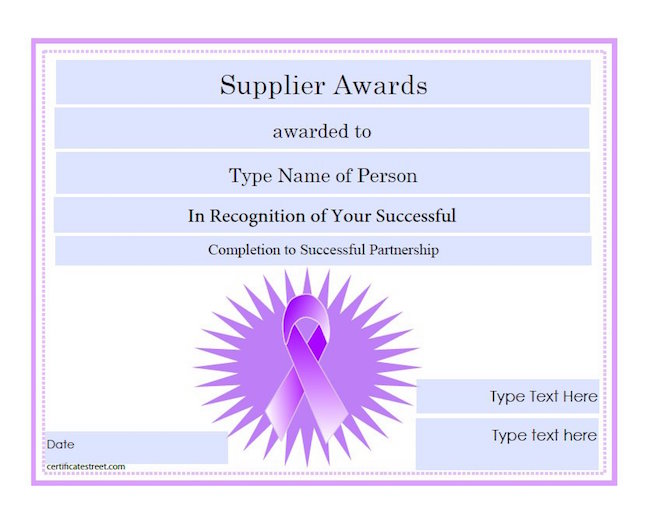 Gift Card Templates from Get Certificate
The Gift Card Templates collection is a storehouse of hundreds of templates suitable for all gifting occasions, be it for personal, professional, or commercial purposes.
The template offers designs for even gift vouchers to be issued by a host of consumer product companies. Besides gift certificates, the template offers designs for awards, appreciation, and marriages.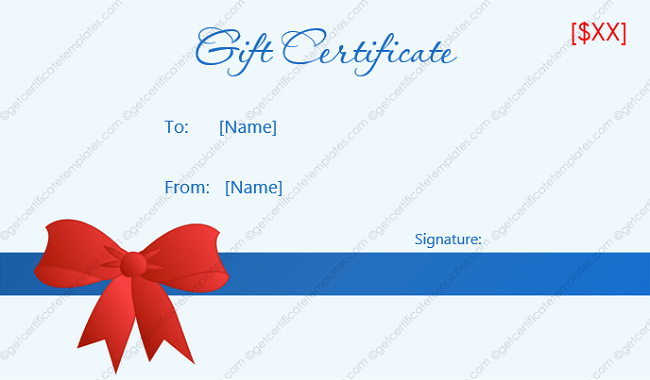 Free Certificate Templates from Successories
The Free Certificate Templates from Successories is a carefully planned template that provides some choices to the users of MS Word.
The template offers some options in categories such as award certificate paper, certificate seals, certificate frames, certificate holders and certificate folders. The template offers the user a resource that makes the certificates look very real and authentic just as any official documents.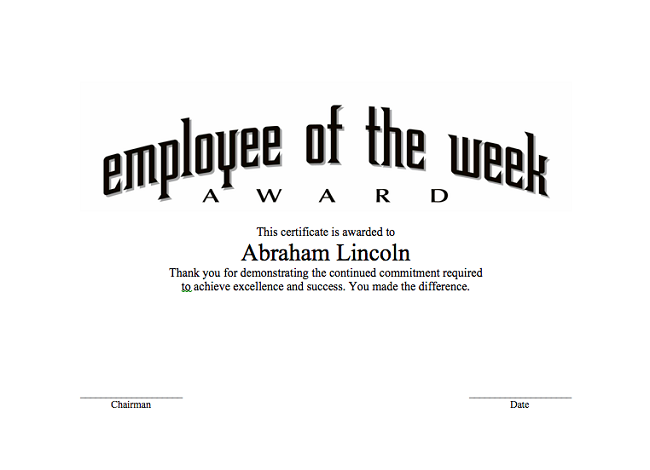 Certificate template from Devfloat
It is a professional grade template with creative certificate designs in vector and PSD formats.
It is fully editable with an insertion of text as per the users' needs. The template gives a beautiful and professional look to the certificates, which the recipients would treasure.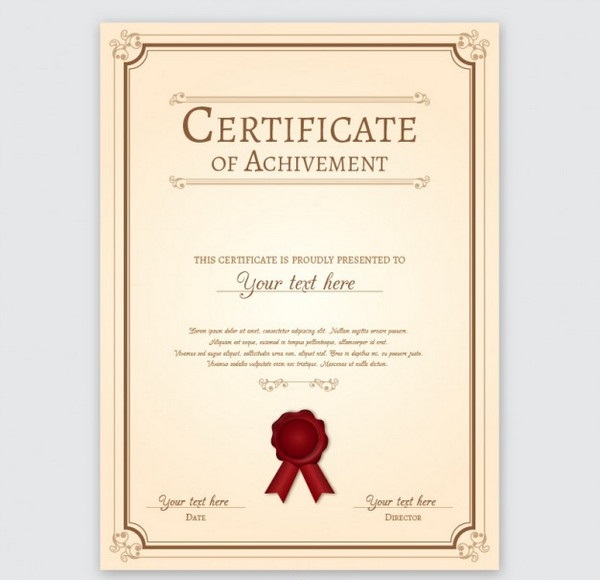 Certificate PowerPoint Templates from Slide
This collection from the Slide Team is a total departure from the traditional MS Word and PDF formats. As the name suggests, the template is a PowerPoint format and offers more room for a superior certificate design.
At a more base level, the template appears simple but with the added gloss of a PowerPoint presentation.
Certificate Template from Xerox
The Certificate Template from Xerox is a welcome change from the World Wide Web companies. The template is perfect for small businesses to promote their business by offering the certificate template to their regular customers who are in need of certificates. The template is available in PDF and MS Word formats.
Certificate Template
Another beautiful, clean certificate template design that you can get for a very low price. Adobe Illustrator CS & CC File. All main elements are easy to editable and customizable.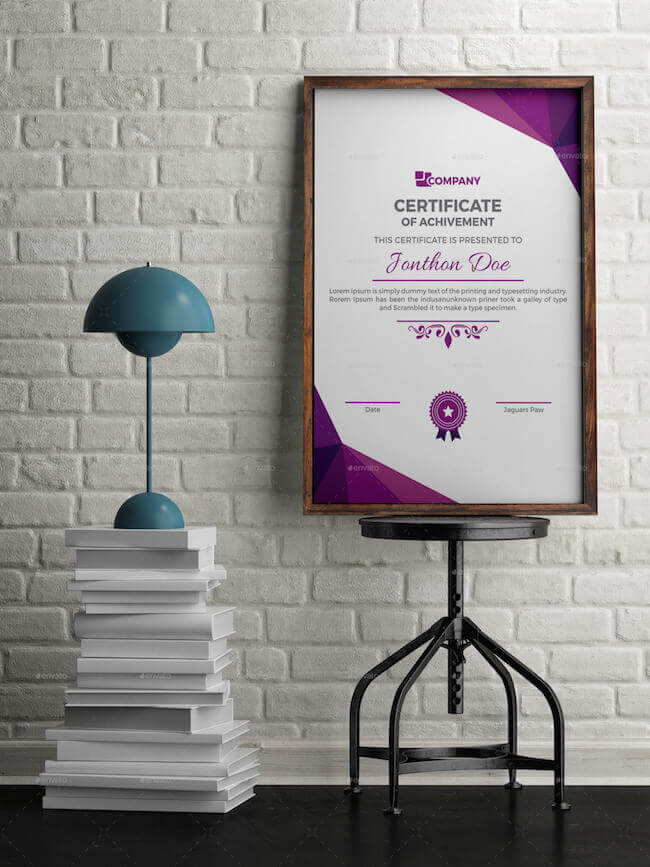 Multipurpose Certificates Template
As the name suggests, this is a multi-purpose certificate template that you can change accordingly and use for any purpose such as diploma, school, colleges or even sports related awards.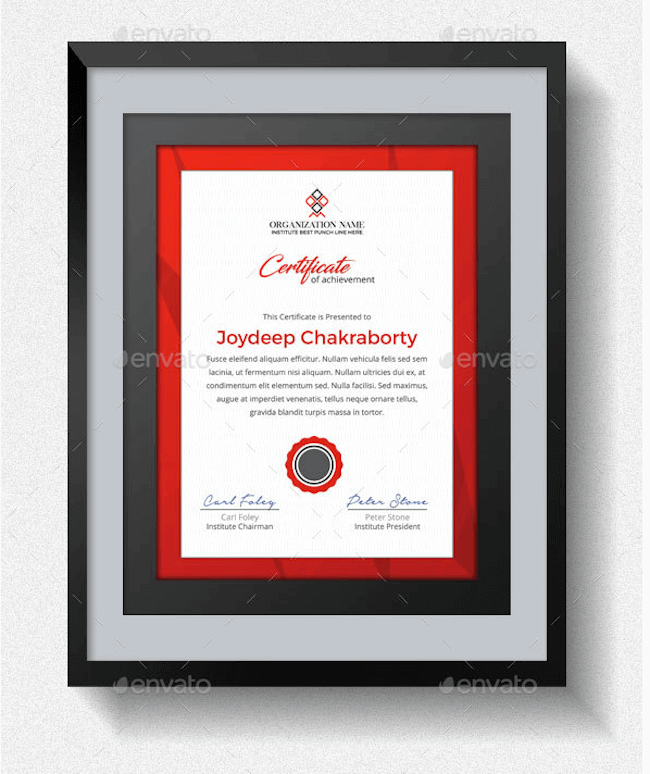 Modern Certificate Template
A simple, minimal yet trendy template that you can use for any purpose. You can get this award certificate template for a very low price.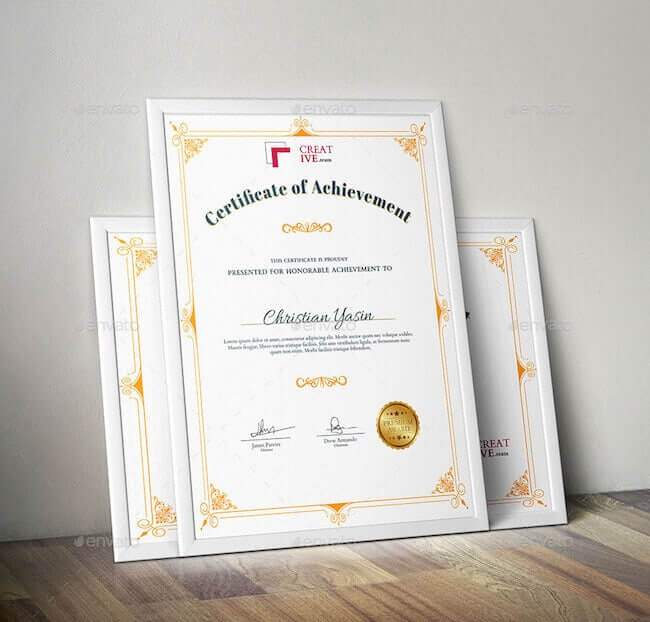 Certificate of Participation
A great looking certificate template that you can edit and make it perfect to fit your need. This is a certificate template for participation in any event or course
Free Certificate Templates
A collection of some amazing free certificate templates that are created using MS Word. You can download these templates for free and edit them according to your requirement.