There are some amazing advertising management plugins available in the market that makes the process of managing your ads on your WordPress site very simple.
We have recently published an article about the best Google AdSense plugins that will help you to manage your AdSense ads with ease.
For the basic WordPress installation, the advertising options are limited to the theme you are using. Most of the top-quality WordPress themes offer you the built-in option to manage your ad placements.
However, if your theme doesn't have the advertisement options available already, you can use any of the ad management plugins listed in this article.
The good news is that there are a plethora of WordPress advertising management plugins that you can use, both free and paid.
Why use WordPress Advertising Management Plugins?
You will save a lot of your time managing your ads with these plugins. Almost all the plugins that we are going to list come with a proper dashboard for an eagle-eye view.
The management plugins will also enable you to execute the blog monetization plan properly.
Not only that these plugins also let you put ads in your desired place without the need to edit your theme code.
There are some benefits of using advertising management plugins, you will not have to keep track of your ads manually and you will have proper statistics about how the ads are performing.
So, let's get started.
What Are The Best Advertising Management Plugins?
There are a number of WordPress plugins that can help you to manage the ads on your site. If you are using banner ads or Google AdSense ads to monetize your site, these plugins will be very useful for you.
Here are the top ad management plugins that we selected.
01

. Ads Pro Plugin
Ads Pro is one of the most popular and comprehensive advertisement management WordPress plugins. This plugin offers you tons of amazing features to help you manage your ads with ease.
With this plugin, you can create and manage all types of ads for your site. You will have complete control over the ads you are showing on your site.
The Ads pro plugin offers you the option to show over 20 different types of ads on your site so that you manage the most out of your content and possible placements.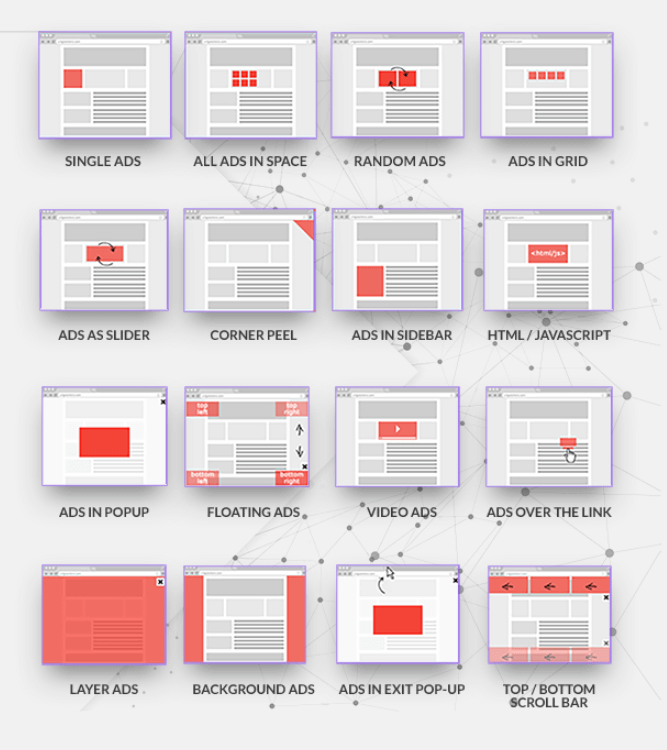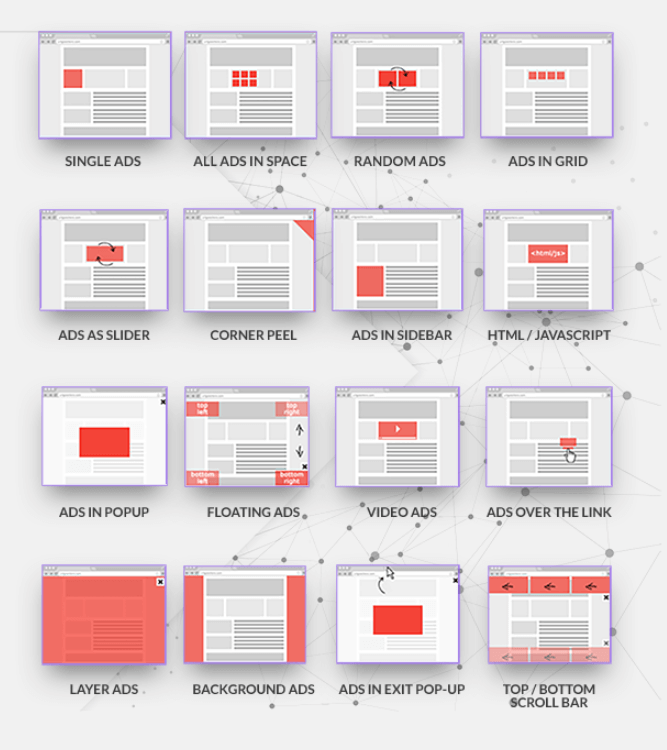 Ads Pro comes with a comprehensive ad management dashboard where you can manage your ads inventory.
This ad management plugin offers you a great-looking order form that you can place on your site making it easy for potential advertisers to reach you.
The AdS Pro plugin comes with extensive statistics to keep you updated on how your ads are performing.
AdS Pro is a fully responsive plugin, so it will make sure that your ads look great on all devices. It is Google AdSense ready along with all other possible CPC platforms.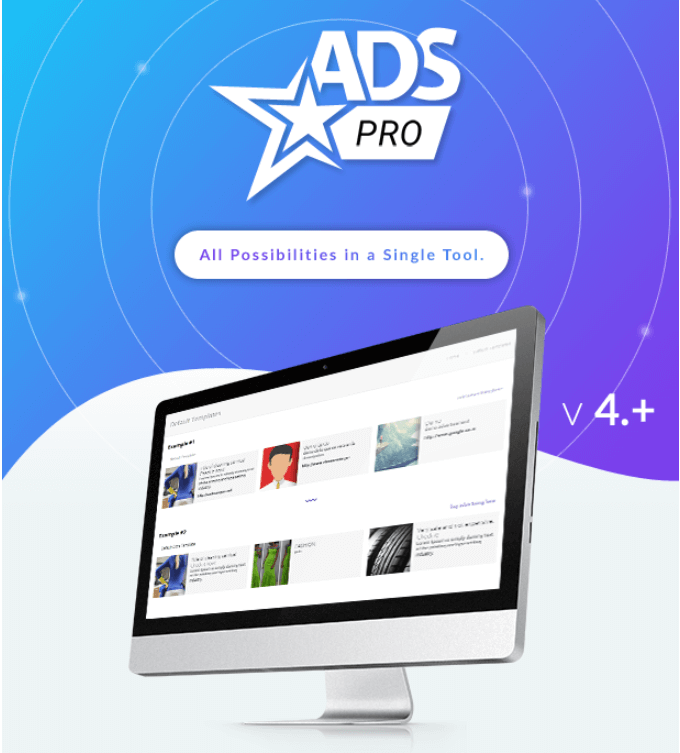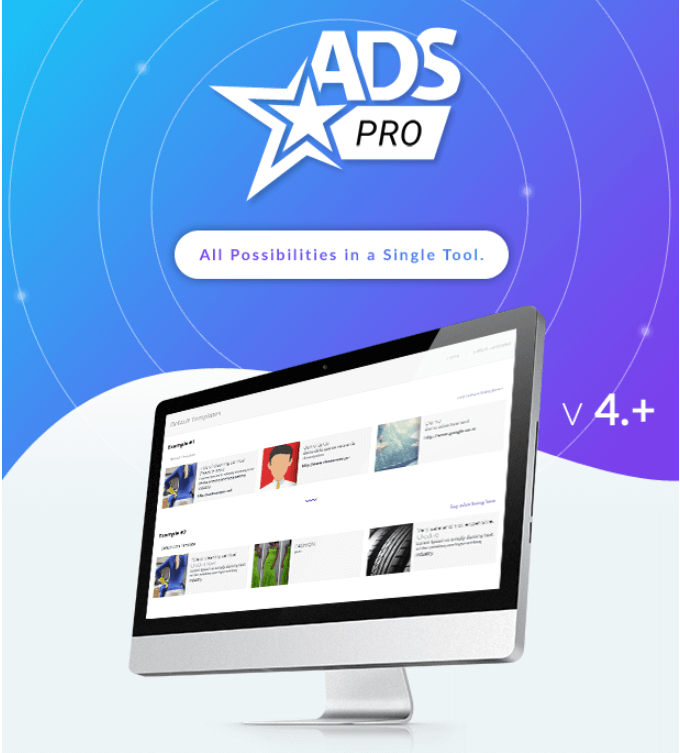 02

. WP Pro Advertising System
If you are looking for a premium plugin to manage your website's ads, then WP Pro Advertising System is where your search ends. It is a full-fledged Ads plugin that makes it easy for you to manage your ads.
The plugin lets you choose where ever you want to insert your ads. You can also opt to sell your Ads to others. Other than it works great with all major Ad networks including Google Adsense.
One feature that makes the plugin a great choice is that you can insert ads into your MailChimp newsletters.
This is one of the most comprehensive WordPress ad management plugins available on the market. It can take care of everything as far as managing your ads are concerned.
You don't have to depend on any third-party platform to sell your ad slots. You can manage your ad inventory with ease.
Another great feature is the ad banner designer. This plugin gives you the built-in option to create great-looking banners for your ads.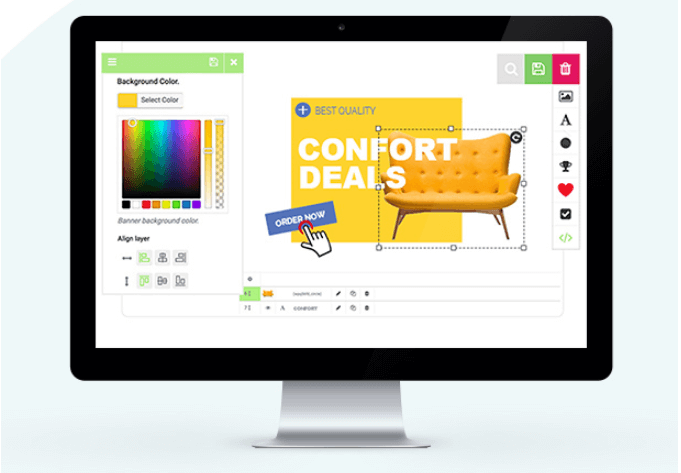 It offers you advanced features such as animated HTML5 banners creation, scheduling your ads.
It also gives you the option to group your ads and rotate them so that all your ads have an equal amount of traffic and exposure.
The ads heat map is another amazing feature offered by the plugin. The heat map will keep you updated about the most effective banner placement options and where your ads are getting the highest engagement.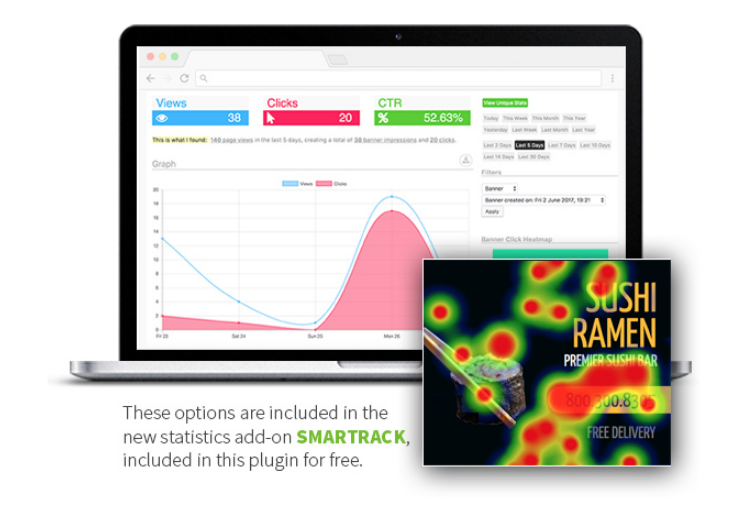 Overall, it's a great advertisement management plugin that will take care of everything about your ads and make sure that you earn a good amount of revenue from your ads.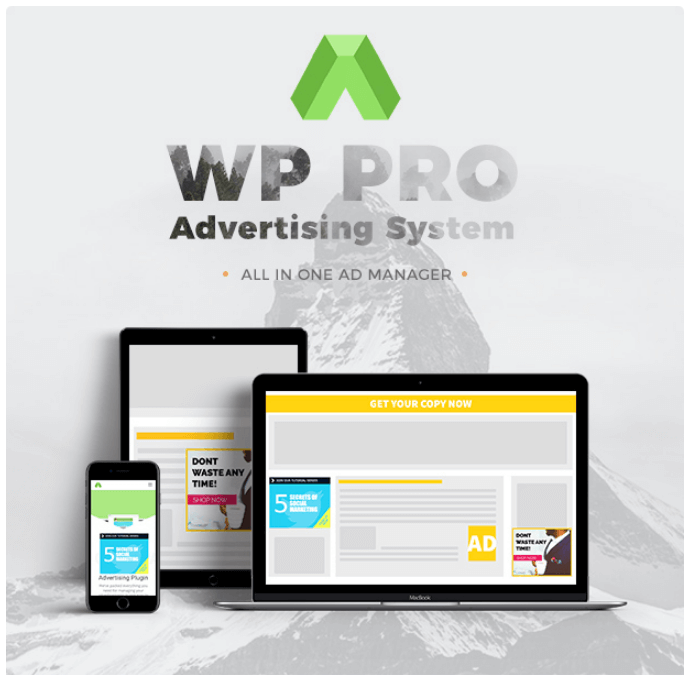 03

. WP In Post Ads
As the name suggests, this plugin is created to offer you a simple solution to insert ads in your posts. This plugin will not show any popup ad or any other type of ad but the ads inside your posts.
As most of the traffic lands on any of your blog posts, your ads will have the most number of impressions. The ads within the content are the most powerful ads in terms of conversion.
The default WordPress system doesn't offer you any quick solution to show ads inside posts, and if you go about inserting ads on your posts manually it will be a time-consuming task.
This plugin comes with an easy-to-use interface and some amazing post ad management options that will surely increase the overall revenue of your site.
You have the option to do A/B split testing to make sure the placement works the best on your site.
You will have multiple controls to manage your ads. You have a check at the number of impressions for your ads.
You have the control to show an ad on a particular date or stop an ad on a particular date. You will always have the stats about the number of ad views.
As far as the ad placement is concerned, you will have the option to show it anywhere in the post. You can define the number of paragraphs after which you wish to show the ads.
You can decide to show random ads on your posts if you get a good number of ads, to make sure every ad gets a fair share of views.
You also have the control to manage ads on a post-to-post basis so that you can manage your ads depending on the topic.
So, overall it's a great plugin that will offer you complete control over your ads.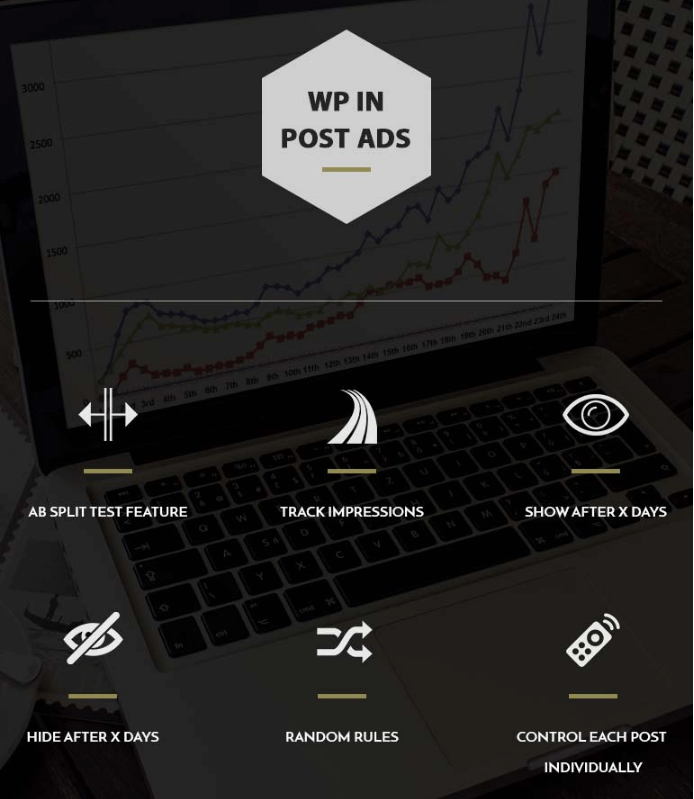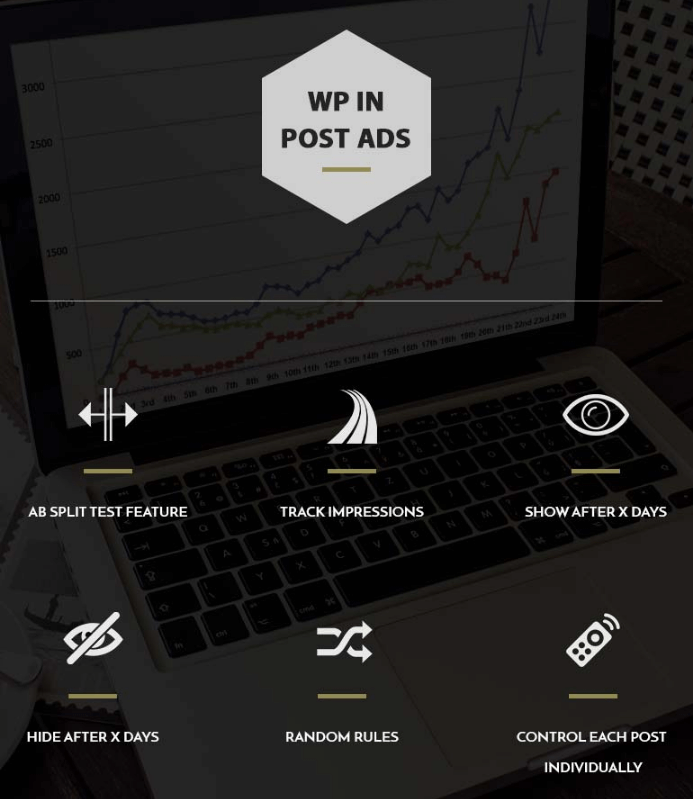 04

. AdInserter
The first plugin that we will cover is AdInserter. AdInserter is a free-to-use plugin that offers tons of advanced features. It supports both custom and popular Ads including Google Adsense, Affiliate ads such as Amazon and so on.
Apart from inserting your Ads on your website, it also offers great advertisement management features. Yes, you can control almost everything from its dashboard. You can also customize the Ads that contain custom code including support for multiple programming languages.
Google and Amazon also endorse the plugin. If you are not satisfied with the free plugin, you can also try out the PRO version.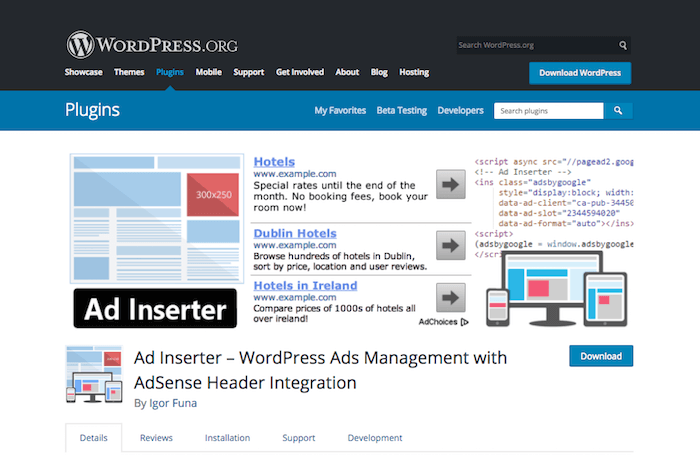 05

. Advanced Ads
Advanced Ads is an efficient plugin for WordPress to manage and optimize your ads. It allows you to automatically display any adverts on all pages of your website regardless of the installed theme, including AMP.
The plugin provides various options to target the ad delivery to particular content and user segments. It also offers convenient and time-saving integration with Google AdSense and Google Ad Manager, so you can work with these ad types without dealing with code.
The clear dashboard shows your AdSense earnings in the WordPress backend and notifies you when, for example, ads have expired or other problems occur.
Pro features like lazy loading, click fraud protection, adblocker options, A/B tests, sticky and popup ads, geo-targeting, and ad performance tracking complete the plugin's functionality and give you all the needed tools to increase the revenue of your website.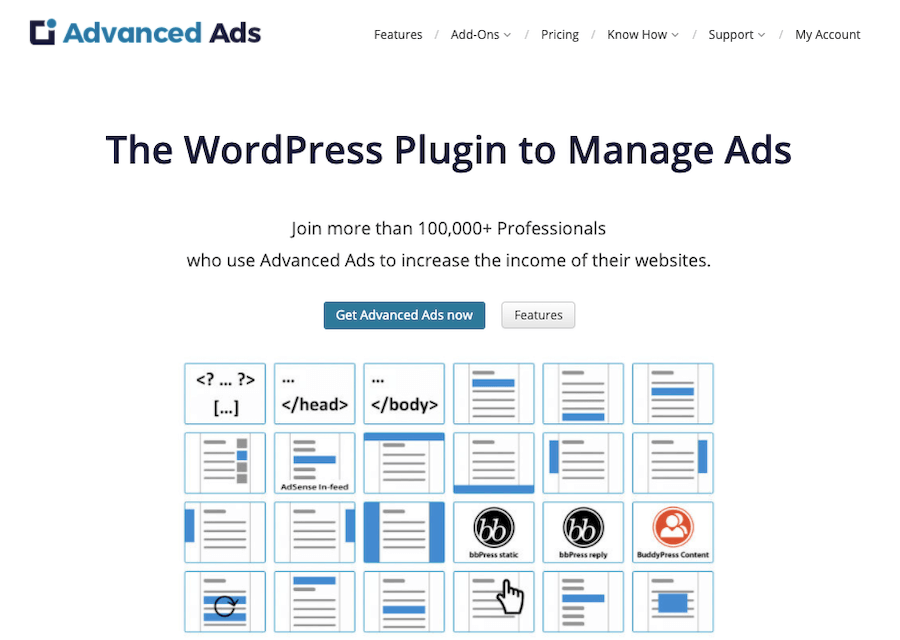 06

. AdSanity
AdSanity is simple to use the premium ad management plugin for WordPress. With this plugin, you can easily manage your Ads as it is beginner-friendly.
The plugin is also endorsed by Syed Balkhi, a prominent figure in the WordPress industry. After you install it, you can jump right into creating a new Ad placement. It also provides you with graphical stats so that you know which ads require tweaking.
AdSanity is extremely customizable and supports all the major Ads formats including Google Adsense. You can also host Ads that work on specific dates or categories.
The choice is all yours! However, there is one drawback as it is not available for a one-time payment and you need to pay yearly to use its features.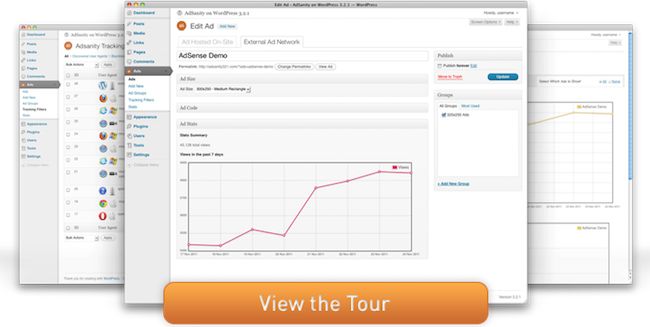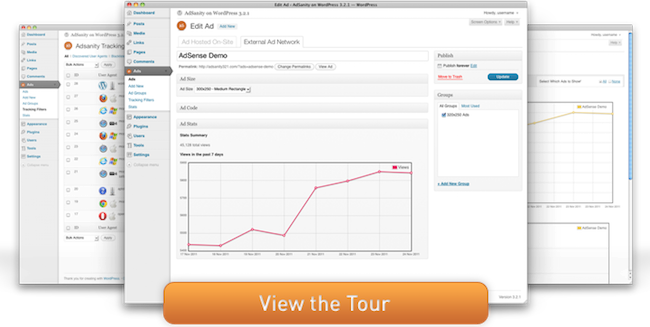 07

. AdRotate
AdRotate is a popular free-to-use plugin with over 50,000+ installations. It is compatible with the latest WordPress version and provides excellent features.
By using this plugin, you are free to use Ads as you want, all from your dashboard. This means that you don't have to edit the theme code to insert ads!
You can also opt to create adverts that are written in JavaScript or HTML. And, of course, it supports popular adverts such as Doubleclick, Media.net and so on.
You can also group the Ads for easy maintainability. Moreover, you can also add Paypal payments for selling advert spaces on your website.
With AdRotate, you can create Ads of any size without worrying about editing your theme code. It also grabs the stats for performance monitoring purposes. Last, but not least, you can try out the AdRotate Pro which offers more features.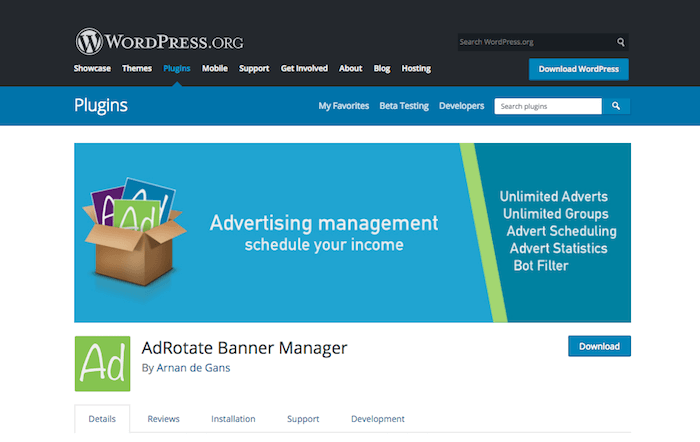 08

. WP AdCenter

WP AdCenter is one of the best WordPress ad management plugins out there. It's an extremely simple and intuitive plugin to monetize your site. With AdCenter you have multiple options to create and manage ads.
It supports self-hosted as well as third-party ads. With AdCenter you can set up Google AdSense with just a few clicks. You also have the option to show ads to specific locations with geo-targeting.
With AdCenter you also get detailed reports of your ad performance. This way you can be sure of which ads are working better and which are not.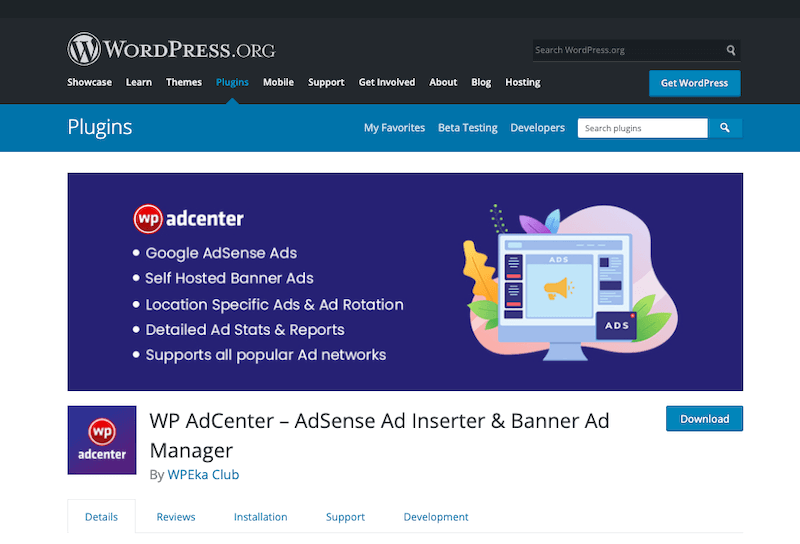 09

. Aparg SmartAd
If your site gets a good amount of traffic, selling ads is a great way to make money. There will be many advertisers who will be ready to offer you money if you can drive traffic to their business.
All you need is a good amount of regular traffic to your site and a complete ad management plugin. Here is another amazing WordPress plugin that will make the process very simple for you.
There are some great benefits of this plugin such as the drag-and-drop ad designer. You can add different types of ads with this plugin such as banner ads, video ads, code ads for AdSense, and others.
The clean and user-friendly interface will make sure that you are able to get on your ads quickly.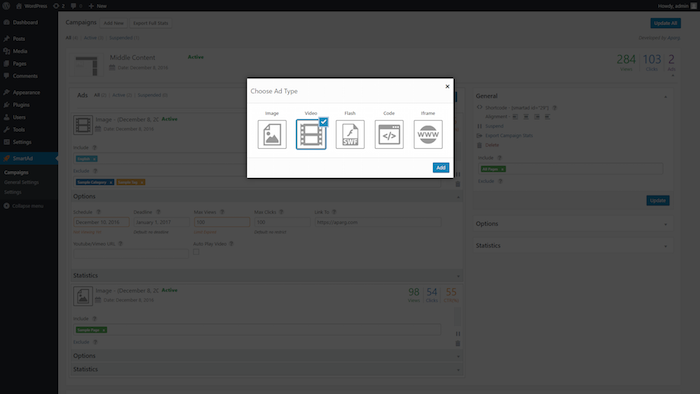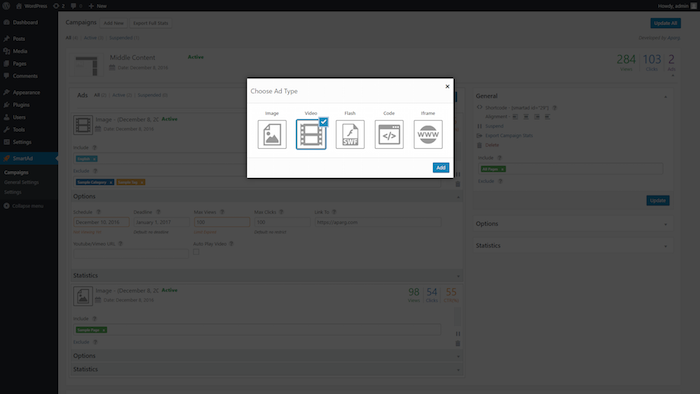 This plugin gives you the option to get creative with your ads and make sure that you are able to push in a lot of traffic to your clients' business.
The plugin offers you over 40 different popup advertisement options so that you are able to attract your visitors' attention to the ads.
The Aparg SmartAd plugin comes with a built-in adblocker detection system so that your ads reach as many users as possible.
The beautiful plugin admin interface has all the options to manage your ads easily. You can schedule your ads, set an end date for the ads to make sure that everything is on track.
If you are selling ads based on the number of clicks, you have the option to set the maximum number of clicks for a particular ad, and after that, it will stop showing.
The plugin comes with comprehensive statistics to make sure that you can track it at your end and send it to your client if required.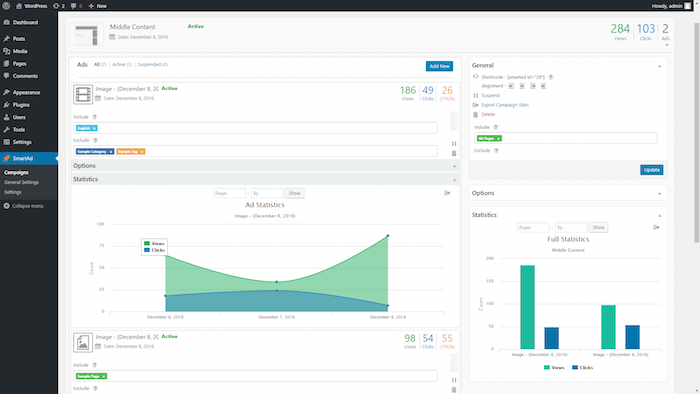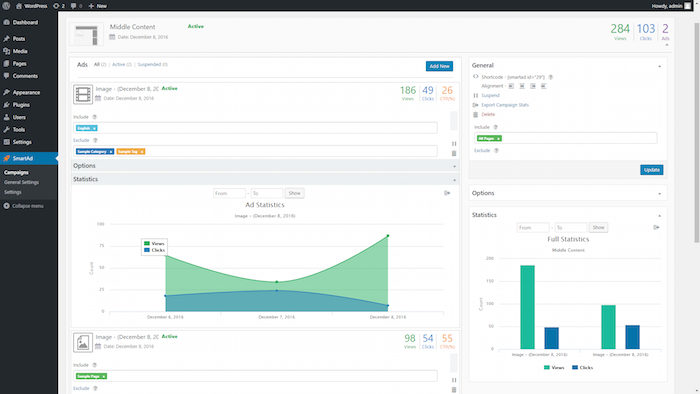 10

. WordPress Ad Widget
Not every time, we want a comprehensive plugin that lets you manage your ads. WordPress Ad Widget is a simple plugin that lets you insert ad widgets.
It also lets you insert them anywhere you want including the sidebar. With this plugin, inserting and managing your ads is simple. There is no clunky management interface or a long process to get everything up and running.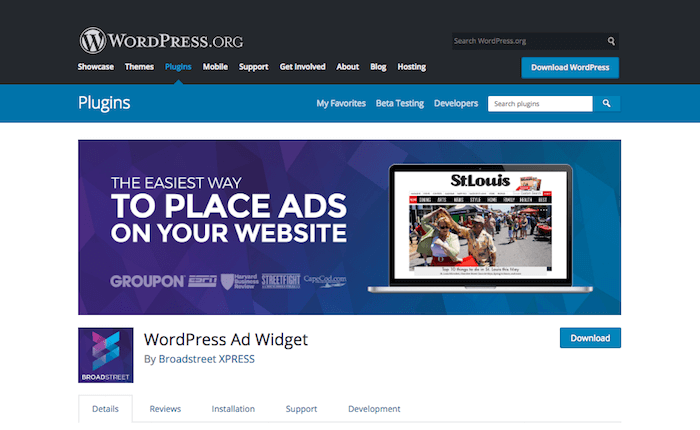 11

. WQ Quads
WP Quads is one of the best ad management plugin out there. It is a pro plugin with which you can create unlimited ads. Not only that you can also insert ads into your AMP page, and earn revenue through it.
The plugin is created after the Quick Google Adsense plugin stopped development. WQ Quads makes sure that your ads are responsive, are customizable, and offer lightning-fast loading times.
As usual, you don't have to edit your theme code as it offers layout options and easy insertion. It also detects Adblocker and shows a customizable message to the visitor.
Overall, a great plugin for only a one-time payment. They also offer a one-month money-back guarantee if you want to try it out!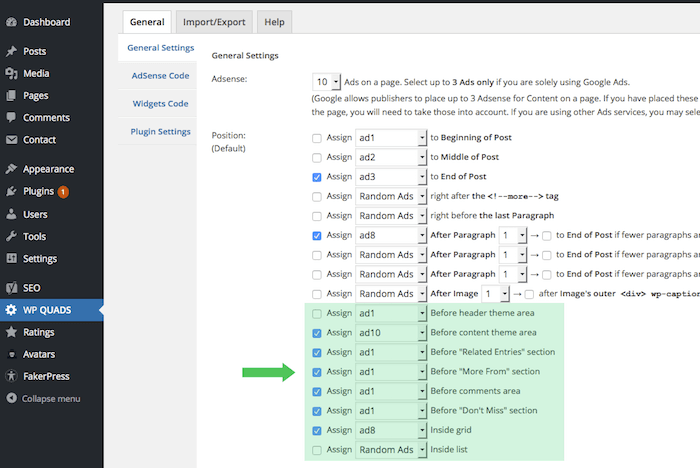 12

. WP Bannerize Pro (Free)
This is an amazing banner ad manage WordPress plugins. It adds a custom post type on your site that you can use to create your banner ads.
You will have complete control over your ads and place them anywhere on your site using shortcode, widget or by editing a template.
You have the date and time schedule option to make sure that you can set your ads and forget about it, the ads will show as per defined dates.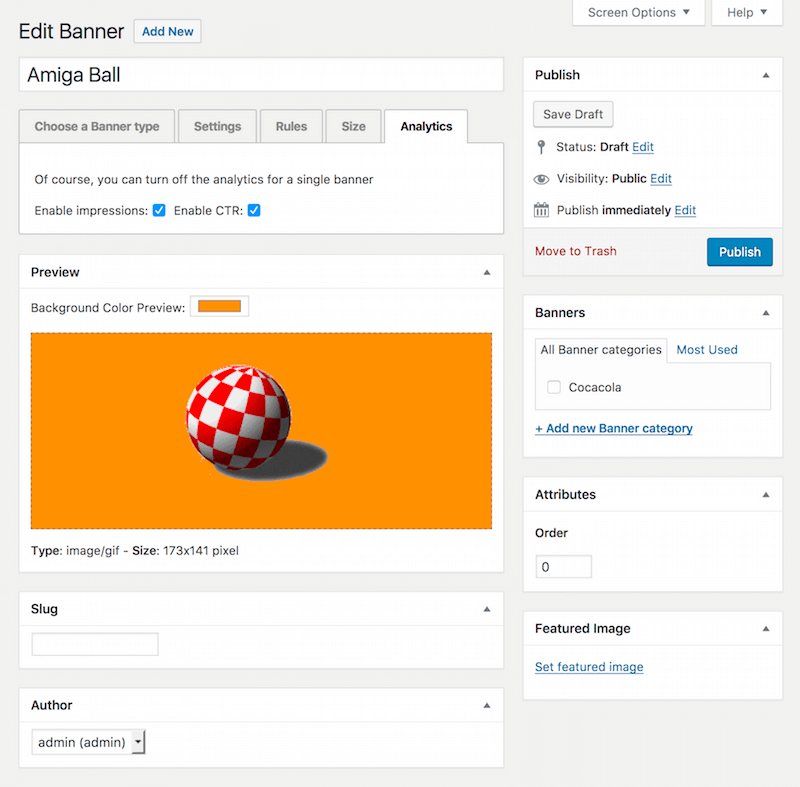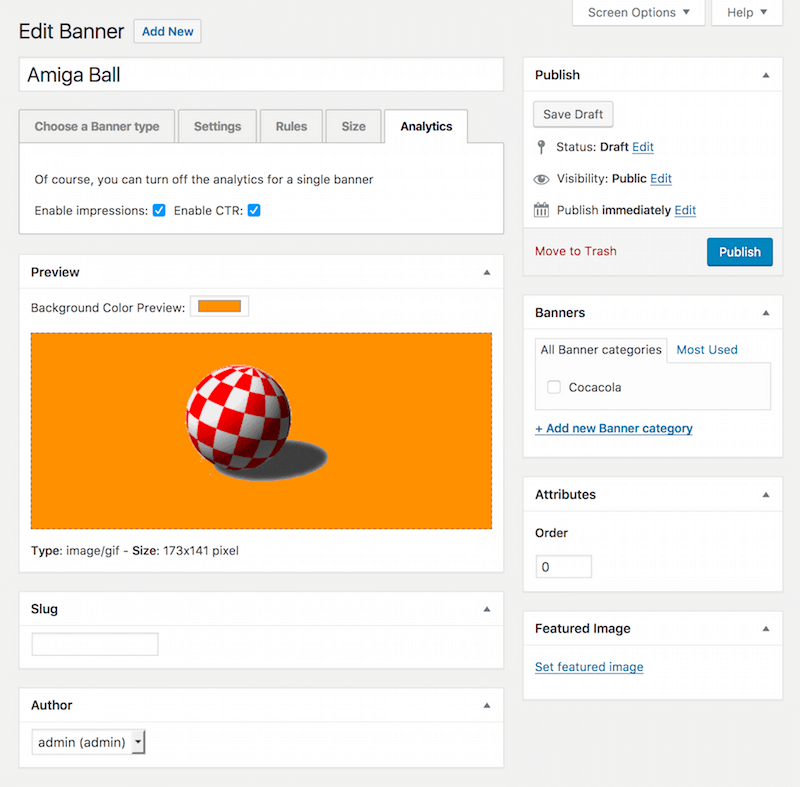 13

. SAM Pro (Free Edition)
As your site grows, you will have more advertisers on your site but you will have the same amount of space to show ads on your site.
So, why not rotate the ads to make sure that each ad on your site gets a good share of views. Also, this option plan will give you the option to make extra revenue with more ads.
Now, this is a free WordPress plugin that will help you to rotate your ads on your site making the process extremely easier for you.
You can set your own priority to the banners that you wish to display on your site and give you the option to get more impressions for your top advertisers.
The plugin will make the ads rotate and display a different ad on every page refresh. This ad rotation technique is used by most of the authority sites as a core part of the revenue plan.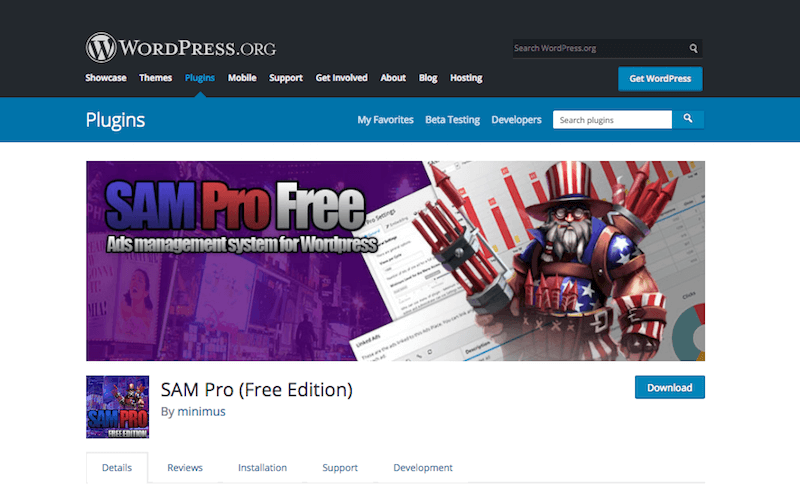 14

. AWPCP – Classifieds Plugin
Giving something free to your website visitors is a great way to attract more traffic and keep them engaged. Why not offer a free classified ad listing option to your visitors?
It's a great way that can help you grow your website traffic. This is a plugin that you can use for free to create a classified ad section on your website.
With over 10k active users, this is one of the most widely used classified ad plugins for WordPress. The plugin is simple to get started, you don't need any technical knowledge.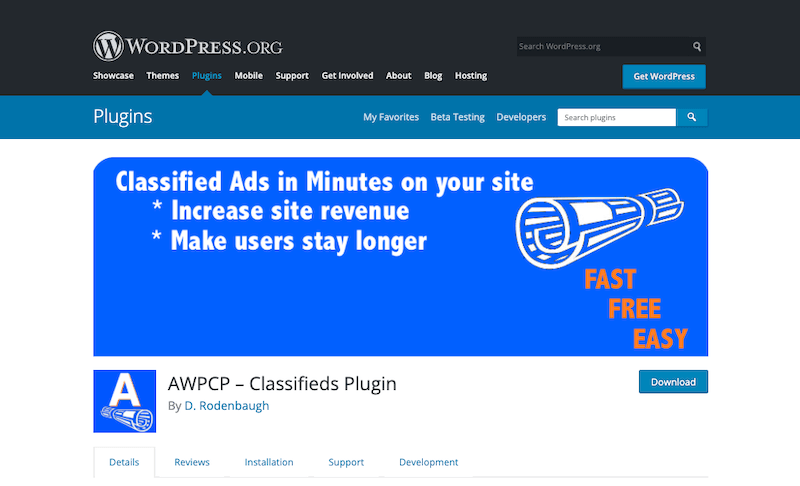 15

. Double Click By Google
If you are looking to optimize your Ads positions with the best possible ads, then DoubleClick by Google is a good place to start.
Even though it is not a plugin, we thought this could help you to manage your Ad campaign and gain more revenue.
It is a web-based ad selling service that serves ads according to the website and its audience. In short, it will choose the best ad that has the best possibility to perform and covert. It is also cost-effective and reliable in the long term.
It also provides a great reporting tool so that you can tweak it for the best possible results. However, it is a little bit complicated to get started with. If you are confused, you might want to read their FAQs and knowledge base.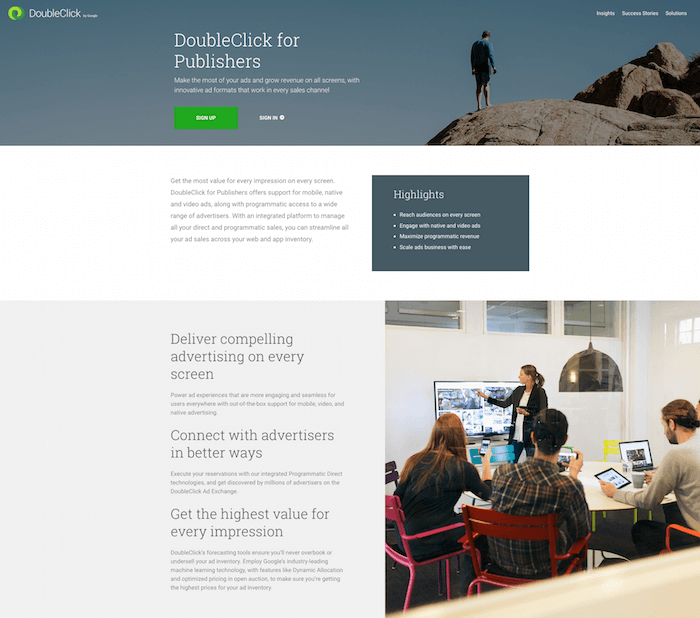 16

. Insert Post Ads
No matter what kind of ads you are using on your site, if you insert those within your content, it will surely increase your revenue.
However, the process of showing ads within the content may not be easy for the newbie user and a custom-created tool will surely help you to get that done easily.
The Insert Post Ads is one of the simple and easy-to-use WordPress ad plugins that will help you to show ads in your content.
You can use this plugin to display ads in any WordPress post, page, or even custom post type. The plugin allows you to add any third-party code to showcase the ads.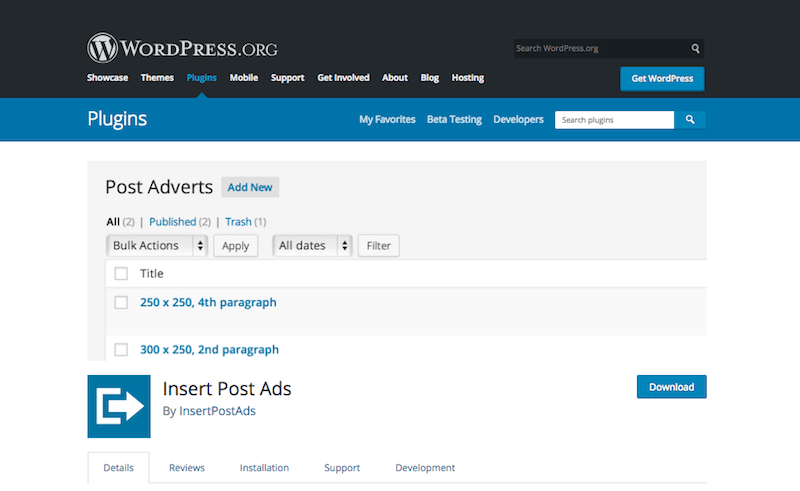 FAQs About Best Ad WordPress Plugins
01. Which Is The Best Ad WordPress Plugin
The Ads Pro plugin that we listed at the top is a great option to manage any kind of ad on your WordPress site. This plugin offers you all the features and options that you may need to manage any kind of ad effectively.
If you are looking for a free option, the Ad Inserter plugin is one of the most widely used plugins.
02. Is It Important to Use a Plugin?
Well, there are a number of WordPress themes that come with a built-in option to manage advertisements. You can also manually place the das on your blog post (not recommended). However, using a plugin will make things easier for you.
03. Will These Plugins Work With AdSense Ads Also?
You can use any of these ad management plugins to place Google AdSense code on your blog. Plugins like Ad Inserter give you the comprehensive option to place an ad on any desired location on your blog post. You will have the option to choose the number of paragraphs after which you want to place the ad.
04. With These Plugins Create Any Ad Compliance Issue?
When you are using services like AdSense, it comes with strict rules. So, make sure to go through the guidelines before you start placing the das on your site.
Conclusion
Today, we listed the best Advertising management plugins for WordPress. Most of the plugins are free to use, and you should try them out before jumping on the PRO versions.
It will give you a better idea of what you need. So, did you like the plugin listed above? If yes, comment below and let us know which one is your favorite!