Online dating has always been a very popular niche on the Internet. And the dating sites generally attract thousands of traffic from across the world.
Our daily life and activities have changed over the years and most of the new connections happen online these days.
And it is no surprise that a huge population of the world spend a lot of their time finding their match on dating sites.
Now, here is your chance to make a lot of money every month by driving traffic to a few reliable dating sites.
We are talking about the leading dating affiliate program Affiliate2day. If you can drive good quality traffic then you will make a lot more than with any other top affiliate networks.
Affiliate2day is considered one of the top affiliate networks that offer you a number of different program types to make a good amount of money.
Generally, the online dating affiliate programs are a lot better in terms of conversion than, for example, tech-related affiliate programs.
So, let's have a look at what Affiliate2day has to offer.
An Established International Dating Affiliate Program 
[divider]
For over 10 years Affiliate2day has been one of the best and trustworthy affiliate programs in the online dating niche.
Affiliate2day is the affiliate program for the Be Happy Intl. group of sites: OneWife.com, BeHappy2Day.com, AsianSingles2Day.com, AllTverLadies.com.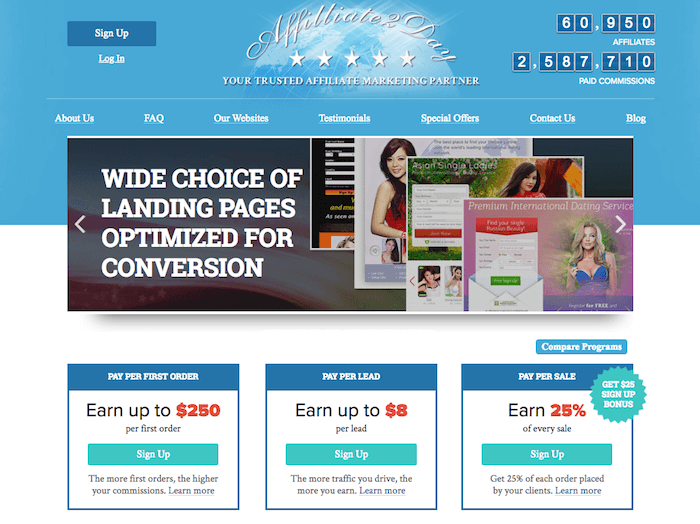 How Much Can You Make? 
As you can see in the image above, the commissions are way higher than most of the leading affiliate programs can offer.
Affiliate2day provides with the option to choose the type of commission program that is best for your site or your promotion type.
01. Pay Per First Order
Participating in this program, you get paid when your client makes the first order and you have the chance to make $150, $200 or $250 per each first order.
1-4 First Orders per month, you get a commission of $150 each
5-9 First Orders per month, you get a commission of $200 each
10+ First Orders per month, you get a commission of $250 each
So, for example, you will get a commission of $3750 if the customers referred by you make 15 First Orders on any of the mentioned dating sites.
02. Pay Per Sale
Within the terms of the program, you will get a commission of 25% of each order placed by your clients. The male users need to purchase credits to start communicating with the ladies.
So, the more credit packages they purchase the more commissions you get paid.
Also, you get a signup bonus of $25 when you sign up for the Pay Per Sale program.
03. Pay Per Lead
This program can help you make an unlimited number of commissions if you have good quality targeted traffic. The commission is different depending on the geography.
You get a commission of 
$8 Per lead from the USA, Canada, the UK, Australia and New Zealand
$7 Per lead from Germany, Belgium, Austria, Switzerland, Norway, Sweden, Iceland, Ireland, Republic of South Africa and Japan
$6 Per lead from Finland, the Netherlands, Monaco, Denmark, and Luxembourg
So, as you can see the commissions are high and you can surely make a good amount of money with this popular online dating affiliate program.
However, if you have opted for the Pay Per Lead program you need to make sure that the traffic you are driving is targeted and interested in online dating.
The site will keep a track of your conversion rate and it should not be less than 2% (sales to leads).
04. Two-Tier program
Affiliate2Day gives you the opportunity to increase your affiliate commission with its two-tier program. You can recruit 2nd tire affiliates and get 10% of their commission adding up to your overall revenue.
Marketing Materials
The site offers a number of different banners in various sizes, custom links, HTML ads, email links, email templates, text ads, tier linking codes, postback links and landing pages for promotion.
A professionally designed landing page can make a great impact on the visitors and increase affiliate conversion to a great extent.
Affiliate2Day offers you some stunning landing pages that can boost your sales to a huge extent. You
can find the promotional materials on your affiliate account when you join as an affiliate.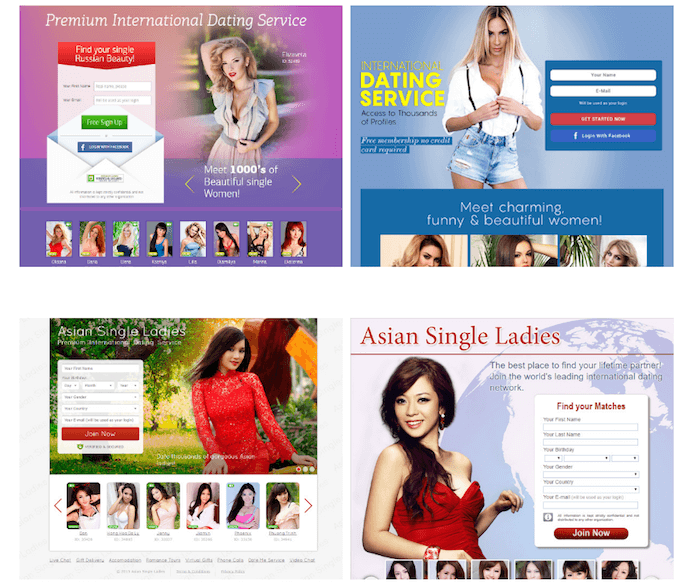 Affiliate Payment
Affiliate2Day pays every month. There is a minimum threshold of $50 to get paid and the payment is made between 20th to 30th of the month.
You get the payment for the commission you made in the previous month. Looking at the commission rates, $50 is not a hard task to make.
Another best part is that you have a number of different payment options such as PayPal, Epayments Wallet, Bank wire transfers, Card to Card transfers and others.
Getting Started
The process is quite simple, go to the site Affiliate2Day and click on the sign-up button to fill the form. The form is easy to understand, you just have to fill in basic details such as your email, username, name etc.
Final Word
Affiliate2Day offers you real-time tracking platform to make sure that you are always updated about the commission you have made and the amount of traffic you are driving.
Looking at the popularity of the online dating niche, it is not difficult to make $5000 or more every month. You can easily make thousands of dollars every month with targeted traffic funnel.
If you are already managing a dating related blog or any other lifestyle-related niche site, it will be much easier for you to drive traffic to the main dating sites.
Overall, Affiliate2Day is a great place to make some good revenue for the affiliate marketers.