With so many websites competing for the same audience, it has become crucial for publishers and bloggers like us to maintain up-to-date content and keep the users coming back.
We also have to setup and manage the ads in order to monetize those users. Balancing both can become overwhelming.
This is where ad management and revenue optimization platforms can help. As a publisher, here are my findings of two popular revenue optimization platforms, AdPushup and MonetizeMore.
Publishers run ads on their websites in order to generate revenue. Both AdPushup and MonetizeMore help publishers better monetize their website by optimizing ad layouts and providing more demand.
My intent in trying these tools has been to find a partner who could take care of my ad management so that I am able to focus more on my content and traffic. Basically, a platform that is dependable.
I tried both the platforms one after another (AdPushup followed by MonetizeMore) for about three months each, and here are the differences I found. (I also made my final choice of partner based on that)
A/B Testing and Ad Performance
We can all agree that the key to revenue optimization starts with A/B testing.
From the day I started with AdPushup, I got acquainted with their automated A/B testing panel.
Their testing technology basically helps you set and run A/B and multivariate tests between different ad types, sizes, formats, etc.
Over time, based on the performance of all test variants, the incoming website traffic is automatically sent to the winning ad layout variant. MonetizeMore also offers A/B testing.
However, using AdPushup's fully-automated tech made it difficult for me to get familiar with a relatively less automated MonetizeMore.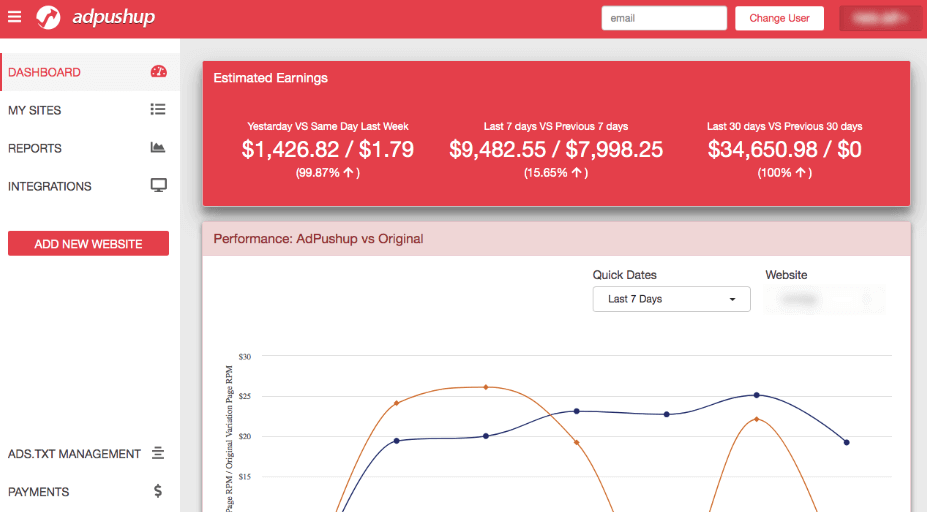 Also, as a new user to AdPushup, I found the user interface to be quite simple, quickly helping me create new ad layouts using a point-and-click visual editor.
The user experience with MonetizeMore was fine too, but not as smooth, the panel could be more simplified, keeping the needs of a first-time user in mind.
Header Bidding and Demand Optimization
I implemented header bidding with both AdPushup and MonetizeMore. Both platforms use prebid.js as their underlying bidding technology.
Prebid.js is an open-source header bidding wrapper that ad tech vendors can integrate into their solutions and implement for the publishers they work with.
This setup process is a lot quicker if done by ad ops professionals, as a layman publishers may find it complex.
AdPushup's header bidding solution was implemented on one of my other websites (not BeginDot) in about ten minutes.
The experience of setting up MonetizeMore's header bidding solution was also similar.
Both platforms have tier 1 demand partnerships. Although, over time I realized that AdPushup was more focussed on-demand optimization than just partnerships.
AdPushup also allows publishers the option to bring their own demand ("BYOD"), wherein they can easily onboard existing header bidding partners onto the AdPushup platform, while there was no such option available with MonetizeMore.
Reporting System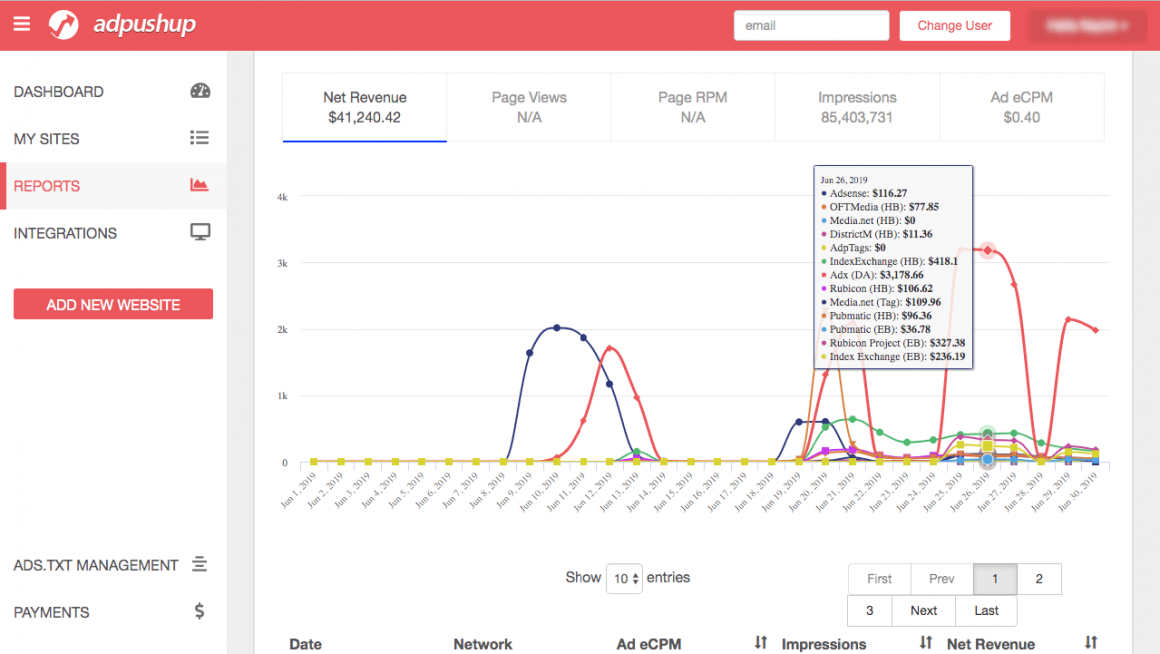 Reporting is one of the most important features publishers seek. In this case, I can explicitly say there was a tremendous difference in the reporting systems of both the tools.
AdPushup has a fully automated, real-time reporting system that showcases all data in an organized manner. The multiple reporting filters are great for those who need custom or situation-based reports.
On the other hand, MonetizeMore's reporting was manual, wherein I used to receive reports on Excel sheets over email after certain intervals.
You'll probably have to send them a report request email every time you need it at an unscheduled time interval. For me at least, this became a critical challenge.
Automated vs. Manual Approach
The point of manual reporting brings me to a broader comparison of automation in both tools. In this case too, I can say that AdPushup's automation tech surpasses MonetizeMore in multiple ways.
AdPushup has automated many features. Whereas, MonetizeMore offers manual solutions.
Here are some other automated features I observed were present in AdPushup, but not in MonetizeMore:
A/B testing and ad layout optimization
Integration to Ad Manager
Creating line items in DFP
Ad performance and other reporting
I'd say, as I got accustomed to the automation features in AdPushup, I felt some friction when I was later using MonetizeMore which was rather manual.
AdX-centric vs. Platform-agnostic
On researching, I realized that MonetizeMore is more AdX-publisher centric. Their main focus happens to be around AdX optimization.
Although they include AdSense optimization in their plans, as a former user, I can say that their focus on AdX over AdSense was noticeable.
Even on their Solutions page, you'll notice the emphasis on AdX over AdSense in their list of features.
AdPushup happens to be platform-agnostic in contrast. They support pretty much all publishers, whether AdSense or AdX. Being a non-AdX user, I felt that this was an advantage with AdPushup.
Availability of Features
Having tried both tools, it's obvious they have their respective strengths and drawbacks.
But AdPushup, being a full-stack revenue optimization platform, has a clearer USP and suite of technologies to offer.
Their solution includes features like automatic in-content ad placements, innovative ad formats, AMP conversion and monetization, and AdBlock monetization.
In my opinion, most of these features are quite useful and help provide a considerable boost to the ad revenue.
AdBlock monetization is a powerful technology that enables publishers to recover ad revenue being lost to adblocking software.
Unfortunately, the aforementioned features are not present in MonetizeMore.
To their credit, they have an ad fraud detection feature called Traffic Cop, which AdPushup does not currently offer.
Tailored vs. Readymade Solutions
You would agree that solution requirements are not the same for all publishers.
For example, a website may need better ad layouts in order to optimize existing ad performance. Adding on to that, it might also benefit from a solution like an ad refresh if it has a higher than average time-on-site.
Considering my website's use case, it became challenging for me to reconcile my requirements with MonetizeMore's fixed plans.
When I went with their Starter plan, lack of feature availability became a problem. Alternatively, when I thought of switching to their Professional plan, I felt the cost was too high.
In comparison, AdPushup has been pretty straight-forward. Since their JS is built on a modular framework, publishers can choose the features they want depending on their use case.
This made AdPushup far more customized to my requirements compared to MonetizeMore's rigid feature plans.
Ad Ops and Support
Even before I became an AdPushup user, I had some awareness of their support proficiency.
They assigned me a dedicated account manager (an ad ops expert) who practically took over of all the ad management execution on my behalf.
This is the exact thing I was seeking一a platform that could take care of my ad management, operations, and optimization needs such that I am able to focus more on creating content and generating traffic for my site. (As I mentioned this in the very beginning of this write up).
MonetizeMore's support, on the other hand, is email-based. Moreover, they offer ad tech engineering team support to only premium publishers.
Meaning, you'll have to be a part of their Premium plan in order to have the support of a dedicated ops manager, which did not sound very appealing to me.
Summary of Differences
PAYMENTS
MonetizeMore: Net30
AdPushup: Net45
PUBLISHER ELIGIBILITY
MonetizeMore: Min 500K monthly pageviews
AdPushup: Min $1K monthly ad revenue
OFFER TYPES
MonetizeMore: CPM, CPC, CPA
AdPushup: CPM, CPC
ONBOARDING
MonetizeMore: JS-based integration
AdPushup: JS-based integration (quick 2-step onboarding process)
REPORTING
MonetizeMore: Manual
AdPushup: Automated
SOLUTION PLANS
MonetizeMore: Fixed
AdPushup: Flexible
Conclusion
Having used both the platforms for an equal amount of time and in similar website environments, I can say AdPushup as a revenue optimization platform stood out for me over MonetizeMore.
Its automation advantage and comprehensiveness make it a better fit; at least for websites like mine.
I did see some revenue growth with MonetizeMore. However, I think factors like my level of comfort with the user interface, dedicated ad ops support, availability of features, and most importantly the flexibility of choosing the solutions I wanted, made AdPushup the pick for me; the revenue growth was higher too.
If you find this article helpful, don't forget to share it with your friends.
[kkstarratings]