Your website is the culmination of all your blood, sweat, and tears. It is the result of a considerable amount of investment, be it in the form of money or time & effort.
But all that can vanish if you fall victim to hackers and malware. Cyber attacks are very common these days, and it would be wise to not take chances. Better safe than sorry right?
If viruses and malware somehow get into your website they can cause various problems including stealing/deleting data and opening a gateway for hackers. Here is a look at how big a threat cyber malware has become over the years:
If you want to learn more about the matter, then here is a link covering many useful statistics.
So you see, it is high time to become proactive about your online security, and safeguard your website before it's too late. The best part is, ensuring your website's safety is not that difficult, and only requires you to take some select preventive measures.
For the purpose of this read, we will be covering a couple of the best ways to protect your website from malware in the future. So without further ado, let's get started:
Don't Postpone on Updates and Patches
WordPress accounts for over 35% of all websites in the World Wide Web. And so, hackers try to exploit vulnerabilities with the CMS and get into sites created with the platform. This is why it is crucial that you are always updated with all the latest patches and bug fixes coming your way.
Furthermore, malicious actors can also get into your website through outdated plugins and themes. So make sure that the developer of the said plugin/theme regularly updates their product, and if it hasn't been updated for a long time, you should leave it for an alternative.
Regularly Scan your Website
Just like you need to scan your PC from time to time to screen for possible virus infections, similarly, you should scan your website for possible malware infection. Malware on your website can be injected more easily compared to your PC.
Often, it is enough to inject a single line of code to cripple your site from the bottom up. These are also designed to look normal, and will generally go unnoticed until it is too late.
This is why you should invest in website security scanning software. There are many free as well as paid options available in the market to help you out in this department.
One of the most popular and powerful options would be going with Sucuri. It provides a lot of useful features and tools to maximize your website's security.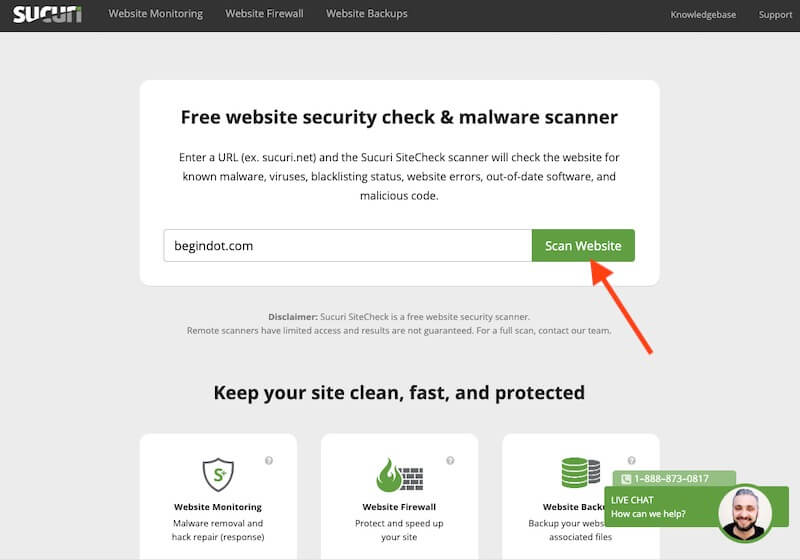 Install a Web Firewall
A malware scanner will help you remove threats from your website, whereas a firewall will help keep them out in the first place.
And as we discussed – prevention is better than cure! Installing a firewall on your website will add that extra layer of security which can make your website even harder to hack, let alone get infected by malware.
A firewall will evaluate good traffic and bad traffic and filter out anything it identifies to be malicious. Sucuri Firewall is very good at helping you keep out malicious traffic.
Be careful About Uploading Files to Your Site
One of the most common ways of getting malware into your website is by uploading it yourself. This is why you should scan every single file before uploading it to your server just to be sure.
Furthermore, many websites provide users the option to upload files like profile pics, and so on. This to can cause problems. Even uploading a basic image file containing malicious scripts, which if executed, can open up your site to all sorts of cyberattacks.
The easy way out is to prevent random users from uploading files to your site. But if that is necessary, then make sure that users don't get access to the uploaded files.
Also, configure your site such that the uploaded files are not stored at the same place as your webroot or inside your database.
Also, you can use pick the best VPS host as most VPS providers will help you out by screening for these malicious files. This is why we recommend users to read web host reviews before settling with a hosting provider.
If you don't have the budget to go for an expensive VPS plan, you can use secure and high-performing affordable hosting like SiteGround or similar hosting providers like SiteGround.
Do Regular Site Backups
It is always a wise decision to keep a plan B – which is to keep regular backups. Let's say even after meeting all these security precautions, your site still falls prey to a malware attack.
If you have backups of all your site data, then you will not be at the mercy of the hacker.
You see, most of the time, these malware steals data from your site, or deletes them altogether. They can even lock the data, and ask you for money in return for access.
This is what is classified as ransomware. Now, if you take constant backups, then such malicious acts won't be able to cause as many problems as it otherwise does.
You can take out the time to do manual backup your files using FTP. Some hosting providers also provide a cPanel that you can use to automatically backup all your site's data.
And if you use a CMS like WordPress, then there should be dedicated backup plugins like – UpdraftPlus to help you out.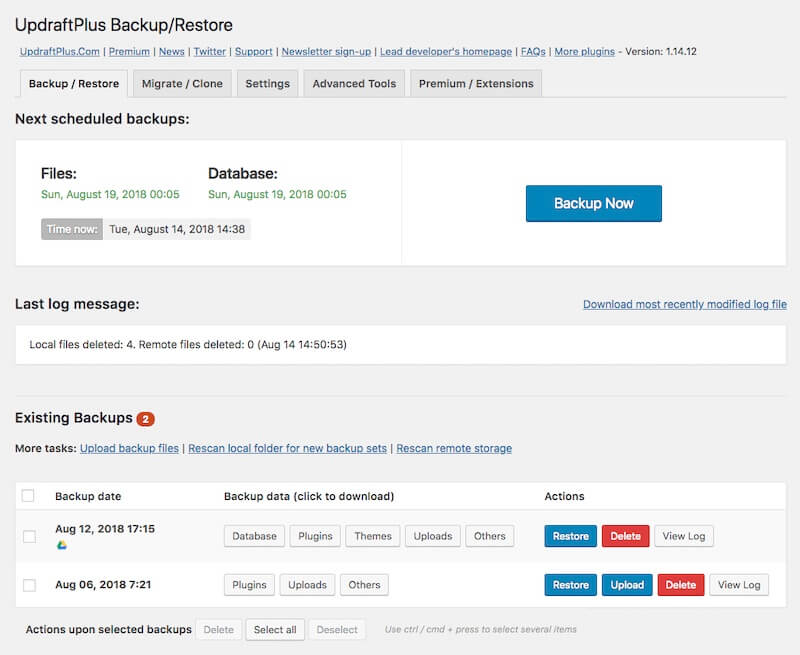 In Conclusion
So these were some of the ways in which you can ensure that your site doesn't succumb to malware and cyber-attacks. We hope you found this read to be helpful, and if you did, don't forget to share it along with your friends who also happen to own a website.
Taking action on the steps mentioned above will keep your site along with all its data safe from prying eyes.
Let's be actively engaged in making the internet a safer place denying these hackers easy access to our data in 2020 and beyond.