Is your eCommerce business stuck in a pothole?
Don't worry! We have some tips that will help you to scale up your eCommerce business.
At first glance, you might think that some of the richest people in the world are the owners of an eCommerce business. You'd gain more trust when you hear that there are millions of eCommerce companies on the market.
Well, that's what you expect when the barriers to market entry remain very low.
But that's where the problem arises.
The problem is the Competition!
Ease of entry leads to more competition but that makes it one of the hardest businesses to scale. Anyone who has been in this business for long would agree that the eCommerce store that cannot gain greater customer loyalty cannot scale up easily.
While there are a lot of buzzes about the best tactics that work best for online business, you need to be sure of where to invest your valuable resources.
To help you, we have brought the best tips to scale up an eCommerce business that will provide the kind of momentum your business needs.
Let's get started!
02

. Select the Right Platform

This a question that every eCommerce business team goes through, which platform to select to create the eCommerce site?

There are a number of options that you will come across and confuse with a variety of questions.

Let us make it simple for you.

If you are planning your eCommerce business I'm sure you are already aware of Shopify. One of the most widely used and popular platforms for eCommerce business is the top choice for a number of reasons.

Shopify is a custom platform for eCommerce business, here are some of the benefits of using Shopify worth mentioning.

When it comes to bigger enterprise eCommerce businesses Shopify offers you Spotify Plus. Some of the biggest names in the eCommerce business such as Pepsico, Unilever are using this solution.

So, no matter how big or small your eCommerce business plan is, Shopify is the perfect platform for you.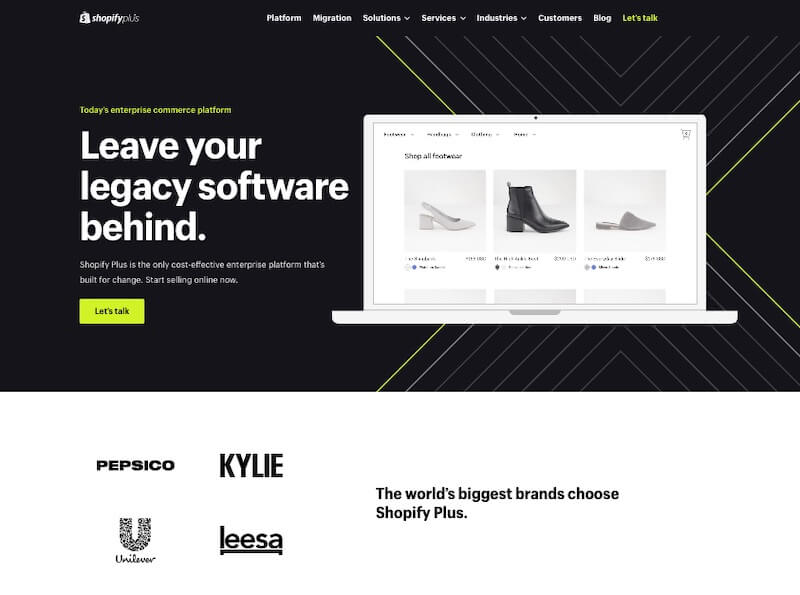 02

. Optimize Your Store

Once you have to store ready, the next important step is to optimize your store for search engines so that you receive free traffic from the search engines.

Simply put, most product searches happen on Google, so optimizing your store as per Google's best practices is important.

The "Near Me" and "Voice Searches" on Google has increased the number of local searches for products. So if you want to target the local audience, the best way to target them is through Search Engine Optimization.

Moreover, SEO is the cheapest marketing method available as compared to influencer marketing or PPC.

However, we would recommend you use both PPC and SEO together to get better and fast results for your business. A site that ranks better on the search engine has better chances of converting into sales.

here is a detailed article from Backlinko about eCommerce SEO that you can refer to improve the overall SEO for your eCommerce business.

Here is a graph for traffic distribution for eCommerce sites, close to 40% of the traffic is from the search engines and out of that over 90% will be form Google.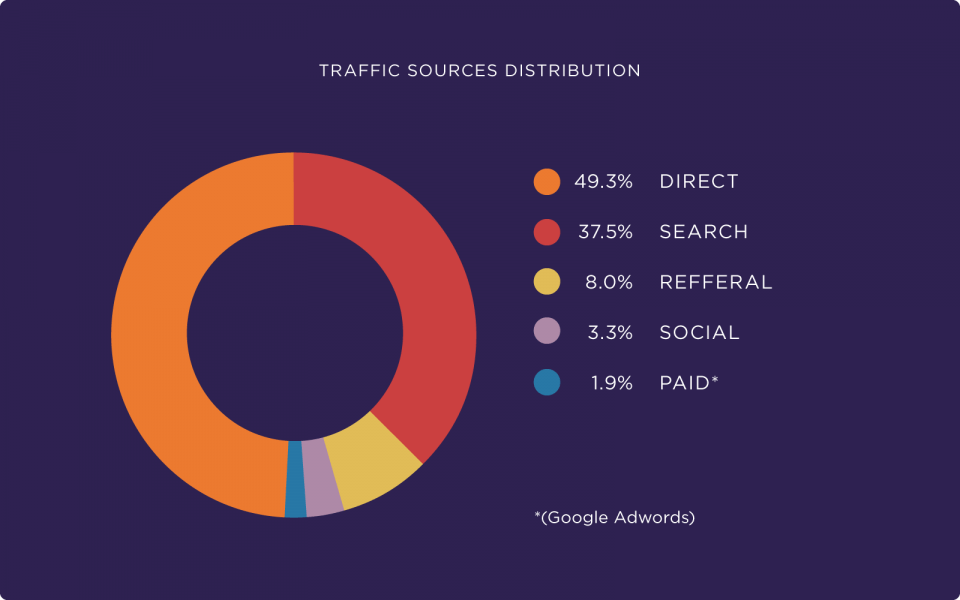 03

. Create A Stellar Landing Page

You've done your bit with optimization on search engines and you've managed to direct more traffic but you face a low conversion problem.

This is what a poor landing page can do!

While many marketing gurus would avoid the importance of a stellar landing page from their tips to scale eCommerce business, we regard it as highly important.

Since it's the first point for a majority of your customers, you want to give them a first impression that will make them persuade you to buy.

Moreover, the fact that over 90% of the visitors on the eCommerce sites don't come with a willingness to buy, makes a landing page even more significant.

To implement a steller landing page, follow these:
04

. Put Your Order Fulfillment Task on Automation

The best way to scale up any business is to cut down the hours spent on something that doesn't require your expertise and devote more time to the important aspects of your business.

In the eCommerce business, the last thing you'd want to do is taking care of picking, packing, and shipping on your own. The job of self-fulfillment is the job that will eat the majority of your time.

You'd want yourself to find new means to scale your business rather than packaging the box, attaching the shipping label, and delivering to the shipping office.

You can automate these tasks to various order fulfillment companies.

Although the overall cost of such order fulfillment services would seem to be high, it would be worth the scaling of your business.

Order Fulfillment is an entirely new and separate business channel, and the experts in this business can handle the distribution process more effectively than you probably can.

So, outsourcing the distribution will bring in quality as well as it will give you plenty of free time to focus on the business acquisition.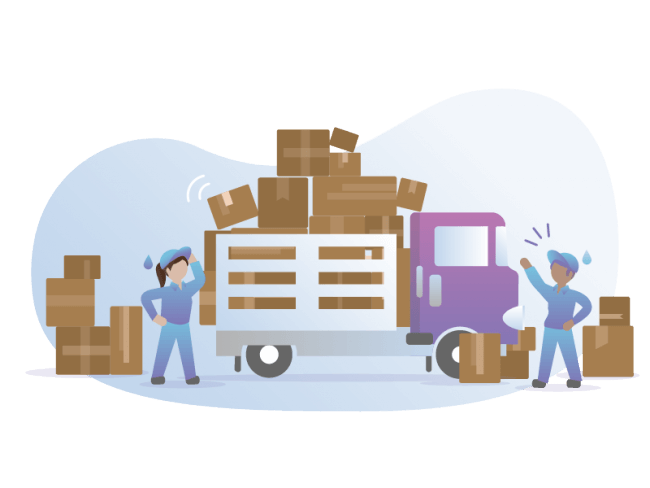 05

. Retarget Existing Customer

You might have already heard the business saying – It is more costly to convert a new customer than convert an existing customer. This saying applies best to the eCommerce business setting.

Thankfully, the digital world has given us various opportunities to easily target the existing customer. To start with, you can give your potential customer a healthy reminder of their abandoned cart that they did not follow through till the purchase.

Moreover, there's a lot of noise in digital marketing with the term, re-marketing. You can drop a cookie on your website and track what the customers are looking at on your website.

Then you can place Google Ads on the platforms they use as they can work as a subtle reminder.

You don't have to worry even if you don't have the knowledge about this technique as it is relatively easier.

Moreover, you can hire a marketing agency to automate this task too.

"Retargeting and converting an old existing customer is easier and a cost-effective process than acquiring a new customer. While you try to get a new customer, managing and delivering great customer experience will make it easier to sell to the existing customers."
06

. The Recommended List

Have you come across the Amazon landing page?

You must've seen the recommended list that displays a variety of discounts that persuades the customer to buy more.

And it's not just with Amazon as several other eCommerce businesses have opted for this technique and have seen a drastic change in their revenue.

Customers are looking for good deals on your site and what is better than displaying it in the front to avoid the search for a good deal. This simple yet effective technique can prove to be very successful if done correctly.

A recommended list of products, best deals, and displaying the top-selling products to every visitor on your site will make it easier to sell.
07

. Focus on Customer Support

If there's a business function that you'd never want to fully automate, it is the customer support. As the scaling process of your business starts, poor customer support is something that can have a significant impact on your growth.

You need to be alert with the customer support service before you're buried with a set of complaints. Your eCommerce business would not like to handle the online reviews, especially the ones that are posted on social media.

Although you can automate your customer support for specialization, you still would want to keep a personal touch on it.
08

. Optimize for Mobile

How does this sound?

"Over 80% of the eCommerce users use their smartphones to browse through your website."

While smartphone browsing trends have been there for a while now, many eCommerce businesses have still not benefited from this technology. Their websites are not mobile-ready.

Smartphones aren't going anywhere and that makes the responsive web design equally important. Even if your eCommerce business doesn't have an app, the responsive web design will offer a better user experience.

To make a good impression, you'd want your customers to get experience on their mobile phones.
09

. Target New Market

Have you realized the potential of your product in your existing market?

A small change in your target market tactics can help you increase your revenue streams. It is likely that the demand for your product has stagnated in your current market and can be increased by adopting these basic methods:
10

. Focus On Content Marketing

If you think you won't need an adequate amount of content marketing for your eCommerce business, you are in for a mistake.

Content Marketing is very much alive and to make a good reputation on the web, you need it consistently.

Although it is time-consuming, you can always hire a freelancer or a content marketing company to bring in the expertise.

Blogging has become an effective tool for educating and nurturing customers. A little insight into the company, product, tips, and benefits can turn out to be another step towards growing.
11

. Use of Email Marketing

No one could realize the importance of email marketing better than the owner of an eCommerce business. Use of Email marketing is one thing and to ensure that your email marketing is on point is another and we need to concentrate on the latter part.

The majority of the customers still opt for email marketing as the basic means of communication and if done correctly, it can serve as the most profitable channel.

You can divide your email marketing message into three segments:

It is also equally important to regularly update and expand your email list for better results.

Conclusion

You can start with these 10 tips to scale up your eCommerce business. However, keep in mind that all of them might not turn out to be perfect for your business.

Do tell us in the comments that tips that best worked for you!