Lawyers often embrace technology. It can let them serve their clients better, but it can help them find new clients in some instances as well.
Digital marketing, in particular, is a technology form that can help lawyers looking to expand their client bases.
In this article, we'll talk about some things regarding digital marketing that lawyers should know.
SEO Can Help Lawyers Get New Leads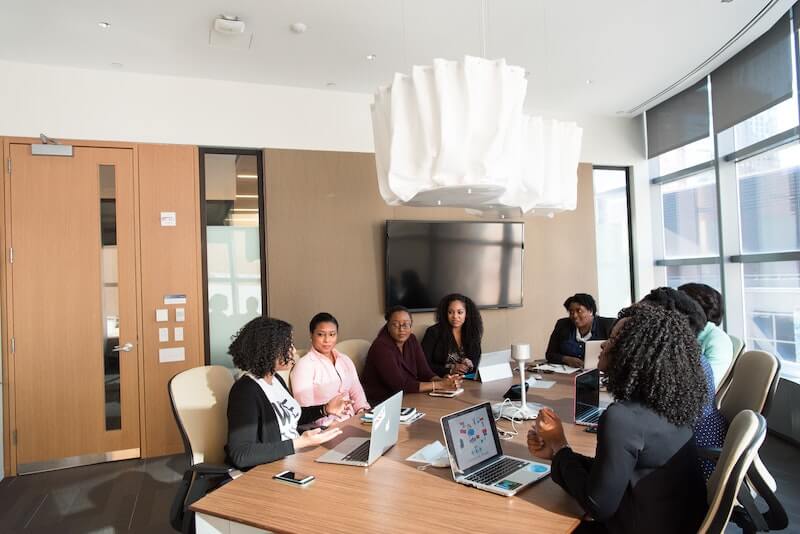 If you want someone to know about your company and the goods or services you offer, you need visibility. That's true with virtually any niche, and it's certainly true for lawyers and law firms.
96% of people needing legal advice search online. Mostly, they use Google. Google is the search engine most individuals think about when they start hunting for anything they need. Because of this, SEO can help lawyers who want to attract and court new clients.
SEO means search engine optimization. It occurs when you rework your website to make it more likely that it will show up at the top of the SERPs. SERP means search engine ranking position.
It refers to how close to the top of the Google rankings your law firm's site appears when someone hunts for a particular keyword or keyword phrase.
If you change some site elements, you can usually attract new leads when someone searches for a term having to do with your physical location or the kind of law you practice.
SEO can increase your site traffic quite a bit, and you should see more conversions. You can get people to call, contact you by email through the site, or get in touch through other means.
You Can Hire a Full-Time SEO Expert or a Freelance One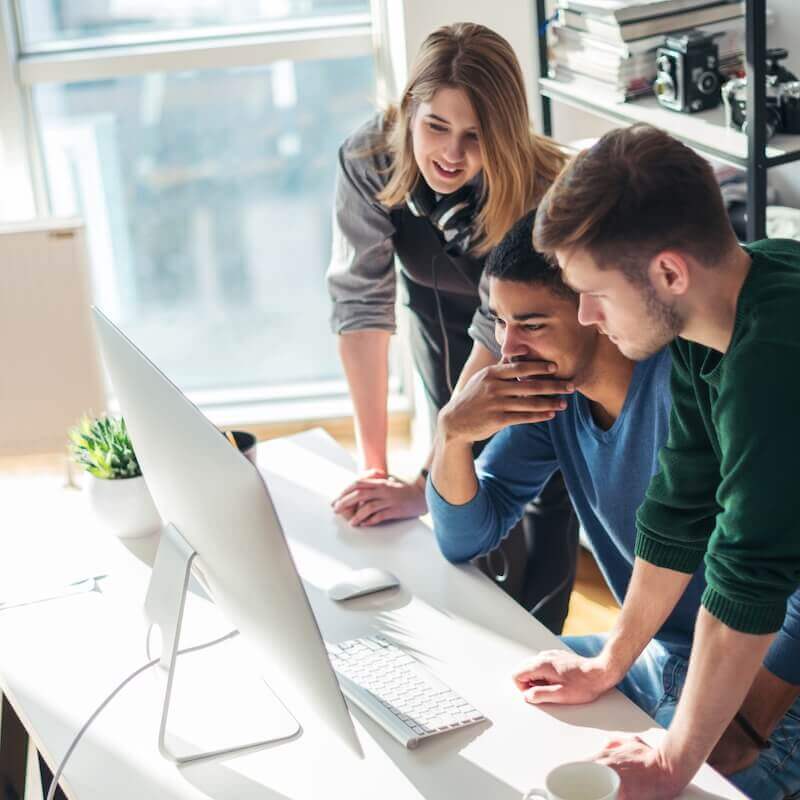 If you feel like you have a big and successful firm, and you have a large and complex website that needs constant updates, you may choose to hire someone to do SEO for you permanently.
You must have enough in your operating budget to pay their salary to do this. Individuals with SEO skills often command a high price tag if you want them to work for you exclusively.
You can offer them things like an excellent starting salary, a 401K program, healthcare, and other perks. The better the perks when working for you, the more likely you can land an SEO expert who knows everything about this industry and can help you with your site.
They can use the latest tools and report back to you on how you should change your website, and then you can hire a copywriter or someone who works in IT to make those changes.
Some SEO specialists also work as copywriters and have other IT skills. The same person who does your SEO might make the changes they feel your site needs.
You can also hire a freelance SEO specialist or an agency and only use them occasionally. For instance, you might have a freelancer look over your site with SEO in mind once per week or a couple of times per month.
You might find this is the right move if you have a smaller, simpler website or you do not have the cash to hire a full-time SEO specialist and keep them on the payroll.
You Can Use Social Media for Digital Marketing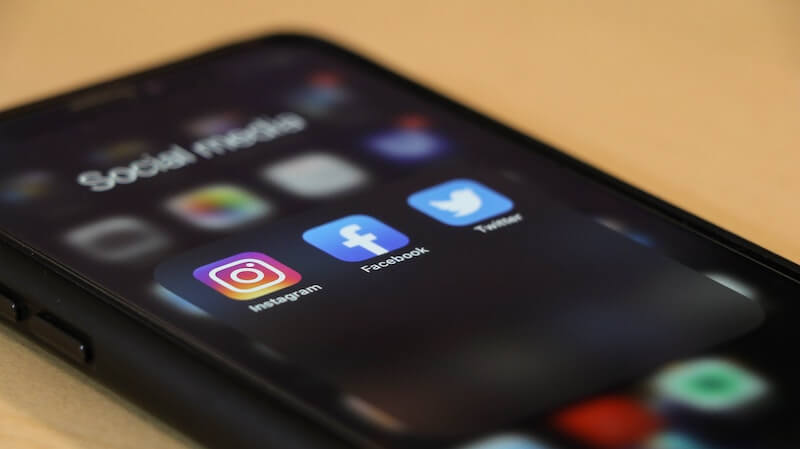 You should also know that while SEO can help you land new clients, you can attract them in other ways as well. Digital marketing for lawyers also includes social media platforms and targeted advertising.
You can first do some research to see the most likely ideal client for you. Maybe you're looking for car crash victims with injuries. You might do exclusively criminal law or something else.
You should pinpoint what social media platforms your ideal client uses. You can do that by determining their most likely age, income level, marital status, etc.
The more info you gather about who wants and needs your services, the better the chances that you can figure out what social media platform they'll use.
Then, you can hire a digital marketing strategist to create ad content for you. You might need to put together a whole marketing team to handle this for you.
You need ad content that pops up at the right time and only appears when you're sure someone needs legal help, and they're talking about it on social media.
Targeted advertising can get great results if you create the right kind of ads that attract the proper potential clients.
This is what M&Y Personal Injury Lawyers does on their Instagram where they highlight publications that have featured them and cases they have won for clients.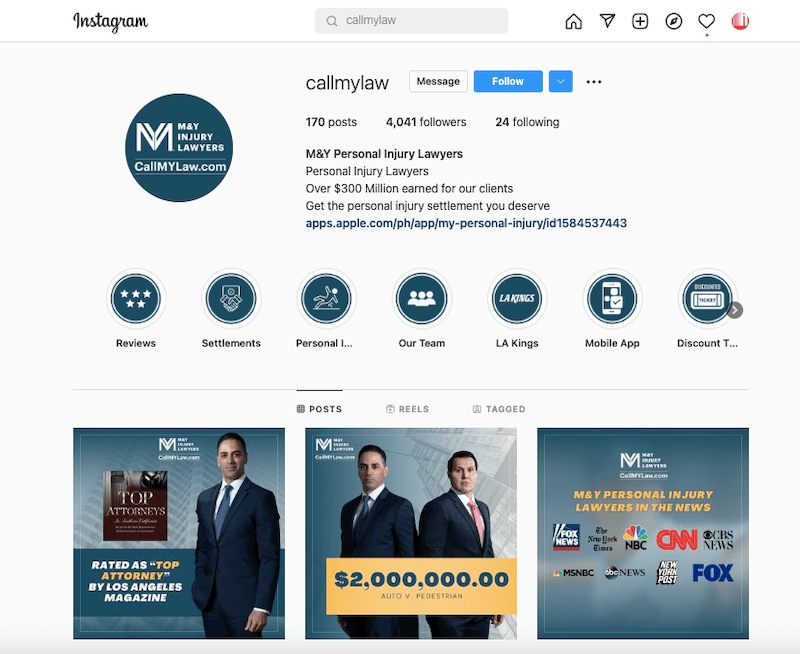 You Can Use Email Marketing as Well
Digital marketing can also include email marketing, and that's one more tool in your arsenal that you can use to attract new clients.
When someone visits your website, you should have a spot for them to sign up for promotional emails. You can offer them something they perceive as valuable so that they will give you their email address.
You might offer something like a free eBook. If you know this person has used your services before, you should have their email address, so you can also send them regular email messages telling them what's happening with your firm.
Reminding them that you're there for them might lead to them mentioning your law firm to a friend or neighbor who needs legal help.
Digital marketing is about increasing brand awareness. That is something virtually any business entity needs. You can think about hiring a digital marketing specialist or a whole team, or you can use someone off and on whenever you need them.
You want an individual or team with experience in the legal niche, and they should also know about all the latest digital marketing trends. They should know about SEO, email marketing, pay-per-click advertising, the hottest social media platforms, etc.
You may want them to craft a whole new marketing strategy that gets your name to new potential clients who didn't know about you before.
Make sure to allocate budget room for digital marketing if you want your law firm to grow.