Over the past few decades, yoga has grown to become one of the most popular kinds of exercise in the world.
So, if you host yoga classes or own a yoga studio, this is great news! But what's the best way to reach this health-conscious audience?
Let's demystify that for you today. We've put together a list of 5 tried and tested marketing strategies that should definitely figure in your yoga marketing plan.
What assets do I need to promote my yoga studio?
First things first. Before you start promoting your yoga studio, you will need a bank of a few basic assets. Firstly, you should set up your social media pages across key platforms such as Facebook, Instagram, and Twitter.
Next, you should create a good website to further build credibility. Ensure that the website is well-designed and easy to navigate. It should also contain all the information that potential customers might be curious about – such as your studio's location, class schedule, and price list.
In addition to a website, you'll also need some good-quality photos of your studio. These photos can be used on your website, as well as in social media posts and other marketing collaterals.
A good CRM will really help with distributing your content and keeping all your customers' information in one place.
You will also need to create some printed marketing assets like flyers and posters. These can be used to promote your business at promotional events or community centers.
Finally, you will need to make sure that you are listed in online repositories like Google Maps and Yelp. This will make it easier for people to locate your studio when they are searching for yoga classes online.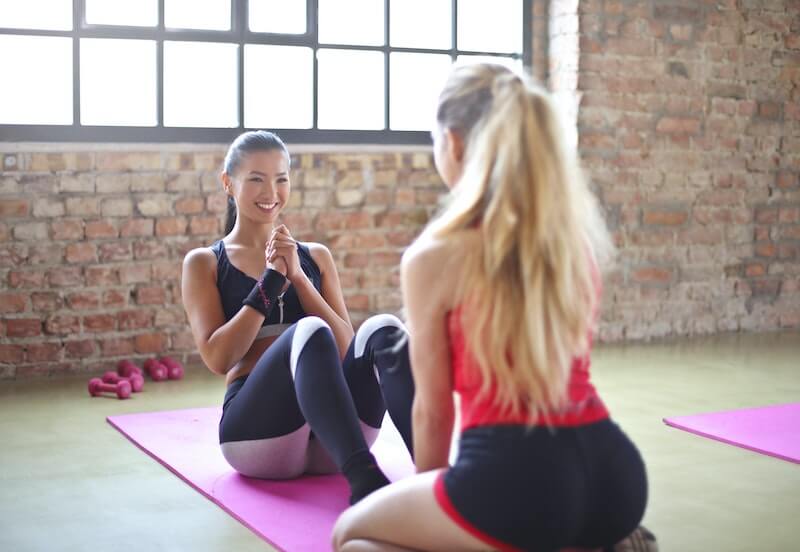 5 Best Places to Market your Yoga Business
Now that you have your online assets ready, here are the 5 best places where you should promote your yoga classes:
1. Word of Mouth
One of the best (and oldest) ways to promote your yoga business is by word of mouth! For an experience-based activity like yoga, a personal recommendation by a friend or acquaintance can act as a powerful motivator to sign up potential students.
So be sure to let your friends, family, and acquaintances know about your business so that they can spread the word to others and create a buzz. 
2. Social Media
Creating a social media profile for your yoga business is a great way to reach the right audience. You can not only share interesting posts to promote your classes, but also create Facebook event pages for specific classes and workshops.
Ensure that you post regularly and include relevant keywords so that people can find your business when they are searching online.
3. Online Directories
Yoga businesses can be listed in online directories such as the 'Yoga Directory' or the 'Yoga Journal Directory. This will help potential customers find your business when they are searching for yoga classes in their area.
3. Local Events
Attending local events, such as health fairs or community festivals, is a powerful way to encourage word-of-mouth publicity of your yoga business. This is a great way to get your business out there and attract aspiring yogis.
4. Print Advertisements
Place ads in local newspapers or magazines that target people who are interested in yoga and health. This will help potential customers get acquainted with what you have to offer.
Best free places to promote my yoga business
Promoting your yoga classes doesn't have to be expensive—there are plenty of free ways to get the word out there! One of the easiest ways is to create a website or blog and share services with the world.
As we shared in the section above, creating a Facebook page or Twitter account for your business is a great way to connect with potential customers online.
You can also curate event pages on Facebook and Instagram with relevant photos and content to pique their interest.
Additional avenues to promote your yoga business.
Aside from the key strategies listed above, there are a few other tips you can follow to get the most out of your yoga marketing plan:
How to Use Instagram for Yoga Marketing
Instagram has become a go-to platform for wellness entrepreneurs to promote their classes and businesses. It is a platform used equally by men and women.
It has approximately 1 billion users. Since 90% of its users are below 35 years of age, this also makes it an ideal platform if you are marketing to a younger audience.
A couple of tips to keep in mind when leveraging Instagram for your yoga classes:
Using Facebook for Yoga Marketing
With close to 3 billion people across the globe active on Facebook, this platform has become the most powerful one to attract customers.
The most common age demographic on Facebook is people aged 25-34 years old, making it an ideal platform to speak to the youth.
Here are a couple of things to keep in mind when exploring this platform to encourage yogis to sign up for your classes:
How to use Pinterest for Yoga Marketing
Pinterest is a platform where 85% of the users are female. If your yoga studio caters to more of a female-centric audience, this may be a great platform to optimize and attract the right customers.
Here are a few things to keep in mind when leveraging Pinterest for yoga marketing:
Final Thoughts
The goal of marketing your yoga studio on social media is, of course, to increase sales and bookings. People who discover your classes on social media may want to book them there as well. You can use social media to direct trainees to your website, where they can book directly.
Integrate booking software, such as Baluu, into your social media posts so that anyone interested in your classes can book them without leaving their social media account.
We hope this quick guide helps you boost your yoga marketing efforts. However, with each passing day, there are new avenues cropping up to promote your business online. Think we've missed out on anything? We'd love to hear from you in the comments.