Cybersecurity affects everyone, even your small business that you think is too small for the auditors and cybercriminals to notice. PCI DSS compliance is not mandatory for all businesses, but if your customers transact using credit or debit cards, you'll need it.
The bulk of the US population uses Discover, American Express, MasterCard, Visa, and JCB International cards to transact.
What is PCI Compliance?
PCI or Payment Card Industry compliance is a Data Security Standard for all the companies that process and manage credit card payments. This regulation is created to secure and protect credit card data provided by cardholders.
These card brands, together with financial institutions, merchants, and other parties, form the Payment Card Industry Security Standards Council (PCI SSC). The council is responsible for developing and maintaining the Payment Card Industry Data Security Standard (PCI DSS).
As a business, you need the support of these card companies if you plan on accepting credit and debit card payments. The best way to ensure their support is to comply with the PCI standards.
The compliance process is costly and time-consuming, but worth it as it will protect your business and customers' information. However, keep in mind that compliance is a continuous process; thus, you need to understand how to achieve and maintain PCI compliance.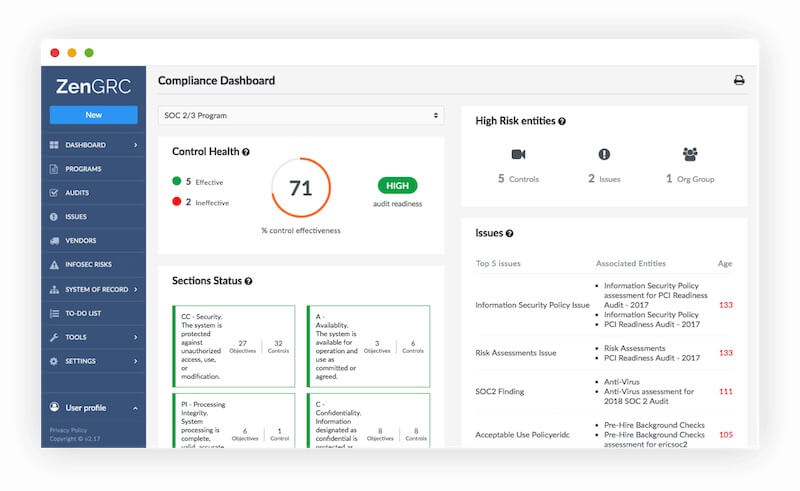 How to Maintain PCI DSS Compliance
Once the assessment is completed, businesses begin to notice a decline in the effectiveness of their security controls. Understandably, businesses would find it hard to maintain PCI compliance as the technology and threats keep evolving.
The security measures and controls that your business put in place 5 years ago would have very little chance against current threats. Here is how your business can keep up:
Commit Resources to PCI Compliance
Once you acknowledge that your business needs PCI compliance to thrive under current conditions, invest in compliance. If you don't understand compliance, then hire an expert who will guide you through the entire process.
Remember that compliance is more than just the security controls, measures, and systems; therefore, include your employees.
The firewalls and latest security measures will protect sensitive information. However, don't overlook your biggest vulnerability, which is your employees. Human beings make mistakes, thus train and educate your employees about PCI compliance.
Train them on security measures and the importance of these measures. Every few years, update your measures, systems and ensure that your employees know how to interact with the new systems.
Don't overlook anything, especially things to do with outdated software, antivirus, etc. For example, if you're still using Windows 7, it's time to let go of that old OS and upgrade to Windows 10. According to Microsoft, support for Windows 7 was discontinued on January 14, 2020.
Detect Security Control Failures
Most cybersecurity threats are preventable, especially if you regularly test your systems for vulnerabilities and security control failures. Assign a team the task of testing, detecting, and responding to any vulnerabilities. The team should have a good understanding of your business, operations, and all IT processes.
Without an effective vulnerability management framework, vulnerabilities such as faulty defenses, insecure connections, and weak authentication management will go unnoticed. Attackers will use these vulnerabilities and control failures to carry out their attacks.
Vulnerabilities are complex and often involve a complex set of failures. Among the most common set of failures include out-of-date firewalls, human error, and poor passwords. When such mistakes come together, the attacker has an easy way in, and it typically results in a data breach.
Businesses that handle large transactions have complex network configurations and other technical safeguards that require frequent updates.
Assessing these network configurations would require either an external auditor or a dedicated team whose purpose is to maintain compliance and identify vulnerabilities.
Self Assessment
Small to medium-sized merchants can use a self-assessment questionnaire to assess PCI DSS compliance instead of hiring a QSA.
However, before you pick an SAQ and begin filling it, you need to pick the right one. There are at least 8 SAQ types that are suitable for different business types.
Also, be sure to hire a Qualified Security Assessor to conduct annual assessments and vulnerability scans. This is because you might ignore or overlook some areas due to your perceived familiarity with the systems, measures, and infrastructure.
In Conclusion
PCI compliance isn't mandatory, and neither is it a tool to govern how you operate your business. The PCI Security Standards Council formulated the requirements to protect you.
Although the council is strict with non-compliance, it exists to protect customer data, which you handle during transactions. Compliance proves that your business is trustworthy, which is why you should never ignore it.
Talk to a qualified assessor who will guide you through PCI compliance and strategies to minimize costs without compromising effectiveness.