YouTube has become the go-to place for marketers and general internet users in the last few years. YouTube is the most popular video content platform with millions of views every month.
This Google-owned property is one of the best marketing channels for entrepreneurs.
If you ever wanted to create your own YouTube channel and kept it procrastinating, we will create one together in this article.
The process of creating a YouTube channel is a lot easier than many users think. It takes a couple of minutes and a few clicks before you see your own channel ready.
If you look at the video content consumer stats, the graph is going up every year. According to a report by Cisco, the amount of video content consumer will be over 80% by 2022. Video content is the most engaging and effective content type on the internet right now.
Quality video content is easy to spread. A study shows that over 90% of the mobile video consumers share the videos with other users.
Not only YouTube, even if you go to Facebook; videos are the most engaging content. It is good for the creators as well as Facebook as the platform because the average time on the platform goes higher with the video content.
We used to talk about blogging and YouTube videos used to be a part of overall content creation. Now, YouTube has become a platform where users can only focus on video creation and make a good amount of money.
There are channels making millions of dollars every single month. Forbes has just published an article about the highest earners YouTube stats 2018.
Here are a few numbers.
Markiplier
With 22 million YouTube subscribers, Markiplier is making big money with his video game channel.
2018 Earnings: $17.5 million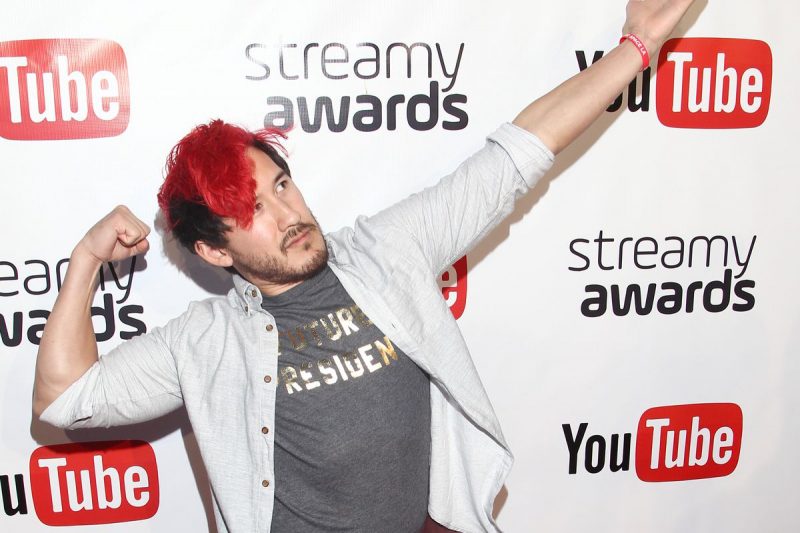 Jeffree Star
With his makeup and cosmetics YouTube channel, Jeffree Star makes millions.
2018 Earnings: $18 million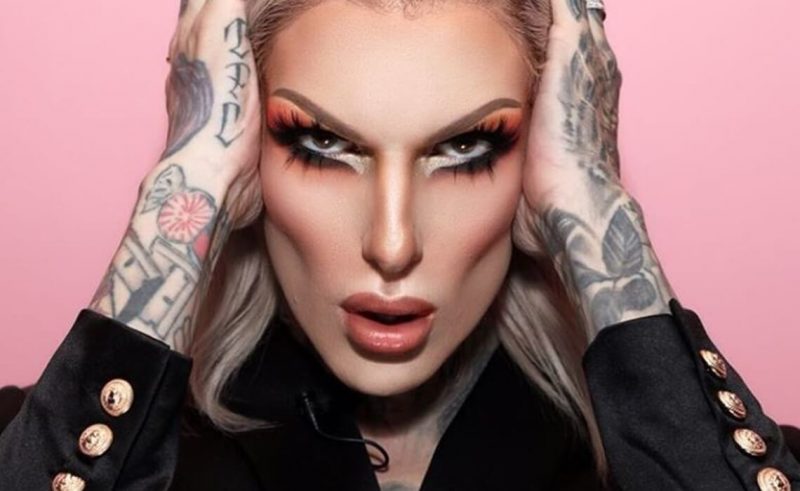 Those are some crazy numbers. Isn't it?
It's not that only a few YouTube stars who are making big money, but there are so many small, mid-level YouTubers who are making good bucks on YouTube every month.
So, let's get into the process and create a new YouTube Channel.
Step 1. Get a Google Account
To create a YouTube Channel you will need a Google account, so create a Google account if you don't have one already.
Create and use the Google Account that you would like to be associated with your YouTube channel. So, it's good if it is related to your brand.
Step 2. Login to YouTube
Go to YouTube.com and sign in by using the Google account you have created for your brand.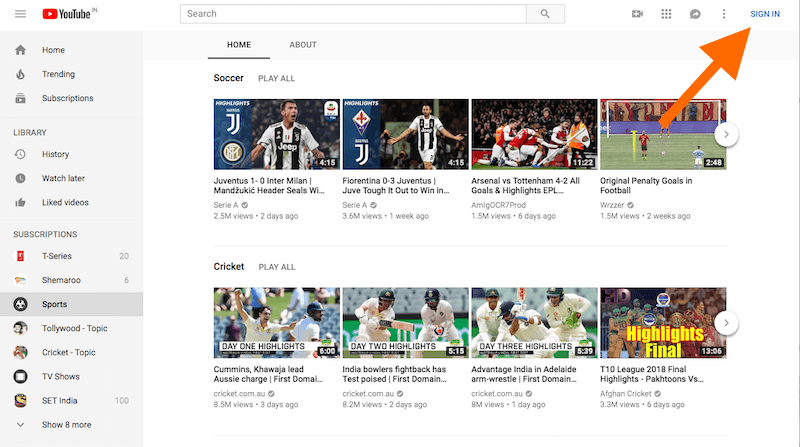 Make sure to set your brand name on your Google account, so that you can brand your YouTube channel to make it sound professional.
You can go to your Google account page and change the name if required.
Step 3. Go to YouTube Settings
I have logged in by using one of our site emails. Now, go to the settings by clicking on your profile image at the right top corner.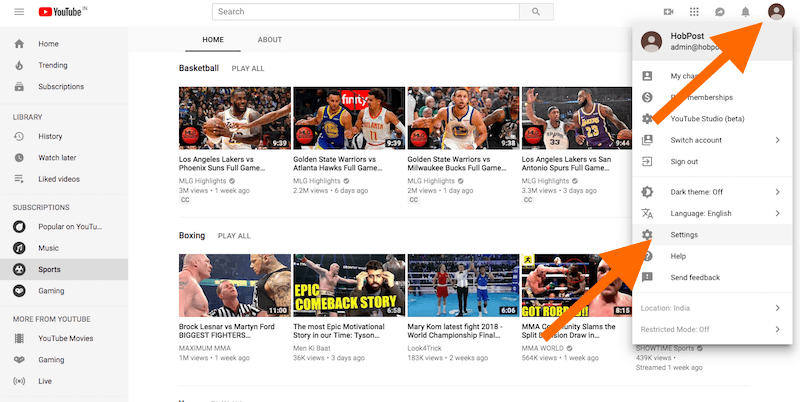 Step 4. Create Your YouTube Channel
In the settings page, you will get the option to create your own YouTube channel
Click on the create a channel option and proceed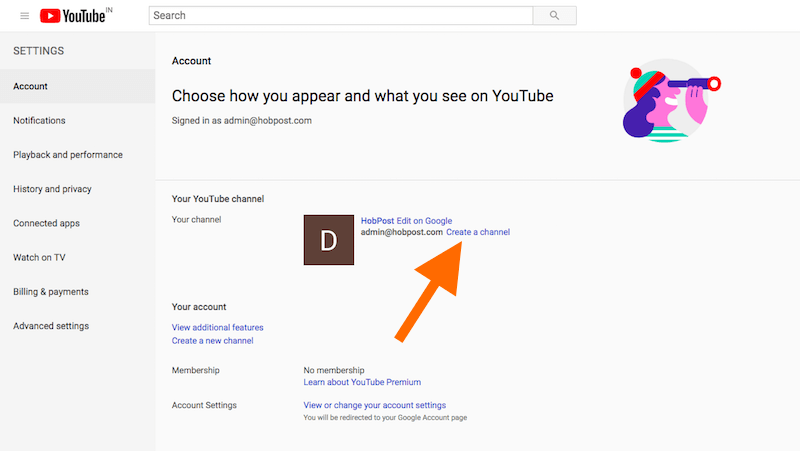 In the next step, you will be asked to add your first name and last name if you have not added both while creating your Google Account.
Now, as we are creating a YouTube Channel for your business brand, it is recommended to use the brand name instead of personal name.
There is an option to use your business name, click on that option.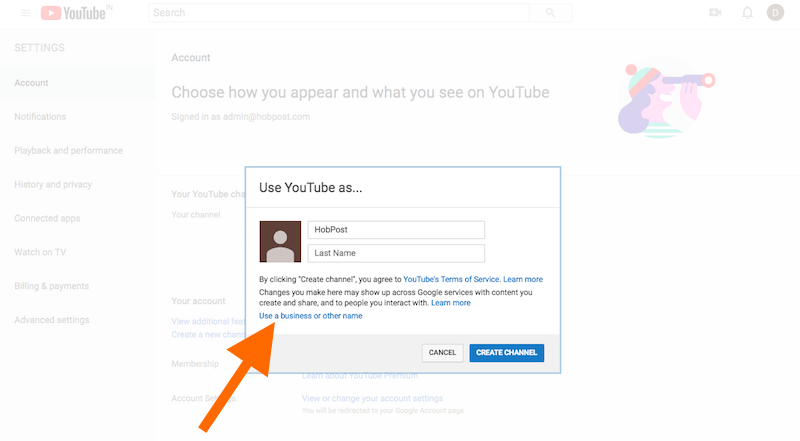 In the next page, you will get the option to add your business name. Add the name and proceed.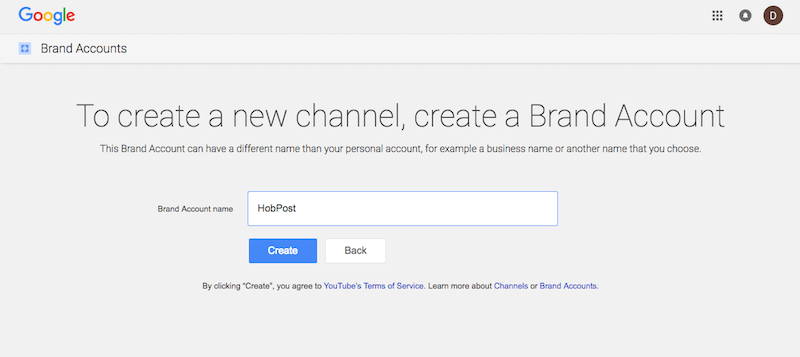 Congratulations! Your YouTube Channel is ready now.
So, these were four simple steps to create your own YouTube Channel.
Now, the next step is to make your channel look professional and attractive with beautiful channel art. We have created this article about the best YouTube channel templates where you can get some stunning designs for all kinds of YouTube Channels.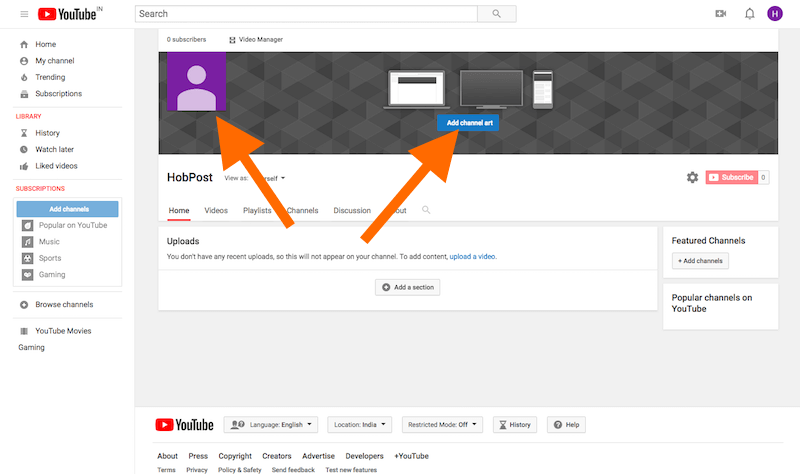 YouTube Channel Art Dimensions
Google has given clear instructions about the YouTube Channel art dimensions for the best experience.
Minimum dimension for upload: 2048 x 1152 px.
Minimum safe area for text and logos: 1546 x 423 px. Larger images may get cropped on certain views or devices.
Maximum width: 2560 x 423 px. This means that the 'safe area' is always visible regardless of screen size. The areas to each side of the channel art are visible or cropped depending on browser size.
File size: 6 MB or smaller.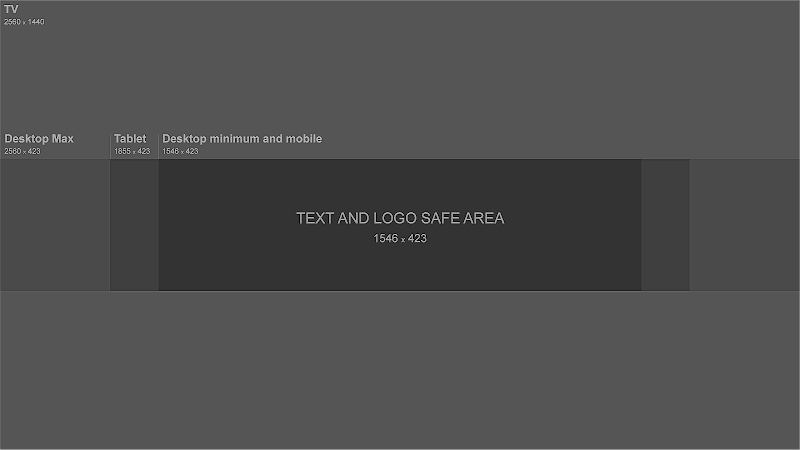 Channel Description
Optimize your YouTube Channel with proper description. Give your audience a clear idea about the kind of content they can expect on your channel.
Use proper keywords at the start of the description. Use this space to best of your ability because this will be indexed by search engine and it will help you to come in YouTube search as well.
Here is how you can add your YouTube Channel description
Click on the about tab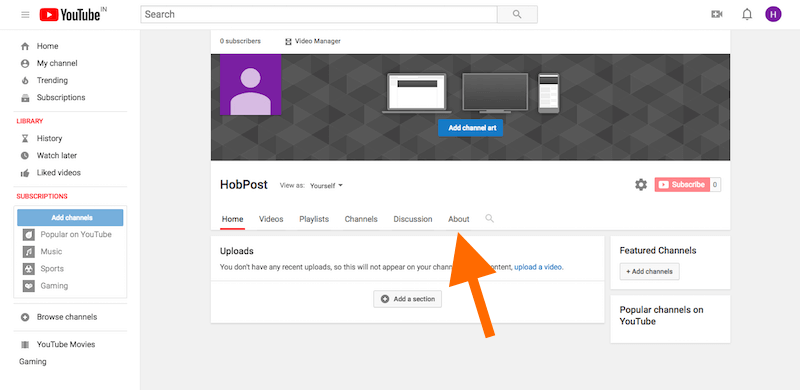 In the next page, you have the description box to add your content.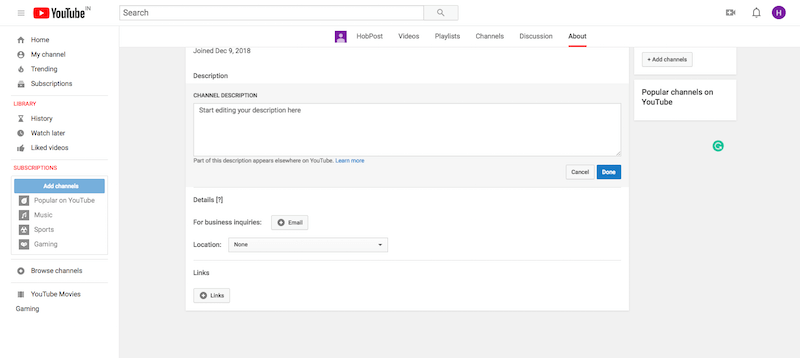 You have the option to set your location as well as add custom links to give more information about your business.
Final Word
here is how you create your own YouTube Channel in just 4 simple steps. Once your channel is ready you will need to create an attractive intro video for your channel.
Check this article about 20 best tools to create YouTube intro, I'm sure you will find the perfect option in that article.
Hope you find this quick tutorial useful. Do let us know your thoughts by using the comment section below.