Are you planning to start a fashion blog? well, we have listed the steps that you need to follow to get started quickly.
The fashion industry is the most affluent industry around the world. World-renowned celebrities adorn the garbs of famous designers.
People around the world want to look like their favorite superstars, sportspersons, and socialites. The fashion industry is always booming, and if you have a knack for it, you should put on your armor and start conquering the battlefields.
Passion should be the driving force in your life. If you are passionate about fashion and think you are eligible for guiding folks on their fashion quotient, you should definitely share it with them.
It is not just about sharing your knowledge with the world. It is an opportunity for generating a massive amount of revenue by just doing what you love. Blogging is the answer to your query. Start your fashion blog and take your interest to a whole new level.
However, blogging is not easy as it seems. It requires consistent effort, innovation, and patience. If you have these attributes along with undying passion, blogging is the platform for your dreams.
In blogging, you do not need any specific technical knowledge and skills. You can launch your blog in simplified steps and with the do-it-yourself (DIY) approach. When you venture into blogging, you will learn a lot.
Let us discuss the steps required for establishing a fashion blog.
Steps to Create a Fashion Blog
01.

Explore your Potential
I must admit that there is immense throat-cutting competition in the fashion niche. If you want to venture into the fashion industry, you should be able to identify your uniqueness. There are millions of fashion blogs in different categories. What makes you different from those competitors?
The best way to express yourself is to reveal your genuine identity. You should add different flavors to your style. In my experience, the more transparent you are, the more fan following around the world! Just bombard yourself with your ideas and flaws; you will witness your true image.
02.

Make your path
There are two aspects here. First, there are established people in the industry. You can learn a lot from them. However, it does not mean that you follow them and their styles. Learn from them and customize your flavor.
Secondly, there are people who pretend to be experts. You should have the ability to analyze the fake and the genuine. Don't be misguided and instead, work as an intellect. In the process, you will learn a lot and eventually, you will be a professional.
03.

Utilize Minimal Resources
Do you think that you need a professional DSLR camera to start your blog? No, you are wrong. If you cannot buy a camera, it does not mean that you cannot start your blog. In the starting, you can focus on other aspects that don't require a camera.
The essence of the advice is that it is all about the start. When you start working, after some time, you can buy a professional camera. For the time being, use your phone camera or digital camera innovatively. With optimum settings, you can click great pictures that could match professional photographs.
04.

Identify your strengths
Writing content in a personalized way is the new trend. Nobody likes to read dull content that does not create a connection. You can write your experiences in the form of stories. I am sure that your audience will love it. You should make an amalgam of your strengths and stories.
For example, you are outstanding with the selection of traditional Indian sari for a bride. Now, you can curate content on this topic and weave a story around it. The story may be genuine or a play of your creativity. It should resonate with the readers.
05.

Define your Niche
Admit it; the fashion industry is too vast. If you say that you can work on all the topics, you are going in the wrong direction. If you try to elaborate on all topics, you will not be able to give your best. You can choose your category on the basis of your expertise or from the following options:
So, if you are not sure about your expertise, you can choose from the above-listed categories. There are two options for you.
First, you can choose from existing categories you are familiar with and start working on them. Gradually, you will gain knowledge and expertise in that related category.
Secondly, you can pick a broader category like Women. It will cover all the aspects of clothes, jewelry, shoes, and so on. However, it requires consistent effort and good management skills.
06.

Learn Networking
If you want to succeed, you should learn networking. Networking is the most crucial way to set up your reputation and credibility. Without marketing and networking, your content will be a waste.
Guest posting is one of the most feasible ways of networking. First of all, you will develop a relationship with another blogger. Secondly, you will be able to target a dedicated audience without any extra effort. You just need to contribute a quality post on another fashion blog.
When readers comment on your post, give them a befitting reply to show that you value their opinions. Get active on social media platforms. Share your posts, others' quality posts, videos, and images related to your category. This will help in growing your traffic.
Why WordPress.org?
Don't get confused between WordPress.com and WordPress.org. The former provides free hosting and domain name. The latter requires paid hosting and personal domain name. So, why not choose the free one?
WordPress.com provides limited space. In the future, it will be a problem when you have many posts in your blog. You cannot use third-party plugins and premium themes on it.
This means that you are confined in a box, and you cannot be creative at all. Moreover, your account can be terminated without any prior notice.
WordPress.org provides you with awesome features and full customization control. You can expand your business with unlimited space, personal domain name, innovative plugins, and premium themes. You can optimize it for search engine and social media for better reach.
Buy Domain Name and Web Hosting
There is a lot in a name! It is your identity, your brand, your creativity. Before starting a blog, you have to choose a domain name. It should be creative and related to your niche. There are various reputed online vendors that provide domain names at a reasonable price:
The next step is to purchase web hosting for your blog. You should choose a reliable web hosting provider that provides best rates and dedicated support 24*7.
I recommend you to go for Bluehost because they are in the web hosting business for many years and well aware of the process to manage websites. Also, you get a domain name for free with your hosting account, that will save your $15.
We have published this step-by-step process to start a blog using Bluehost.
BlueHost is one of the most widely used and recommended hosting providers. They are reliable and experienced to make sure that your business is safe.
They offer affordable plans with all the features and easy to use control panel. Also, you will be able to create email IDs with your own domain name without any extra cost.
Best Fashion WordPress Themes
Once the domain is bought, and WordPress installed, you need a fashion theme to set up a customized blog. Here are some recommendations.
Divi Theme
Divi WordPress Theme is one of the most popular WordPress themes. It allows you to create beautiful websites with ease. The theme comes with a visual drag-and-drop builder that makes it super easy to build pages without having to learn any code.
The Divi Builder makes the theme perfect for all kinds of websites. You will be able to create all different kinds of layouts and designs without writing any code.
It comes with a number of ready design modules and elements (Over 800 design elements) so that you don't need any third-party design plugins anymore.
Divi WordPress Theme also includes a powerful set of features that make it easy to customize your website to match your brand. It includes a custom CSS editor, custom colors, fonts, and layouts. You can also use the theme Customizer to change your website's color scheme, logo, and other settings.
Divi WordPress Theme is responsive and mobile-friendly. It looks great on all devices, including smartphones and tablets. The theme is also retina-ready, so it looks sharp on high-resolution screens.
Divi WordPress Theme is translation-ready. It includes RTL (right-to-left) support for languages such as Arabic and Hebrew.
Get a $25 discount using our link.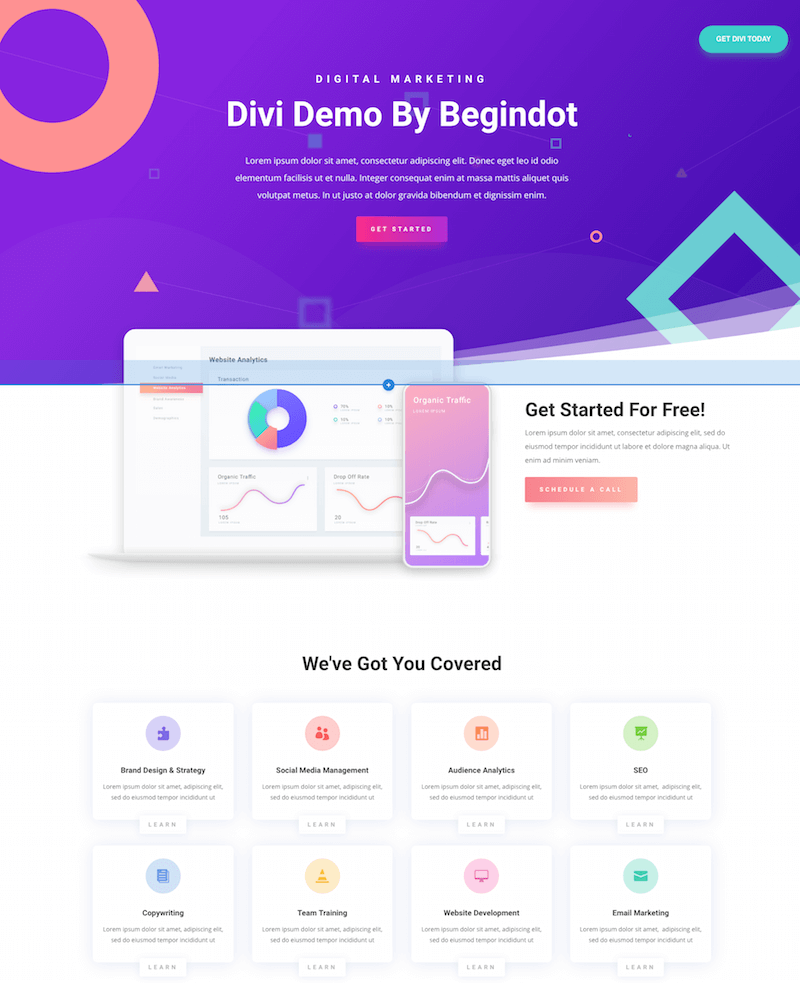 Astra Theme
Astra is a WordPress theme that is perfect for creating beautiful, responsive websites. It is packed with features and options that make it easy to customize and offers great performance out of the box. Astra is also translation-ready and includes support for RTL languages.
Astra is a great choice for any type of website, whether you are looking to create a personal blog, a business website, or an online store. It is fast, lightweight, and easy to use, making it a great option for beginners and experts alike.
If you are looking for a WordPress theme that is both beautiful and powerful, Astra is a perfect choice.
Astra theme can be used to create any kind of website including a great-looking fashion blog. The theme comes with a large collection of starter sites, so you can quickly import any of the ready designs and make your site ready.
It works with all leading website builders for WordPress such as Elementor, Brizy, Divi Builder, etc.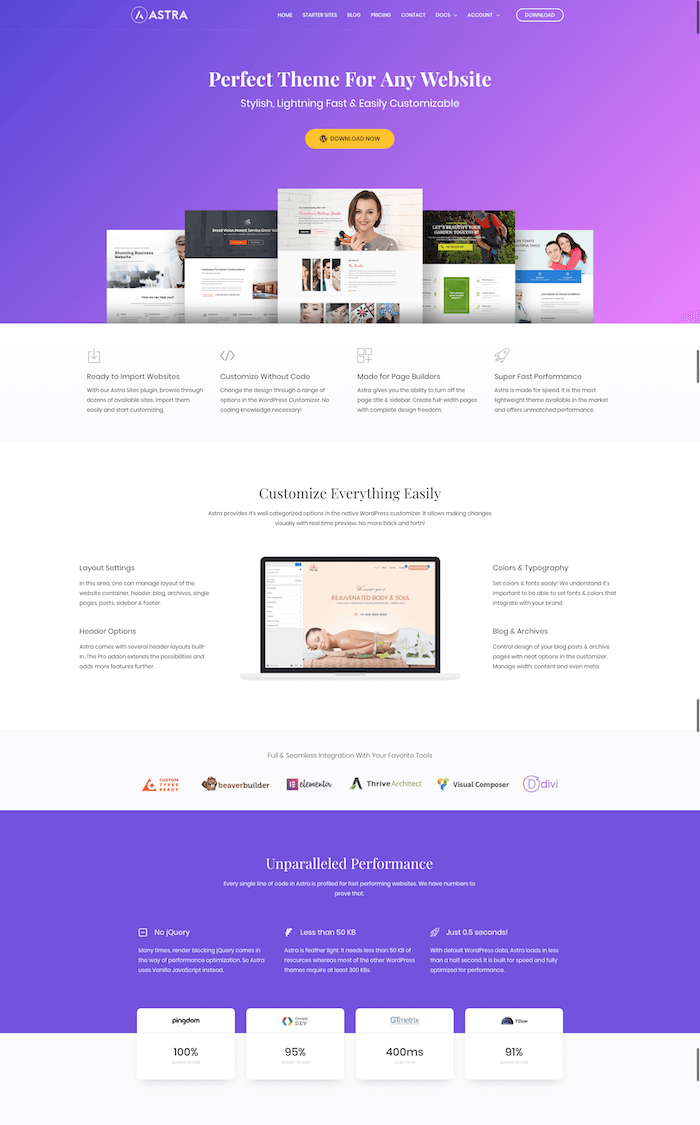 Tempest
Tempest is a great looking modern fashion magazine WordPress theme that offers you amazing design to attract users to your site. You can present your content in a stylish way with breathtaking images so that your users are engaged with your content.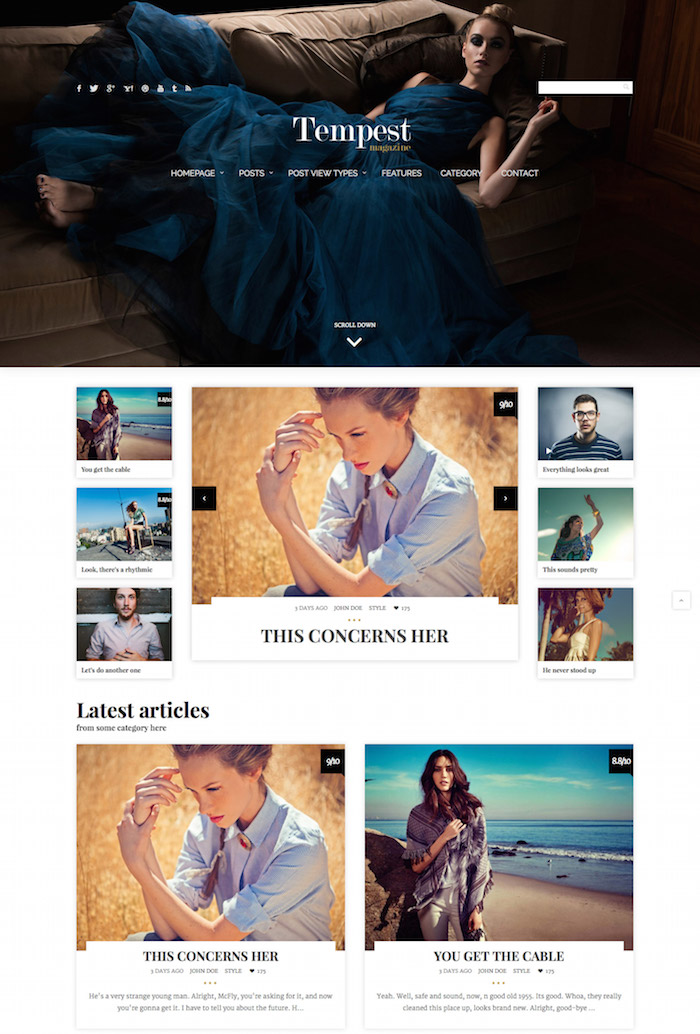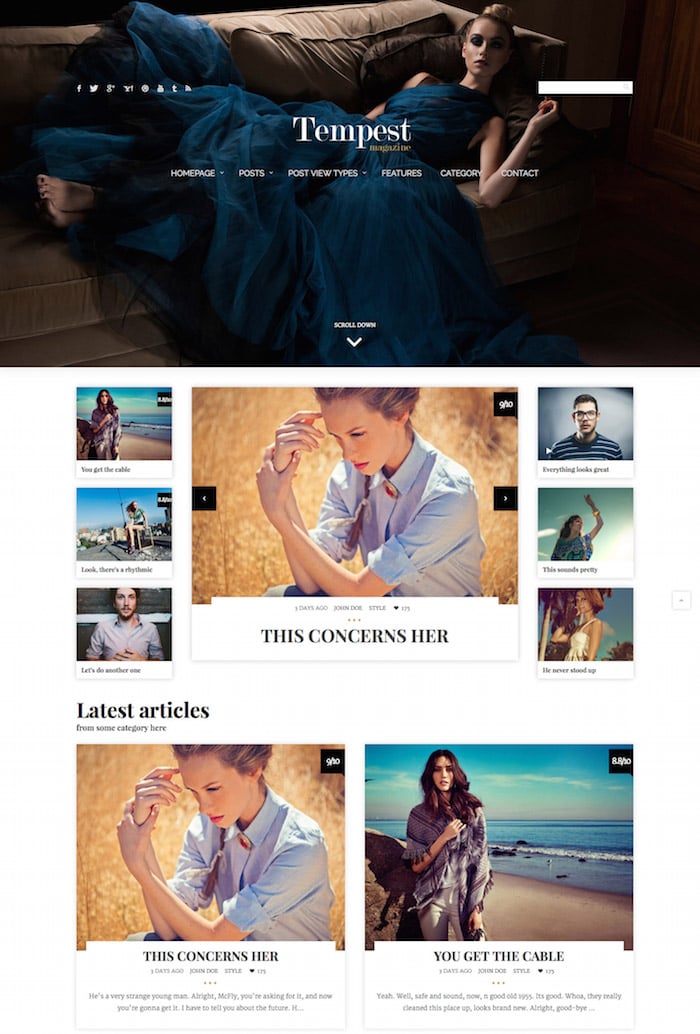 Piemont
Piemont is another beautiful fashion magazine theme that comes with a variety of different blog design options to choose from. You will get the demo content with the theme and a one-click demo import option to make sure that your site is ready within a few minutes.
It's a very clean, quick and SEO friendly design to make sure that your content gets much better ranking in search engine results.
Also, this theme is perfectly compatible with the WooCommerce plugin to make sure that you can create your online fashion shop with this theme.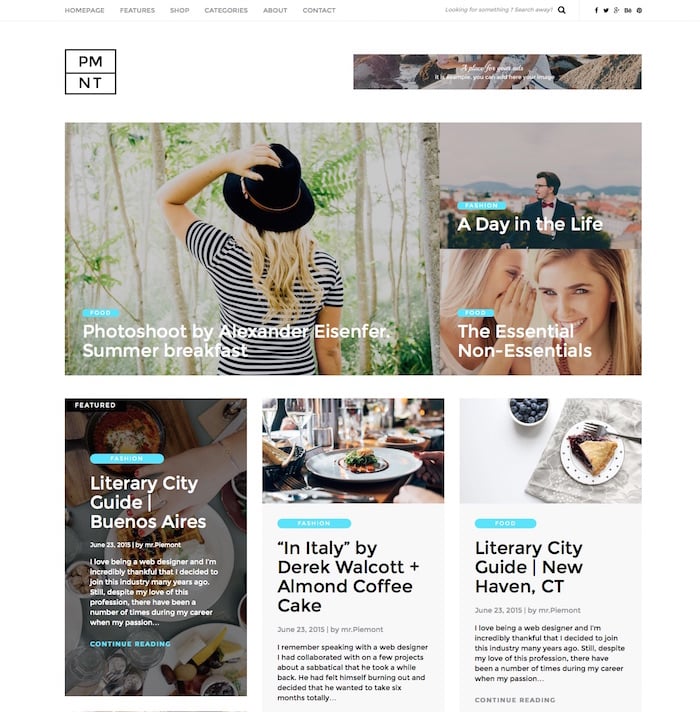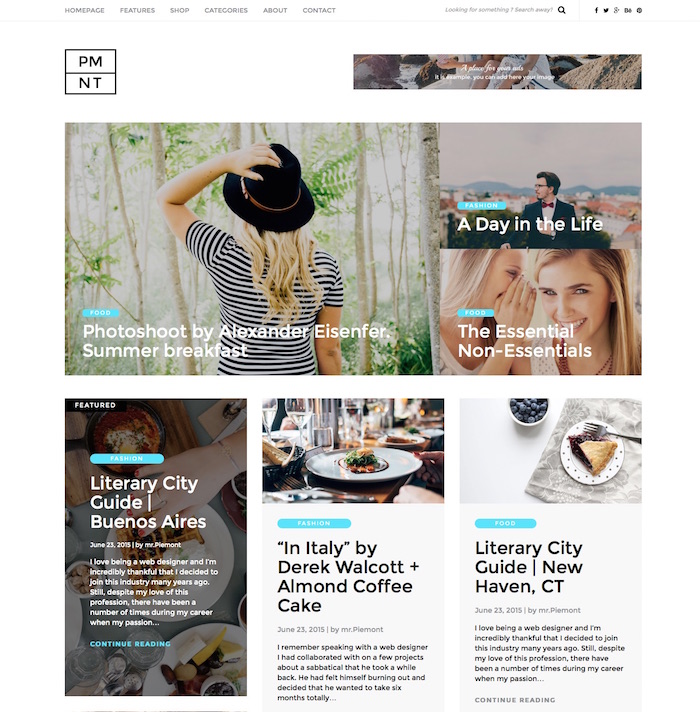 You will find a huge list of amazing fashion blog WordPress themes here in this post, you can select any theme from that list and get started with your site.
Final Word
Once you have everything in place, the hosting, a quality theme, and other important plugins, your site will be ready. Now, the most important aspect is to create high-quality content on your site.
No matter how great your site looks, if it doesn't have quality content, it will never get a decent amount of traffic.
So, you need to make sure that you create valuable fashion-related content to help your audience consistently. You can use the right tools to produce good content and be more productive.