Quality content is the focus of around 55% of successful content marketing strategies today. This tells us the struggle and readiness of marketers to serve the right content to an audience.
So, today, we're going to analyze the best practices you can use to make your content more engaging. Let's get started.
Defining Effective Content
Content is the fuel for your marketing engine. It's what drives people to your site, social media posts, and blog posts. It's what they read and shares with their friends. It's what brings them back to your website or social media platforms again and again.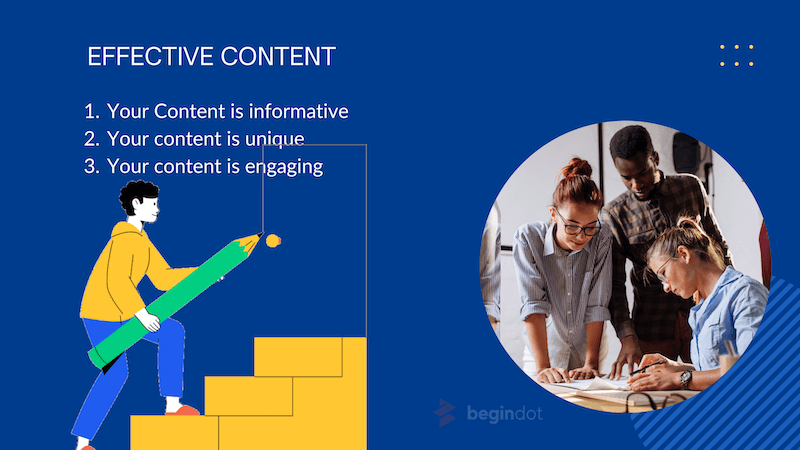 Therefore, effective content can be summed up in three words, such as informative, unique, and engaging.
Informative: Content should be informative so that readers can find answers on a topic they may not know about.
Unique: Content should be unique so that it stands out from other websites or blogs in a way that will capture the attention of readers.
Engaging: Content should be engaging so that it keeps readers reading from start to finish.
Therefore, your content needs all these qualities to perform well with a set of audiences.
Essential Tips to Make Your Content More Effective
Making content more effective requires marketers and businesses to go through many hassles and obstacles. From creating content to ensuring originality, a content creator has many responsibilities.
In this section, we're going to talk about five essential tips that'll help you make your content more effective.
So, let's get started.
01. Know Your Audience
One of the most important things to understand about engaging content is that it's directed toward an audience. When you create content in the online world, you're always doing it for a specific set of audience.
Compared to traditional marketing, online marketing is customer/audience-centric. Therefore, the content needs to be targeted toward them. That's why, to make your content more effective, you need to understand your audience more. So, how do you figure out your audience?
There are many proven ways to understand your audience better, such as:
Understanding the common and target audience of your competitor brands and businesses;
Learning the key demographics for your brand or business type;
Figuring out key occupations among your target audience;
Finding out key hobbies and interests within that particular set of the audience;
Understanding the type of platform they prefer, i.e., social media or blogs;
Understanding preferred types of content, i.e., videos, written text, etc.
This way, you can figure out the key things to understand about your audience. Then, you'll have to formulate a strategy according to their likings and preferences. Thus, researching your audience is the first thing you should do.
Many experts would suggest that it's perhaps the most important thing you do before creating a content strategy.
02. Write Your Own Content
Undoubtedly, writing content on your own is somehow difficult but not something impossible!
There are variety of things to check while writing the content manually like plagiarism, grammar, readability, and many more.
And luckily, we can do these tasks in a couple of minutes and without spending any cost, like if you are willing to check uniqueness of your content, a free plagiarism checker can help you out in this situation.
You don't need to manually copy the chunks of your content and search them on search engines, all these hectic jobs are now the responsibility of plagiarism checkers.
Secondly, when it comes to the grammar of your content, you must be very careful and consider all the important factors of grammar and punctuation.
03. Be Simple and Engaging
Written content needs to be actionable and important. What it doesn't need to be is complicated and hard to understand. So, before we talk about the informative value and simplicity of the text, what makes content complicated and difficult? A few things, such as:
Long and unending sentences;
Complicated and long paragraphs;
Difficult-to-read sentences;
Unwanted industry jargon;
Overly complicated concepts.
Besides that, complex content is difficult to act upon, and that's something not preferable in any marketing content type.
You can modify the complex and lengthy paragraphs with the assistance of a summarizing tool as it is dedicated to point out the important points and shorten the text containing all the highlighted points.
Besides summarizers or lengthy paragraphs, there are many more things to consider while making or writing effective content.
So, how do you ensure that it is simple and informative? Here's how:
Keep the language simple and focus on writing about the subject;
Create an outline and divide important sections;
Break down each part into details and simplify complex aspects of the topic;
Use facts and statistics to back up your claim and provide key information;
Use citations and other methods to give more information;
Write simple and short sentences;
Don't let paragraphs exceed 4 sentences;
Focus on keeping white spaces intact.
This way, your content would seem more readable and easier to understand. One of the main things about informative content is that it provides value regarding the topic. This could be anything, such as inside knowledge or understanding of key concepts within the industry or niche.
However, the one thing that'll make it all worth it is simplicity. As long as your content is simple and easy to understand, it'll be preferred by audiences of all kinds. Therefore, you must write for the common reader, not the experts.
04. Use The Right SEO Techniques
SEO techniques are one of the easiest and most reliable ways of ensuring that you stand out from your target customers. It's important to understand that SEO comes in many different shapes and sizes. Therefore, you need to use the right SEO techniques, such as:
Using the right keywords—conducting thorough keyword research;
Organizing an SEO strategy with specific objectives;
On-page SEO essentials;
Link and page optimization.
First off, let's talk about using keywords. You need to find keywords, and there are many ways you can do that, like using Google's Keyword Planner. Then, you need to organize an SEO strategy according to your objective.
Considering it's the objective of most new websites and blogs, your objective must surround creating a strategy to draw more traffic. So, generating organic traffic must be your priority. Then, you need to tend to a few key on-page SEO essentials, such as:
Using the right keyword in your URLs;
Optimizing the title and heading;
Writing structured content with subheadings—and optimizing each one;
Implementing quality content to generate the most response;
Using the right keyword density in your content;
Using backlinks and interlinks to improve chances of organic traffic.
Tending to these factors will help you stand out with quality SEO. Therefore, make sure you create an SEO checklist and then tend to it each time you post content.
05. Create Original Content
The next step is to create original and integral content to stand out. Now, how do you define original content? Something that's unique and isn't plagiarized in any way. That's why you need to formulate a strategy that helps you create original content each time.
So, how do you do that? Here's how:
Research your content each time before writing;
Take notes and note down sources;
Cite properly and avoid any duplicity;
Remove or rewrite plagiarized sections before posting.
It's important to understand that plagiarism-free content is one of the best ways to ensure that your content remains effective. That's why it should always be your priority to stand out with original content of quality.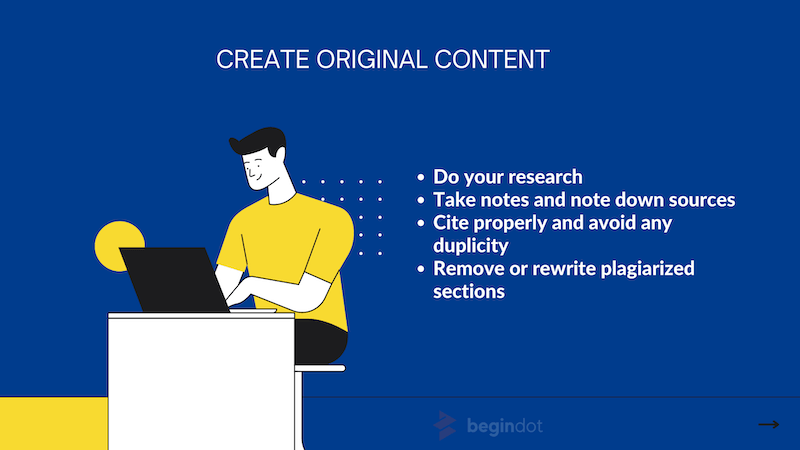 So, you will have to thoroughly research your topics and subjects before you start writing. Then, you'll have to take note of the sources and formulate a proper outline before writing your content.
Lastly, check for plagiarism before submitting or posting. This way, you will be able to stand out in your niche or industry much more efficiently.
06. Add Embellishments
The next thing you can do is add embellishments to your content. Now, these aren't unnecessary embellishments but rather necessary ones. Therefore, you need to add a few things to ensure your content is effective and performs to its full potential. So, what will you do?
You will be adding things such as:
Infographics and images to visualize data;
Short videos such as introductions or article summaries;
Data charts or interactive maps, charts, graphs;
Now, these embellishments only work if you use them in the right manner. Therefore, you need to ensure the rest of your content is also up to standards. So, when you add these factors to the rest of your text, it performs better.
Particularly because search engines prefer data with informative value. And visualized data is always preferred by the target audience of any sort.
Conclusion
These are the best practices to employ and make your content more effective. Therefore, tend to each of these suggestions and you'll see a clear difference in your content's effectiveness. Then, monitor and analyze your content incessantly to tend to any rising requirements.