Here is the process to convert your blog articles into a video and share it on Facebook, YouTube or any other YouTube alternatives. 
Blog posting is fun, but what if you could turn any of your articles into a video and post it out on social media, it could bring in a lot more traffic then you can get with the traditional blog post. 
This can also help you attract more readers and people from social media to take interest in the subject. The entire concept of portraying and presenting your article as a video is to give it a virtual representation and make use of better ideas for your work.
There are mainly two important ways that help in video making with almost no effort. They are:
Using Invideo

Using Slide show
So, let's talk about InVideo first.
InVideo is an online video making tool that can create videos out of your word files. This is a very efficient and easy application to use to do marketing for very low costs services.
It comes up with more manageable steps and great video making options. There is a specific format that one has to follow to make a video out of the written material. Make easy attempts and customize your articles into videos in easy methods unlike any other video creating tool.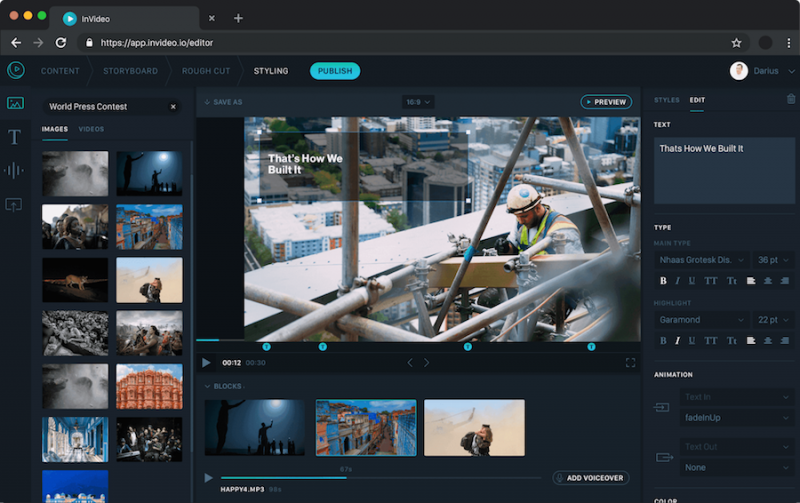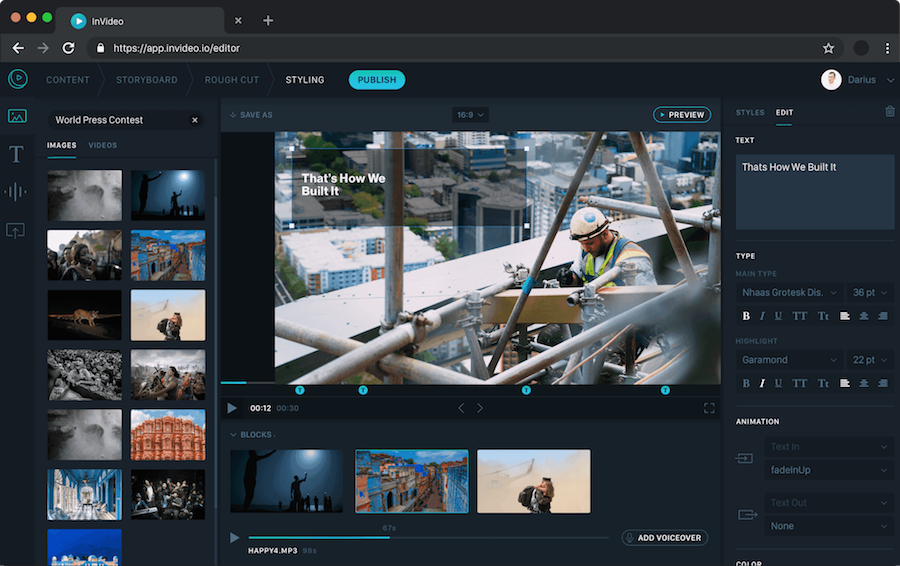 Storyboard – Storyboard is the page which will have all the fields including
Brand name- Will include the name of your brand and company.

Typeface- The font you wish to choose.

Brand Logo- The logo of your brand.

Text color- Chose your desired text color.

Highlight color- Choose your desired highlight color.

Background color- Choose your background color.

Twitter Handle – For your twitter link.

Instagram Handle – For your Instagram link.

Youtube Channel – For your YouTube channel.

End Clip (Vertical, Horizontal and Square end clip).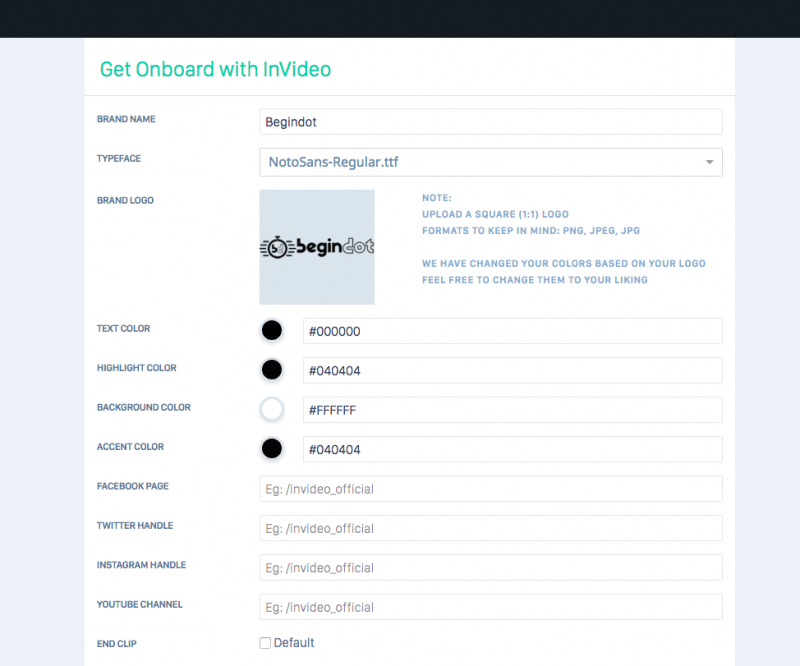 Select a Template- You have the option to select a template from the number of available options that are created for the different niches. The template will make the process even more simple and easier.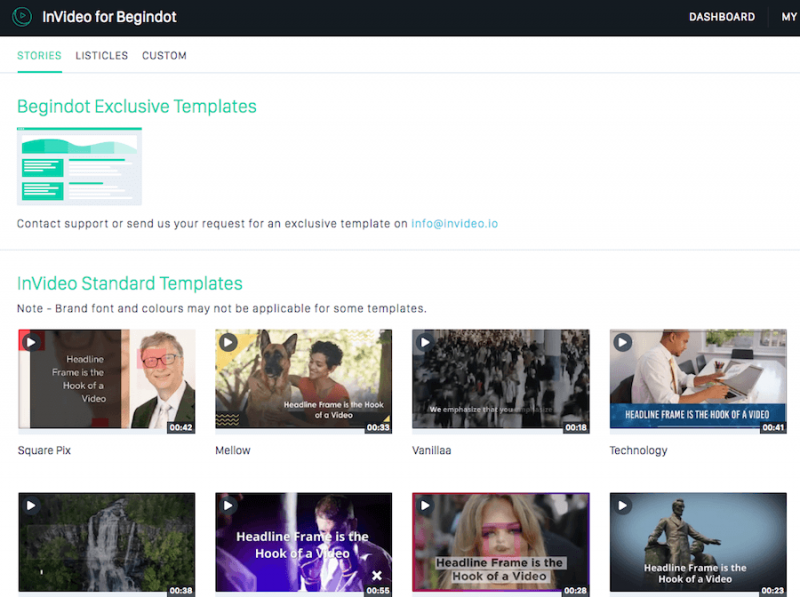 Preview & Export- Once you have entered the information in the respective fields, you have to save it and wait for the preview. The preview will show you how your entire video is made, and you can take a final look and make the needed adjustments according to yourself.
Once you are sure of the preview and how it looks, you can easily export the final video by selecting the option and finally getting your hands on the video that you have made.
So, create video online with InVideo services online. You can use this video anywhere such as Instagram, Facebook, WhatsApp, LinkedIn, stories and ads. You can also share this video on other websites.
How expensive is the service – This online video making service is not very expensive, and anyone can avail it. The cost of making is $9 for making a basic video.
There are other plans such as the enterprise plan that is $1000. The video maker provides 10M+ copyright free media.
These videos can be made easily with the help of the service in minutes. Make use of this online video creator and present your articles the best way that you can.
The second important way of Video creating is by using a slide show.
There are very easy ways to create a slide show for your content. You just want to know how to do it. Slideshows are fantastic ways to make your videos look like stories for the audience or whoever is watching it or using it.
Microsoft PowerPoint is known to be one of the most popular software that helps you to make the right videos in no time at all. You literally will have all the available options in the full version.
The software's full version is available in both the online and offline market and for a meagre price, it is readily affordable too.
You have no idea how quickly and speedily you can turn your written materials into a video version and have a satisfying result out of it.
The most important way of doing your work on PowerPoint is to follow the given rules and instructions, and one can get into the hang of making videos and explore a lot that they do not possess.
Creating a presentation
Making a presentation means choosing what you want according to how you want it to appear. Once you have done that, select the file in PowerPoint by Choosing file, exporting it and then creating a video.
You can select from the video quality options – Presentation quality, Internet quality, and low quality and then click on the option to create a video. One can make an amazing presentation including the required storytelling using Microsoft PowerPoint.
If you are using Powerpoint 2016, here is the simple process to import your presentation as a video.
Step 1. Click on the File option in the header section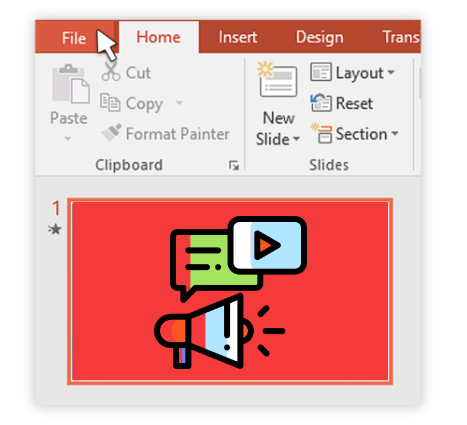 Step 2. Click on the export option and then on create a video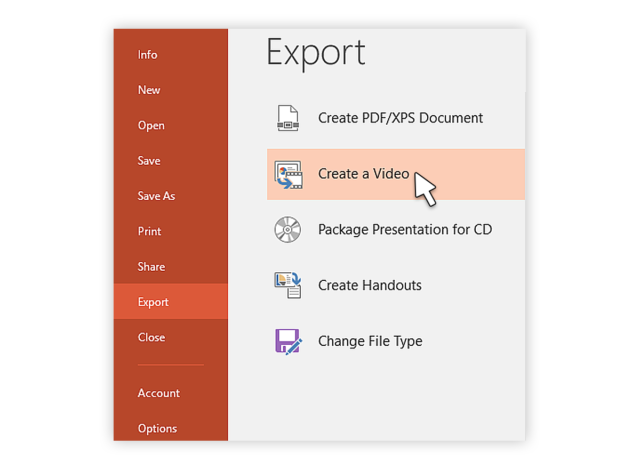 Anyone can make a PowerPoint video.
Make the best version of your article, blog and content, make use of the right tools for your personalized video, and present it the way that you want. PowerPoint presentations can be made by anyone, provided they have the application in their smartphones or computers. It is effortless to use, and there are very easy ways to work on your presentations.
These videos are widely used by individuals like students and also more prominent organizations.
You can be a writer, and you can also have fun with your bogs, contents and academic material. Have you ever thought of making a video out of your work using a video maker?
It might have just struck you as an idea to create something innovative and great out of your assignments and projects.
You can be a student or an executive of a company, Videos and presentations are always an essential part of any kind of work and in any field.
PowerPoint applications are critical in making use of official work and to present plans in important meetings. If you are going to make a compact video using slide show and punch in the information according to how you want it.