Instamojo is a popular payment gateway with lesser commission than PayPal and other similar options. Here is how you can get it set up for your site.
Every blogger thinks of earning a livelihood from blogging, but sometimes, the earnings are not what the heart desires.
The low earning can demotivate the bloggers, resulting in quitting the passion of writing. If you are a blogger, then you should have also faced this issue.
However, there is a method which every website owner or blogger could use to enhance their earnings through their blog, and that is through an online store.
You can sell digital goods like eBooks, templates, themes, plugins, guides, or any other service like writing services, consultation, SEO packs and more on the blog.
WordPress is one of the most widely used platforms for bloggers who also have their online stores. But, the problem faced by them is accepting payments.
There are different payment gateways like PayPal which helps online store owners from receiving international payments.
But, what if you are targeting a specific region and they don't have international cards? What if PayPal is banned in a country?
PayPal also has compliance issues and charges a lot of fees for payments received, causing losses for the blogger.
What is the alternative? You need to use a payment gateway, and today, we are going to talk about Instamojo.
The Instamojo payment gateway is easy to use tool for accepting payments in INR, and its configuration is quite simple as well. If you are wondering about how to configure this tool, then continue reading, and you will learn the process in no time.
#1 Installation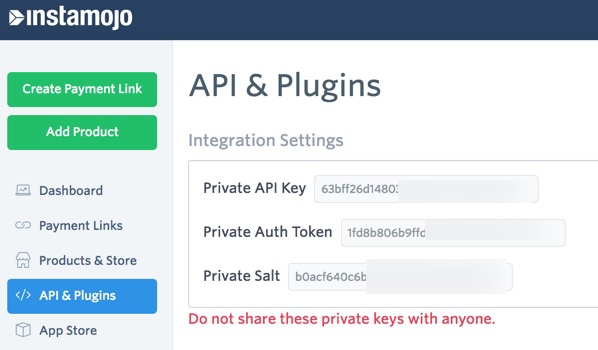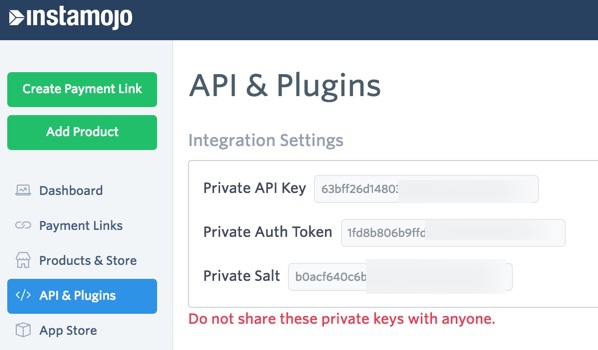 Firstly, you need to install the Instamojo Payment Gateway API and enable it. For that, download the tool and add it to your modules directory.
Afterward, visit admin/build/modules and will allow the tool to make it work. Now, you have added and enabled the tool. If you can't do this yourself, hire a developer for this one-time job.
#2 Payment Link
You need to create a payment link to start accepting payments. In order to create a payment link, log in to your Instamojo account and generate a payment link.
After that, select the pricing of your products from the Pay What You Want option. Now, go to advanced settings and enter your domain followed by response_page.
Your URL will look like URL/response_page. Afterwards, click on the Get Started button and add that URL to the custom redirection URL and you will have a payment link.
#3 Adding the URL to Configuration Page
After creating the payment link, you need to add that link to the configuration page. To do that, copy the URL and go to the configuration page and select payment methods. After you open it, paste the URL from the clipboard and save.
#4 Adding Key and the Authentication Token
Visit the Instamojo dashboard and scroll down and click on Developers where you can see your API key and Authentication Token which you need to copy.
Now, go to the Configuration page and enter those units in the Private API and Token Section and save the changes.
Moreover, you need to add your website's URL in the Site URL of the configuration section.
#5 Conversion Rate
One of the most crucial settings which you need to configure is the conversion rate. If your items are listed in dollars but you are accepting payments in INR then you need to set the conversion rate as the current dollar price.
But, if you are listing your products in INR, then you need to enter the conversion rate as one.
You need to carefully set the conversion rate as your income will directly relate to it. This setup depends on the geolocation from where you expect higher purchases.
If yours is a global product or service, keep USD as the default option. If anyone from India tries to purchase, the buyer will automatically show the USD/INR converted the amount in real-time.
#6 Making it the Default Gateway
After configuring all the settings, you make Instamojo the default gateway for accepting payments. You need to visit Payment Gateways from the Setting menu and then navigate to Gateway settings. After that, you need to go to the Default Gateway and select Instamojo.
Moreover, you can choose which type of cards the gateway should accept. For example, if you want your gateway to accept Visa and Mastercard and decline the American Express cards, then you can select that from the Accepted Payment Methods.
That was all for configuring the Instamojo Gateway. If you want to add extra payment gateway such as PayPal, then you can add that too, and both of these gateways will work simultaneously.
Instamojo is one of the easiest ways to collect payments from your online customers. The setup is easy and requires no paperwork and zero IT knowledge.
It accepts payments from all the major credit and debit cards and net banking as well. The program requires no setup fee, but it can accept payments for all your digital files, services, subscriptions, physical products and more.
The Instamojo applications allow you to have SMS alerts and run Affiliate programs as well.
Instamojo and WooCommerce
WooCommerce is a platform which lets you start your eCommerce website completely free. Or, you can convert your blog into an eCommerce site with this plugin.
You can use it to sell your products and services. Moreover, you can sell both digital as well as physical products. WooCommerce plugin is completely free and comes with loads of customizations.
If your online store is based on WooCommerce plugin, then you should add a WooCommerce Instamojo plugin to accept payments. You should know the process of configuring this plugin to allow your eCommerce to accept payments.
Configuring WooCommerce Instamojo Plugin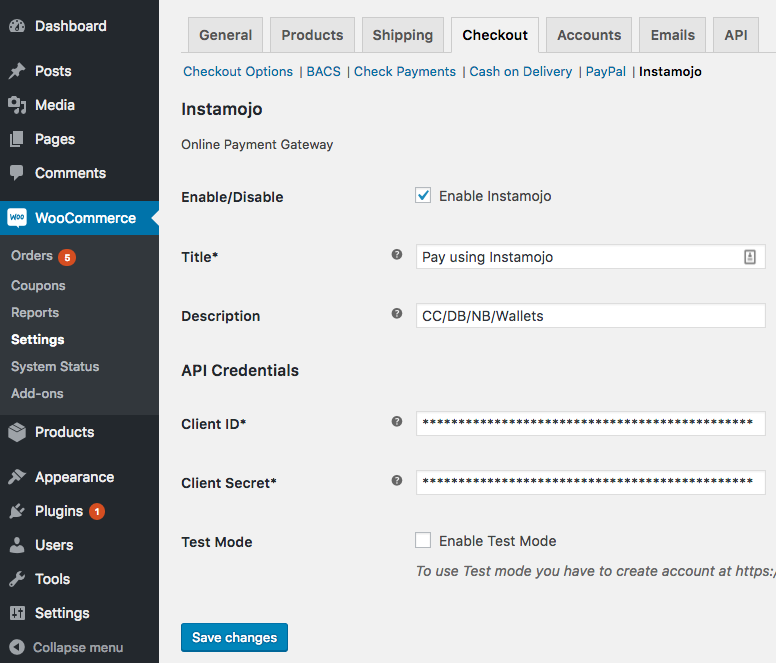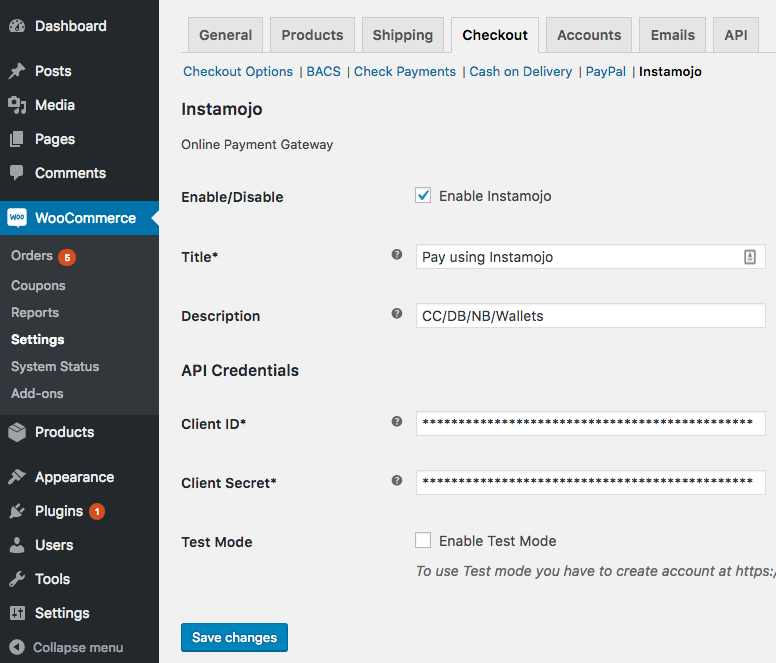 For the configuration of WooCommerce Instamojo plugin, you need to install the WordPress plugin.
After the successful installation, navigate to the WordPress admin dashboard and go to WooCommerce Settings and select Instamojo.
Login to your Instamojo account and scroll down and click on the Create Credentials. You will see you client ID and client secret.
Copy this client ID and client secret and paste these into your WooCommerce Instamojo plugin settings. Now click on save, and the configuration is complete.
Endnote
There are legions of informative videos offered by this program through which it can enhance your payment acceptance process. The set up is simple and require no coding or IT knowledge.
Moreover, they only charge 2% transaction fees on every transaction plus 18% GST on their fees. The fee they charge is flat for all the debit cards, credit cards, and net banking payment options.
However, they charge 3% fee on international and American Express Cards, and 5% on Digital Products hosted on Instamojo. Additionally, they charge 18% GST on the transaction fee.