The hosting that you select for your site makes a lot of difference to the overall performance of your site. So, you need to understand your requirement and choose accordingly.
A web host is the "house" or location of your website on the Internet. It's an online storage center housing pieces of information comprising your site.
It's essential to search for a good web hosting company to ensure the stability and performance of your website.
Here are five tips to help you search for the right web hosting service provider:
1. Know the Hosting Type You Need
Take the time to consider the hosting type or platform you need for your website. Web hosts may provide different type of hosting options to suit the various needs of their clientele. You can have a look at some good hosting options and deals here at domaincouponspro.
Now, these hosting classifications are:
Shared Hosts
Shared hosting is an ideal choice for small-to-medium websites. Many websites will share a single server. It's like holding on to a relationship that's straightforward and uncomplicated. If you're a first-time web host customer, you might consider turning to a shared hosting provider.
While shared hosts may provide cheap packages, there are shortcomings to the deal. For example, many sites share the same resources, and these "supplies" are finite. Site performance and reliability may suffer when multiple sites in the same server are running at the same time.
Virtual Private Server (VPS)
A web host offering VPSs stands in the middle ground between shared and dedicated hosting services. Customers will still share spots in a server, but the allocated space for each website is more extensive in comparison with a shared hosting provider.
VPS providers can let customers add or remove computing resources when needed. Also, VPS hosts may offer distinct advantages like high-speed solid-state drives (SSDs), managed IT servers, and regular software updates.
Dedicated Hosts
Dedicated hosting providers are ideal for websites in need of high-performance settings. In other words, websites that require an entire server to power the site and its applications. Customers may have control over several numerous elements of the architecture.
Thus, it allows for greater flexibility in customizing the operating and security systems, along with load balancers and other functionalities.
Customers may have control over several numerous elements of the architecture. Thus, it allows for greater flexibility in customizing the operating and security systems, along with load balancers and other functionalities.
Perhaps the most significant shortcoming that comes with getting the services of dedicated hosting providers is its price. Dedicated services are expensive.
However, you can take advantage of top-of-the-line hardware, software, and sometimes even 24/7 customer and technical support.
Managed Hosting
Other than the ones mentioned above, there is something called managed hosting which doesn't really fall into any of these categories.
In the managed hosting option, the hosting company will manage your site. They will look after all the technical aspect of your hosting so that you can focus on building your business.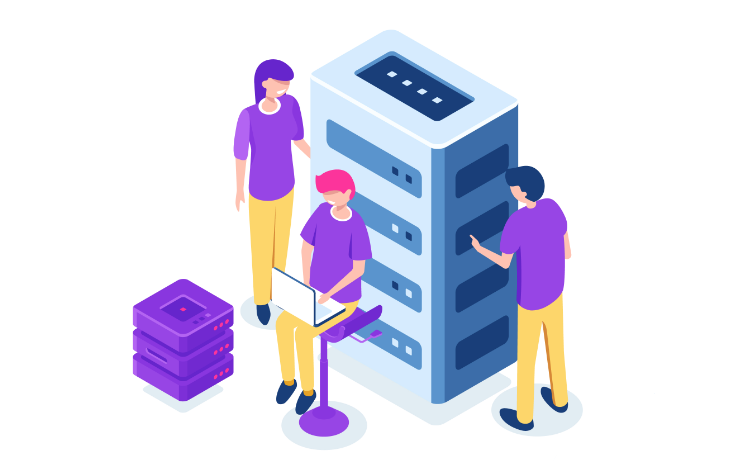 2. Check the Reliability and Speed Offer by the Web Host Provider
Look into the host's reliability and uptime scores. You'd want your website to be operating 24/7. If you run an e-commerce store, the online shop should be running all the time to cater to customers.
If the host's servers decide to crash or malfunction, then your website can't exist on the Internet. Losing valuable time on the Internet may make you lose customers, thereby letting your competition earn more profit than you.
Potential customers may even call your site out because of poor customer experience. Still, there's no guarantee that a hosting provider can offer a 100% server uptime.
Nonetheless, many reliable web hosts can provide uptimes of about 99.5% or higher, but never at 100%. A web host company promising they can offer a 100% server uptime may be overpromising their claims. Avoid these providers as much as you can.
Also, avoid web hosting firms that have site reliability and uptime reports below 99%.
Additionally, consider a web host that can help improve site performance, especially regarding website speed. This trait may not look like an integral element to a new website.
However, it becomes an increasingly important factor as the site continues to grow.
A delay of one second may contribute to a reduction of customer satisfaction while browsing through your website. Remember, you'd want your visitors to stick around your site for as long as possible.
Visitors who exit your website in a few seconds after entering will have negative impacts on your site's Search Engine Optimization (SEO) practices.
3. Consider the Possibility of Adding Domains
Don't confuse web hosts with domain names. Domain names are cheap, and it may often be difficult to resist not to own more than one. If you want to own more than one domain, you need extra hosting space.
Many web hosts offer extra server spots for different domains under one account.
However, it may not be accurate for a particular web hosting companies. Make sure to check the domain capacity before deciding which hosting company to handle your sites' uptime.
4. Consider the Security Features
Your website needs security from cyber attacks and malware. A reliable web host should offer security features to safeguard important data. The importance of security heightens when your site handles sensitive information like customer credit card numbers.
Check if the web host has firewalls or malware detection features. You may also want to hop into online forums to see if a particular web hosting provider has had run-ins with cyber attacks in the past.
If the company encountered cyber or malware attacks, then check how the organization fixed the issue.
It's vital to use the services of a trustworthy web host offering SSL certificates. These security measures help ensure data sent to your site remains encrypted and secure.
Specific web hosting providers may also provide IP denial services. These features allow site owners to block particular Internet Protocol (IP) addresses that may come from hacking groups.
5. Consider Backup Features
As mentioned earlier, there's no guarantee that a web host company can offer a 100% site uptime.
However, the firm should have precautionary measures when incidents happen to their servers. As such, consider using the services of a host offering frequent backups.
After all, even if there's a host of security measures in place, it cannot guarantee the full protection of your website's data.
If hackers or malware destroys your site's data, you can recover the missing pieces of information from the backups provided by the web host.
Conclusion
You may consider hiring the services of established web hosting companies. It's not wrong to acquire hosting services from a new hosting firm.
However, you may gain better benefits from a long-running web host provider.