With technology's constant changes, we have to learn how to quickly adapt to make the most out of it. To fail to do so means to fail with your online enterprise.
No matter what industry your business is in, you'll need an effective online strategy to succeed. Unless you do that, you're at risk of staying behind your competitors.
What Is the Position of Your Business in the Digital World?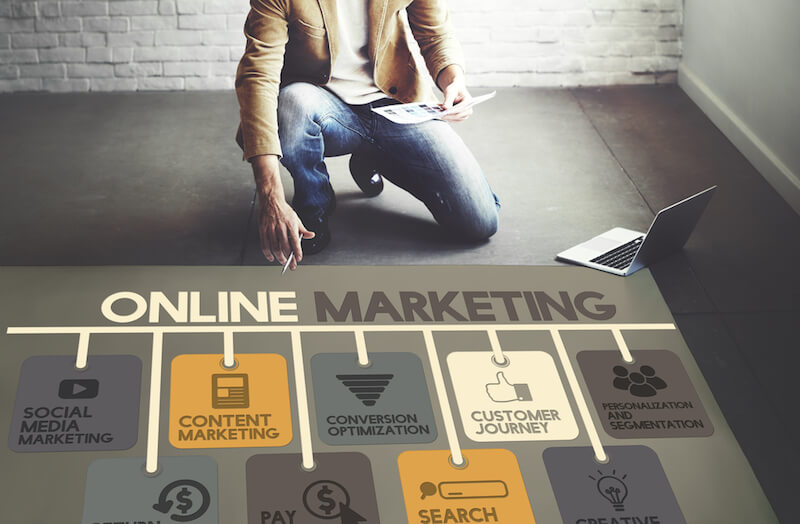 But here we are, talking about the importance of keeping up with online marketing trends while you might not even have your own website properly set up, and you aren't that active on social media either.
You might even be thinking that marketing your business online isn't something that you can fail at. Well, we'll convince you otherwise. 
Many companies have established their business in the "real world" and have nothing to do with the online one.
But failing to adapt to the new changes in technology can actually lead to the stagnation of your business just because it isn't available online—even if your business is a brick-and-mortar store. 
In fact, if you don't invest in digital marketing, you're at risk of being outperformed by the competition.
Since none of us wants that to happen, we're about to help you use an online marketing strategy that will be useful to follow if you want to establish a successful and relevant business online.
There are many tips and tricks to help you grow your business and we'll show you the most effective ones.
Digital Marketing Is More Cost-Effective Than Traditional Marketing
Small businesses don't have as many resources as big ones. This is the reason why it's very difficult for them to invest in all the materials that are needed for traditional marketing.
For instance, paying for a commercial on TV or radio won't even be on their agenda because it's so resource-heavy, so those types of media remain a luxury that only industry giants can afford. 
On the other hand, Google ads and Facebook ads are a very cost-efficient alternative that will give your startup business more exposure.
Also, investing in these types of ads can let you reach more, better-targeted people than by placing your ad in a newspaper. 
Nowadays, millenial and Gen Z consumers may be getting some magazines now and then, but newspapers are on their way to obsolescence. Teens, the customers of tomorrow, spend an average of 9 hours a day online.
If your business wants to reach the younger generation, there's nowhere to find them but there!
Increase Revenue Growth
Companies that implement a digital marketing strategy into their marketing plans have 2.8 times more chances to grow than businesses that use traditional marketing only. These numbers speak for themselves! 
Website owners can employ a number of strategies that will increase their revenue and improve the ranking of their website.
When it comes to search engine optimization (SEO), webmasters and marketers also need to think about whether to use white, black or grey hat techniques. 
While the matter is clear with white hat SEO, some business owners are finding great success exploring some grey hat techniques, like PBNs for example, which are private blog networks that allow them to build authority for their main online enterprise through interlinking. 
But before you get all excited, we must note that with such marketing techniques, the most important thing is to ensure the safety and integrity of your network. 
While there are many tips and tricks to make this happen, the most important factor is to not do it on your own—especially if you're a beginner webmaster.
Rather, check out the services of reliable PBN hosting providers such as LaunchCDN to ensure that you'll build a successful and safe PBN that won't compromise your business. 
Get to Know Your Target Audience and Interact with Them!
If you choose online marketing, the world will be your oyster. You can reach global traffic and spread your e-commerce business all over the world.
This is an opportunity to actually get to know your target audience and interact with them. This way, you can create more personal ad campaigns that will result in better conversions. 
When you place an ad on TV or in a newspaper, you actually don't know who your target audience is. It can be a child or a senior. This gives you very little space to be creative and tailor your branded messaging to your target audience. 
On the other hand, when you create an ad on Facebook, let's say you're specifically choosing the target audience that your sponsored post will be shown to.
This way, the right campaign will get to the right people—a way more efficient and centered approach than traditional marketing.
Become Mobile-Friendly for Success!
Did you know that 91% of Americans always have their phones within reach? This fact shows how important phones are to people and, consequently, how important it is that your website pops up on their screens as fast as possible! 
These days, mobile phones are an alternative to laptops, computers, and tablets because people are simply able to carry them everywhere.
They're what consumers reach for before making a purchasing decision as statistics show that 9 out of 10 mobile searches lead to action. 
This means that more than half of the searches will convert, so use that to your advantage by having a mobile-friendly website!
Get Real-Time Marketing
What's great about online marketing is that your customers can call, chat or ask anything they'd like about your business anytime. So, your website and all the info connected to your business will be available to them 24/7. 
Online marketing ensures you'd have an appropriate approach to your customers because you'd actually know who your customers are.
You are able to check all the numbers and insights from your campaigns immediately without having to wait for sales or conversions to get a clue of how good your marketing campaign is.
And in today's competitive marketplace, that makes all the difference in the world.
Conclusion
Nowadays, you can't go anywhere without having an excellent online marketing campaign.
Online marketing has prevailed over the power of traditional marketing time and time again. So if you haven't invested in it yet, now is the right time.