If you have an online marketing strategy in place, that means you want to increase your organic traffic, lead generation, and sales. It's safe to guess that SEO plays a large part in reaching these goals.
You will usually hear that reaching a high SEO score means providing useful content and following all of Google's best practices. While this is undoubtedly true, there is one aspect of SEO that often goes overlooked.
Choosing the right hosting provider will ensure your website runs smoothly and without interruption. It will build the basis of a good SEO approach and let you focus on developing your business.
Below we will cover some of the basic types of hosting you can choose for your website.
We will also go over the ways hosting can influence your SEO score and what to look for in a hosting provider.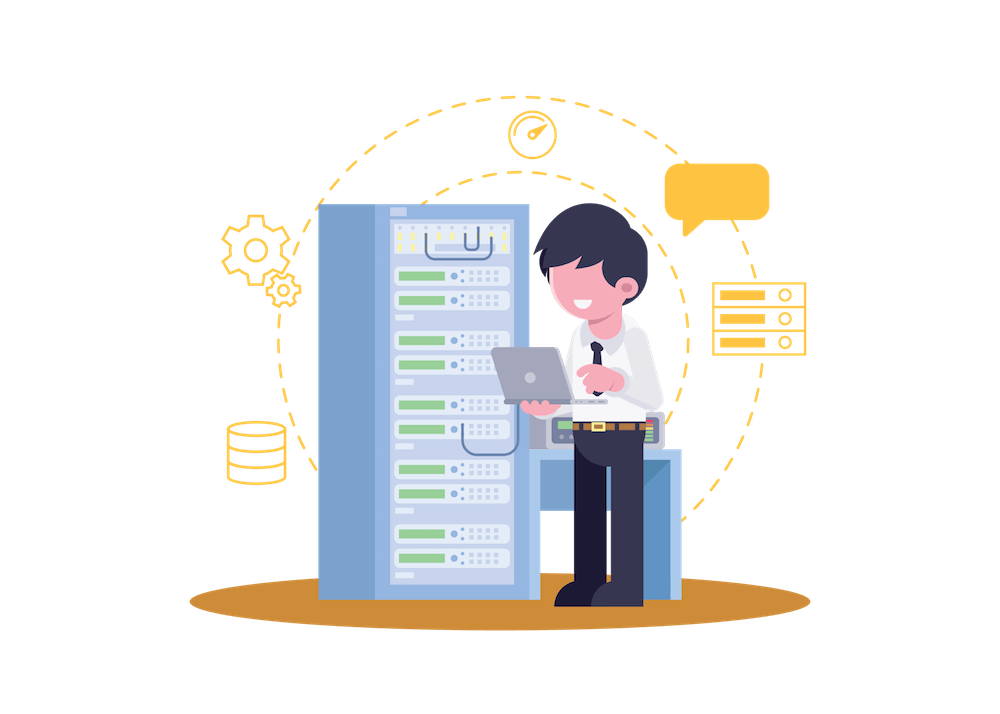 Dedicated vs Shared Hosting
First, we should take a quick glance at the hosting options available. The two main categories we'll be looking at are shared and dedicated hosting.
Shared hosting means there are multiple websites sharing the same server. The number of websites here can range from 10 to several hundred or thousands, depending on the hosting provider.
Shared hosting can be useful if you're on a tight budget since the prices generally run under $20 per website.
You'll also find that you don't need a lot of in-depth technical knowledge since shared plans usually come easy-to-use control panels. All the updates and maintenance should be covered by the hosting provider.
One of the downsides of shared hosting is in its very name. Unfortunately, you will also have to share the server resources with all the other websites that use the same hosting provider. This can lead to slower load times.
With shared hosting, you are also dependent on the quality of the other websites on the server. If the other websites are spammy or low-quality, this can indirectly lower your own SEO score.
On the other hand, dedicated hosting means your website is hosted on a separate server.
This means you won't have to share resources with other websites. You will also be able to customize and fine-tune the server according to your needs.
This also means that you will need to have the technical know-how to deal with server issues. It's also very likely that you will have to provide maintenance and set up the server security.
Of course, you can hand off a part of that workload to the hosting provider, but that's going to cost you. Dedicated servers can run anywhere from $60 to $350+, depending on whether the plan includes maintenance and security support.
5 Ways Hosting Can Affect Your SEO
Like we mentioned above, there are pros and cons to both shared and dedicated hosting. Some of these features will also directly or indirectly affect your SEO score and ranking.
Here, we will go into more detail on five ways your host provider can influence your SEO:
01

. Loading Speeds

Load speeds are considered one of the most important factors for SEO. Generally speaking, if your website takes over two seconds to load, you can expect a large number of visitors to simply move on.

Because of this, it's critical you find a hosting provider that can decrease your load times as much as possible. Combined with a well-coded and optimized website, this will significantly boost your SEO ranking.

You can use the Google Page Speed Tool or a similar solution to check your page load time.
02

. Server Downtime

Aside from page load speed, server downtime and website availability is the most important way hosting can affect your SEO.

If your website happens to be down frequently, it won't be showing up in search engine results as often as it normally would. This absence will slowly degrade your SEO score over time.

Also, if a visitor tries to go directly to your site and it's unavailable, your domain authority takes a direct hit.

Server downtime is probably the most important thing to focus on when looking for a hosting provider. You can boost your website load speed through optimization, but it's all for nothing if your customers can't find it.
03

. SSL Certificate

An SSL certificate serves to encrypt the connection between your server and your user's web browser. This allows for a secure exchange of information, which in turn makes your website more trustworthy.

This trust is so important that Google openly acknowledges giving websites wilt SSL higher SEO scores.

Look for a host that will already have an option of including an SSL certificate, or will at least allow you to install one yourself.
04

. Data Loss and Backups

Even though you might not want to think about it, it is a fact that websites face hacks and data loss every day. Since this can decimate your SEO score, it's essential you protect yourself from this type of disaster.

To this end, look for a highly reputable host that has a solid backup system for your data. This way, if anything should go wrong, you will have the peace of mind knowing your website is protected.

On a similar note, you want to make sure your hosting plan also covers domain security. You can take all the measures possible to protect yourself from hacks, but it will be useless if your server security is lacking.
05

. Location

The physical location of the server also plays an important role in SEO. Having the server as close as possible to your target audience ensures fast load times better website availability.

This is especially true if you are looking for someone to host an e-commerce website. Having the sever in the right location will both improve your SEO rank and make it easier for other local websites to link to your store.
Final Thoughts
Ultimately, it all boils down to choosing the hosting plan that fits your business.
Find a reputable hosting provider and make sure you get the best plan you can currently afford. This will ensure that, as your business grows, you have space to scale and upgrade your server space.
Look for a secure and trustworthy server near your business or target audience.
This way, you'll be sure you've covered the technical factors such as load speed and server downtime, while not having to worry about data loss or security breaches.
With all this in place, you can focus on taking your business to the next level.