Without a doubt, very early in the stage, eBay has established itself as one of the biggest eCommerce sites. With more than 200 million active users and one billion items listed, eBay truly stands a kind of the eCommerce domain.
However, in the past few years, many new eCommerce websites have created its mark in the industry by providing satisfying results to its customers.
Today, we will discuss the best eBay alternatives which are present in the eCommerce sector. Having said that, eBay always remains unique for its auction-style.
The eCommerce sites which are listed here can be used for both selling and buying products.
What are the 20 Best eBay alternatives?
---
eBay is a multinational eCommerce platform based in America. It is a platform to buy and sell products, consumer to consumer and business to consumer platform.
01

. Amazon
This list had to start with Amazon for obvious reasons. Amazon began with an online book store, but now you can find everything from A to Z on the website.
If you are looking for a broader marketplace, then Amazon is the place for you. Also, the customer service of Amazon is great. You will seldom find any dissatisfied Amazon customers.
Buying is easy from Amazon, and so is the selling. And let's not forget that most of the items are available at a highly low price. What's more? Well, recently it has started selling refurbished goods too.
So, you can use the Amazon platform to make money.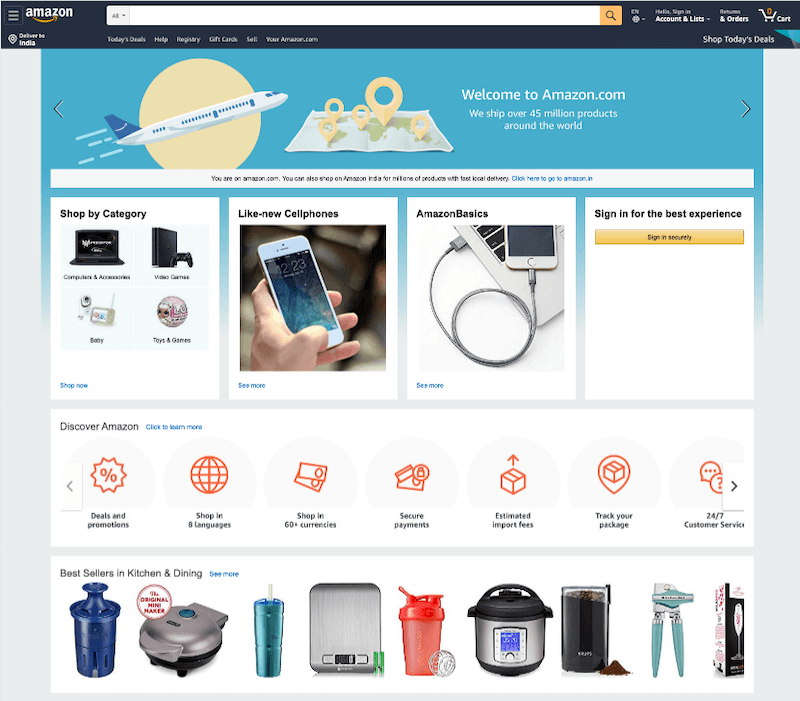 02

. Bonanza
Placed in Seattle, Bonanza is a newer eCommerce site, but still, it has managed to grow bigger. In fact, in 2016, it was awarded the "Best Entrepreneurial Company in America" by Entrepreneur magazine.
Recently, in a survey, more than 12k sellers had votedBonanza the best place to sell their products online.
With more than 22 million items, Bonanza has successfully managed to keep both the buyers and sellers happy. Not to forget that the company doesn't make a penny if their sellers don't earn here. As a result, a huge profit margin lies for the seller.
Most of the items available here are unique!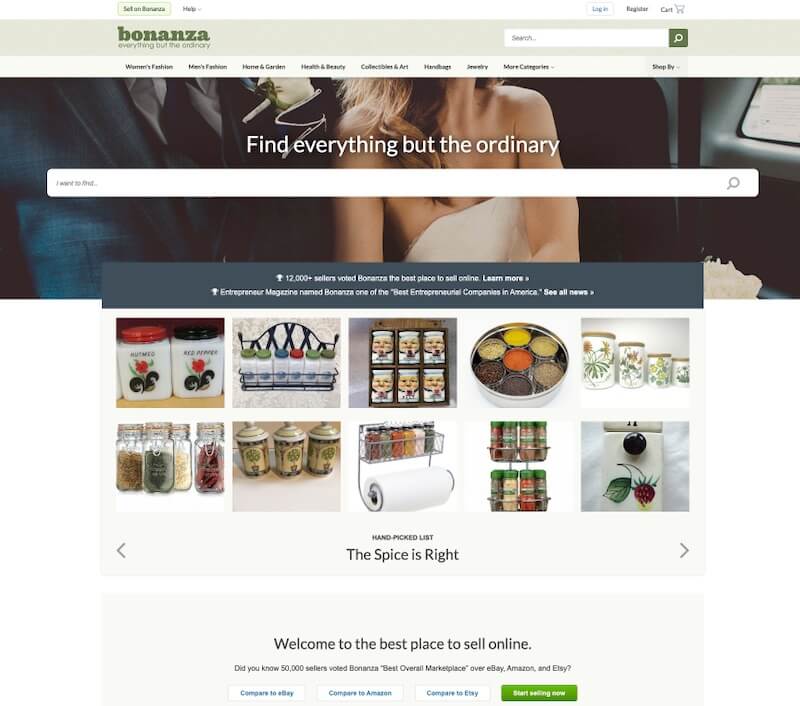 03

. eBid
eBid is a marketplace that is very similar to eBay. eBid has been awarded the "2018 Best Value Online Auction Site Award."
This marketplace has 2,780,769 listings where you can bid, and the list keeps growing every hour. The best part of eBid is that it supports free eBid cap, and there are no listing fees if you subscribe to its services.
If you want to play safe, then you should try out eBid. Please note that the number of its users is less, and therefore, your profitability rating will also remain low.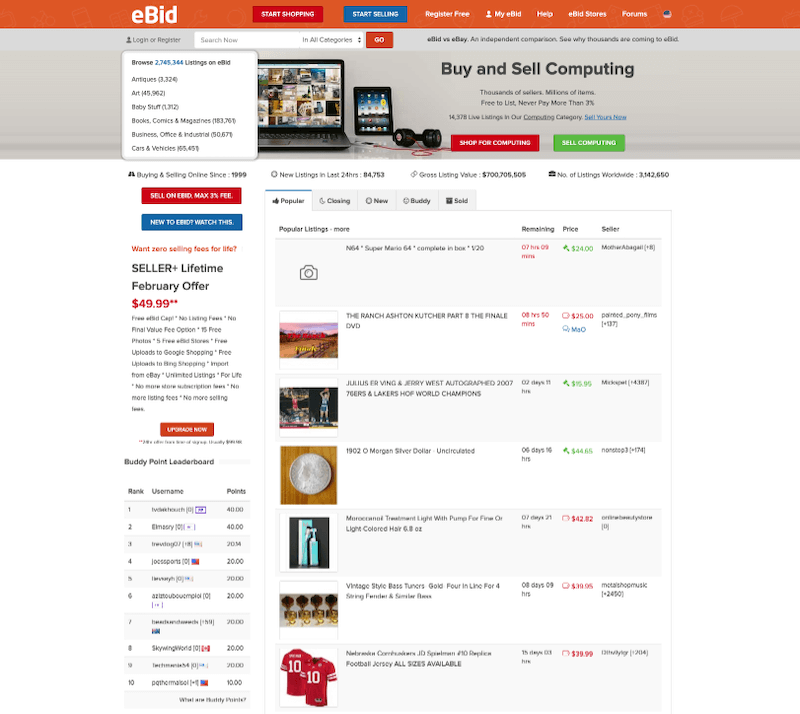 04

. eCrater
The USP of eCrater is that you can easily set up a store here, and many templates make things easier for the seller. Currently, eCrater supports 65,000 active stores.
You also have the option of importing your list from eBay.
eCrater is a free eCommerce site that allows the sellers to have a customizable online store. All the products are uploaded to the store of the seller. And this item will then be included in the marketplace.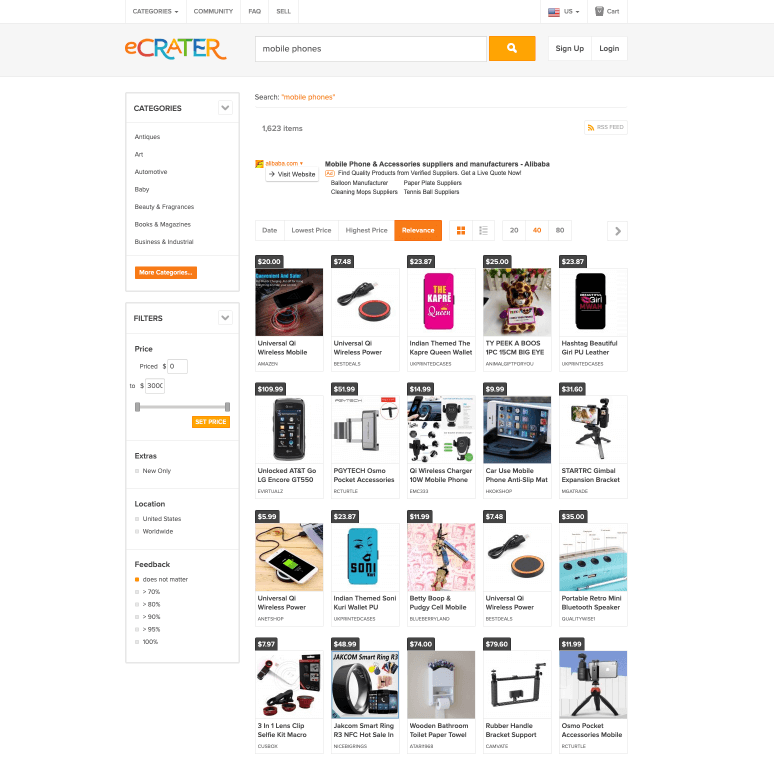 05

. Etsy
Etsy has remained a home for vintage enthusiasts, artists and rafter. It boasts 1.6 million active sellers and 26.1 million active buyers.
If you are someone into art, then Etsy is the best marketplace for you. It won't be wrong to say that it is even better than eBay because it is serving a particular niche.
Unlike eBay, Etsy supports direct sales. Etsy supports millions of unique items that you won't find anywhere else.
If you like to collect unique items, then you will like the products which are listed in Etsy.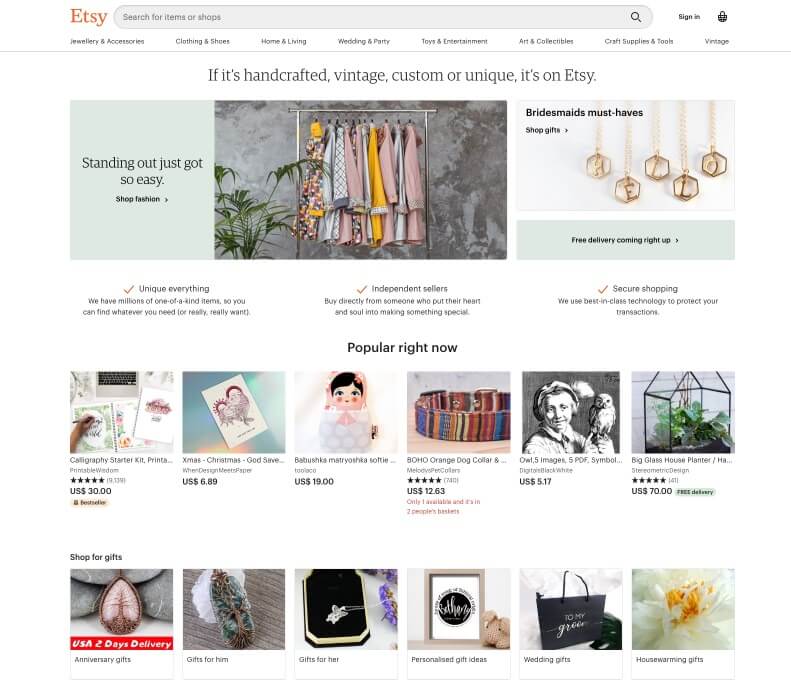 06

. Newegg
If you are looking for number 1 tech, then Newegg is the best eCommerce website for you. Here, you can buy gaming products, electronics, entertainment, smart home and computers, and parts of it.
Currently, the company serves more than 80 countries. Launched in 2001, the company serves more than 40 million users.
Are you wondering how, as a seller, can you use Newegg? Well, we have covered the steps for you.
Newegg offers three memberships for the sellers.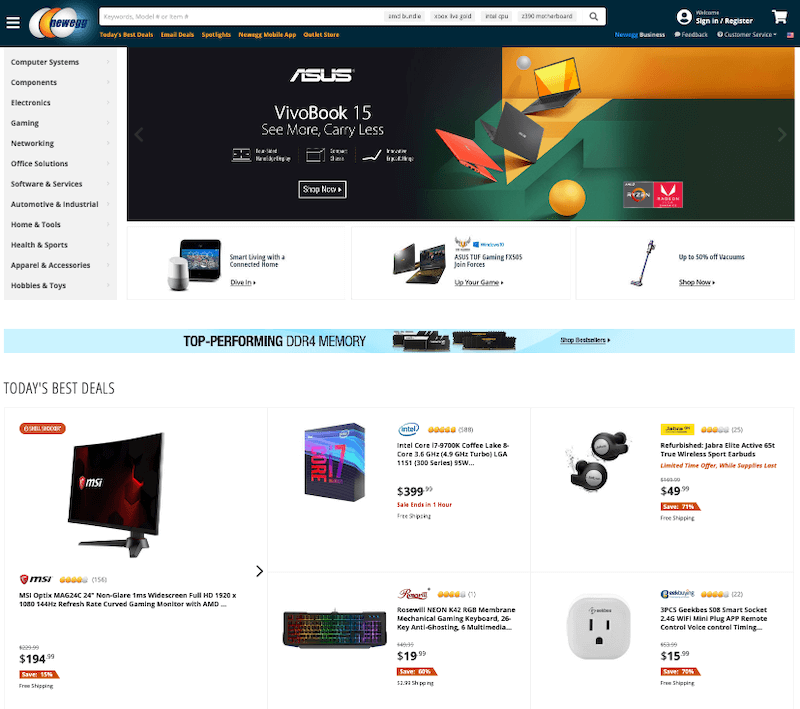 07

. Rakuten
Formerly, Rakuten was known as buy.com. In fact, it is known as the Amazon of Japan. What makes Rakuten different from other eCommerce because it gives the buyers a colossal amount of cashback.
In fact, to date, Rakuten has offered more than $1 billion in cashback.
Just like eBay, you can buy almost everything from Rakuten.
Recently, Rakuten has added other services like hotels and rentals, cars and flights, and different travel-related packages too. And you can always earn cashback when you make travel plans using this website.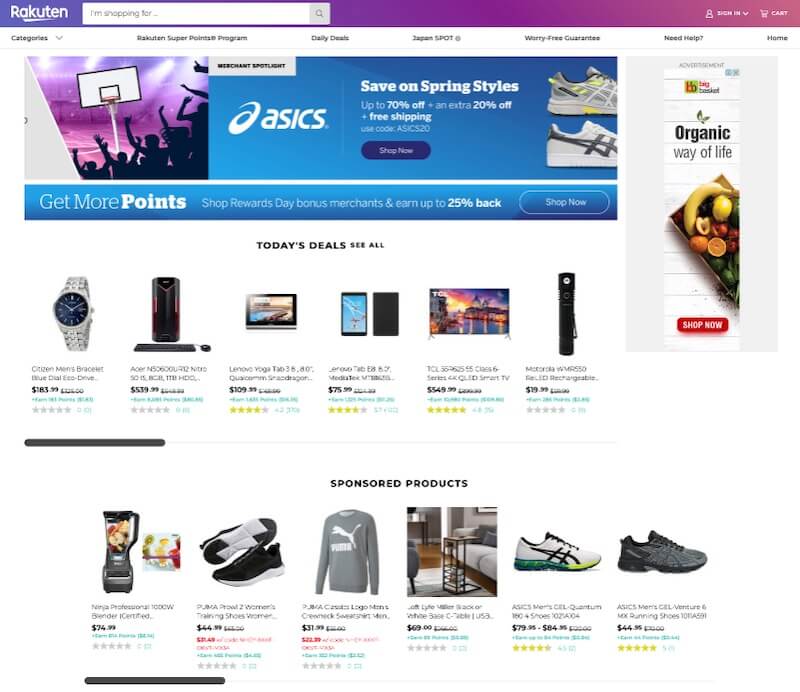 08

. Ruby Lane
Ruby Lane is a marketplace that brings the sellers and buyers together to sell and buy jewelry, vintage collectibles, art, and antiques.
The market place has 1.1 million unique visitors per month. Ruby Lane is highly famous among the people who call themselves "collecting enthusiasts."
However, the products which are available on Ruby Lane might cost you more. It is because it charges $0.19 per listing and also a maintenance charger of $69 a month.
The target audience of Ruby Lane is women who are above the age group of 40.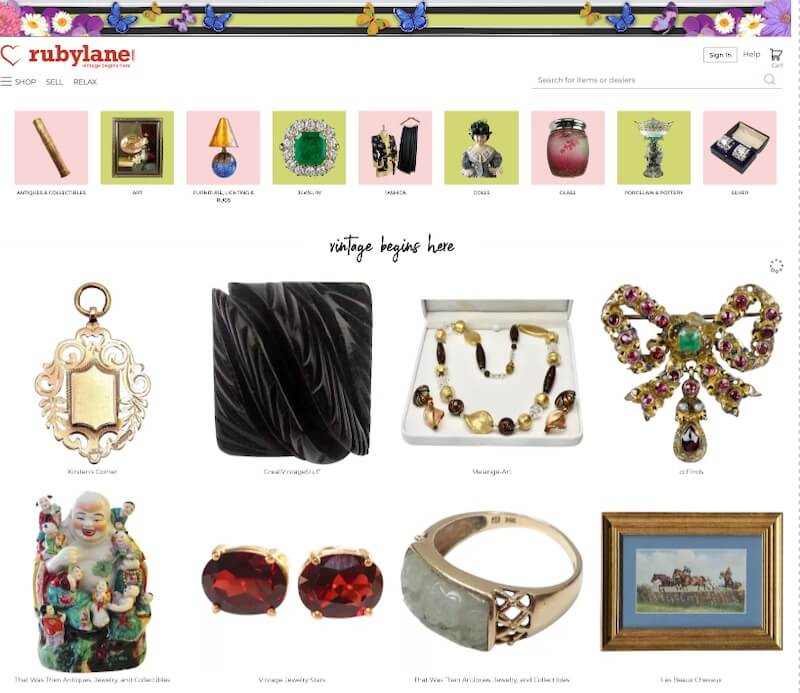 09

. Walmart
Walmart is the largest retail corporation, and recently, it has entered the eCommerce marketplace. Here, you can list and sell products.
The marketplace of Walmart is highly similar to Amazon. With Walmart, you can utilize its larger customer base for free.
The company is investing a big sum of money in growing its eCommerce presence. In the coming years, you might be able to see Walmart as an eCommerce giant.
Walmart does not charge any maintenance fee, and it supports fixed price listings.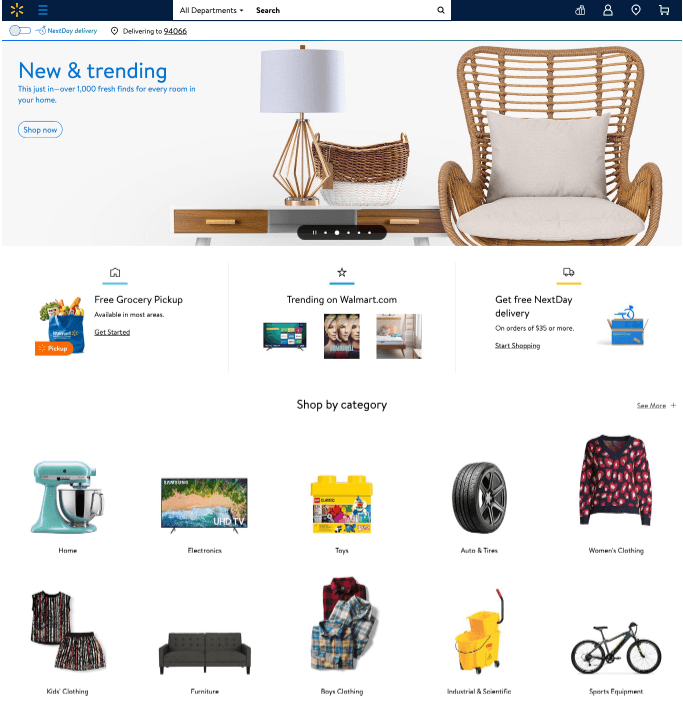 10

. Poshmark
If you want specifically to buy or sell clothes, then you can use Poshmark. In Poshmark, one can sell old clothes and earn money.
Currently, Poshmark supports more than 5,000 brands. One doesn't have to pay for listing an item on Poshmark. The cherry in the cake is that one doesn't have to pay any shipping fee too.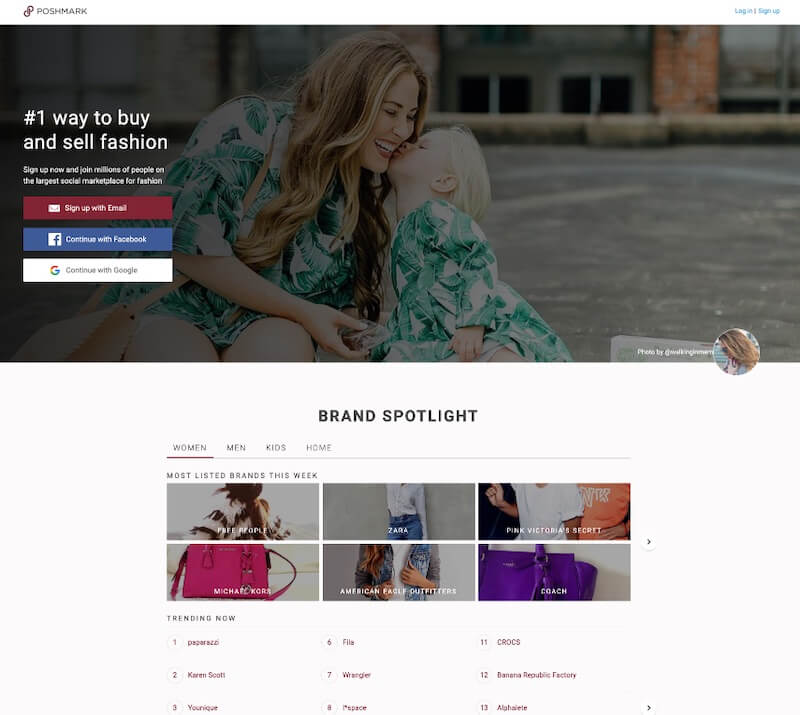 11

. Glyde
Glyde is another niche marketplace where you will find electronic goods. This eCommerce has been sited in several media outlets like The New York Times and CNN.
You can use Glyde to sell and buy
You can list the items on Glyde for free. For a long time, Glyde has been a platform to buy cheap Android phones along with iPhones.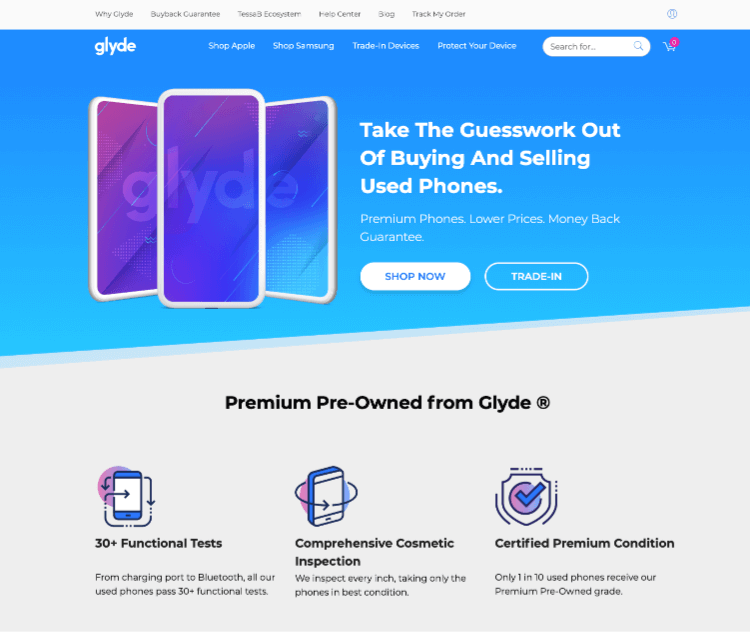 12

. The RealReal
If you want to buy luxury fashion items, then The RealReal can prove to be your paradise. You will find high-end brands on The RealReal. Few of the prominent brands which are available here are:
Before any item is listed here, the details go through a thorough check. And therefore, you can b sure that you are only buying authentic things from here.
Again, you can list your items for free here.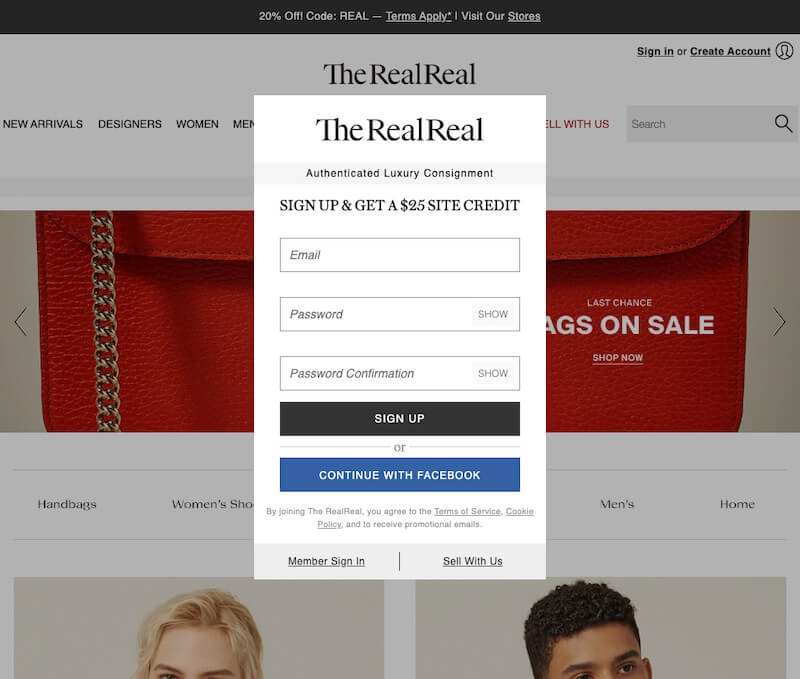 13

. Chairish
If you want to decorate your house with beautiful vintage furniture, then you will find the perfect item in Chairish.
You can use Chairish to sell and buy products like:
Navigating through the Chairish website is an easy job. It doesn't charge its sellers for listing, and also, there is no shipment cost. However, it will take 20% of the commission on every sale that you make here.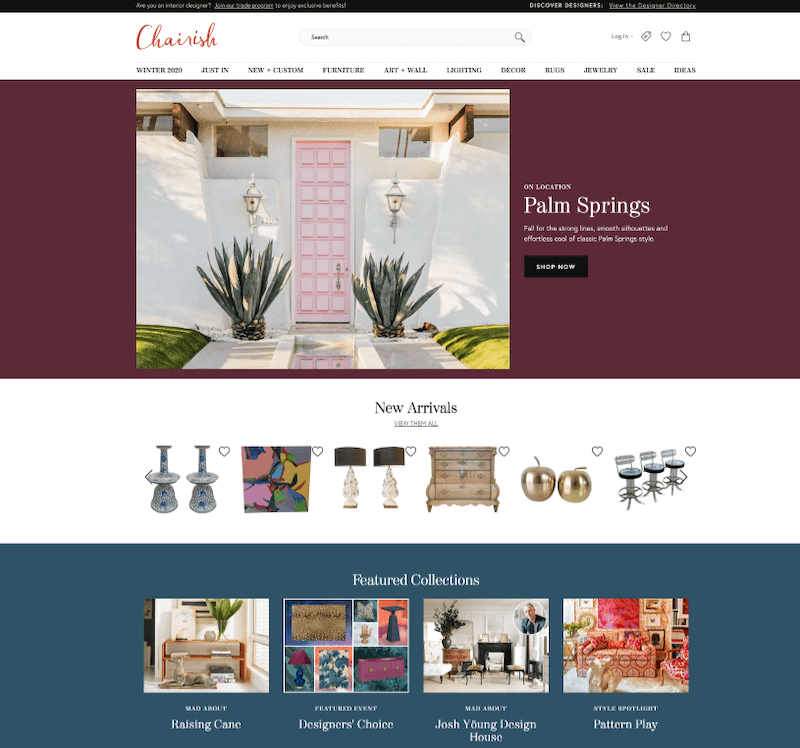 14

. Cash4Books
If you are a bookworm and want an eBay for books, you will fall in love with Cash4Books. You can use Cash4Books for selling old books and, of course, for buying books.
The potential of earning from Cash4Books totally depends on the book that you have.
You can sell your book and earn money from Cash4Books by following three simple steps.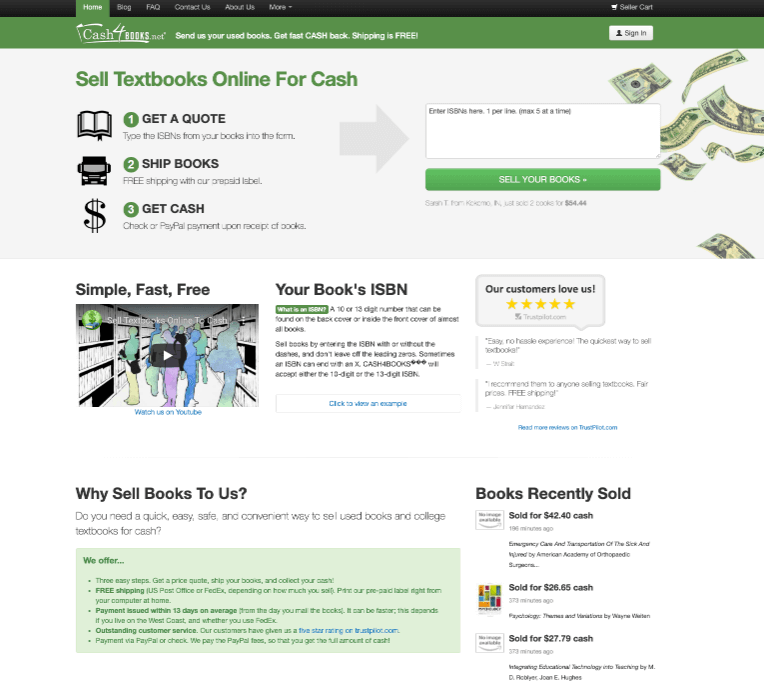 15

. Club Factory
In Club Factory, you will find everything at an unbeaten price. Just like eBay, you can use Club Factory to buy and sell a diverse range of items here like clothing, electronics, accessories, home furniture, beauty and health products, sports and fitness products, and even automotive.
Club Factory boasts a customer base of 100 million people. You can buy products from Club Factory, the way you buy from Amazon.
In case you want to sell products on Club Factory, you have to complete four simple steps:
You can do free store launch on Club Factory, and even the listing process is very simple. Once you have finished verification, you will receive free support and training in WhatsApp, isn't that cool?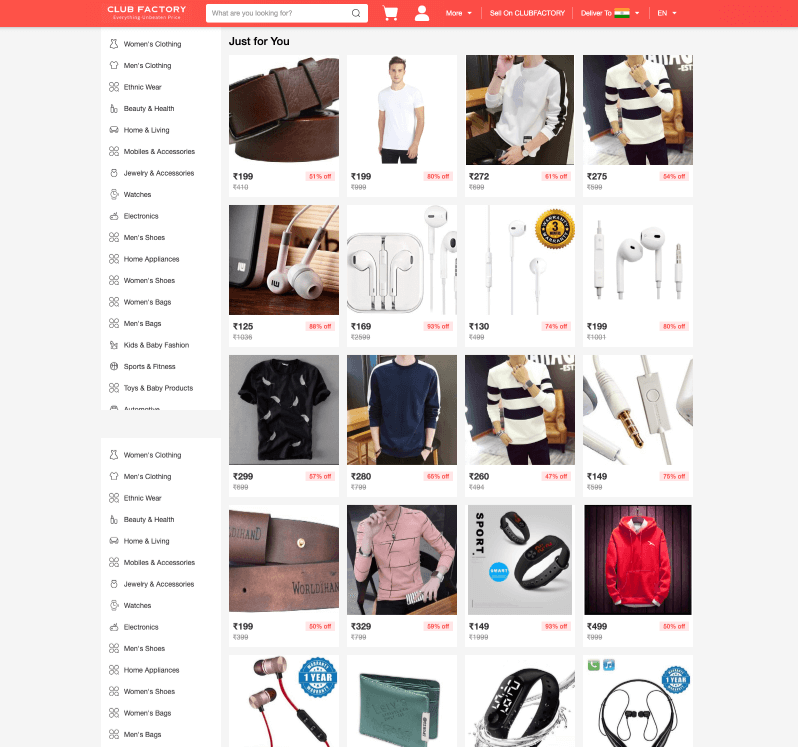 16

. Shein
You might have heard about Shein! After all, it is highly popular among girls. Shein is an international B2C eCommerce platform that deals with fast fashion.
Shein mainly deals with women wear, but also, it covers men's apparel as well. It was founded in late 2008, and now, it offers its service to more than 220 regions of the world.
Apart from buying clothing, you can also use Shein for purchasing home and stationery items. From time to time, it runs clearance sell where you can buy high-end products at a highly cheap rate.
17

. Smart Bride Boutique
Whether you want to sell your old wedding dress or want to buy a new one, Smart Bride Boutique will help you.
Along with wedding dress, you can also buy and sell the following products here:
Bridesmaid dress
Jewelry
Shoes
Accessories
Veils
Decorations
If you are in a hight budget but still don't want to compromise with your wedding dress, then you will find the right items in Smart Bride Boutique.
You can list the items that you want to sell for free here, and also, you don't have to spend any money on any kind of commission here.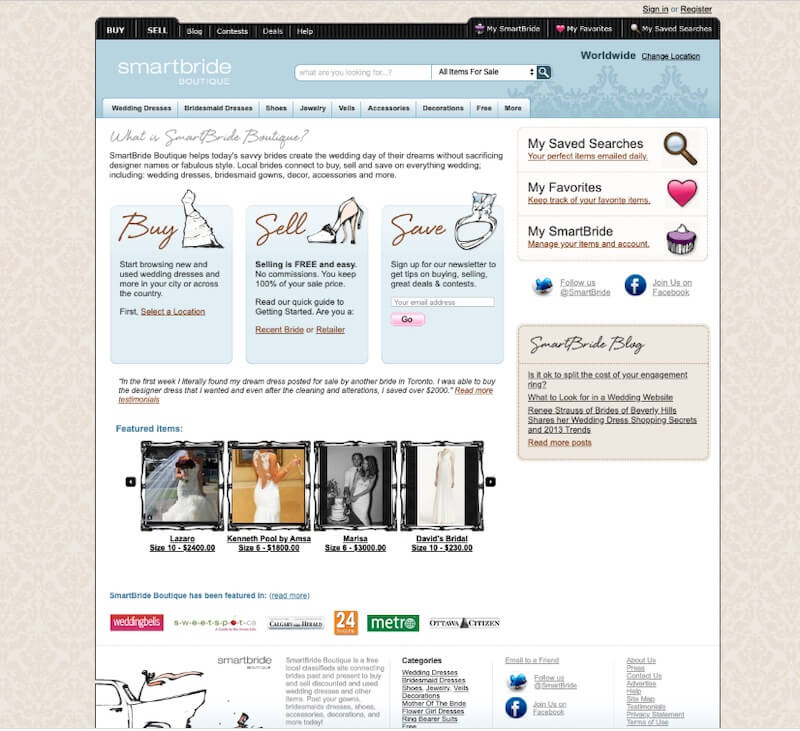 18

. AliExpress
AliExpress is one of the popular eCommerce websites available out there. Started in 2010, AliExpress has managed to catch millions of eyeballs in a short period.
Many people prefer to buy items in bulk from AliExpress.
The website is available in 5 languages and ships to more than 200 countries in the world. All the items present in AliExpress are available at competitive pricing.
The buyer protection of AliExpress ensures that you get the right item at your doorstep in a damage-free condition.
The round the clock customer service of AliExpress makes sure that all the customers are satisfied.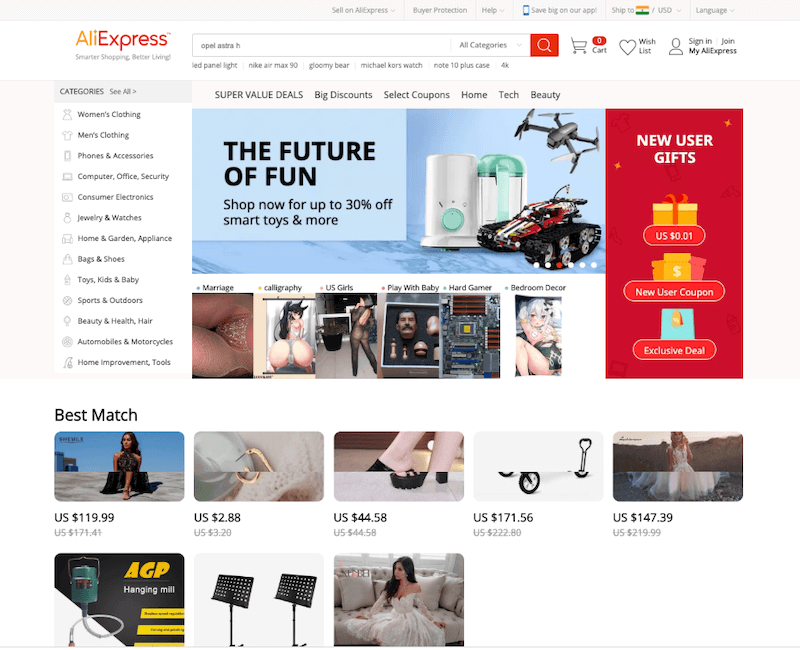 19

. Cloudmall
Want to start a shopping adventure? If yes, you better have an account in Cloudmall. With an ever-increasing catalog, you will find almost everything in Cloud mall.
Cloudmall ships to all the countries and that's the beauty of it! The cherry in the cake is that all the items are available at a very competitive price. Urn your
This eCommerce website ensures that the buyers only receive authentic items, and it maintains international standards for both quality and authenticity.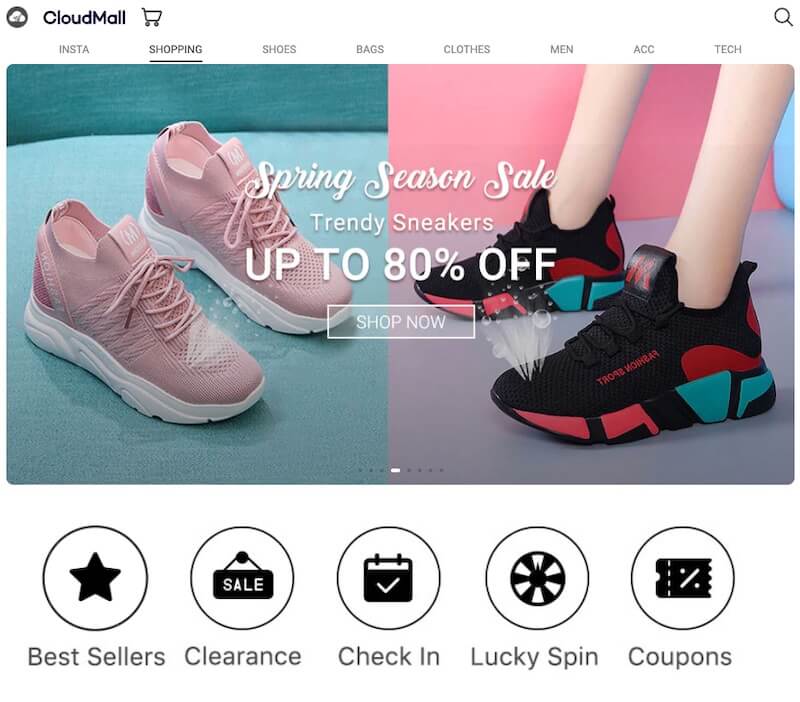 20

. Nasty Gal
Have you heard about Girl Boss? Well, if yes, then you should try Nasty Gal. This eCommerce website is exclusively designed for meeting the clothing requirements of the girl boss.
You will find a killer vintage outfit in Nasty Gal. What makes Nasty Gal different from other clothing sites is that it allows you to sell your old clothes, accessories, and shoes, and you can earn a discount by selling them, once you make your next purchase.
If you want to turn your unwanted clothes into discounts, then there is no better place in Nasty Gal.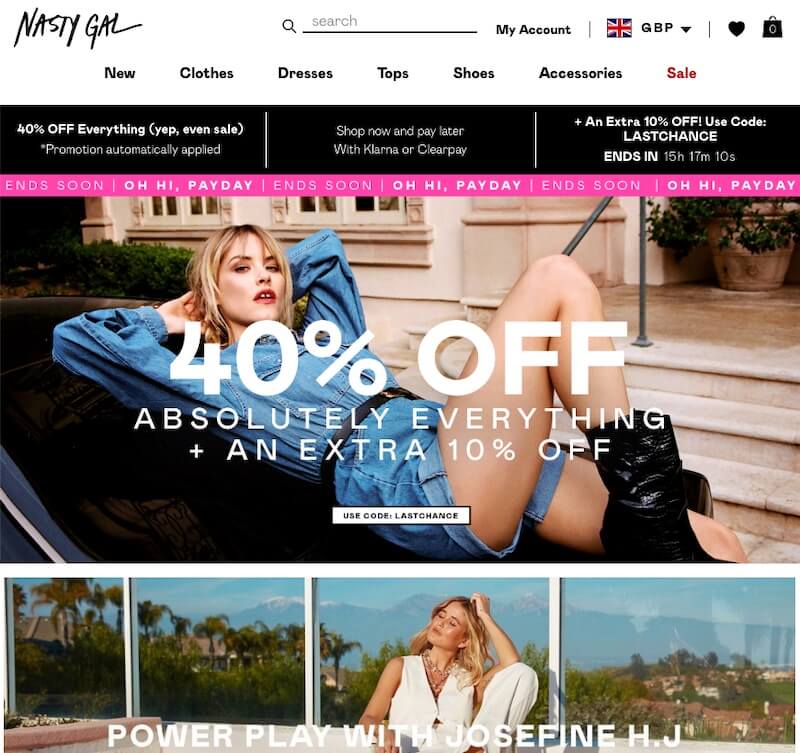 21

. Mercari
Another nice alternative to eBay. Like eBay, you can sell almost anything on Mercari. Here is the deal, you get $5 as bonus as you list your first item for sale on Mercari.
The site is very simple and easy to use, you don't need any technical knowledge to sell your product on Mercari. You can simply create your account and list your product, you can also use the Mercari mobile apps to use the site.
If you have things at home that you don't use anymore, someone else might need that, so why not list for selling on Mercari?
It is a popular site in the United States and received around 150k new product listing every single day.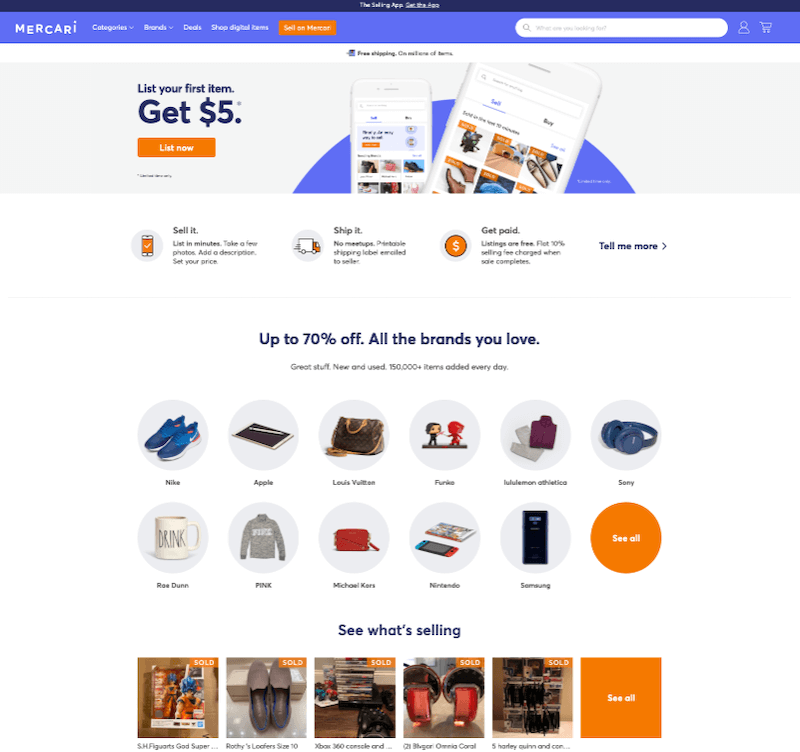 22

. Reverb
If you are into selling musical gears, you must know about Reverb. It is the exclusive platform for the musicians to sell musical instruments.
You will instantly get access to very large global audience who might be interested in buying your product.
It is simple and easy to get started on the Reverb platform, all you have to do is to list your product and Reverb will take care of the rest.
Another important advantage of selling through the Reverb platform is that it will protect you as the seller to make sure that you receive your price and at the same time it will protect the buyers as well.
There is a clear advantage of selling on an exclusive platform rather than an open platform that deals with all different kinds of products.
As the buyer will come to this platform with a clear intention of buying the musical product, you get a buyer quicker than any other platform.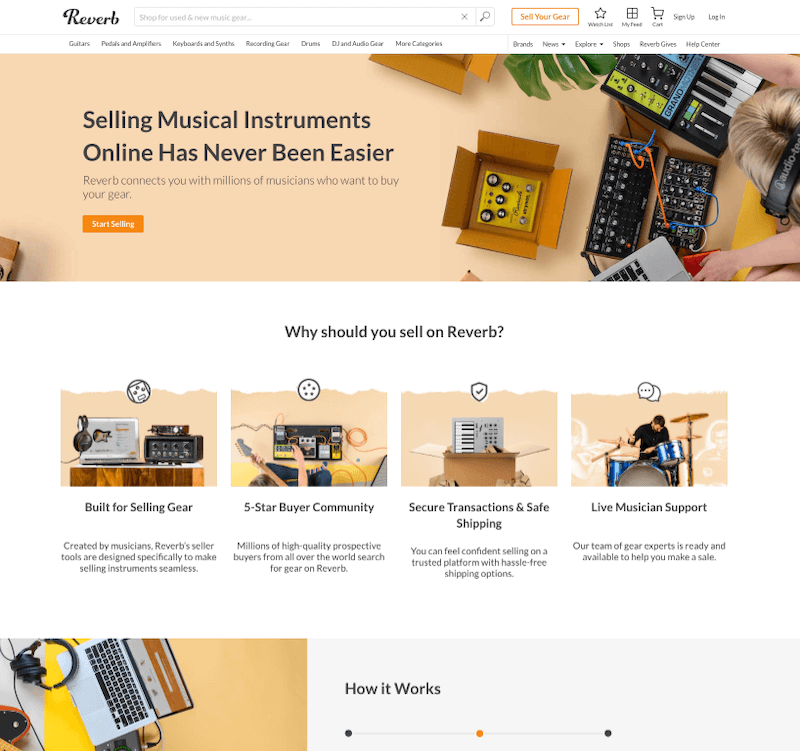 FAQs About eBay and Alternatives
---
01. What is eBay?
eBay is a multinational eCommerce platform base din America. You can buy and sell products on the eBay platform.
02. What is the Best Alternative of eBay?
Amazon is the most popular and widely used eCommerce platform worldwide. So, without a doubt, Amazon is the best alternative to eBay.
03. Can I sell Used Products on eBay?
Yes, you can sell any used product on eBay to make some extra money.
04. Is It Free to List an Item on eBay?
eBay offers you 50 free listing option. If you go beyond 50 items then you will have to pay 30 cents per listing.
05. How to Set the Price for My Item on eBay?
eBay offers you, different pricing models while listing your item. You can go for a fixed price or you can go for an auction listing. If you go for auction and your product is good then you have a chance to earn even more than your expectations.
Wrap Up
From niche to general eCommerce websites, we have covered it all in this list. One sure thing is that eBay is not unique; there are many other eCommerce platforms from where you can purchase exceptional items at a low price.
There are many other websites where you can buy and sell products.
Whether you are looking to sell stuff or buy any item, we have got it all covered in this list.
Even though we have tried to cover the eCommerce market place that supports global shipping, we would suggest you check it yourself to make sure that you can use that website for buying and selling products in your country.
Let us know which eCommerce platform best meets your requirements.