Choosing the best webinar software for your professional work can be tricky and time-consuming, thanks to the ton of options available these days.
To make your life much easier, we bring you a well-curated list of the best webinar software available out there that you can choose from.
Webinars are usually long and have a lot of attendees. And when you have your reputation involved, you just can't end up with software that you have to adjust with.
While most of the features of webinars are similar, we do have a lot of amazing options in the market for all businesses.
So here we begin with our list of the best webinar software available out there. 
What Are the Best Webinar Softwares?
The webinar software has been a very effective tool for creating online courses that give you the option to live with your audience. During this time of Covid-19, the webinar software has become even more important.
WebinarJam is undoubtedly one of the best options available out there in the market. Even if you have absolutely zero technical knowledge, still you will find this software very easy to use.
One of the most famous and widely used features of this tool is that you can actually stream your webinar on YouTube with a password-protected setup so that only your desired audience can attend the webinar. 
Some of the key features include:
Built-in autoresponder
Allows polls and surveys
Pros:
Compatible with all major browsers and operating systems
Very easy to use and simple dashboard
Cons:
The premium plan is very pricy
Doesn't tells which attendee voted for which option in the poll
Price: Starts from $499/year for 500 participants per webinar and goes up to $999/year for 5,000 attendees.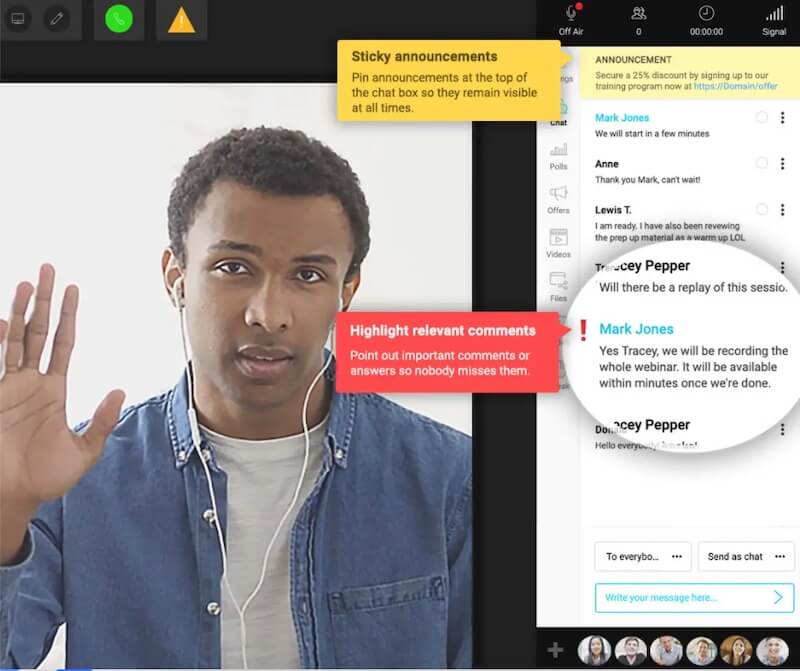 MyOwnConference is one of the most multipurpose and powerful webinar providers in the market. This service is useful for small and large-sized events: you can hold webinars from 3 to 10,000 attendees.
MyOwnConference is known as a robust and reliable platform. It always provides digitally secured webinars and meetings. Additionally, MyOwnConference is GDPR compliant. Some other features of MyOwnConference are:
Screen sharing 
Polls and survey to engage the audience
Marketing tools such as the call to action and branding
Automation of invitation, reminder and follow-up emails 
Private messages are also available 
Pros:
Easy access from any operating system or browser 
Build-in analytics and reports are available 
Free account for up to 20 attendees 
Cons:
It doesn't provide PayPal integration
It doesn't have integrations with CRM
Price: The price depends on the number of attendees. Paid plan starts from about $29 per month, billed annually for up to 60 participants.
Zoom has created a lot of buzz around the world and it deserves every bit of popularity. The platform is very easy to use and you can create multiple webinars using a common link. This platform has a very simple interface, for both the attendee and the hosts. 
Zoom is one of the only platforms offering a free plan. It allows you to broadcast your webinar to Facebook and YouTube as well. Some of the key features are:
PayPal integration available
Polls and Q/A dialog box available
Easy to use dashboard
Works across all platforms
Pros:
Allows screen sharing and closed captioning
CRM integrations and Marketing automation made easy
Host controls are pretty strong
Cons:
Charges per host
Webinars of under 40 minutes are allowed
100 attendees are the limit
Price: Paid plan starts from about $14.99/month/host.
Also, don't miss our collection of best Zoom alternatives.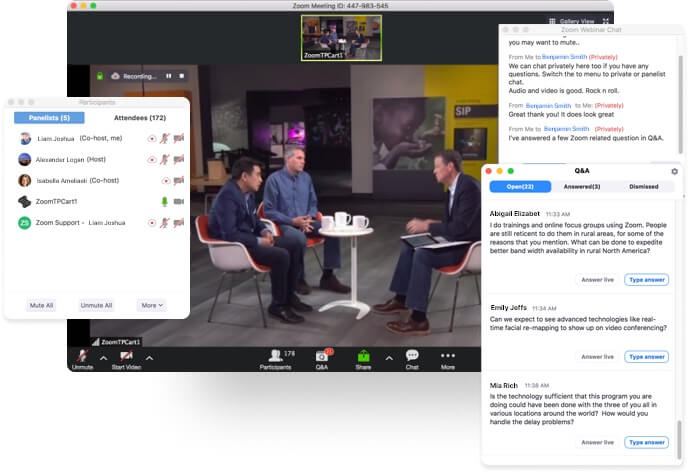 It is very likely that you are already familiar with GoToWebinar if you have previous experience in attending or hosting webinars. One of the best features of this service is that you can split up your audience and make special webinar rooms. It also offers some of the best webinar tools in the market.
You also get a good set of advanced lead management and reporting tools with this webinar software. Some other key features include:
Integrate existing CRM
Free 7 day trial
Very user friendly
Pros:
You also get GoToMeeting for Free with the premium plan
Engaging and simple dashboard
Lead management is the easiest here
Cons:
Allows a maximum of 3,000 participants which you'll have to pay for
The basic plan allows up to 100 attendees only
Price: Starts at $49/month and goes up to $399/month for the enterprise plan.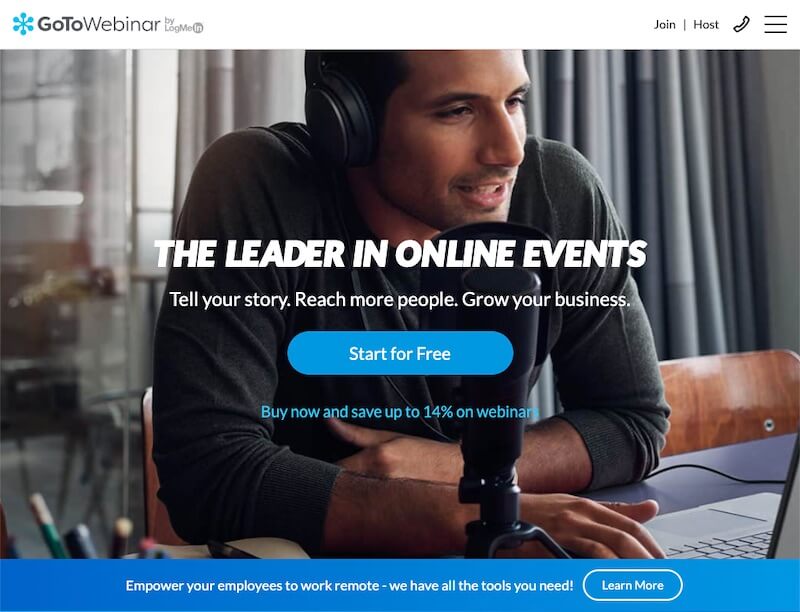 Everytale is a comprehensive digital event marketplace. Everytale has a worldwide reach and offers amazing advantages to its users. The most important of these is that Everytale is a safe space for closed and open communities. This inclusive platform allows content creators to stream securely.
Registration is mandatory for everyone at Everytale. People with common interests can share their ideas, talk their hearts out and simply be their natural selves on Everytale.
Nurturing a warm and cozy environment where people can enjoy its seamless functions.
Everytale is the right answer to 'Zoom fatigue'.
Pros:
Integrated payment solution
Multiple Screen Sharing
Moderator control
Cons:
Help section is missing
Speech-to-text feature is not live yet.
Price: Everytale is completely free, no strings attached.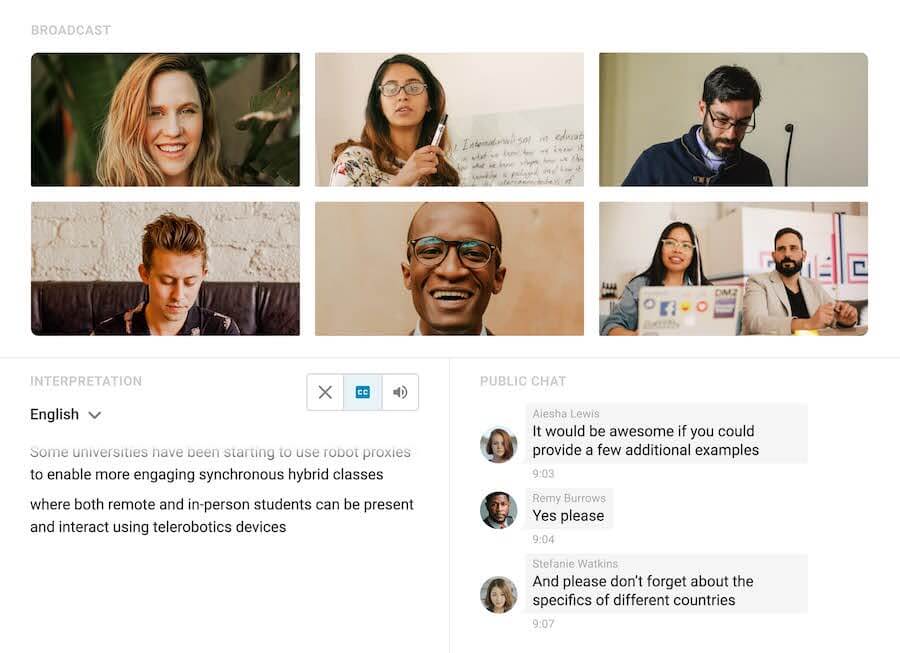 This is a sister-tool of WebinarJam and has a solution for all the webinar problems one could imagine. It's simple, it's lite and it's easy. You can actually host webinars with recorded videos on EverWebinar.
It's fully automated and has a lot of unique features. You can chat with the attendees while your recorded webinar is being played. Some key features include:
Pop-up reminders and call to action are available
Room count simulation and email reminders are available
Pros:
Live, hybrid, and automated webinars are available
Powerful statistics options are available
Also provides powerful guides
Cons:
Streaming issues have been reported
The interface is a bit old and outdated
Price: You can pay in three different installments of $199. 14-day free trial available.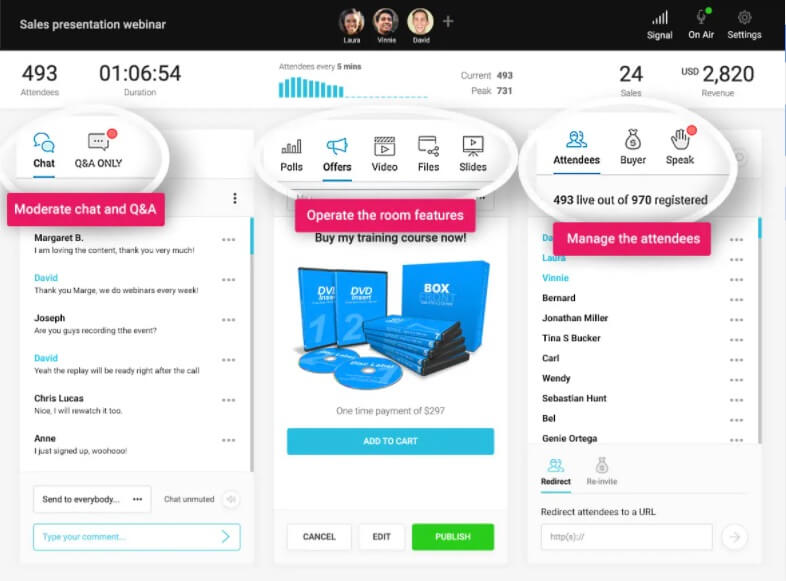 One of the most modern and easy-to-use webinar service providers in the market, Demio is a great choice. While many other services only offer either live or automated, this platform allows you both the services, as well as hybrid mixes of recordings as well. 
You can actually do a lot of different things while the webinar is going on, such as launch polls, add a call to action buttons, share live documents, and run Q&As. Some key features here are:
Analytics options are some of the best
Private chats are also available
The brand registration page is also available
Pros:
Offers 50% discount for pandemic hit companies
Interactive polls are one of the best here
Hybrid webinars available
Cons:
Connectivity issues reported
Only allows 25 attendees in the free trial
Price: The started plan costs $34/month and it goes up to $163/month.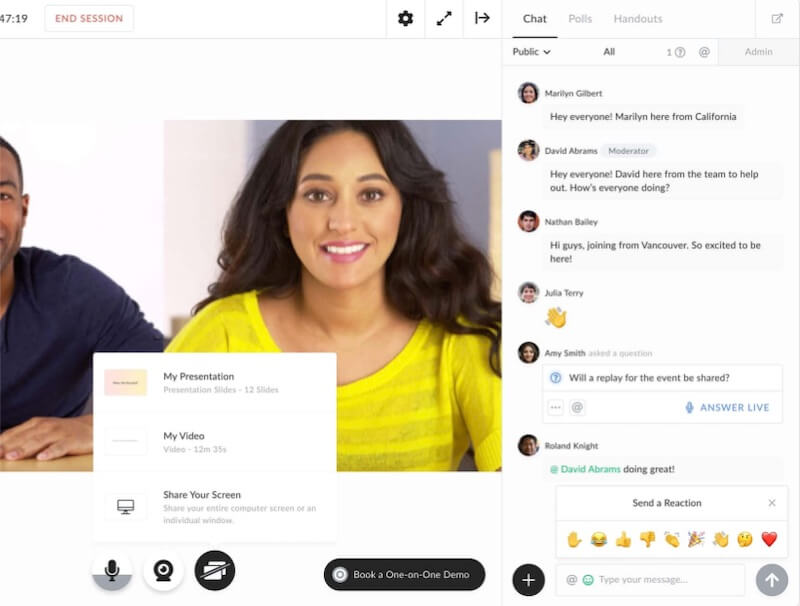 ClickMeeting is a complete web-based webinar platform that is actually offering both audio and video-based webinars. Its clean and simple, used by both technical and non-technical organizations.
Some of the key features of ClickMeeting are:
Waiting rooms available
Automated webinars
Interface customization available
Pros:
You can monetize your webinars
Access to whiteboards
Social media integrations
Cons:
Screen sharing is a bit hassle
Customer support is not the best in the market
Price: Free for 30-days. The premium plan starts from $25/month and goes up to $40.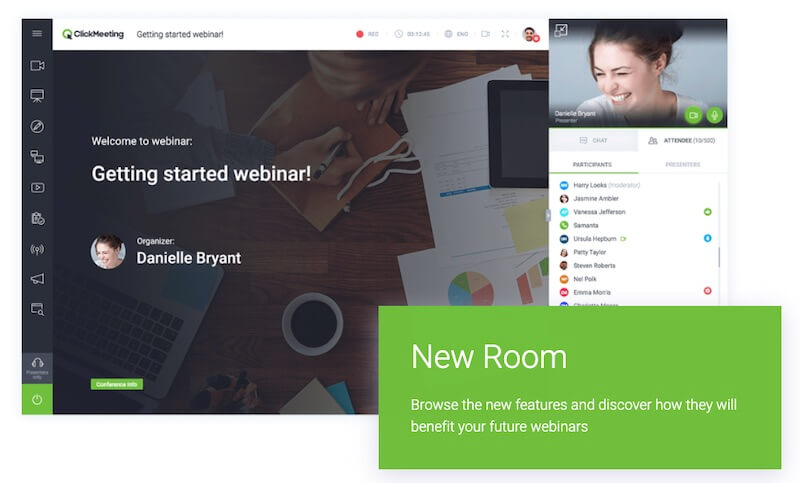 WebinarNinja is a very considerable option on this list. The platform is very powerful and is in use by major companies in the market such as AppSumo, Podia, and Printful. Hosting and creating webinars is one of the easiest things to do here.
Being one of the earliest in the market, WebinarNinja has a lot of out-of-the-box thank you pages and also offers to sign up pages.
4 Different types of webinars to choose from
Integration with over 1,000+ apps available
Email automation and drip campaigns are available
Pros:
The analytics dashboard is super clean
Custom landing pages are available
Can run multiple polls
Cons:
It becomes a bit overwhelming with so many features
Many network issues have been reported
Price: Starts from about $39/month and goes up to $199/month.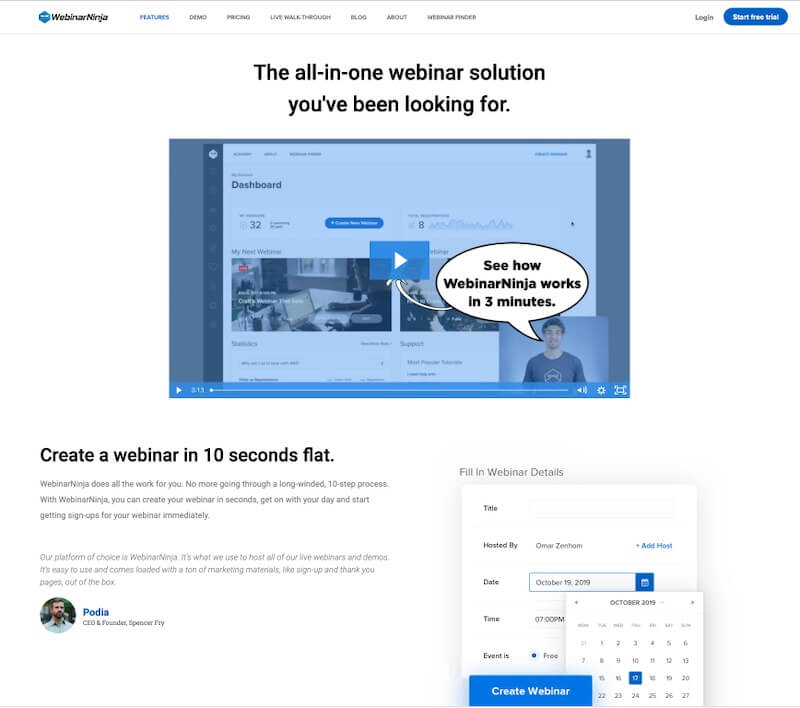 Livestorm offers high-quality video connection and efficient webinar tools to give you a smooth experience. The tool also works amazingly with all the top web browsers and has no restrictions of any kind on any platform.
There are three major types of webinars available; on-demand, automated, or live to choose from. Some other features of Livestorm are:
Email logistics and automation
Personalization options
Data security and 100% GDPR compliance
Pros:
Q/A sessions
Polling and analytics available
Multi-lingual support
Cons:
Not meant for large amount of attendees
The interface can be improved
Price: Starts from a free plan and goes up to $99/host/month
You must have heard of this name before if you are familiar with online marketing and marketing automation. GetResponse offers a complete solution for marketing automation. Apart from A/B testing and primarily being an email marketing platform, GetResponse also offers a simple webinar platform.
Creating and promoting webinars is very easy on GetResponse. You can even use the email features to send webinar invites and scheduled webinars.
Chat for audience
Partial screen sharing
Call-to-action button available
Pros:
Polls and chats are pretty easy
Livestream webinars on all social media platforms
Easy to conduct live seminars
Cons:
Not the easiest to work with
Costlier than its competitors
Price: The price varies as per your demands. It's free for the first 30-days and costs $49/month for up to 100 participants.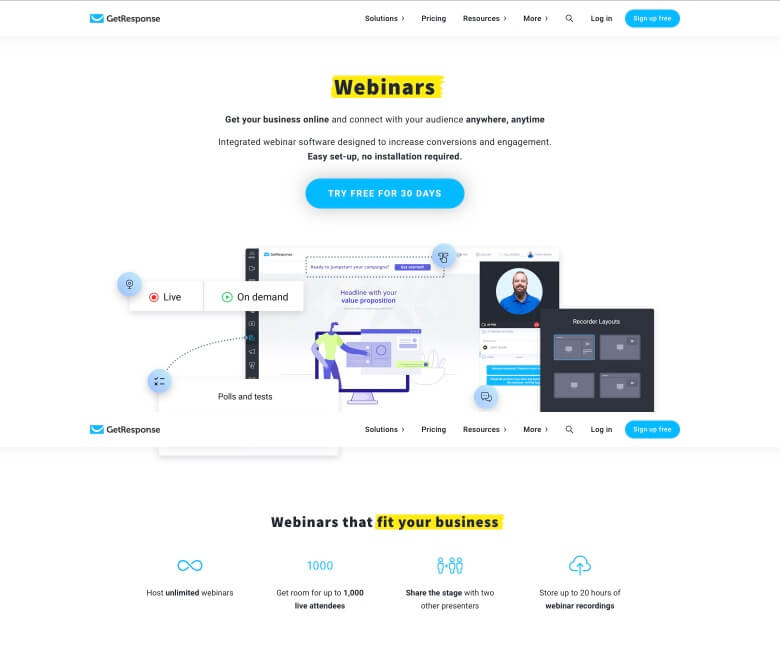 One of the easiest and safest on this list, Google Hangouts has all the necessary features one can need in a webinar. And the best part? It is free. You can access this using your web browser or mobile app.
This is not an ordinary webinar option for a large audience. Key features here include:
Live stream to large users using YouTube
Allows multiple attendees to speak at the same point
Pros:
Its free
The interface and chat options are pretty easy
Cons:
Event and streamings are public
All the attendees will need a public account
Price: Free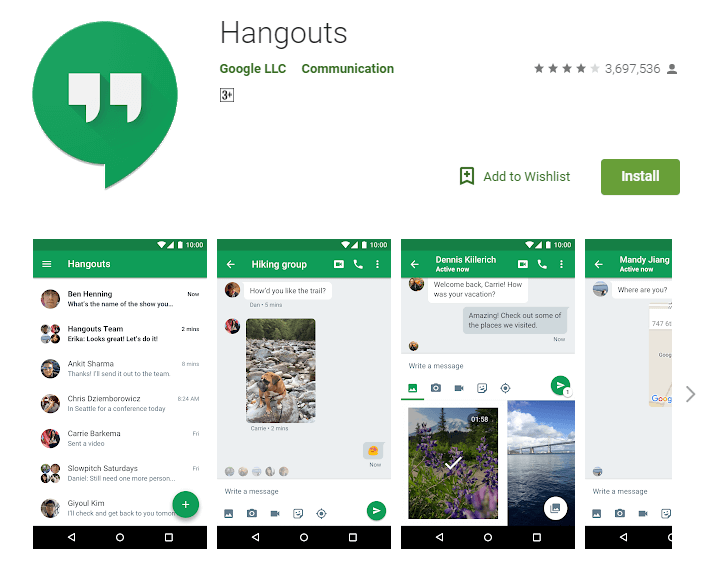 One of the easiest a platform recommended for beginners, Dacast is a great alternative to an expensive webinar platform. You don't have to pay for the whole pricing period, only pay for the webinar that you wish to hold.
One of the only platforms offering pay-per-event, rather than a full subscription webinar. Although it is not the most feature-packed option, still you have features like:
Play on Facebook option
Secure and safe webinars
Mobile support
Pros:
FTP Access
Prepaid bandwidth available to add
No viewer limit
Cons:
Watermark is there all the time
Video quality is not the best always
Price: Plans start from $0.25/month and go up to $19/month.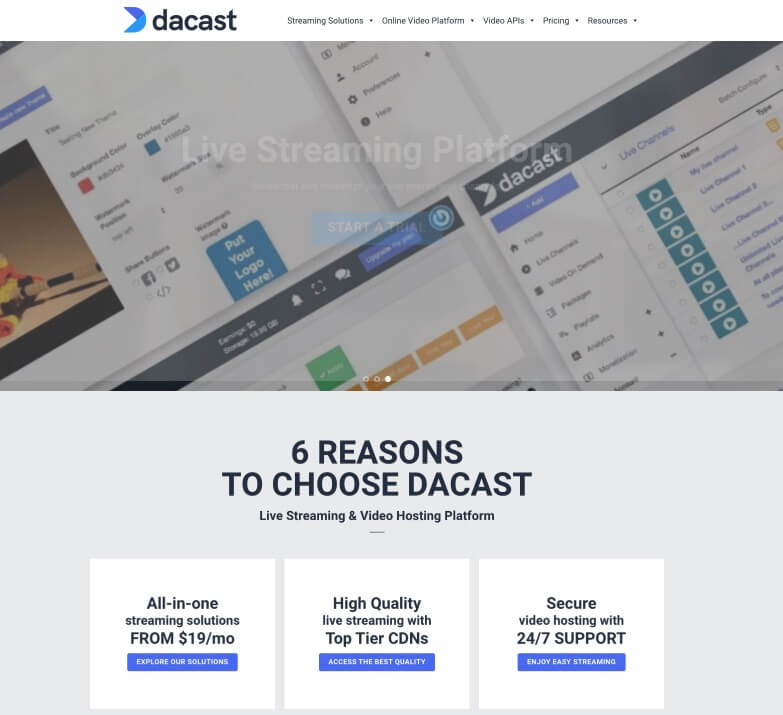 One of the most used and reputed webinar platforms for all kinds of businesses, BigMarker has made quite a name for itself in recent years. Organizations are hosting large summits, webinars, as well as virtual conferences using BigMarker around the world.
BigMarker is known as a robust tool, offering a lot of high-quality webinar capabilities. Some of the key features of this software include:
You can include up to 10,000 participatns
Live Questions/Answers and polls
Custom email invites and reminders
Pros:
Good option as per marketing strategies
Nurture your leads and invites
A large number of participants can be included
Cons:
Not many functions are available
Simple and not-so-attractive interface
Price: Starts with a free trial and goes up to $79 per month.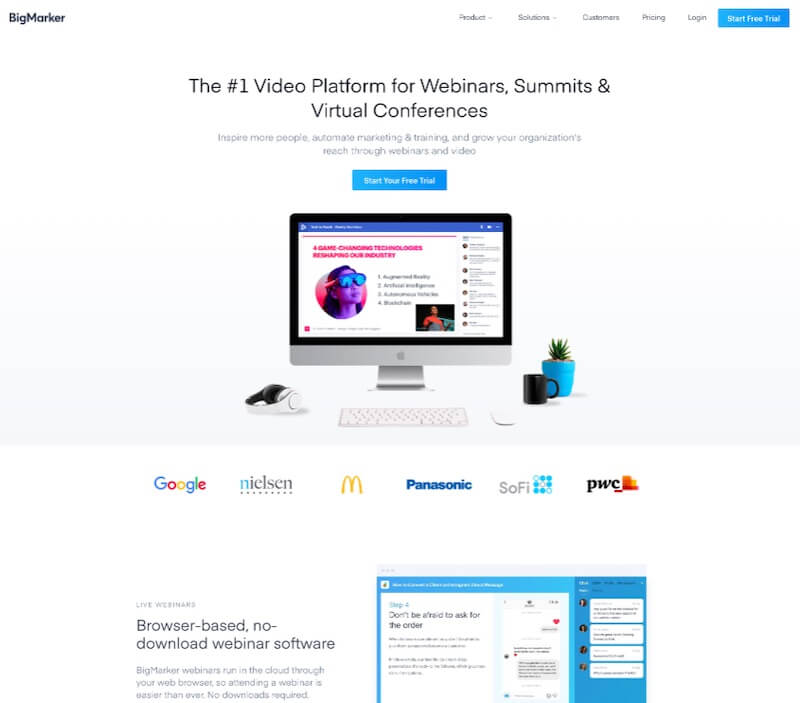 Another very popular name on this list, Zoho Meeting has also made a good name for itself in the past few years. The platform is equally useful for both small and large-sized business needs.
One of the best on this list regarding business collaboration and application-based demonstrations, Zoho Meeting is a feasible option to go for. You don't need any special software to run it, as you can access it through any web browser. 
Support here is very good
Easy webinar sharing
Raisa a hand feature available
Pros:
Easy to create forms on your website
Easy Q&A and broadcasting
Screen sharing and live chat are available
Cons:
Features are very basic and simple
The interface can be improved
Price: Starts from a free version and goes up to $79 for 250 attendees.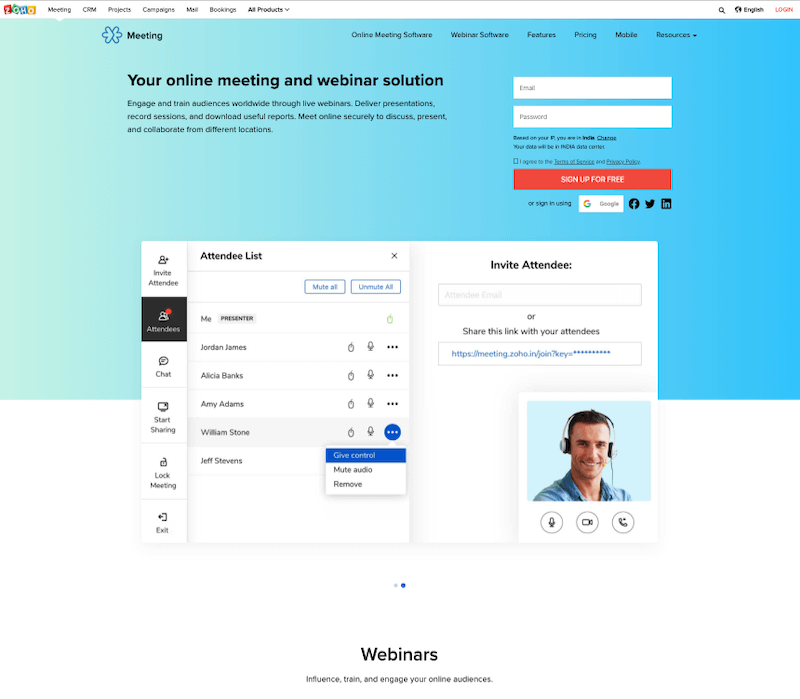 A product from the studios of Cisco, Webex is a very possible option for all types of users. One of the primary functions of this tool is team collaboration. Features like video meetings, screen sharing, and team communication are easiest here. 
The webinars can have around 40,000 attendees in a single webinar. It also offers its mobile version and has a very simple interface.
Easy Q&A setup and polling
Simple analytics features
Live chat included
Pros:
Mobile app is very easy to use
Robust support
Allows up to 40,000 attendees
Cons:
Not ideal for business webinars
Analytics features can be improved
Price: Starts from $13.50/month and you have to contact the sales team for webinar plans.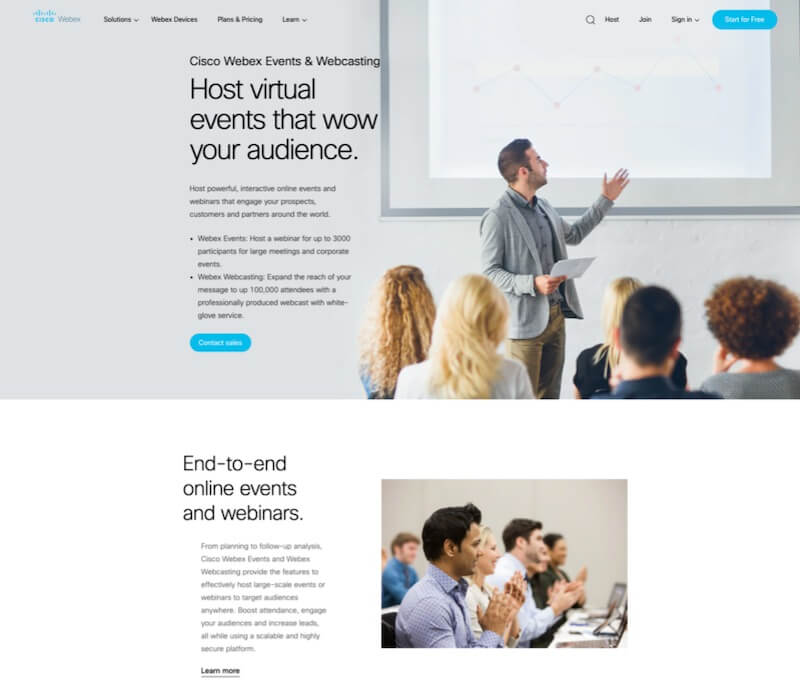 One of the cheapest solutions for people and organizations who don't wish to spend much on webinars. It is simple and offers almost all the webinar features one can wish for.
You can hold pre-paid events and it also allows you webinar page customization as well. You can also use this for lead capturing. Some other features include:
Integrate registration forms
Easy lead management
Translation quality is pretty amazing
Pros:
Cheap and easy to use
Customization options available
Automatically records events
Cons:
Sometimes becomes inaccessible due to updates
Connectivity issues reported
Price: Free for 30-days as a trial. The pricing plan starts from $19.97/month and goes up to $99/month.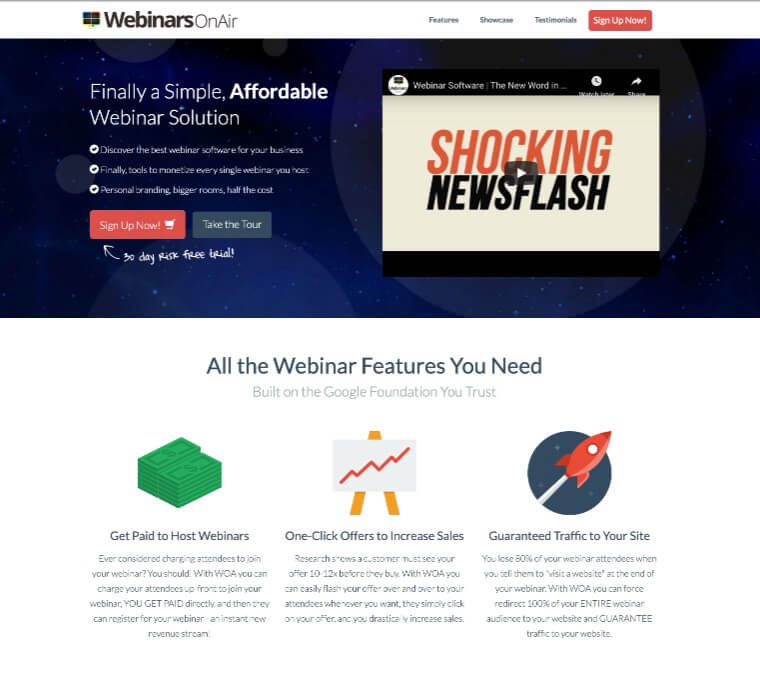 | | | | | | | |
| --- | --- | --- | --- | --- | --- | --- |
| Name | Free Trial | Live Chat | Maximum Attendees | Q/ASession | Mobile App | MinPrice |
| WebinarJam | No | Yes | 5,000 | Yes | Yes | $449/year |
| Zoom | Yes | Yes | 10,000 | Yes | Yes | $14.99/mo/host |
| GoToWebinar | Yes | Yes | 5,000 | Yes | Yes | $89/mo |
| EverWebinar | Yes | Yes | 5,000 | Yes | Yes | $199/year |
| Demio | Yes | Yes | 500 | Yes | Yes | $34/mo |
| ClickMeeting | Yes | Yes | 1,000 | Yes | Yes | $239/mo |
| WebinarNinja | Yes | Yes | 1,000 | Yes | Yes | $39/mo |
| Livestorm | Yes | Yes | 1,000 | Yes | Yes | $0 |
| GetResponse | Yes | Yes | 1,00,000+ | Yes | Yes | $15/mo |
| Google Hangouts | Yes | Yes | Based on YouTube | No | Yes | Free |
| DaCast | Yes | Yes | Unlimited | Yes | Yes | $19/mo |
| BigMarker | Yes | Yes | 500+ | Yes | Yes | $79/mo |
| Zoho Meeting | Yes | Yes | 250 | Yes | Yes | $4.75/mo |
| Webex | Yes | Yes | 40,000 | Yes | Yes | Contact Sales |
| WebinarOnAir | Yes | Yes | Unlimited | Yes | Yes | $19.97 |
Frequently Asked Questions & Answers
Q.1 Can live webinars be recorded?
Ans. Yes, you can. Many webinar software allows live webinars to be recorded and even allow them to be posted on social media. You can also get the same in a downloaded video format through the platform only. 
Q2. Which are the best webinar platforms for mobile devices?
Ans. The best webinar platforms for mobile phones are:
Zoom
Zoho Meeting
GoToWebinar
Q3. Which are the best options for start-ups and small businesses?
Ans. The best ones are:
GoToWebinar
Demio
Livestorm
Q4. Which is the best option for one-time webinars?
Ans. If you are looking for an option to host webinars occasionally and on a non-regular basis, then amongst the above, Dacast is the best option.
You don't have to pay for the whole pricing period, only pay for the webinar that you wish to hold. You also get additional features like social media sharing, easy chat options, a large number of attendees, and cheap pricing plans as well.
Conclusion
So this was the list of the 15 best webinar software to choose from. All of these platforms have their own features and pros & cons. Choose the one that fulfills the need and long-term demands of your organization and make the most of each dollar you spend on your pick.