A video website is a concept which enables the individuals to upload videos and footages to showcase it to the audience.
Nowadays, the video has become a vital method to share information, and guide in various cases.
If you check social media sites like Facebook, the videos get most of the traffic and engagement. The top marketers and pro bloggers also believe that video blogging is going to be the future of content marketing.
As the usage of smartphones and cameras has enormously increased, people are taking a lot of videos that too in better quality. So, the overall use and production of videos are increasing and the demand for more and more video sites are also increasing.
This enormous growth in technology also made people enter into the field of video blogging. For creating a wonderful Video website without any coding knowledge, WordPress is a perfect platform to do so.
if you are new to WordPress, we have created a detailed article about how to create a new site using WordPress from scratch, that article will help you to understand the process and guide you through to create your first site on WordPress.
This article is going to provide you with the best Video WordPress themes that you can use to create your video site as the famous Video site like YouTube, Vimeo, and much more.
As we are talking about the best video themes, these tools to create YouTube intro videos might be helpful for you.
Top Video Sharing WordPress Themes
Vlog
It is an awesomely crafted theme which has a strong focus on videography. It can also complement the demands that are needed for complex magazine websites with all essential things to exhibit your videos and articles according to your expectations. S
Some of the important features of Vlog include YouTube automatic video import, group video playlists, auto detect video thumbnails, cinema mode, and watch later. It contains over 200 post layout combinations to help you.
This theme is speed optimized, and you can also monetize your website. It has smart and flexible images hence you can opt various aspect ratios. Vlog has all standard features like SEO optimized, RTL support, responsive design, and more.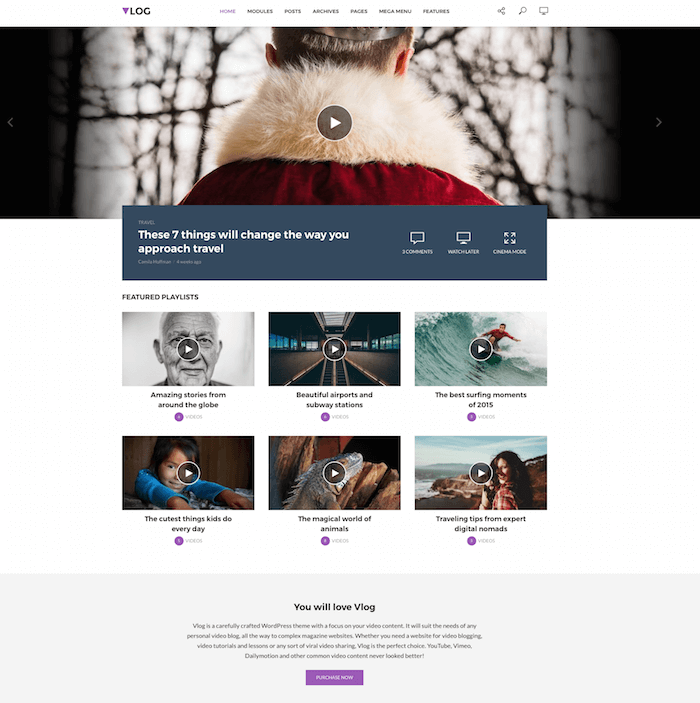 Publisher
Publisher, as the name, suggests it is one of the best content publishing WordPress themes available in the market. It is one of the most comprehensive WordPress themes with all the latest features and options.
Once you have this theme, you will never have to look for any other design no matter how many different niches you explore.
The Publisher is primarily a news magazine style WordPress theme with multiple design options to choose from. It is one of the top options for text as well as video content sites.
The list of feature is very long for this theme. You have almost all the modern features and options that you may need to create a completely modern and successful site.
This theme is ready for Google AMP and Facebook Instant Article so that you can make the best out of your site.
You have multiple demo design options and the one-click demo import option to help you get started with your site quickly.
The theme offers you built-in JSON-LD support so that your site has the advantage in the search results. The design is created with the best SEO practices and optimized for very fast loading time.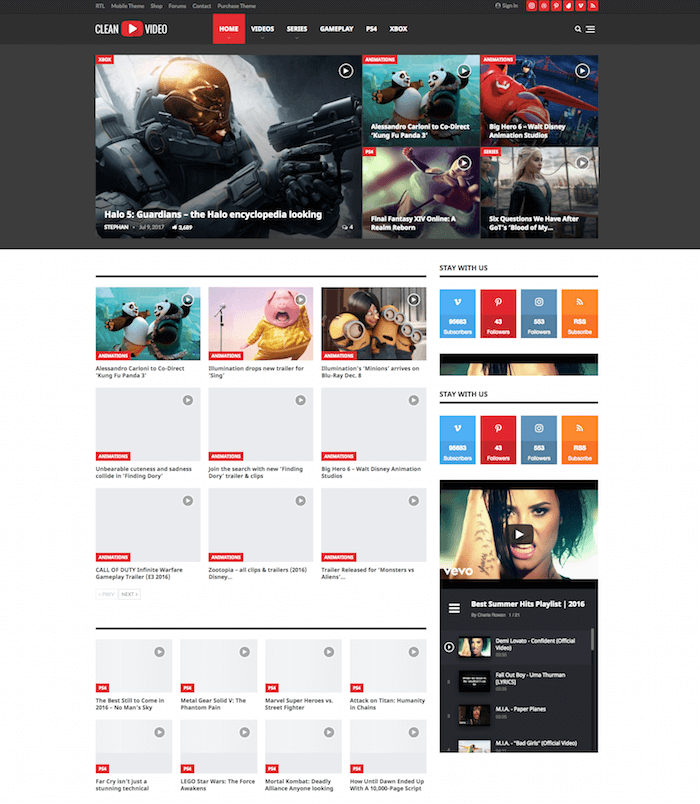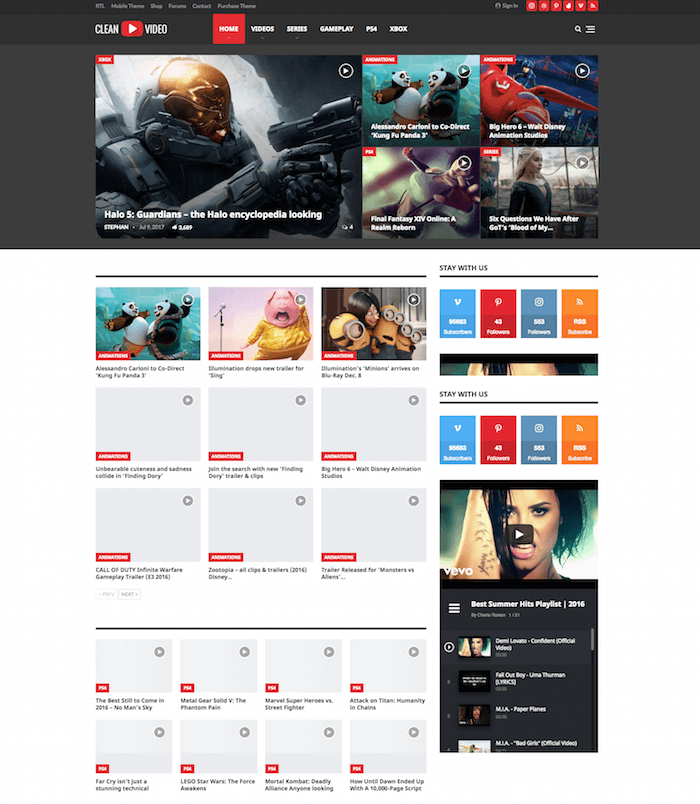 TheMotion
TheMotion is one of the best Video WordPress themes that are available on the web. It has many important features to serve you in the service of creating your dream website. This theme is compatible with more than 100 free WordPress plugins.
Thus you can optimize your website using this theme. Currently, TheMotion has around 471,000+ happy customers. This theme has all common features that are essential for building an ideal internet site. TheMotion is a theme which is recommended by popular websites like Adobe, Smashing Magazine, WP Tavern, Forbes, and WPbeginner.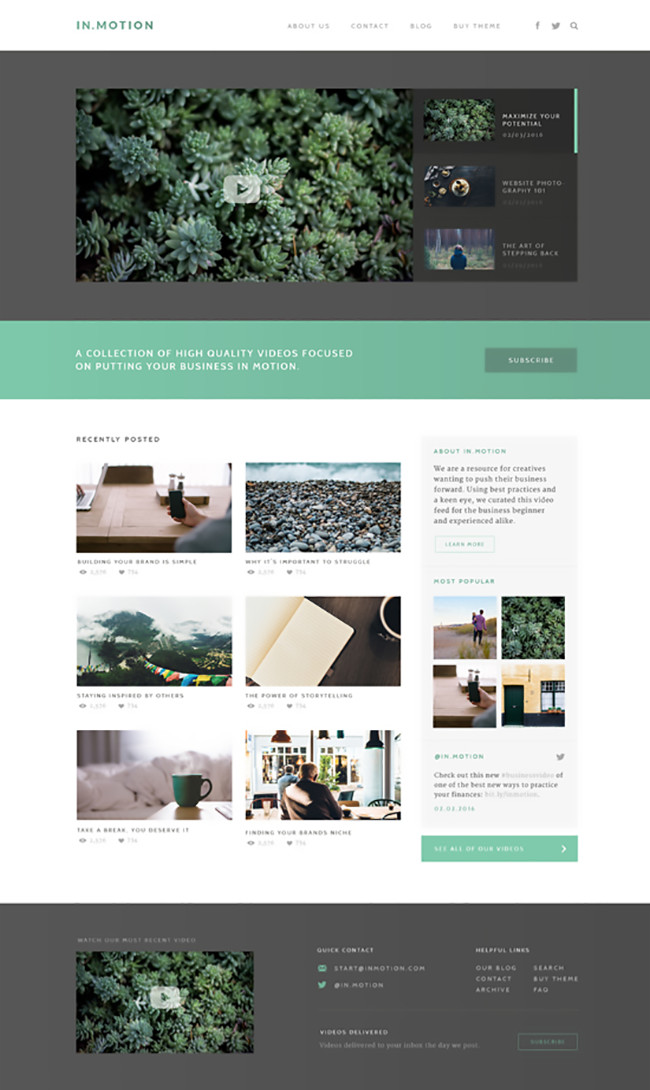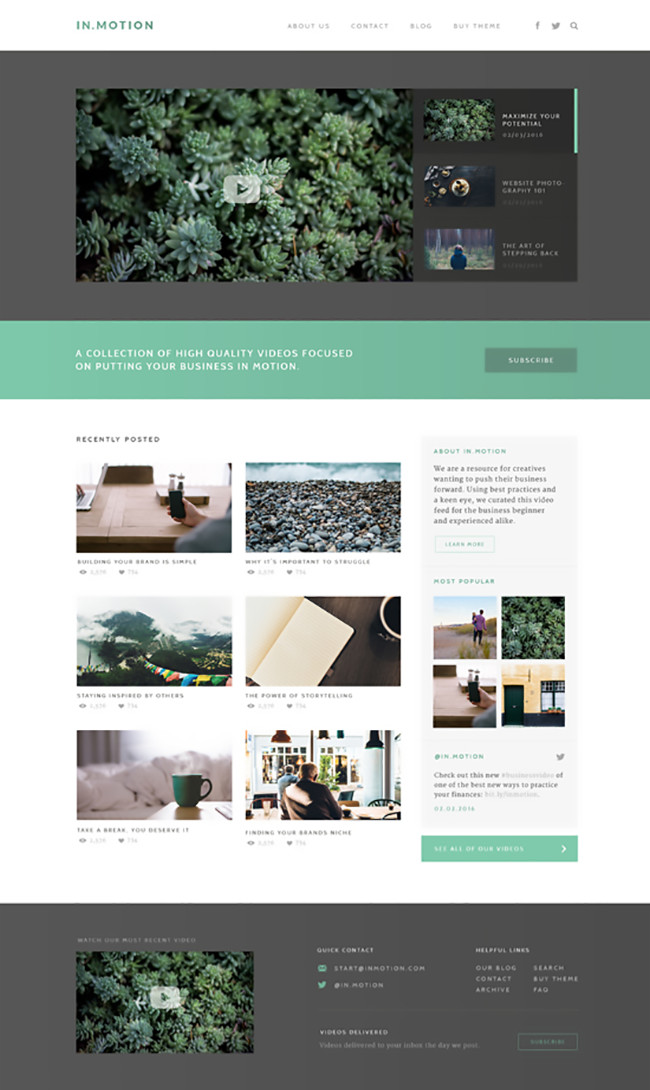 VideoBox
It is said to be the perfect solution for showcasing the video content with a better impression. It is embedded with wide support of famous video sites like YouTube, and many others.
It supports video embeds from around 99 percent of Video sites like YouTube, Vimeo, Dailymotion, Witia, Amazon Prime video, Brightcove, and Metacafe.
It can produce automatic video thumbnails for your videos. It has a feature called popular video tab which enables you to display the most famous videos on this tab.
VideoBox is provided with various widgets which also includes Carousel Widget. Multiple Header layouts are one of the unique features of VideoBox. This theme has all other common features too.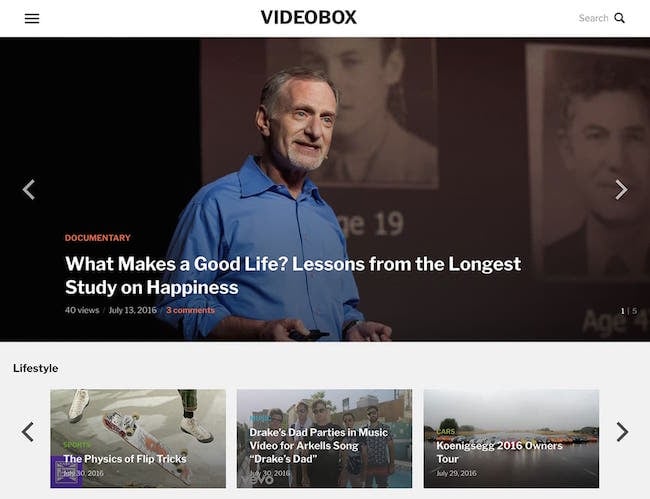 Newspaper
The Newspaper theme by tagDiv is one of the most popular news magazines and multipurpose WordPress themes available. You can use this theme to create any kind of content site in any niche.
This theme offers you all the modern features and options that you will need to create an up to date website. You have all the latest updates such as the GDPR, Google AMP, Facebook Instant Article readily available in the theme.
As far as the design is concerned, you can create an unlimited number of custom design with this theme without writing a single line of code.
You have a number of great looking ready to be used demo design template and one-click demo import feature to help you get started with the theme quickly.
If you are starting a new blog or looking for a change, the Newspaper theme is one of the best options because this theme is constantly gets updated with new features whenever there is a change in design trend.
So, once you get this theme you will never have to look for another theme for your Site. No matter what kind of design you wish to create, the Newspaper theme will perfectly fit into that.
The Newspaper theme is created with the best SEO practices in mind so that your content gets the edge over your competitor site.
The theme offers you a very quick loading time so that your users have a great experience on your site.
This theme is already being used by a number of leading publications which is the best testimonial in itself.
As we are talking about the best video themes in this article, the Newspaper theme offers you a great looking video news design that you can use for your video blog.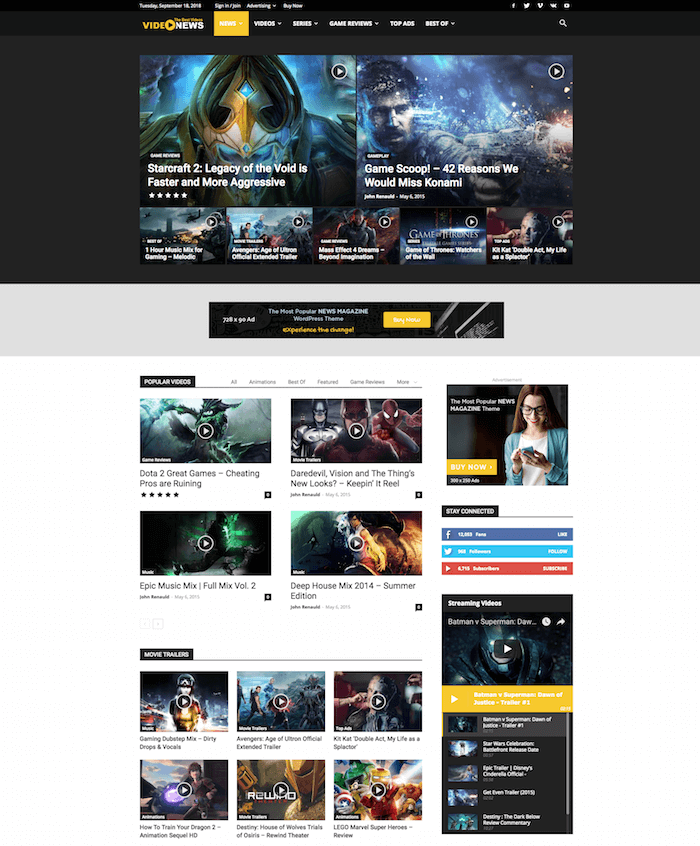 BeTube
It is the most powerful and biggest Responsive Video theme which is specifically designed for developing video website. It has all the latest designs that are trending currently with full and fixed width page templates which bring elegance and charm to the video website of yours.
It contains around ten unique homepage designs for your page. Some of the key features of BeTube are Eight header styles, off-canvas menus, single video layouts, two profile page layouts, front-end video post page, profile inner pages, floating video player, self-hosted videos, video advertising plugin, blog template, impressive 404-page design, and all essential standard features.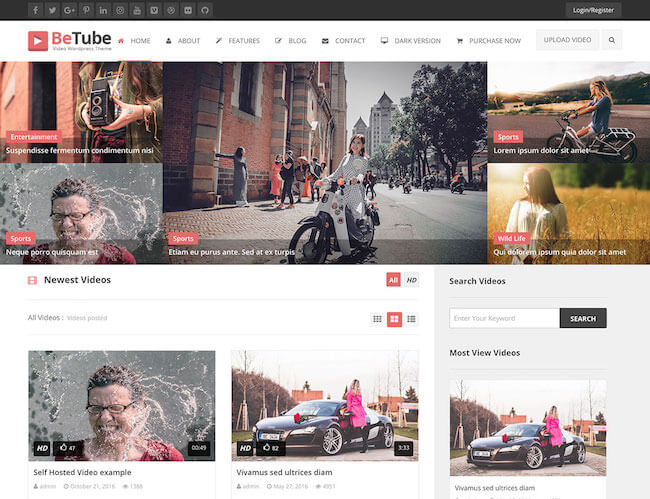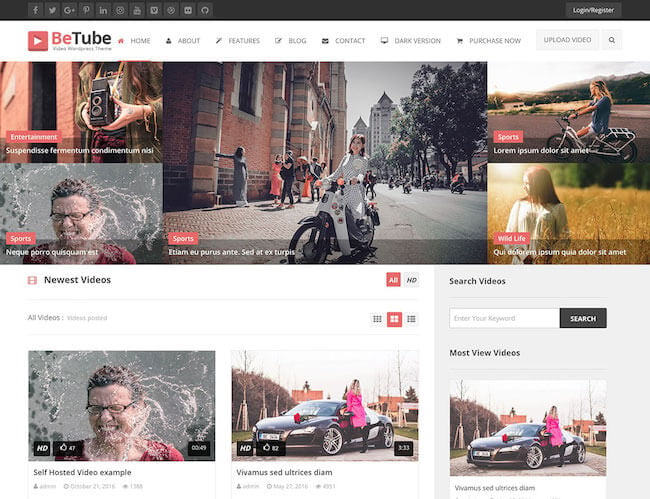 VideoTouch
VideoTouch Video WordPress theme is the best thing which contains exclusive live support optionality. It has many features like Front-end submissions, any video source available, test front-end capabilities, and drag & drop layout builder.
Some more features like unlimited layouts, colors, fully responsive, mobile friendly, secure, and elite author. Built-in Mega Menu and multi-column layout option make it unique from other themes. It is cross-browser compatible and compatible with WordPress Versions from 4.4 to 4.7.x.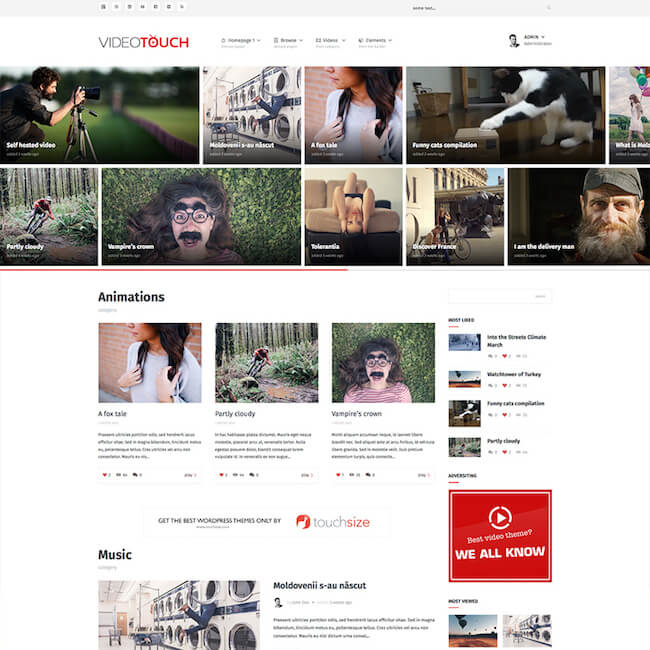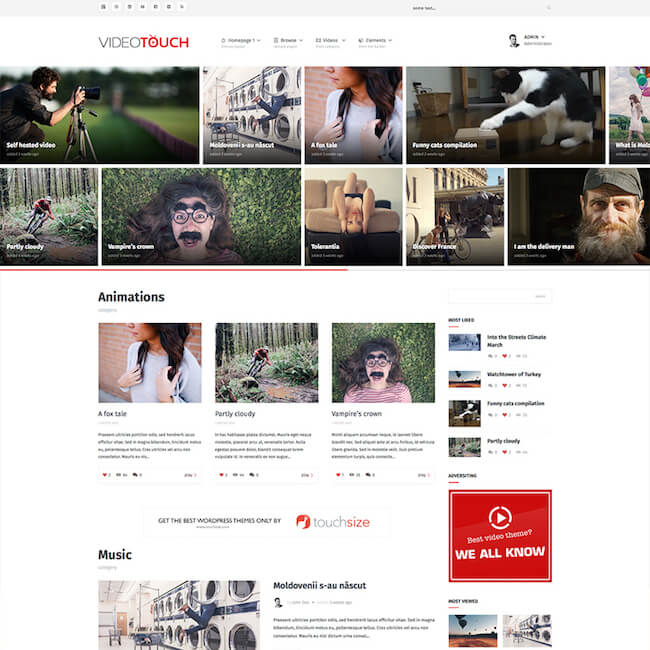 VideoTube
It is a responsive video WordPress Theme. You can easily embed videos from other video sites. You have to just copy the video link from any of the supported sites for embedding videos. It can create Video thumbnails automatically using the thumbnail plugins.
You can upload your videos to the site developed using this theme hence it is found to be self-hosted. It also enables user submission features. Some of the common features of this theme are Custom Logo, favicon, JS, and CSS. It is all features packed theme for building a video website.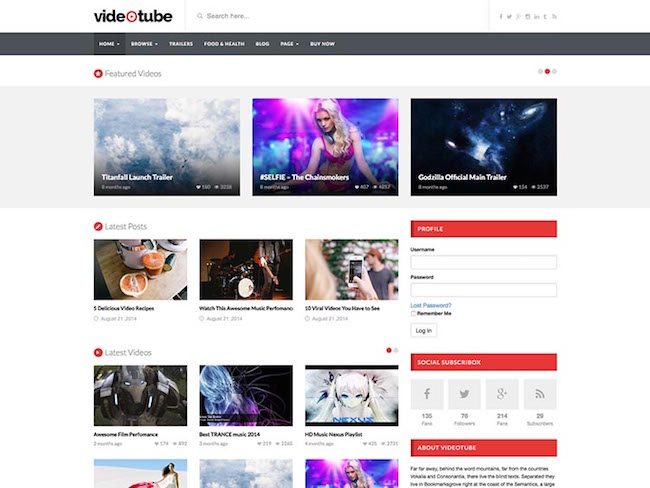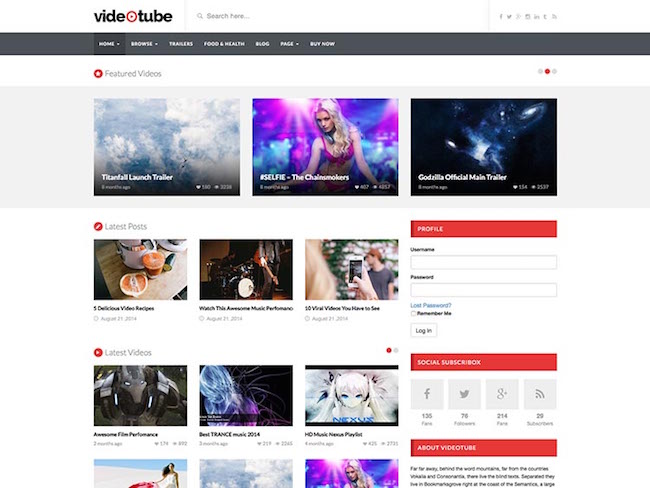 Viem
Viem is a powerful video WordPress theme that you can use to create your video site. The theme comes with a number of unique demo design templates to choose from, you can create your own custom design as well.
You have one-click demo import option so that you can quickly import any of the demo templates to your site and get your site up and ready in a minute.
It is a beautifully created fully responsive and retina ready WordPress theme that will make sure that your site looks great on all devices.
It is a highly customizable WordPress theme that comes with a unique header design option. The theme offers you powerful theme options panel to help you update the details of your site quickly.
It is a lightweight and SEO friendly design that will surely help you to get your content ranked better in the search engines.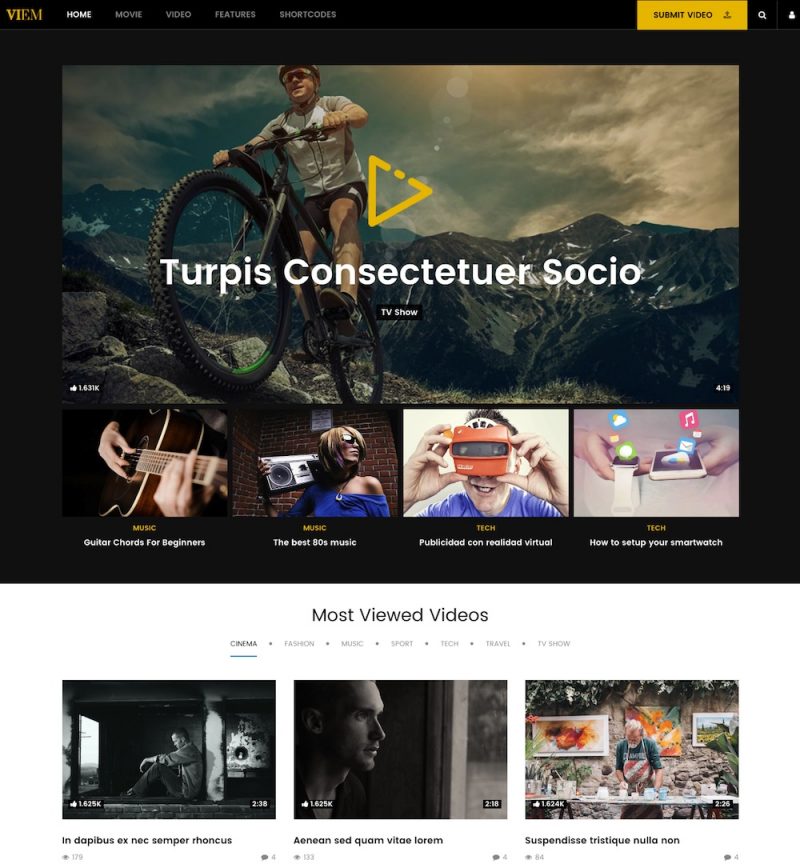 Slimvideo
This theme is found to be a top class product which is built with attention to detail by an elite author. It has various layout posts such as Video Custom Post, gallery custom post, and event custom post. It contains around seven post views with many amounts of options.
Each post layouts are excellent in look and also fully responsive. Some more features include four built-in sliders, demo data, built-in like the system, Google fonts library, events calendar, Solid framework, and portfolio custom post.
The layouts present in this theme are super cool and stunning. The key feature of this theme is an amazing stream slider which is simple to use and has great functionality.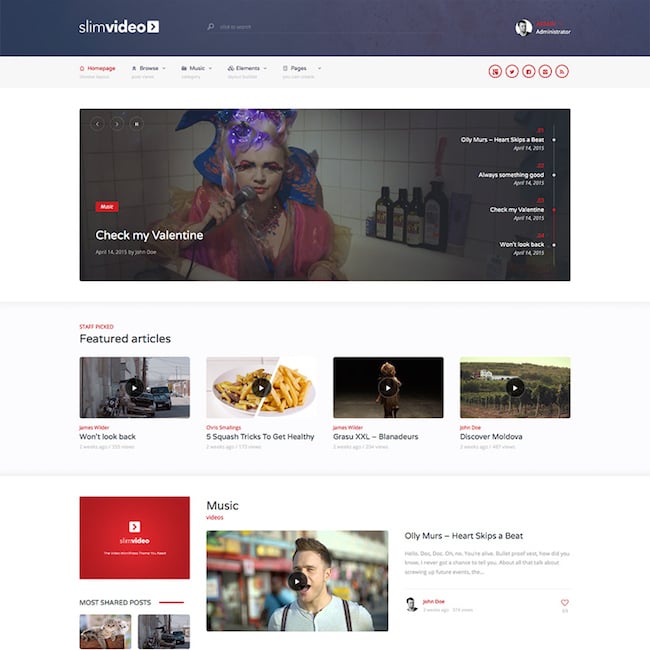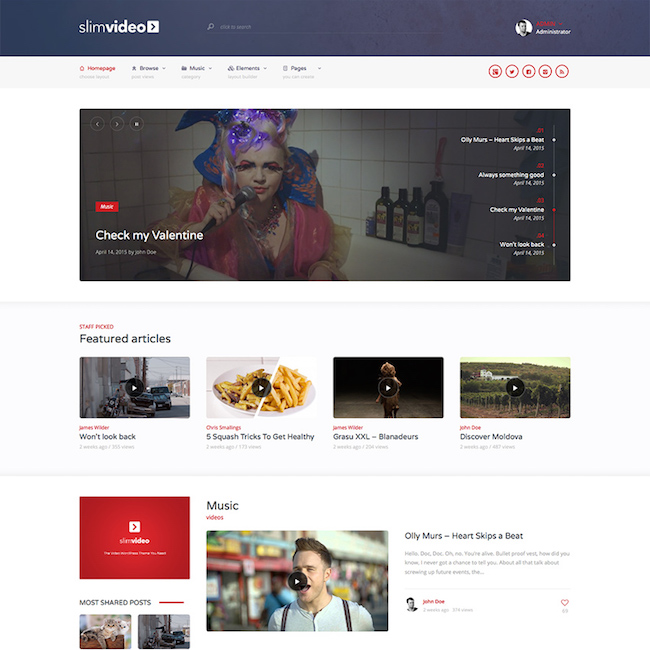 True Mag
It is a modern and clean WP theme for making video blogs & sites, video portfolio, and magazines. It is built with the best practices of UI and UX for a best responsive video theme. It is also SEO optimized.
It is not only apt for video blogs but also for making online magazines, and other blogs. It has various slider styles like a carousel, boxed carousel, wide carousel, metro slider, Revolution slider, big video slider, and much more slider options.
It has two different layout options like the Boxed layout and Wide layout. It also contains exclusive video advertising plugin for playing ads before the main the video. You can also present video channels on your page using this theme. It has much more common and essential features for optimizing your website.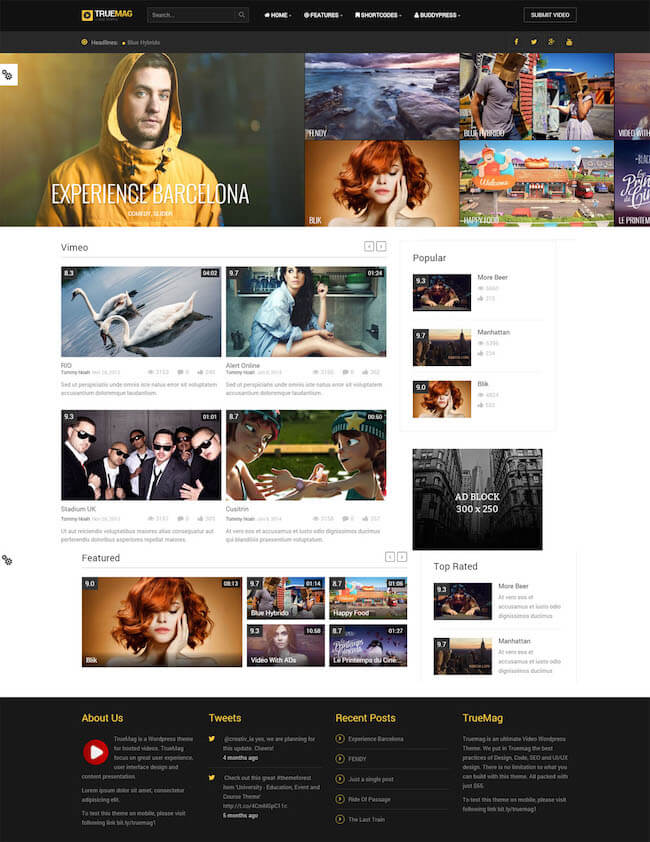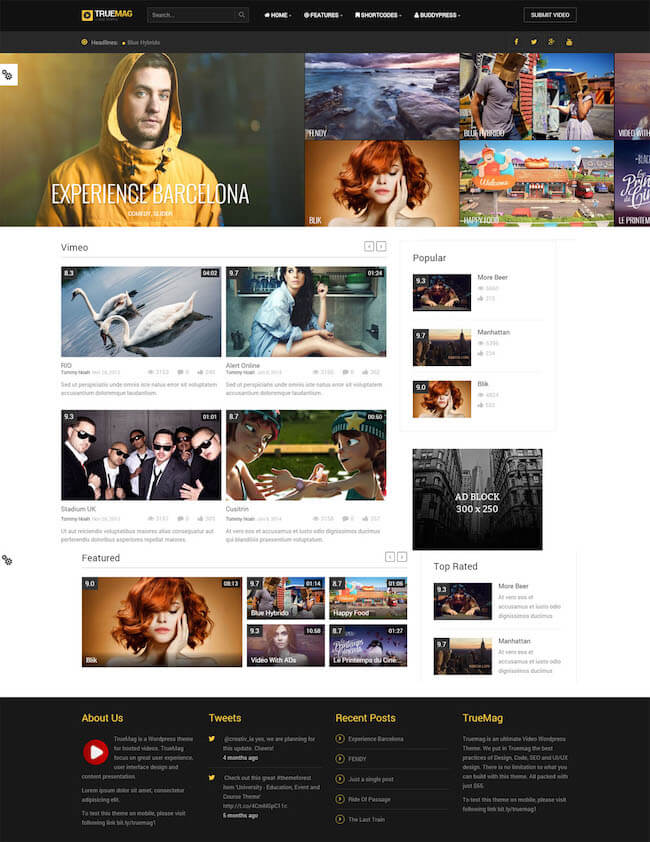 Videoly
A beautiful, clean and trendy video blogging WordPress theme. This video theme offers you some amazing small features that will instantly make you like this theme.
For example, I personally like the feature of where the video you are watching will be active and come to the right bottom corner when you scroll down the page; do check that in a single video page in the demo.
The minimal and clean feel of the theme quite refreshing. It's a great combination of video and blogging features, the single pages you have nice detailed blog layout along with YouTube like video section.
This video theme comes with nine different ready to be used demo design options to choose from and all of them looks stunning.
You have premium drag & drop visual Composer in the theme bundle for free. You can use the theme builder to create your own page layout without writing any code.
This theme is perfectly optimized for the search engines and amazing loading speed so that your users have a great experience on your site.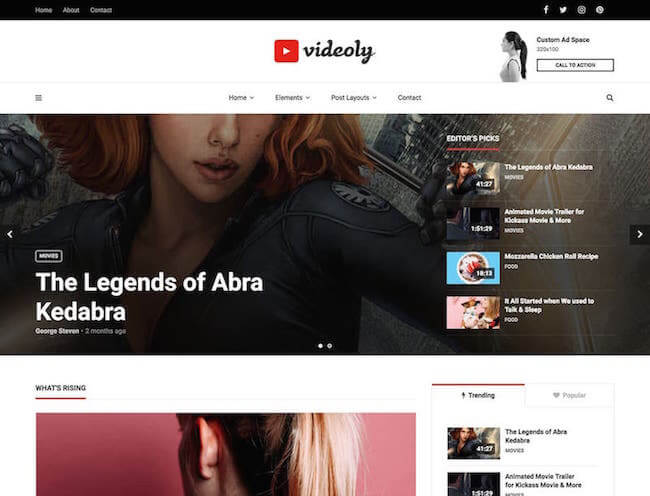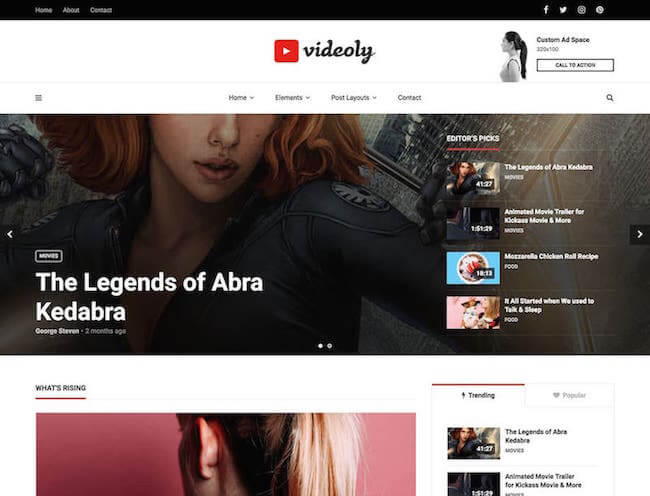 Snaptube
It is one of the premium video WordPress themes. You can use this theme to create perfect video web portals and can embed your videos. This theme is WPML compatible and doesn't need any hard-coded templates.
This thing enables you to build a website using drag and drop modules. It uses great free plugins such as WordPress Video Gallery, AdRotate, BuddyPress, Like Dislike Counter, and Contact Form 7.
It also supports premium plugins like video link Checker and Video Blogster Pro. It is a feature-rich Video theme with options like Google fonts (100+), and more advanced options.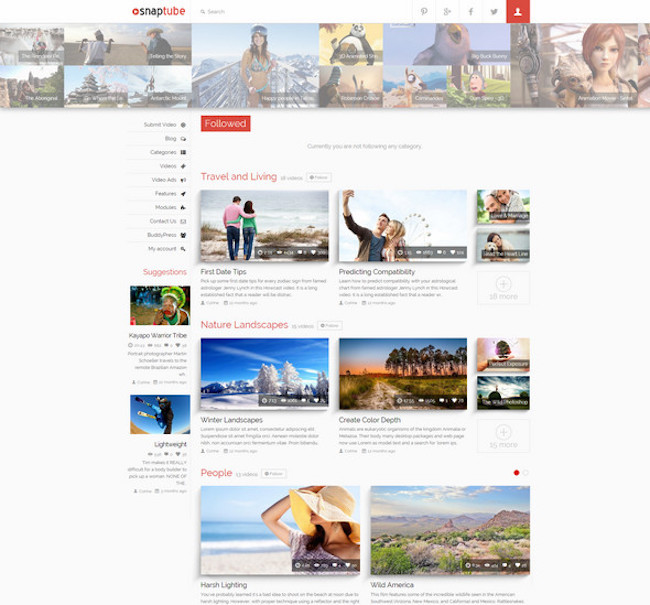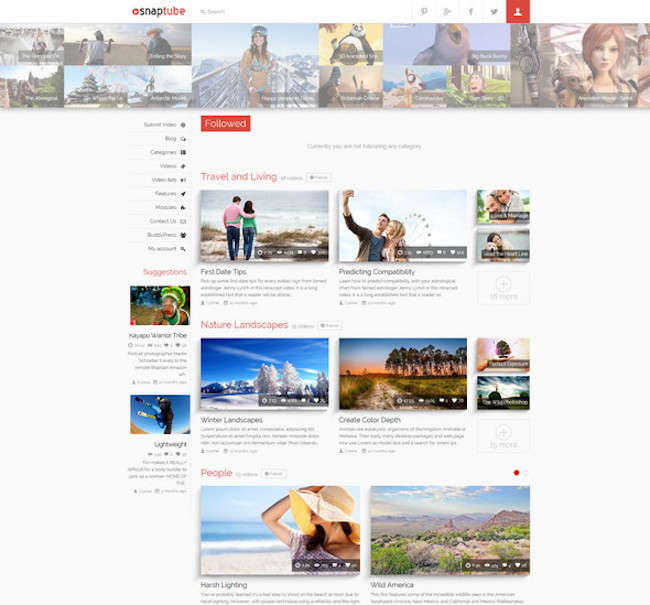 VideoPro
I would call it a multipurpose video theme that offers you multiple layout options to choose from. If you use this theme for your video site, you don't have to stick to the traditional YouTube style design rather you can have your own branded design for your site.
This video theme comes with the membership model so that you can use it for your site and make money. It is also compatible with the BuddyPress plugin making sure that you can have your own video community on your site.
Your community user will have the front-end video submission option helping you to have fresh content all the time.
The developer has introduced Google AMP and Facebook Instant Articles to make sure that your video articles look great on all devices and offers amazing performance.
Features like video list, video channel, live video options make this theme one of the top choices for your video site.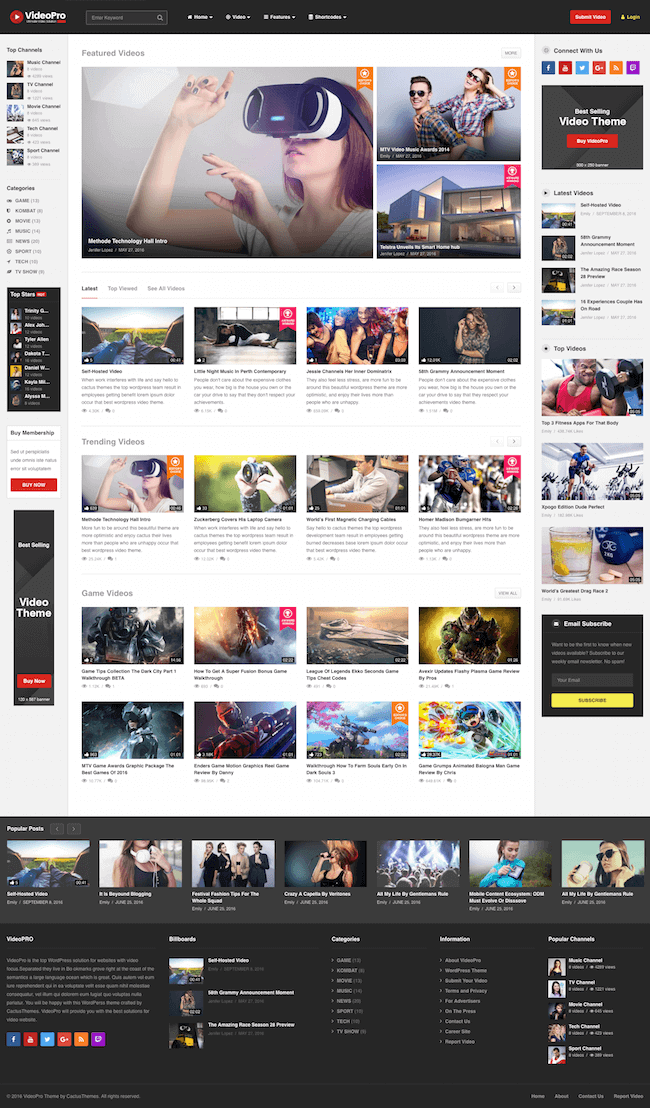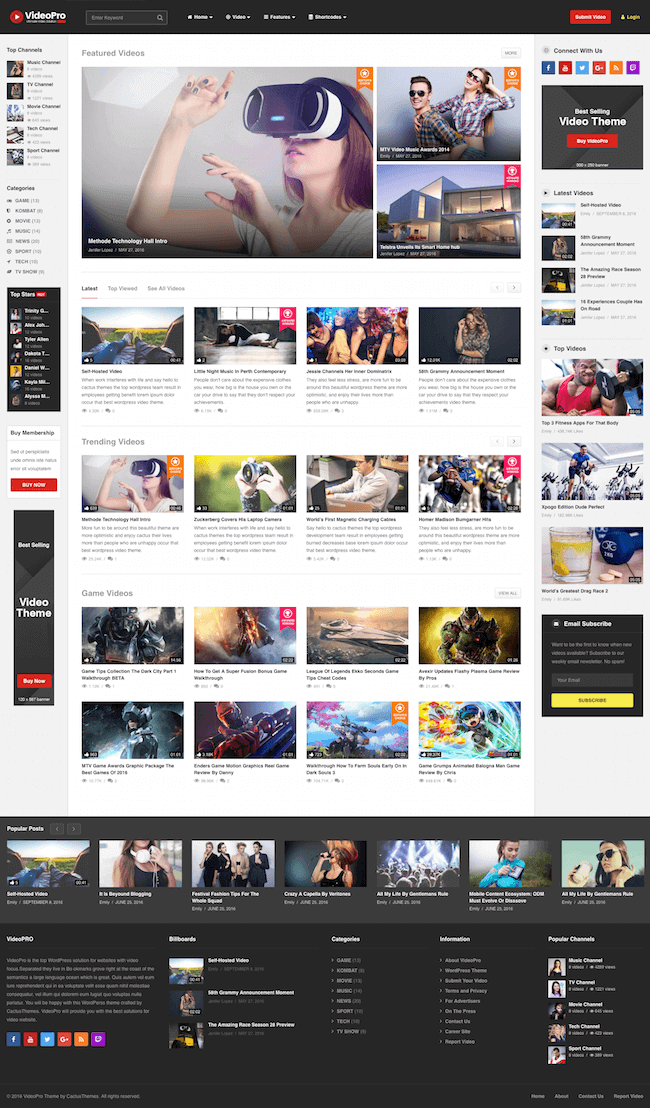 Filmmaker
This theme is extremely suitable for any websites like a film studio, filmmaker center, film production, Vlog sites and much more. Its elegant and modern design makes you independent from other websites like YouTube, and other online sites.
The filmmaker is supported with WPML plugin so you can have multi-language sites. Some of the important features include four home layouts, lively movie detail page, professional director and detail page, 600+ Google fonts and much more. It also can have custom maps, icons, directions and other information boxes.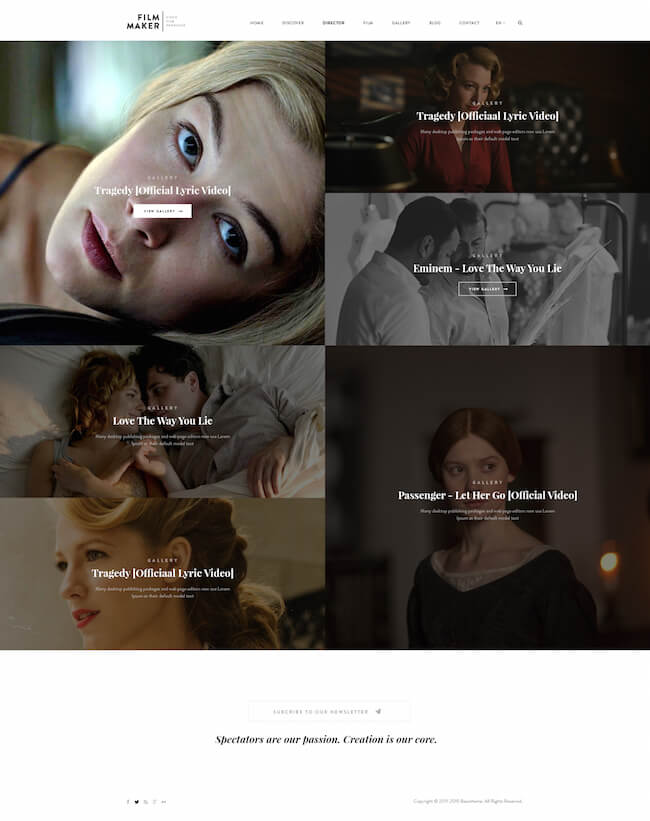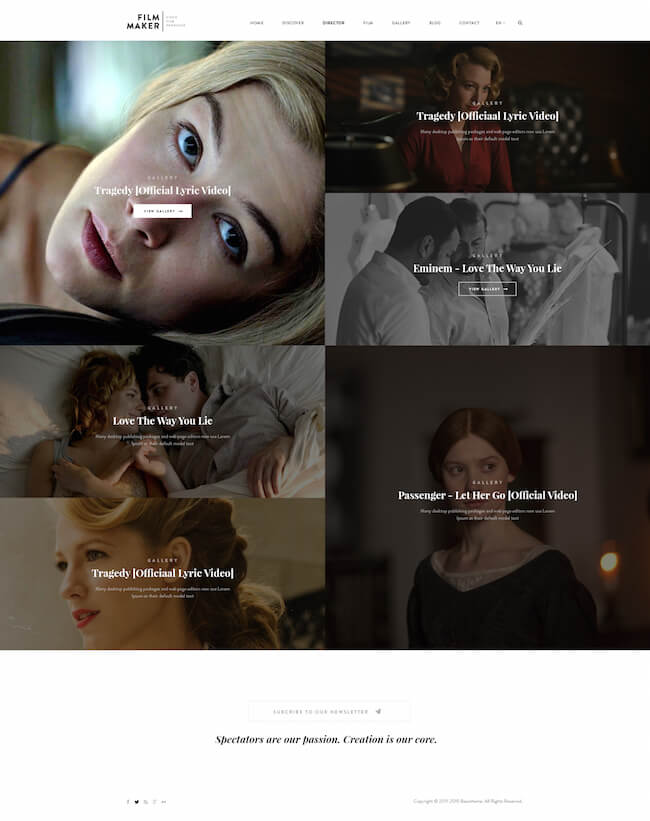 Video World
This theme helps you by producing host video embeds and self-hosted flicks. This theme is considered to be a new generation WP video theme.
This theme is found to be Cross-browser compatible which is approved after testing on browsers like IE (8, 9, 10, and 11), Edge, Safari, Firefox, iOS, Windows Phone, and Android.
Some of the important functionality present in Video Word theme is Easy logo integration, color customization, Child theme ready, and WooCommerce ready.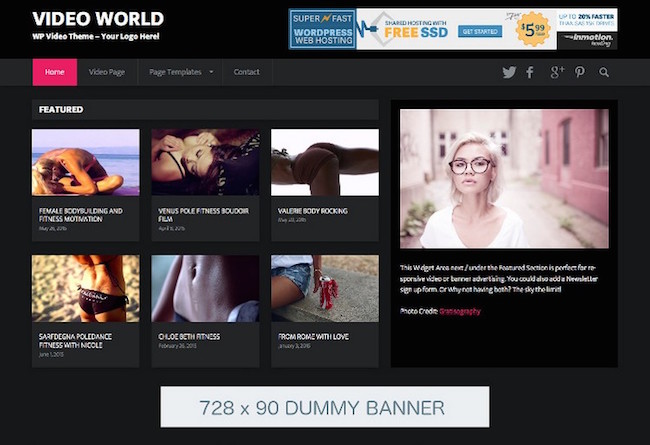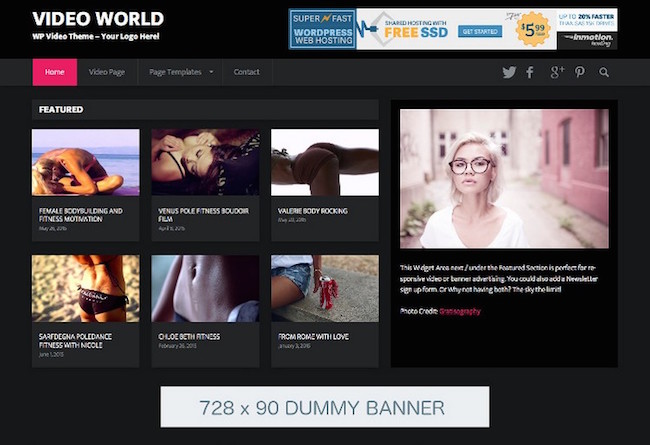 Vysual
This theme is found to be a responsive film campaign theme. Also, it is an award-winning WP theme which is mainly designed for film campaigns and official movie sites. The HTML version of this theme is also available on the web.
Theme options in Vysual can be optimized using WordPress Theme Customizer. It is said to be mobile friendly which is tested by Google developer. Some of the advanced features include AJAX loading, advanced jQuery animations & effects, and constant free updates.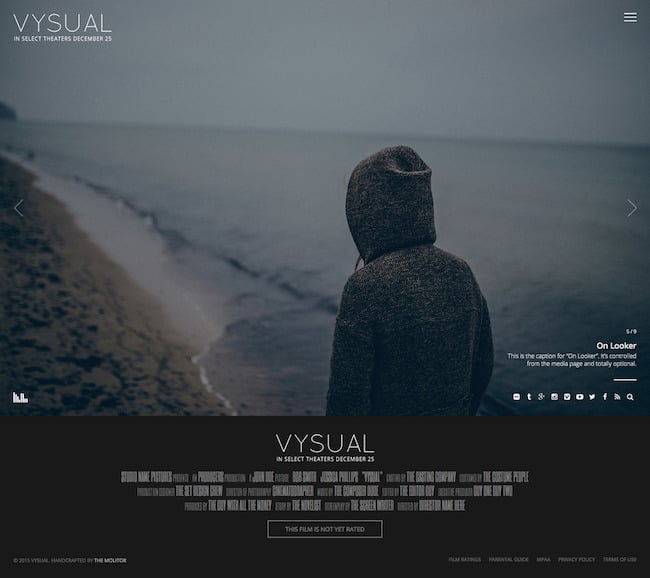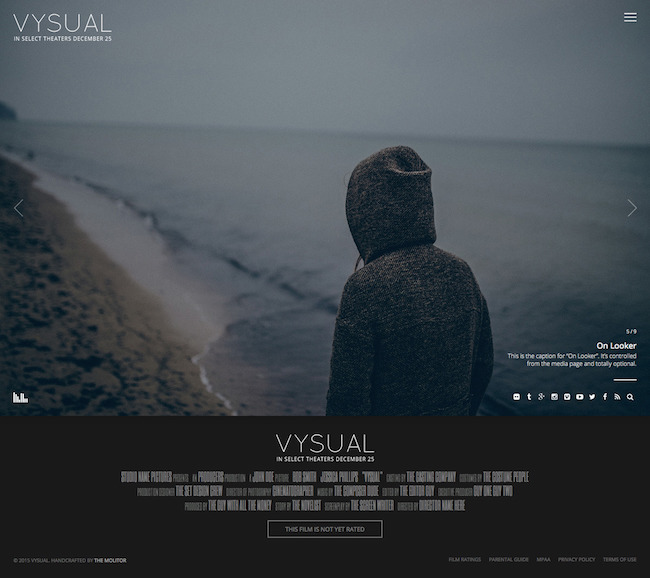 Vidiho
It is the first Video Blogging WordPress theme of CSSIgniter. It contains built-in video functionality of WordPress for embedding videos smoothly. It has HD slider which can be used for showcasing the popular videos on the Home page.
It has all essential widgets like content widgets, social networking, twitter, and much more. The search engine optimization used in this theme will make your website rank higher in search engines like Google and more.
It has all standard features and functionalities like translation ready, retina ready, speed optimization, and frequent updates. This theme is compatible up to the version 4.7.2 of WordPress.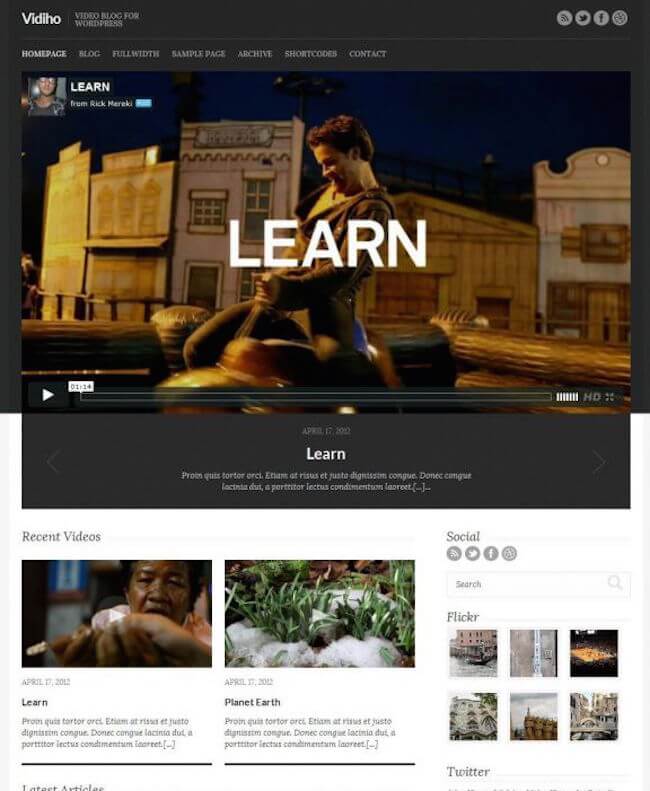 SocialPlay
SocialPlay is a wonderful thing for creating Websites to share with the audience. It is a media sharing WP theme which has key features like Audio & Video manager, user profile manager, sync media form, and much more.
You can directly sync your media from every favorite website like YouTube, Vimeo, Metacafe, and more. This theme is featured with two different looks like Light and dark. Also, it is completely responsive, and PSD files are also available with this theme.
One of the special features of this theme is Top notch page builder which can produce your website at the higher professional quality.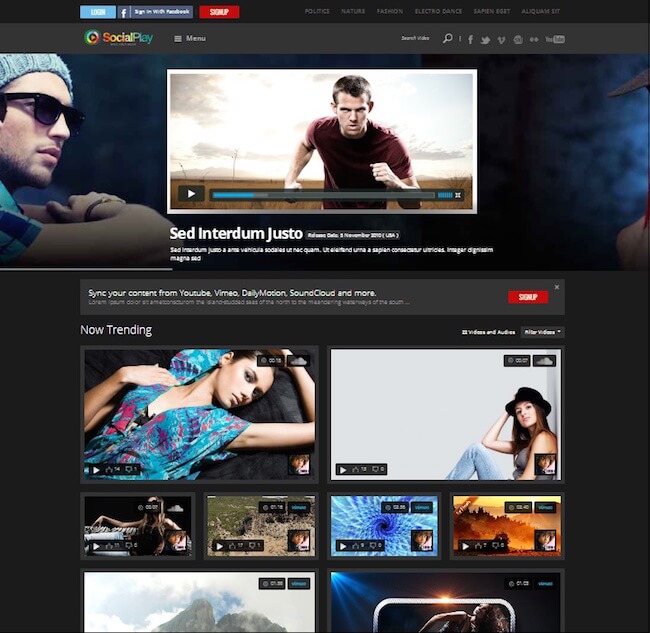 The Producer
This theme is said to be a responsive film studio WordPress theme. This theme is designed by focusing on the studios and production companies. It has a special feature called Panel effect for scrolling. It also has the standard credit roll effect.
It contains video options on the homepage. It has various page templates like Wide, static, and static wide page template. It is also provided with background pattern control. Logo customization in this theme can be done in just a matter of seconds.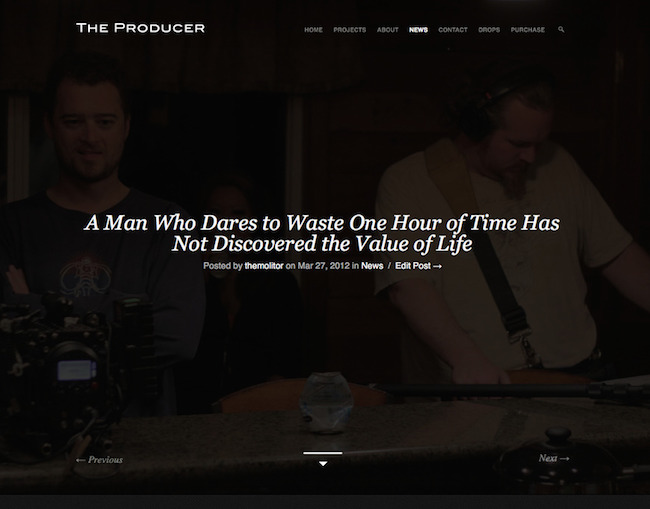 Viduze
It is considered to be a premium video magazine WordPress theme specially made for video related internet sites. The Localization support in Viduze is found to WPML compatible. It is both SEO and Mobile friendly.
The websites created using this theme is found to be Ultra Responsive. It contains Iframe video support for posting your videos using Video sites.
You may also upload and host your videos using this theme. It is embedded with WooCommerce and BuddyPress for better functionalities.
It contains multiple blog layouts for optimization. Some of the important features are 22+ background patterns, awesome font icons, blog posts with AV and images, and social share.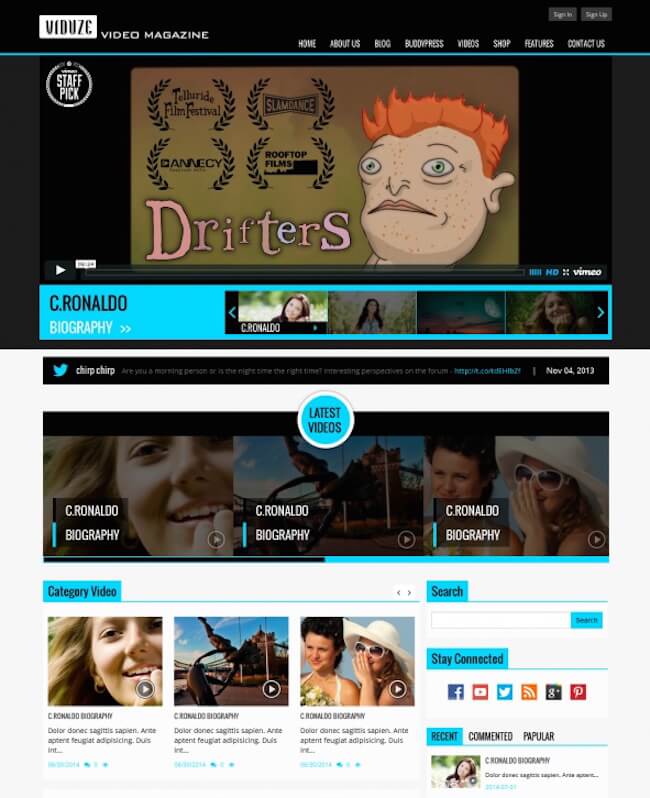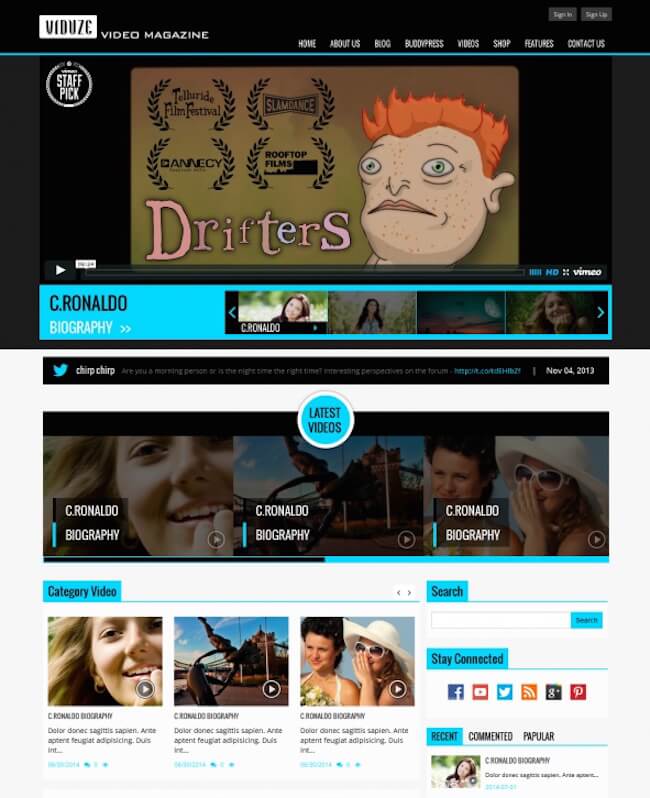 VideoPress
It is a self-hosted video streaming WordPress theme which makes your work simple in uploading own videos and make them streamable. Using this theme, you can build a site and could become the next YouTube website too.
Some of the essential features of this theme include third-party video hosting, featured video playlist, multi-widget layouts, layout builder, more than 100 shortcodes and even more functionalities to fulfill your thirst.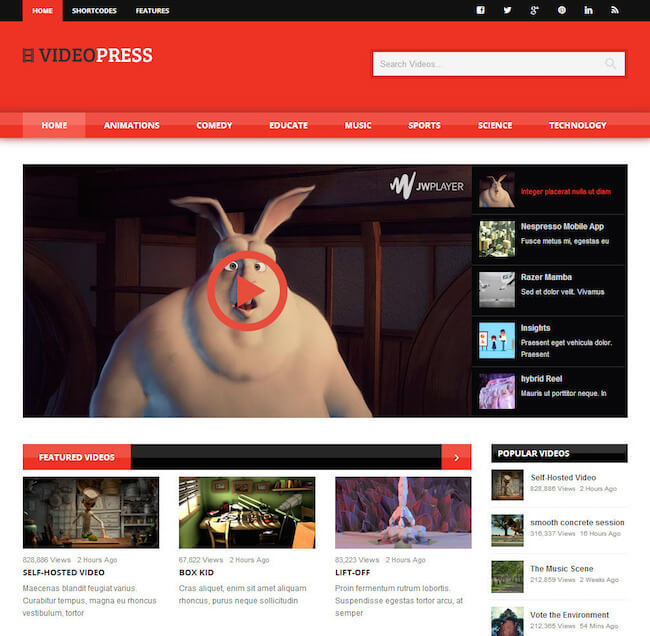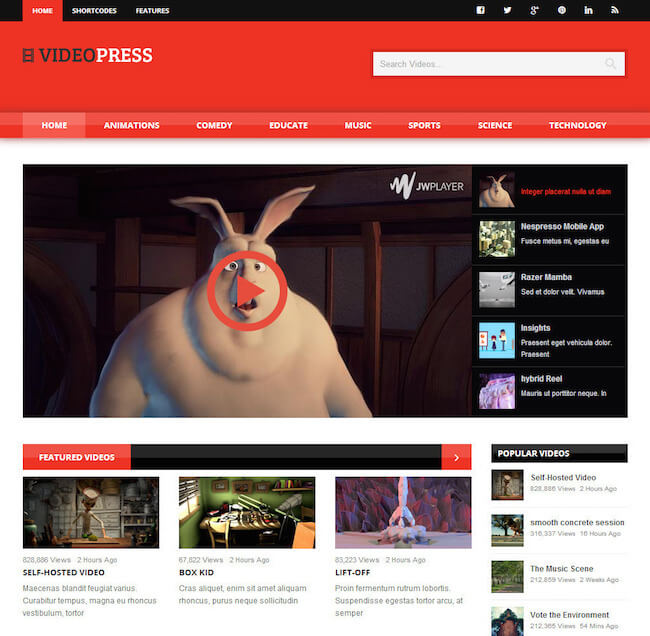 Video Theme
Video theme helps you in setting up your video community websites by enabling import tools for Video sites like YouTube, Metacafe, and more.
Some of the important features of Video theme are responsive website design, one-click installation, simple customization, robust Admin Tools, user/ admin video uploads, and import tools.
It is also provided with the standard facilities like multi-lingual support, SEO friendly, WP plugin support, free child themes and much more.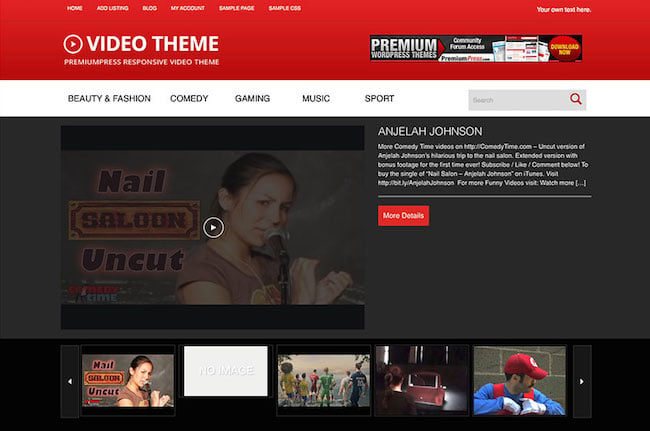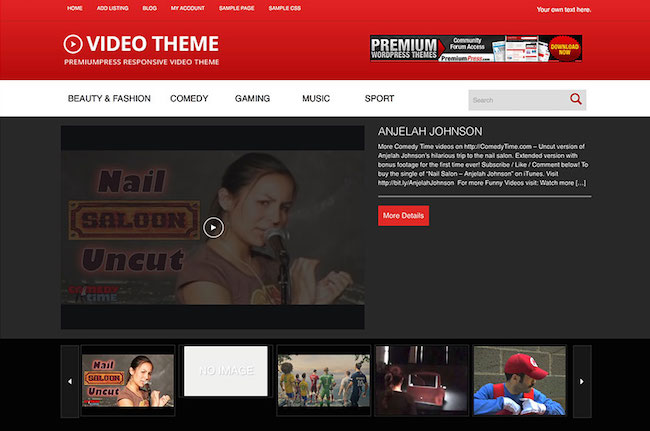 VideoZ
This theme is focused on designing websites publishing video contents. It contains drag & drop homepage builder which enables smooth customization of the homepage. It includes a library of shortcodes that can be utilized for making more accurate jobs simple.
It provides personal support, regular updates, responsive design, grid & blog layout, custom menu, widgets, and social sharing optionality.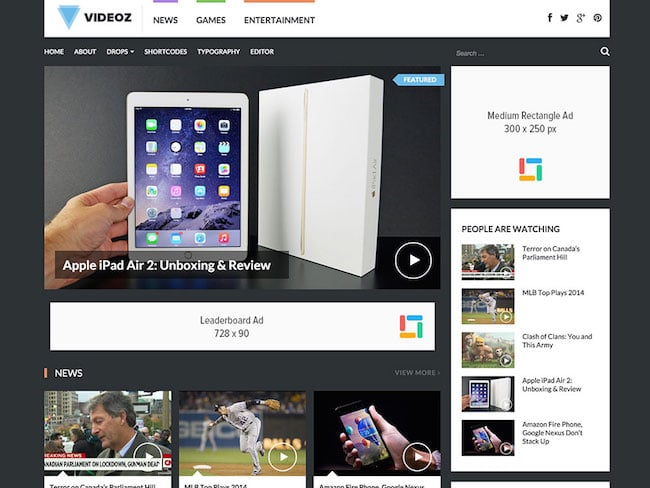 Primero
This theme is a video WordPress theme with three featured sliders, unlimited portfolios, and much more features. Some of the important features of this theme include video & image support, simple customization, four navigation styles, layered PSDs included, Portfolio options and much more.
This theme is found to be cross-browser compatible and compatible with WordPress versions from 3.6 to 4.7.x.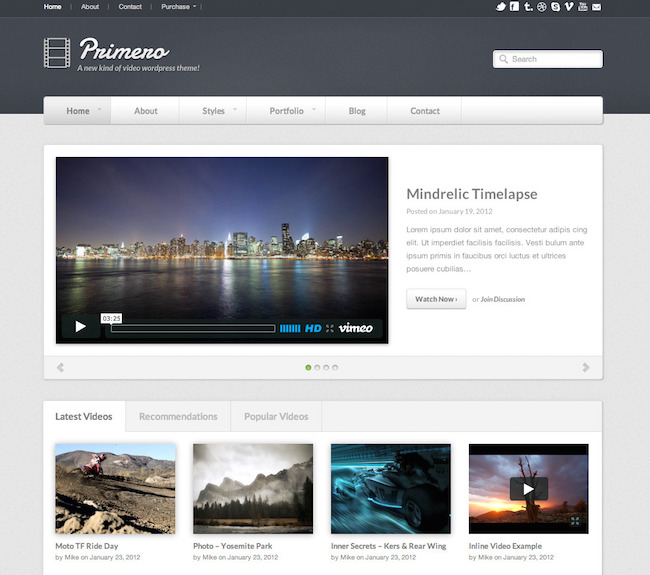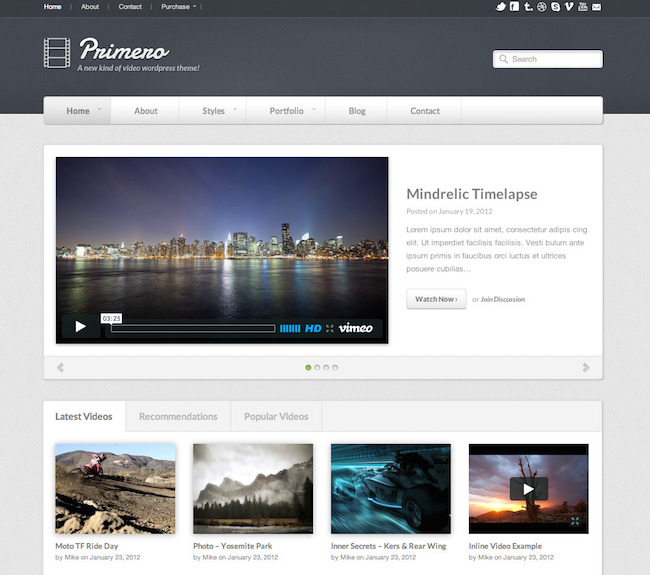 These are some of the best video WordPress themes that you can use to create your video site on the WordPress platform. They had various features and priced differently. Check out their Demo and buy the one you loved.