If you are looking for the best WordPress website builders, here is our list of the top options that you can use on your site.
Before you go for any website builder, you need to check if the theme you are using is compatible with the builder of your choice.
Creating websites with the inception of WordPress has never been easier. The content management system or CMS offers a lot of customization potential and flexibility which can help you create professional-grade websites that too without any coding knowledge.
WordPress offers plenty of website builders fully equipped with design elements and modules to create your dream website.
These website builders are available in the form of plugins that you will have to install on your WordPress website to make use of it.
So without further ado, let's get started:
Elementor Page Builder
The Elementor Page Builder is currently the most popular and fastest-growing website builder. It has amassed a big following thanks to all its premium-grade features and functionalities.
The key appeal of Elementor is its intuitive user interface. It is extremely colorful and comes loaded with a lot of options organized neatly making them easily available.
Apart from this, you will also get access to a templating system which will help you save your designs for later use.
And if you are having problems starting, then the plugin also offers hundreds of premium templates that you can use to create your website.
Best of all, the plugin comes in a free version boasting all the main features. This makes it a lot more accessible and loved by its users.
Features:
Frontend editor.

Extremely intuitive interface.

Supports posts, pages, and custom post types.

Offers a revision history screen for undoing or redoing your designs.

An in-built templating system along with export and import options.

WooCommerce supported.

Support for default and third-party widgets.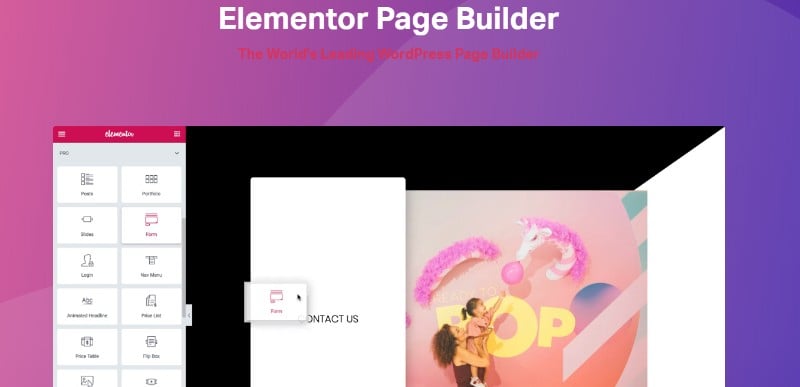 Divi Builder
The Divi Page Builder is one of the most powerful visual page builder tools for WordPress. It offers a complete WYSIWYG experience to help you create your website using drag and drop gestures.
You will even get options like copy, paste, undo, and redo, which makes the website designing process a whole lot simpler, and quicker.
Divi gives you access to over 46 content modules that you get to use for structuring your website. All these elements also come with their own set of customization options for added flexibility to your design.
You will even have control over the rows columns, margins, paddings, and other aspects of your website layout.
And in case, you are not in the mood to create your own custom design, the theme also offers a bunch of ready-made layouts and templates to help you get started.
Simply pick a template that resonates with your desired site, and tweaking.
You get the Divi Builder when you plan to buy the Divi Theme. In fact, it is a part of the overall package and as you take their membership, you will get access to over 87 products that include Divi Theme, Divi Builder, Bloom Plugin, Monarch plugin and more.
Also, you will get a 20% discount by using our link below
Features:
True WYSIWYG experience.

Frontend and backend editor.

Over 20 premade layouts.

Over 46 design modules.

The interface is highly intuitive.

Developer-friendly: supports custom HTML5.

Export and Import functionality.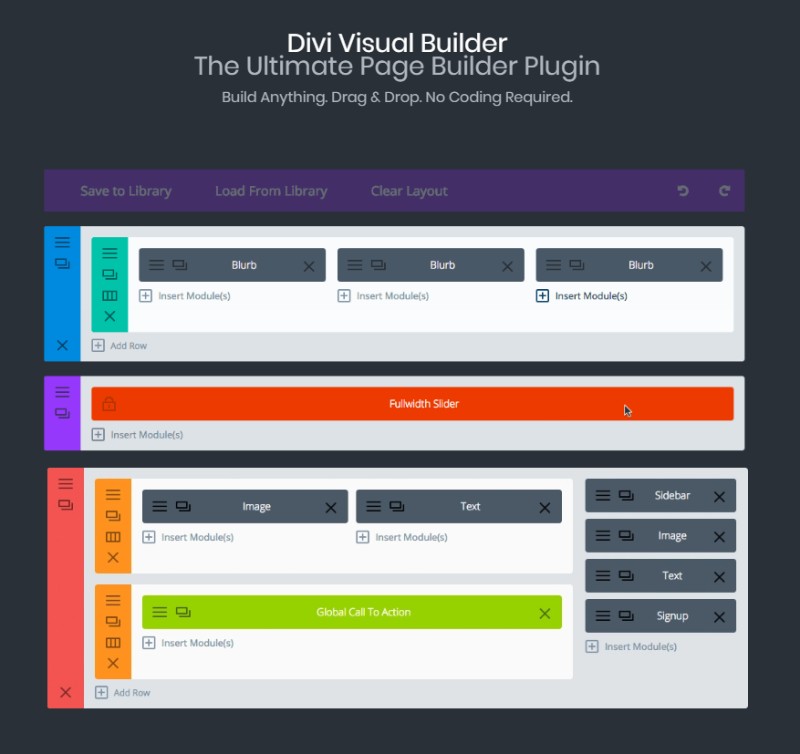 ThriveArcitect
ThriveArchitect is a conversion-focused visual editor and page builder for WordPress websites. It sports a familiar drag and drop interface to help you build high-performing landing pages.
Although it can be used to create any general-purpose webpage, its feature set does make it an exceptional choice for creating high converting landing pages.
You will get access to a bunch of landing page templates to help you get started with your site's design. On top of that, you will get an array of prebuilt conversion elements which includes elements like testimonials, countdown timers, lead generation forms, and so on.
All of these can be integrated into your site in a matter of a few clicks.
Apart from this, there are plenty of other elements and design options to help make your site more engaging.
Features:
Frontend editing.

Filled with a lot of marketing features.

A dedicated templating system to save your layouts.

Content module sidebar for seamless site creation.

Revision history from where you can undo or redo your edits.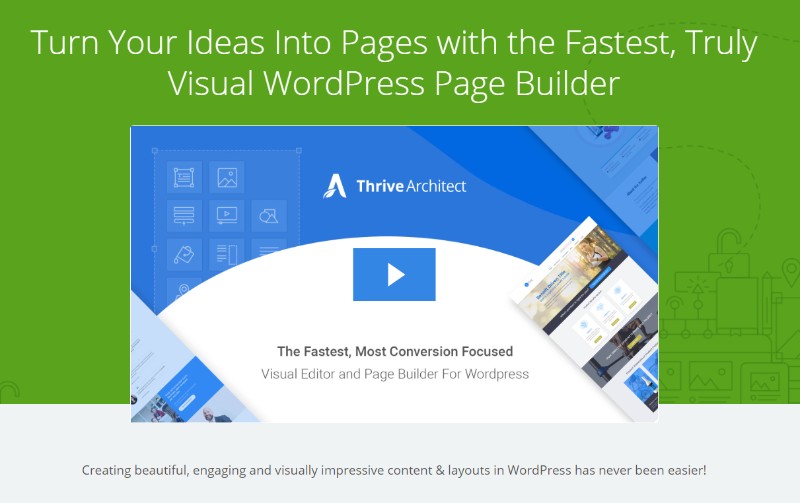 WPBakery Page Builder
WPBakery, formerly known as Visual Composer, is one of the most popular and highly powerful page builders for WordPress.
In fact, a multitude of developers has used the WPBakery plugin to help them build WordPress themes and websites. The plugin composes of a front-end editor which helps you style your content and a backend post editor.
Once you have installed the plugin on your site, you will have access to over 45 content modules starting from all the basic elements like post grids and charts, to special social media modules, and much more.
To add on top, Widget support is also provided which makes design options absolutely limitless.
And if that's not enough, you can extend its functionalities by installing some of the 150 available add-ons for extra functionality.
Features:
Backend and Frontend editors.

Intuitive page builder interface.

Boasts a lot of options which can make it feel bloated at times.

Supports custom post types.

Supports many popular WordPress plugins including Yoast SEO, WooCommerce, and so on.

Option to expand functionality using over 150 add-ons.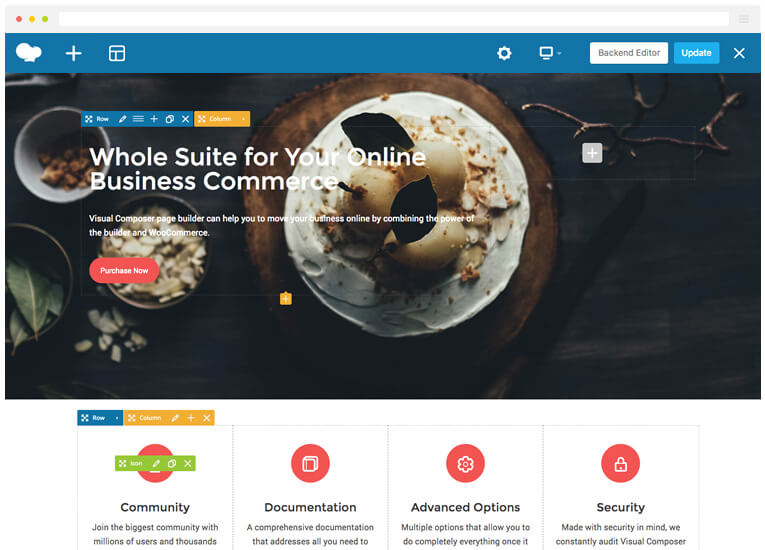 MotoPress
Next up we the MotoPress Content Editor – a powerful drag and drop page builder which is compatible with every WordPress theme.
The plugin offers a front-end editing experience with a lot of content modules, styling options, together working to help you design pages, posts, and even some custom post types.
Once you install the plugin, it will do a complete overhaul of the default WordPress post editor and replace it with a visual interface. You will be given access to 6 different design categories for creating your website.
What's more, you will get access to over 20 different design modules, different post grids, Google Maps support, and much more.
It also supports widgets. And if you want even more features then there are plenty of premium add-ons to help you out.
Features:
Front-end editing.

Support for posts, pages, and custom post types.

Over 30 different content modules.

Support for premium add-ons for providing extra features.

A dedicated style builder.

Themify Builder
The Themify Builder is one of the most intuitive drag and drop page builders on the market. Even beginners will be able to create professional-grade websites using the tool.
It allows you to create your site layout as well as tweak the content style using a frontend and backend editor.
The plugin offers an abundance of styling options and provides a great deal of customization control. On top of that, you get features such as video backgrounds, animation support, over 16 content modules, and much more.
Also, if you intend to expand on its feature list, then there is the option to install 9 add-ons for extra functionalities.
Features:
Frontend and backend editors.

Over 40 premade layouts.

Intuitive settings along with options like copy, paste, undo and redo.

Support for pages, posts, as well as custom post types.

Supports mostly all the popular WordPress plugins including WooCommerce, and Contact Form 7.

Comes with a built-in cache system to reduce the load on the server.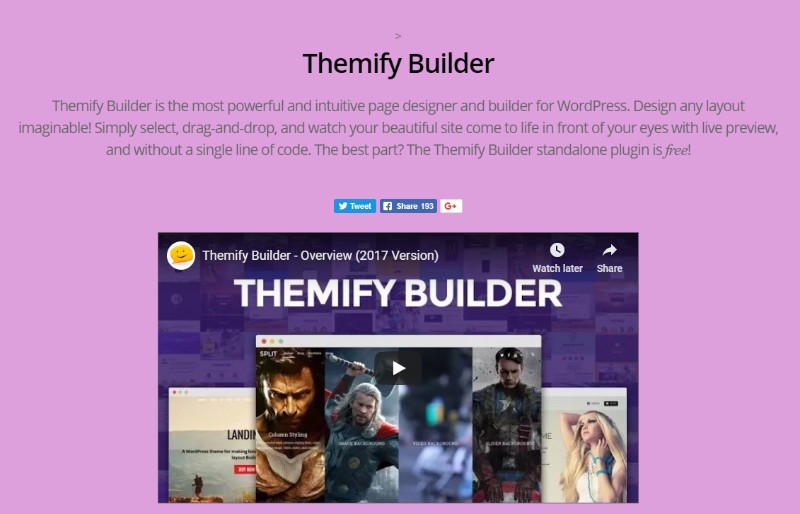 Beaver Builder
Beaver Builder is another one of the popular drag and drop page builder plugins that you will find used by many developers and included in many WordPress Themes.
Apart from giving you access 20 content modules for designing your websites, it also comes with 15 ready-to-use page templates to help you in case you are suffering from a creative block.
The plugin has support for custom post types which makes it really helpful for users and developers working on a unique project.
WooCommerce compatibility also makes it viable for creating online stores. Furthermore, Widget and Shortcode support really add to the overall flexibility you get with the plugin.
Features:
Live front-end editor.

Intuitive interface.

Over 20 content modules along with premade page templates.

Support for posts, pages, and even custom post types.

Offers a dedicated templating system.

Import and export functionalities.

Supports widgets as well as shortcodes.

WooCommerce support.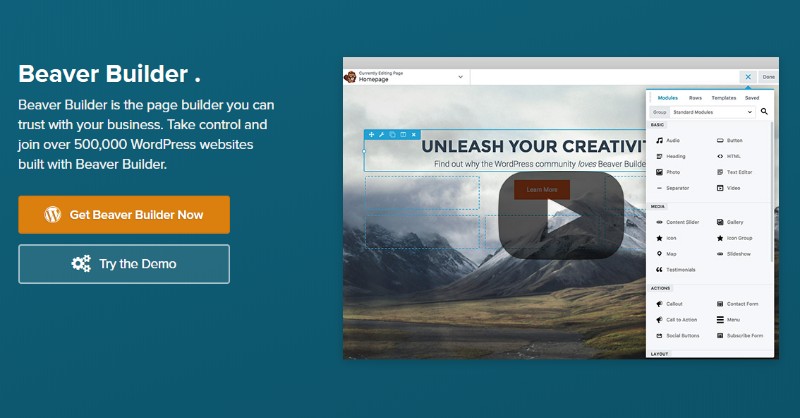 Page Builder Sandwich
Page Builder Sandwich is a premium front-end website builder for WordPress. It mainly focuses on customization rather than helping you build a website from scratch.
The plugin offers plenty of options to help you tweak around with the rows and column structure, and change the text formatting. But sadly, there aren't many content modules to go with it.
And the plugin is best used in juxtaposition to a theme in which you want to have control over the layout and structure.
You will still get access to a handful of design modules like tables, carousels, and newsletters. And even though it lacks content modules, there are plenty of widgets to help fill in the gap.
Features:
Front-end editing.

Control over your site's layout.

Comes with 10 page templates and 40 premade sections.

A complete WYSIWYG experience.

Support for posts, pages, and custom post types.

Shortcode and widgets supported.

Option for history revisions with redo and undo buttons.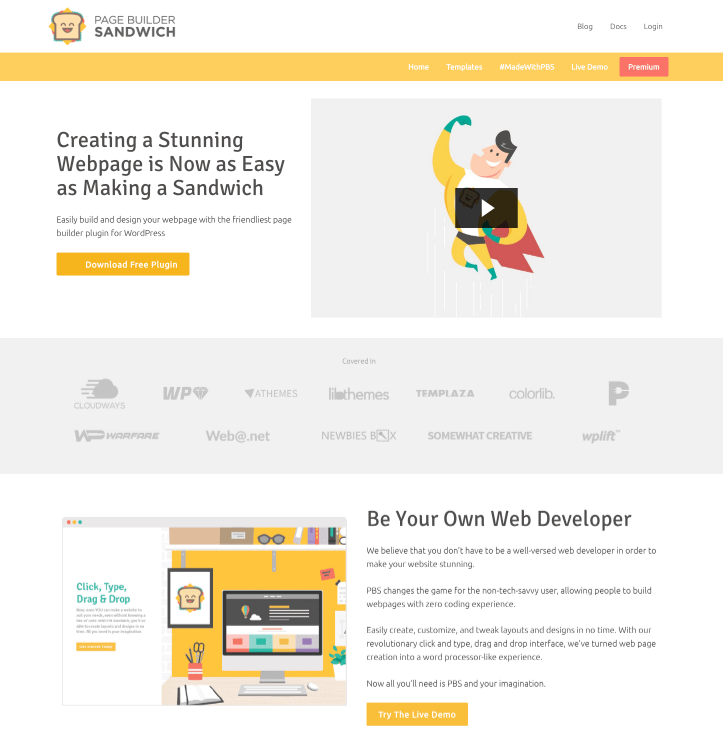 SiteOrigin Page Builder
In case you are a little bit tight on your budget, then the SiteOrigin Page Builder is an excellent alternative. It is a free-to-use plugin, which covers many of the useful features found in its paid alternatives.
It offers an intuitive interface to help you create a professional-looking website layout.
The plugin offers access to a powerful row and columns builder to help you design the basic layout of your website.
On top of that, you will get access to six basic widgets to populate your website. And if that seems somewhat limiting, you can get the SiteOrigin Widgets Bundles which comes with a massive library of widgets to help you out.
Features:
Free to use.

Frontend and Backend editor.

Control your site's layout by tweaking column and row structure.

Support for page, posts, and custom post types.

Comes with 13 premade layouts which you can use as templates.

Supports WordPress widgets.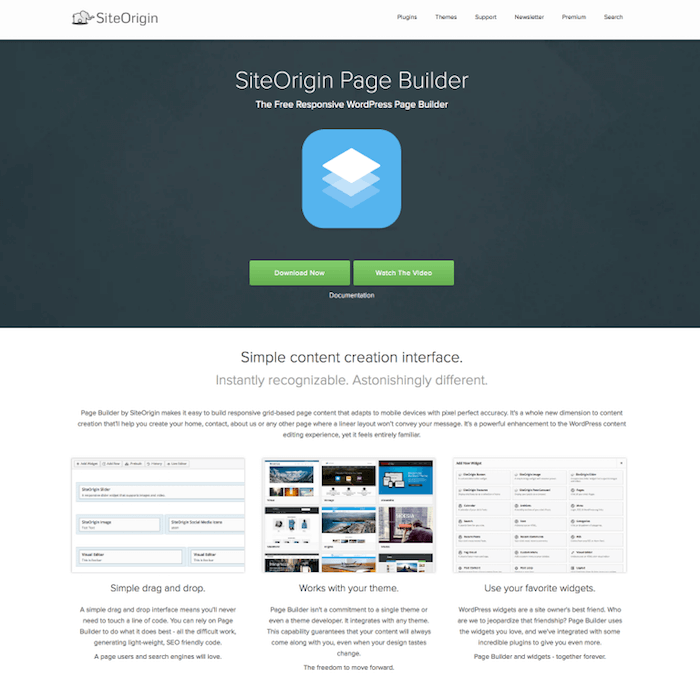 Live Composer
Live Composer is another free WordPress website builder which also happens to be open source. It offers an intuitive drag and drop interface to help you create stylish pages directly from the frontend.
You will get access to a handful of design options including features that let you tweak the styling of your website along with plenty of design modules.
On the feature side of things, you will get access to over 30 content modules that cover pretty much all your basic necessities.
This includes stuff like sliders, galleries, testimonial pages, and much more. Some of the modules can even be used to create dedicated pages like blogs, staff page, and testimonial pages.
Features:
Frontend editing.

Intuitive user interface.

Provides access to over 30 content modules.

An in-built templating system with the option to save, load, import, and export.

10 premade layouts to use as templates.

Option to expand functionalities with paid(affordable) extensions.

Widgets supported.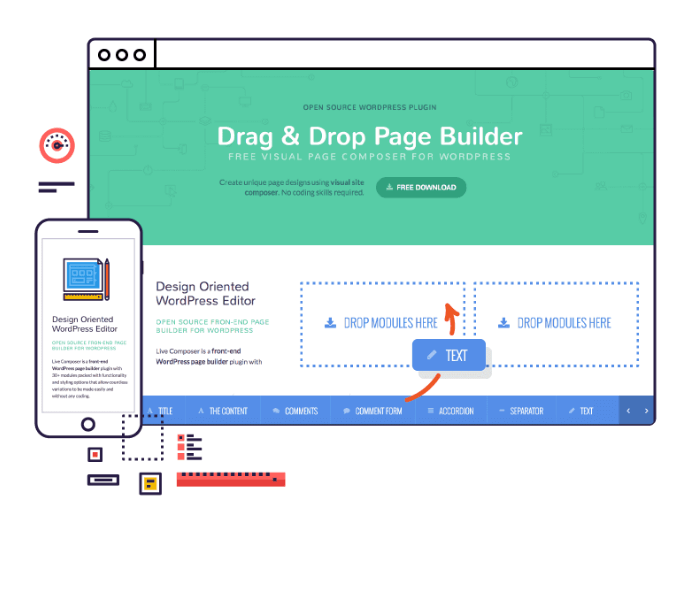 In Conclusion
So these were our picks for the best Website builders for WordPress. All these plugins come with plenty of features of functionalities to help you create an amazing-looking website that looks modern as well as professional.
So do let us know if you found the read to be helpful, and if you did, don't forget to share it along with your friends and colleagues who also happen to own a WordPress website.
And lastly, if you have used or currently use any of the plugins mentioned above, then do write about your experience using them in the comments below. Your fellow readers will love to hear it, and it might also help them with their decision.