If you are into a restaurant business, here is a collection of the best restaurant menu templates mockup that you can use to create your menu.
Now, when it comes to the presentation in your restaurant, how you display your menu can make a lot of difference.
Before any customer tests your food, they will go through the menu and at the same time they will make a perception about the quality of your restaurant and food just by looking at the menu, so it has to stand out.
If you present the menu of your restaurant in the most attractive way with delicious food images, it will instantly increase the food craving of the food lovers and engage them.
Creating a successful menu certainly need some amount of creativity. Any general user can spot the difference between a high-quality menu and just another menu almost instantly.
So, take your time, good through these quality restaurant menu templates and create a stunning menu design.
Other than the ambiance of your restaurant, the menu will create the first impression of your restaurant, so why not put some effort and make it a great design.
We have collected the top mockups of restaurant menu templates in this article. You can select any of these designs and edit it to make it yours.
Top Restaurant PSD Menu Mockup Templates
Unlimited Downloads: 1,500,000+ Mockups & Design Assets
via
A subscription to Envato Elements gives you unlimited access to over 1,500,000 Fonts, PowerPoint Presentations, Stock Photos, Videos, After Effects templates, Mockups, CMS Templates, Photoshop Actions, HTML5 Templates and even InDesign files – anything you can think of with no download limits!
Food Menu Mockups
As the name suggests, this is a pack of some amazing food menu mockup templates that you can use to create your restaurant menu.
These PSD files are easily editable to make sure that you are able to create the perfect template for your food business.
Use Adobe Photoshop to edit it.
3 Files included in the package
Image size 3500×2500 px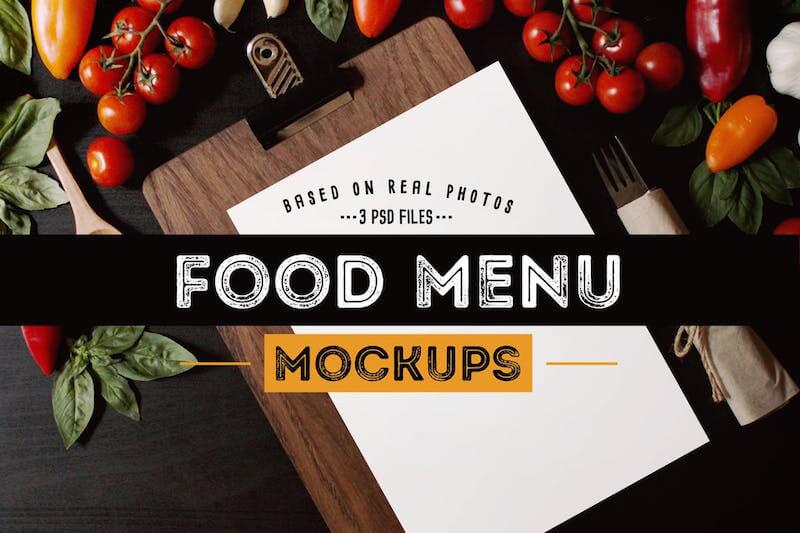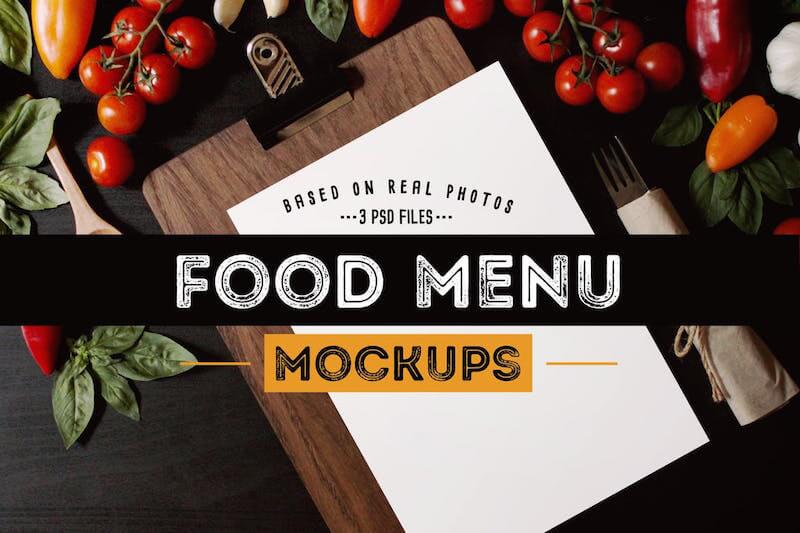 Coffee Branding Mockup
A fully customizable menu mockup template for any cafe or restaurant business. This is a great template for the branding of any food-related business.
You can completely redesign the look and feel of the template by changing the color combination, text and shadow.
Customizable PSD files
Change color combination
6 PSD files included
Restaurant Menu
A very professionally designed restaurant menu template with a nice color combination, amazing font, and design.
This pack includes 8 editable PSD files, two type food menu pages, beverage page to make things easier for you.
All the images used in the template are included in the bundle. So, you will be ready with your great-looking menu template within a few hours.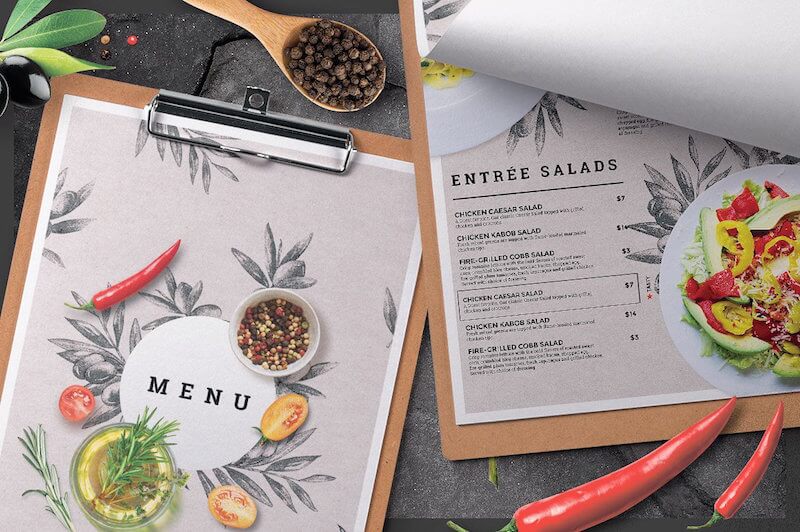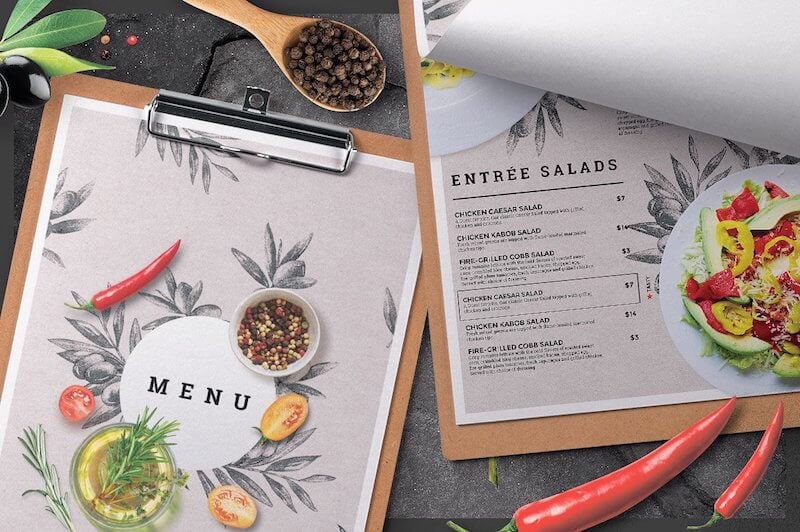 Restaurant & Bar Mock-Up
A neat and attractive restaurant and bar menu template that you can edit and uses for your food business. This pack comes with 6 editable templates that you can use for your restaurant.
Free Menu Mockup
A beautiful and free menu mockup template that comes with PSD files so that you can quickly make changes as per your requirement and use it for your business.
The template is clean and very professional. The template comes with smart objects to help you quickly edit it.
Vintage Menu Mockup Template
Beautiful vintage style restaurant menu mockup template that is fully editable using adobe illustrator, photoshop MS Word or even Publisher.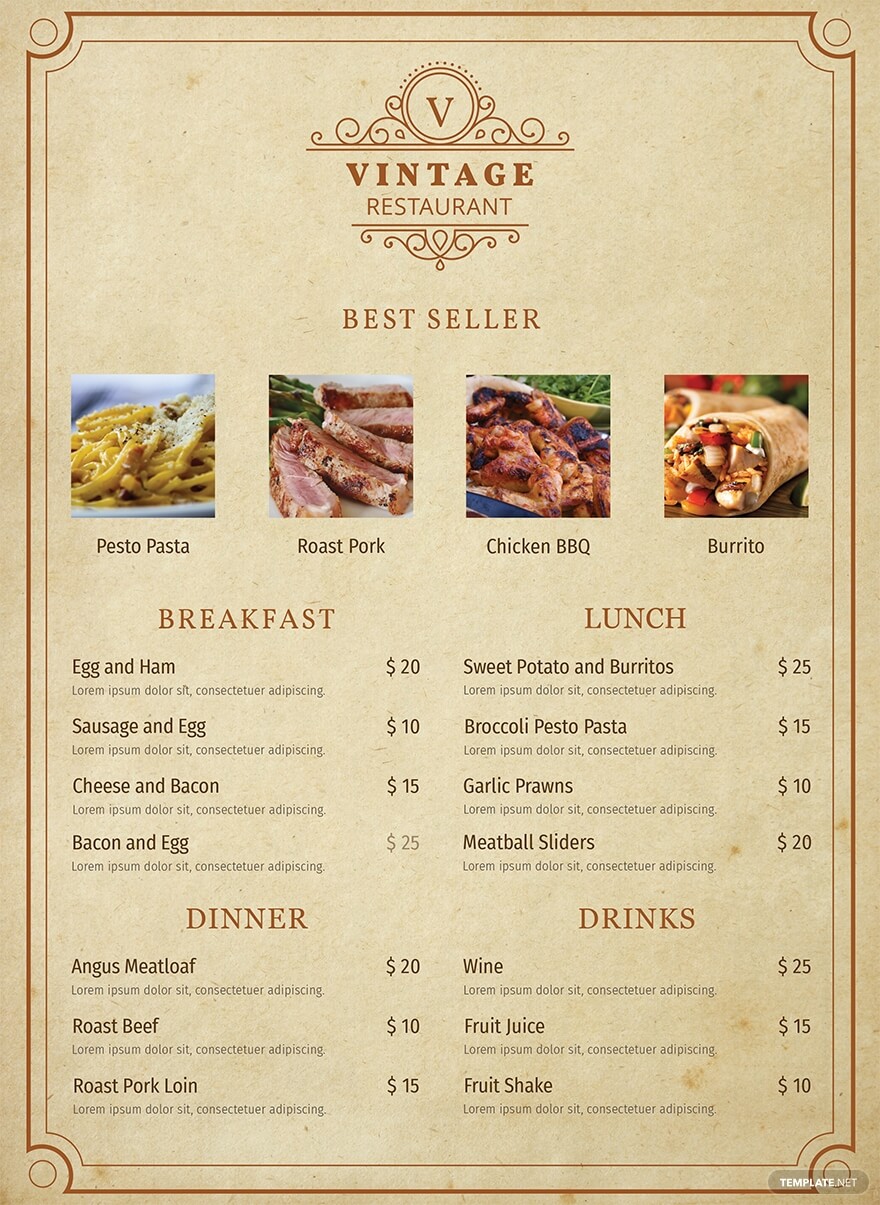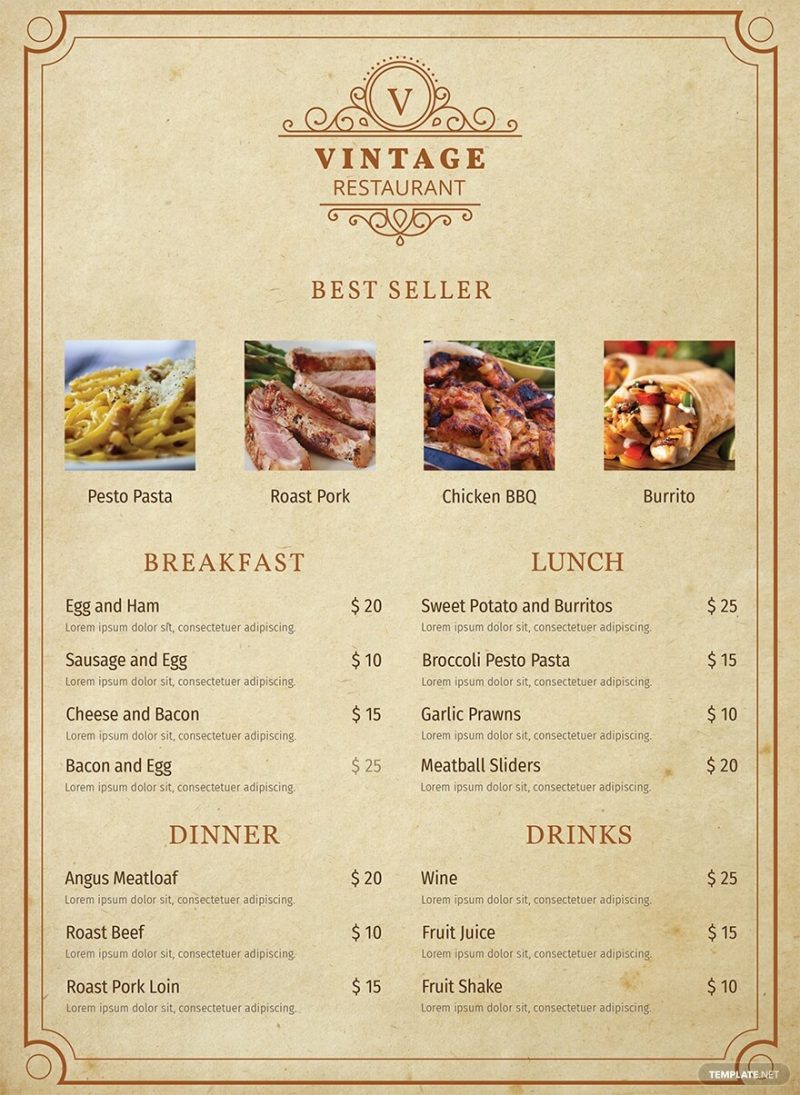 Lore Beer Pub menu layout
A high-quality menu templates for restaurants, pubs, cafes, bar and other related services. This menu template comes in five different layout options.
This template is print-ready, so you can use this template to give your menu a vintage look and attract the food lovers.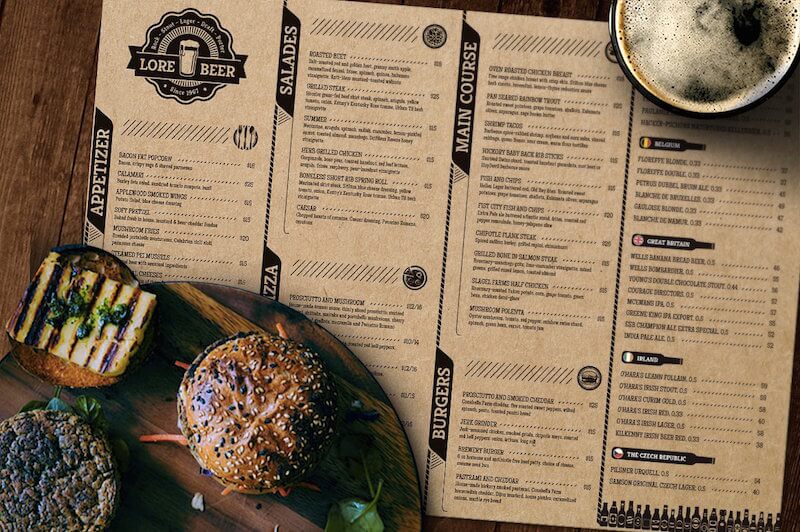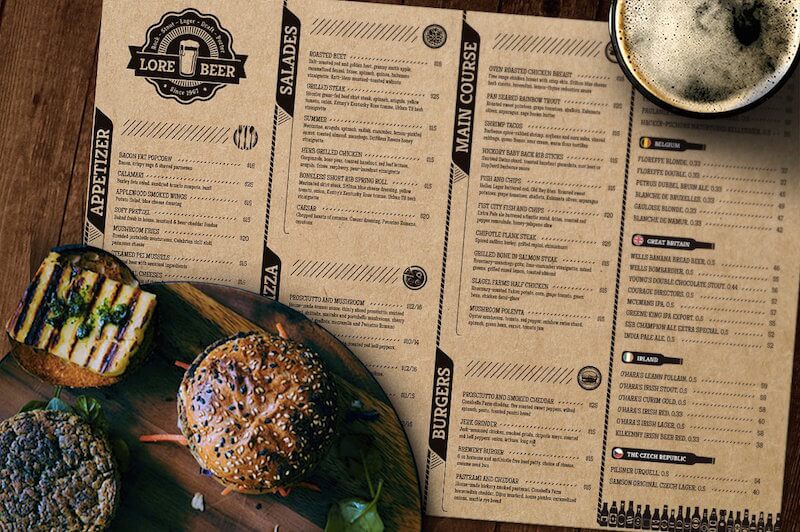 Free Restaurant Stationery Mockup
A high-quality free restaurant menu mockup template with a very clean and professional design. The template is fully editable the objects in the template are movable so that you can quickly make your changes and use for your business.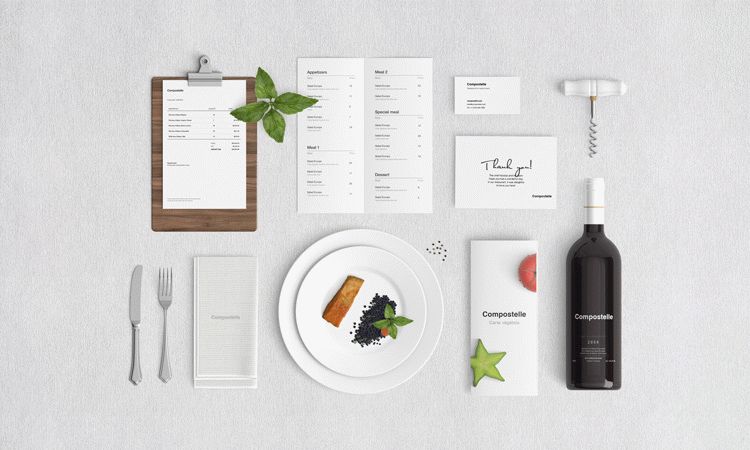 Restaurant Menu Mockup
Another beautiful flat menu design mockup that comes with smart objects and background options. You can change the background and use your own template.
It comes with 8.5×11 and 8.5×14 versions. It is ideal for any restaurant, pub, cafe, bar or any other related food joints.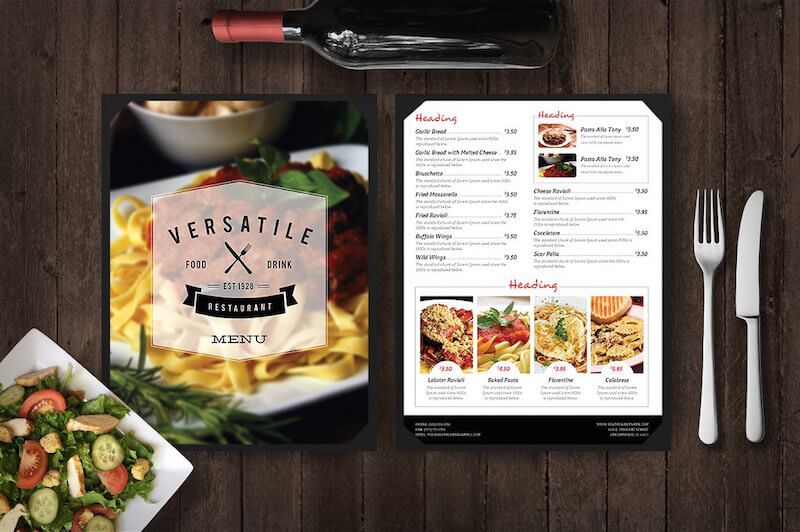 Modern Restaurant Menu
You can easily edit this menu template and make it your own using Adobe Photoshop. It is a great looking restaurant menu design that will surely increase the hunger of your customers.
The template is clean and very professionally presented to make sure that it increases the overall quality of your restaurant.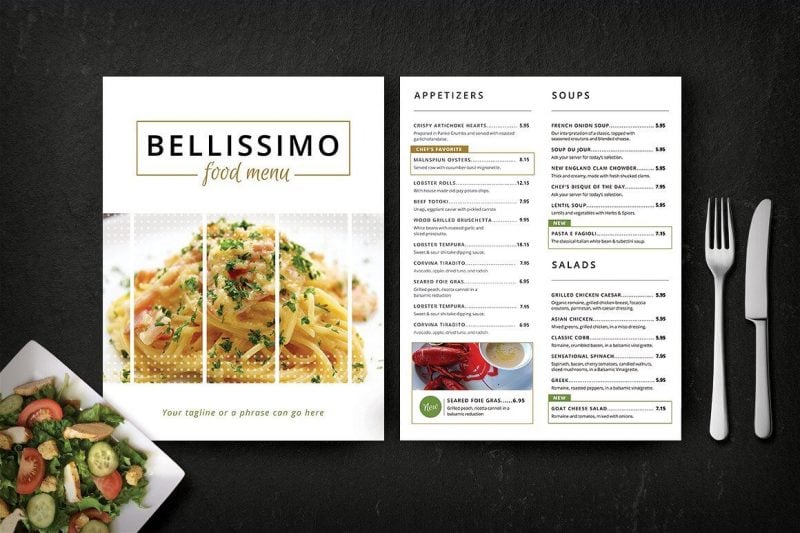 Menu Card on Table Mockup
A top quality free restaurant menu template mockup with editable smart objects. This is a beautiful and elegant design that you can quickly edit and used for your own restaurant.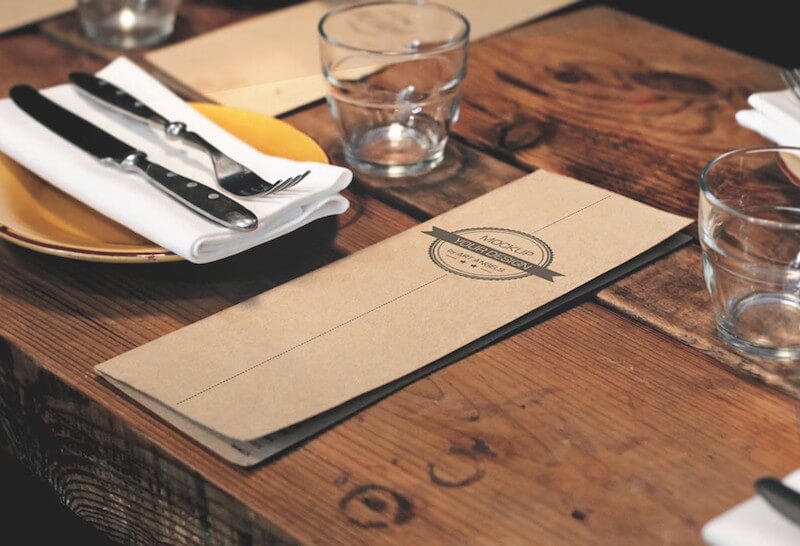 Cafe And Restaurant Identity Creator
This menu template is presented as the identity creator for your restaurant business, and it is true because the menu of a restaurant is one of the most important parts that you need to present perfectly.
You will be able to edit this menu easily and it already offers you a number of different variations with different colors to make sure that you have the options in front of you.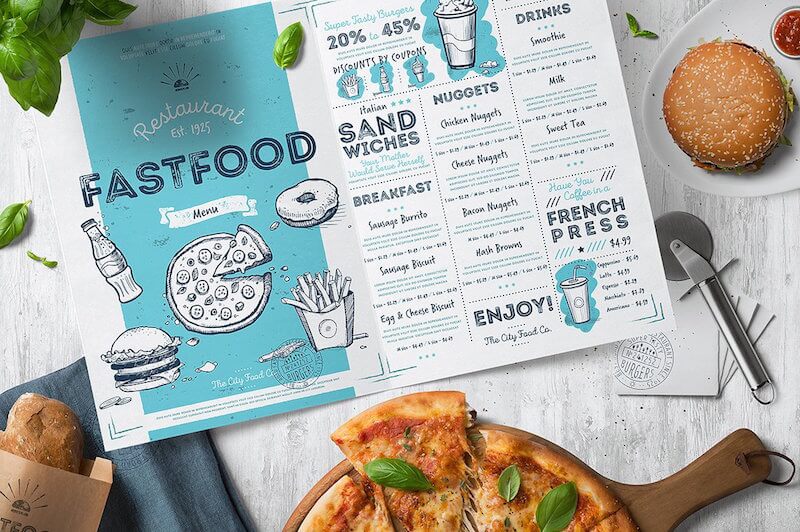 Pizza Menu Template
An attractive pizza menu for your pizza outlet. The template is fully editable and you can add your own image and menu items to attract more customer to eat your pizzas.
Kitchen Scene Mockup Generator
A fully editable food mockup template that you can use for your restaurant. This is a pack of four different templates ready to download for free.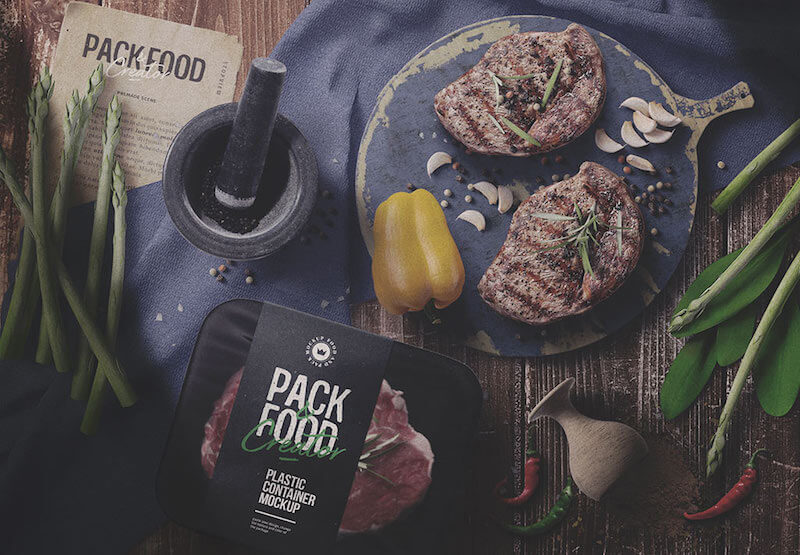 10 Organic Food Photo Mockup Templates
A highly customizable menu template with different layers that can be separated and edited as per your need. You can remove the shadow, move the layers as per your need.
This pack includes 10 amazing food mockup templates with smart movable objects. These created in high resolution and includes 8 beautiful photo presets.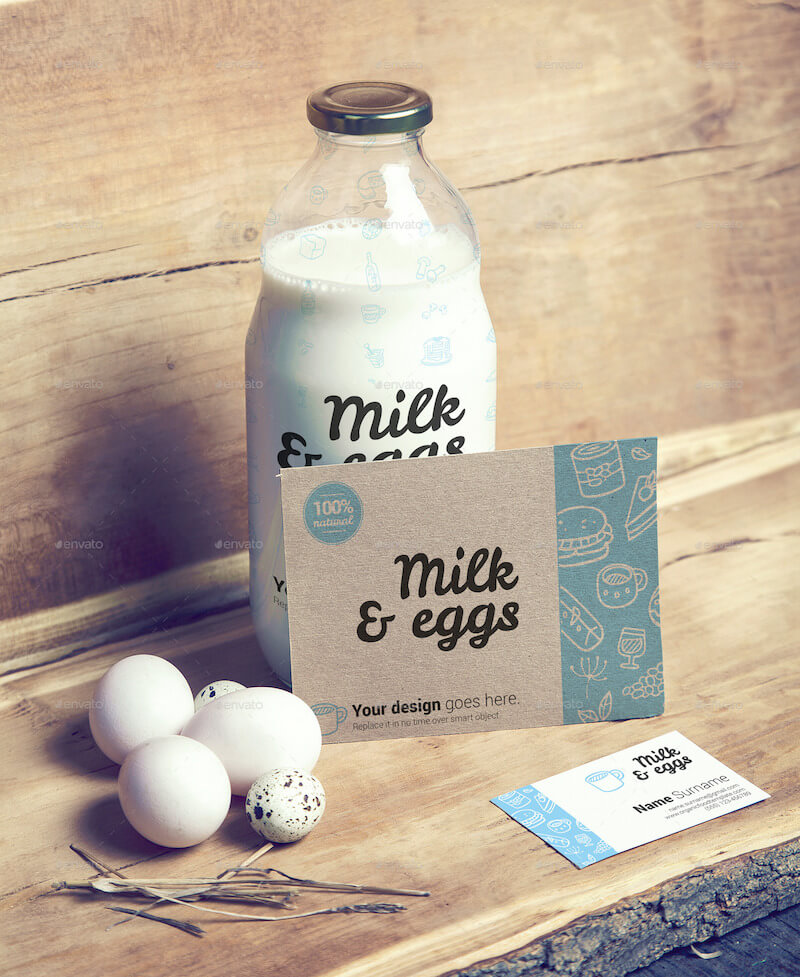 Burger Store Mockup Creator
This Burger Store Mockup Creator is easy to use with drag and drop elements to change things around as per your requirement.
The template comes with 9 fully customizable PSD templates. You can change the background, the color combination of each element.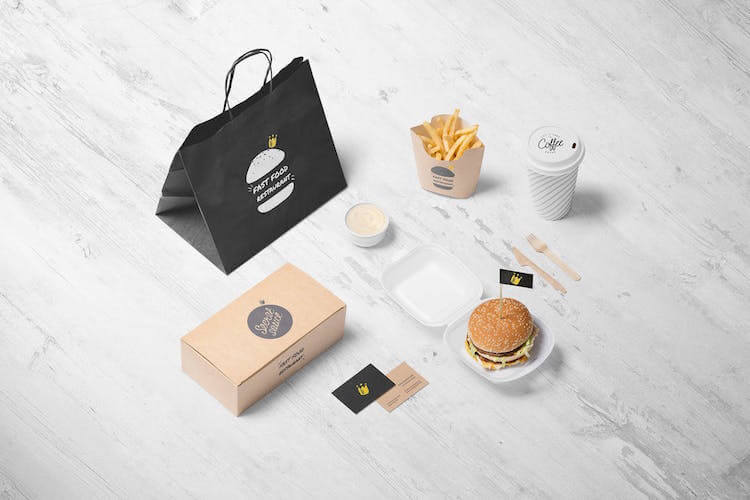 Cocktail Bar Menu Template
As the name suggests, this is a nicely resented bar menu that you can use for your bar. This menu template offers you two different color options. You can use Adobe Photoshop and Adobe Illustrator to edit this template.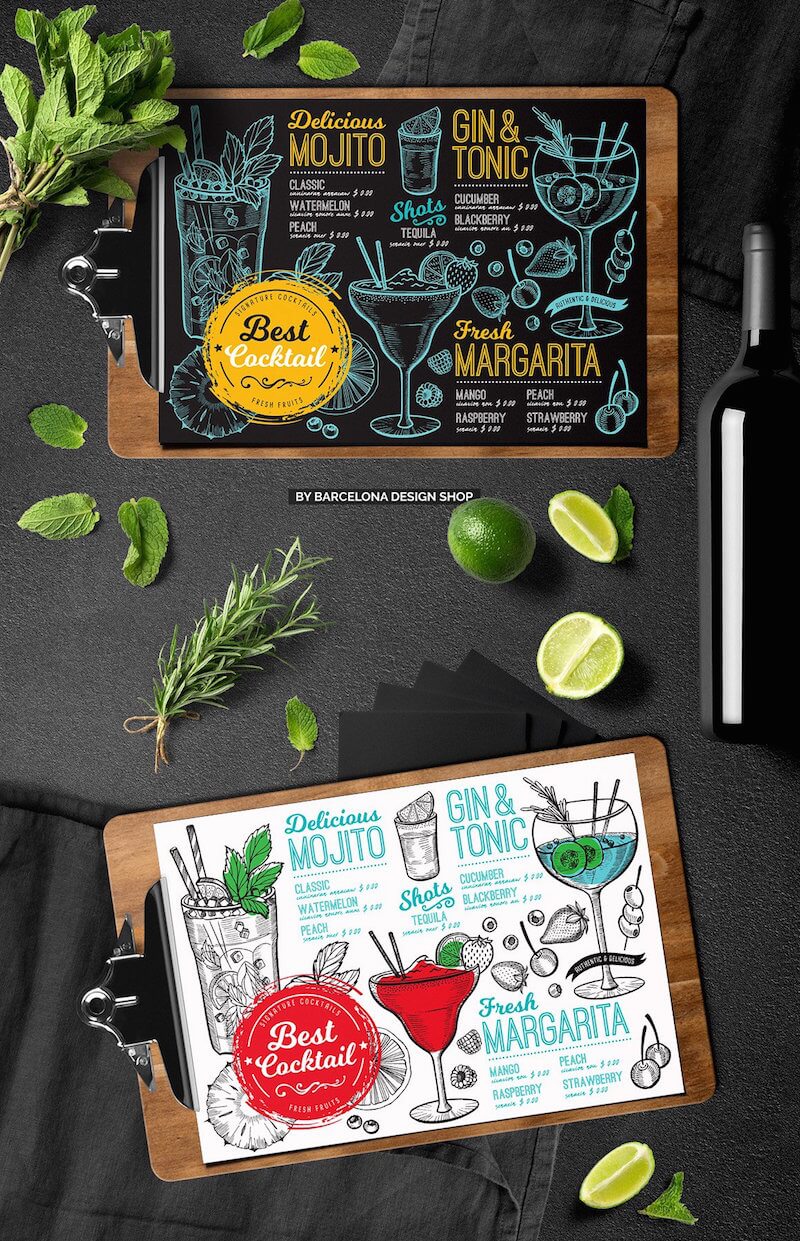 Burger Flyer + Menu
Isn't this an attractive template? I am sure, your customers will be templated to eat more looking at the attractive food items on your menu.
Use this restaurant menu template design to create a great-looking menu for your food business. This pack comes in A4 & 4×6 flyer format + bonus A4 menu template.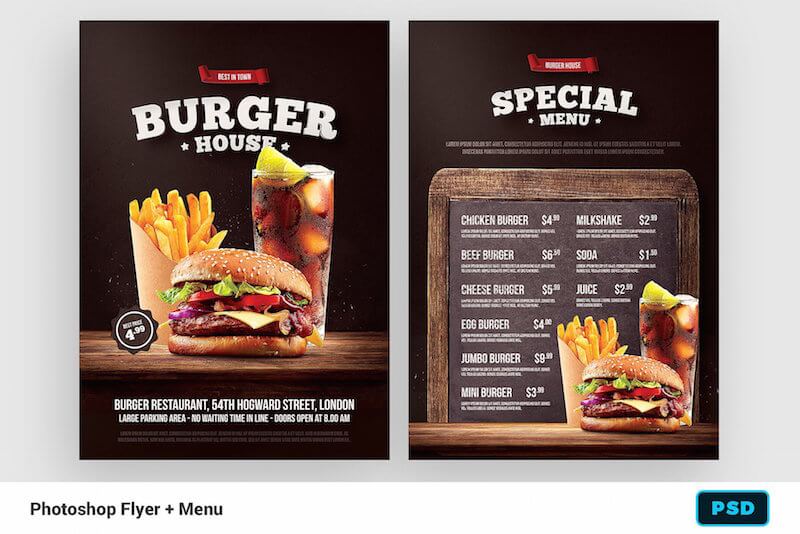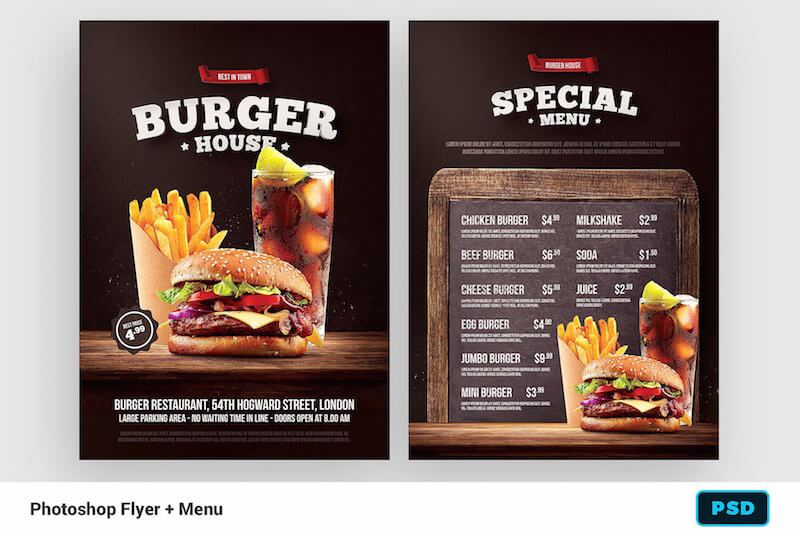 Burger: Red Menu Template
As you can see, this is an attractive menu template created by Freepik. You can download and use this menu template for free.
You will also be able to edit the template easily with Photoshop. It will instantly make your menu look brighter and attractive with the vibrant red color.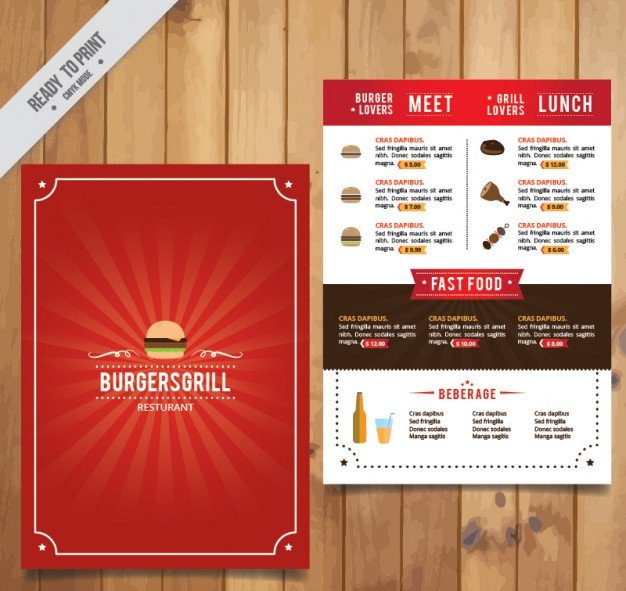 Hand Drawn Vintage Food Menu
As the name suggests, this menu is created with a hand-drawn feel with handwriting font style to give it a natural feel.
This is a free template and you will be able to edit it quickly without any hassle.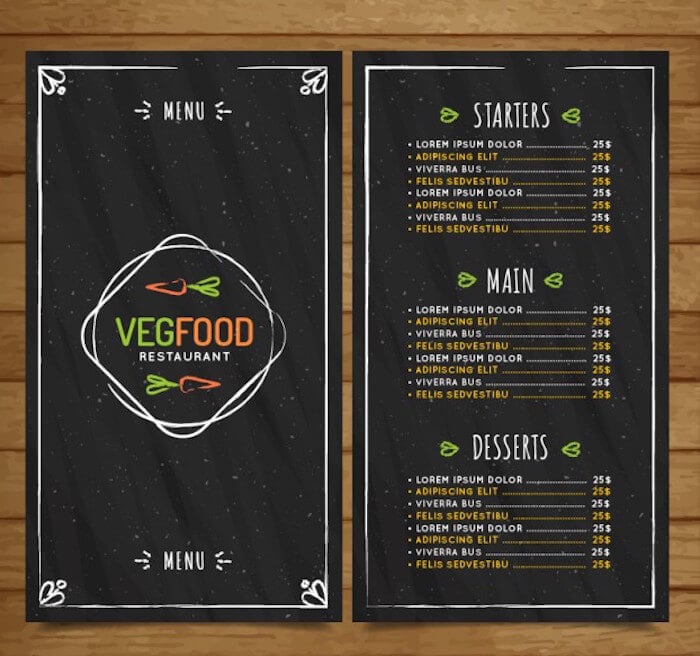 Restaurant Menu Mock-Ups
This pack includes eight different restaurant menu mockups that you can use for your food business.
The templates are created with different layers and shadow options that are easily editable to make sure that you can create the perfect template for your restaurant.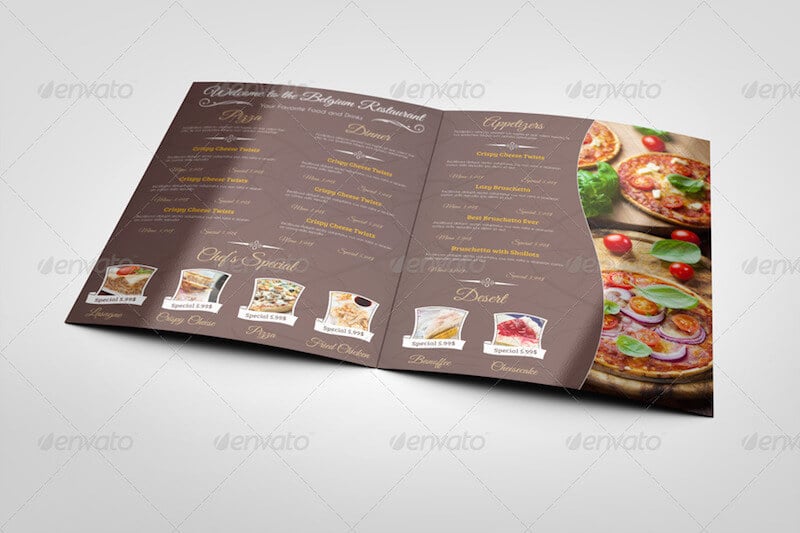 Final Word
These are some of the best restaurant menu template mockups that you can use for your restaurant, bar, cafe or any other food-related business.
We will be adding more templates to this collection soon, so don't forget to bookmark it and visit again.
If you find the article helpful, don't forget to share it with your friends.