Are you looking for the best punctuation checker tools? Well, we have listed 10 best options for you.
Perfectly constructed sentences with efficient grammar and punctuation is the need of the hour today!
Lucky for you, the digital market is brimming with intuitive tools and software to help you do just that, and you do not even have to separately invest in a content editor while these tools do the job for you- some even free of cost.
The irrelevant or improper usage of punctuation marks can cost your content gravely and overshadow the meaning of it.
Especially when you're curating content for corporate usage or have an important newsletter that needs publishing or a resonation that is meant to impress your superiors; you cannot let silly errors drag your efforts down.
Hence, we have made a comprehensive list of the best punctuation checker tools of 2019 that will perfect your content for you!
01.
Grammarly
Grammarly is one of the most popular tools of 2019 and has garnered several acclaims for its effectiveness and proficiency. 
With the availability of a free version, it is also available in varying pricing packages so that you can choose the one that fits your budget.
This digital proofreading machine with the use of its AI, ensures that your content is free of grammatical, contextual and punctuation errors.
If you are a college student who has tons of assignments to turn in, then Grammarly can prove to be your best bet in editing and proofreading your writing in a short span of time.
Viable for all types of content, this tool has been extensively used by editors, journalists, scriptwriters, bloggers alike. The minute you paste your content onto the interface, the error detection kicks off, thus, giving you immediate results hassle-free.
Another added perk is you need not always paste your content, you can start off writing inside the tool itself!
Available with a student discount
Advanced technology and features
Easy activation of the account
Easy to use and clean interface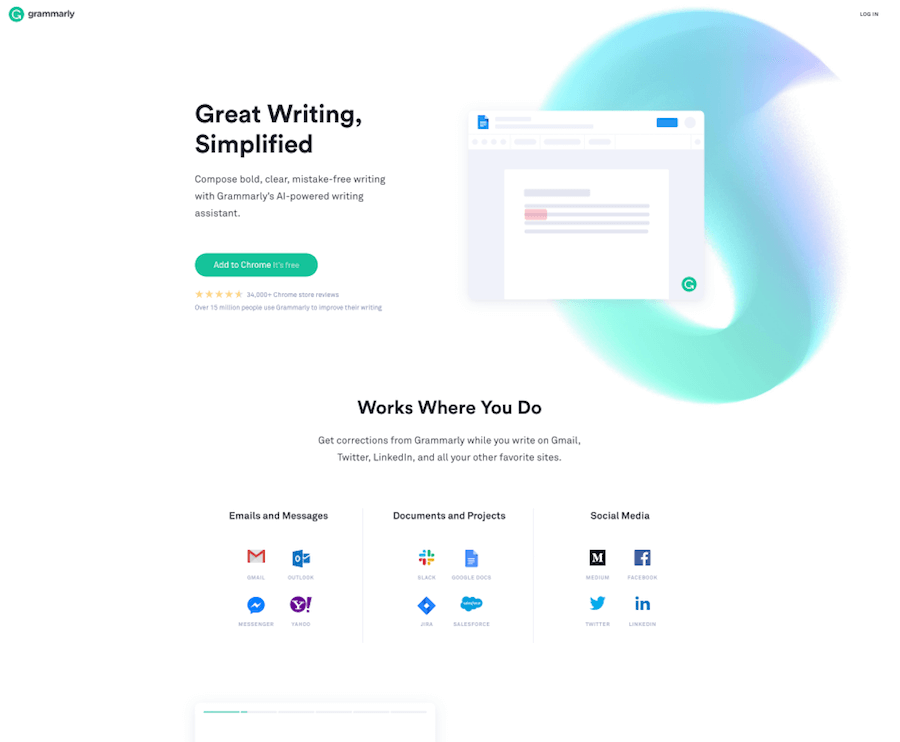 02

. Ginger Online

Working effectively on both Chrome and Safari, Ginger boasts of being "a state-of-the-art punctuation checker" and lives up to the phrase. 

This efficient tool allows the user to correct their erroneous sentences with a simple click, and this includes minor discrepancies like double spaces, unrequited capitalization, or incorrect usage of semicolons, colons, and commas.

You can use all of these without having to pay for or buy a subscription of the tool. For social media and personal messaging, the tool also entertains the usage of emojis or smileys amidst the writing which can add expression to your sentences.

Their personalized practice sessions can prove to be quite advantageous to learn about the different themes offered by Ginger to suit your writing style.

Their unique pricing divisions span across free, basic and premium- each with their varying services and devices.
Free installation and usage
Social media platform integration
Sentence rephrasing feature, supporting American as well as British English
Integration with Microsoft Word and allied applications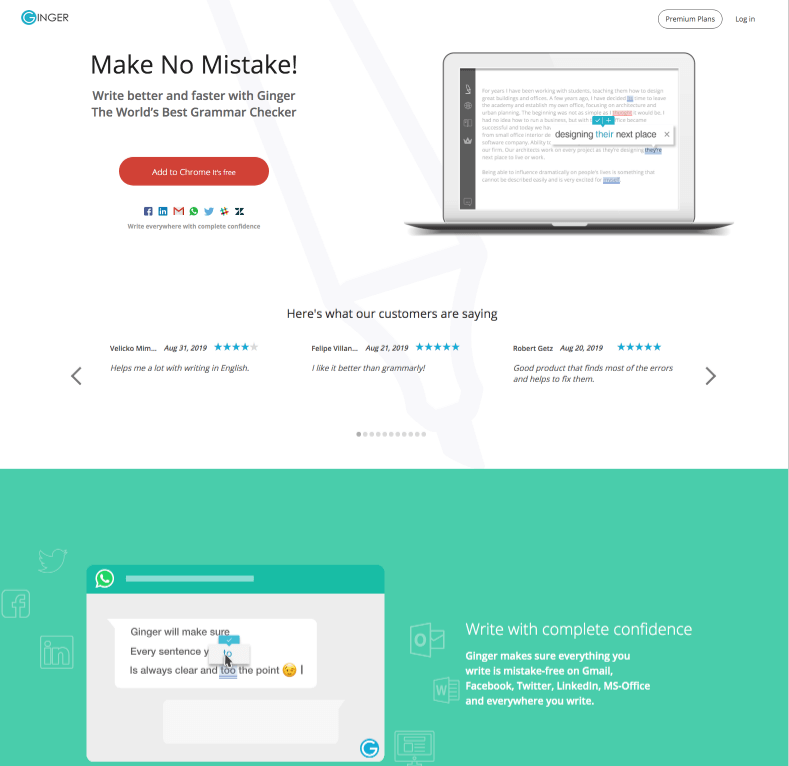 03

. WhiteSmoke

The next best in the market is this tool called WhiteSmoke, which takes pride in its efficient services and thousands of satisfied users.

Apart from merely checking your grammar and ensuring that your punctuation is in place, this tool is also known for assessing your literary style and suggesting probable edits.

Compatible across devices, WhiteSmoke comes with a plagiarism checker and a translator that is known to impressively working for 55 languages, which has been known to largely benefit non-native English writers.

Although there is no free version available, it is appropriately priced to be accommodated in your budget.

Its features are inclusive of extendable warranty, computer license, and customer support. It has been conducive to academic as well as personal writing.
Houses a natural language processing technology
Translator to cater to non-English content
In-built plagiarism checker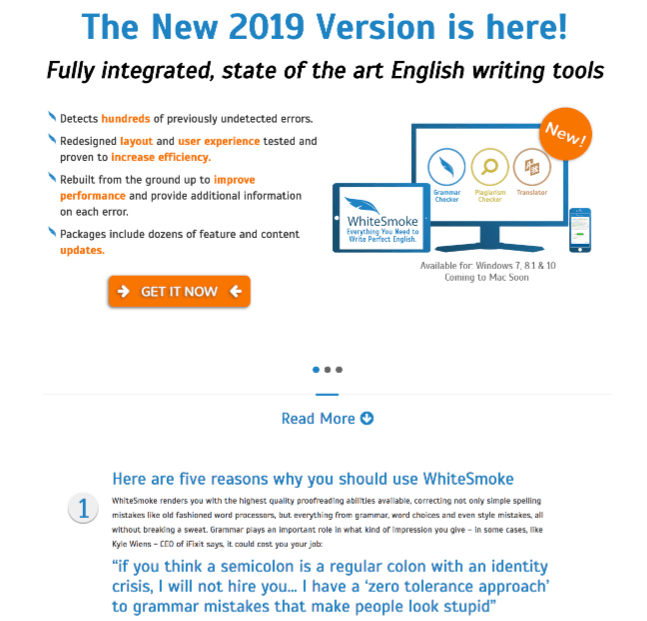 04

. Hemingway editor

With the aim of enhancing written material and literary clarity, this tool is infamous for its sparse and precise prose.

Once we are in the flow, we get habituated to writing long and complex sentences, which can be avoided without compromising the message or the idea. 

The tool acknowledges passive voice and advises against it, as it's continuous usage has been known to weaken your content's stance by beating around the bush.

Active voice with precise sentences lowers the ambiguity of the sentence, thus providing clarity. 

It can also furnish a readability score after analyzing your style of writing, making your content easily understandable for the masses you tend to reach. Apart from the online version, it has a desktop version that is available for a reasonable price. 

With the desktop version of Hemingway editor, which we recommend you install because this allows you to export your files as well as publish it directly on sites like WordPress and Medium.
Readability score
Know the grade of your writing
Acknowledges adverbs that don't add substance to your writing
Functional and navigable toolbar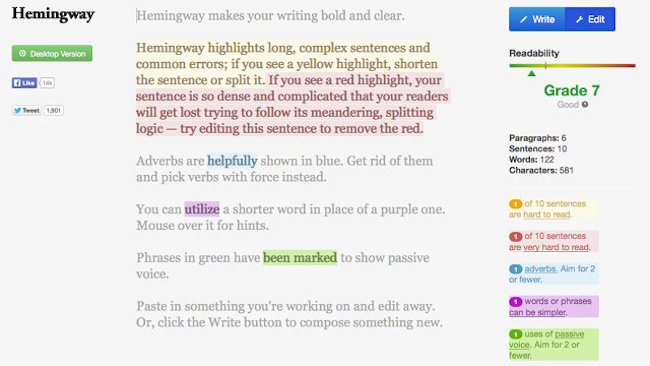 05

. After The Deadline

With open-sourced technology embodied in its AI, the tool is coupled with a natural language processing algorithm that apart from correcting your errors, can also advise smart and relevant suggestions. 

Sourced by WordPress CMS, After the Deadline is versatile and can be accessed across devices and browsers.

With a command-line interface, it seems to be quite preferable amongst the blogger community owing to its multifaceted Jetpack plug-in.

Available on polishMyWriting, this tool has proven its worth in polishing all kinds of content and enriching its credibility. 

If your assignment is due in a few hours and you do not have the time to go over the entire assignment after a deadline is a godsend tool for you.

Furthermore, it provides instantaneous results and the user does not have to twiddle their thumbs and wait for long!
Easy to enter text to edit
Highly functional
Highlights grammatical and punctuation errors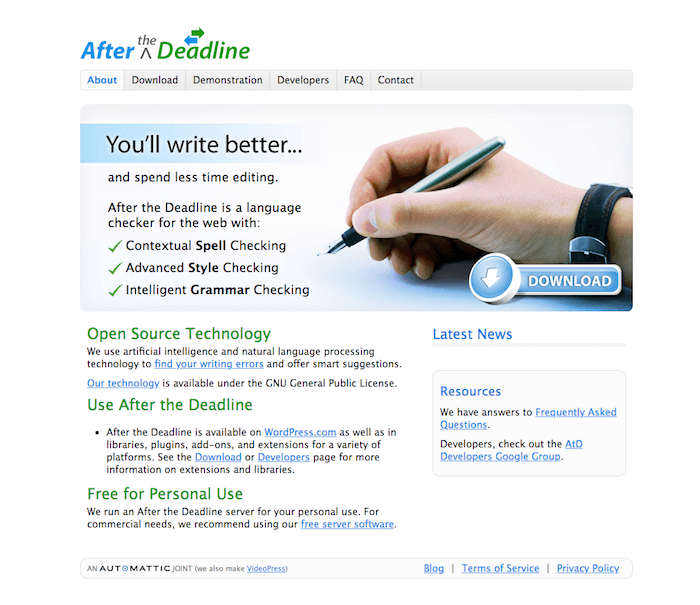 06

. Scribens

This online grammar checker is easily accessible and free to use without a subscription fee. although Microsoft Word has been known to highlight errors, Scribens boasts to correct 10 times as many errors as the former.

With an easily navigable and user-friendly interface, the tool can be used by anyone with convenience.

To use Scribens, one just has to enter the text in the allotted box and the tool will point out your mistakes to you. Another perk is its unlimited usage.

It has been known for its integration with excel in addition to being accessed across browsers. As it is a free application available online, the user is guaranteed with unlimited usage of its basic services to polish their written piece.

Apart from correcting your errors, this tool also explains why the error occurred, why it is erroneous and provides explanations that can shed light on the information.
Free of cost usage
Functional and flexible across devices
Useful writing tools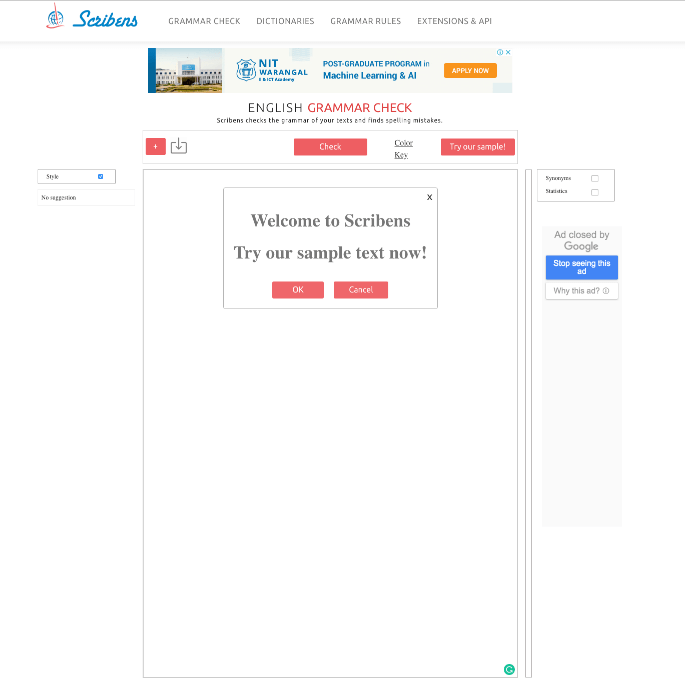 07

. Language Tool

The pricing packages for Language Tool consist of free usage and premium. The free usage entails 20,000 characters per check, which means that you can comb 20,000 characters for errors while the premium package can support up to 40,000 characters. 

Its proofreading abilities are carried out with efficacy and swiftness, with the end product being your spick and span, ready to publish content.

With an in-built translator, the tool does not restrict its abilities only to English, but 32 other languages.

Its users have vouched for its impeccable efficiency that is a class apart from all the other online tools, as it can detect errors or mistakes like no other. 

Although freely available online, this particular tool needs to be installed onto your desktop and due to its flexibility, it can be accessed across devices.

The site has three different versions and types of tool to choose the one best suited for your needs. The only effort you will have to put is to download the tool, the rest will be taken care of.

Allows for content in several languages with regional English variations
Lets you add nouns to a personal dictionary
Customized pricing plans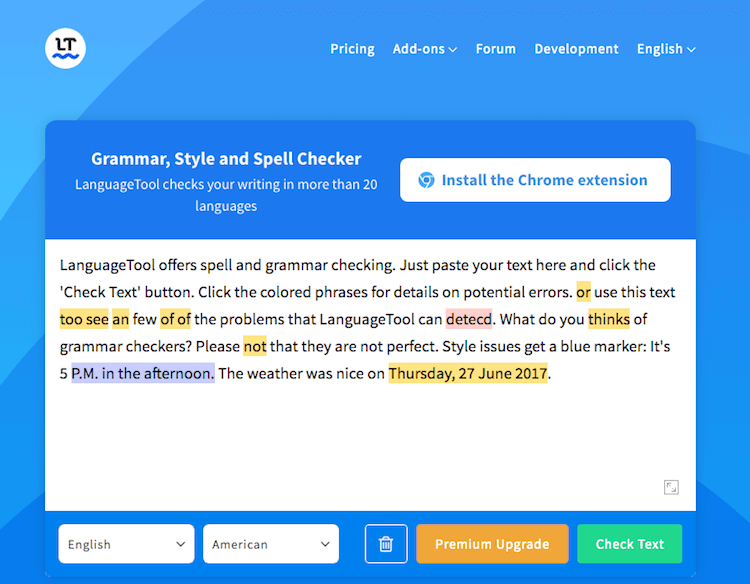 08

. Spell Check Plus Pro

As the name states, the tool is a professional at spell-checking and proofreading content with speed and efficacy.

As are several other tools, the basic version of this tool is freely available online and one does not have to pay to use its services But what sets it apart from its competitors is its feature too, can also correct or edit the text that you may have archived in the past. 

This correction tool can be enlarged onto the entire screen, allowing you space to look at the entirety of your content and edit those parts you find unnecessary. It also has a vocabulary guide that can come handy.

When compared to the rest of the punctuation or grammar checking tools online, it was found that Spell Checker plus pro adhered to a different algorithm to assess content.

The success of this algorithm can be seen in the tool's efficiency and ability to provide immediate results. Available at an extremely low-cost
Interactive grammar exercises
Availability of a free trial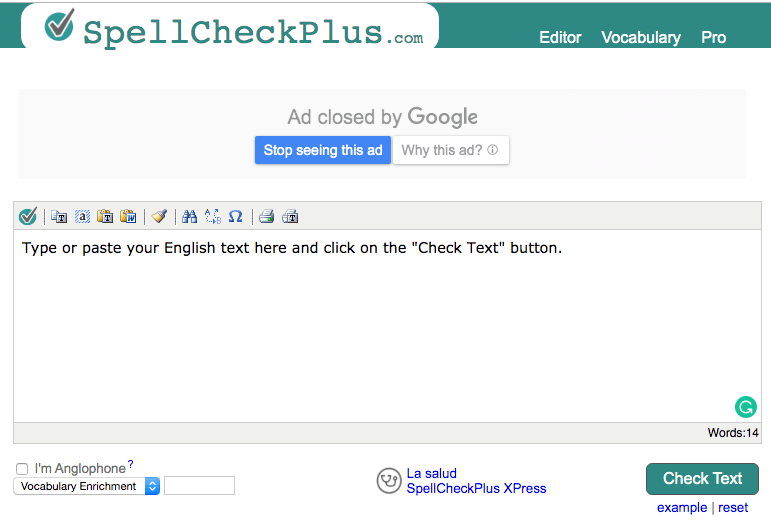 09

. Grade Proof

Crafted with due consideration to students, this advanced tool can provide intelligent solutions to your content owing to its powerful AI.

It can also conduct plagiarism checks, alongside correcting grammar, punctuation, spelling and rephrasing sentences. 

This can augment the credibility of your writing, keep it afresh and help retain its originality. This tool has been known to be helpful while curating statistical information and elaborating on data or scientific evidence.

With the help of this, one can get their content tailored in accordance with their preferences and needs; as the tool's AI is fully equipped to adhere to your requirements whilst maintaining the integrity of your writing. 

Its cross-platform integration including Microsoft, Chrome, iOS, Google Docs, etc.

Harbouring an eloquence engine powered by the AI, helps the tool ensure that your content does not lack flair, clarity, and fluency. It's custom settings ensure configurable reading.  
Capable of personal dictionary for your nouns
Availability in a paid premium version
User can monitor word count and readability
In-built plagiarism checks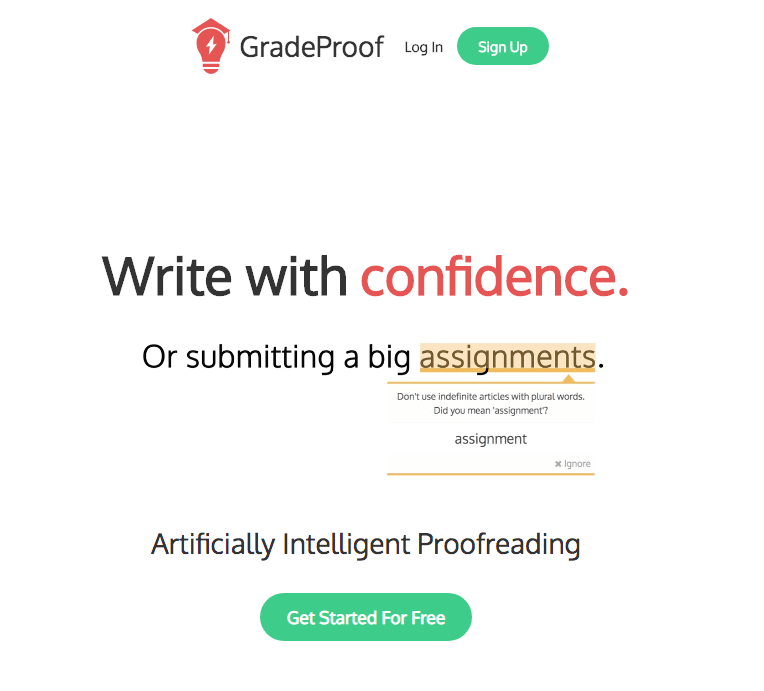 10

. Paper Rater

A favourite of bloggers, writers, content curators, copywriters alike- this software is fully equipped with features that can transform your content into a crisp and professional piece.

Apart from running plagiarism checks, this tool also acts as a similarity checker which means that it will notify you if your content is largely similar to another existing piece online; thus, protecting the originality of your writing.

Offering its free online proofreading services, Paper Rater can be used for personal and professional content alike.

It also houses the automated scoring of essay and providing with feedback or instructions which can better the quality or readability of your content. 

It fits into the role of an instructor by dispensing information related to vocabulary usage, proper sentence beginnings and sentence length of variability.
Similarity checker along with plagiarism checks
Doesn't have to be downloaded or installed
Suggestions to improve wording or literary quality
Swift and immediate results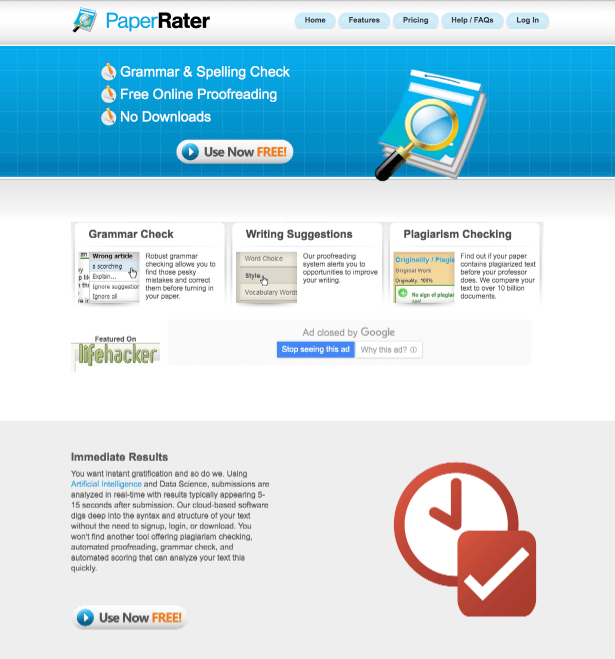 Final Word
To choose the best-suited grammar checker software, there are a few checkboxes and criteria you need to tick off. 
Find the one that is well-suited to your budget, although most of them offer their basic services free of cost; without any kind of installation or a subscription fee.
The type of tool depends on their categorization of on-premise or cloud-based solutions.
Although most of them are equipped with few essentials, ensure that the chosen tool has basics such as grammar check, spellings, punctuation, plagiarism and writing style analysis.
If you're in the business of content curation, then it is imperative that you run all your written piece through a grammar or punctuation checker tool to maximize your content's credibility and message. 
We hand-picked the best punctuation checkers of 2019, for you to make a perfect choice because your content deserves nothing less. 
If you find the article helpful, don't forget to share it with your friends.
[kkstarratings]