As of 2019, there are roughly 12 to 24 million eCommerce stores in the world, reports 99firms. This year, retail eCommerce sales worldwide amounted to 3.53 trillion US dollars and e-retail revenues are expected to grow to 6.54 trillion US dollars in 2022, according to Statista.
There are some crucial steps to starting a business. First comes the idea, and then comes the plan for gaining profits. Later on, to get that money flowing into your corner, you must employ the third and most vital element called scaling: making your eCommerce store grow without working 24/7.
How to Launch and Scale an E-Commerce Store?
To launch a profitable eCommerce website, you need:
Now that we've settled that, let's see how you can scale your eCommerce website efficiently.
01. Boost your SEO
If you've been around the web for the past few years, chances are you're already familiar with SEO and its significance in the eCommerce world.
Search engine optimization (SEO) helps your eCommerce website get discovered by shoppers looking to purchase online. It takes a while for SEO to generate results, which is why you should start optimizing your eCommerce store for SEO as soon as you create a website.
The best and most effective way to boost SEO is to incorporate relevant keywords in your website articles, blogs, product descriptions, etc.
As an online business, your primary goal is to make as many sales as possible. Therefore, you should consider using transactional keywords, which are words and phrases people type into Google or other search engines in the course of their shopping spree.
Use tools like Google Keyword Planner to know what your customers are searching for online. For instance, if you sell menswear at your store, a proper transactional keyword to add would be "leather jackets for men." Using these keywords will help ensure that your website is found by customers who are willing to buy a specific product.
02. Use the Amazon Login Function
Do you need more clicks? If so, the best way to ensure more customers coming to your eCommerce store is to provide visitors with the ability to log in using their own Amazon credentials. This will make the entire sign-in process hassle-free, as users no longer have to enter login details whenever they visit your website or make a purchase.
For years, Amazon has been a top-tier eCommerce player. Now, you too can leverage their massive client base via this nifty function, which adds roughly 300 million users.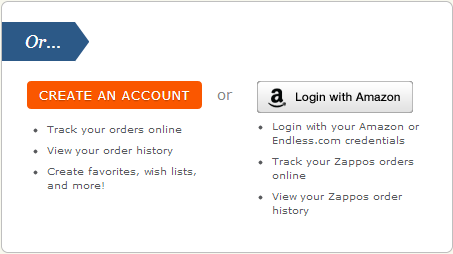 Many big-name eCommerce sites are also using this option to increase traffic and sales. Check out Amazon's other eCommerce applications that will make your life easier.
03. Design a Perfect Landing Page
When we say perfect, we mean it has to be absolutely perfect. Note that a landing page, when done right, can be a high converting tool.
Nearly 96% of your site visitors aren't willing to make a purchase as soon as they land on your conversion page, and that's a fact. There are many reasons why this happens.
Some of them include low-quality images, boring content, and inadequate site navigation. So, if you wish to run time-bound referral programs, flash sales, or even launch an entirely new product line, consider investing in a compelling landing page design.
Once you're done with the designing process, regularly A/B test elements like CTAs, headlines, colors, and the product images to determine their impact on conversions, as well as bounce rates.
04. Content Is King
Content marketing remains a viable element of any business venture.
Of course, the Internet is bombarded with content. In fact, there are times when we feel like we're almost drowning in it. However, if you plan to establish a reputation for your eCommerce website, produce as much content as possible.
Yes, it is time-consuming, but the reason you're here is likely that you aren't making enough sales. So, if not creating high-quality content, what are you up to?
Sure, perhaps you are not good at creating content, but you can always hire a freelance writer to write top-notch content for you. The point is, do whatever it takes to create content, and then share it on all your social media channels to get as many people as you can to read through it.
If you're an eCommerce site that needs to provide some education for its visitors (e.g., how to use a certain product), this could be highly beneficial— which brings us to our next point.
05. Create a Knowledge Base
Normally, when you have a question related to a specific product or don't know how to perform a task, what's the first thing you do? You contact the support team, which involves waiting on hold, jumping from one support rep to another, or, in worst-case scenarios, waiting days until you get a reply via email.
Knowledge Base Software is an excellent solution to this decades-old problem. It gives a hassle-free, self-help service to customers. Most importantly, it helps your business save tons of resources otherwise spent answering basic user queries.
Another advantage of making a knowledge base is discoverability. It gives your website a huge boost in SEO to rank higher on Google, meaning you could rank for search terms, such as questions related to your product or service using your knowledge base posts.
06. Invest in Automation and Outsourcing
To scale eCommerce, you need to source out some of the tasks you were performing all by yourself beforehand. So, the idea here is to cut down on man-hours spent doing regular tasks that either software or a person can do, and devote your crucial time to the more complex nuances of your eCommerce store. Moreover, automation delivers a consistent approach every time.

With marketplaces like Upwork, you can easily find a skilled, reliable, and competent freelancer to help you run your online store. As you develop a winning team, it will allow you to scale your eCommerce site to greater heights.
Wrapping Up
These tried and tested eCommerce website scaling hacks will help you to not only boost traffic but also enhance the quality of traffic and drive more revenue in 2020.
But the best part about eCommerce is that if your website makes money consistently every month, you can sell it for a lot more than what it makes.
Just make sure to sell your website through a website broker who knows how to properly "kick the tires" of an eCommerce site. They have legal and financial teams who will treat you with the utmost care.
If you found this post helpful, don't forget to share your thoughts and suggestions with us in the comments below.