A collection of the best portfolio WordPress plugins that will help you to create a great-looking modern portfolio on your WordPress site.
Chances are, you have a great collection of photos and artwork that you are dying to show off. You may have your work spread out on different photo websites and apps.
This can be a challenge especially when you want to share your best professional work with someone. It is always much better to have your great portfolio on your WordPress website than on multiple platforms.
There are a couple of ways in which you can organize your portfolio on a WordPress website. One is with WordPress portfolio plugins, and the other is with WordPress Portfolio themes.
WordPress themes are primarily meant to give a specific look and feel to your website. Themes do not alter the underlying functionality and provide basic functionality related to the theme.
Also, they can be troublesome and time-consuming to replace, if needed. If you change your WordPress portfolio theme, you lose all your fine-tuned settings.
You need to work from scratch on the new theme, which means hours of research, debugging, and implementation work.
WordPress Portfolio plugins, however, give you the core portfolio functionality that can be used across any theme. It's the best way to add functionality to your website because of its plug-and-play nature.
You have the flexibility to get a new plugin with desired features or revert to an older one, quickly.
Even better, a lot of great portfolio plugins are available, and new ones keep coming up, putting you back in the driver's seat!
There are some amazing portfolio plugins that you can use to showcase your work in style and attract more customers to your services.
We know choosing one for your website can be a daunting task.
To give you a starting point, we've put together a shortlist of portfolio plugins that we think can work well for you.
We also encourage you to explore more options if you are looking for something specific.
Top Portfolio Plugins for WordPress
Spectra
Spectra offers more than just a portfolio. It's a full drag-and-drop page builder that works in concert with the WordPress block editor.
It supports portfolios by adding dedicated blocks for image galleries, a slider block, counters, share options, carousels, timelines, star ratings, reviews and display conditions.
Every block is fully customizable, giving you full control over what your page looks like and how it acts.
As Spectra has been designed using React, it doesn't slow down page load times either!
Top Features
Adds 28 blocks plus block patterns and wireframes
Includes full templates including for portfolio sites
Supports flexbox containers
Multiple block presets to save time
Copy and paste blocks anywhere on your site and keep the formatting
Fully responsive blocks
No impact on page load times
Essential Grid WordPress Plugin
Essential Grid is one of the most popular WordPress plugins available in the market. With this plugin, you can create a great-looking modern grid system on your site.
This single plugin brings in unlimited possibilities as far as the presentation of your content is concerned. We all know about the importance of quality content, but how you present it can make a huge difference.
You can use this plugin to create an amazing layout for your blog posts, services, WooCommerce store products, creating a pricing table, product sliders, and a lot of other things.
Skin builder
The Essential Grid plugin comes with a complete skin builder that you can use to create your design without any coding. You also get over 30 ready-to-be-used grid skins to choose from.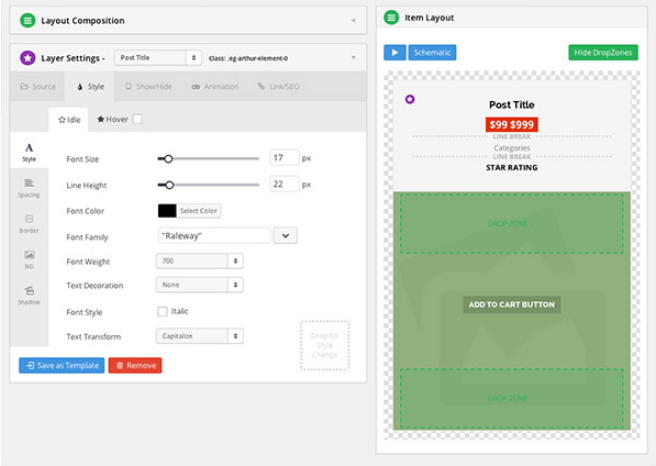 Creating an attractive portfolio with the Essential Grid plugin is very easy and simple. You can quickly choose the layout you need for your portfolio section and get started.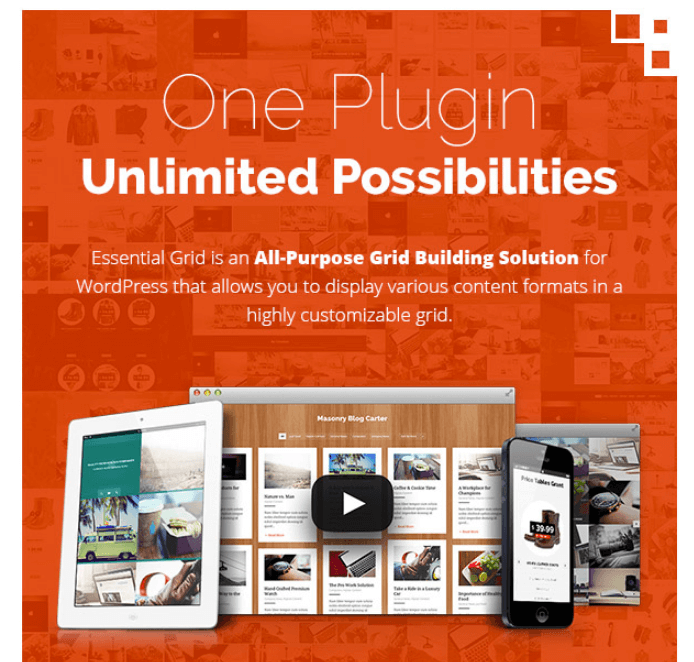 Go Portfolio
Go Portfolio is another very popular portfolio of WordPress plugins. It's a fully responsive plugin so that your portfolios look great on all devices.
This plugin works perfectly with any WordPress theme. So, if you wish to create a great-looking portfolio section on your site, you can get it done with this plugin.
Go Portfolio is perfectly compatible with the Visual Composer WordPress plugin. The combination of these two plugins will bring unlimited potential to your site.
This plugin comes with a very powerful admin dashboard that you can use to manage your portfolios. You can create an unlimited number of portfolios with different designs.
The best part is that you don't have to start from scratch because it comes with over 35 amazing design templates that you can use to create your portfolios.
Top Features
Beautiful ready to be used templates
Unlimited color options.
User-friendly filterable portfolio options
Media elements to spice up your portfolios
Compatibility with Visual Composer
Support for touch devices
Advanced export & import options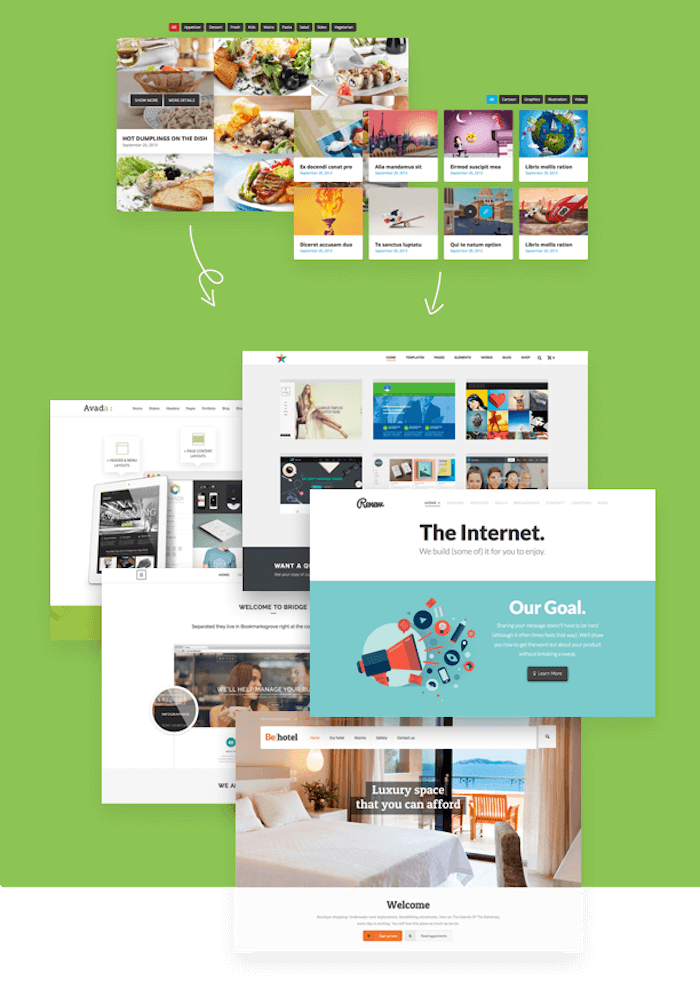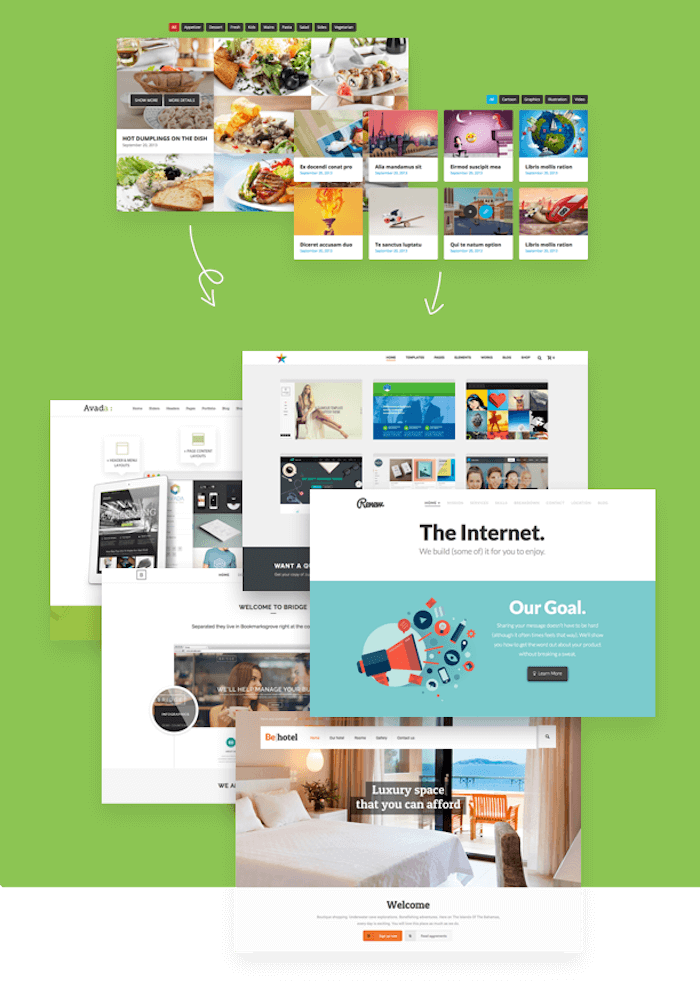 Ultra Portfolio
Another amazing premium portfolio is WordPress plugins which will help you to create modern portfolios to showcase your work in style.
With this plugin, you can create some different portfolio types such as Grid, Masonry, Carousel Slider, Single slide, Classic blog style portfolios.
It is a mobile-friendly WordPress plugin, so your portfolios will look great on all devices including small-screen devices.
Ultra Portfolio plugin is loaded with some amazing features such as a live CSS editor which is an amazing option to change styling quickly.
Top Features
Unlimited layout options for your portfolios
Seamless WooCommerce integration
Live CSS customizer
Unlimited color options
AJAX-based user interface
Google Fonts
Complete media support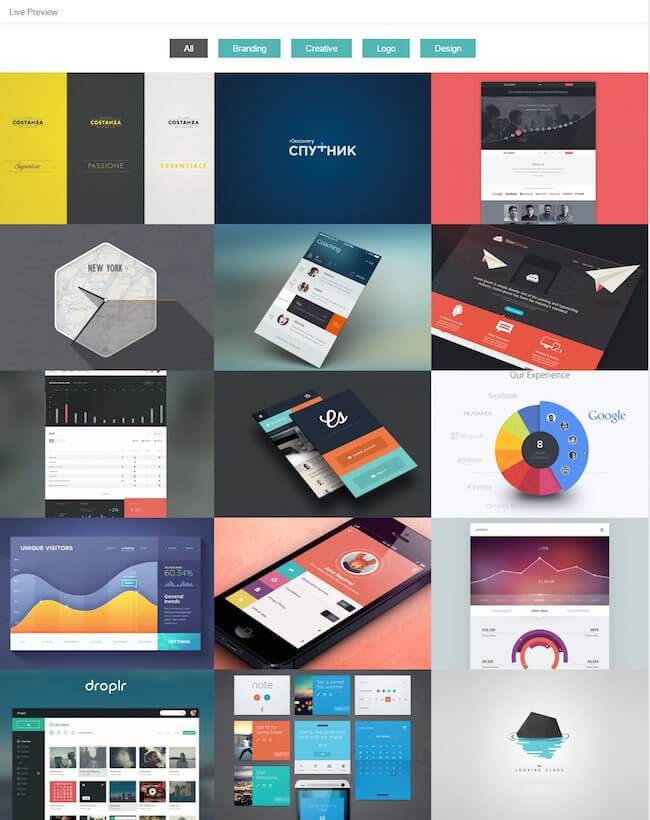 Media Grid Portfolio Plugin
This plugin will help you create an unlimited number of great-looking portfolio pages on your site. You will be able to create beautiful grids by mixing all your important content and showcasing it in the most attractive way.
The media grid plugin gives you the most convenient way with the visual editor and you can test how it looks on mobile devices as well.
You can quickly create the grids and fill them with ready content. The grid supports all types of posts to make things easier for you.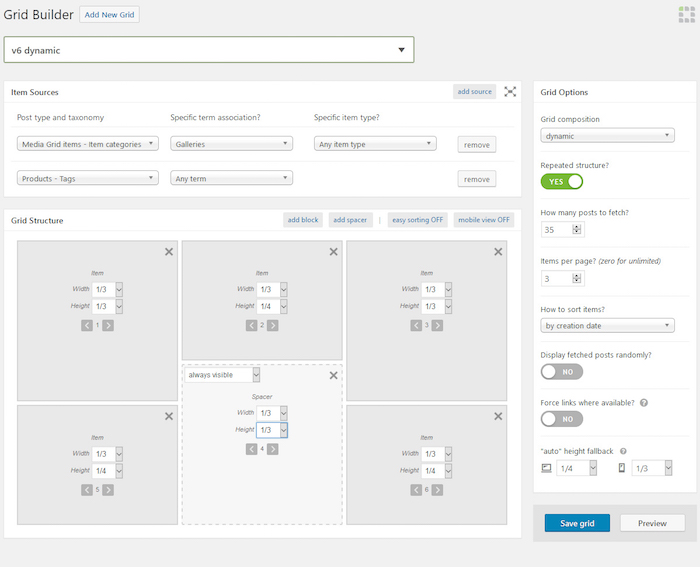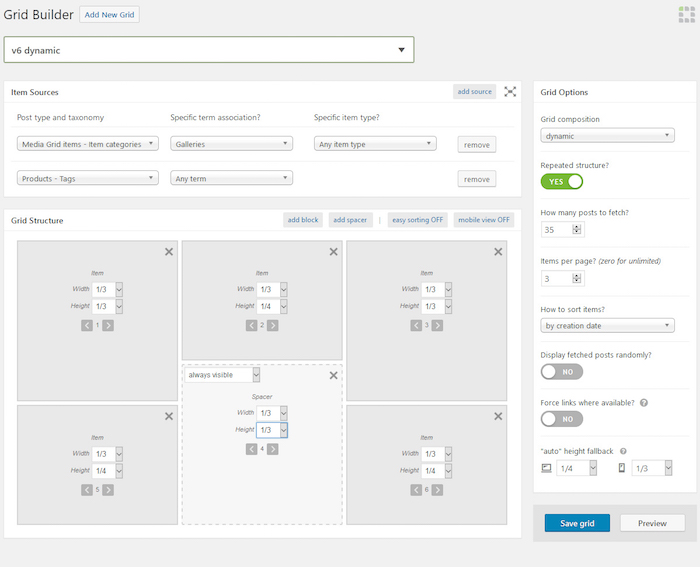 The media grid plugin offers you a one-click set-up option with ten different pre-created design options to choose from.
The plugin offers you six different types of pagination options to choose from. You have an advanced live search option to find things easily on a big grid.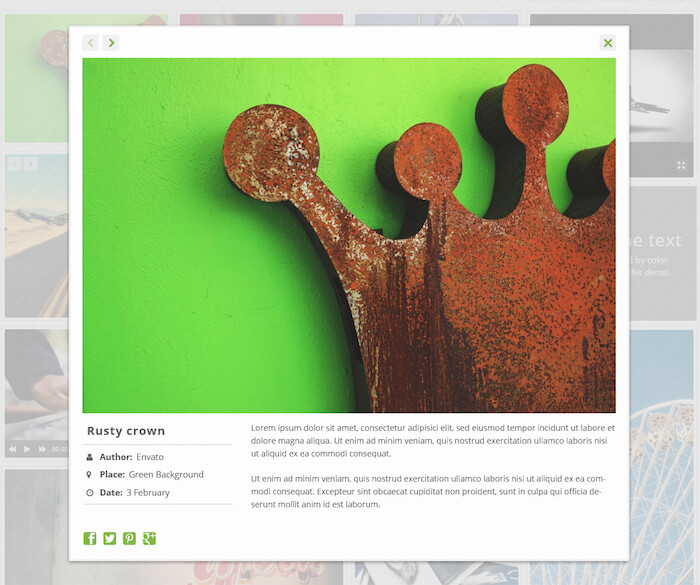 Portfolio – Portfolio Gallery by A WP Life
This gallery has 8000+ active installs with a 5-star average rating on WordPress based on 81 ratings.
It has all the features that are useful and intuitive for most types of portfolios. Here are some features which may interest you.
Varying thumbnail sizes:

You can have different-sized

thumbnails with varying amounts

of text on each.

Categories:

Images or videos can be assigned category tags making it easy to filter your work. For example, the below portfolio can be filtered using categories such as vehicles, animals, buildings, and food.

Hover effects:

The

thumbnail hover effects gallery

has a wide array of options you can explore. The Wobble and Skew effects can help you draw the viewer's eye to a special item.

Lightbox

: There are also various lightbox options that enable you to control the way each image shows up on the screen. For example, the viewer lightbox shows the image swirl onto the screen. It also gives you navigation buttons at the bottom using which you can flip the image sideways or vertically.

Masonry layouts

: A column-based layout allowing for varying image heights. This enables better use of space available without introducing clutter.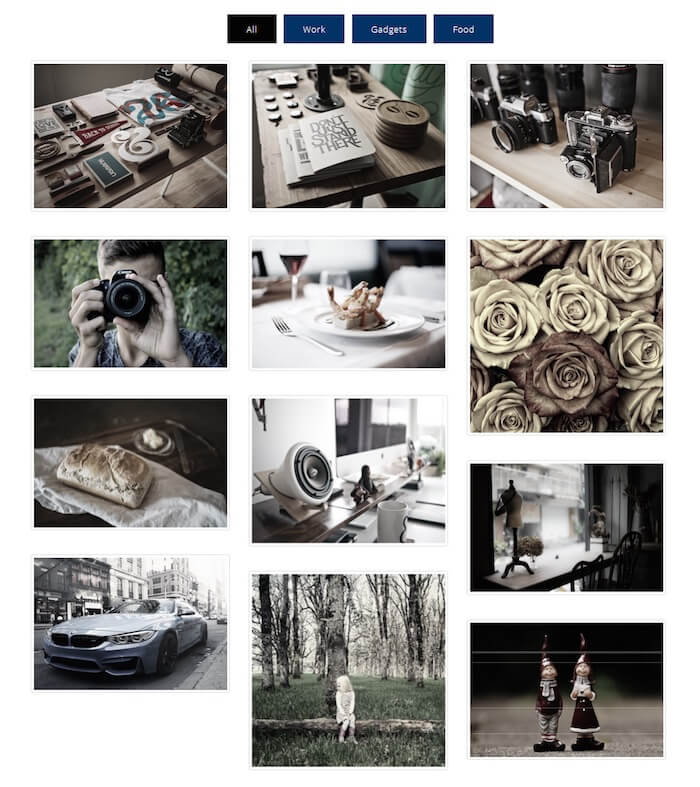 Behance Portfolio Manager
The Behance Portfolio Manager is a different kind of portfolio plugin. It makes integrating Behance projects into your WordPress website easy and effective.
This plugin picks up project details from the user's Behance account and gives her the option to present it in various styles and formats on her WordPress website.
This helps the user continue to maintain all her creative work in her Behance account without having to import it into her website portfolio manually.
The Behance portfolio manager provides a responsive project view with categorization and the ability to filter project-specific information.
It has 1000+ active installations with seventeen 5-star reviews.
With the ability to showcase any type of project including videos, design, photos, and more, this is a very powerful plugin for a creative professional to show off her work.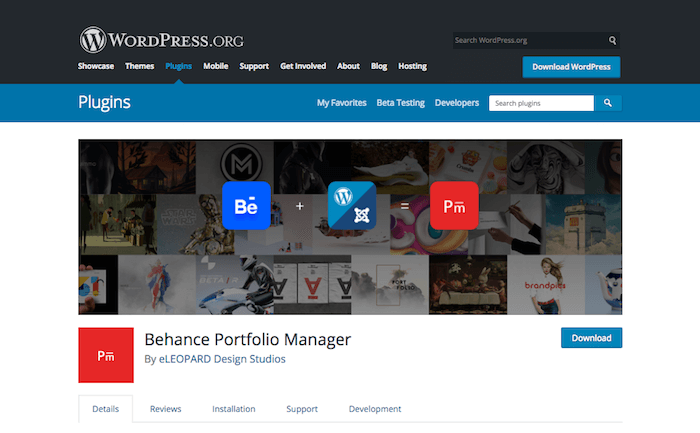 Robo Gallery by RoboSoft
With 30,000+ active installs and a rating of 4.5 stars from 185 ratings, this portfolio plugin is one of the more widely used ones.
Here are some of the features you may find interesting:
Customizable Hover Styles:

Translucent or opaque overlays on thumbnails display preview text about the portfolio item. The overlays can slide in from different directions based on mouse movement.

Customizable thumbnail border styles:

with colors and light effects such as drop shadows. For example, with images related to forests, you can probably use a green border or shadow drop shadow effect.

Video gallery thumbnails:

The thumbnails can display a play and share button as well, to encourage sharing of your content across social media.

Customizable thumbnail sizes:

The gallery thumbnail layout can be customized with different thumbnail sizes. This takes the boredom out of the presentation.

Responsiveness:

The portfolio galleries are responsive and adapt to any device you use. On large screen devices with higher resolution, you can see more thumbnails with a better experience. While with smaller devices, the plugin will display fewer images at a time.
A lot of the WordPress portfolio plugins do not clearly show what their free and paid options provide.
This one, however, has a clear chart listing above what you get and should be useful for a user to evaluate what will work for him.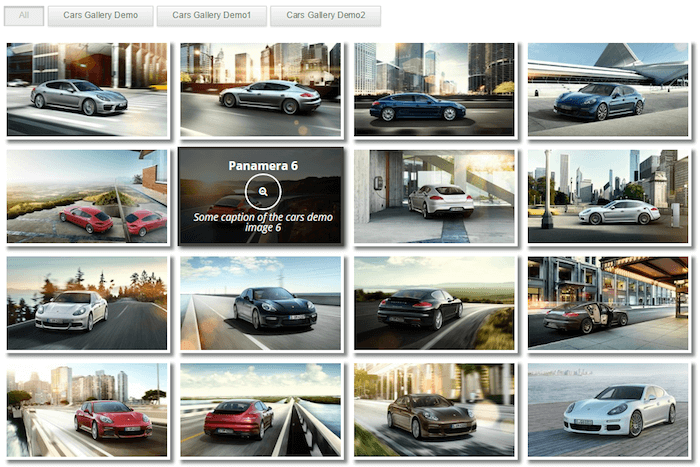 Portfolio & Gallery (Grid Kit)
This WordPress portfolio plugin can display portfolio projects, photo albums, video galleries, and client or team members.
It has 7000+ active installations with 118 ratings and an average rating of 4.5 stars.
Team member portfolio:

If it provides a smooth and classy user experience with the intro text slowly sliding in across the profile picture thumbnail.

Social button display styles:

Share buttons can be enabled for your portfolio gallery which adds sharing buttons to each image in various formats. This is useful if you want site visitors to share your content with their friends on social media.

Video and Photo mixed galleries:

This WordPress portfolio plugin allows the website owner to display videos and images alongside each other, to make the experience seamless for an end-user.

Hover overlay effects:

There are 24+ overlay effects, which can be used on the thumbnails to make it a fun experience for the user.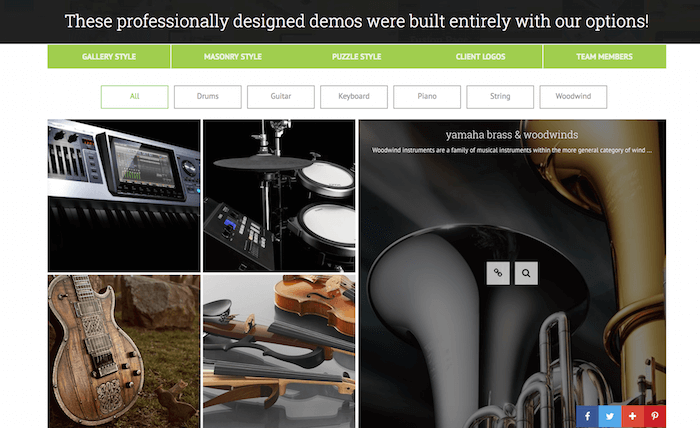 Nimble Free Portfolio Plugin
A beautiful free portfolio plugin for WordPress sites. This plugin will transform your simple WordPress site into a great-looking modern portfolio site.
You will be able to group your content and showcase it with beautiful filterable portfolio sections. You can use any photo, logo video in the portfolio section.
This plugin supports all types of posts, pages, custom post types, WooCommerce products in the portfolio section.
You have the shortcode support to place the portfolio section in any content of your site. You also have widget support.
Top Features
Responsive design to work perfectly on all devices.
PrettyPhoto gallery for pictures, video.
Easy customization option.
Different ready-to-use skins.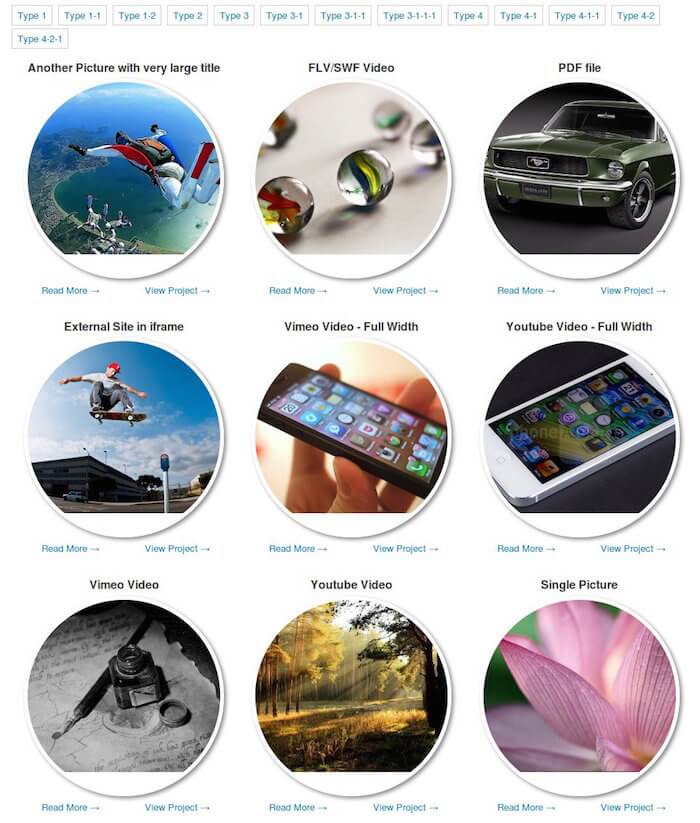 Portfolio by BestWebSoft
Another good portfolio plugin option, the Portfolio by BestWebSoft is a free plugin that you can get in the WordPress plugin repository.
It offers you beautiful portfolio post layout options to showcase your work with all the important details about your project.
You can have the project title, description, screenshots, URL, and all other details to make sure that you can present your work in completion.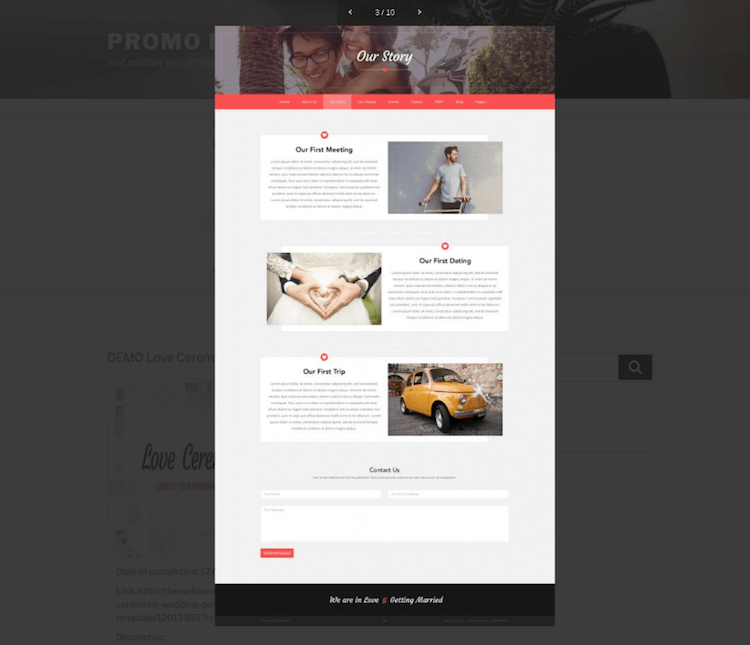 Endnote
That brings us to the end of our brief exploration of WordPress portfolio plugins. Please explore these and other plugins to find the one that works for you. A couple of tips for you:
Keep a clear objective: Don't get distracted by options. Stick to what you want to accomplish. For example, categorizing and organizing your nature photography collection. This may take time but will be worth it.

Start free: Try a few portfolio plugins to evaluate their features. Once you see value in specific premium features, take the plunge.
We hope you find the right WordPress portfolio plugin to show off your brilliant work. Good luck!