Are you one of those whose love for the Netflix content has been decreasing lately and is on the look-out for the best Netflix Alternatives? 
We can't ignore the fact that Netflix is the king of content but there are other streaming service providers that offer different yet popular content.
The new-age digital platforms are ever-evolving and to cope up with the competition, every platform is coming up with engaging content that will add fun elements to your weekends! 
We have curated a list of the best Netflix Alternatives that can be binge-worthy: 
If you are looking for an alternative in any product, chances are Amazon has already made a product to fulfill that wish. Amazon has launched its own streaming service by name of Amazon Prime Video.
To take it to the next level, Amazon has provided all the additional features alongside streaming movies and shows such as shipping benefits, prime music, shopping benefits, reading benefits and other complimentary benefits.
It keeps on adding new shows and movies for its subscribers and is now even producing its own media.
Famous Movies and Shows: Jack Ryan, Two and a half men, and Modern Love
Price: Monthly subscription of $12.99
We are all familiar with the HBO Now due to the Game of Thrones, right? Well, HBO now showcases all the shows and movies sponsored by HBO studios and partners.
It has an excellent interface and list of some of the top-notch shows but it does not stream any anime series. They have more than 500 movies and there is a huge line up for some amazing shows, documentaries, and movies.
Famous Shows and Movies: Game of Thrones, Westworld, and Chernobyl.
Price: It costs $14.99 a month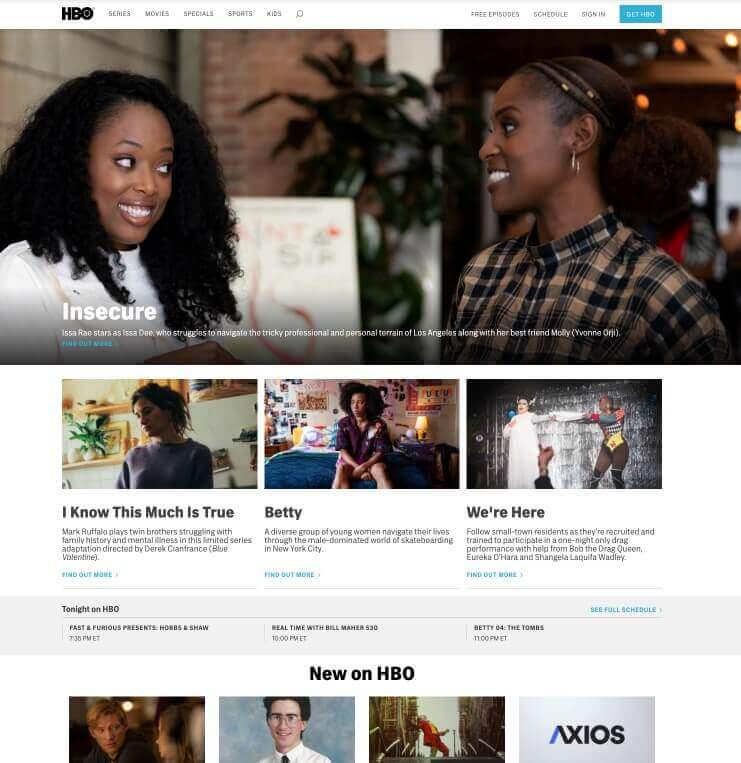 To watch blockbuster movies, series, and sporting events you have to subscribe to Hotstar. The only drawback is that it is available in only three countries yet: the US, Canada, and India.
The user interface is very simple and it also telecasts the latest news and other coverages. If you live in India, you can take advantage of various regional movies and shows. From oscar-winning treats to movies based on books, a lot of content is available.
Famous Shows and Movies: Bohemian Rhapsody, Avatar, and Criminal Justice
Price: It costs $5 monthly
So, the next alternative in our list is the Sony Crackle. We can hardly complain about this streaming platform because it doesn't charge us anything.
There is an abundance of content on Sony Crackle but you have to bear the ads in between your streaming. In terms of number, it might not have the same amount as that of Netflix but you can watch several indie and blockbuster movies.
There are 16 original tv-series and 11 original films as well.
Famous Movies and Shows: The longest yard, Zero dark thirty, and The ellen show
Price: It is free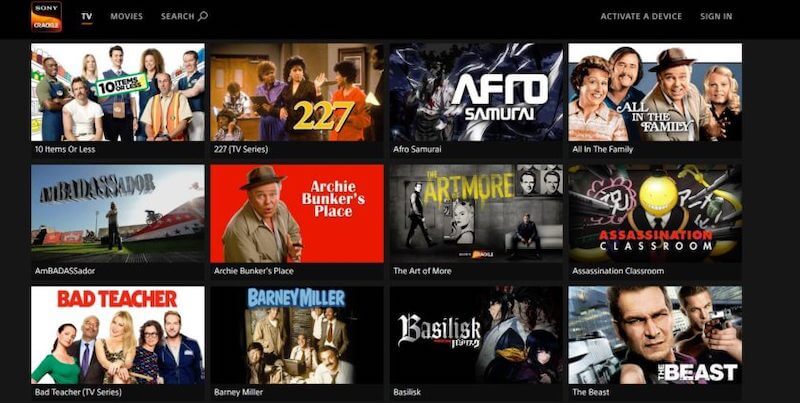 The major talking about Hulu is that it broadcast tv episodes from other networks within 24 hours. You can watch more than 50 live channels with the help of Hulu.
If you want to keep the track of movies and shows that you watch, Hulu provides a watch history. Hulu is a lot behind Netflix in terms of the amount of content but is slowly catching up.
Famous Movies and Shows: The Handmaid's tale, Simpsons, and Family Guy.
Price: For Basic plus Live TV, you have to pay $54.99 a month
Owned by Walmart, Vudu has a library of more than 15000 movies and over 2000 tv series. Unlike Netflix, you don't have to buy a monthly subscription to watch movies or series.
You just have to pay for the movie or series that you want to buy or rent. This way, you can reduce unnecessary spendings. There is a lot of free content available and you can also save movies through a digital copy.
Famous Movies and Shows: Captain Marvel, Never Call Saul, and Knives Out.
Price: Rental price ranges from $0.99 to $5.99 and the purchase price from $4.99 to $24.99.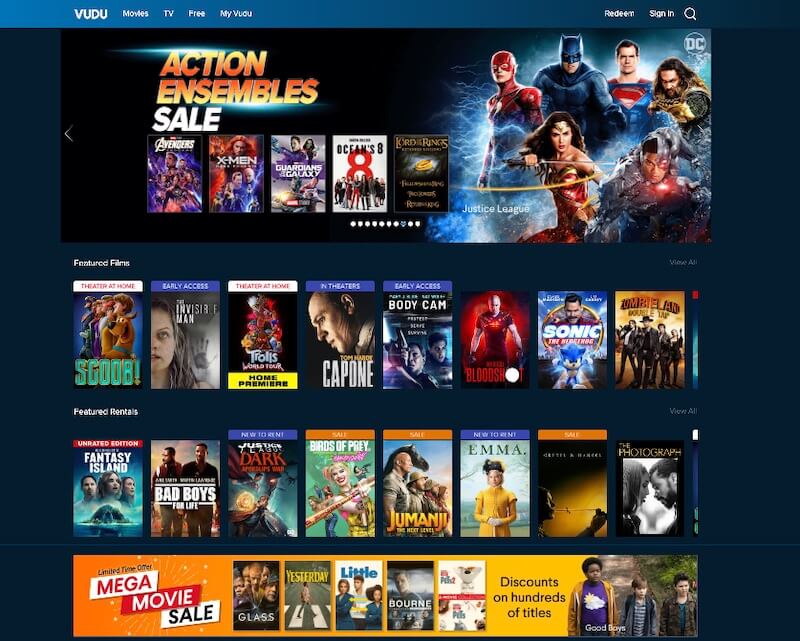 Launched in mid-November last year, Disney+ has already surpassed 28 million marks for subscribers and it is not only because of Baby Yoda.
Disney+ is famous for its family-friendly content. From theatrical blockbusters such as Star Wars, Avengers, animated hits to National Geographic, it will appeal to different masses. Disney+ will host a lot of original content and it will be a must-buy for Marvel and Star War fanboys.
Famous Movies and Shows: The Mandalorian, Avenges, and Star Wars.
Price: It will cost $7 a month.
If you are a fan of CBS shows, CBS All Access is the right choice for you. CBS all gives access to live sports such as the NFL as well as live events such as Grammys.
There is over 10000 episodes content available on CBS so, you'll definitely find something that will match your taste. From classics such as the old Star Trek series to legendary comedy shows such as the Big Bang theory, CBS is an alternative to look out for.
Famous Movies and Shows: The Twilight Zone, Young Sheldon, and Blue Bloods
Price: Monthly subscription of $9.99 for an ad-free experience.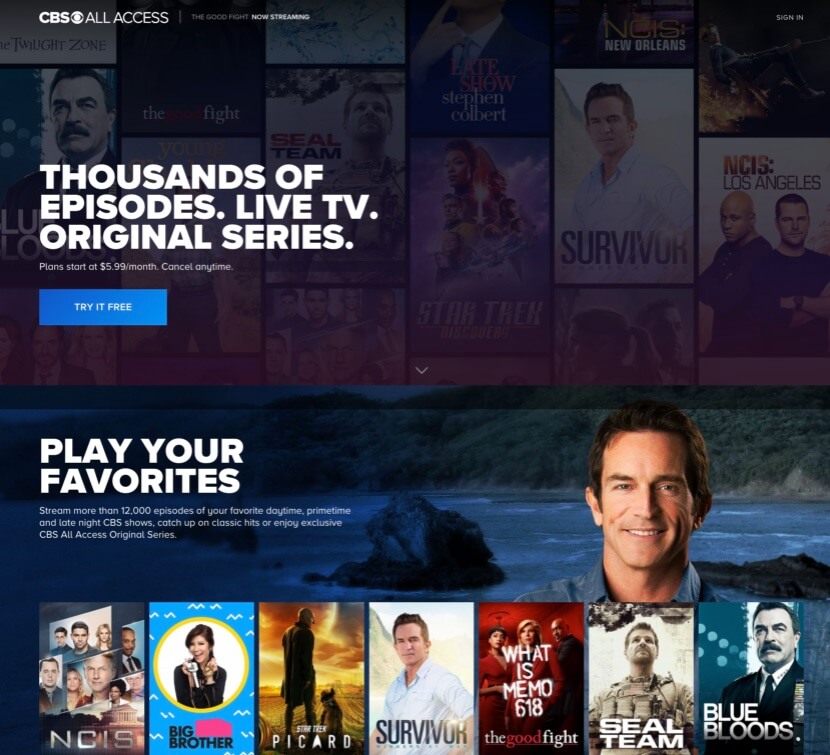 One of the best free alternatives of Netflix available is Tubi TV. Any modern device that can be connected to the internet is supported by Tubi.
In terms of the amount of content, Tubi has surpassed 50000 titles but there aren't any original shows or movies. There won't be any lastest release but the collection is updated regularly. You cannot complain about the ads to enjoy a free service provided by Tubi TV.
Famous Movies and Shows: Oldboy, Memento, and Train to Busan
Price: It is free
You didn't think of Youtube as an alternative? Youtube is more than short videos and music streaming services.
You can avail of the free content available on Youtube as well as some movies that you have to pay for. Youtube premium will give you an ad-free experience and music premium that lets the music playing after the screen is locked. You can buy the movie on rent via this platform.
Youtube has a mammoth library to choose from.
Famous Movies and Shows: Joker, Frozen, and Avengers
Price: It is free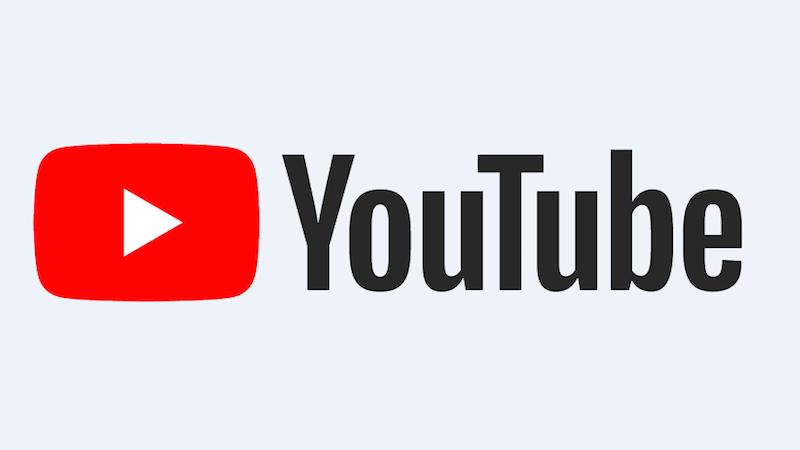 A TV service streamed over the internet might sound appealing to some of you. With Sling TV, you can cut your cable TV cord and enjoy the live and on-demand TV channels.
It provides you with three plans: Orange, Blue, and Orange + Blue. From ESPN, Fox sports to National Geographic and truTV, you can get a total of 51 channels for an amount of $40.
Famous Movies and Shows: Mr. Robot, The Walking Dead and Friends.
Price: It starts from $30/month to $45/month
Apple TV Plus was launched on 1 November last year. Apple TV Plus is adding new content on its streaming device regularly. It has also produced some original content.
It is available in more than 100 countries and won't feature any ad. You can share your plan with up to 5 members. Apple is attracting some huge TV stars and directors so, you might have to prepare for some amazing shows in the future.
Famous Movies and Shows: The Morning Show, See, and Dickinson
Price: It is available for $4.99 a month.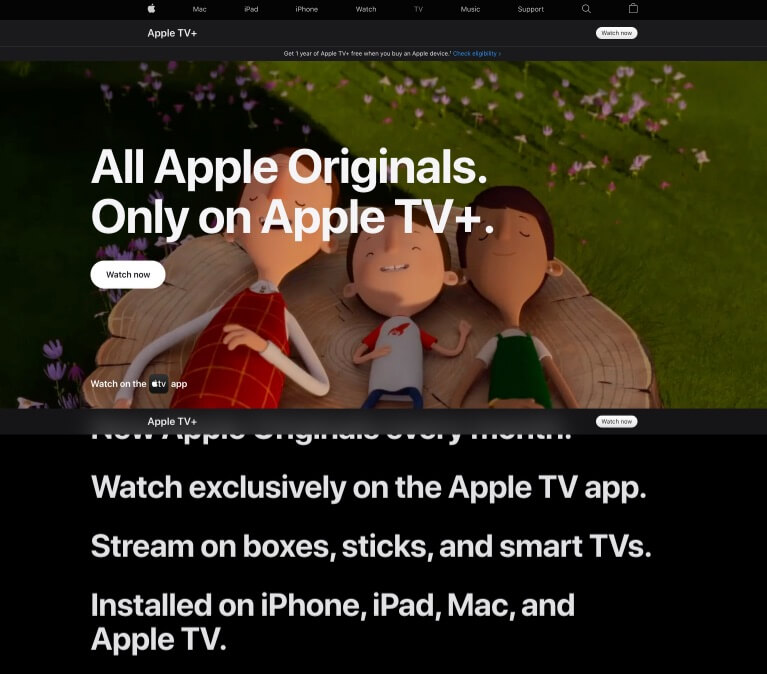 Another free streaming service that will provide you top-notch documentaries and indie movies. There will be hundreds of titles based on philanthropic causes.
The user interface of Snagfilms is pretty simple. It has more than 5000 titles of content that will make you fall in love with the theatre. You'll find a great collection of independent, comedy, and horror movies.
Famous Movies and Shows: The Iran job, Purple States, and American Viral.
Price: It is free
We have looked for a movie's or show's IMDB rating a number of times before going ahead to watch that thing. Now, IMDB has launched its free streaming service called Freedive.
IMDB Freedive has limited content but it certainly has the collection of best shows. It is only available in the US but you can use a VPN to access this streaming service. With fewer ads and free content, it sounds like a good deal.
Famous Movies and Shows: Foxcatcher, Heroes, and True Romance.
Price: It is free
Having already served in the US market for more than two decades, Acorn TV is now offering television programs from the UK, Ireland, Canada, Australia, and several other countries.
Acorn TV has a binge-worthy list of original series. The content offered by Acorn TV is far more than the fan-favorite British Shows, as it includes mysteries, comedies, dramas, and documentaries.
Famous Movies and Shows: Loch Ness, Keeping Faith, and Jack Taylor
Price: It is available for $4.99 a month.
Final Word
The selection of the best streaming platform depends on a number of things such as the cost, content, ads, and availability but if that particular streaming service provides your favorite show or movie, you are going to end buying it anyway.