A CDN or a Content Delivery Network is a method by which you can send content from your website to people living in a geologically specific zone with much more speed and efficiency.
Sometimes, even with a good hosting plan, your site load speed can be compromised if your audiences are living far away from your site's server.
When you use a CDN, you are basically caching and storing all your content on multiple servers.
So, the next time one of your audience wants to view some of your content, they will be redirected to the closest server, and will also notice a significant improvement in your site's load time.
Besides this, using a CDN can lead to an improvement in SEO and also reduces the chances of your website crashing.
A quality CDN will bring in a considerable difference in the loading speed of your site. If you wish to keep track of the speed, here is s list of tools that you can use to check your site's loading speed.
Now, if you like the idea of using a CDN but you are not sure whether or not it will pay off, you always have the option to use a free service.
And to help you out, we have put together a list of the 10 Best Free CDN options. So without further ado, here we go:
Note: CDN will also store all your static content like images, stylesheets, javascript, flash and so on. It will not work with dynamic content unless mentioned by the service provider.
What Are The Top Free CDN Services?
There are a number of platforms that offer free CDN services. However, the free service comes with limitations.
Here are a few options that offer free CDN service or a free trial before going for a paid plan.
CloudFlare
CloudFlare is one of the most well-known CDN solutions, and not to mention the best one if you are looking for some free alternatives. They offer a multitude of features at a free price tag.
For example, you get a free shared SSL certificate, limited protection against DDoS attacks, and a promise that your free plan, will always remain a free plan, even on occasional bandwidth overages.
The company has over 118 data centers spread across the world and guarantees that your site will be at least two times fasters if you are using their service.
They cache your content throughout all these networks and then quickly serves them up to the nearest visitor when requested.
To use the service, you will have to create an account on their website and then simply add your site or blog. This will generate a custom nameserver which you will have to update the domain you have added and Voila!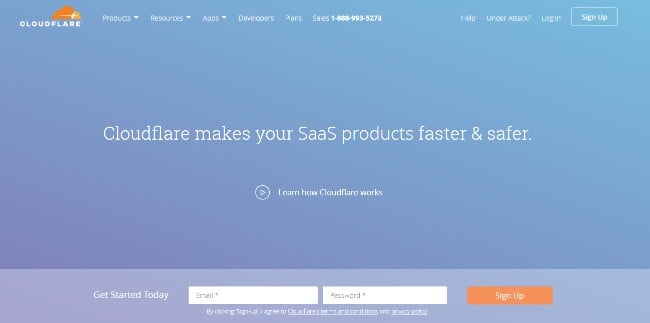 ---
Site Accelerator By Jetpack
You might have already heard about the Jetpack plugin if you are a WordPress user. If that is so, then you already have access to a basic free CDN.
Site Accelerator by Jetpack is another plugin-based CDN that can help you to cache only your images among its large global network of servers.
The Site Accelerator module allows you to use the WordPress CDN and serve up all your images on WordPress distributed servers. And so, it is worth noting that the service is only exclusive to WordPress.
The best part about using Site Accelerator is that you won't have to configure anything. All you have to do is just install the Jetpack plugin and activate its photon module.
Everything else is automatic. All your images will start getting offloaded to the WordPress grid and will be served up to users as soon as the request comes.
Now since this is an image-only CDN solution, you can consider using its facilities if you are running an image-heavy blog or website.
For example, this is an ideal plugin for photography blogs, portfolio sites, etc. and will also help these sites with improving the load times of your images, as well as saving your hosting bills.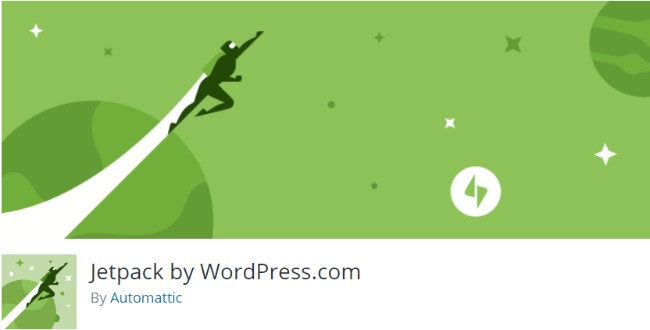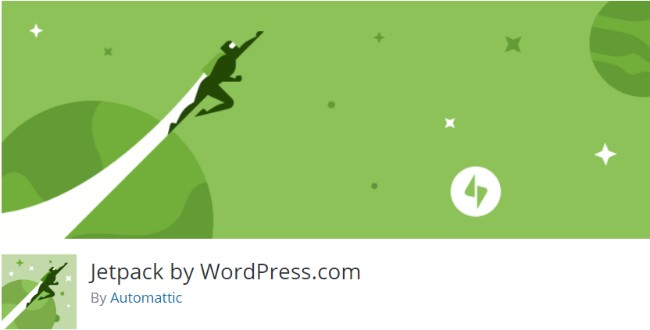 ---
Gumlet
Another great CDN option with 200+ PoPs. It offers image optimization, video optimization options to make your website load very fast.
Along with the paid plans, Gumletoffers a completely free plan that you can use for one website. You get 1 GB bandwidth per month and $1 per extra GB.
Gumlet offers you complete analytics and an easy dashboard to manage your projects.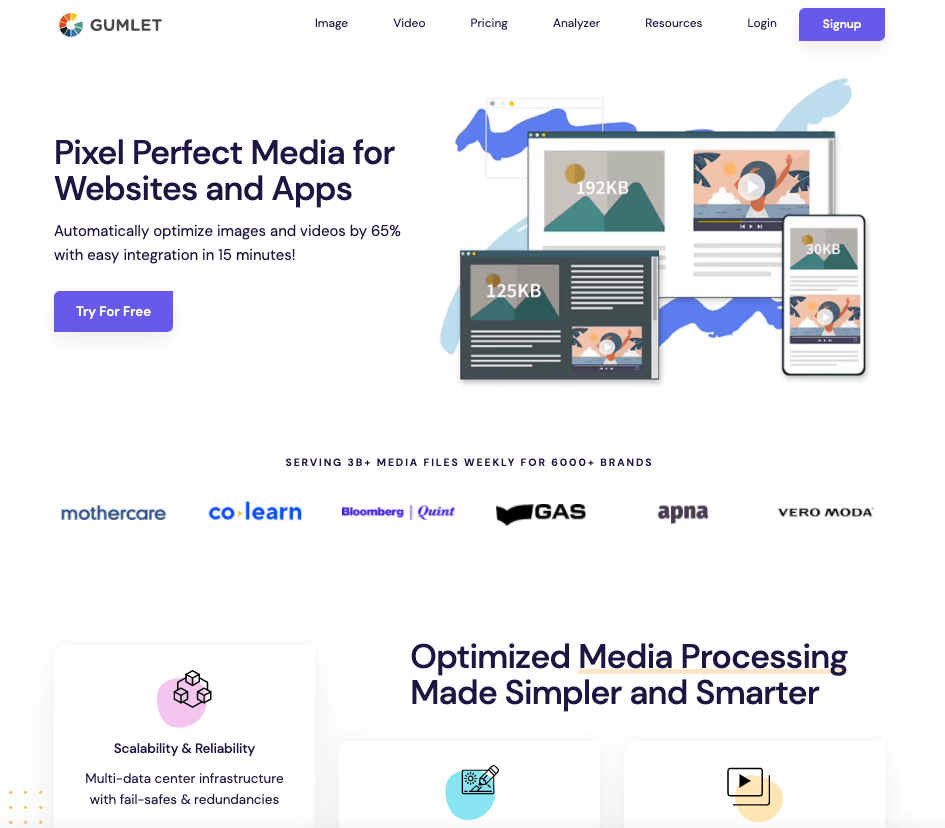 ---
Cloudinary
If you are managing an image-heavy website, offloading images from your server is a great idea because it will save a lot of bandwidth for you and make your site way quicker.
Cloudinary is a service that offers you an option to host your images on their server. They have a few plans where you can host 10 GB managed storage and 20 GB monthly bandwidth.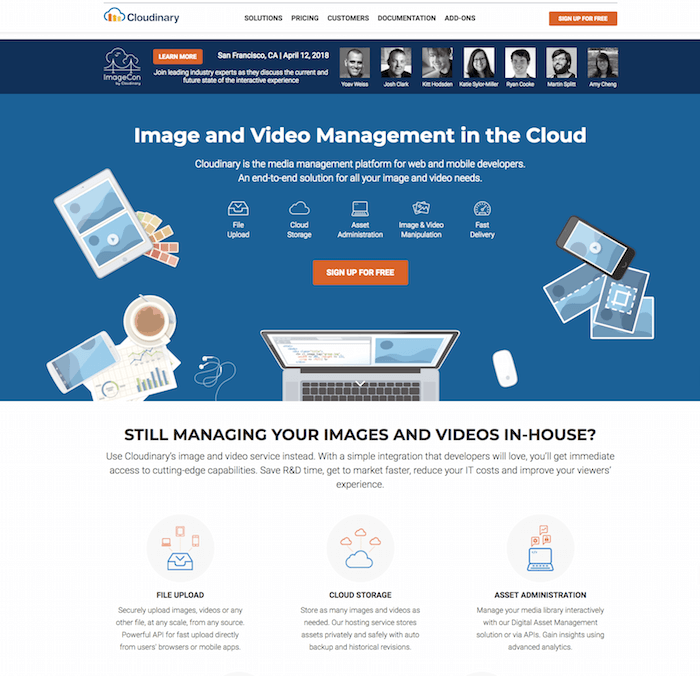 ---
Incapsula
Incapsula is another free CDN solution whose services are quite comparable to CloudFlare. Besides caching your images, the CDN also handles your HTML, Javascript, and all other static content.
All these will be stored up in numerous data centers spread across the globe and will be served up when required.
Some of the services that you will be getting with Incapsula include Website security, DDoS protection, load balancing, and failovers.
They use Bot Mitigation and Two Factor Authentication system to protect your site against numerous malicious threats.
In fact, the reason why Incapsula grew to fame is when they protected one of their websites from one of the largest internet attacks in 2013.
Now, the setup procedure of Incapsula is quite similar to CloudFlare's. You have to visit their website, create an account, and then change your DNS to Incapsula.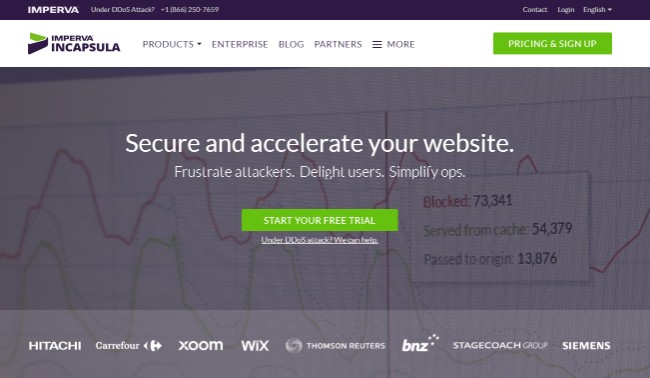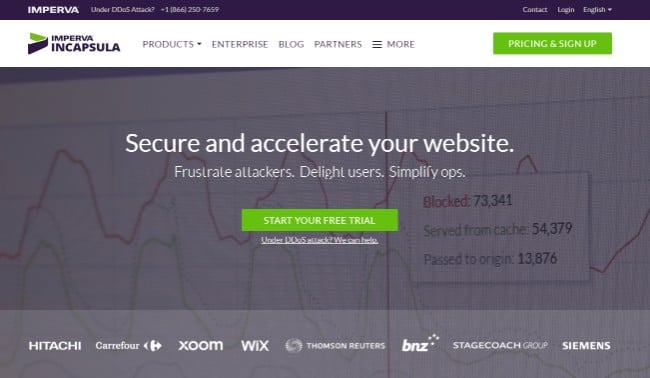 ---
jsDelivr
jsDelivr is a CDN service that is used for hosting JavaScript files. We have previously discussed CDN solutions that are exclusive to images, so why not something exclusive to JS files?
jsDelivr is a public CDN that hosts javascript libraries, jQuery plugins, and everything else that is needed for them to work.
All types of websites use javascript, especially if it is a WordPress website. So when you are using this CDN, most of these .js files will run through this network which will improve your site's load times.
The most important use of the plugin comes when you have to implement custom JavaScript codes on your site, and you have to host them.


---
CoralCDN
Coral is a free CDN, easy to use and newbie-friendly. It is a peer-to-peer CDN network that has been around since 2004.
Coral receives close to 50 million requests per day making it a busy network of users that runs throughout the world.
We have covered most of the main contenders for free CDN solutions. A couple of these do have paid plans, but their free plans are also for lifetime usage.
Up next we will be going through a couple of premium CDN services that offer limited trial usage.
You can use these to see how much improvement a CDN service can have on your website, and if the profits outweigh the cost, then feel free to subscribe to one of their plans.
Trial Versions Can be Used as Free
---
KeyCDN
KeyCDN offers 250GB traffic valid over a 30 day trial period. This includes every single feature offered by the service including HTTP/2 Support, Custom and shared SSL at no extra cost. The company has 25 data center locations, and 5 zones are provided for free.
The best thing about KeyCDN is that during the signup process of the trial period, you will not be asked for any credit card details.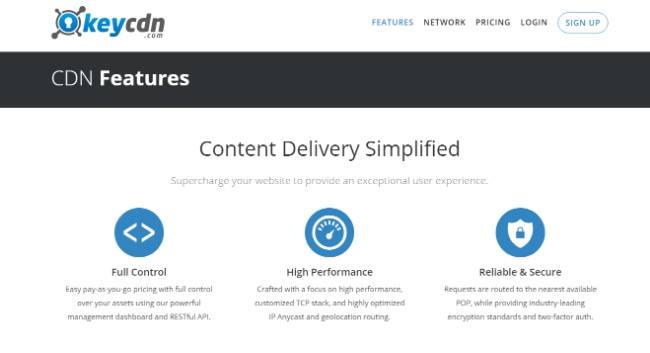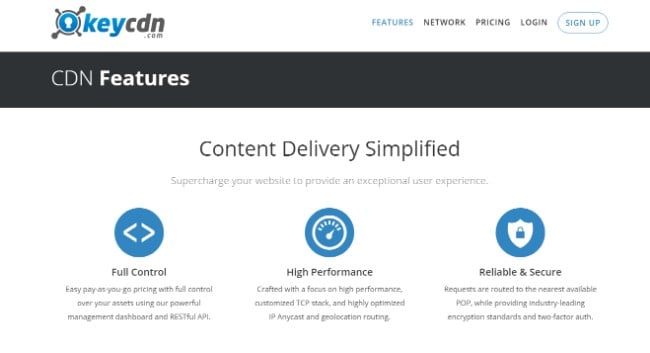 ---
Amazon CloudFront
Amazon's AWS (Amazon Web Services) is a game-changer, bringing high-performance cloud computing capabilities to the masses at affordable rates. And AWS CDN service is called CloudFront.
With this, you will get a free usage tier for a one-year period. During this time, you will get access to all their features but a limitation of only 50GB outbound transfers and  2,000,000 HTTP and HTTPS requests.
Here is how you can speed up your WordPress website with Amazon CloudFront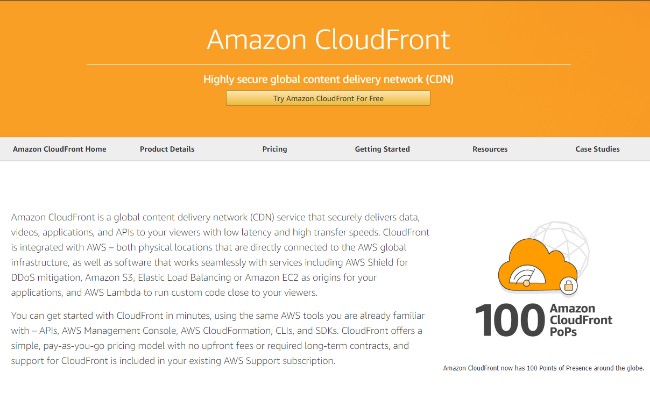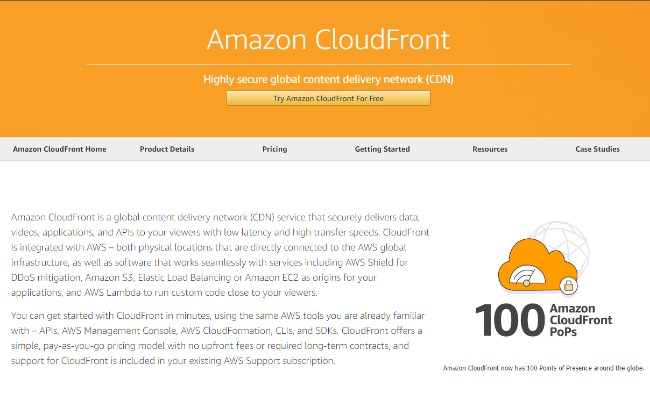 ---
Google Cloud CDN
Google Cloud CDN is another module in the Google Cloud Platform. Once you enter a new account, you will get $300 credits that will last you for a 60-day time frame.
Hence you get an ample opportunity to test out what the software behemoth has to offer. One thing to note is that, if you don't use all the credits provided to you, they will expire after the 60-day limit, and won't roll over if you wish to continue.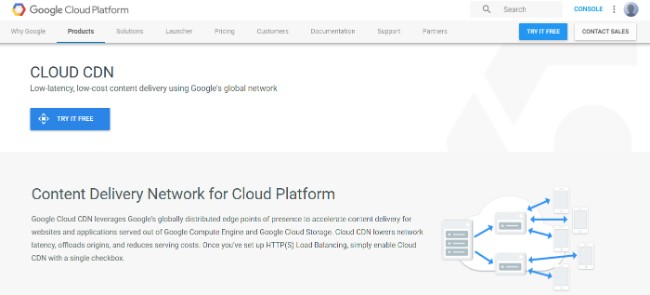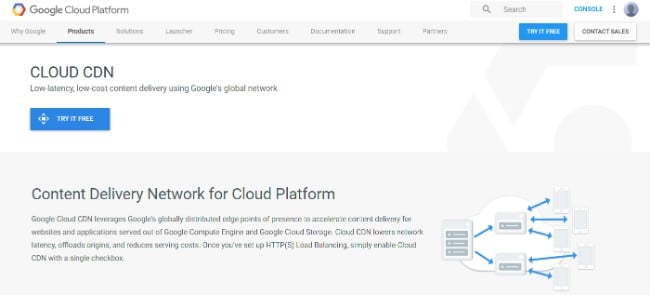 ---
Microsoft Azure CDN
Microsoft Azure CDN solution offers something similar to Google's CDN. In their free trial, you will get $200 credits that will expire in 30 days.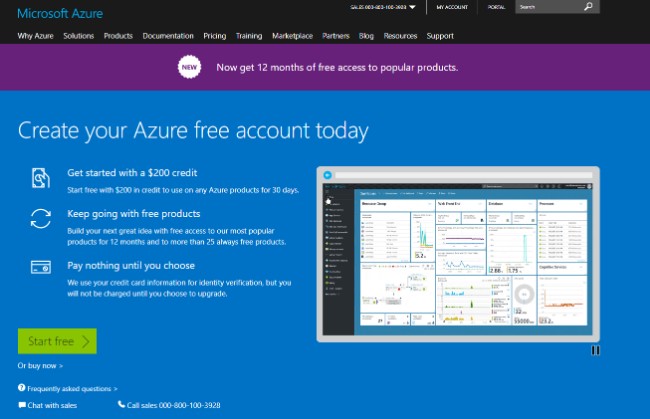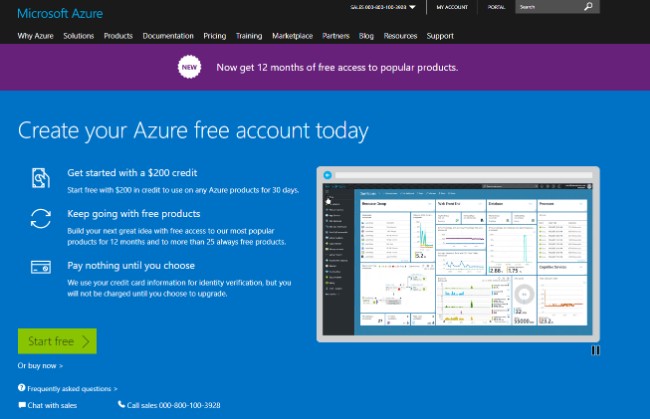 ---
Stackpath
Stackpath offers you a month of free secure CDN service and after that, you can pay $10 per month to continue.
This is a secured and complete content delivery network that will offer you upto 1TB per month bandwidth for $10 and you can host unlimited sites.
So, if you have a number of different sites to manage this is a good option for you. Your content will be served through a highly secured line with DDoS protection.