Best free Bootstrap admin templates that you can use on your project. These admin templates will save a lot of your development time on your project.
If you are planning on developing a new web app or creating a stunning backend membership area for your services, it is time you started figuring out about designing the admin dashboard.
You need an effective admin dashboard that your users enjoy revisiting repeatedly and that can be a tough ask.
Earlier there was little consideration about the design of the admin section of a web application but over time the beautiful design has merged with powerful functionality. The Bootstrap framework has been on the rise in terms of popularity.
Why Bootstrap?
Bootstrap tells you what you are getting. Customizing mobile-first framework is easier as it is loaded with ready-made design patterns and arrives packaged with a vast library of components and widgets.
It makes sense to build the admin panel of your dashboard knowing well that Bootstrap will look consistent across all screen resolutions and platforms.
Well, you don't need to spend a fortune on making an attractive and user-friendly dashboard for your website or app.
The best free Bootstrap admin templates suggested below will help you to find out an appropriate user interface strategy for your project and provide an idea as to what works best for your website.
You get one or even more than one customizable dashboard homepage templates that you can use as the foundation for your project.
When deciding on your custom dashboard you can explore the template packs that come loaded with a wide range of cards, elements, and components that you can choose from.
You can add various different features to your admin pages such as charts, graphics, buttons, alerts, and tables and ease your usage of the dashboard.
A few templates provide animation effects while other elements help you to make your dashboard attractive. An added advantage is that they are also mobile responsive so they should work on small and large screen displays.
There are a number of great sources to find quality free templates, you can find it on GitHub is a great source to find some quality template for your project.
The best collections of free bootstrap admin templates for developers are provided below and these admin templates are well suited for any website.
Top Bootstrap Admin Templates for Your Project
---
Pages: Admin Dashboard Template
A powerful and comprehensive admin dashboard template created on the Bootstrap 4 platform. You can use this template for your project to add a trendy user dashboard.
The template comes with beautiful design elements to make the admin dashboard look great. The use of material icons makes it look great on all devices.
It's a template with over 100 widgets ready to be used. The clean code and light weight of the template makes it suitable for any kind of project.
The template offers you all the important elements that you may need on your dashboards such as interactive calendar app, sliders, cards, time picker, quick search toggle, and a lot more.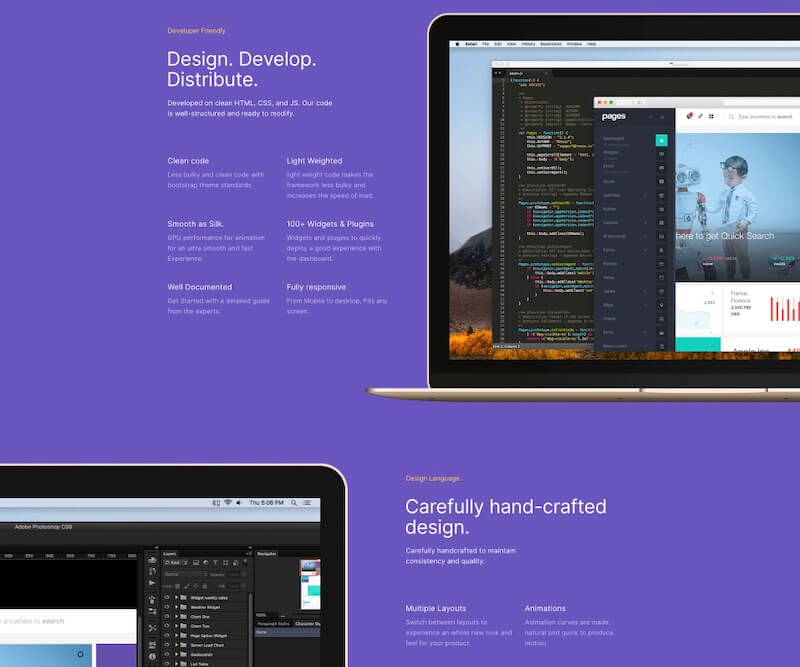 AMPLE ADMIN
Ample Admin is a handcrafted dashboard admin template which will impress you quickly. It allows you to choose from a good collection of Font Awesome icons that help you illustrate your dashboard designs.
A set of brand new icons for services like Facebook, Twitter, WordPress, and Slack are provided. They'll look good across a range of devices as these icons are all mobile responsive.
It is free and you can download it for your personal projects. For commercial projects, you'll need to check out Ample Admin Pro.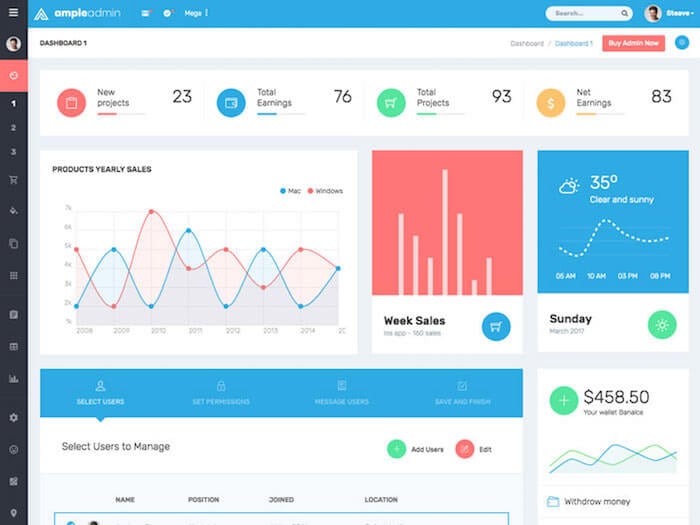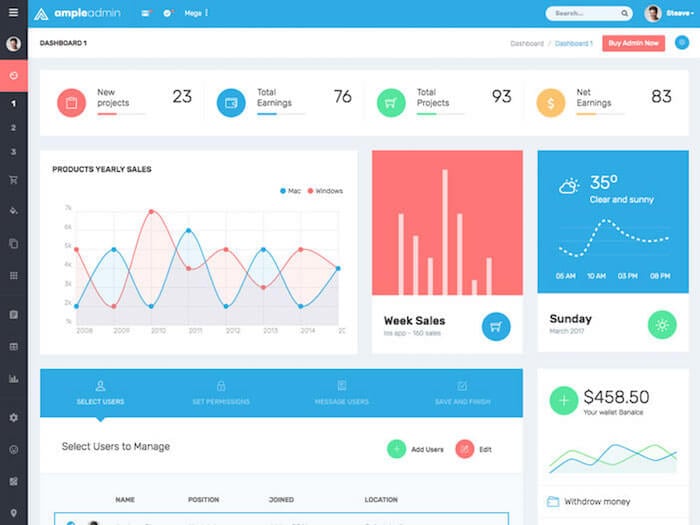 KLOROFIL
Klorofil offers a design that is neat and tidy for a user interface. The design of this template takes a flat UI approach.
Klorofil allows you to include stylish buttons for encouraging user interaction with your dashboard, badges and alert panels to draw the attention of your users and progress bar elements.
Klorofil is more than up to the task and it does not matter whether you are designing a website or a mobile app as it is equally responsive.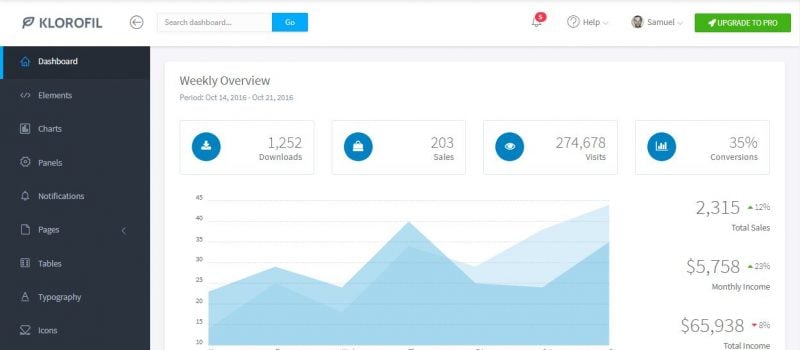 MATERIAL DASHBOARD
Material Dashboard is inspired by Google's Material Design. It is easy to use and has a beautiful set of components. It comes with a couple of third-party plugins redesigned to fit in with the rest of the elements.
Check our article about best Angular Material Design HTML5 CSS3 admin templates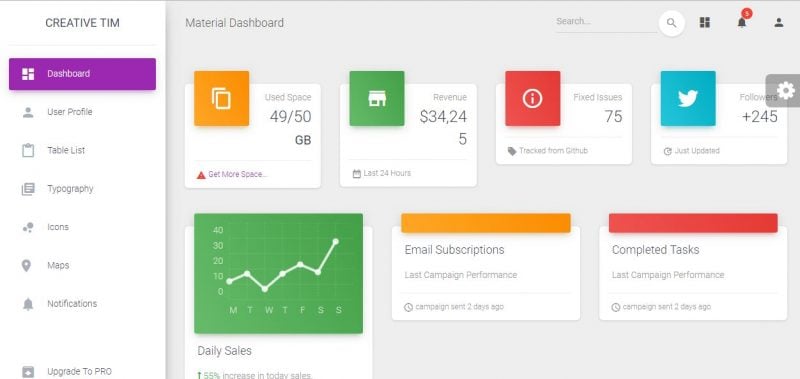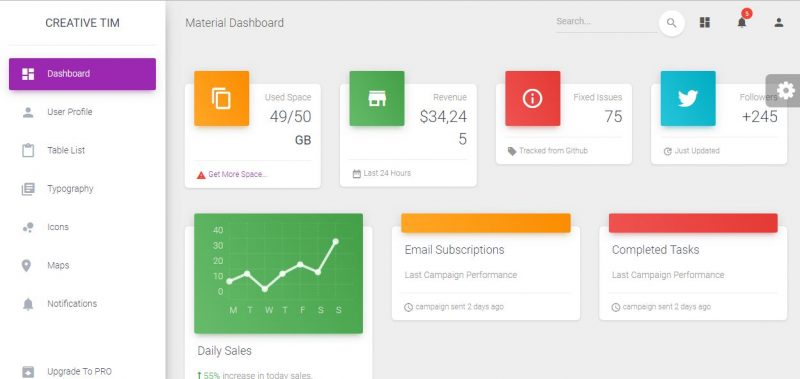 CORE UI
CoreUI is a free template that will enable you to create functional user interfaces that are stylish too. It works with a wide range of libraries and has a modern design and appearance.
An interesting feature is a traffic chart which can be filtered by social media statistics, sales figures, user data and much more.
The library components boast of a rich storehouse of buttons, card styles, forms, switches, tabs to your custom interfaces. CoreUI also caters to those who need charts.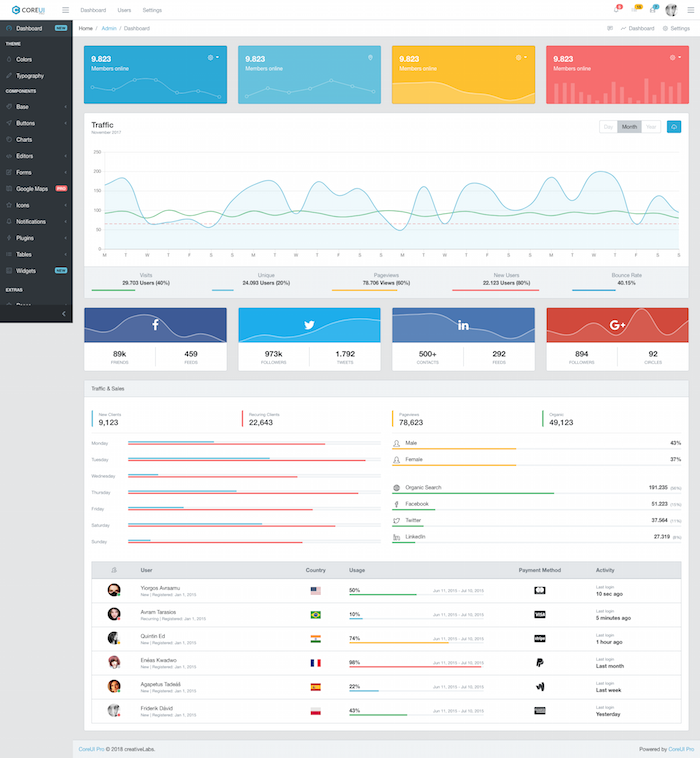 STAR ADMIN FREE TEMPLATE
A modern fully responsive Bootstrap admin template that you can use for your project. It is a free template, you can download and start using it on your site.
The template works perfectly on desktops as well as smartphones. The template comes with the best selection of high-quality Bootstrap components that will supercharge your project.
Beautiful buttons, charts, form, and typography elements will make your overall dashboard look great.
This template also offers a premium version as well.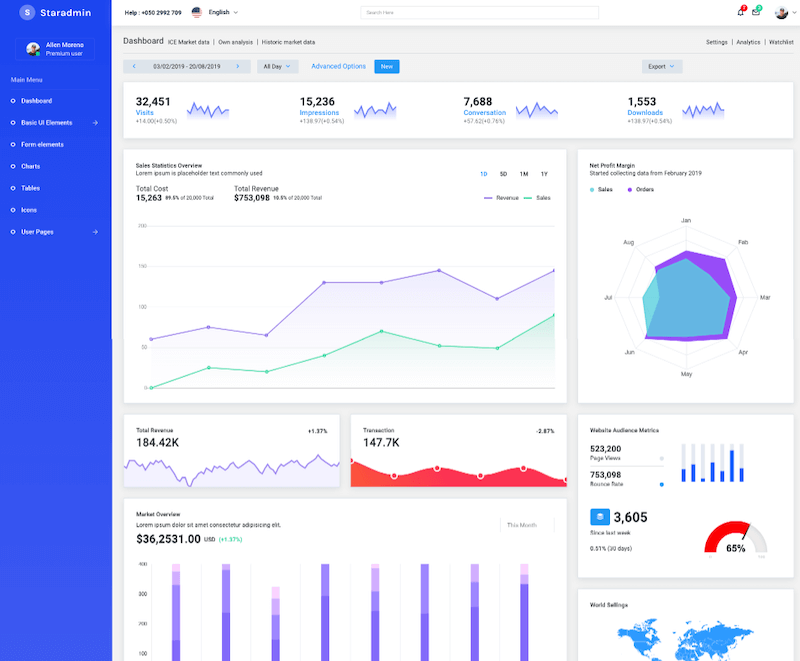 DASHGUM
Dashgum is an amazing 15-page Bootstrap admin theme. You have charts, tables, panels, calendars, notifications and a lot more to make your dashboard look as presentable as you wished for.
A pre-built dashboard homepage that includes top features will provide you with a solid foundation to work from. If you choose DashGum you will have a set of features with a professional design.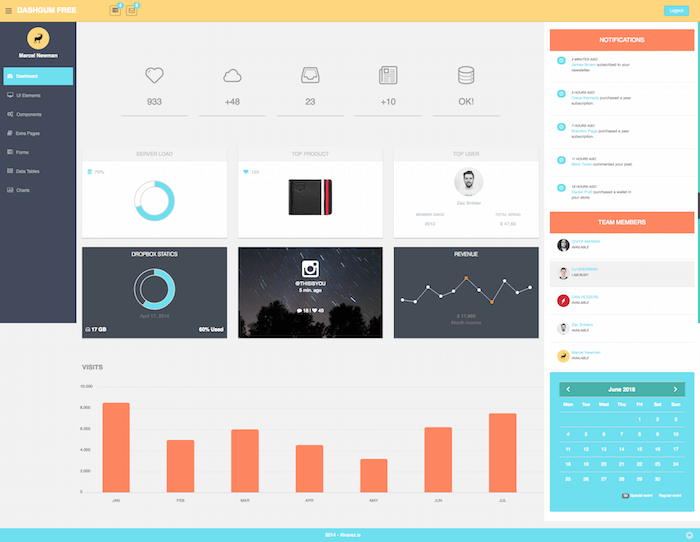 COLORED
Colored as the name suggests, lives up to its name by doing what the word means – adding lots of colors to make the admin pages look bright and interesting. Plenty of colors on your dashboard will drive away boredom and bring in freshness and pleasure to the eyes.
If your project requires a glossy feel and look, this is your go-to template.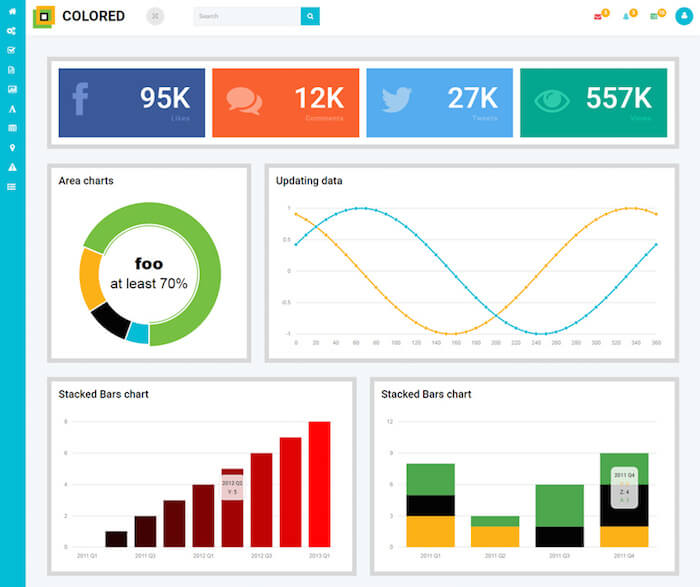 SHOPPY
Shoppy puts a strong emphasis on eCommerce-related projects. Since this is a free eCommerce Bootstrap template, there are some useful tools that help in displaying online shop-related data which covers the number of registered users, daily visitors, sales figures and total revenue.
Shoppy provides visualizations like doughnut, line, polar and pie charts to display on admin area pages.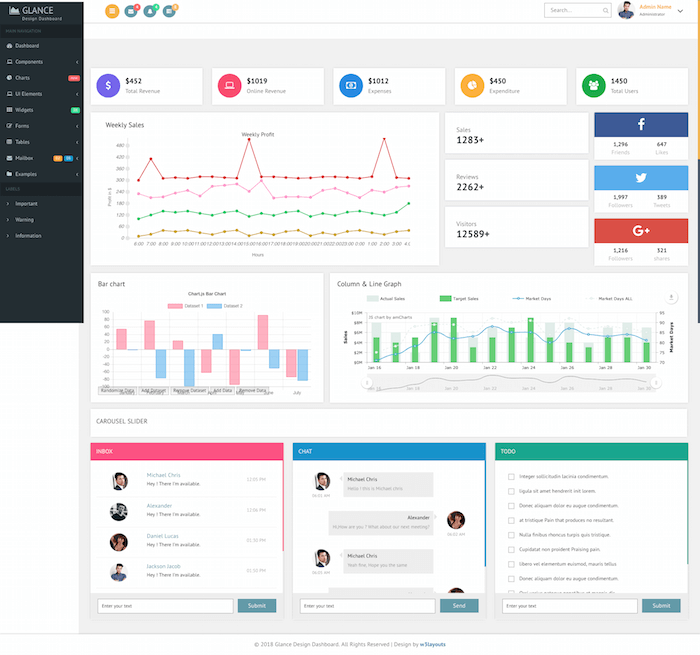 TARGET
Target is built with Bootstrap, HTML5, and CSS3 and offers a developer-friendly code to ensure you are able to customize this free admin template as and when required.
Target has some appealing widgets for representing charts and graphs to your audience. You can also add simple and animated progress bars, message boxes and a selection of buttons.
Target has a stylish design that gives your admin area a professional look and feel.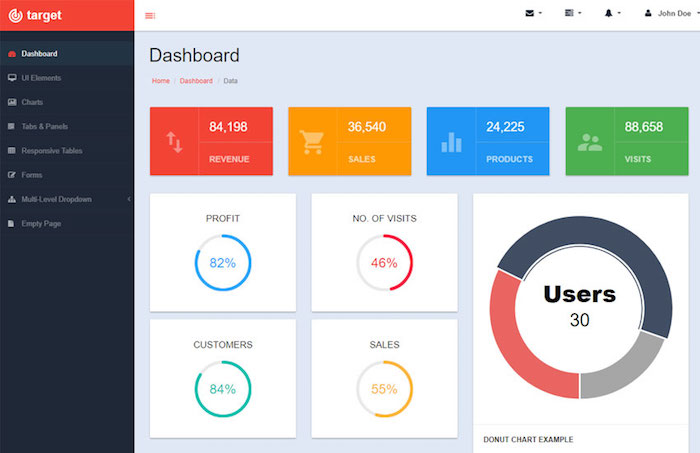 ROBUST LITE
In terms of appearance, this free set of dashboard templates takes its cues from the Material Design handbook.
Robust use of animation effects to bring life into the designs shown in the way graphs load. Two main dashboard layouts are included in the package.
Robust lite is equipped with all the essential admin dashboard components, tabs, tooltips, popovers, buttons and alerts which are an added advantage for anyone who wants a free admin template that has a lot to offer.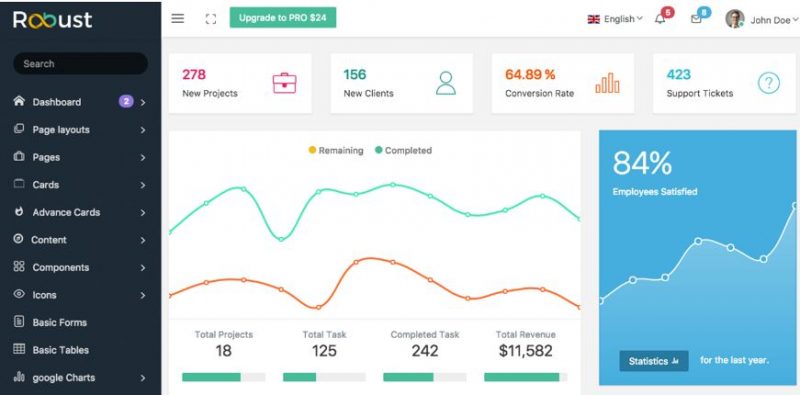 POOLED
A beautiful admin template for the developers. It is based on Bootstrap and created with HTML5, CSS3 and jQuery.
It's a modern flat design that offers you all the important elements that you will need for your project.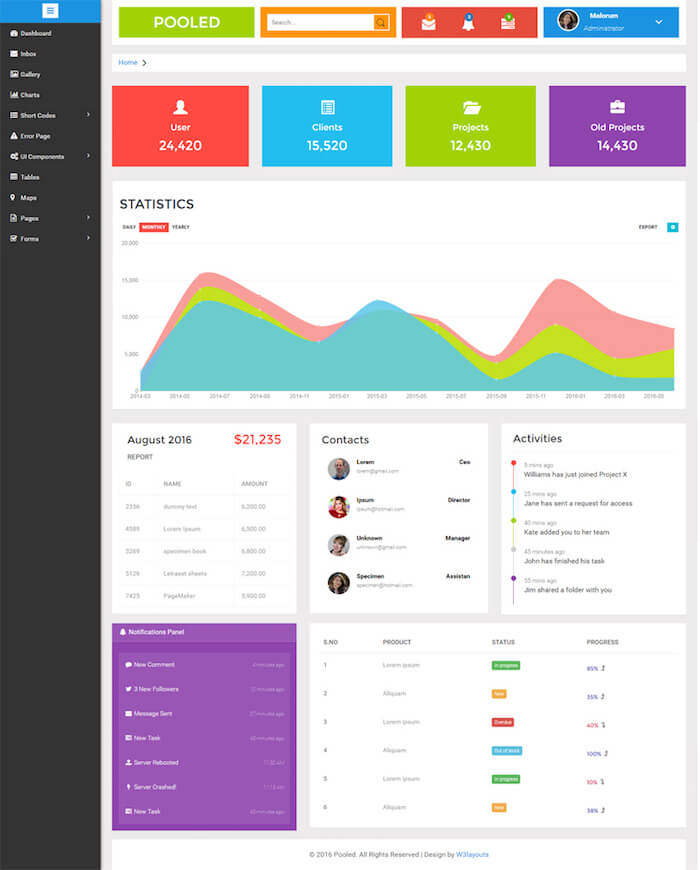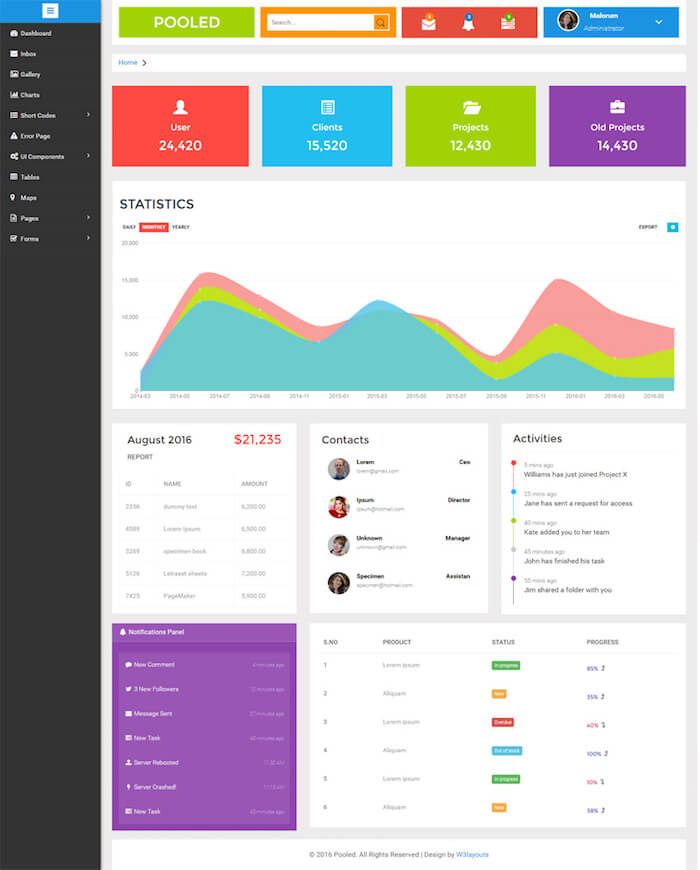 EDMIN
Edmin has a good collection of dashboard features and templates that you can add to an admin area of your project.
On the main dashboard, your logged-in visitors can view any charts that you have added to this area. Interactive tables can be added which represent your data. Forms can be added and like others, it has a library that is loaded with tools.
Overall, the Edmin admin template has a professional-looking user.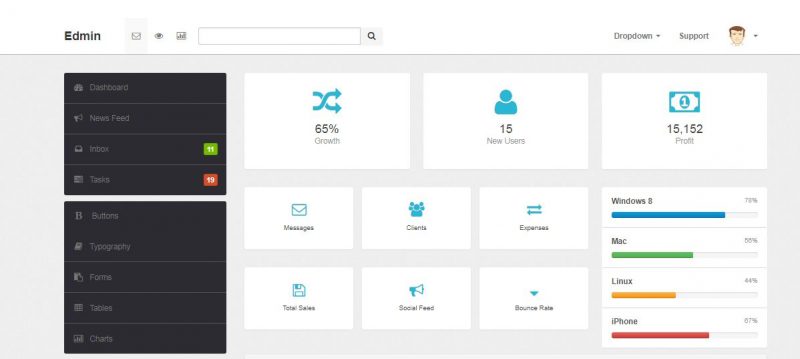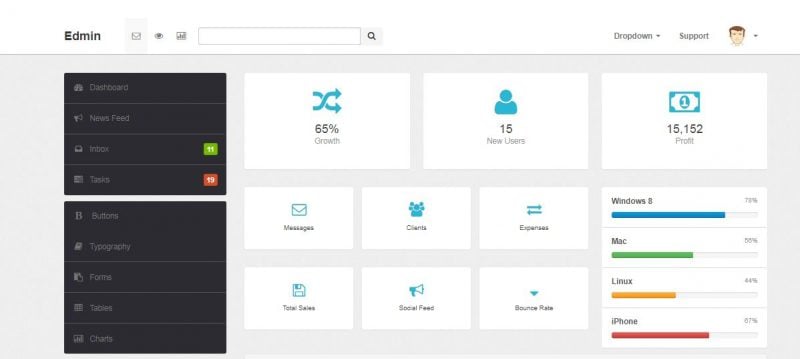 STACK ADMIN DASHBOARDS
One of the most comprehensive admin dashboard options, the Stack Admin Dashboards offers you over 100 pages.
The template comes with a modern design and easy navigation for the users to make sure that the final product is simple and complete.
The menu is on the left side and the graphs, forms, and tables are on the right. Overall, it is a template that deserves your attention.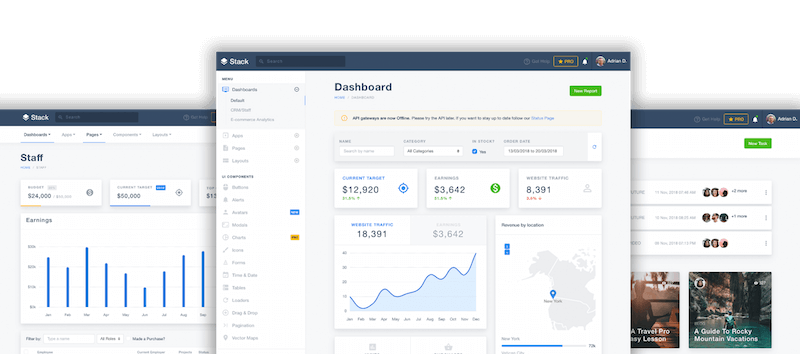 ADMIN BSB
AdminBSB has a colorful design that you can customize as per your convenience and the requirements of your project. It is based on the popular Material Design style from Google.
But compared to other Material design inspired admin templates, this one has a bold appearance. With all popular UI elements and a host of other attractive features, AdminBSB will not disappoint.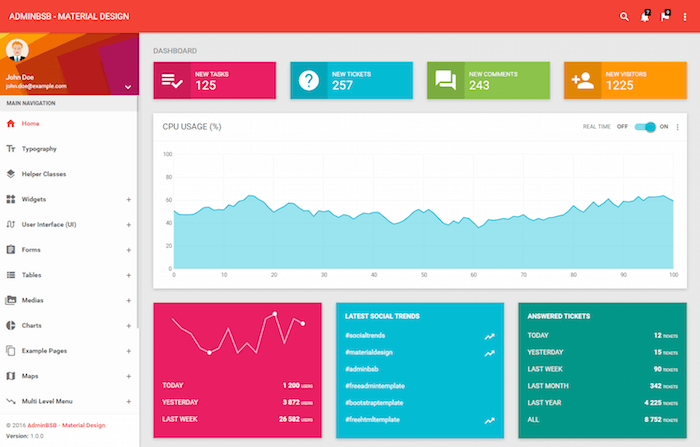 TEMPLATE VAMP
TemplateVamp provides a classic look with a set of templates loaded with useful widgets and panels. TemplateVamp is a good choice for those who do not like Google's Material Design style.
This may not be able to compete with other modern dashboard UI kits but the range of impressive features makes it worth a try.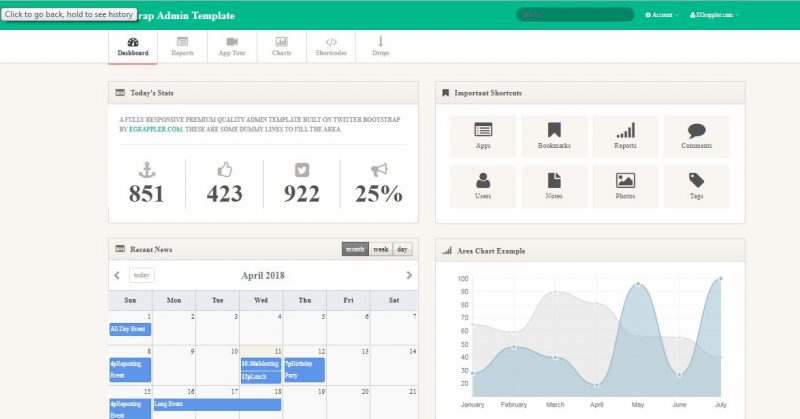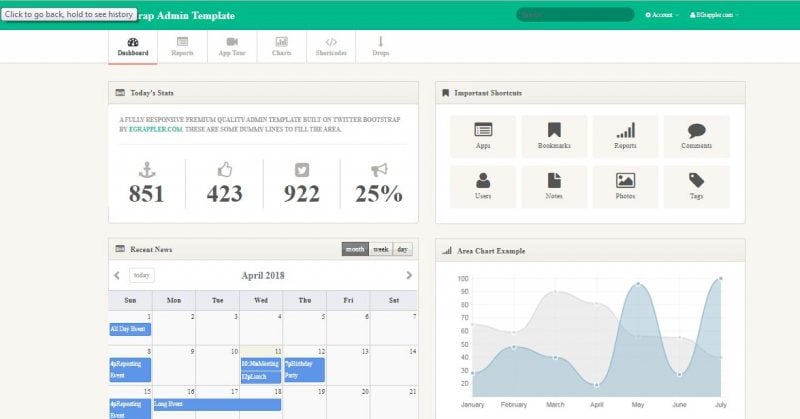 MODERNIZE
Modernize is a beautifully clean and modern admin template that you can use for free on your project. This template offers you all the features and options that you need to complete your project.
This template comes with a number of ready-to-be-used snippets, widgets, and pages that will save a lot of time while you work on your project.
The template is created using the Bootstrap framework, HTML5, CSS3, and jQuery.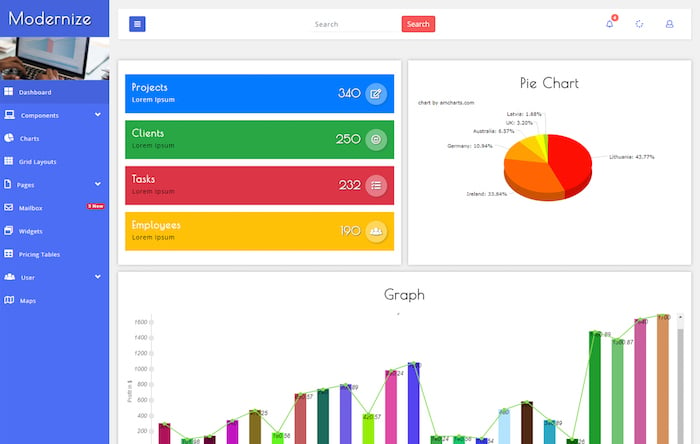 MINIMAL
Minimal ensures that your custom admin dashboard has a premium look. If your project includes lots of images and graphics you could opt for Minimal as its media galleries will make things easier.
Minimal is a competitive admin template that will help you create a custom application backend.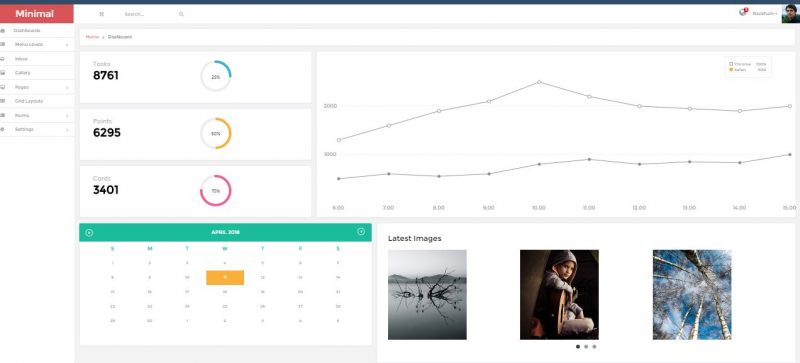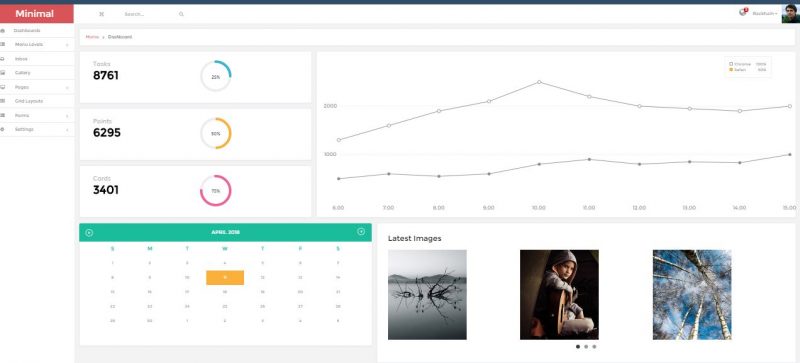 ARBANO
Arbano is a beautiful, colorful, modern free-to-use VueJS Bootstrap Admin Template that you can use on your project.
The design will instantly attract your attention with its perfectly placed elements. The template offers you more than 30 different elements that include graphs, charts, form etc.
MONSTER ADMIN
Monster Admin is an impressive free bootstrap admin template having lots to offer. This template will allow your dashboard to have a highly professional design and appearance.
Monster Admin lite will provide you with all the tools required for your projects with the option of upgrading when your project grows.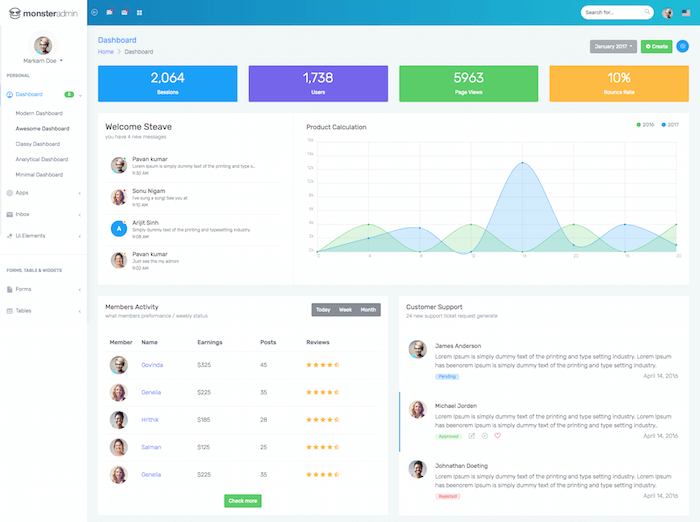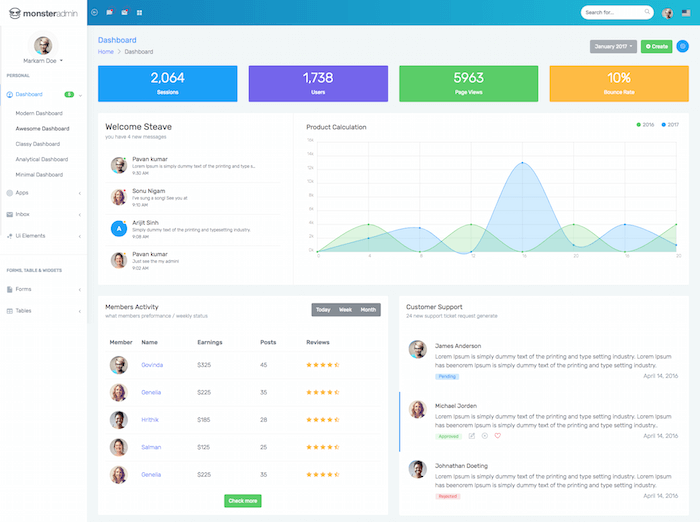 MODULAR ADMIN
Modular Admin helps you build a modular admin dashboard area with a modern design. It has a good selection of panels and you can choose the elements as per your project. It is an admin template that has a solid design and a good feature list.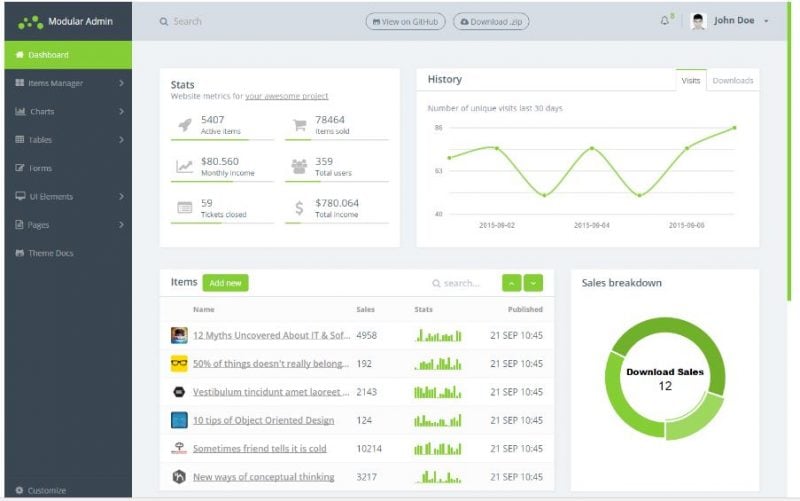 MATRIX ADMIN
Matrix Admin is an admin template that is inspired by the metro design style and can be used for personal and commercial projects.
The real-time chart element feature keeps users up to date with the latest changes. An abundance of features and a stylish design are what make this template an attractive option.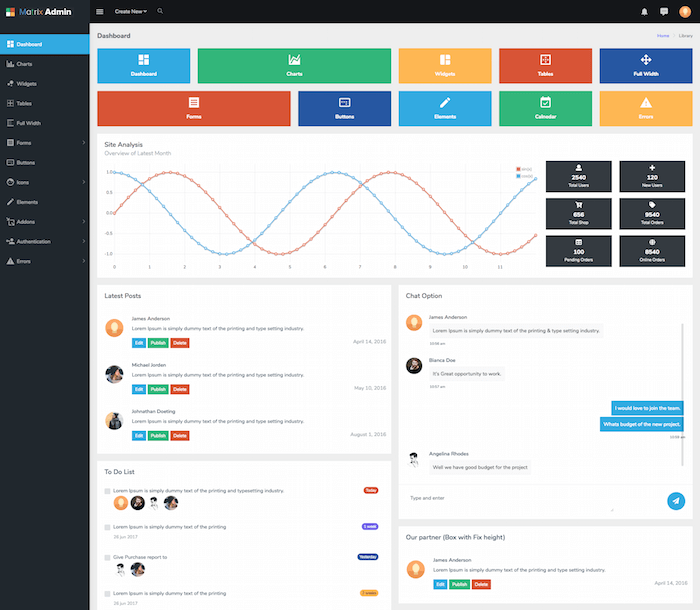 BRILLIANT
Brilliant has a simple design with a set of animation effects that adds motion to your dashboard when it comes to representations.
With plenty of visualization options and catchy animation effects, Brilliant could be the admin template that could be a perfect fit for your project.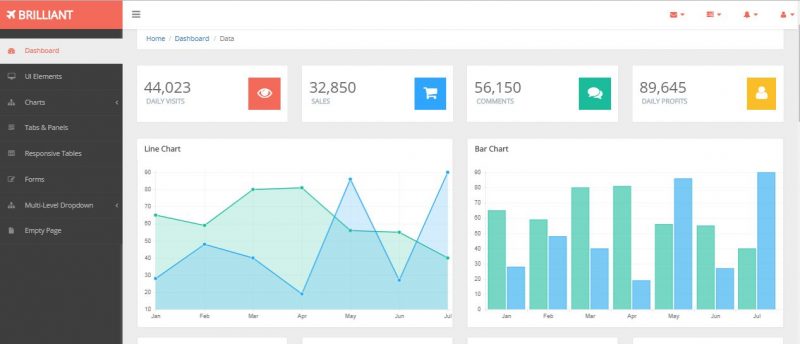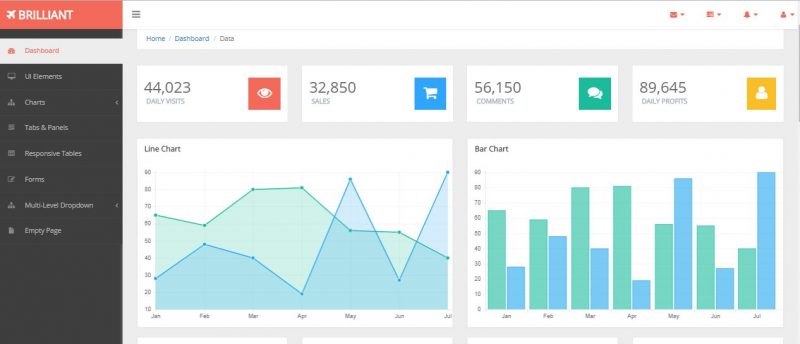 STARTMIN
A modern Bootstrap admin template for the developer. This is a free opensource template that you can use on any project, and change it in any way you want.
You have a navigation menu, FontAwesome Icons, charts, data tables, widgets, and a number of other elements that will help you create your project quickly.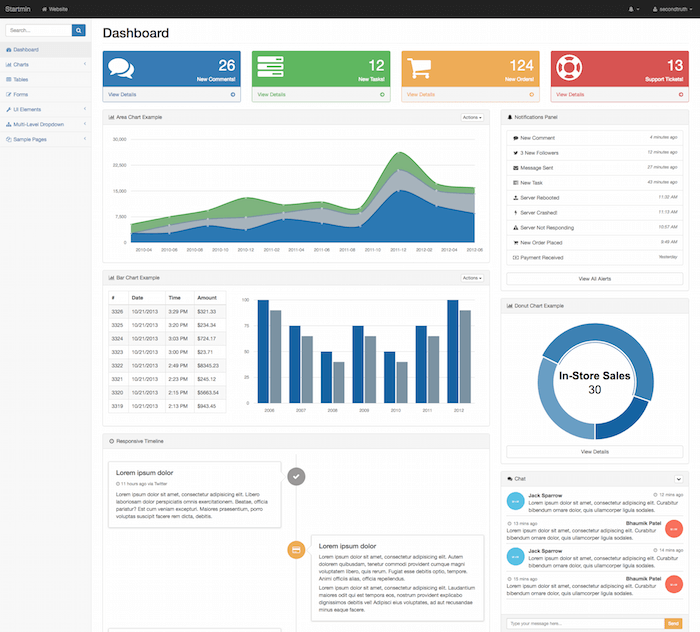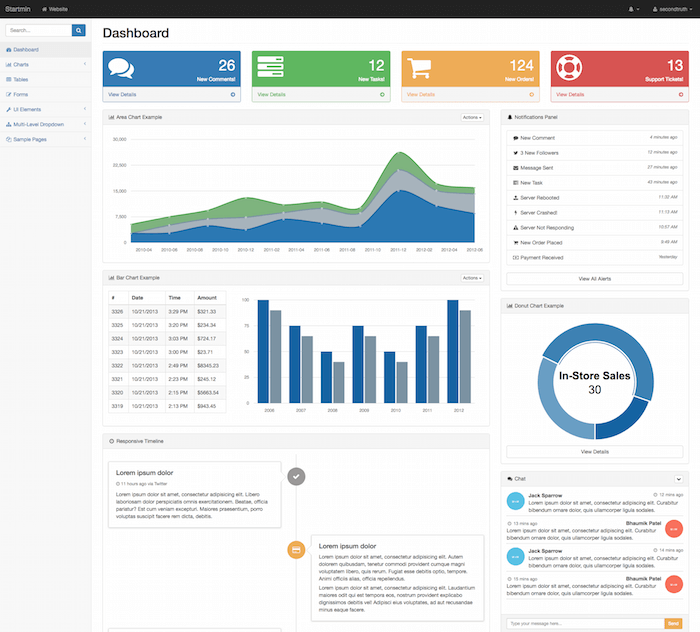 PAPER DASHBOARD
Paper Dashboard is a free dashboard template that has a premium quality design. With a good mix of colors, fonts, features, design and layout options this admin dashboard could well be a find for your project.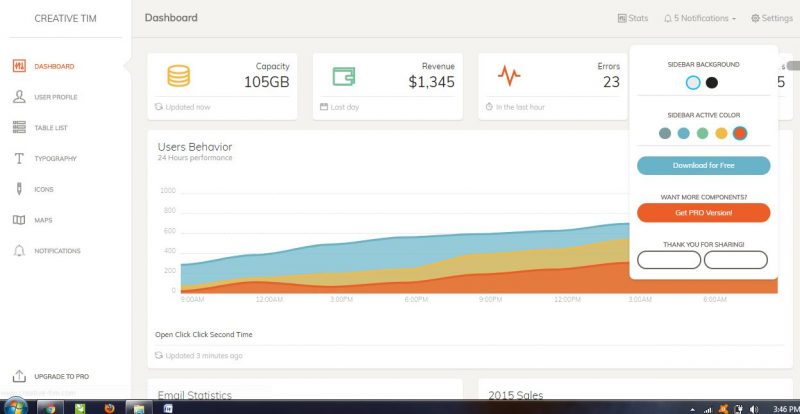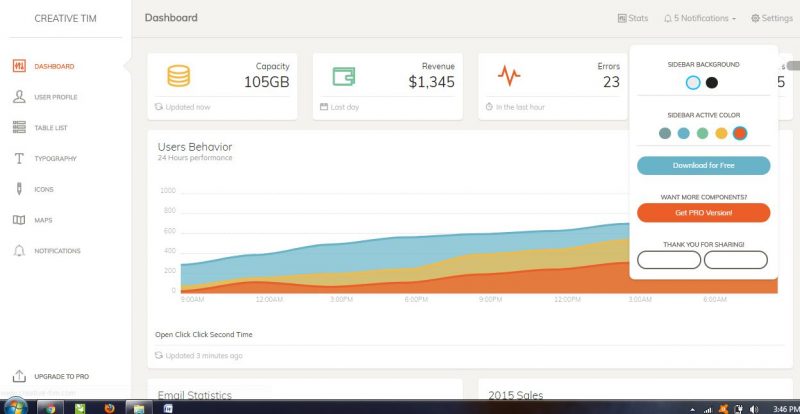 ADMINATOR
Adminator is one of the best admin templates and is a game-changer. It has the latest and greatest tools for web development and the good news is that it is free.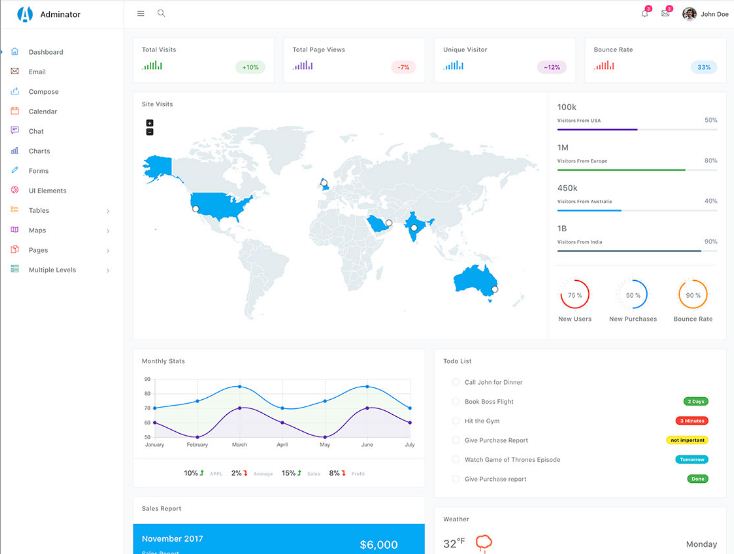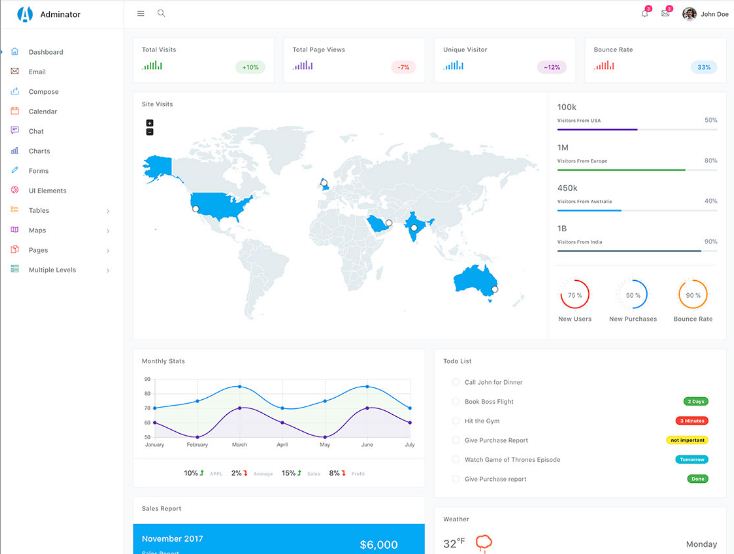 LUMINO ADMIN
Lumino gives your admin panel template a clean and fresh look with all the tools for your backend panel. The wide range of features combined with the visualization options makes this template an attractive prospect.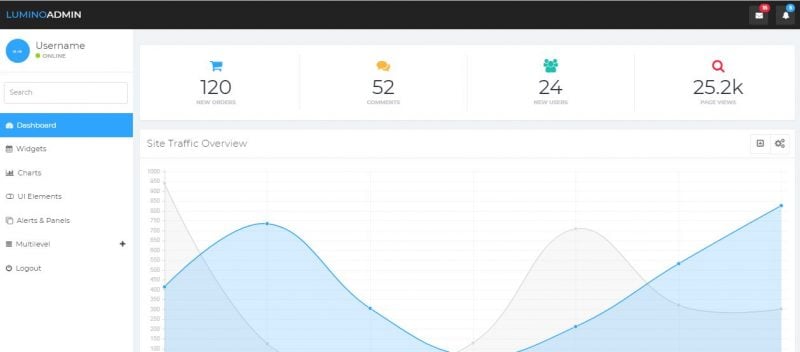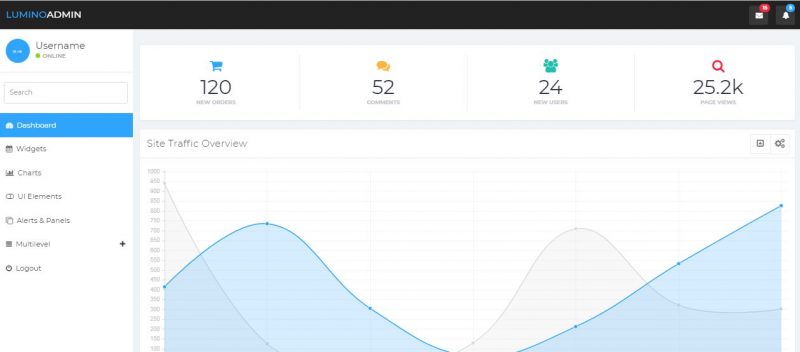 CONCEPT
If you are looking for a quality free Bootstrap 4 admin template, have a look at the Concept. This template is designed with all the important components that the developers need to create a successful project.
The template comes with four different dashboard options to choose from, you get access to a number of different charts, custom pages, and other design components.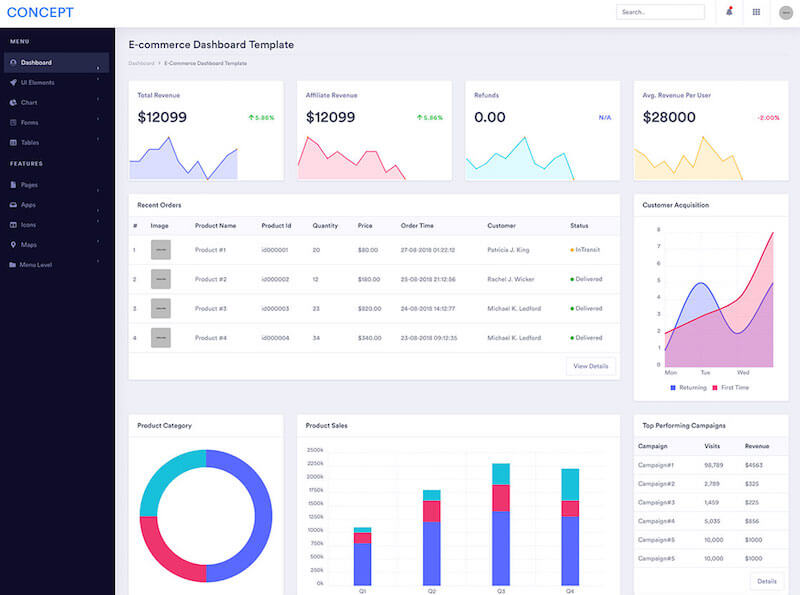 PIXEL ADMIN LITE
This admin template has multiple uses and comes with plenty of unique elements and a responsive layout. It is adaptable to all screens and is completely free.
This is targeted at the individual customer but you can upgrade for commercial use.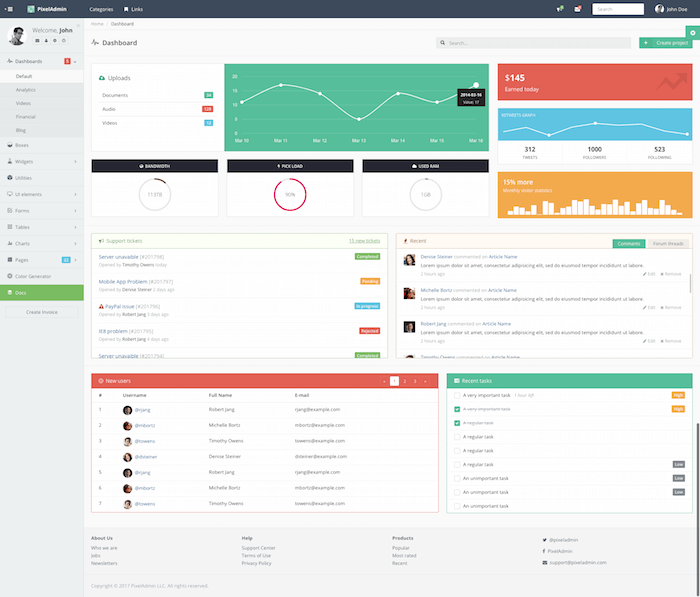 SIMINTA
Siminta is a responsive template for backend applications that are reliable, easily customizable and user-friendly. It provides a collection of plugins and UI components which makes work easy.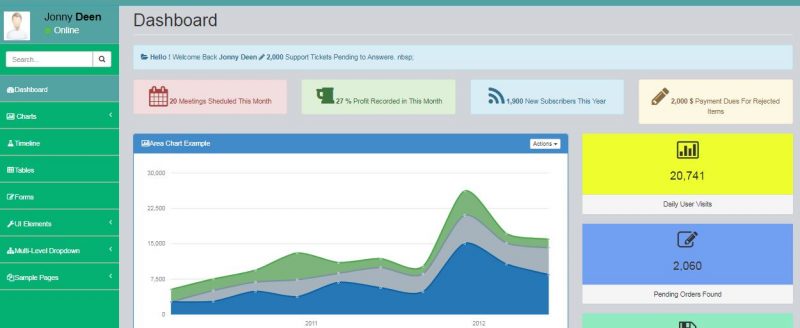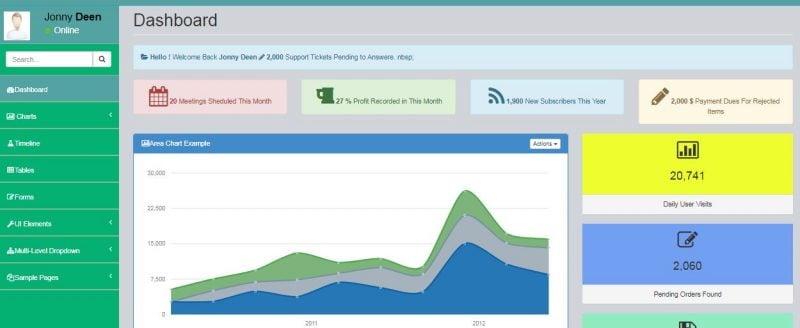 GENTELELLA
Gentelella is a flat and full-featured admin template built on the Bootstrap framework with modern techniques for backend solutions. This is advanced enough to match up to premium alternatives.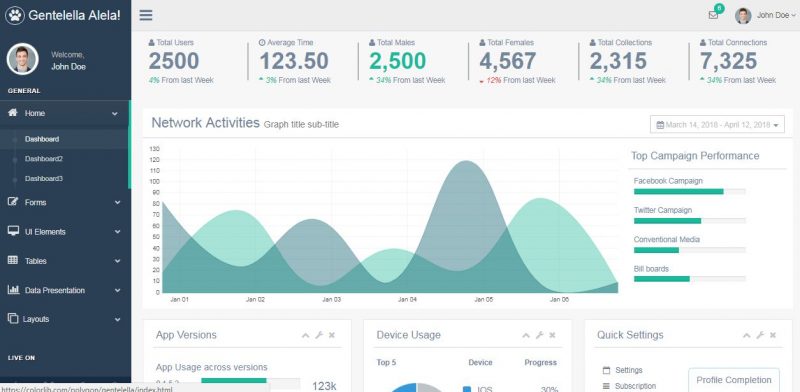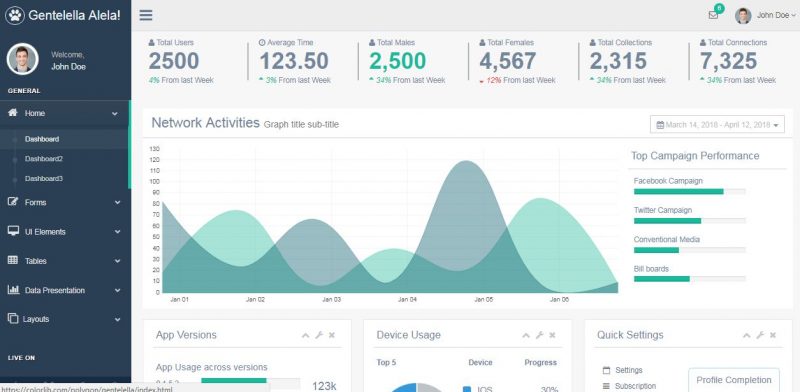 MARUTI ADMIN
Maruti admin dashboard template has a minimal design concept with lots of pages, forms, buttons, icons, galleries, calendars, widgets and much more.


NICE ADMIN TEMPLATE
This is a powerful admin template based on the Bootstrap framework which mainly focuses on user experience. It works perfectly across tablets and phones. It is free to download.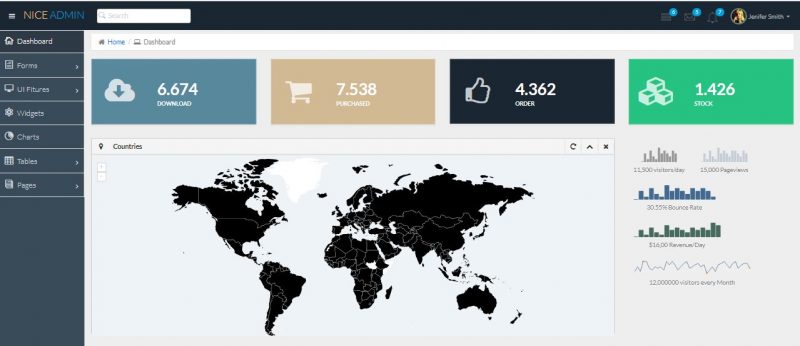 METIS
Created by Puikinsh, this is a powerful bootstrap admin dashboard template that can be used for any app, service or software.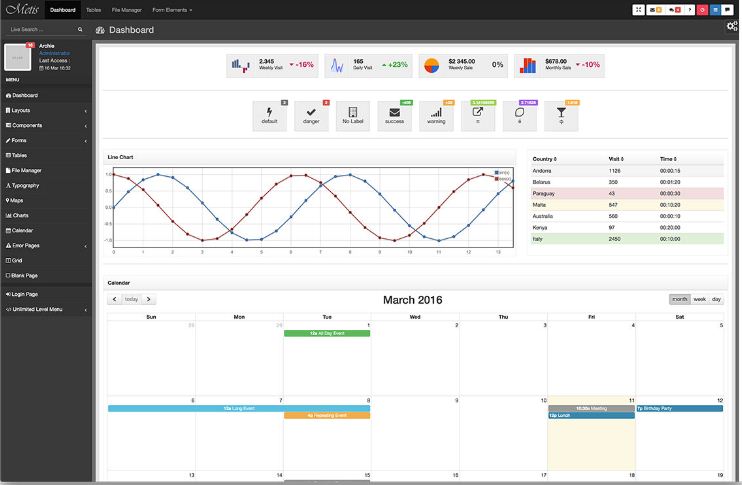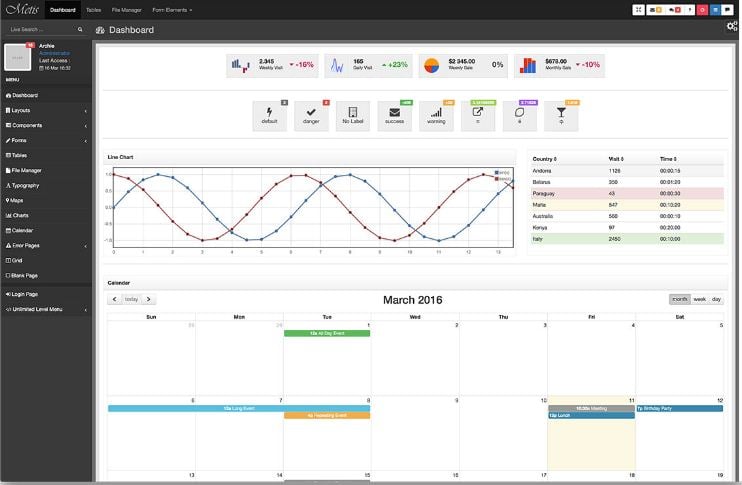 NG2 DASHBOARD
This web dashboard application which is based on Bootstrap was a freebie that is user-friendly and easily customizable.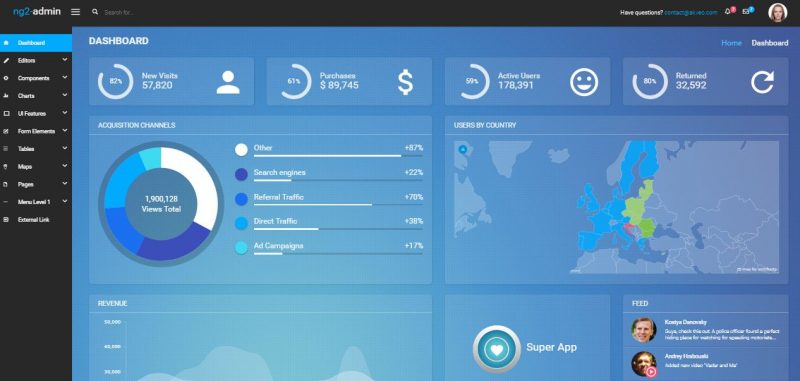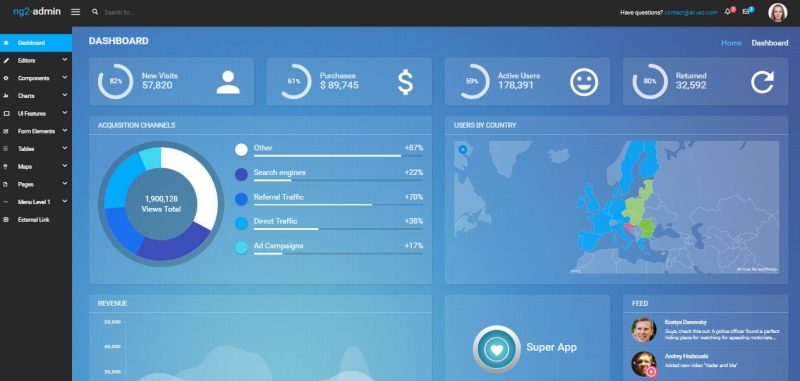 HIERAPOLIS ADMIN TEMPLATE
Hierapolis is based on Twitter Bootstrap 3 with Sass Compass. It is perfect for developing any type of user interface for commercial or personal projects. The best part is that it is free to download.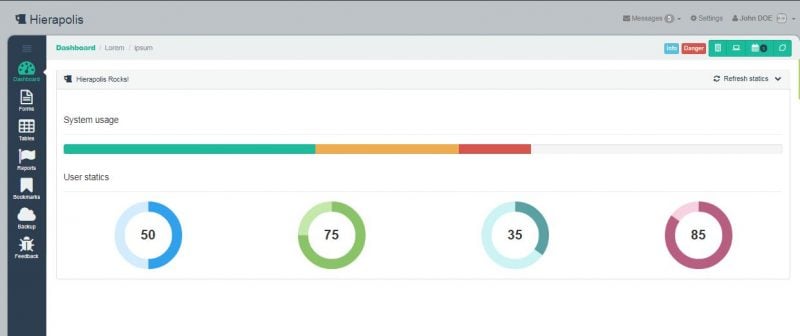 Final Word
There are a lot of factors that need to be taken into account before you make a selection of the bootstrap admin template you wish to deploy at the backend panel.
It must be able to cater to your primary need whether it is for personal or commercial purposes. These free Bootstrap admin templates will provide you with a lot of features that will help you add visual effects, monitor performance, and depict your data in an appealing manner.
However, all the features may not be available because of the free version. You will need to upgrade to the premium or pro version if certain features that you require are limited to paid versions only.
Nevertheless, these templates will allow you to personalize and customize your admin panel effectively such that it is visually appealing and makes visitors frequent your website.