A collection of modern responsive free AngularJS admin templates that you can use on your project to save a lot of your development time.
AngularJS is used to create frameworks for application development. The framework has a number of usable extensions, and it works with other JS development frameworks as well.
Features can be modified at will, and all of it is possible through a simple to use user interface that you can take advantage of.
However, if you plan on creating a web application or your custom admin area for your website, you always have the option of downloading a theme that is pre-built and fully customizable with your plugins.
You do not need to have the coding experience needed to build a template from scratch as you can download any of the templates from our compilation that will match anyone's requirements.
Don't miss these collections
Blur Admin
BlurAdmin is one of the cleanest looking themes that you can get for your AngularJS admin dashboard. It offers a number of tools to monitor your website metrics including the number of visitors and their location.
You can customize the dashboard to your liking thanks to the developer offering modifiable source code on his GitHub dump.
Angular Dashboard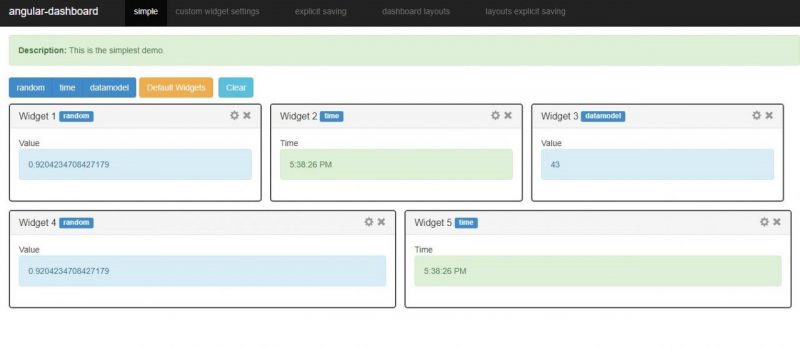 If you need something fairly simple and functional, look no further than the Angular dashboard. It offers a basic layout that you can take advantage of and add or remove elements that you need to be visible to you and your admins.
Angular MDL Dashboard
Angular MDL Dashboard might look simplistic, but it offers a ton of customization and features. You have access to a number of metrics that you can use to change your content marketing strategies and also give your admins a heads up about the website's impact on users.
Angular JS Bootstrap Joli Admin Template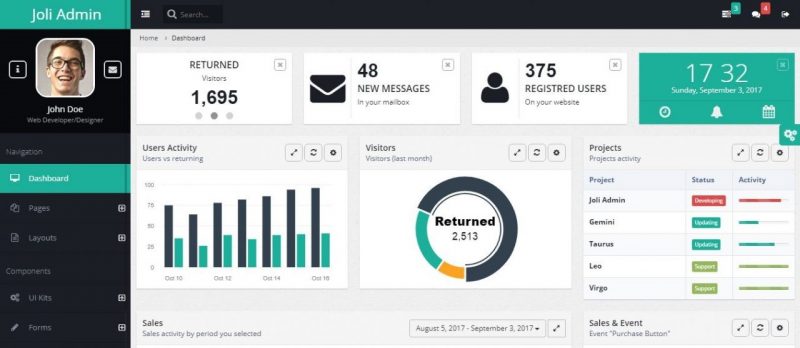 Joli Admin is one of the few AngularJS compatible admin themes that you can most likely need zero customization for. It offers all the features the standard website owner will need including a notification counter for new registrations or messages on your website.
Angular Bootstrap Dashboard
Angular Bootstrap Dashboard ditches bar graphs and pie charts most themes use to show data and streamline it using simple lines to denote your ongoing progress and other stats and de-clutters the user interface.
WebAdmin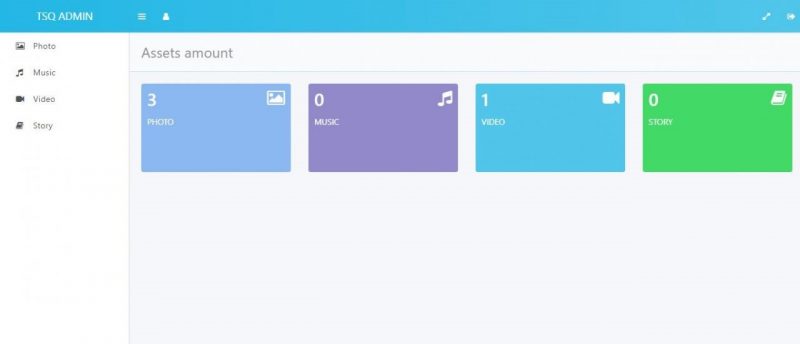 Web Admin is an ideal theme if your website is built around sharing media. You can get a quick glimpse of all music, video, photos, and stories that are uploaded on your website using a simple interface.
If you are looking for something more geared towards e-commerce, you should take a look at other themes on the list instead.
Laravel Angular Admin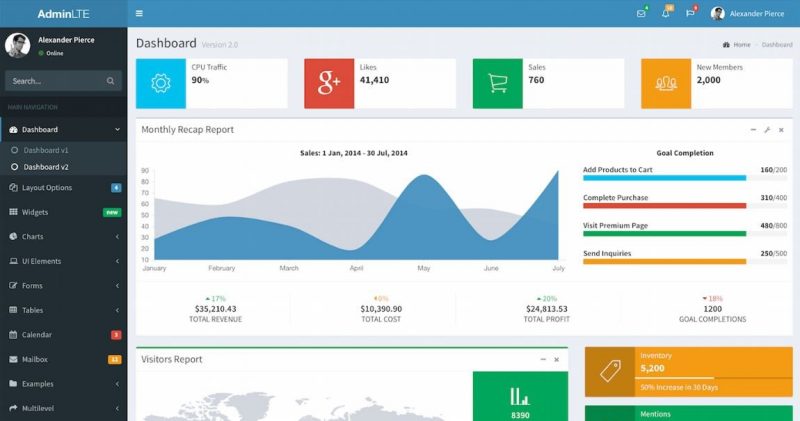 Laravel Angular Admin is completely geared towards e-commerce, and if you own a shopping website or plan on starting one, this is one of the best themes that you can use.
It offers comprehensive stats and allows you to take a quick look at all orders placed on your website along with other information.
Paper Dashboard Angular
Paper Dashboard for AngularJS designed specifically for monetized websites. You can keep track of how much revenue you have generated over time as well as user activity on the website that is compared across various time periods.
Light Bootstrap Dashboard Angular2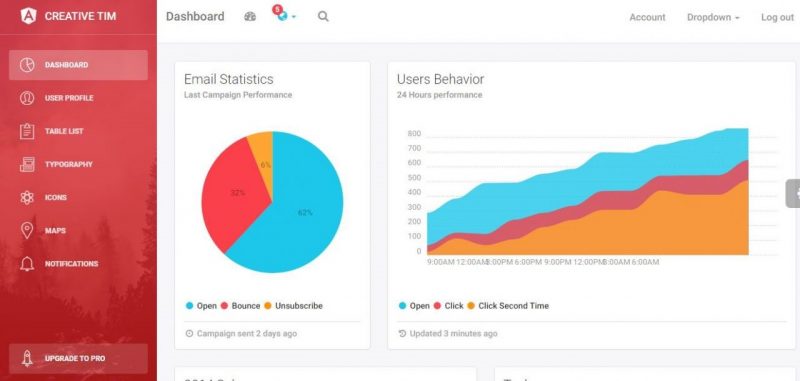 Light Bootstrap Dashboard Angular2 is a responsive theme that looks amazing on both desktops and mobile browsers if you are managing your admin page on the go. It offers email statistics and other important data that you need to market your website.
CoreUI Bootstrap Admin Template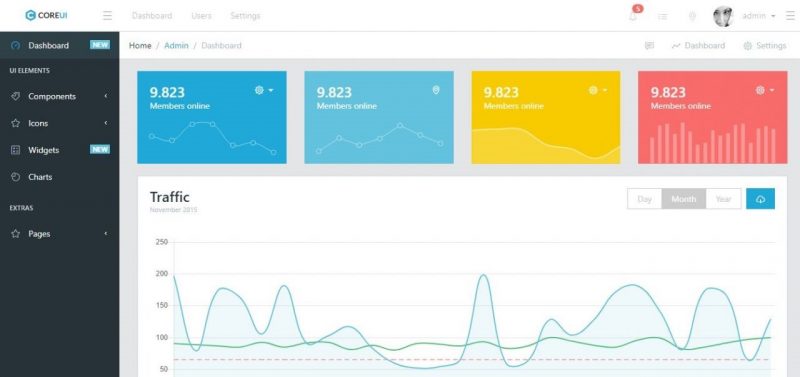 CoreUI offers both a free and paid version that you can use to enhance your admin dashboard's appearance. It uses well-designed line charts that offer stats on the fly that you can refer to for measuring your performance.
RDash Angular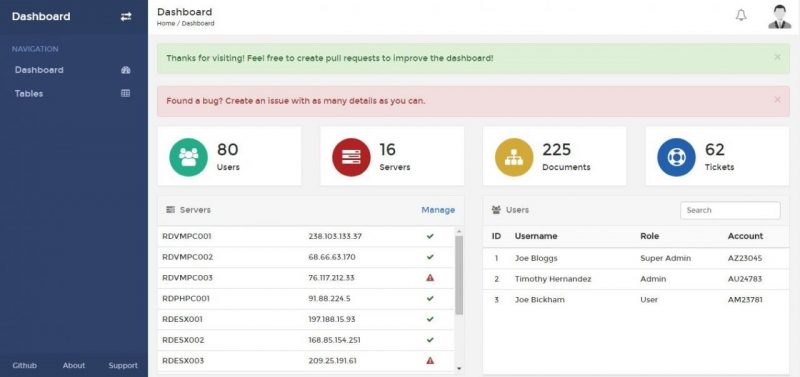 RDash Angular is one of the cleanest themes that you can get for AngularJS with simple tabs that show off your stats and recent activity. It also keeps track of how many active users and user tickets you have.
PaperAdmin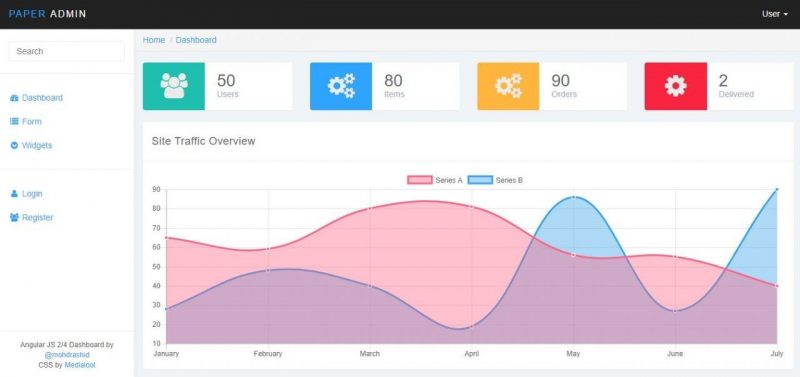 PaperAdmin is meant for e-commerce website owners who want a simple and functional website without too many UI elements that distract you from important things like orders, users and items on sale.
NgAdmin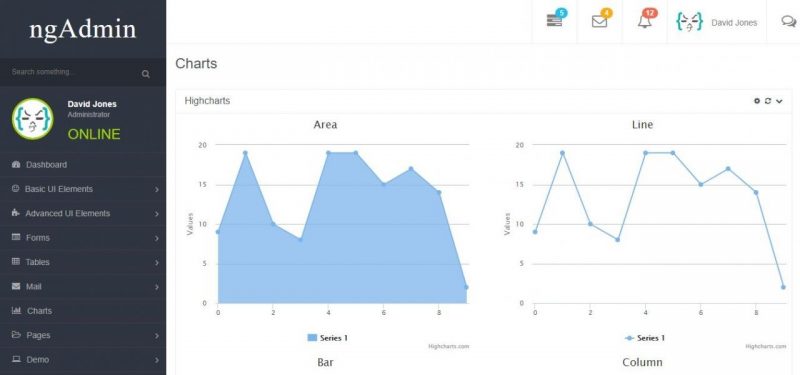 NgAdmin is one of the most advanced admin themes, and it is designed to offer maximum customization to users. You can set up your dashboard to show various stats, and it comes with basic and advanced UI element customization.
Paper Kit 2 Angular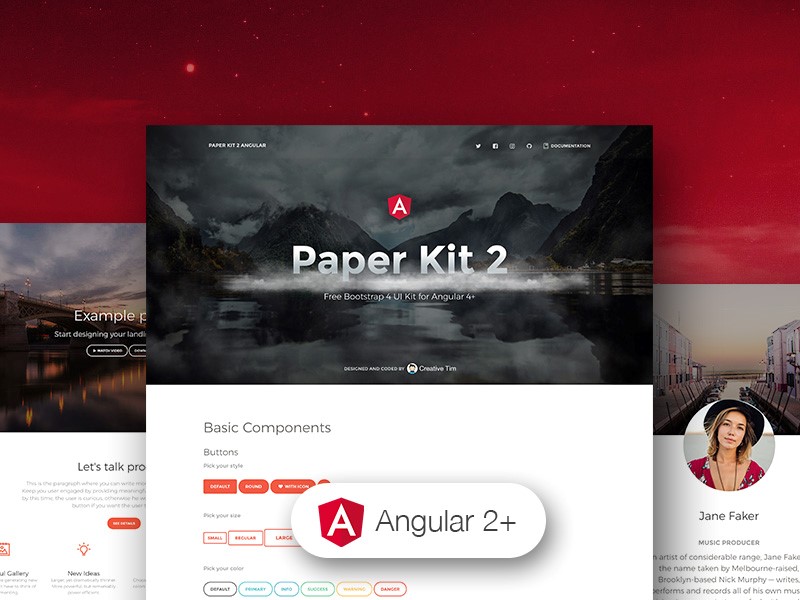 If you are looking for a theme that's easy on the eyes, the Paper Kit 2 offers clean fonts, pale colors and a beautiful user interface overall for your admin dashboard.
Material Dashboard Angular 2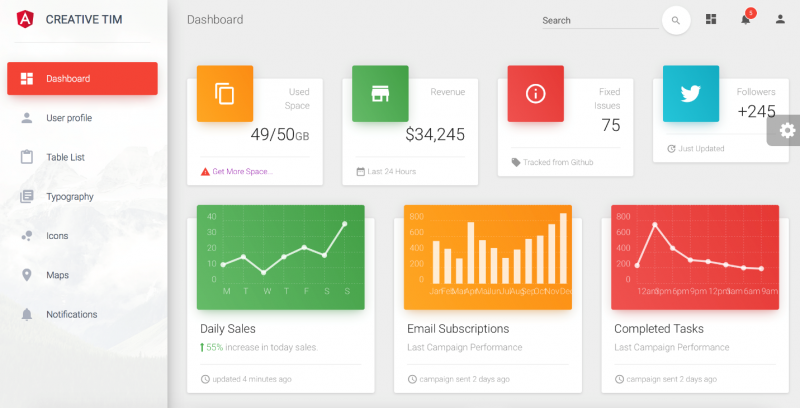 Material Dashboard is inspired by Google's own Material UI that you will find one a number of websites and apps. The theme offers a clean user interface that showcases your social interactions, website activity, and daily sales all in one place.
SemanticUI Admin Dashboard
Semantic UI admin dashboard offers users the ability to customize the user dashboard, services dashboard, and admin dashboard very easily. It tracks admin activity and how much RAM, storage or network they use.
Versatile Dashboard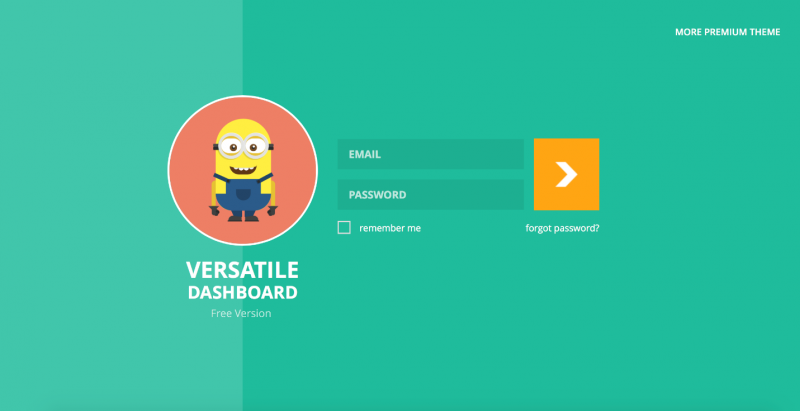 Versatile Dashboard is one of the most minimalistic themes you can get access to for free. If you do not want a fancy user interface and happen to be looking for something serviceable, this is the only theme you will need.
SB Admin 2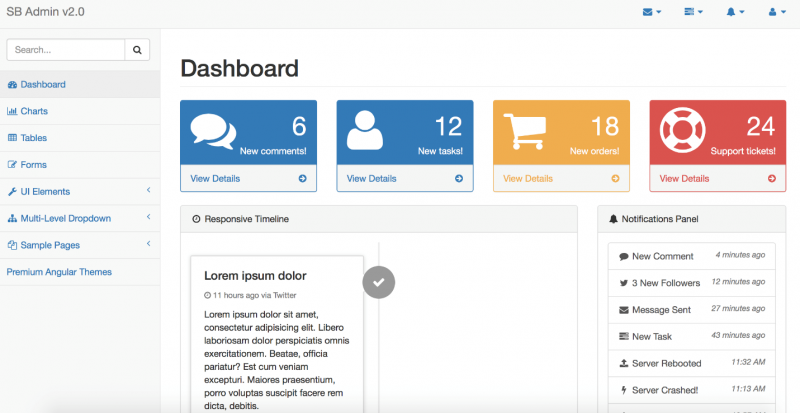 SB Admin 2 was built using Angular 2 and Bootstrap 4 making it one of the most lightweight admin templates out there for anyone to use.
Simple Dashboard Admin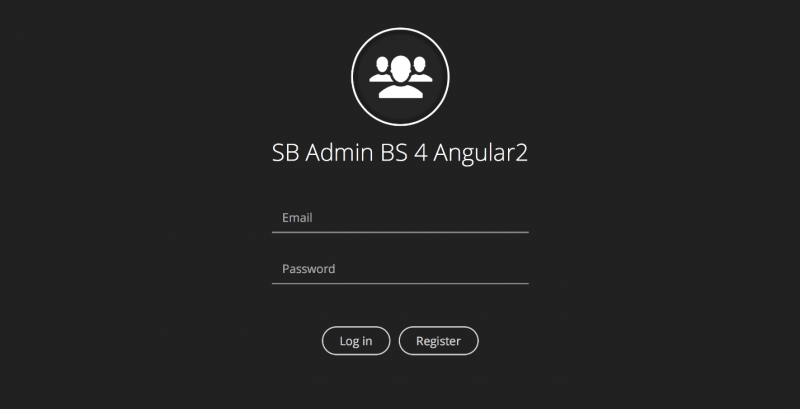 Simple Dashboard admin is another simple dashboard theme that you can use to get a streamlined experience without any fancy features that you probably don't need.
Azimuth Angular Admin Template
Azimuth's admin dashboard is one of the best ways to keep track of your user activity on your website. It constantly shows you where you are getting your most traffic from and how much growth your website is experiencing per day.
ItemsAPI Dashboard
ItemsAPI dashboard is easy to use them if you want to keep track of various metrics and list them numerically. You can add various functions manually to your list of metrics to track, and they will be displayed whenever you log in.
Angular Dashboard Seed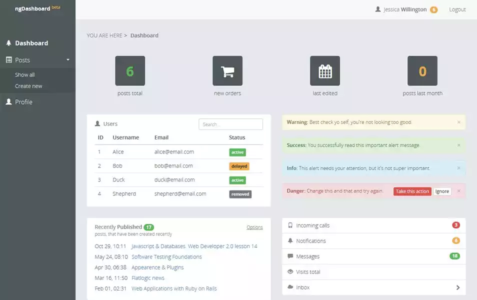 Angular Dashboard Seed makes good use of colors to highlight important data on your dashboard as soon as you login. Things that need high priority actions are highlighted in red while other metrics are marked in green and yellow based on their priority.
Google Chart Angular Dashboard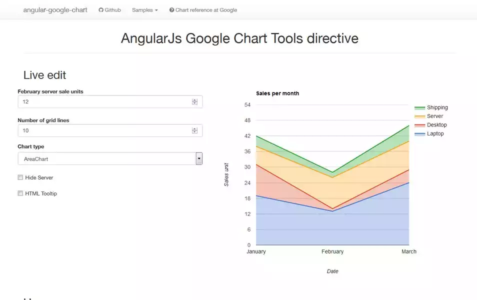 Google Chart Angular Dashboard offers an interactive data sheet when you login which can be edited by you to keep your stats up to date and share them with other admins.
Loopback Angular Admin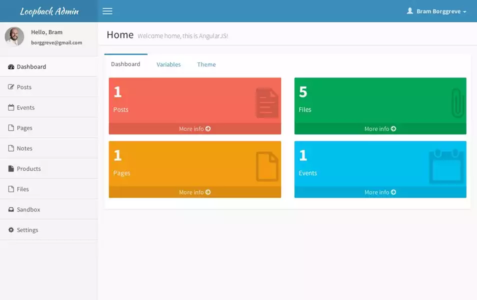 Loopback Angular Admin uses large colored cards to showcase important data on your dashboard. You can click on them to quickly head to notifications, posts, files, and events in no time. You can add and remove cards to customize the user interface to your liking.
Malhar Angular Dashboard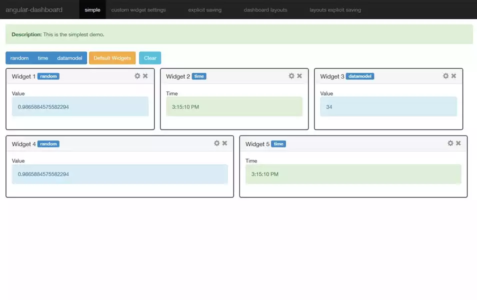 Malhar Angular Dashboard allows you to add and remove widgets depending on what data you want to be displayed when you log in. It can include stats, your user count, notification and other useful cards that you can add.
Angular Blog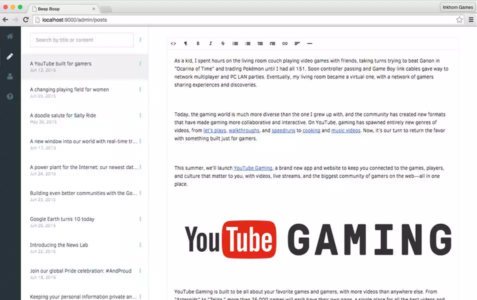 Angular Blog is catered to users who have their own blogging websites. You get a quick glimpse of all your latest posts, interactions and it also comes with a text editor right on the admin dashboard if you want to edit or create new posts quickly.
Ani Theme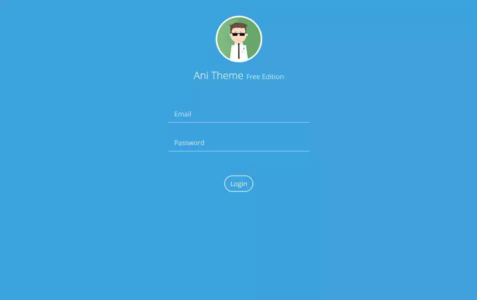 Ani Theme is very similar to other simplistic themes on the list that allow you to check basic information like user count, views, reach data and more as soon as you log in. You have access to a number of customization tools to personalize the dashboard to your liking.
AngularJS Dashboard with D3JS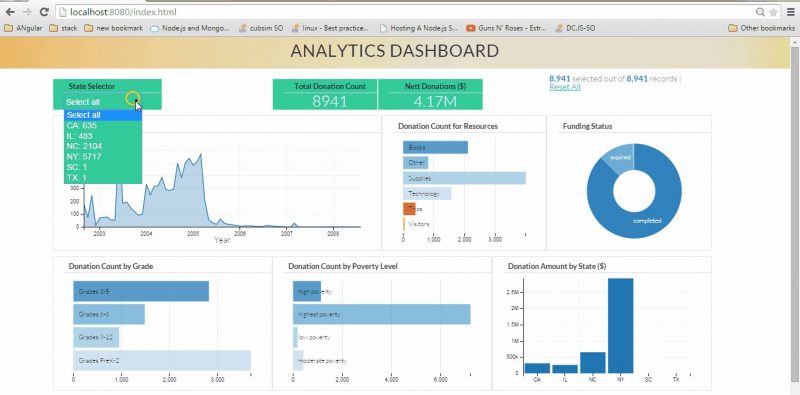 If you have a personal project management website, Angular Dashboard with D3JS is very useful as it lets you keep track of all your projects and manage your work very efficiently. You also have a questions section to directly send messages to your clients and view them in the dashboard.
Rin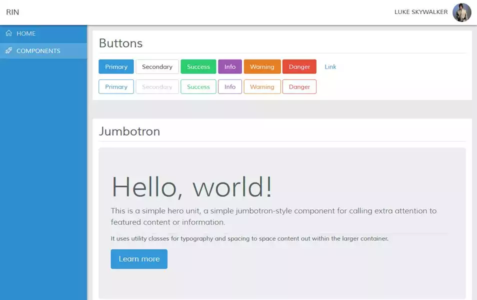 Rin is a very intuitive theme that allows you to take advantage of "buttons" that mark important activity on the website. You can personalize cards and categorize them under these buttons to quickly access information on the fly.
Bonita Angular Dashboard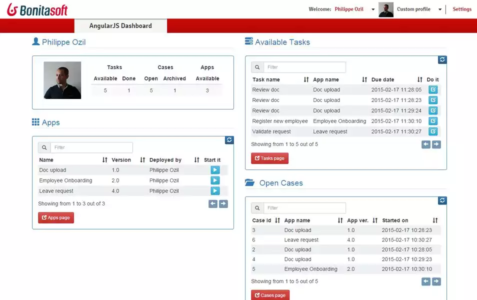 Bonita Angular Dashboard is a useful task management dashboard that allows you to be more productive by scheduling and marking tasks as done once you complete them. It can be useful for group activity as well as the dashboard allows you to keep track of your progress.
Maverix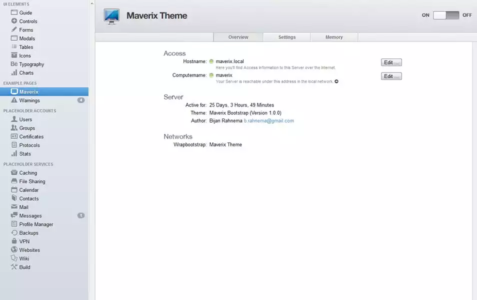 Maverix is one of the most expansive themes out there allowing you to manage your messages, tasks, charts, and other data all in one place. You can also setup and manage user profiles that have been registered by your audience which is a feature not too many themes on this list offer.
Angular Dashboard Fluance
Angular Dashboard Fluance is a barebones theme that offers a number of customization options like adding user metrics cards, managing user responses like comments and direct messages and keeping track of your tasks.
Conclusion
These are some of the best admin themes that are compatible with AngularJS and offer maximum customization.
We listed themes that cater to a target audience from any background like blogging, e-commerce, online services and more and we hope you were able to get some great recommendations.
[kkstarratings]