There's no denying that marketing is a multi-faceted activity. Tasks and backlogs pile up quickly for marketers who are always buzzing with new projects. These activities include content, graphics, outreach, sales, and more.
All thanks to the triumphs of technology and genius marketers, you can find dozens of marketing tools online for your very own B2B marketing strategy.
B2B marketing teams turn to a set of go-to online tools when evaluating their campaign KPIs. To each their own, of course. People recommend different tools that they have come to trust, which may confuse new or just plain curious B2B marketers.
These campaigns will be better created, managed, and organized with the proper utilization of these tools. The following tools are designed to lighten your team's workload with the use of the following instruments that are one click away.
Conversion Rate Optimization
Closing sales for B2B may get tricky. Converting prospects into sales is a tough task if you have a limited idea of what you need to do. We're here to let you know that the B2B buyer's journey relies a lot on your webpage. So that's a good place to start.
According to BigCommerce, people see web design as a crucial part of their decision-making process when choosing a B2B to work with. The following tools will help you optimize your website design, making it more intuitive and engaging.
LiveChat
Letting your customers feel seen and valued can be done by messaging them through real-time messaging on your website. Companies who do this see an average of 20% increase in sales.
The process is as easy as integrating it onto your website. Additionally, LiveChat also allows its users to use pre-made extensions or create one themselves to improve customer experience. This customer service method is trusted by top companies like IKEA and Adobe.
Here is a list of best chatbots for small businesses that you can use. Also, here is a list of best WordPress live chat plugins that you can use.
Hotjar
Behavior analytics is the main focus of this tool. Hotjar lets you see how your users interact with your product or website. This tool has features such as heatmaps, surveys, visitor recordings, and other nifty components.
The findings will allow you to take a technical approach to improve your conversion rates. With solid insight, you can easily align your website's usability with your goals. 
52% of marketers say that they don't have a solid way to analyze their marketing efforts. But alas, testing your campaign performance is crucial. This is why experts have spotted more problems with B2B websites compared to other industries. Especially when you're trying to give your users more ease when interacting with your website.
SEO Tools
Experts say that Search Engine Optimization (SEO) impacts B2B lead generation efforts the most.
Why wouldn't it? B2B Buyers get access to your company's information with a quick search. And that quick search? Well, that's where the bulk of the buyer's journey takes place.
Online search is one of the two main methods of customer research. Improving your search engine rank will definitely give you an edge. These intuitive SEO tools will help you with that.
Google Analytics
Last year alone, Google acquired 62.19 billion visits. They're the leading search engine with over 70% of the market share. This company created a comprehensive tool to let you see how you're doing in various online channels.
The insight you can gather using the tool can be used to make your website more usable and your campaign more competitive.
Five of the most loved features and metrics include Audience Reports, Custom Reports, Flow visualization, AdWords, and E-Commerce Tracking. Familiarizing yourself with your strengths and weaknesses will let you devise a plan to solve each one.
If you are using WordPress for your website, here is a list of Google Analytics plugins that you can use, and if you want more solutions like Google Analytics, here is a list of best Google Analytics alternatives.
Semrush
Semrush is one of the most popular SEO and marketing toolsets that you can use to analyze your own or your competitors' website. The platform offers you a number of handy tools for various analysis and it is a one-stop solution for SEO and marketing needs.
You can start with your own domain analysis and find how your site is performing. You can find the top organic competitors for your site and then go for a detailed analysis of those sites to find out the top-performing pages, the backlink profile, and other details.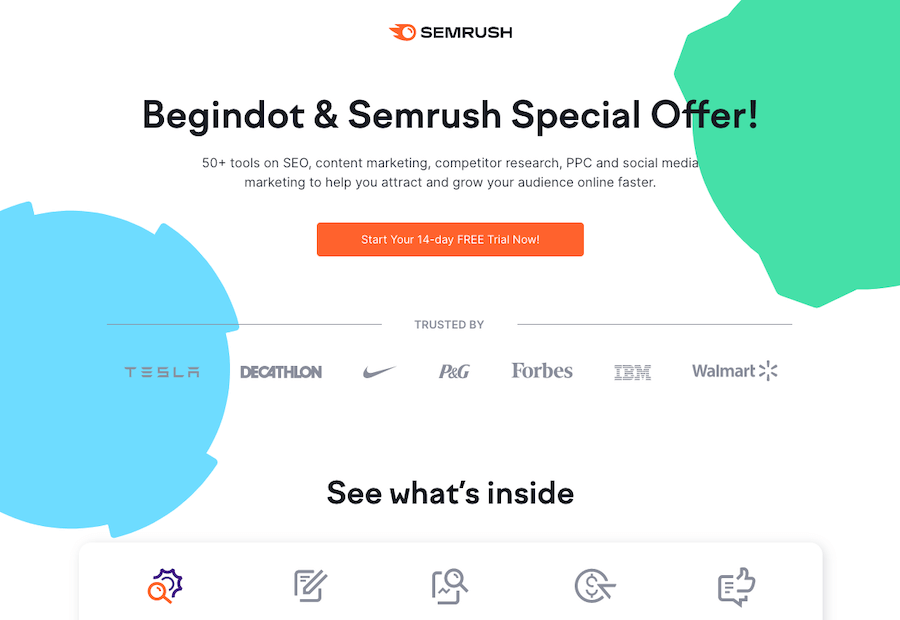 Keywords Everywhere
Some marketers say that powerful marketing tools are too costly. But not Keywords Everywhere. This is a free Chrome and Firefox extension that will provide keywords and related searches.
Using this tool is a way to get into your audience's head. B2B researchers utilize Google as their source of information.
The keywords will give you a good idea of what your audiences want to know so you can respond to their needs whether through content or goods and services. You can also buy credits to get more data out of your keyword results such as monthly search volume, cost per click (CPC), and AdWords competition.
Event Tools
B2B marketers generate leads through events. A well-executed event marketing strategy positively impacts overall brand recognition.
The average time it takes companies to plan events is around 8 weeks maximum while the median spend is $20,000. It's a big investment, but companies do it for a good reason. One way for businesses to maximize spending is to use the proper tools that will help them engage and educate their audience.
Attendease
This award-winning automation platform streamlines the necessary tools for marketing events. Marketing teams can add other tools to Attendease when managing their campaign. They have fixed solutions for certain industries like education, finance, technology, and more.
Applications such as Salesforce, Slack, Marketo, and others may be integrated into this subscription-based platform. This high compatibility makes it easier for marketers to use on event website building, registration, and measurement-related tasks.
EventMobi
As more things shift to mobile, event marketers are catching on to the movement. Platforms such as EventMobi consolidate each event activity in one app. This tool is customizable for marketers to personalize according to the needs of their event lifecycle.
Using this app will give your attendees an app to network and register. It has features that let your brand communicate and inform your event goers of updates.
Companies also have the option to follow attendee behavior closely and stay on top of managing their event. EventMobi is designed to be versatile enough for small-scale and large-scale conferences.
Email Tool
This marketing channel gets a lot of love from B2B marketers. It's probably because this is one of the most influential ways to inform B2B audiences. In fact, brands see an increase in revenue by 760% on average upon getting a solid email campaign.
It should be noted that successful email marketing for B2B champions education instead of just the plain old, disconnected selling.
Hubspot
This tool is a marketing powerhouse that offers nearly everything a B2B can need. Founded in 2006, HubSpot covers customer relationship management, content management, lead generation, and more. While some of their features are free, they still can get pricey, especially for smaller B2Bs.
Admittedly, Hubspot's league of happy customers makes it seem like the platform is well worth it.
GoZen Growth
Email marketing is an essential part of any marketing campaign. GoZen Growth is an outcome-driven marketing automation software designed to simplify email marketing. GoZen Growth is a new player in the field with exciting features like 700+ industry and intent-specific email templates for a wide range of use cases.
You can start sending email campaigns in minutes with GoZen Growth and monitor the response with key metrics like open rate, bounce rate, and overall campaign analytics. You can also add your team members to your account and conduct collaborative marketing campaigns.
GoZen Growth has a user-oriented approach and simple but intuitive interface that can make email marketing a breeze for you.
ZeroBounce
Being put in the spam folder is hell for email marketers. A factor that may play into being sent spam is the email sender's reputation which gets damaged by high bounce rates. This online tool lessens the likelihood of your emails bouncing by validating which email addresses are fake.
You can easily verify your contact list and amen errors such as typos. You can integrate this tool with other software like Magento, Constant Contact, Zoho, and more.
Social Media Tools
Look at social media as the jumping pad for your other content marketing efforts. Platforms such as LinkedIn, Facebook, and Instagram are channels where companies promote their content. Social media is used by 75% of B2B buyers to guide their purchase decisions.
RiteTag
Using hashtags is trendy because they're highly functional features of social media platforms. Consumers use hashtags to view an organized set of tweets that are within their interests. It makes sense to be of interest to marketers.
Being visible to customers is the goal. RiteTag uses real-time engagement to give you the hashtags you should use. All you have to do is type in your copy and the tool will give you relevant tags you can use.
Hootsuite
It's possible to post content on different social media platforms using one tool. One of the perks of using a single tool to handle multiple accounts is that you can easily cross-reference metrics and monitor brand perception. By using Hootsuite, you get access to your company's various social media channels.
Brands can also handle other operations such as customer service using this tool. Hootsuite also sends reports through email so you can stay updated with any movement in your social media accounts.
Content Tools
The key to most successful B2B marketers is a solid content marketing plan. 91% of B2B companies actively appeal to their buyers by creating relevant and actionable content.
However, it's not only for driving sales. Content marketing campaigns also put a heavy emphasis on engaging and widening your reach on different channels. Growing your brand in this modern age can come in the form of an informative and well-rounded set of materials.
WordPress
Blogging is all the rage these days and there's no sign of that fact changing soon. It's common to think that blogging is for B2C companies, but B2B leaders see it as an essential component of their marketing campaign as well.
WordPress is one of the most-loved content management systems for companies all over the world. In fact, it is the CMS that powers 32.3% of the web pages you can find on the internet. Marketers love this platform for being flexible and user-friendly.
Content Analysis Tool
Auditing is an essential part of responsible marketing.
B2B companies keep their content in check to ensure quality and competitiveness in attracting leads. Content Analysis Tools is platform marketers use to manage, track, and analyze their assets. Quality content is the number one priority of modern marketers.
B2B marketers take visual assets seriously when it comes to their marketing and branding strategies. And it all starts with a powerful logo design.
Using a compelling logo will allow you to communicate instantly with your audience. Strengthen the core of your company's visuals and discover the ease of ready-made design by trying out a labor-saving logo maker like BrandCrowd.
Once you have your logo on lock, you can continue working on other parts of your branding kit such as email template design, website design, and other marketing collateral.