Chatbots have evolved to become one of the best things in the business ecosystem.
A chatbot is a program that uses artificial intelligence to identify what people are saying or typing. The chatbot will respond to a person with certain results based on what is found.
The design works well if you're looking to get in touch with people at any time of the day. More importantly, a chatbot provides a personal touch to whatever it is you want to say.
You can get a chatbot ready for your small business to utilize for many intentions.
But you will also have to watch for how well one of these chatbots can work if you're going to keep your content under control.
With this in mind, it helps to look at a few of the best chatbots that you can use for your small business needs.
If you wish to use the Facebook chatbot, here is how to build a Facebook chatbot.
Each option uses many quality functions and deserves to be noted for what you can get out of them.
You can use a chatbot for many intentions, so it helps to look at the various choices available and how well you can use them for the specific programming and planning needs you might have.
Note: The charges associated with using these chatbots for small business purposes will vary based on what you utilize. Check the websites linked here to see what it would cost for various chatbot options.
Also, be advised that there may be multiple tiers associated with different usage plans. Free versions are often available, but they are extremely limited in functionality.
01

. MobileMonkey
One of the most comprehensive and advanced Facebook Messenger chatbot builders, MobileMonkey makes it easier for small businesses to create a powerful contact list.
MobileMonkey helps you to deeply integrate the chatbot and take advantage of the huge reach of Facebook Messenger.
With MobileMonkey you can create a perfectly streamlined messaging system or say marketing system. You will be able to send quick messages to all your messenger contacts.
You can also group your contacts and send custom offers. The messenger bot system has a high click-through rate as compared to any other form of marketing.
Creating a bot was never so easy. You can create a drip campaign to send customized messages at a specific time.
At MobileMonkey, you get access to a number of ready templates that are specifically created for different industry types.
Creating and adding a chatbot on your site is extremely easy with MobileMonkey. You just need to follow a couple of steps and add the code to your site.
Go to your MobileMonkey dashboard > Lead Magnet section > Customer Chat Widgets. You have to add the messages that you wish to display to your visitors and add the domain name of your site.
Once you add the details, you will need to paste the code in the header section of your site.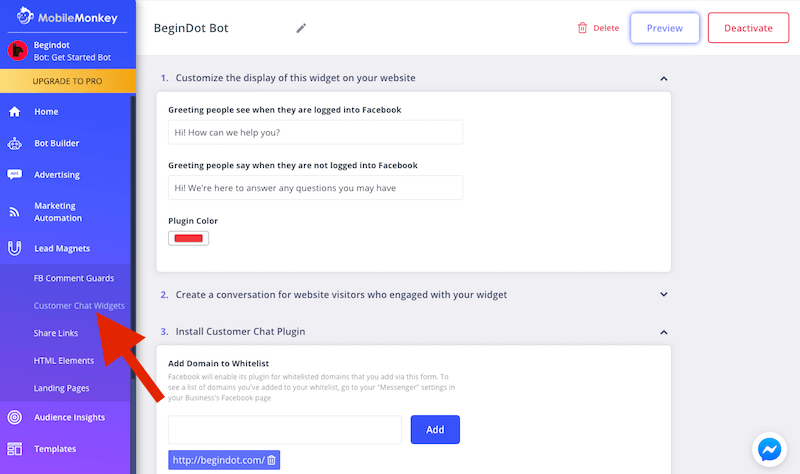 02

. SnatchBot
You can get messages out to people on multiple platforms when you use SnatchBot for your convenience.
SnatchBot is a program that helps you to produce chatbots that work with specific industries in mind. You can create unique responses to questions based on the specific things that people want to talk about.
The layout uses a tree-based system for identifying questions and answers
Work with different bots based on parts of your site
You can create distinct personalized messages on the bot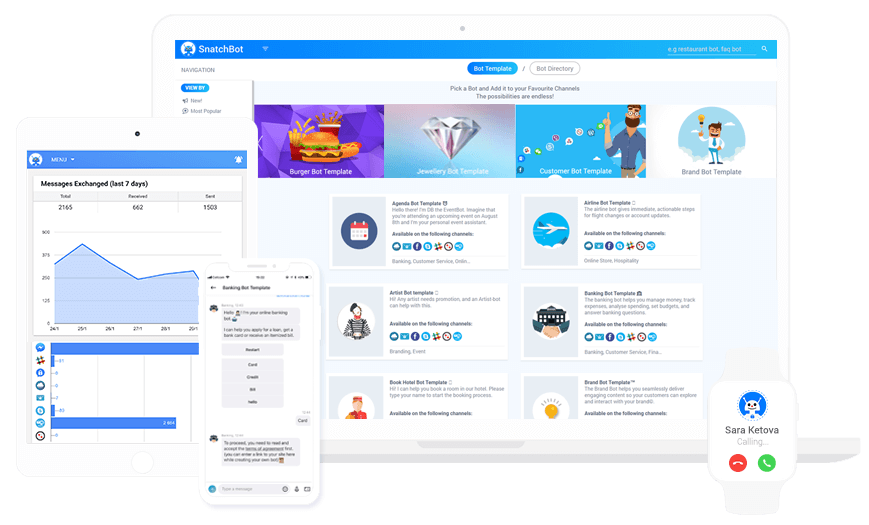 03

. Watson Assistant
The Watson Assistant program has been designed by IBM Cloud to utilize artificial intelligence to figure out what someone wants to ask.
Watson Assistant takes all of the general functions for chatbots and places them in one array with single-step processes for getting access to these functions.
Watson Assistant provides you with help for managing dialog and for analyzing intents that people have for getting certain questions answered.
The chatbot can also work with many unique skills based on what you wish to incorporate and how you'll handle the data.
Can work with as many keywords and other personal custom intentions as desired
Includes a customizable interface for layouts
You can add unique themes for conversations as you see fit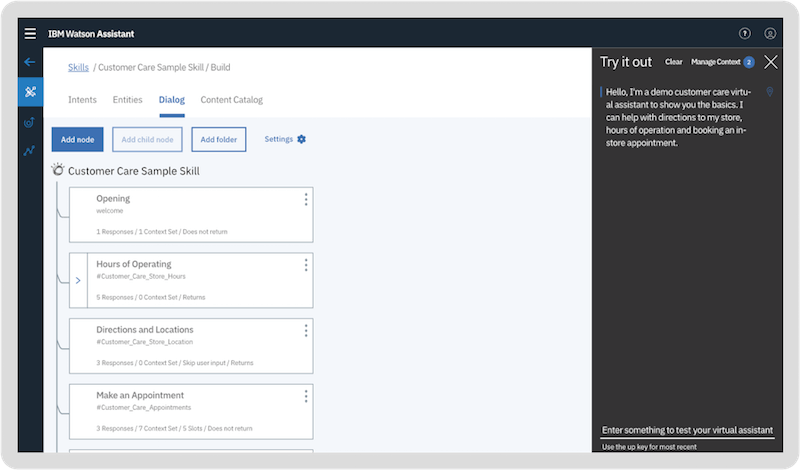 04

. ArtiBot.ai
The general purpose of ArtiBot.ai is to help you with capturing leads. But ArtiBot.ai does well with creating a simplified approach to taking in data.
With ArtiBot.ai, you can produce a template that includes support for different choices or options.
You can use these choices at varying points in a chat tree to help lead people into new ideas or thoughts, thus improving upon how well the bot works.
You can especially program a chatbot with ArtiBot.ai to capture leads, schedule appointments, or collect payments from other people.
You can program a chatbot to ask questions and get responses to them
Create unique screens on your chatbot for collecting payments or scheduling dates
Works on many mobile screens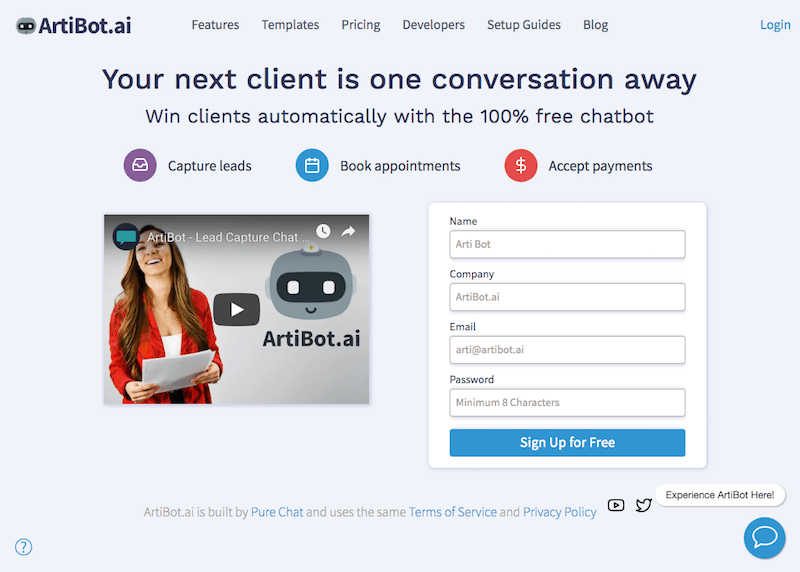 05

. HubSpot
The friendly appearance of the chatbot you can produce through HubSpot is something worth finding.
The program lets you produce a conversation with a script you can create with thousands of possible answers depending on what people state. You can also use HubSpot's chatbot to help with creating a ticket.
A linear sequence can be programmed into your chatbot if desired, although you can produce a more free-rolling option if you're trying to handle a more in-depth conversation with a possible client.
Produce your chatbots for use on your social media sites
List segmentation helps you identify how well your marketing efforts are being handled
You can create a thorough hierarchy for how your chatbot is to be arranged.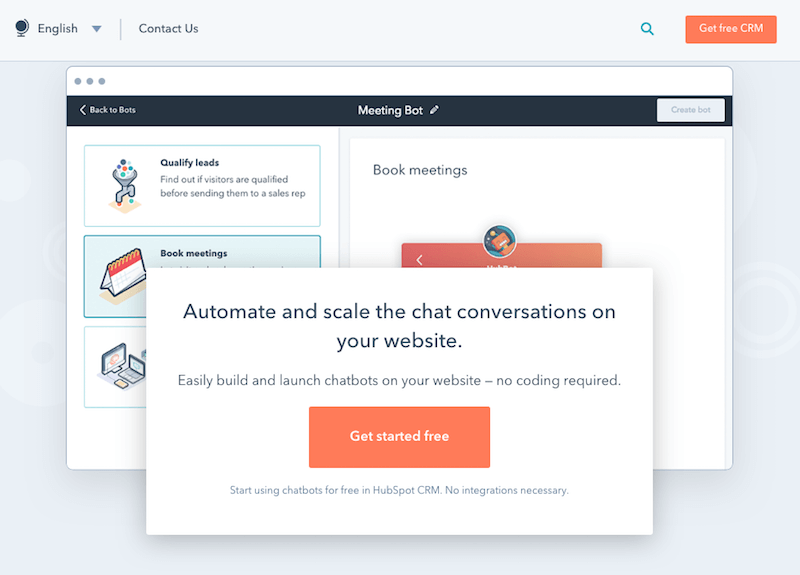 06

. SendPulse Chatbot Builder
SendPulse is a platform as a whole is designed to help marketers with multichannel marketing automation. This means that apart from creating chatbots, you can send marketing emails, SMS campaigns as well as build landing pages or manage your customer base through a free CRM. 
When it comes to building a chatbot, unlike other platforms, SendPulse really gives you variety. At this point, you can create chatbots for major social media platforms like Facebook and Instagram or popular messenger platforms like WhatsApp and Telegram.
Along with the usual stuff, the Instagram chatbot can react to mentions of your brand in your subscribers' stories. 
It's also worth mentioning that SendPulse is an official WhatsApp business solution provider, which means there are no additional fees when you set up your WhatsApp chatbot.
As a handy bonus, there is an app for your smartphone that can help manage your chatbots and make personalized replies to your customers on the go.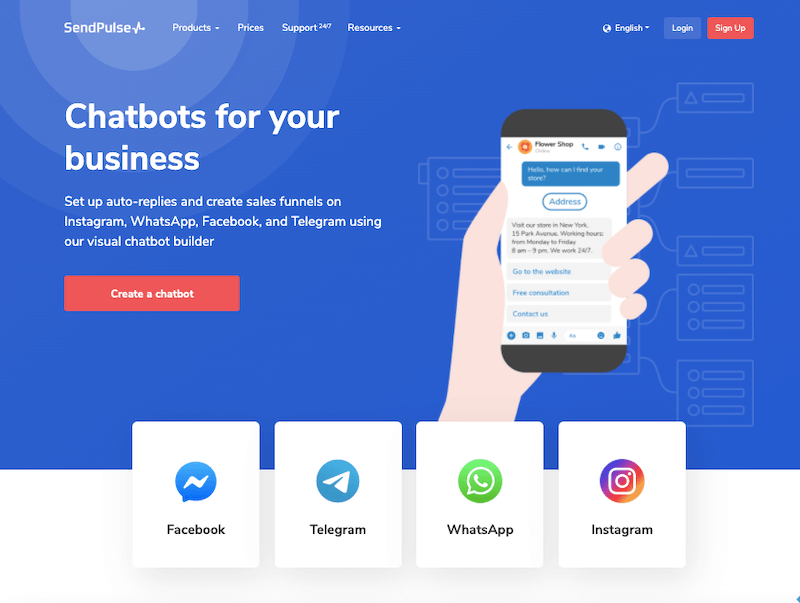 07

. Drift
The convenient design of what Drift has to offer will help you to identify people based on when they show up and produce unique questions and answer trees based on when someone comes along.
You can use the Drift setup to help you with producing helpful answers based on what you might prefer. The chatbot will help record details on when people come to your site and how they interact with you.
You can use this information to help you find out what is working and what you should be doing for your chatbot use.
You can create a personalized avatar for your chatbot
Analytics figure out what answer trees are the most popular
You can also use Drift to bring in emails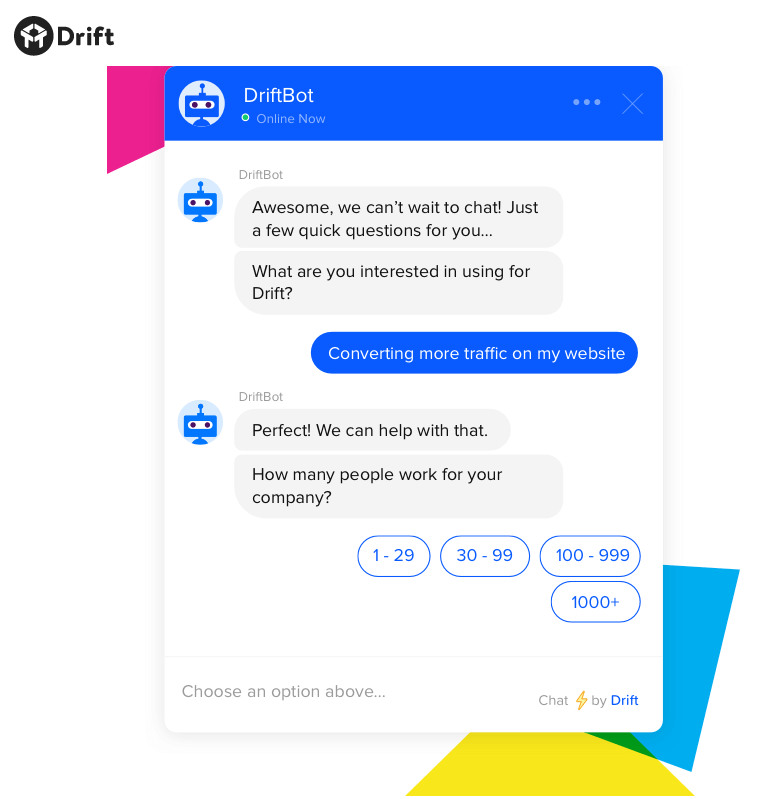 08

. ChatBot
Formerly known as BotEngine, ChatBot has a sensible solution for your chatbot needs that integrates with many other sites you might use.
You can use ChatBot on LiveChat, Messenger, Slack, and Zapier. You can also use a smaller chat widget on your site if you prefer. Every aspect of your chatbot can be customized based on what you prefer to use.
The Stories feature also lets you produce unique answer trees based on specific keywords, thus helping you to organize how you're going to arrange the content you wish to share with other people.
Create rich messages with unique graphics
Live testing helps you figure out how well your chatbots are working
Comes with a 14-day free trial with no credit card required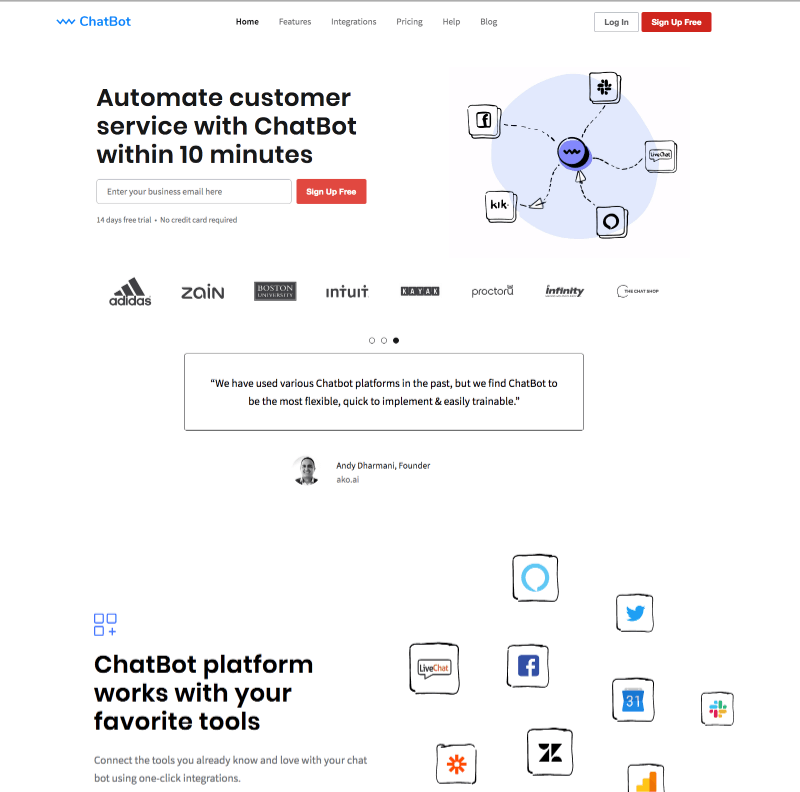 09

. Bold360
You can use the setup of Bold360 to help you find details on how well people might interact with you. Bold360 uses multiple layouts for how its content can be made available to you.
You can use Bold360 for everything from answering questions to listing information based on what people look for. Bold360 is especially useful when you're trying to facilitate specific conversations and you want to plan something a little more distinct.
More importantly, the work of Bold360 ensures you'll have a more organic tone in the work you are providing.
Includes separate modules for service, advisory, and agent use
You can use this to acquire email addresses or other bits of data as desired
The simplified layout of Bold360 makes it easy to use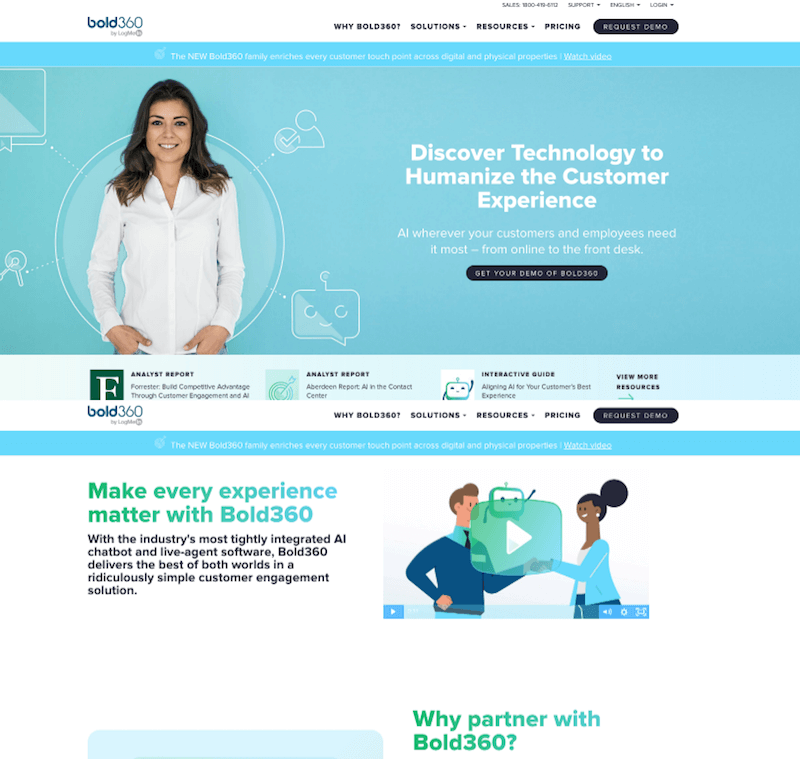 10

. Intercom
Intercom will help you with linking up to many people with chatbots that can produce specific results or responses.
With Intercom, you can easily produce conversation trees that will focus on specific responses to certain questions. You can create trees that will start with one idea or appear on one page.
After that, you can produce multiple choices for each question a chatbot asks a client. The trees you produce will help you give out answers in any possible situation or collect details on what someone wants to say.
You can create targeted messages through your chatbot
The team inbox feature helps you to communicate with others in moments
You can also integrate Intercom into multiple work applications
11

. Dialogflow
Google operates Dialogflow as a solution based on the unique language responses you collect. The Dialogflow system is based on the machine learning functionality that Google uses.
You can use this to look up information on many searches and activities that people put in while online.
The quick searches supported by Dialogflow ensure you can produce unique responses or actions and also identify unique keywords that people might use when getting in touch with you.
Also, Dialogflow can reach many audiences with support for many platforms.
Works across multiple devices on the Google platform
Operates in 20 languages
You can use as many dialog boxes as needed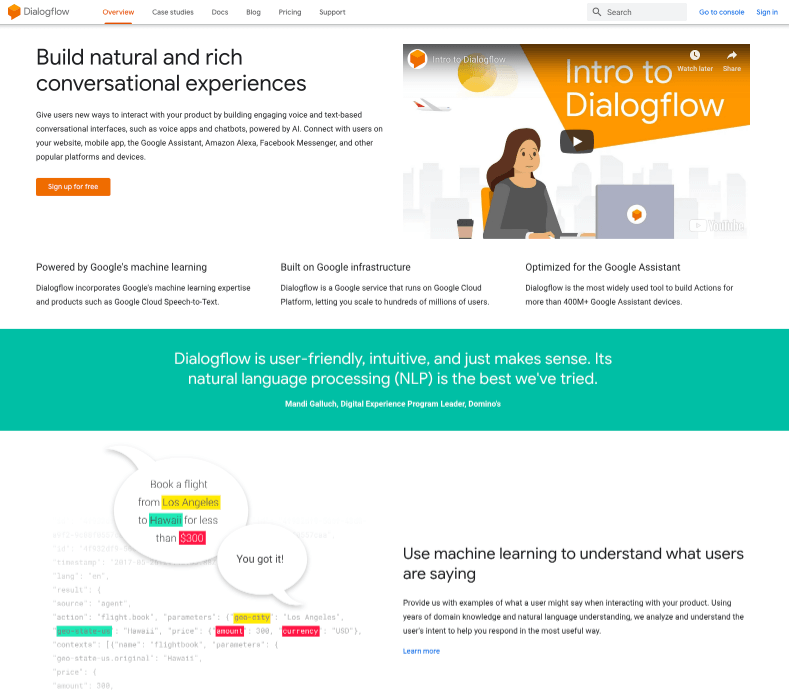 12

. Zoho SalesIQ
You can get information on what's happening with other people through Zoho SalesIQ.
The program uses a live chat setup that lets you analyze what people are saying and produce unique answer trees based on certain keywords. You can track the footprints of people who use the chatbot.
You also have the ability to identify new and returning visitors alike. Everything can also be personalized based on the user's IP address, the time that person is there, and how often that someone has visited.
You can create as many unique discussion trees as needed based on what might work.
Create unique email interfaces
The analytics feature lets you identify unique opportunities for chatting with people
Scoring helps you identify the specific prospects that are easier to reach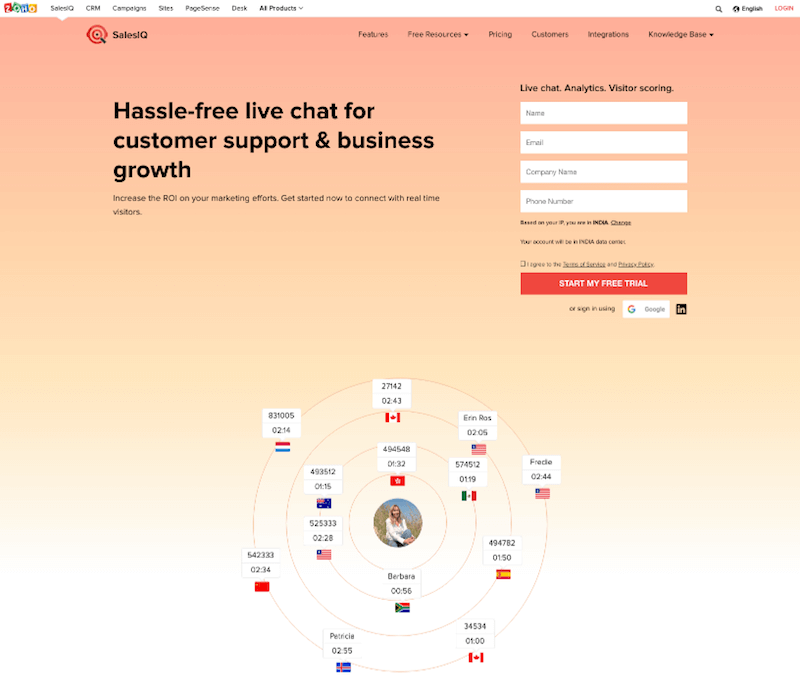 13

. Instabot
A very effective chatbot, Instabot can be integrated with your site in just a few minutes. This chatbot can understand your users and behave accordingly.
It can be used to answer questions and capture contact for your business. If you are managing a small business, this software is certainly very effective and handy.
The contacts captured by the chatbot can be easily migrated to a CRM platform or email service provider so that you can send email updates to your users.
It also offers you the option to book an appointment. If you are using this chatbot for a business where your users need to book appointments, this system can do that automatically and link it to your business calendar.
Here are the top features of this chatbot.
Easy to get started
AI functionality
Natural language processing
Link to CRM, email marketing service
Use as appointment booking system
Link to sales calendar
Increase conversion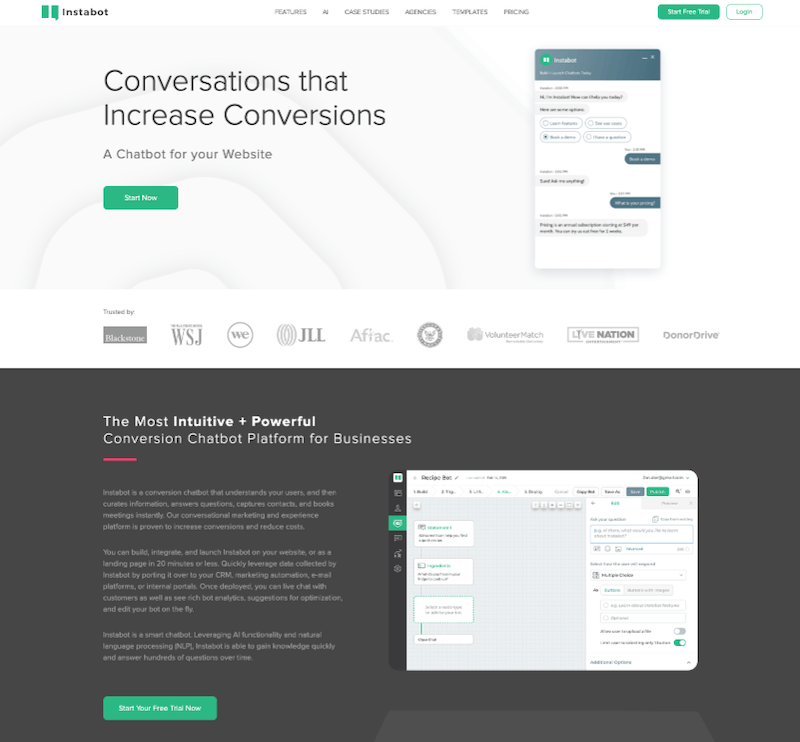 Q1. What is a Chatbot?
Chatbot is a computer program that can help you to automate the support process to a large extent by helping you communicate with your customers instead of a human.
Q2. Are Chatbots Good Enough to Replace Real Human?
Yes, to a large extent. These days, most of the big businesses, be it airlines or other businesses use chatbots to communicate with customers and they can eliminate the requirement of a support executive to a large extent.
Q3. Are Chatbots Free to Use?
There are many chatbots that are free to use. Even the premium ones offers free plans with limitations.
Q4. Why Should Businesses Use Chatbots?
Chatbots are cost effective solution for businesses. You can use a quality chatbot for support and reduce cost to a large extent.
Final Word
You should look at how well these chatbots can work if you're looking for something that works for your small business needs.
You'll discover when using these chatbots that your business will have an easier time interacting with customers even when you are not there to do it yourself.