WPMU DEV, a popular name in the WordPress community now offers fully managed hosting service.
WPMU DEV has a very popular blog in the community that you can visit to learn more about WordPress.
However, it is not another generic blog about the CMS platform, but rather an all-in-one WordPress platform for users.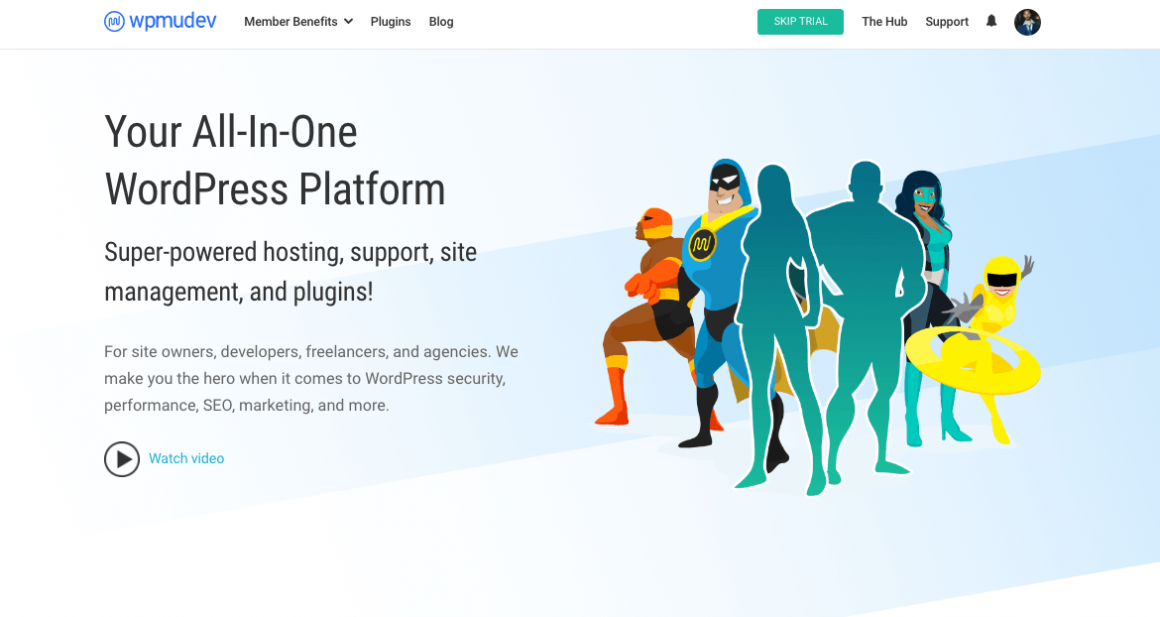 You can start hosting your site on WPMU DEV fully managed server, the price starts at $15 per month.
Now, for the purpose of this read, we will be solely concentrating on WPMU DEV hosting and all its bells and whistles.
By the end of the read, you should have a clear idea of what it has to offer and whether or not it adds value and incentive to get the WPMU DEV premium Membership.
So, without further ado, here is our comprehensive in-depth review of WPMU DEV Hosting.
WPMU DEV Hosting – Features
---
Besides access to all the premium plugins, the WPMU DEV hosting plans also come with tons of tools and functionalities to help you easily and effortlessly manage your WordPress websites.
Once you create an account on the site, you will get the option to add your site to the platform.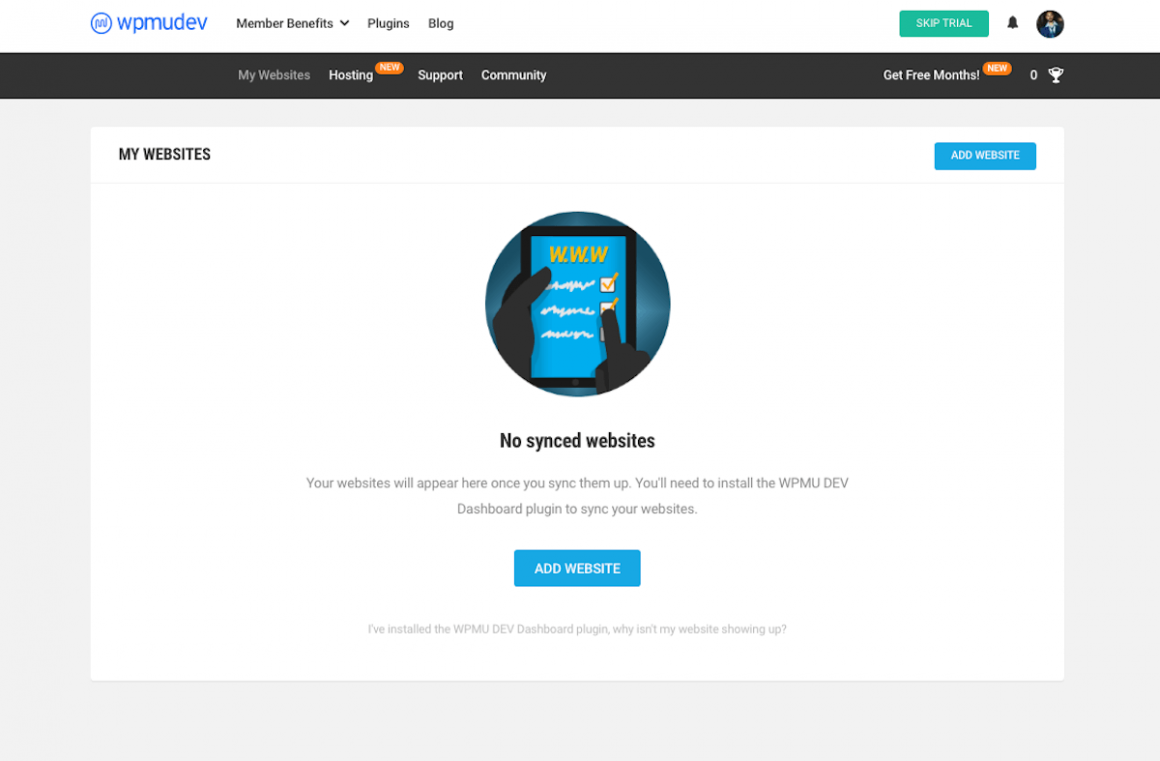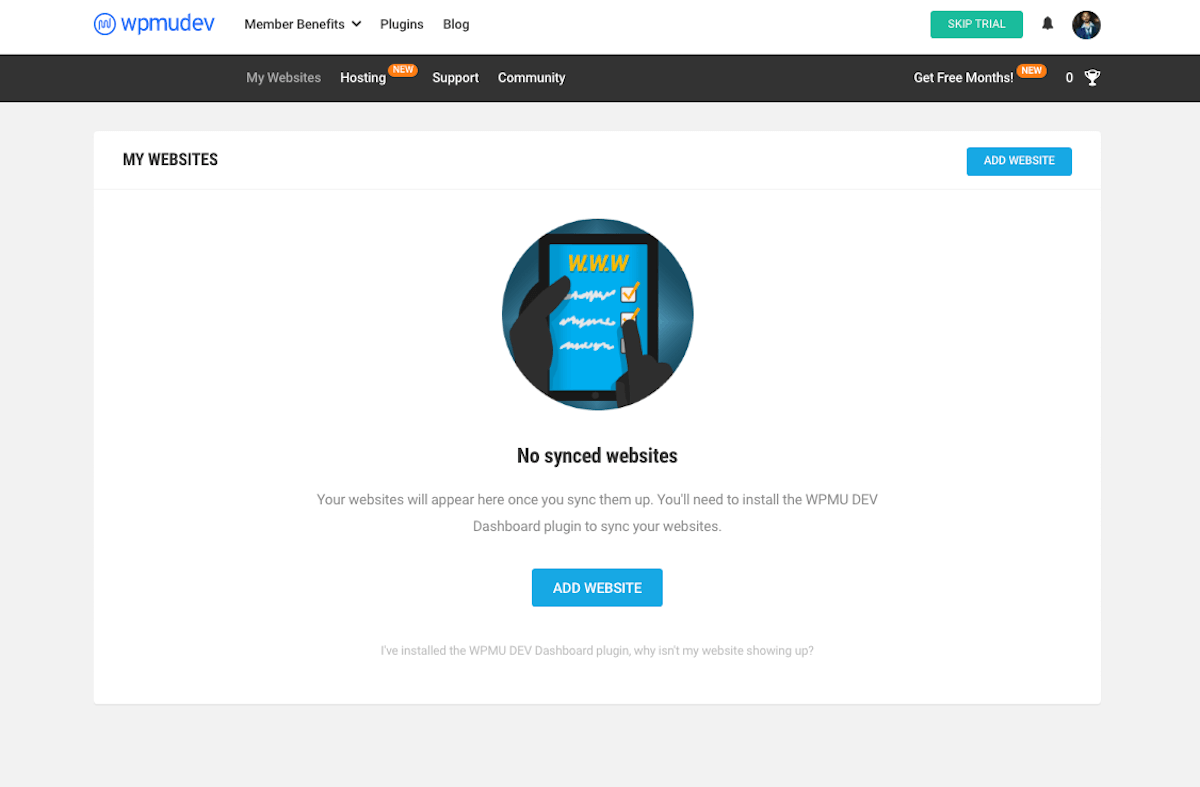 Here is a quick look at some of its more highlighted features of hosting services offered by WPMU DEV
Globally Distributed Servers
WPMU DEV has servers spread across 8 countries including the likes of the US (East and West), Canada, UK, Netherlands, Germany, India, and Singapore. Users can choose any of these servers for hosting their website.
As you may already know, having a server located near your target audience helps improve your site's loading speed as well as performance.
For example, if your server is located in the UK and a person in India is trying to access your website, the vast physical distance will affect the loading time and hamper your site's performance.
However, with WPMU DEV you get maximum flexibility with access to 8 different server locations.
This allows you to pick a location that is closest to your target audience ensuring optimized performance.
But that doesn't mean the rest of the world will experience slow loading times on your site.
In fact, you will get access to WPMU DEV's own custom CDN to ensure lightning-fast loading speeds from anywhere in the world.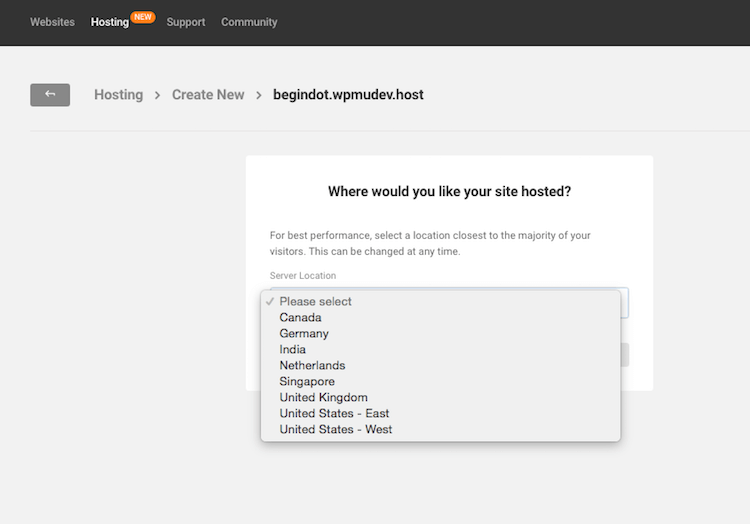 Dedicated CDN
CDN, short for Content Delivery Network, is a group of connected data centers that are used to store a cached copy of your site's images, content, and other files.
When a user requests to access your site's content the CDN serves it to the visitor from the closest location which helps improve your site's loading time and speed.
Now, the WPMU DEV CDN is powered by the popular StackPath network. It comprises different locations spread across the globe with more coming online on a regular basis.
You can rest assured as far as speed, security, and reliability is concerned, StackPath offers end-to-end encryption with support for multiple terabits connections at each data center for blazing-fast performance.
Security & Backup
The WPMU DEV hosting also comes with built-in security features to make sure you are safe from the ever-increasing dangers of cyber-crime and hackers.
First of all, you will get access to a free SSL certificate from Let's Encrypt.
On top of that, you will get access to a built-in defender which can automatically scan and clean any malicious files from your site.
Apart from this, you will also get access to 2-factor authentication, SFTP support, SSSH support, and much more to make sure you are always at the top of your security game.
And even if anything does go wrong, you can easily restore your website to its previous working state, thanks to the automated nightly backups.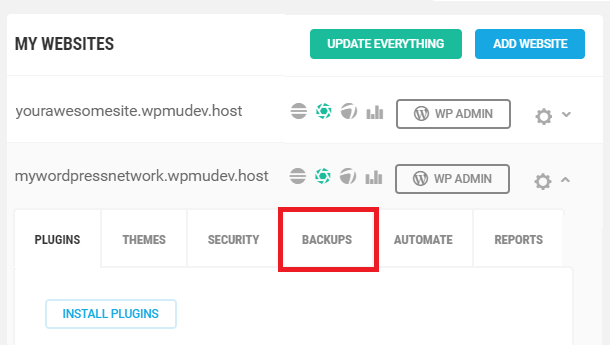 Others…
And that's just the tip of the iceberg. WPMU DEV brings home plenty more awesome features as listed below:
And much more.
WPMU DEV Hosting – Plans & Pricing
As we just said, WPMU DEV hosting is freely available to all WPMU DEV Premium Members.
For the $49/month membership plan, users will get support for up to 3 hosted sites. As far as specs are concerned, each of these sites will get access to –
For people who are simply starting out with their WordPress blog or website, this is more than enough.
However, more advanced users can find these specs a bit limiting. Thankfully, WPMU DEV allows for easy scalability whether you want to host more websites, or want access to powerful specs.
The WPMU DEV membership will give you access to their Bronze hosting plan with the above-listed specifications.
If you want access to even more juice, then you can upscale to their more powerful plans like – Silver, Gold, and the top-tier Platinum.
As you can see from the image above, their Sliver plan priced at $25/month will give you access to
Then comes their Gold plan priced at $50/month with the following specs –
And finally, we have the Platinum plan at $100/month packing in –
However, if this is not enough power then you can get in touch with their sales team to get a quote on their enterprise-level WordPress multisite hosting.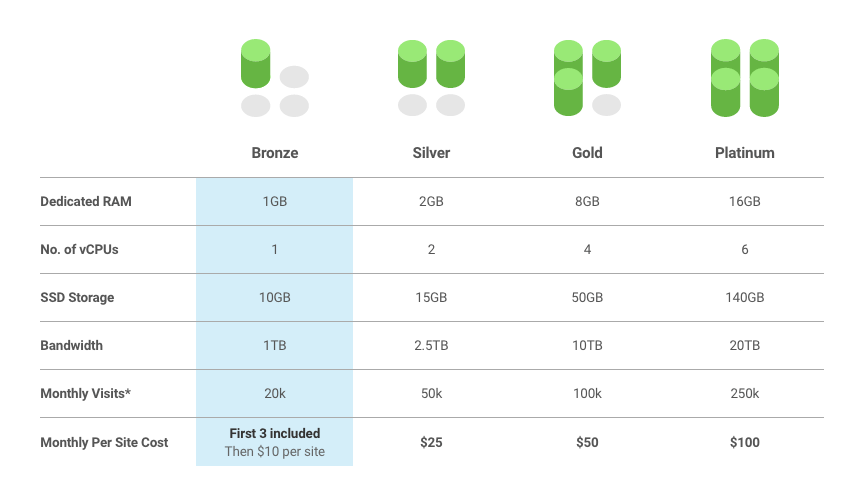 WPMU DEV Hosting – Getting Started
So you looked through all the features, found the pricing reasonable, and decided to hop on board with the WPMU DEV Premium Membership.
Now what? Well here is an in-depth guide to help you get started with hosting websites using WPMU DEV.
About the Free Sites
A $49 membership entitles you to 3 free websites hosted on the Bronze plan. But what if you want to host your websites using the Silver plan which costs $25/month.
Do you still get access to 3 free websites? Well, no! The pricing is actually a bit complicated.
Instead of thinking you get 3 free websites, you basically get $30 credited to your WPMU DEV membership account.
You can now use this to host three websites on the Bronze plan, which is $10/month each.
Alternatively, you can use it to host 1 website on the $25/month Silver plan and have $5 remaining, which you can then use to get $5 off the bronze plan.
Similarly, you can use the $30 to get that much discount off the $50 Gold plan and $100 Platinum plan.
Another way of thinking of it would be, you will get a $30 discount off of your monthly hosting cost.
Hosting A New Website
If you have hosted any WordPress website before, the interface shouldn't be anything difficult to understand.
Also for beginners, the layout is kept extremely intuitive and beginner-friendly.
Once you have logged in to the WPMU DEV membership HUB, click on the Hosting link and you will be taken to the following screen.
From here, click on the "+" sign located at the top left corner to start creating your WordPress website.
At first, you will be asked to pick the "Site Title". This can be changed anytime in the future.
Next, you will need to pick a "temporary destination domain" which is basically the link you will use to access your website before you configure the DNS and select the primary domain. Do note, this can not be changed in the future.
Once done, you will be asked to configure your WordPress admin information including user name and password.
Do remember your password, as you will need it to access your WordPress backend.
However, if you forget it, it can be reset by email.
Next comes selecting the server location. This is also something that can not be changed later on.
So remember to pick a location that is close to where the majority of your site visitors are located.
Migrating Your Existing Sites
If you don't want to create a new website but simply want to migrate your existing site to WPMU DEV hosting, then that too can be easily done with the Shipper Migration WordPress plugin.
First, you will need to create a new site on WPMU DEV following the steps mentioned above. Then you will need to add the plugin on both your old as well as new website.
Once you have done that, you will need to start the migration process which should be completed in a couple of minutes.
However, if you do run into some issues, then that can be easily handled through Live Chat with their support team.
WordPress Hub (Important)
Now, WPMU Dev is not only about the plugins they offer or the managed hosting service that we are talking about in this article. WPMU Dev is about WordPress site maintenance as well.
For the membership price you pay, along with getting access to plugins, 3 free hosting sites, you get access to the WordPress hub as well.
The WPMU Dev Hub makes things easier for you while managing your business. You can manage, update, monitor, scan, backup, and improve unlimited WordPress sites, in one place.
In case you come across any issue with any of your sites, you will find someone sitting at the other end to help you, you get 24/7 expert support.
The automatic updating process will make your sites, themes, plugins up-to-date and secure.
All WPMU DEV members get 10GB secure data backup to make sure that you have something to fall back at any point in time.
Irrespective of you are using WPMY Dev hosting or not, you get access to the WPMU Dev Hub.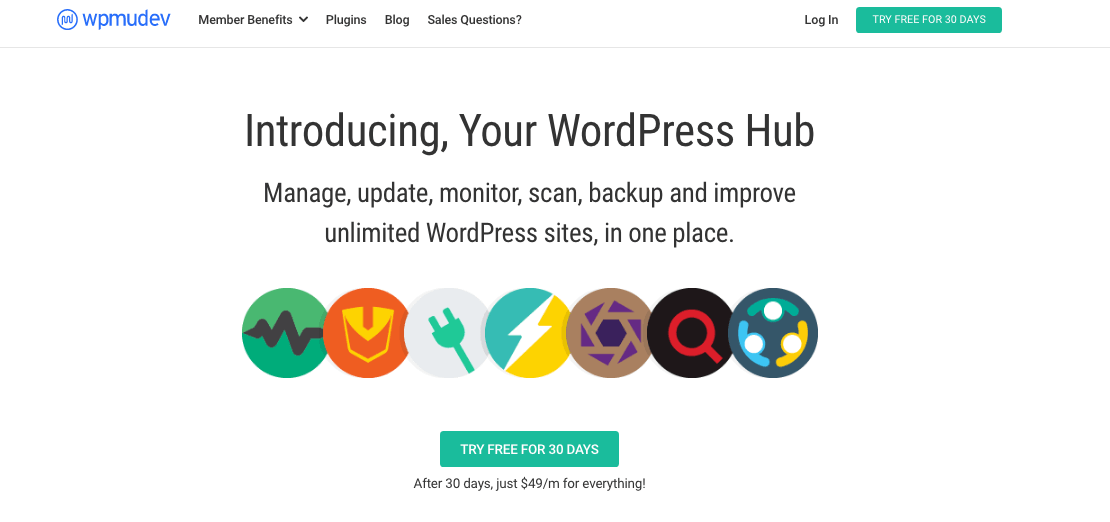 The Community
WPMU DEV comes with a large community of users who are discussing all things WordPress regularly. If you are starting your first WordPress site, this is the best place to begin.
The community and the team at WPMU DEV are busy around the forum to resolve all queries by the users.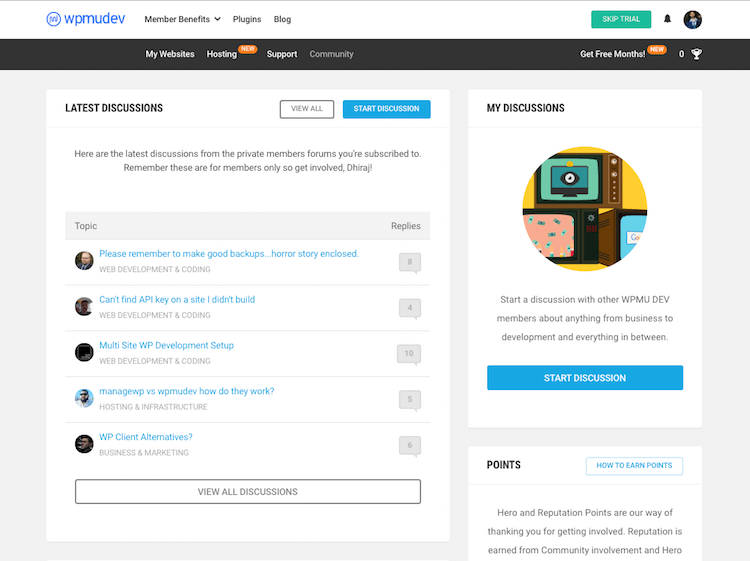 WPMU DEV Hosting – Support & Documentation
Every WPMU DEV premium member is entitled to 24/7 live WordPress support. The only downside is that there is no phone-based support.
The support team will only answer your queries via live chat, emails, or through their forums.
And in case you get stuck with some messy issues, they will literally login to your WordPress dashboard (which requires you to have the WPMU DEV dashboard plugin installed) to help you diagnose and resolve your problem. 
The team also gives you access to over 40 Whitelabel WordPress training videos to help users get started with the CMS.
This can come in extremely helpful for developers who are looking for an un-branded WP learning resource to hand over to their clients.
Comprehensive documentation is also available to help users know more about the technical aspects of setting up their WPMU DEV Hosting.
If you start hosting your site and face any issue, you can quickly get on with any of the support members in the live chat to get it resolved immediately.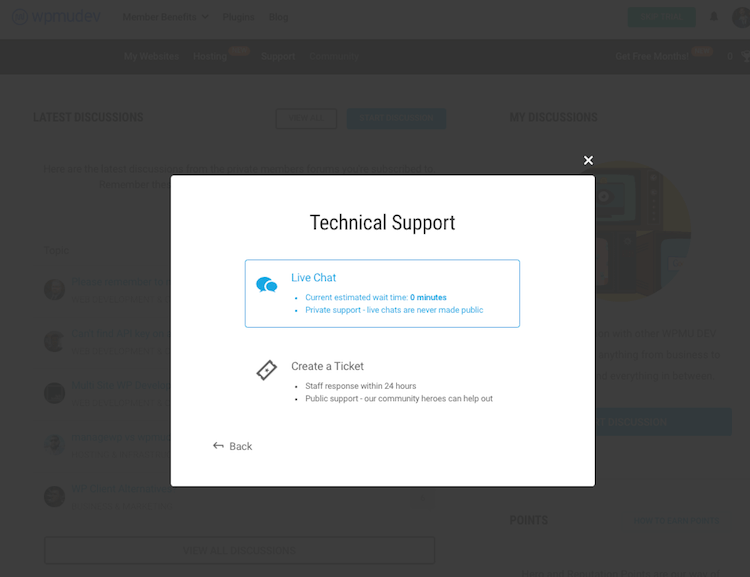 And if you are not satisfied with all the features available with the plugin and find them sub-par, or if you face any issues that the support team can't seem to resolve, then you always have access to their 30-day money-back guarantee to help you abandon ship.
WPMU DEV Hosting – Is it Worth It?
WPMU DEV offers a powerful, dedicated and fully managed WordPress hosting experience.
You get access to almost every single necessary feature bundled in with propriety plugins to give you even more power.
Looking only at its different bells and whistles, it is an excellent platform for hosting your WordPress websites.
Here, the entire server resources are dedicated to one website alone. Furthermore, it is completely managed, with a team of experts constantly monitoring security vulnerabilities and other issues.
Comparing with over hosting providers with similar plans, you will find that the pricing does stack up.
And when you consider all the other benefits that you get like access to premium WordPress plugins, it does offer a bang for your buck.
SignUp for WPMU DEV
Your website will be managed by one of the most experienced teams in the WordPress community, so you will always have the peace of mind that your business is in safe hands.