Brizy is an intuitive visual WordPress page builder and a comprehensive cloud platform to create beautiful landing pages. It offers ease of use interface that allows almost anybody to get started on building a fully optimized website. 
So even if you don't have coding skills or experience in web designing, moving around Brizy and building a website is just a matter of a day or two even for a novice.
If you need to create product landing pages on a regular basis, the Brizy cloud option is perfect for you.
You can use the tool to create a fully optimized landing page using the cloud platform, you will have complete hosting and marketing options well integrated into the platform to make the process easier for you.
There are a number of marketing features in the pipeline that will make Brizy the one-stop platform to create a website, collaborating with the team, and managing all the marketing activities without living on the platform.
Create a Website With Brizy Builder
Beautiful Ready Page Templates. Get access to more than 150 layouts & over 400 different blocks that you can use on your site.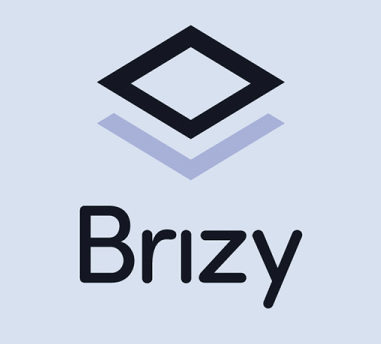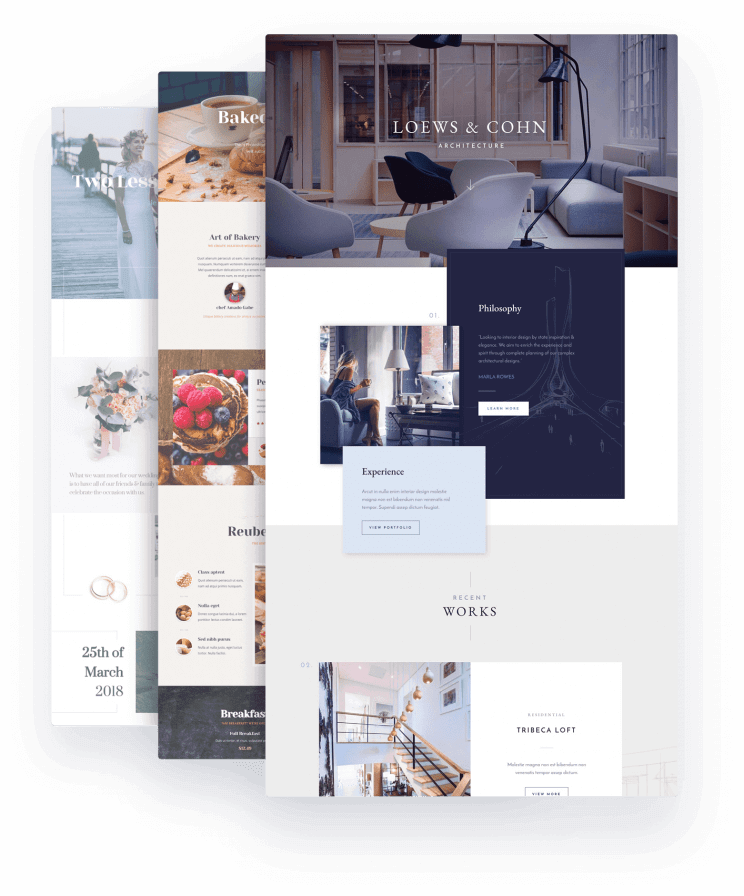 Table of Content
---
Brizy Overview & Features
Brizy is smooth and easy for the users to create a fully optimized interface to create a beautiful landing page.
Here are some of the top features of the Brizy builder.
The editing process of Brizy is real-time and the changes can be seen as and when it happens right in front of you.
To edit any aspects of the website, all you have to do is click on the section that you wish to edit which will present you with a toolbar with all the settings and elements suitable for that specific section.
The basic editing elements can be accessed from the toolbar and if you are looking for advanced options and settings, they are available in the right sidebar.
The user interface of Brizy is built on React which is an open-source JavaScript library.
Designing a website with Brizy is an absolute breeze. The 'Smart Content Tool' of Brizy shows most of the editing options right on top of that specific element.
This reduces mouse movement massively and saves you a lot of time. The text element used by Brizy is very rich, images have the feature of focus and zoom, quick set-up forms, and more than 4000 vector images.
The colors and fonts will always be under your control and will be applicable across all pages created by Brizy.
The fonts & colors are accessible and can be controlled globally by using the styling panel in the sidebar.
The best part of this global access is that you can test infinite colors and fonts and get a clear picture of how your website looks and moreover, this feature allows you to implement the changes across all the pages and elements of the website.
So, you don't have to scroll or click through pages and make changes in every single element one at a time.
The images when added via Brizy are automatically configured to be compatible with the desktop screen, tablet screen, and mobile screen.
That's not all, Brizy also offers a unique toolset for each screen so that the image can be adjusted with impeccable accuracy.
Over 150 Ready-Made Layouts + Over 400 Blocks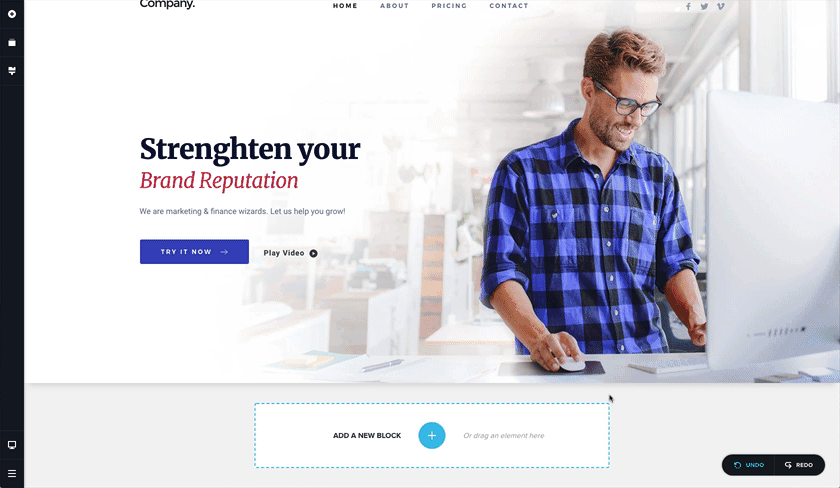 Starting from scratch is not a good idea for newbie users. So, you get access to over 150 pre-made layouts and over 400 blocks with the Brizy so that you have the foundation to build on.
Brizy also has this amazing feature using which you can transform any section of the website into a slider.
Moreover, you can make any design on each and every slide. Just go to that slide using the arrow buttons and create any kind of design to best portray your business.
Oh, you don't need a slider plugin for doing any of that. You can create as many sections as you want while designing the website and save the extra sections for later use or customization.
Global Blocks and Features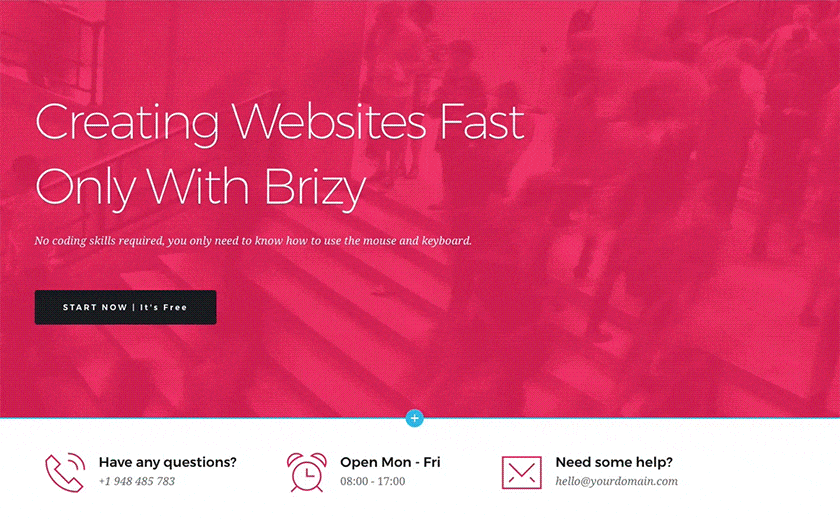 Another amazing feature that Brizy comes with is the 'global option' for sections and blocks. Once you activate the global option for a section, it will save the said section in the global tab.
Once the global option is active on selected sections and blocks, any changes made by you will automatically implement the changes on that section for all the pages.
This feature allows you to customize a section of the website with a single click. Pages such as testimonials, team members, product categories, etc.
Panel Reorder
Then comes the Panel reorder option. This option helps you to reorder blocks without any hassle.
You get to see a thumbnail representation of the blocks that you have created using Brizy and these thumbnails also update the changes that you make in the original block.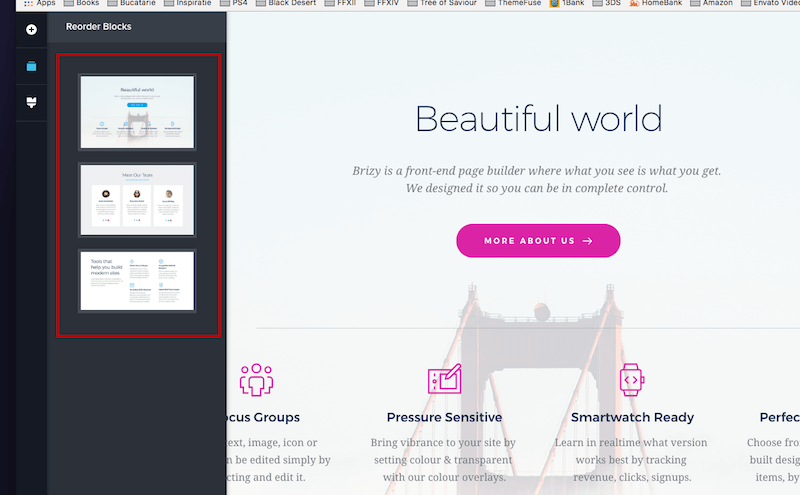 Brizy is proud when it says that this is a one-of-a-kind feature in the entire digital market and is available only with Brizy.
The Buttons feature allows you to create buttons side by side without the involvement of any complicated structure.
Creating social buttons, menu links or a button grid is a cakewalk with Brizy. You can also create multiple icons side by side, for headers & footers without the involvement of any complicated page structure.
Next interesting feature of Brizy is the focus and zoom options for images that are used for making a website. The focus feature allows you to control and regulate the focus on an image in real-time.
Image Zoom Option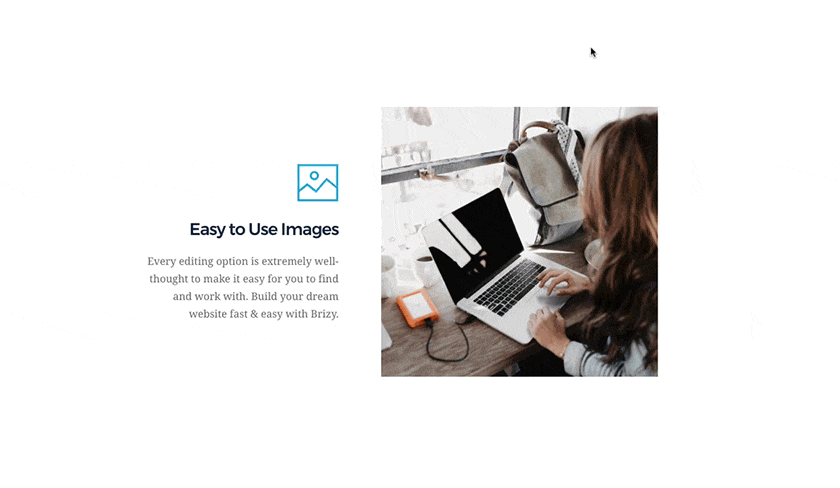 You don't have to make any extra effort in the image size ratio before uploading, it doesn't require Photoshop or any other image editing skills, and the focus and zoom features can be modified whenever you wish to do so.
Brizy boasts of a much more advanced form building system where there is no involvement of a plugin. You can also create any structure for the tab and accordion element.
These elements are in free form and you can create any structure that you can imagine, thus not limiting you to a predefined design.
Use all the resources that Brizy has to offer and create amazing tabs and accordion elements.
The countdown timer adapts itself to any time zone and shows the exact time for an offer to expire based on the visitors' location.
Section Padding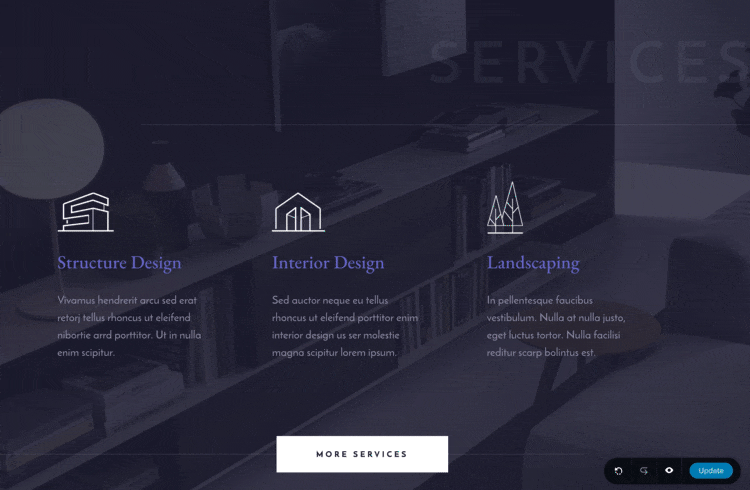 The paddings for every section can be adjusted by you without the requirement of an additional interface or sidebars.
Smart Text Editor
The text module helps you write as much content as you like. You can start a new paragraph just by hitting the 'enter' button.
Once the content is complete, you can modify each paragraph individually by clicking on the options toolbar and have complete control over spacing between paragraphs and typography.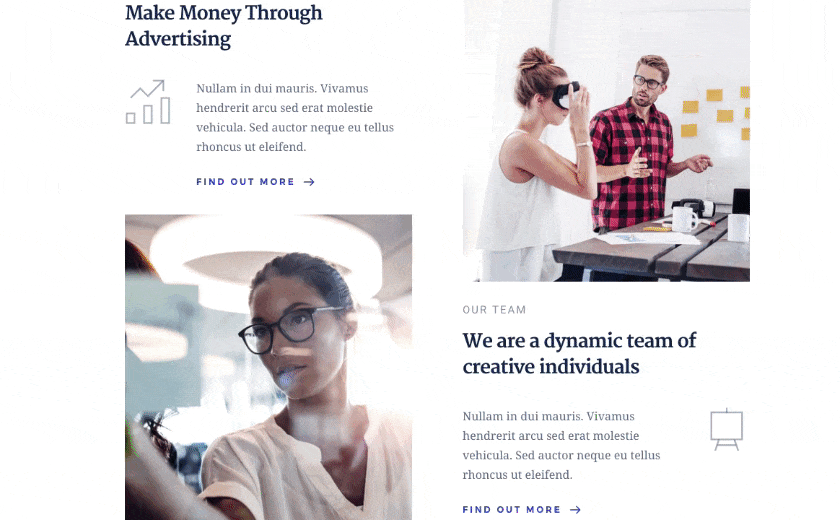 The links feature allows you to point it to a specific section/block of the page. These links will point towards the original block and also perform as a live representation of the original block which makes it easy to identify.
Another feature of Brizy that is truly unique is its independent response skills to devices. In simpler words, any changes made in the tablet or mobile format of the website stay there.
Well, this is not applicable to the text content, nonetheless, you can manage how your website looks on a tablet or a mobile without breaking a sweat.
Brizy allows you to copy and paste content from one platform to another and also within one single page or multiple pages.
The choice to undo or redo changes while developing a website is an amazing asset for the developers, all editing options and shortcuts can be accessed with just a right-click on your mouse.
If you think these features are incredible, then wait till you hear this, every design development or modification done on the website will be auto-saved automatically, you can also allow or restrict access levels in case of multiple users.
However, this feature is available in the Brizy PRO package. The Image lightbox options a giant pop-up of the image. There is a switch on every image and all you have to do is just enable it.
Design Features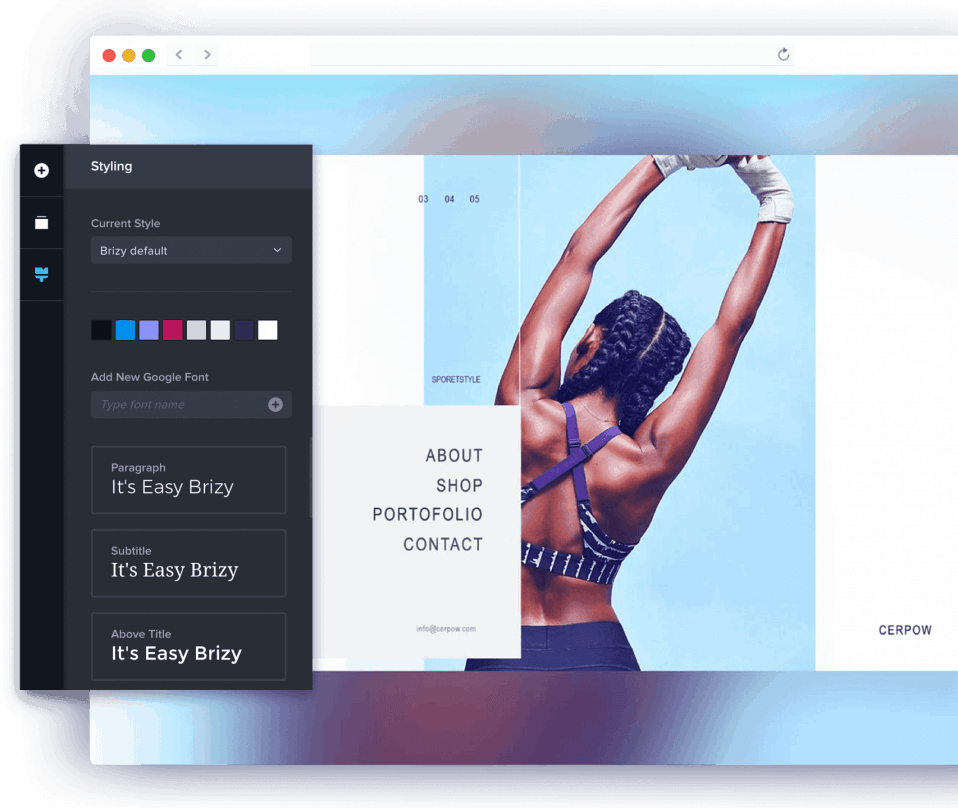 This is where we will take a look at what Brizy can offer with regards to the design, look and feel of a website.
The free version of Brizy allows you to add images, contact forms, maps, buttons, icons, and texts.
But if you have the Brizy PRO package, along with all the aforementioned things, you can also add Gallery, Carousel, WordPress Posts, connect Facebook, and much more.
The PRO package also allows you to customize the color, saturation, brightness, and contrast of your media content to a great extent.
Another thing the Brizy PRO package offers is the 42 unique shape dividers that add a very creative transition effect to the content.
Dynamic Content
Most of the features available in the Dynamic content section are available with the Brizy PRO package.
The single post feature which can be used for blogs, header & footer styling options, the look for the archive list, category listing, editing of the '404 Error' page and the author page are some of the facilities that will be available to you with the Brizy PRO package.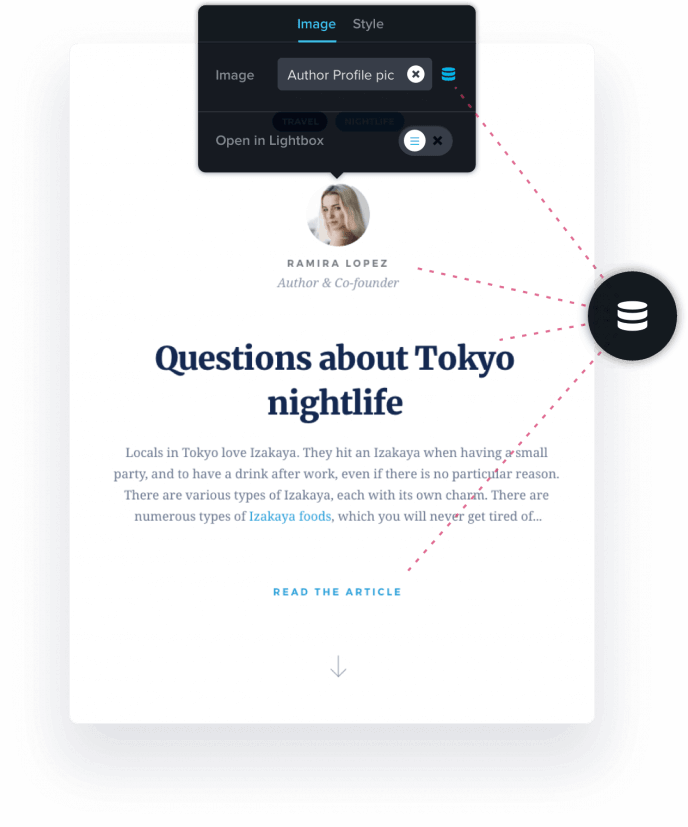 Marketing Features
Your email marketing campaigns are taken care of by WordPress in the Brizy free version.
But if you go for the PRO package, you get a plethora of email marketing options starting with Campaign Monitor, MailChimp Sendinblue, Hubspot, Zapier, ConvertKit, Mailer Lite, Active Campaign, Drip, E-Goi, MailJet and Get Response.
Now let's take a look at the WordPress tools and the media & font tools that come with the free and PRO packages of Brizy.
In the free package, you get WooCommerce and Yoast for WP tools and YouTube, SoundCloud, Vimeo, GoogleMaps, and Google Fonts to take care of media and font aspects. But, if you go for the PRO package, you get quite a few plugin options.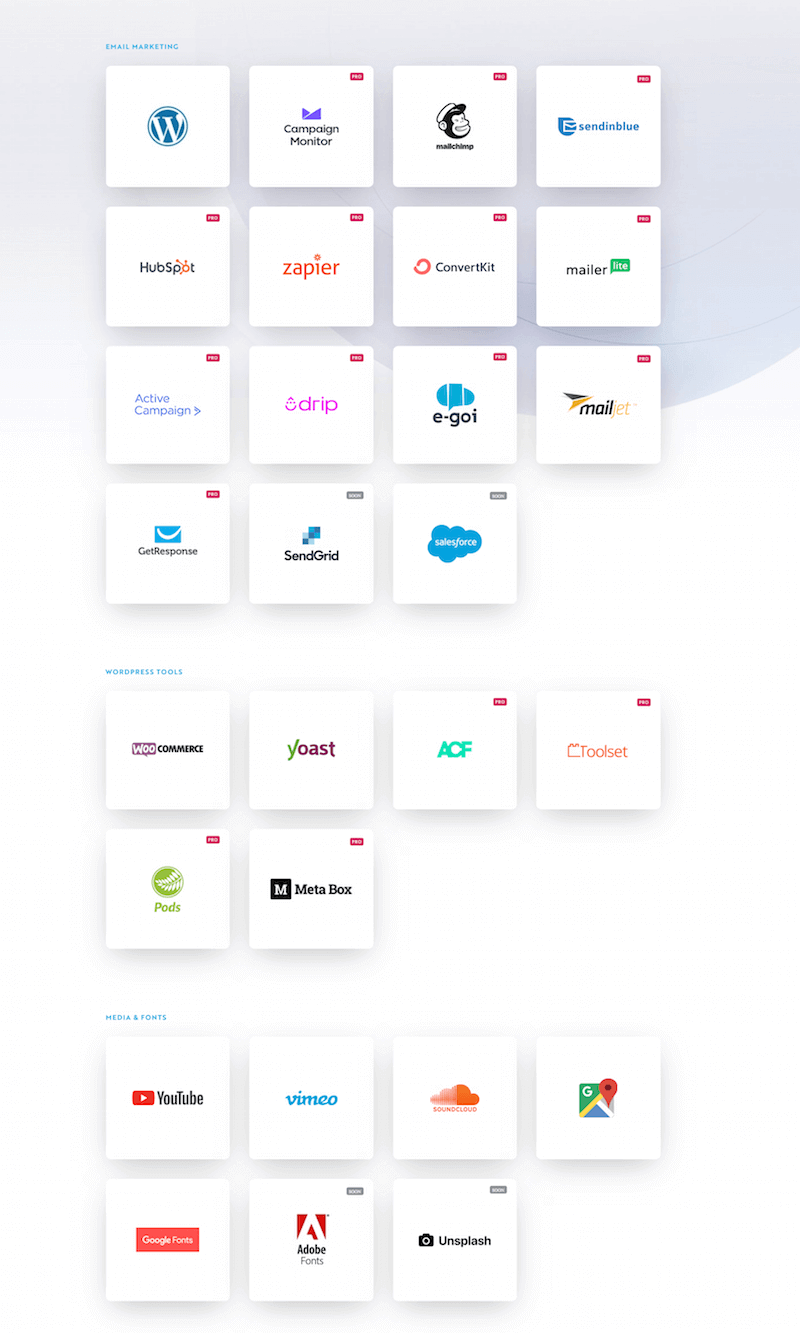 Brizy Cloud Features
In a way, Brizy Cloud is one platform for you to create your website. You can go for the cloud option to host an unlimited number of websites, and landing pages to run your business.
It is simple and easy to get started. In fact, you can start building your website and see how it works before you go ahead with a plan.
Brizy plans to make the cloud platform a complete solution for the business to create a website and manage all the marketing activities right from a single platform.
A product you must look forward to because it makes life simple for entrepreneurs.
If you need to create a number of landing pages, and websites to promote different affiliate products or your own product, Brizy cloud is the best option for you.
Here you can create the website, and manage your email marketing campaigns. They also have a number of features in the pipeline such as collaborating with your team, and managing analytics and leads from the Brizy platform.
Brizy Speed Optimization
Brizy is perfectly optimized for better performance so that your site loads instantly. With the Google Core update, the loading speed of a site has become very critical, and it is an important ranking factor.
So, your site must load quickly in order to rank your content better. Brizy tested with a ready template and scored 97 on the Google speed test, the page loads within 1 second.
Brizy Free & Brizy PRO
The PRO package is available on yearly payment options and also on lIfetime payment options.
Yes, there is a slight difference in the features that are available in these 2 packages and we will take a closer look to point them out.
For starters, Brizy PRO offers more than 150 premium design layouts. Yes, you guessed it right, you are not getting them in the free version.
Here the layouts are segregated into packs which are again suited to a particular business such as restaurants, studios, parlors, business, corporate, etc.
The layouts within these packs have all the necessary pages for home, about us, contact us, etc. which is of immense help to make a website go live in no time.
Design elements such as the Gallery, Carousel, Posts and 12 other elements can only be found in the Brizy PRO.
Brizy Pro is also compatible with a lot of custom field plugins such as ACF, Tools, Pods & Metabox. These plugins open the doors to a lot of potentials.
The Brizy Pro package also comes with a lot of marketing integrations and you can also connect your contact forms and generate leads for your business.
Brizy PRO also offers a pop-up builder with which you can create as well as edit all types of pop-ups using the inbuilt tools of Brizy.
Wait, hold on. There is one more thing about the Brizy PRO that you should know.
It comes with its own cloud storage facility. You can easily create landing pages, funnels, lead pages, projects, etc. much more easily as compared to WordPress.
Moreover, Brizy also takes care of the hosting and security aspect of your website.
They use Fastly and Amazon CDN for content delivery, Amazon Relational Database Server for database, image processing via Fastly Image Optimizations.
The hosting section is taken care of by reliable partners SIte Ground, Couldways, Inmotion, and Bluehost
Final Word
Brizy is a great option if you are looking for a quality WordPress website builder for your business. You can start with the free version of the WordPress builder which is good enough for any common site, blog, etc.
Once you are comfortable with the builder you can look at the pro version and upgrade your plan.
There are some interesting features that are being planned, the all-in-one cloud platform with team collaboration, marketing features make it a unique solution to manage a business.
Overall, Brizy is a platform that certainly deserves your attention.
Brizy Website Builder Review
If you find the article helpful, don't forget to share it with your friends and give a thumbs up to this amazing product that will help you to create beautiful landing pages, websites for your business without writing a single line of code.