If your small business doesn't have an online presence in today's digital world, does it even exist?
Considering there are 4.66 billion active internet users globally, having a website is key to building an online presence. A website gives your brand credibility in the eyes of prospective customers. Without one, a significant number of your target audience won't know about your business in the first place.
The modern consumer values convenience over most things. And what could be more convenient than finding a product or service in a fraction of a second with a quick online search?
From a billboard promoting your products to a business card providing customers information about your business, a website plays several important functions.
That being said, a poorly designed website can be just as detrimental to your small business as not having one.
Is your website attracting people but failing to make them stay and convert? Here are some reasons why your website is failing to convert visitors into paying customers.
Clear and simple navigation is crucial for a good website design. If you're making your visitors work too much to figure out how your website works, they are likely to abandon it.
Complicated navigation creates a frustrating user experience and certainly doesn't encourage conversions.
02

. Unclear CTA or lack of it
After you have introduced a visitor to your business and product, it is your responsibility to tell them what they should do next.
Do you want them to give you a call? Do you want first-time visitors to use a discount code? An easy-to-understand CTA is a must for every website. And don't forget to keep it concise.
03

. Too Many CTAs
Having too many CTAs is just as bad as not having one, if not worse. Unless you have an extensive e-commerce website that requires multiple calls to action, try to stick to one or two CTAs per page.
Choose a powerful CTA and strategically place it throughout the web pages. If you're planning to add more than one CTA, ensure they aren't conflicting.
04

. Slow-Loading Website
Is your website taking a couple of minutes to load? You might as well forget about making visitors stay, let alone convert.
Your website should not take more than a few seconds to load. If you don't want prospects to exit your slow website and go to a competitor, make sure it loads faster.
05

. Illegible Font
Something as simple as the font has a huge impact on the usability of your website. How will users navigate your website if they are struggling to read your copy?
Choose a legible font and stay consistent with it. Other than the font, the size of the font, color scheme, and white space also impact the readability of a website.
06

. Visually-Unappealing Website
Does your website bombard visitors with pop-ups, fast-moving carousels, glaring graphics, and cookie notifications?
Having too many visual elements at once leads to a poor user experience. It is crucial to keep only the necessary elements on your website pages to avoid overwhelming users.
07

. Neglecting SEO
Without search engine optimization (SEO), your website will fail to rank on SERPs. And the lower the rankings, the less likely your business is being discovered by new prospects. Implement best practices for SEO to ensure your website is showing up in search results.
08

. Forgetting Responsiveness
Did you know that mobile internet users account for nearly half of the web traffic worldwide? Neglecting this fact will drive away a considerable portion of your target audience.
Now more than ever, mobile responsiveness is crucial for designing a great website. From the content to graphics, every element of your website should be scalable to screens of all sizes.
09

. Not Including Social Proof
How can a first-time visitor trust your business? Including client testimonials or customer reviews is a great way to establish your credibility.
When you are including client testimonials on your website, use the client's full names and a headshot if possible. Keep it brief and specific.
If applicable, you should also include certifications and awards to win visitor's trust.
10

. Complex Checkout Process
Guiding a visitor to add a product to their cart is half the battle won. But a complex checkout process can put it all in jeopardy.
Customers should be able to easily checkout with minimum steps. Don't increase cart abandonment by making customers fill out long registration forms.
11

. Unscannable Content
A monolith of texts does no one any favors. You need to show that you value visitors' time by making their user experience as seamless as possible. Break up your content to make it more scannable and easy to read.
12

. Targeting Wrong People
You may be getting a ton of traffic but barely any conversions. The reason could be that you are attracting the wrong audience.
Just like LinkedIn prospecting, you need to identify your target audience to boost conversions. Make sure your website is attracting people with an intention to purchase by optimizing your content with relevant keywords.
13

. Confusing Copy
You are an expert in your field, but your prospects might not be. So using an overly technical copy can be confusing for visitors.
You need to step into your customer's shoes to draft relevant, engaging, and comprehensive content for the website.
14

. Bad Links
Picture this- a visitor found your website, got intrigued by what you have to offer, and decided to make a purchase right away. But there's a hitch. The link is broken.
Do you think a visitor will go through the trouble of informing you about the broken link or wait for it to be fixed? No. they will likely go to your competitor. Go ahead and immediately fix any bad links on your website.
Wrapping Up
It's no secret that web design is not cheap or easy. So is it worth the expense? Absolutely! A well-designed website is an investment that can do wonders for your search engine rankings and conversation rates.
Hopefully, the pointers mentioned above help you design a website that drives traffic and reach conversion rates that put a persuasive evangelist's record to shame.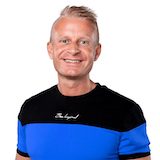 Author Bio:
This article is authored by Stefan Smulders, a SaaS Entrepreneur | Bootstrapped to €3M ARR in just 1year | Founder of Worlds safest software for LinkedIn Automation Expandi.io | Vegan | Father