Mobile app usage has increased globally during the last decade. Back in 2020, there were over 3.5 billion smartphone users worldwide. Most large organizations and businesses have transitioned their operations to mobile app.
Apart from providing services and items to clients, business owners utilize apps to increase their ROI in various ways. According to Statista (source: MedicalNewsToday), Apple's App Store contains 2.2 million iPhone users, while Google Play store contains 3.48 million Android users.
From brand marketing to understanding more about your consumer base, the utility mobile apps offer is practically limitless. Builder.ai allows you to design various apps tailored to your needs.
If you're interested in learning how much your business and consumers may gain from a mobile app experience, this article highlights several critical factors.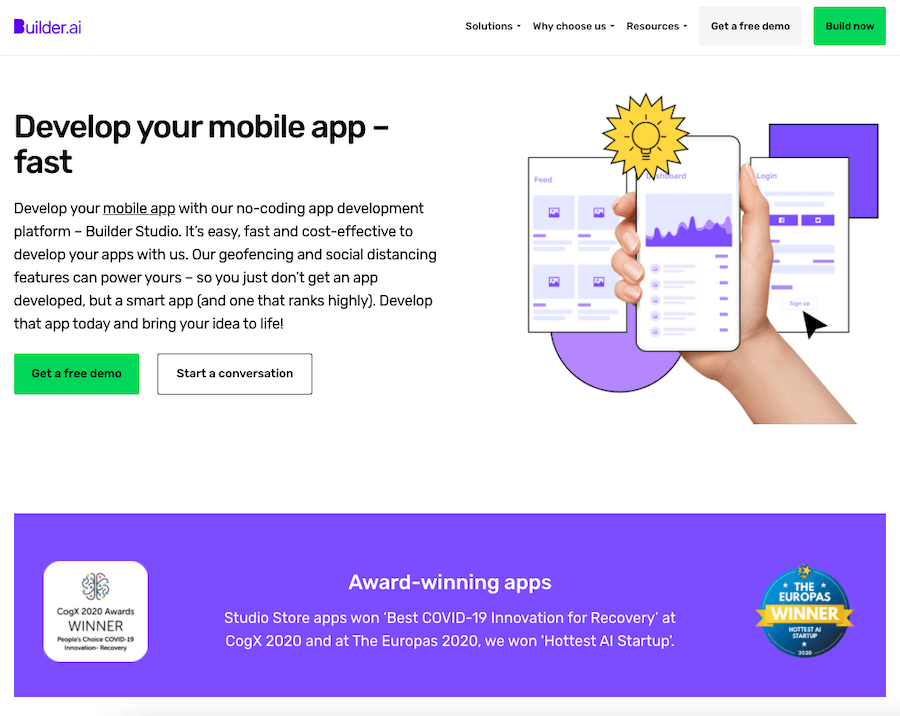 Methods for Using Mobile Apps in Your Business
To achieve success with your business's mobile app, you must pay special attention to your approach. There are numerous ways to go mobile, depending on your branding requirements.
While the primary objective of your app is to communicate with your consumer base, the nature of the interaction frequently varies between businesses. The following are some of the most popular and effective tactics we've observed in the market.
Loyalty Apps
Additionally, mobile apps might be an excellent approach to increase consumer loyalty. Corporate organizations offer incentives to 'excellent consumers.' As a result of these benefits, clients continue to return to the brand.
Entertaining Applications
Not all apps are task-oriented or serve a specific purpose. By entertaining your consumers via your brand's app, you may also retain the bulk of your users without delivering direct incentives.
Apps and Chatbots for Customer Service
These applications adhere to the fundamental communication model. They act as a link between brand workers or software and users for troubleshooting.
What Mobile Apps can do?
---
There are various advantages to developing an app. Consider a few of them. You can do the following with an app:
01. Value addition to your customers
The corporate functional scenario has shifted dramatically during the last decade or so. Businesses today heavily rely on technology to begin and finish consumer transactions.
Mobile applications are a critical component of current technology, as they are constantly transforming how customers shop and meet their demands. Consumer expectations continue to rise in lockstep with the rapid evolution of technology.
Mobile applications are frequently an excellent vehicle for satisfying these objectives. For example, retail purchasing is one of the primary businesses that benefit the most from mobile apps.
By going mobile, you're sure to increase the accessibility and use of your goods and services. Consumer behavior in the modern era places a premium on convenience, which apps enable. Builder.ai enables you to incorporate features that add value to your customers.
02. Strengthen Your Brand
The more value you provide your customers, the greater their interest in your brand will grow. However, without conscious branding efforts, it is impossible to achieve a deep brand experience.
Compared to more traditional forms of brand promotion such as television or outdoor advertising, branded applications have proven quite effective in recent years.
03. Establish a Relationship with Your Customers
If one factor has a significant impact on consumer happiness, it is how quickly and effortlessly information about a firm is accessible.
At times, the difference between a lead and a conversion is the quickness with which support responds. If you want to provide your consumers with the fastest possible communication, a dedicated mobile app may be the missing piece.
Compared to websites and other media, a mobile application is significantly more dependable, personalized, and convenient. Customers should not be concerned about losing track of their support requests, as they may log in using their contact information.
Similarly, your employees would have easy access to similar information. It enables them to serve clients more efficiently and effectively. Apart from providing support, mobile applications are ideal for soliciting and collecting consumer feedback.
Historically, businesses relied on a variety of surveys and data from a variety of sources. And mobile content enables you to collect all of the feedback you require in one location.
Additionally, you can integrate a live chat support option into your application. It increases not only client satisfaction but also engagement. When executed effectively, near-instant responses via in-app live chat can positively influence your sales and brand in general.
Do you want to expedite your business operations and boost profitability? A mobile application may be the answer to this question.
Builder.ai is an ideal platform for mobile app development with no-code app development services. Transform your business altogether with Builder.ai today!