If you're looking to promote your business on social media, these are some Twitter statistics you should know about.
Being one of the oldest social networks, Twitter is proving to be one of the most popular social networking sites for over a decade.
Some find Twitter to be a challenging task due to its character limit, whereas some try to undermine its capabilities due to its political polarization. But those who have managed to get the tactics right have earned the rewards.
These statistics will give you a fair idea of what to expect and how to progress on the social media network called Twitter.
Let's get started!
01. Over 200 million daily active users
Twitter received over 200 million daily active users making it one of the best platforms for marketers and businesses to create new audiences and sell products. You can leverage this big audience base using the promoted Tweet option as well.
02. Twitter Users
We all know Twitter is popular but while deciding your marketing strategy, it is important to know the number of users on the platform.
There are over 1.3 billion users and 330 million monthly active users on Twitter. The daily activity on the platform can be ascertained from the fact that 42% of users use Twitter daily. Details here.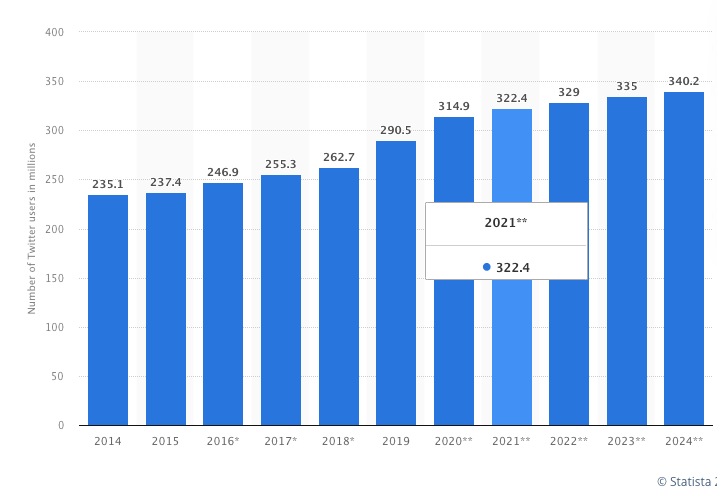 03. Twitter Demographics: 64% Make Users
As far as the global gender demographics of Twitter are concerned, there are more male users than female users. According to a report, men constitute 64% of Twitter users, while women constitute 36% of the total Twitter users.
Twitter is a popular social media platform in the US, UK, and Japan.
04. World Leaders on Twitter
According to PRNewswire, 83% of the world's leaders are on Twitter. This figure accounts for 139 leaders out of the 167 countries.
From Barack Obama to Narendra Modi, Twitter holds the account of all the major political leaders. This is one of the important stats for making Twitter a popular news outlet. Read report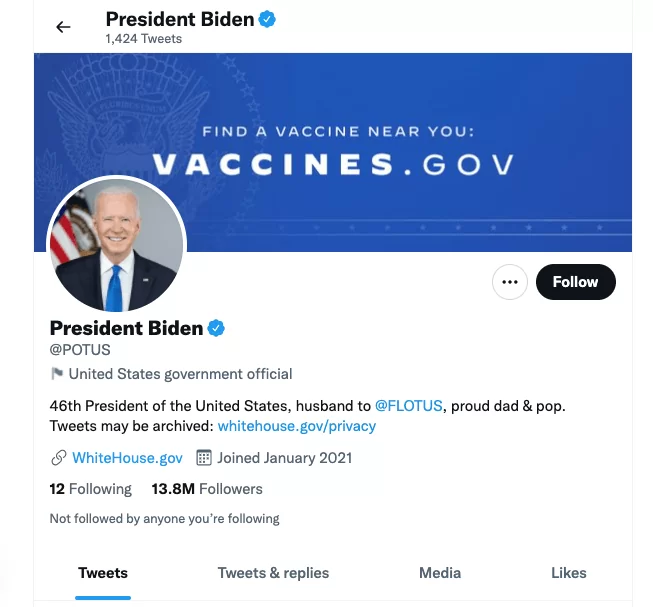 05. Popular for Advertisements
Twitter is still proving to be very effective in terms of paid advertisements. According to Twitter Business, users spend 26% more time viewing ads on Twitter than on other popular social media platforms.
This stat is crucial for marketers to market their products or service to their target audience. Twitter Business
06. Average Time Spent
Among the popular mobile social networking apps, Twitter is well behind some of the industry leaders. 3.39 minutes per session, according to Statista, is the average time spent on Twitter.
This is mainly because of the short lifespan of a tweet and the platform is majorly used as a source for news updates.
07. Tweets with Hashtags
Hashtags on Twitter aren't something new. In fact, the trend of hashtags was given a boost by this platform and is still continuing to do so. As per the Twitter Agency Playbook, tweets with hashtags get 100% more engagement than tweets without hashtags.
The only piece of advice given by Twitter is to use as minimum hashtags as possible. One or two hashtags should be enough for a tweet.
08. Twitter Ads with Video
If you're looking to save your advertisement costs on Twitter, you should look out for Twitter ads with video. According to the Twitter Agency playbook, Twitter ads with video are 50% cheaper in cost-per-engagement.
Simply put, a good video will not only increase your brand awareness but also reduce your marketing cost significantly.
09. Twitter Community on Brands
As far as the Twitter communities are concerned, users take part in them to stay connected with the entertainment content, news, and information.
According to Twitter, 93% of Twitter communities are open to brands getting involved only if they are providing the required help and support to them. More details
10. Popularity Among B2B Marketers
It's safe to say that Twitter has gained a lot of popularity among B2B marketers. In fact, according to Statista, 67% percent of all the B2B businesses are using the platform for marketing purposes.
It has become increasingly important for brands on Twitter to post interactive and engaging content to connect with their customers.
11. Tweets with Videos
We've already mentioned above how Twitter Ads with videos help you save a significant amount of money. Here are some additional stats that will help you incline towards tweets with videos.
Tweets with videos get 10 times more engagement than tweets without videos.
It might be the right time to change your Twitter posting strategy.
Moreover, after viewing photos and staying up-to-date with news, watching videos stands in 3rd position in terms of reasons to use Twitter.
12. Twitter Users on Mobile
If you're thinking of investing in Twitter mobile ads, this stat will give you a better perspective for your Twitter strategy. Over 80% of Twitter users access the platform through their mobile phones.
13. Twitter Revenue
In the second quarter of 2021, Twitter's revenue amounted to over 1,190 million U.S. dollars, a 14.8 percent increase compared to the previous quarter.
14. Ads Posted by Creators
While Instagram is proving to be the perfect neighborhood for influencer marketing, Twitter isn't far from achieving the same rate of growth.
According to Twitter Arthouse, it was stated that Twitter users spend 24% more time on ads created by creators as compared to ads posted directly by the brands.
The creators were listed by Twitter in two categories – Influencers and artists with creative crafts.
15. Twitter Publishing and Scheduling
There has been a tremendous rise in social media management tools on the internet. These tools help in growing your brand presence on social media with the help of scheduling automation.
According to Pew Research, the top 10% of Twitter users are more likely to automate their tweets. In fact, 25% of Twitter's most prolific users are using scheduling software.
16. Twitter Influence on Shopping
If you're thinking Twitter isn't as useful as Instagram for brands to carry out purchasing of products and services, you should look at this statistic.
40% of Twitter users admitted to purchasing after seeing the product on Twitter. This statistic can prove to be even more influential coming from a social media Influencer in that particular niche. More details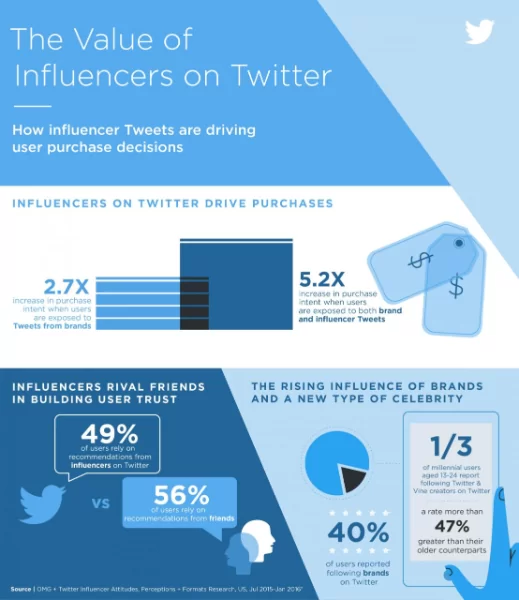 17. Most Used Emoji
Emojis have proven to be an important aspect while communicating your message to your customers. Using more positive emojis in the message created a better impact on the target customers.
As far as the most used Emoji on Twitter is concerned, "The face with tears of joy" wins the race. According to Emojitracker, It has been used more than 3 billion times on the platform.
18. Cultural Relevance of Brands
Cultural conversations have become an important means of reshaping the world through the medium of the internet. People on social media are reacting positively towards brands that are culturally engaged.
60% of Twitter users prefer brands on the platform to be more transparent and inclusive.
19. Brands with Customer Service Relationship
Twitter has given a significant rise to public conversations in the past two years. People even tend to follow the brand's customer service profiles to stay connected with them.
According to Twitter, 60% of users expect brands to answer their queries within an hour. Friendly customer service leads to better recommendations between the users.
20. Personalized Interactions
Personalizing your brand has been demonstrated to be a great marketing strategy to increase conversion, especially on the internet.
According to Twitter, 77% of users who had a personalized interaction with the brand are more likely to recommend the brand to their friends and families. In fact, 22% of consumers feel satisfied after a personalized conversation with brands.
While answering a consumer inquiry on Twitter, make sure you answer in the most personalized manner possible.
21. US Twitter Demographics
20% of active Twitter users are American. This says a lot about the potential market of the US through this platform.
According to the Pew Research Center, 44% of Twitter users in the US are to be found in the age group of 30-49. In fact, Twitter users in the US tend to be more educated and have a higher income.
In terms of usage of different social networking sites, Twitter stands in 7th position with 24% of US adults. It is slightly behind LinkedIn and ahead of WhatsApp.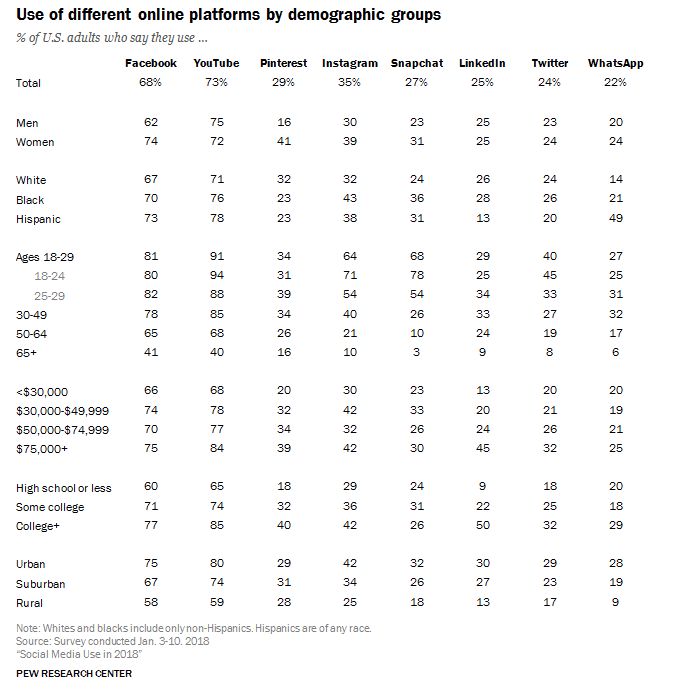 22. Tweet Statistics
Marketing on Twitter isn't as easy as it is subject to a lot of competition. As there are more than a billion users on the platform, over half a billion tweets are posted every day.
This figure equates to over 5,700 tweets per second.
Given the higher level of competition among the brands to catch the eyes of their customers, it becomes important to have a strategy planned for ideal times and days.
23. Twitter Revenue Sources
As the report by Twitter, they made 86% of revenue from advertising sources and 14% from data licensing. The platform generated $3.2 billion from advertising services in the year 2020.
Conclusion
After reading the aforementioned statistics, it's needless to say that Twitter should be a part of your social media strategy. Twitter provides you with a huge pool of potential customers to market your products and services.
Other important Statistics to Know