The Voux Theme review for those who are looking for a top quality, clean and professional magazine style WordPress theme.
When it comes to WordPress themes, one thing that always stuck is the uniqueness each theme offers.
Today, we had the chance to review Voux WordPress theme, a comprehensive magazine theme. It is a popular theme on ThemeForest with over 6000 copies sold.
The theme was first released in April 2015. From there, it has come a long way, and have gotten tons of positive reviews along the way.

The Voux Theme Review & Features
Voux is a modern, clean, lightweight professional magazine theme. The theme is a perfect fit for anyone who is looking for a magazine layout.
A number of famous magazine websites are already using this theme, for example, PlayBoy Koria
Moreover, it is entirely customizable with all the design elements and blocks. Visual Composer, one of the best drag-and-drop website builders for WordPress is included with the theme for free. So, you will be able to create a great looking custom design for your site without any coding.
The design of the theme is attractive, clean and modern. The Voux Theme will instantly change the overall look and feel of your site.
The Voux Theme Overview
Now that we have a basic understanding of what Voux theme has to offer, let's try to know what it has to offer. It's time to list now the features that make the theme amazing in the first place.
We will go through all the essential features, and help you decide if the theme is worth buying or not.
Installation
Installing the theme is extremely easy. The Voux theme comes with Sidekick. Sidekick is a service that works from your dashboard. It provides an interactive guided walkthrough that makes it easy for you install your theme. It comes with a whopping 200 walkthroughs.
For us, we went through the standard installation process, and it took us just five minutes to run the vanilla theme on our hosting. It was quick and easy. If you have installed themes earlier, you will have no issues installing the plugin. It is comfortable and intuitive.
Homepages
When you open up the demo for the first time, you will notice how painstakingly crafted homepage. It consists of all the homepage elements that you would require. Not only that, the homepage can be completely customized according to your requirement.
The theme readily offers you a number of different homepage designs to choose from and each of them looks stunning.
Each of the demo designs brings a new fresh perspective to the theme. It doesn't matter what type of magazine you are running, the theme can be customized to meet that requirement of any magazine.
Let's take a look at few of the demo below.
General Fashion Blog Demo
Delicious Food Blog Demo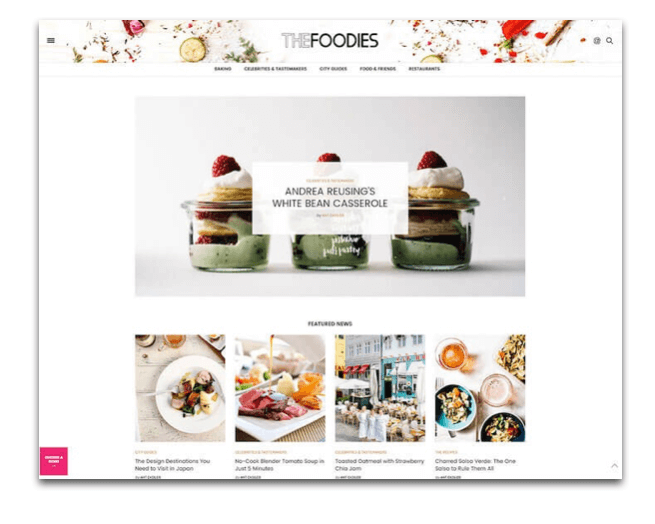 Main Magazine Site Demo
Stylish Article Pages
Magazines are all about different styles. They want to showcase their content with different article pages. Voux understands this requirement and offers great stylish arcade pages. Currently, there are 6 stylish article pages available with the theme. Let's list them below.
Cover Image: The cover image page lets you add a big cover image on top of the page. This completely beautifies your page with the focus on improving it.
Small Featured Image: A small featured image to accompany the content of the page.
Big Featured Image: A big features image to accompany the content of the page.
Medium Featured Image: A medium featured image that perfectly balances the ratio between the content and the image.
Reviews: A page type for writing reviews. It comes with review scores.
Full-Screen Galleries: A page that supports full-screen galleries to showcase your work.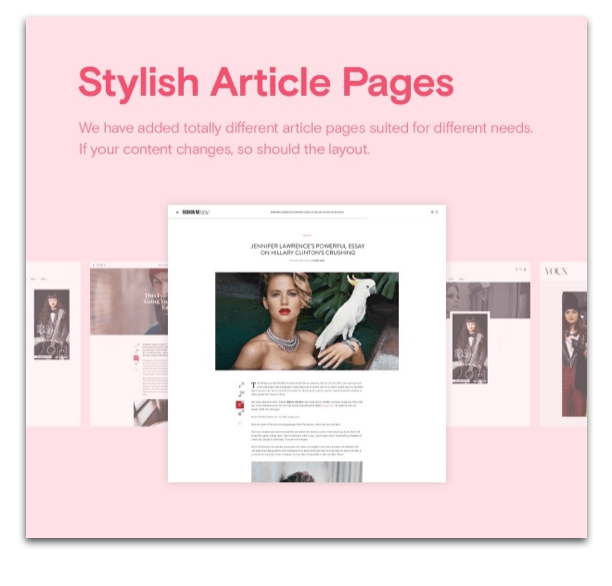 The pages also come with a nifty article length indicator. It is a wonderful addition as it gives the visitor a way to learn how much article is left to be read.
Admin Panel
The admin panel is one of the major aspects of a theme. Voux comes with an admin panel that is powerful. You can control almost everything from the admin panel, add pages, change colors and so much more.
Another appealing aspect of the theme is the presence of Visual Composer. With Visual Composer, you can edit your website with the help of both front-end and back-end page builder.
It comes preloaded with basic templates so that you have a starting point. Once you start, you can then change the grids, container, design, slider and much more.
Moreover, it comes with child theme support. You can simply create a child theme, and do all your customization over it.
As we all know, it is important to follow these way of customization as it will ensure that you don't lose your customizations when the main theme is updated.
Ads System
To ensure that you can monetize your magazine website, it comes with a proper Ads system. This means you can add ads anywhere you want.
WooCommerce Support
The best magazine website like to monetize the related items. For example, you have a "Food" magazine that shares recipes, food images, and other food-related content.
For you, the main way to monetize is to add coupon codes or better sell food through an online portal. The same can be said for a fashion magazine where they would want to sell items related to fashion and clothing.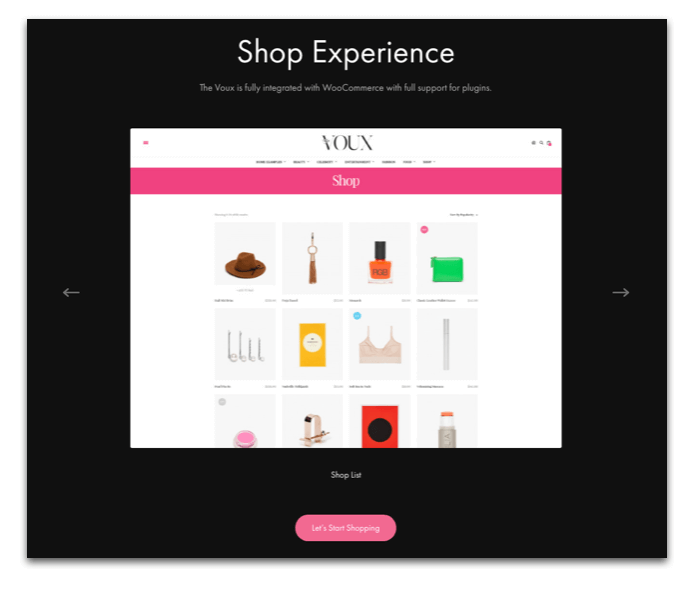 Voux comes with the full support of WooCommerce. This means you can set up your shop in no time. Moreover, it also supports WooCommerce plugins which makes it as customizable as possible.
Some of the features include shop list, shop slider, product detail, cart, checkout, my account, and much more.
Header Styles and MegaMenu
The Voux theme also supports header Styles. You can customize it the way you want. For now, it comes with only five header styles which are more than enough for the customization part.
The header styles supported by the themes are the center header, left header, header with Banner, Top Menu, Header with Big Image, header with the bottom menu.
Furthermore, the theme also supports Megamenu. By using a mega menu, you will be able to showcase the content of the website properly.
For example, you can use it to showcase, sub-categories, tags, categories, and so on. Megamenu also improves the site design and gives you more control over the content.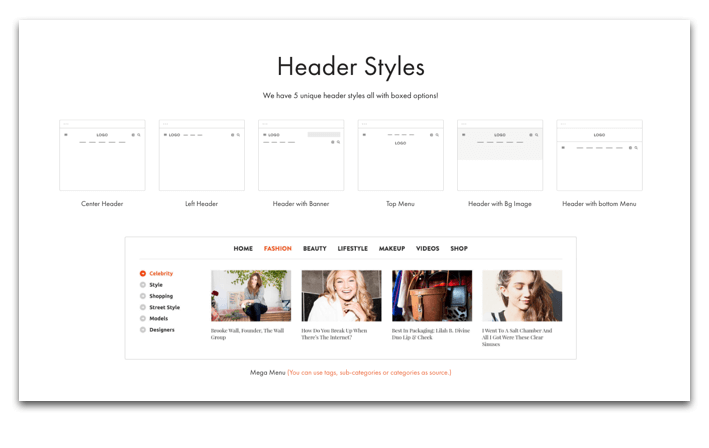 Multi Footer Style
Just like the header style, the theme also comes with the multi-footer style. Don't like the one that comes with the default one? Just change and customize it the way you want.
The footer also supports social buttons and makes it easy for visitors to share your website to social media platforms.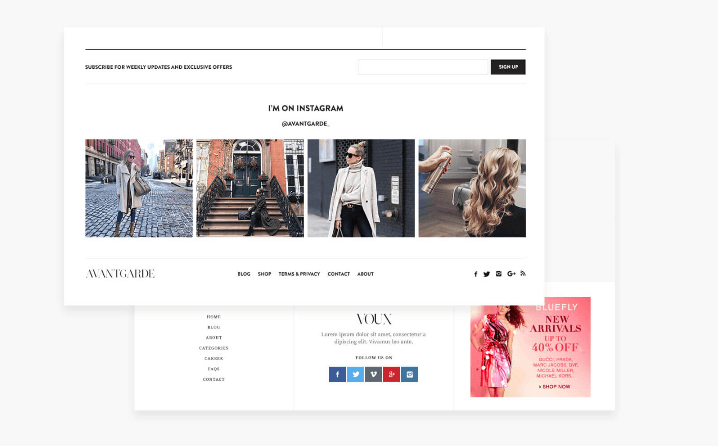 Social Sharing Experience
Voux is excellent when it comes to social sharing experiences. The sharing data is stored in the backend so that you can use check it later on.
The data can also be used by content marketers to know what it is all about. This means that it is one of the rare WordPress themes that offers both backend and frontend display.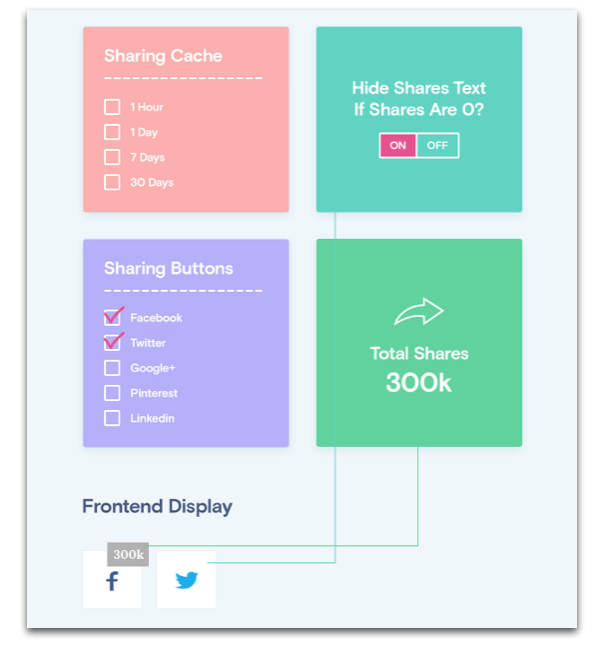 The theme also supports all the major social media platforms such as Facebook, Google+, Twitter, etc.
Responsive
Voux is completely responsive and is retina ready. This means that your website will load on any screen size without any issue. It also helps you to gain SEO score as Google loves responsive themes.
Infinite Scroll
If you wish to create a magazine or blog website with infinite scrolling where the articles keep loading without the need to refresh the page, then Voux comes with infinite scroll support. This is a handy way to engage the audience and ensure that they love to stick around.
Search Engine Optimization and Performance
SEO is always been an important aspect of a theme. Without proper SEO, your site will not rank well. And, this is where Voux comes in.
It is a perfect them when it comes to SEO compatibility. By using the theme, you are basically laying down the required infrastructure for your website.
It becomes much easier for you to rank and ensure that you do well in the future. In short, it is one of the best SEO-optimized WordPress themes.
The magazine always needs a good SEO theme if they want to survive in the current online market. If you are a freelancer developer and are developing a website for your client, you should check out this theme.
Maybe try to show your client how amazing this theme can be when it comes to SEO. It is also suitable for their business.
One more aspect of the theme is its performance. If you get good hosting and a proper WordPress setup with all the necessary plugin optimization, it loads extremely fast.
It also has a score of 96/100 to start with. The speed factor is also essential for SEO performance because Google doesn't like themes that load slow and ruin the user's experience.
Documentation and Support
Voux comes with proper documentation. As the theme has a lot of features, it is necessary for users to take advantage of the available documentation.
From its release, the documentation has constantly been updated. It covers everything that a novice user would require. It is also elaborate and does justice to new users.
If your questions are not answered in the documentation, you can always head to the support. The FuelThemes, the maker of the theme, ensure that your queries get resolved and provides excellent support via the theme marketplace support page.
It doesn't matter what type of problem you are having, you can always submit a ticket and ask for help. Generally, they take from 24 – 48 hours to respond. However, it would be much quicker on most of the days.
Updates
The theme was first released in 2015 and has been continuously receiving updates since then. The updates are pushed to ensure its compatibility with WordPress and the plugins.
Also, the team adds new features and functionality whenever needed. As the theme evolves, it is necessary to solve the problems, and there is where the Voux team shines.
Localization Support
If you are thinking of launching your website to your local audience, then don't worry. Voux comes with localization support which means that you can translate the theme to any of your languages. It is also WPML compatible which makes it even easier to do the translation.
Downsides
Now that we have praised Voux theme, it's time to see some of its downside. Firstly, the theme can be hard to use for newer users.
Visual composer, for example, is hard to use and make sense of. Moreover, the theme is not completely bloated-free.
Another disadvantage that we think of is its admin panel. It is feature-rich, but can easily confuse new users.
Final Thoughts
We loved Voux. It is an amazing theme with a brilliant design upfront. Support and documentation also seem to be good.
Overall, the theme has everything that you will need to run a blog or a magazine type of website. However, we don't recommend this theme for news types of websites.
The support for responsive design and SEO optimization makes it an ideal theme for building your next website.
In short, we would highly recommend this theme for your next project.
So, what do you think about the Voux theme? Is it worth your time? Comment below and let us know.