If you are managing any eCommerce business, you must know about ShipMonk.
We understand the pressure and responsibility needed to deal with order fulfillment for an eCommerce company.
This ShipMonk review will point to all of your queries and will help provide a solution to the same so you can decide whether ShipMonk is right for your business. 
ShipMonk has average current monthly order volume is 2 million orders.
We understand your need to integrate your sales channels and refrain from any needless gambling with your customer order that could ruin the credibility of your company.
The question is whether ShipMonk is worthy to put the credibility of your company at risk?
While there are many alternatives for order fulfillment on the market, the need is to choose an alternative that can meet your long-term needs. In addition, your pocket shouldn't feel the pressure, and your company should concentrate on scalable growth.
This review will cover an in-depth analysis of ShipMonk, including its best features, how to use it, and some FAQs.
Let's get started!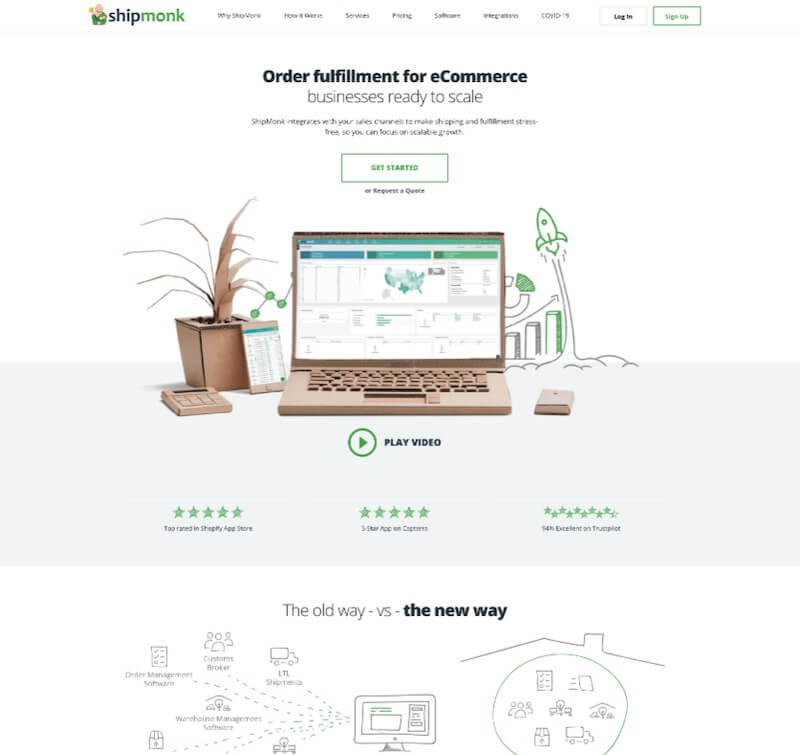 ShipMonk Overview
Starting with its services in 2014, ShipMonk has created software that synchronizes with your online shopping carts to directly import orders. With multiple awards and a great client list, ShipMonk has been one of the business favorites when it comes to sourcing from suppliers.
What does ShipMonk do?
The strategically located warehouses make it possible for your products to reach your customers more effectively and efficiently.
Moreover, customer support led by what the company calls "Happiness Engineers" provides excellent customer support.
The software offers free set up integration with 80 shopping cart applications such as Shopify, Magento, BigCommerce, Amazon, eBay, Amazon, and Rakuten.com.
Simply put, ShipMonk has replaced the old way of interact with different parties involved, such as Custom Broker, Warehouse Management Software, Packaging Supplier, Shipping Software, and Inventory Management Software, with a one-stop solution to meet all your needs.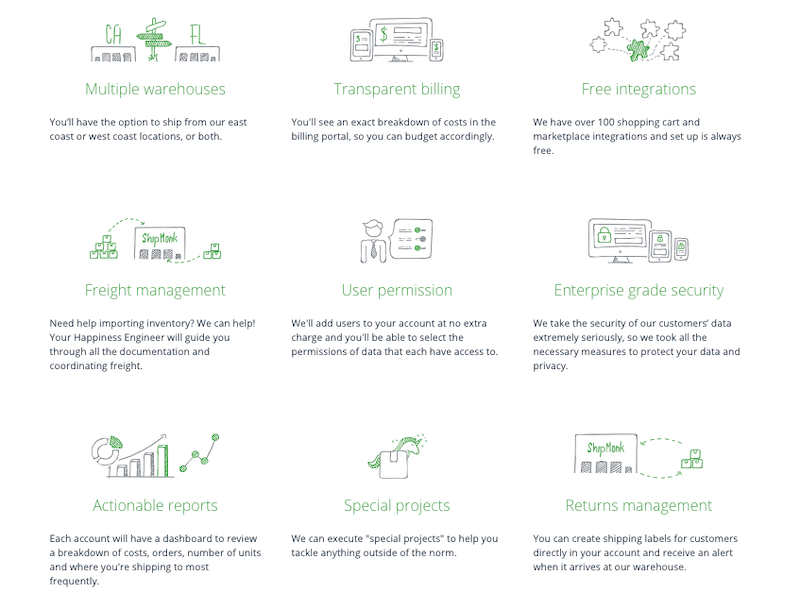 ShipMonk Best Features
---
Increasing international demand in the e-commerce sector has made it difficult for businesses to manage both advertising and the delivery of products at the same time. Fortunately, companies like ShipMonk are here to make the process a little easier.
Here are some of the best features of ShipMonk that can definitely affect your decision to purchase:
Dedicated customer support
ShipMonk has a customer service tag claiming to provide – "Happiness Engineers". Such engineers are qualified to support you with both small and large issues. A dedicated and friendly engineer is assigned to you from the start of the project.
Customer support can be accessed by calling, chatting, and email. The customer support provided by ShipMonk is worthy of a 5-star rating.
Customized Packaging
After you've finished manufacturing and orders start coming in, the next issue is the packaging necessity. ShipMonk has done quite well in this field.
From logos and gift messaging to customized packaging and promotional inserts as per your brand requirement, ShipMonk will follow the guidelines of your company and deliver the product as one of your own.
Integrations
We could hardly find any other alternative to ShipMonk that can integrate third-party applications with such ease.
List of Major Integration partners:
Shopping carts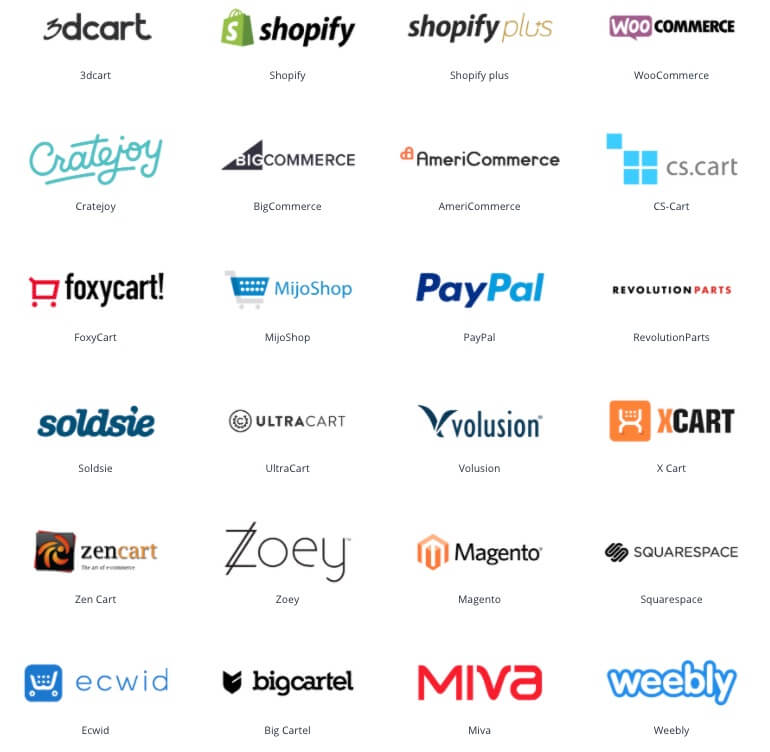 Marketplaces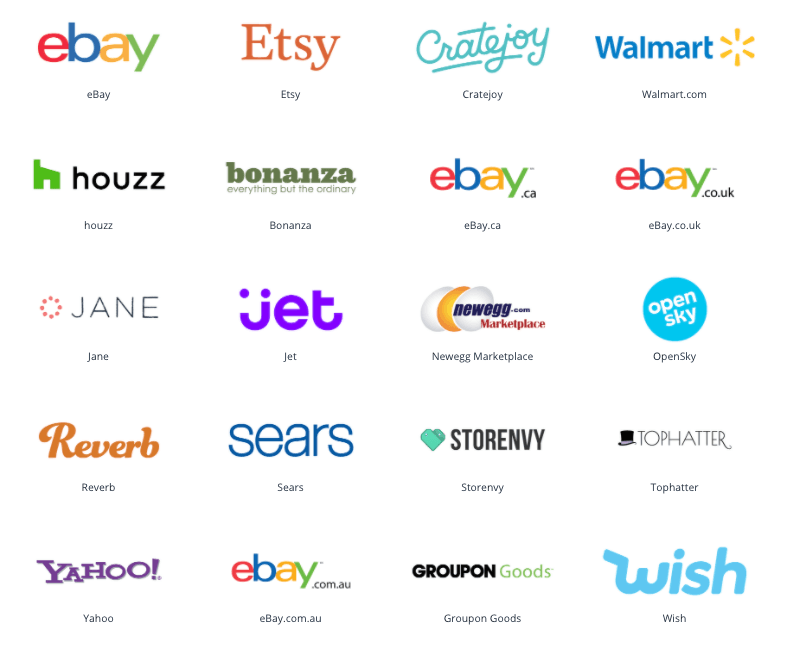 Retailers

Tools

Solution Providers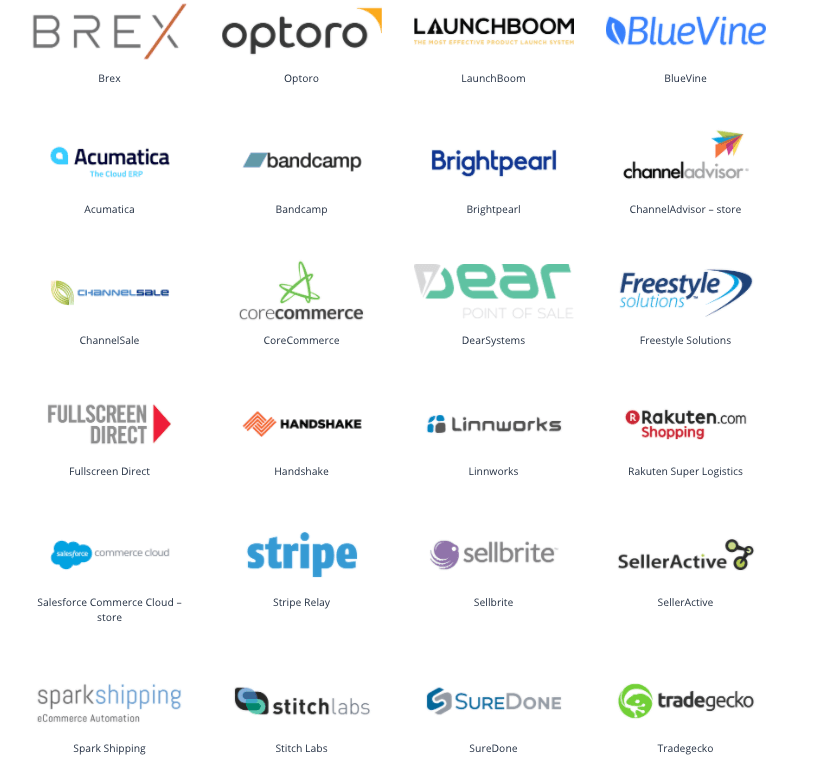 Delivery System of ShipMonk
Multiple warehouses are set up by ShipMonk at strategic locations to bring the product to your customer in an efficient and efficient manner.
In addition, you are given the authority to track or monitor orders from the warehouse to the address of the customer, which leads to 100% transparency.
Moreover, ShipMonk is entitled to a number of discounts that are passed on to the consumer.
Crowdfunding Fulfilment
ShipMonk, through Kickstarter and Indiegogo, specializes in delivering orders for crowdfunded campaigns. Setting up and integrating crowdfunding sites is quite easy.
The software would place you in full charge of delivery, monitoring, alerts, inventory, and verification.
In addition to the above features, ShipMonk has a bandwidth of up to 10,000 orders per day. There is no minimum order threshold, so you only pay for what you're using. It doesn't matter if you use their services for 1 order per month or 100 orders per day.
That's pretty promising!
How does ShipMonk work
ShipMonk comes into play after you have produced the product or purchased it from a supplier. We've already spoken about the best features of the software in the previous segment, it's time to learn how it works!
Let's find out!
Shipment of Inventory
The support team of ShipMonk will help you find the most effective way to deliver your inventory to ShipMonk.
For maximum profits, ShipMonk will use their bulk discounts to reduce your shipping charges.
Integration of channels
As mentioned earlier, ShipMonk allows you to integrate 80 third-party applications. These applications allow almost no chance to pick the wrong products.
Inventory received and quality control
After the inventory has been received, it is weighed to know the exact cost of shipping. Next, photographs of each new SKU are taken to ensure full transparency.
Collection of Orders
After the orders are received for your products through different shopping carts and marketplaces, ShipMonk uses its software to map out all the checkpoints of shipping verifications.
Custom Packaging
This is one of the best features of ShipMonk that we've covered in our best features section. This step uses the brand guidelines provided by you to ensure that your products are packaged in a high standard and customized manner.
Shipping Partnerships
The next step provides the use of software algorithms to figure out the best shipping methods at heavily discounted shipping rates.
Customer tracking and order fulfillment
Your customer will be provided with a tracking number by e-mail to track their product. As a result, the customer will receive his/her product at the door and you will receive a notification for the fulfillment of the order.
Easy exchange and returns
Apparently, ShipMonk has made the return process even less painful. As part of their order fulfillment process, this is the last step that ShipMonk has taken.
ShipMonk Pricing
ShipMonk offers a very competitive pricing structure that you can select depending on the size of the business.
They have created a number of different packages depending on the size and type of your business. For example, packages for eCommerce, Amazon, Crowdfunding, etc.
ShipMonk minimum pick & pack fee starts at $250/mo or equals a customer's storage fees. If the minimum isn't organically reached through pick and pack fees, then ShipMonk charges the difference.
For example, if Ellen shipped 80 orders last month, she would have paid $200 in pick & pack fees, which means ShipMonk would charge her a $50 difference.
If she shipped 80 orders but her storage costs were $300, then her new minimum pick & pack fee is $300, meaning we would charge her a $100 difference.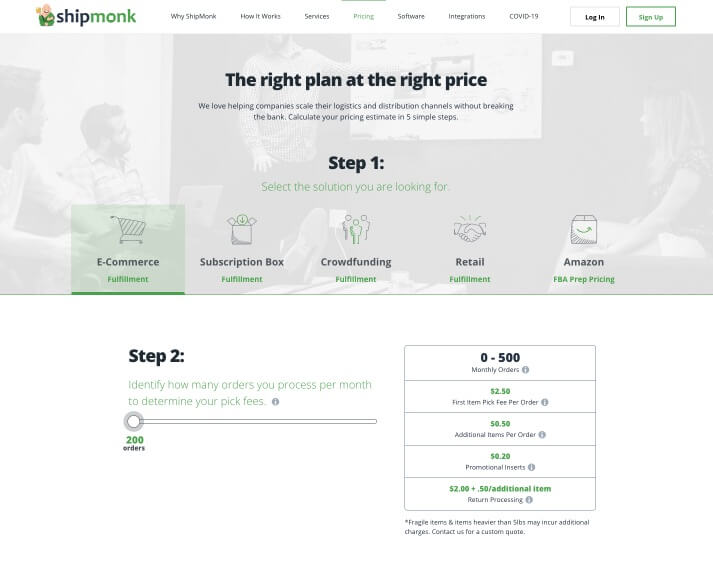 Conclusion
For a complete "hands-off" approach, ShipMonk is the ideal order-fulfill software for any e-commerce business. The program interface is quick and easy to use. In fact, you have a dedicated engineer at your fingertips to work through any challenge.
The 99.85 percent accuracy of the list, along with transparent billing and inventory control, are some of the features that also support a company in the long run.
The mission of ShipMonk to enable small and medium-sized businesses to make progress and compete with large companies can be seen in their pricing models. While prices are competitive, there is still room for more discounts.
Overall, ShipMonk can be the best solution for unloading logistic problems.