In this SEO PowerSuite review, we will look at various aspects of the software such as key features, ease of use, reviewing all the tools of SEO PowerSuite, pricing, etc.
By the end of this SEO PowerSuite review, you will get to know whether to go with SEO PowerSuite or not.
SEO PowerSuite comes with four applications accessible on Windows, Mac, and Linux. Here we'll be reviewing each of these tools in detail to help you get detailed insights into each of them.
SEO PowerSuite Rank Tracker — Keyword Research & Rank Monitoring
As the name suggests, Rank Tracker is a robust tool that allows you to track keyword ranking on various search engines such as Google, Bing, and Yahoo. Also, it helps you do proper keyword research.
If you're an SEO, you know that manual keyword tracking isn't feasible when you have hundreds of keywords to track. So it's super important to rely on a rank tracking tool.
To get started with Rank Tracker, you need to install this tool to your Windows, Mac, or Linux pc. Once you install and log in, you need to open the app and then the site URL for which you going to be tracking the keywords.
Once you add the URL of the website, you will be asked to enter the keyword that you want to track. We would highly suggest inputting all your keywords here at once. Just make sure you enter your keywords — one entry per line.
Once you're done adding the keywords, you will need to click on the Next button. Now you need to choose the search engines you will be tracking, such as Google, Bing, and Yahoo.
It tool will take a while to fetch the rankings and show you the results. You will see a detailed graphical analysis of your keywords here.
The Rank Tracker will also include the keyword difficulty by analyzing the link profiles and on-page SEO of the top 10 ranking pages.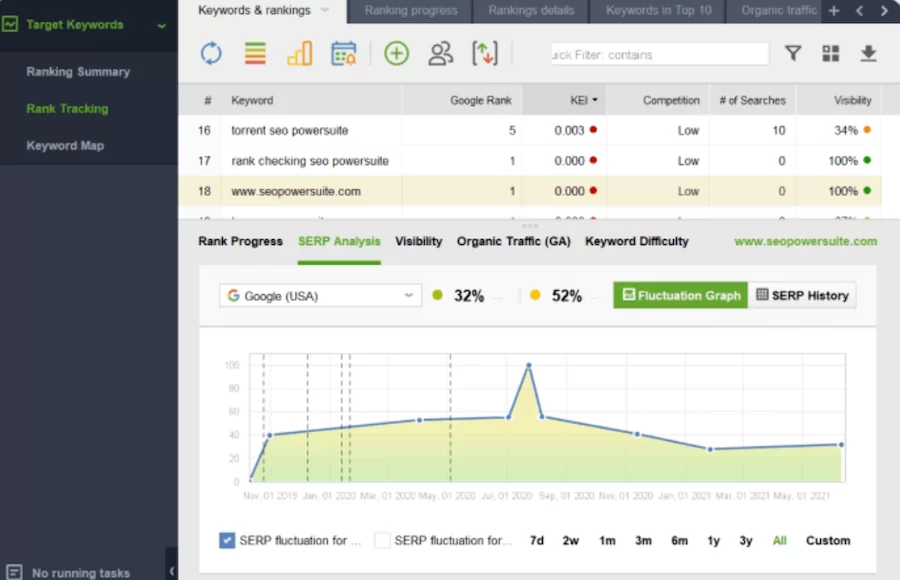 As per our experience, the competitive scores are accurate compared to other tools such as KWfiner, LongTailPro, SpyFu, etc.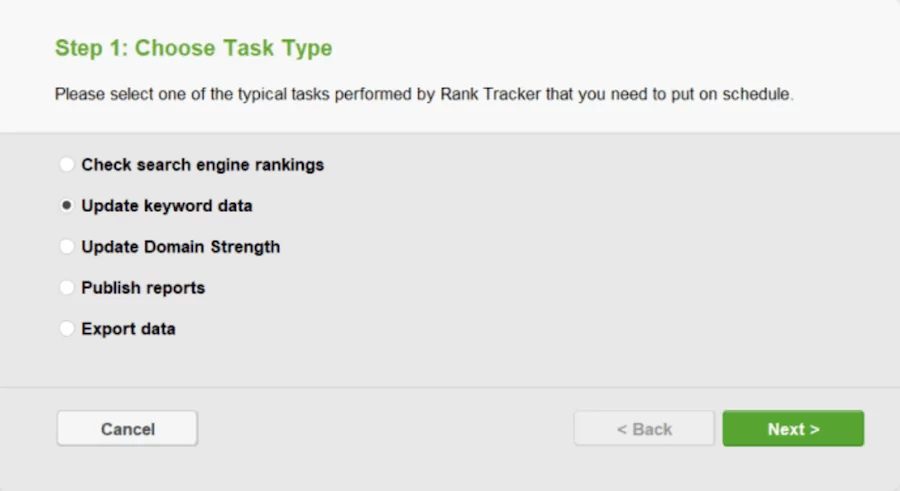 The next aspect of this tool is Keyword research.
Rank Tracker allows you to add manual keywords to do the keyword research. The SEO PowerSuite pulls data from various sources such as Yandex search, Google Autocomplete, Yahoo search assistant, SEMrush, Google Keyword planner, search console, etc.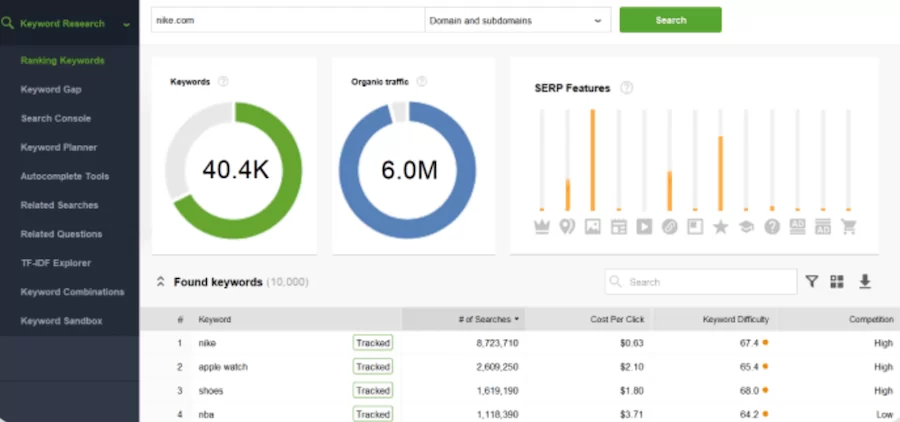 For the keyword research metrics, it shows the keyword efficiency index. In the recent update, SEO PowerSuite Rank Tracker introduced the Keyword Gap analysis that allows you to find competitors' SEO keywords and show suggestions.
So these are the key features that Rank Tracker comes with. The best part about SEO PowerSuite is — they have their own server-side keyword analysis database. It basically keeps the latest records of searches and competition stats.
What's more, SEO PowerSuite Rank Tracker also collects keywords from local organic search results. If you're a local SEO, the Rank Tracker tool also comes in handy for you.
SEO SpyGlass — Backlinks Research & Auditing
To start using SEO SpyGlass, you need to enter the website URL, and it will show up the backlinks profile of that particular domain.
While checking the backlinks report, you will see various metrics such as the title of the page, linked pages, the anchor text, links back to the page, first seen, last found, and the tags.
What's more, you also have the option to add powerful filters to the reports and easily get the relevant backlinks of your competitors. In addition to the filters, you will also get the link score, penalty score, along with the backlinks traffic.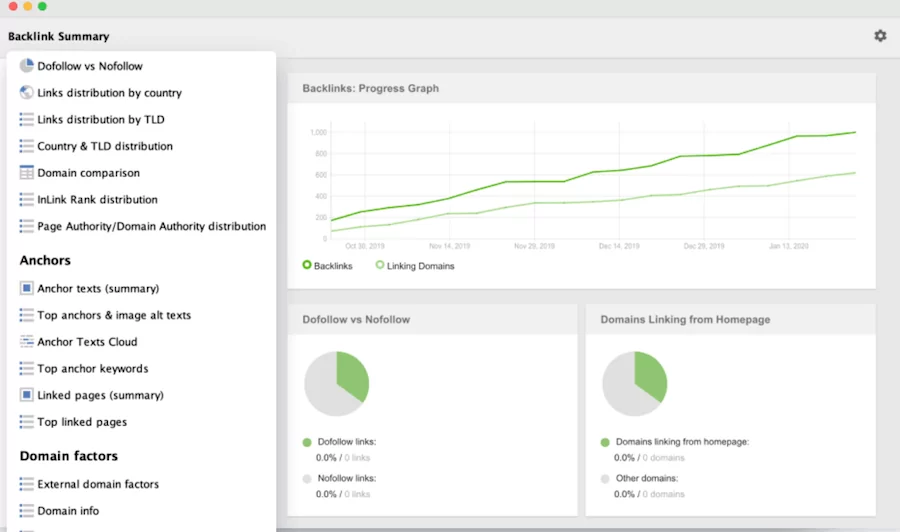 Another feature of SEO SPyGlass is — it allows you to compare the domains right away.
At a time, you can compare around five domains side by side. By comparing the domains, you will know where your competitor excels and where you need to improve.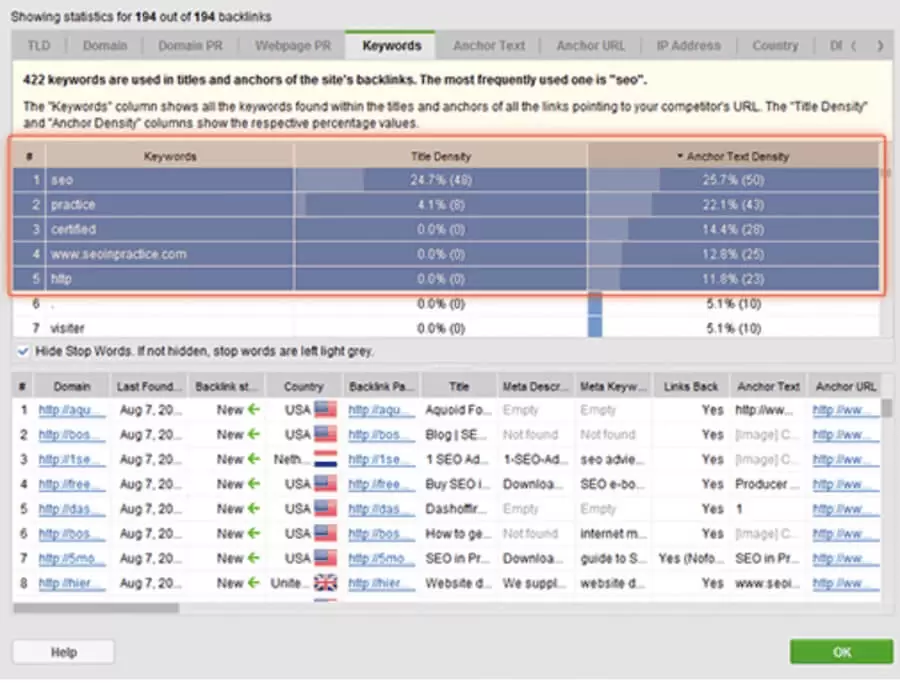 With the domain comparison module, you will get various parameters such as domain strength, domain link rank, domain Alexa rank, total backlinks, overall ratings, do-follow backlinks, domain linking for the homepage, top country-wise keyword rankings, etc.
Another feature of SEOSpyGlass is the Link Intersection tool; this tool allows you to find common backlinks in your competitors. Similar to other tools, you can easily generate backlinks reports.
You can also use the Bulk analysis tool and quickly analyze the important backlinks metrics for upto 200 domains. This feature comes in handy if you are providing backlinks services to clients.
LinkAssistant — Link Building & Management
The LinkAssitant modules allow you to help you manage the backlinks for your website. With the help of this tool, you can easily find easy backlinks and prospects' ideas.
To get started with this tool, you need to enter the URL of the domain for which you want to build links.
Once you enter the domain, the tool will scrape a huge list of sites where you can reach out for backlinks.
Somehow, if you're not satisfied with the links prospects, LinkAssistant helps you find other prospects.
You need to click on the "Select Prospect Search Method" In the next step, you need to choose the search method and enter a keyword to find prospects for your website.
Once you choose the method and the keyword, the tool will show you easy link-building prospects.
You will also get various factors for each site, such as social shares, domain link score, etc. The best part is that LinkAssistant will also pull out the email address of the prospects.
Moreover, you can directly send emails from the dashboard itself — it's quick and handy. The best part, you will also get various email templates that you can use right away.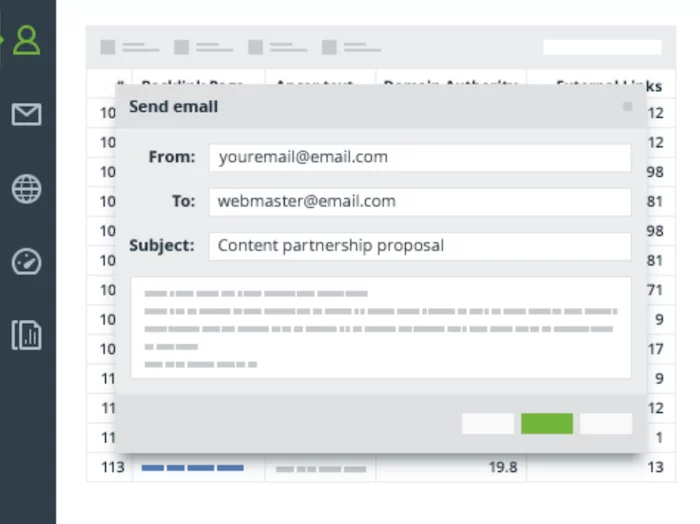 In addition to all these robust features, LinkAssistant also has an in-built feature that helps your scrape the prospect's URLs manually.
So this is how the LinkAssitant module works.
Website Auditor — SEO Audit and On-Page Optimization
As the name suggests, then Website Auditor is a great way to help you run SEO audits and on-page SEO audits. In this section, we'll cover the working of this tool in detail.
To get started with the website auditor, you need to enter the website URL. After entering the URL, the Website Auditor application will easily crawl the website and provide you with insightful on-page SEO, open graph data, page traffic, and other useful metrics.
In the visual representation, you will see various internal links and outbound links to the pages. The application also provides you insights and data to show you all the important on-page SEO practices that you should be following.
To be precise, the Website Auditor checks your website page with around 30 must-have on-page SEO factors and speed factors. Based on that, you will get a recommendation to make changes to your pages.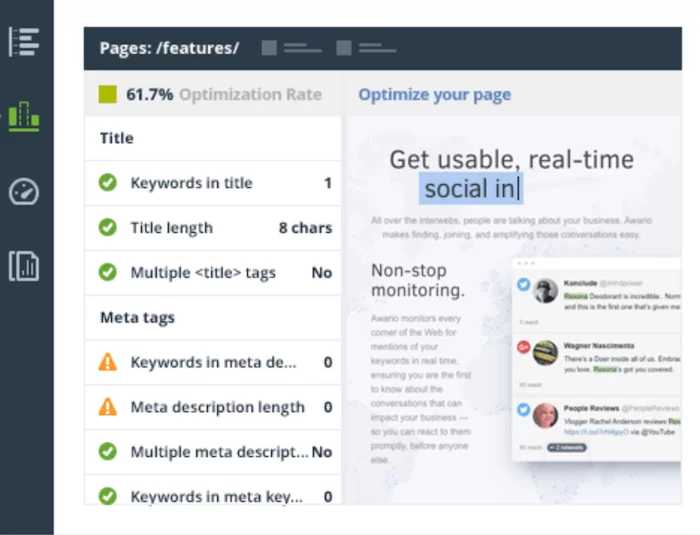 The thing is, it also provides you a list of external links and internal links on your pages. Such as it will show how many external and internal links a page has.
You will be able to figure out whether a page has a broken link or not. You will get to know if there is any broken link on your page, this way, you can quickly remove the link.
Coming to the Page Audit section, well, with this module, you can easily check your content for the target keywords.
For these pages and target keywords, you will get to know whether you are following the best optimization practices or not. To name a few, you will make recommendations for — title optimization, meta tags, heading structure, images, errors, warnings, and so on.
The website auditor also comes with a content editor that allows you to edit the content on your pages.
Using the content editor, you can edit the content on your pages and optimize them TF-IDF for better optimization scores. Once you're done making the changes, you can easily save the files and upload them to your website.
One of the powerful features of this module is the TF-IDF analysis. The TF-IDF stands for "frequency-inverse document frequency formula." Let us explain in detail; while writing content, you use many words and phrases.
So this tool scrapes all the important keywords and phrases from the top 10 ranking pages. Once the tool has all the recommendations, it shows you the recommended terms and frequency to use within your content.
Overall, it's a high-end on-page SEO metrics that marketers follow nowadays to have a competitive edge over competitors.
So this is the complete working of SEO Powersuite and all the modules and tools that it offers.
Conclusion: Is it Worth the HYPE?
So this is our detailed SEO PowerSuite review; we hope it helps you get detailed insights into it.
In the last, we would say, YES, SEOPowerSuite is worth the hype as it's a robust, one-stop SEO solution with an affordable pricing structure.
You get all important SEO modules for each aspect, such as — backlinks, keyword research, rank tracking, website audits, on-page checker, and what not! Seeing all these must-have features in an affordable pricing structure, SEO PowerSuite is certainly a recommended product for SEO analysis.
Other tools like Semrush and Ahrefs costs more than $100/month for the base plan. And with SEOPowerSuite, you only have to pay a one-time fee, and you have got the one-stop solution.
We hope this SEO PowerSuite Review helped you get detailed insights into this platform.