The customer support team of any organization has an important job on its side. They've got to deal with hundreds of tickets every day.
This is where the helpdesk ticketing system can help you automate much of your work. This article will cover an in-depth JitBit Ticketing System Review, the platform that was ranked at the top on multiple review platforms.
Although the numbers don't lie, you do need to check even the best software before you spend your precious money on it. To help you out, we did extensive research and answered all your queries about this help desk software.
Let's get started!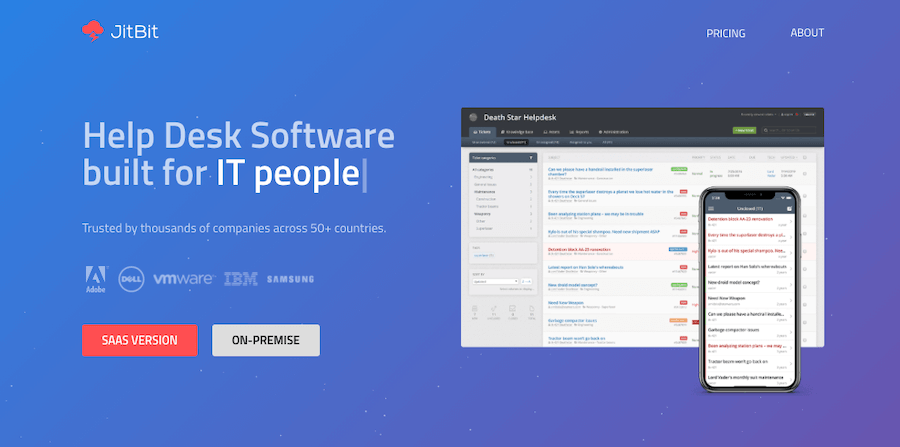 Overview
JitBit has been in the business since 2005, building a sustainable product. As far as their team is concerned, they are equipped with sufficient knowledge and expertise.
The software was developed taking into account the needs of freelancers, start-ups, small businesses, and major industries. The platform is equipped with all the resources required to offer top-notch customer service to your organization's users.
As a part of enhancing the user experience, JitBit helps companies to customize the product to their branding. JitBit claims to provide organizations with an affordable, fast and attractive ticketing system.
Simply put, the JitBit ticketing system offers simplified ticket processing, flexibility, reporting, integration into your call center, and just about all your customer service team wants.
JitBit Admin Settings
When you start using the JitBit support system for your business. You can visit the admin section to get started with the settings as per your need.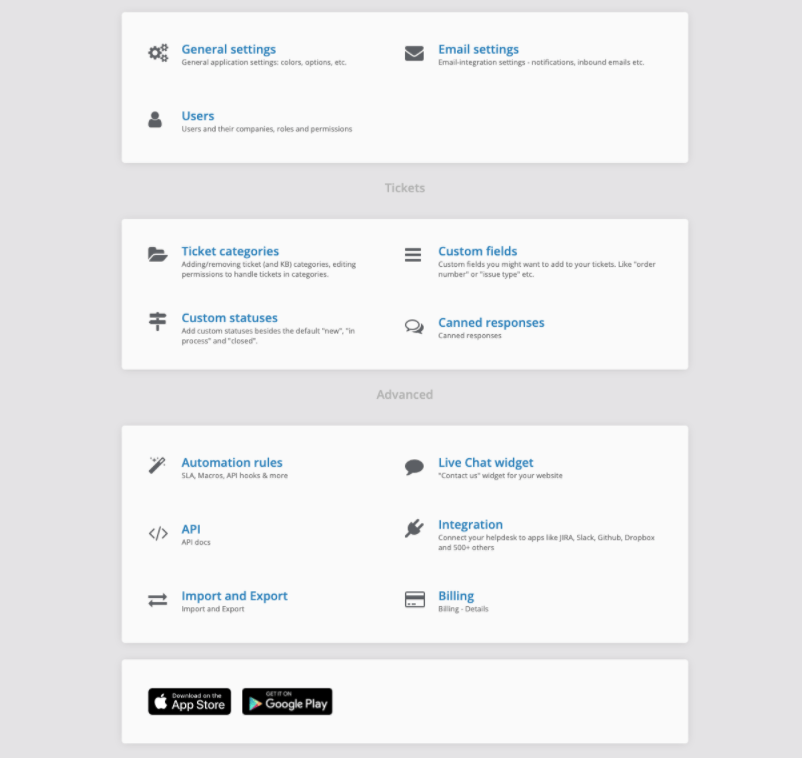 Best Features of JitBit
One of the best features we liked about the JitBit Ticketing system was the assignment of categories and tags. It would be fair to say that this software is packed with some of the most advanced features.
Let's have a look!
Easy Customization
Organizations tend to make their own customisations of improvements to the software to give their consumers the best experience. JitBit has cracked this area as it allows simple customization of logos, fonts, colours, custom CSS, working hours and even time zones.
It also provides customizable email templates with granular notifications settings. We were impressed to see how it turned out!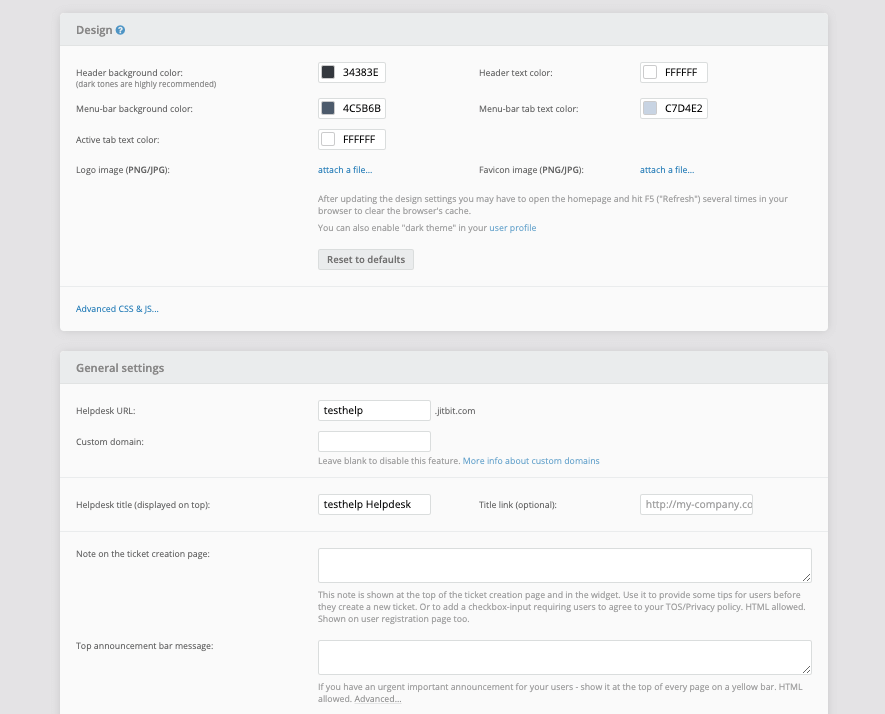 Third-Party Integrations
In today's digital world, if a software application doesn't have third-party integration, it's not worth it. JitBit provides seamless integration with a range of different external applications such as Slack, Trello, Onedrive, Asana, Dropbox, Zapier and many more.
You can also connect to the platform for some of your current business applications.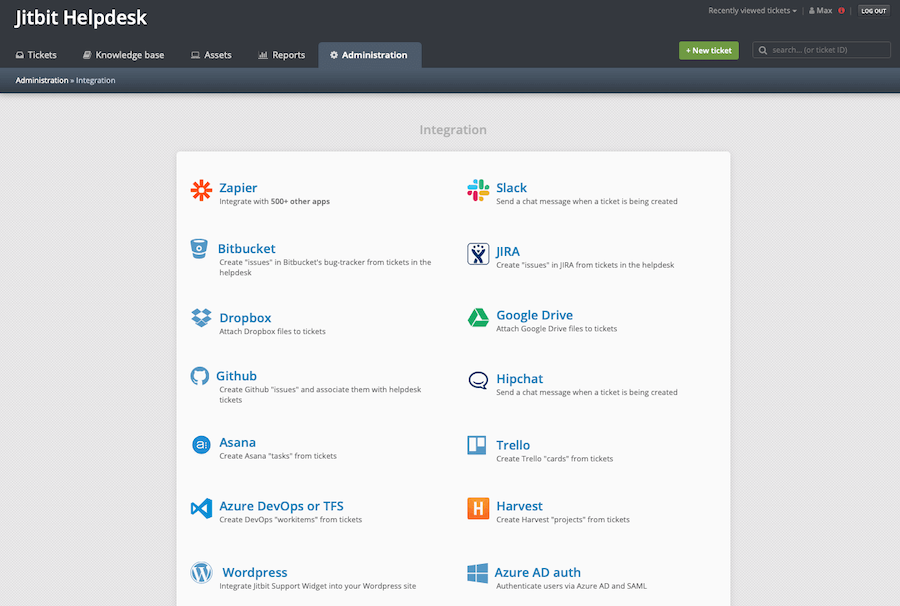 Reporting Tools
JitBit's built-in reporting framework provides you with feedback that can help enhance your customer support service.
This will also help you monitor the different metrics of customer service as well as the success of your agent. Another feature that sets it apart from the rest is that it helps you to create custom reports.
Easy Management
The best feature of this software, as we described earlier, is that it keeps everything organised. For example, Categories & Tags help you allocate support tickets to certain categories that won't let you waste half of your day finding the right ticket.
Categories and tags have another secret advantage that only a few are aware of. You may allocate a specific group of tags or categories to a specific team member. This will generate maximum efficiency.
Advanced Search and Multilingual Support
JitBit Ticketing System works like a search engine. You just have to search with a keyword that may include ticket dates, users, companies, and even categories.
JitBit supports all the major languages spoken in this world. So, no matter where you live in this world, if you're using its services, there would be no language barrier.
How Does it Work?
The procedure or the process used by JitBit is not very complex. Just like the rest of the help desks, it is there to help make your work easier and error free.
This is how JitBit's ticketing system cycle works:
How to Use?
We tried to set up an email ticketing system ourselves, and we have to admit that JitBit has done an excellent job of making it simpler and better.
You just need to open your admin panel to set up and describe the settings of your email server. Each major email server is supported by the software.
The next task is to set automation rules that will process the incoming emails based on phrases, categories, or tags. You are free to assign the ticket priorities and other important information based upon the criteria you fix.
Then there are two options for you to set up your email helpdesk:
Pulling tickets from your email server – With this option, the JitBit Helpdesk will collect all your support emails in one centralised location. Through managing various servers and email addresses, incoming emails will be forwarded to your unique helpdesk areas.
For example – The ticket issued to the sales team will be forwarded to your sales team.
Built-in Mailboxes – This choice is only available for SaaS models. You will be provided with the built-in mail address to which you can forward all your incoming tickets. You may also add categories to this option to automatically submit it to a certain category of tickets.
Moreover, the servers have built-in anti-spam and antivirus scanners.
We are sure that it can't get any simpler than this.
Adding Live Chat Widget
When you sell any product or offer any kind of service, live chat support system gives a confidence to the customers.
They will have the aussurity that there will be someone at the other end to help and resolve their issues.
JitBit comes with easy live chat support system, you can quickly paste a piece of code and add the live chat system to your support site.
It also offers a WordPress plugin that you can use to add live chat support system powered by JitBit. It's a simple live chat system that will take care of your need.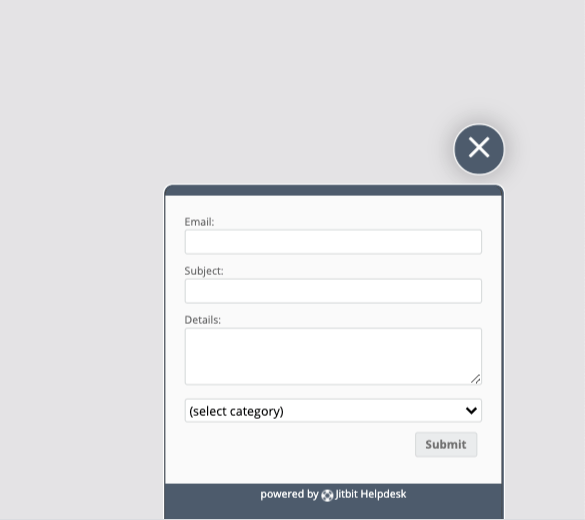 Comparison
As compared to Zendesk, JitBit has more advanced features at a price level that is marginally lower than that of Zendesk.
While Zendesk has set the maximum capacity to maximum tickets per agent per month, JitBit has put no limit to it. Also, there is no limit to maximum agents and you require a minimum of 1 agent to use its services.
JitBit Pricing
JitBit offers you two options to go for. You can get the software and use it on your self hosted server or you can use the JitBit platform to host your support services.
The pricing depends on the option you go for.
Hosted on JitBit
Here is the pricing for the option that will be hosted on JitBit. The plans start at $29 and goes upto $249.
You will receive 24/7 support, free upgrades. You will also receive 10 days money back option.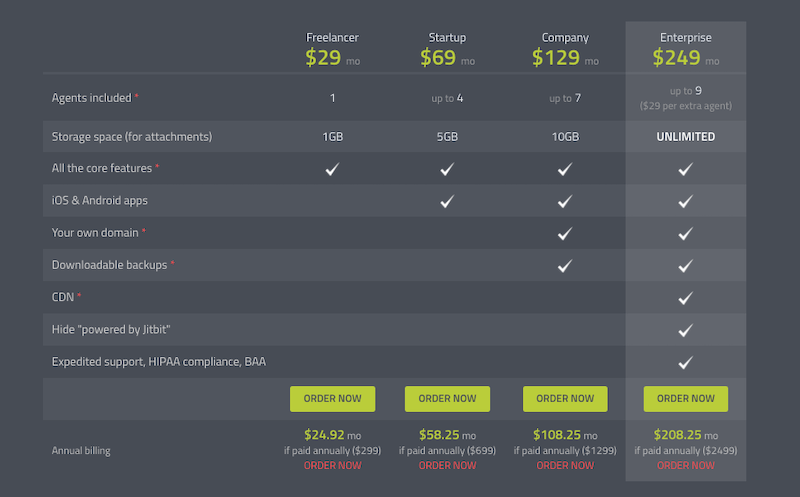 Self Hosted System
Here is the pricing for the software if you go for the self hosted option.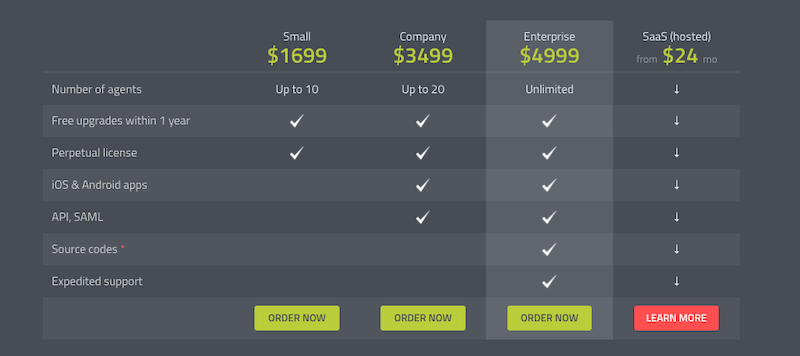 Conclusion
Is the JitBit Ticketing System worth the money you'll be spending?
Absolutely.
One of the key reasons why customers are loyal to a business is that its friendly customer service and the right helpdesk applications such as the JitBit ticketing system can prove to be the difference between a happy and an unhappy customer.
From ensuring that all the customer inquiries and tickets are addressed correctly to involving customers in the process, JitBit is doing wonders in the helpdesk segment.
Also, the thing we shouldn't forget is the price.
To avail the SaaS (hosted service) of JitBit, you just have to pay $24/month.
That's really cheap as compared to its competitors.