CRMs have been around in the market for a while now. And nowadays, the digital market is packed with a ton of different CRM options. A name that has made quite a buzz around in the digital market for a while now is Freshsales CRM.
Freshsales CRM is a product developed by the team at Freshworks software to help companies better manage their customer relationships and overall sales.
Freshsales CRM has been making it quite easy for businesses of all kinds to manage and nurture their leads.
With a lot of market-centric and highly productive features packed inside, Freshsales is quite popular for its intuitive and easy-to-use user interface.
From pipeline workflows to customizable visual reports, Freshsales CRM offers pretty much all that a small and medium-sized business can ask for.
Major Features
Freshworks has packed a ton of different features in this easy to use CRM. Each and every feature offered here helps in improving the overall productivity of the system.
Leads Management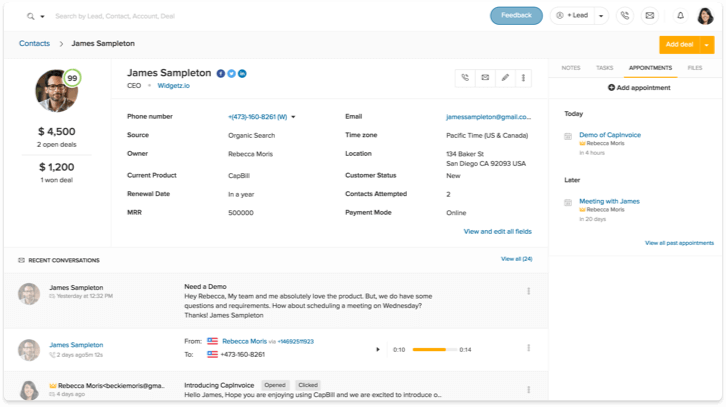 Lead management is one of the important and core functionality of good quality CRM. With Freshsales, you can manage everything about your customer, the complete cycle from a single interface.
It actually automates a lot of contacts and leads related works for the user. The display of contacts and leads is pretty simple and is very informative.
You can actually see the recent chat conversations, social media posts and other contacts specific information at a glance.
Support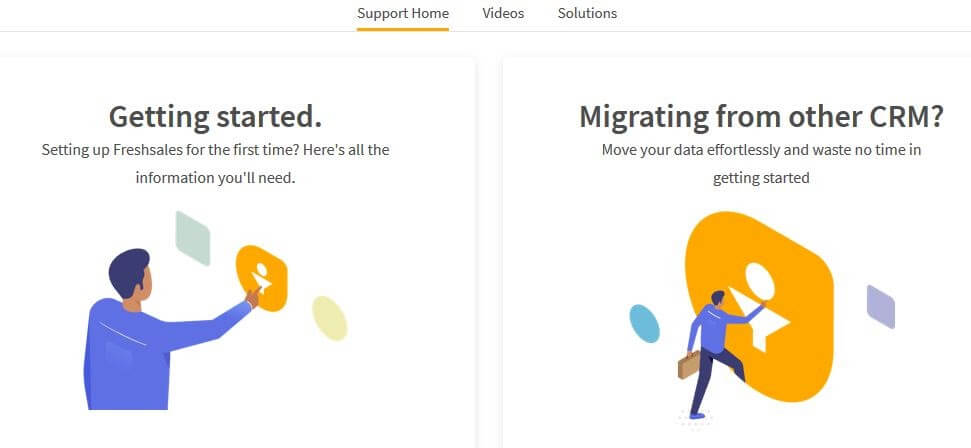 This CRM offers one of the best and quick customer support. You also get video documentation and helpful webinars in Freshsales CRM.
Interface and Use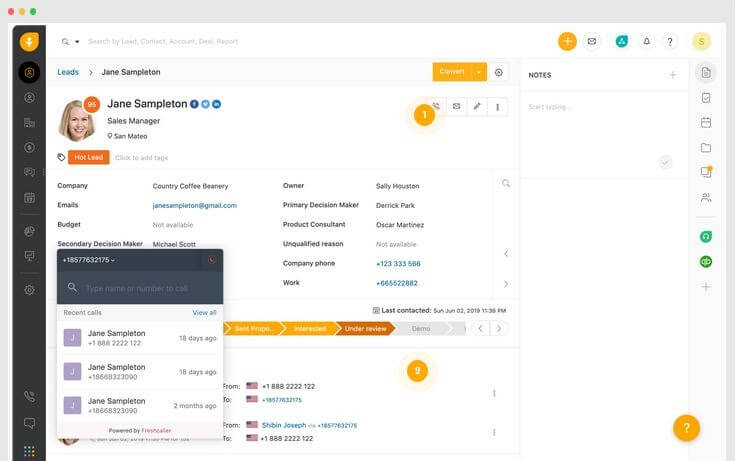 Freshsales CRM is considered to be offering one of the most user-friendly interfaces in the competition. The software has a very resourceful and productive appeal to it.
One of the striking things here is that the most used things like email, phone, contact search, and similar other tools are always on the top of your screen, which gives it a very modern and easy-to-use feel.
Chats and Communications
Another major advantage of this CRM is the set of communication tools and resources it offers. Almost all kinds of communication can be done without leaving the software.
Freshsales CRM incorporates almost all kinds of communication tools in the software.
You also get to do phone calls through the software, which also allows you to do automatic call recordings. You also get to do manual call logging, call transferring, and custom number calling through the software.
Email Management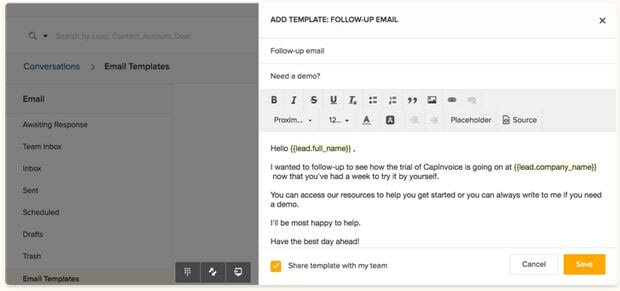 A must-have feature in all CRMs, the software integrates almost all kinds of major email clients, such as Gmail.
You can sync all the incoming and outgoing emails in the system, as well as you can link the appropriate email with the right contact.
Additionally, you can also send out bulk emails, and monitor your email results and campaign performance.
How to use Freshsales CRM?
Getting started and using Freshsales CRM is quite easy. Actually one of the easiest in the market.
To begin with, Freshsales, follow the steps below.
01. Setup and Package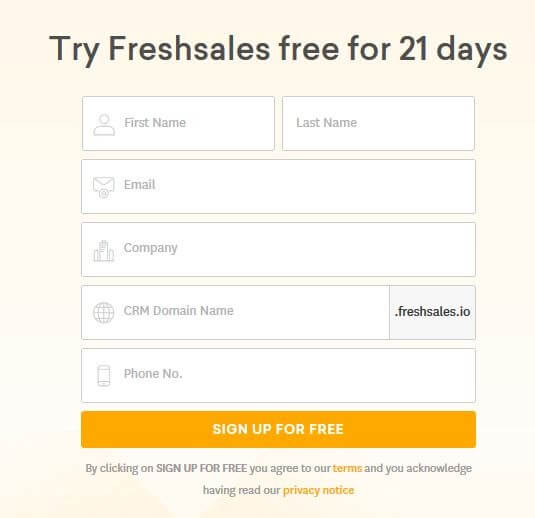 Freshsale CRM is actually available in a lot of different options, such as CRM for B2B sales, CRM for startups, CRM for sales productivity, and so on.
The first and foremost thing you need to do is to setup your Freshsales account. This signing up includes a selection of a CRM package.
Freshsales offers a bunch of different pricing offers for the CRM, which makes it equally flexible for small as well as large companies.
The packages start from $12 and go up to $79, depending upon the different features offered.
02. Customize Your Settings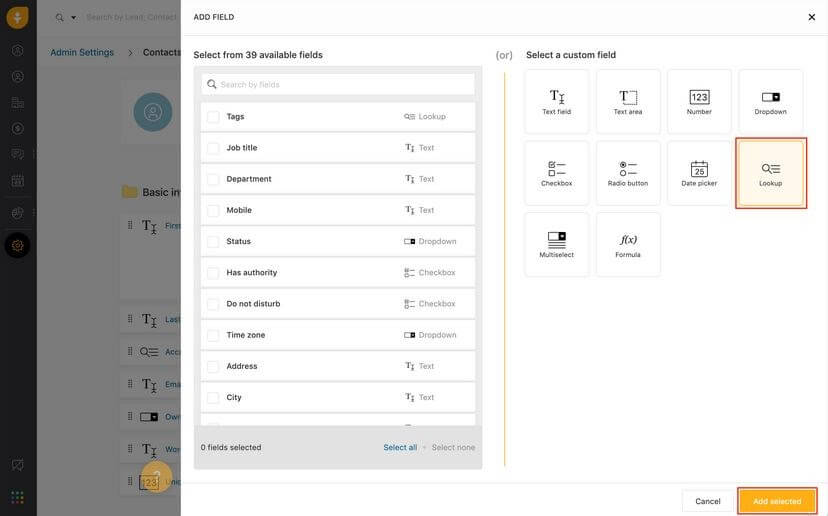 Now, you have to customize your settings as per your sales process. This means that your CRM pipeline should match your overall selling process.
This process includes setting up fields and properties for data, staging the sales process, and setting up of dates, time and currencies.
03. Import Data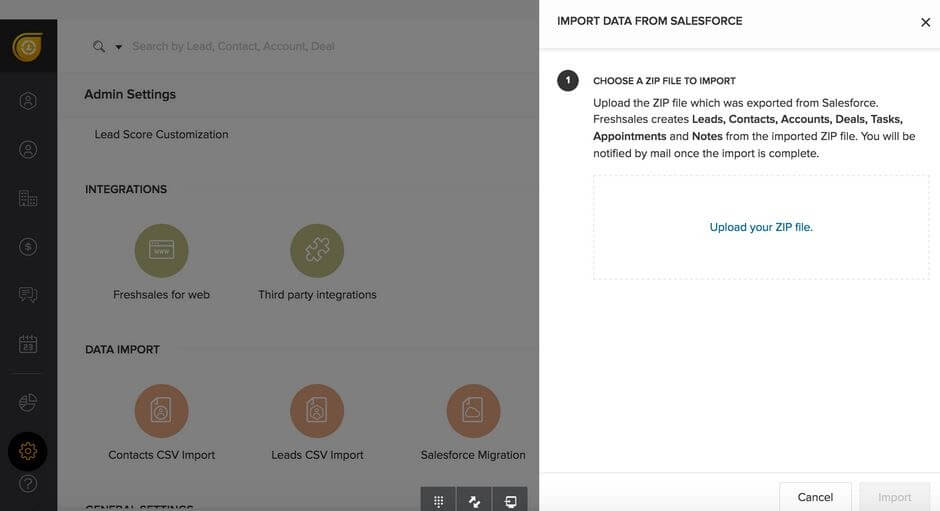 Here you have to import all your data into the CRM, such as contacts and deals. Also, in case you are using another CRM, you have to shift your required data from that CRM to this one.
This is a pretty simple step and all you have to do is to create a CSV file of your data with appropriate corresponding fields and upload that onto the CRM.
04. Integrate Third-Party Tools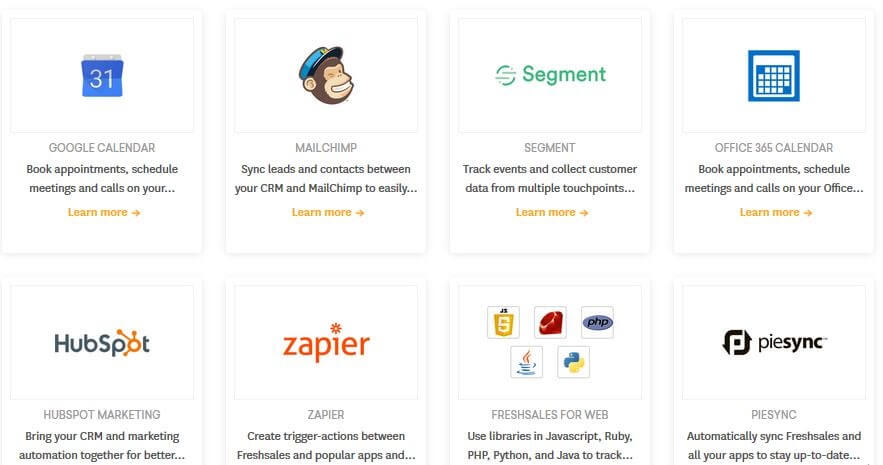 Freshsales CRM allows you to integrate a ton of different tools into your CRM. These third-party tools can be used to increase the overall productivity of your CRM drastically.
For example, you can use form builders to better manage your data inputs, use chatbots to help increase the productivity of your customer support, and so on.
05. Set up your Freshsales CRM Dashboard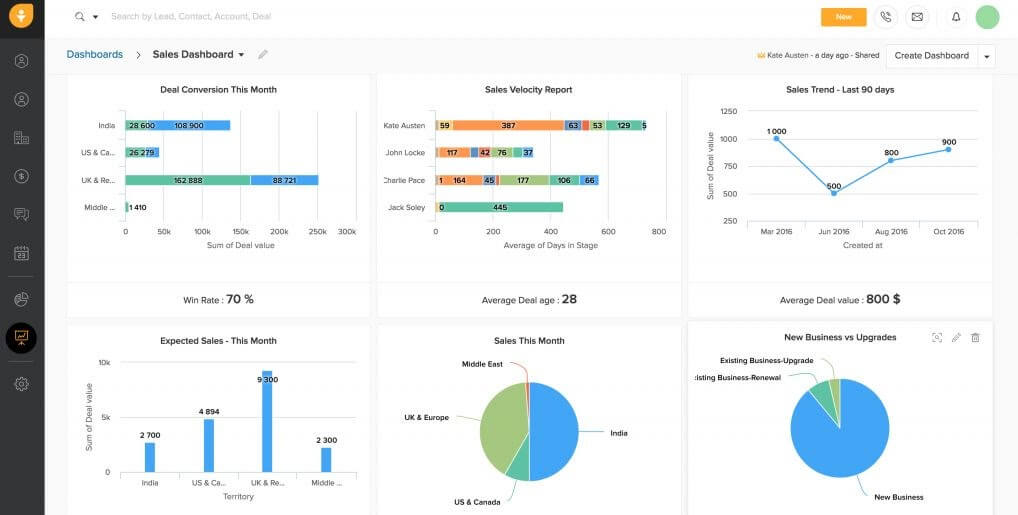 Now here comes the subjective part. Freshsales CRM allows you to set up your dashboard as per your requirements and convenience. You can customize it as per your specific needs.
You can choose the required statistics and features to be displayed on your front dashboard panel.
You get a ton of customization options in this CRM and make this CRM even more flexible and easy to use for your team.
06. Enable Reports and Add Users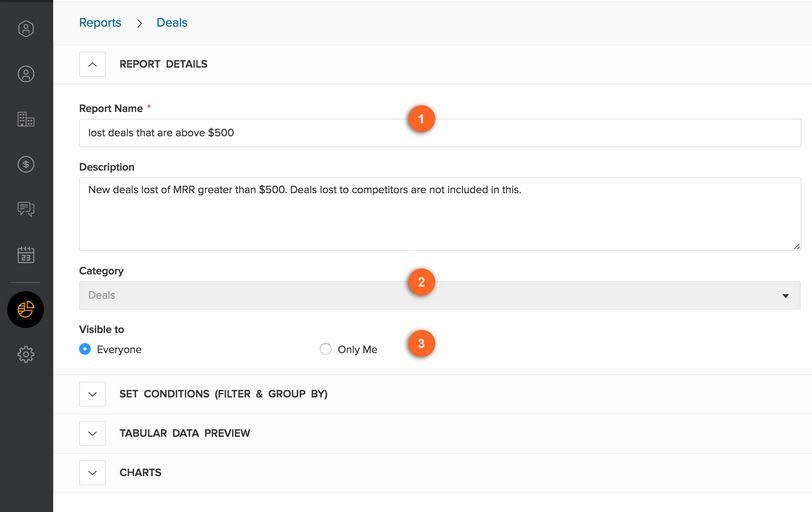 Finally, add your sales team, as well as other team members into the system. Freshsales CRM makes it quite easy and compared to other CRM, the overall procedure takes very little time.
Also, enable reports of your CRM. This feature helps you analyze and manage your progress better. You can get a visual representation of your overall workflow, which is a must these days.