Easync is simple yet powerful automated dropshipping software. 
If you're still figuring out whether to go with Easync or not. We have got you back. As in this post, we have done a detailed review of Easync that includes detailed insights into this robust dropshipping tool.
To review Easync we took various aspects such as — key features, ease of use, how it works, detailed explanation of all features, pricing, supported marketplaces, and so on.
By the end of this Easync review, you will get to know whether to go with Easync or look elsewhere.
How it Works (Ease of Use & Features Explained)
Easync.io interface is easy and straightforward. Once you login into the dashboard you will see all the tools and modules listed there. From the dashboard, you will see every detail in nutshell, such as order, and other sneaks peek.
You can start doing products research on various marketplaces such as — eBay, Amazon, Walmart, and AliExpress. It has the most effective product research module. You can enter a keyword of the product, and you will results on the basis of that. From there itself you can create a listing using — Finding & Hot items.
Once you add the product to the listing, the pricing is begin adjusted automatically according to the repricing settings. There is an Automatic Ordering feature, where you can manage various aspects such as — auto order, auto-tracking, auto return, cashback, and Fulfillment by Easync.
What's more, on the dashboard itself you can also get to know the analytics of your sales. All the statistics of the sales will be provided such as — Amazon sales analytics, eBay listing analytics, and so on.
So this is the interface and ease of use of Easync.io, later in this review, we'll explain all the features in detail to have a better idea and understanding.
Easync.io Features Explained
Easync.io comes with many robust features that help you automate your dropshipping business aspects. Here we'll explain some of the best features of Easync.
Find Items for Selling
Easync.io comes with a robust and effective product research tool that supports various marketplaces — eBay, Amazon, Walmart, and AliExpress. Using this module you can also create a batch of listing called — Finder & Hot items.
All the host items are released on the basis of how well they are performing on all the marketplace. the best Amazon dropshipping products and more sales and conversion.
The best part with Easync.io software support all major marketplaces such as — Amazon, Walmart, Home Depot, AliExpress, BestBuy, Costco, and many others as well.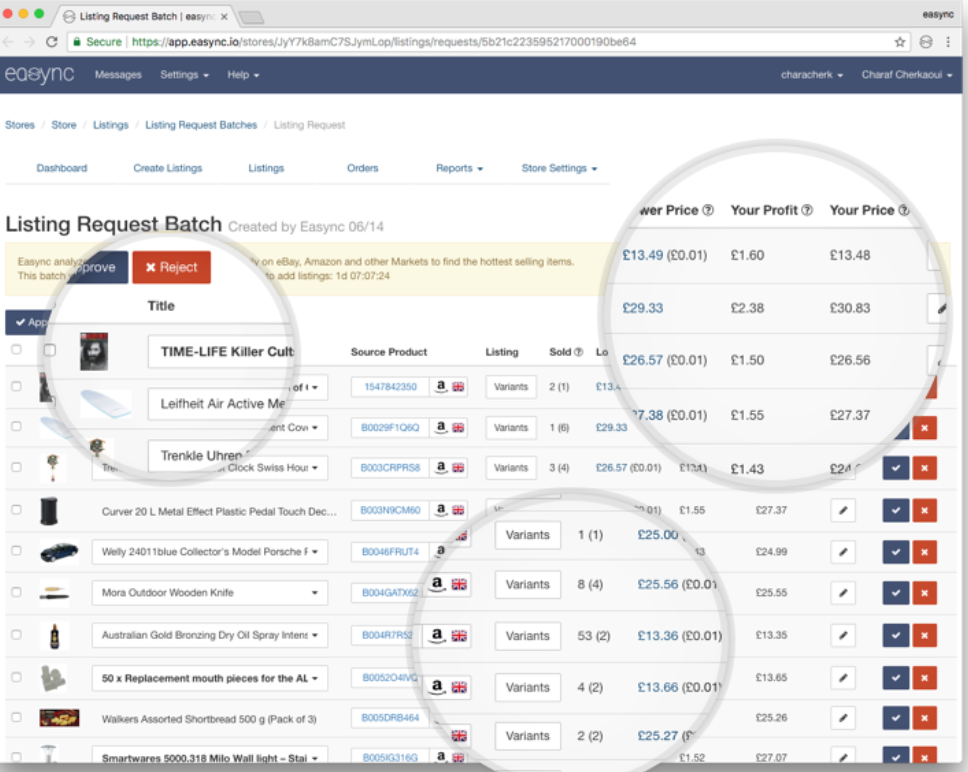 As per our encounter, Easync.io is the most advanced dropshipping product research tool available in the market.
Create Listing
Easync.io also comes with a robust eBay listing software, that automatically adjusts the price according to your repricing listing.
Even they offer a new feature called competition to compare. With the help of this feature, you will be able to choose from the top listing on eBay for the products that you're trying to sell.
What's more, the tool also auto-select the relevant titles and can be used to list competitively.
Well, you also have the option to list easily from Amazon to eBay Shopify dropshipping, eBay Amazon dropshipping. You can create multiple listings with just one click, they will automatically adjust the price based on your repricing settings.

Moreover, Easync also has a chrome extension that helps you create a listing on the go. Using the chrome extension you can easily copy and paste the product IDs into the listing creator.
And then Easync will automatically upload the product title, description, image, and other features to your listing.
Repricing
Easync has a robust pricing tool that is fast and flexible. With the repricing tool, both the tock and pricing are being scanned every 15 minutes. This way, you will have an idea of the products' stocks availability and the pricing fluctuations.
With the help of the Easync eBay advanced listing module, they don't just delist the item from eBay but they manually set the quantity to zero and once the product/item is back on stock.
On the basis of this eBay, listing software will show the matching quantity. What's more, the Easync reprice will also find the lowest price offered so that you have the most competitive price for your profits.
Automatic Ordering
Well, Easync comes with a robust automatic ordering module. Here we'll explain all the features of automatic ordering.
Analytics of Your Sales
Easync also has a robust analytics tool where you will get various statistics of sales. You will get detailed insights on — Amazon sales analytics, eBay listing analytics, along with daily/weekly/monthly profit.
With the help of Easync eBay analytics tools and Amazon FBA analytics, you have a glance at the total number of listings that are live and out of stock as well.
What's more, the amount of unknown listing is also available for you to view, everything is available on the dashboard of Easync for each store.
Easync Messages
Easync also offers customer services such as tickets CRM. Easync also provides templates for the responses along with the option to create a custom one to provide a fast response.
From the CRM of Easync, you can directly message your buyers on eBay. What's more, the CRM will also display all the information you will need in an easy and streamlined interface.
With Easync CRM you can easily manage your — Amazon, Shopify, AliExpress, and other dropshipping websites with the easy sync tool.
Verified Rights Onwer Program
Easync has a robust copyright module that easily checks new and existing to prevent copyrights violations on your stores.
It comes with a powerful feature called VeRO Blacklist feature that Easync uses to allow users to add new keywords to the system for increased protection. This Global Private Blacklist is one of the most advantageous protection systems on the market.
So these are some of the popular features that are being offered by Easync.
What Marketplaces Do Easync.io Support?
Easync.io supports all major marketplaces such as — eBay US, eBay CA, eBay UK, and Shopify as well. You can also add a request if you want support to any specific marketplace.
Coming to the product sourcing marketplace it supports — Amazon, Walmart, ALiExpress, Costco, Bestbuy, and other stores as well.
Conclusion:
Easync.io is a reliable dropshipping software that automates various aspects of dropshipping. From finding the right product to creating a listing — it has for everything. It is one of the best all-in-one dropshipping software for eBay Amazon, AliExpress, and Walmart.
What's more, it has a chrome extension that enables you to create and manage listings on the go. Also, the pricing structure is flexible and affordable pricing structure to get started with. We hope this Easync.io suits your purpose well.