Adsterra review, a platform to advertise your products, services and to earn a good amount of revenue by monetizing traffic for the bloggers.
Generally, Google Adsense is one of the most popular monetizing methods a new blogger looks wants to get started with. However, not every blog gets approved for AdSense and even if your blog gets approved, you will be making peanuts with AdSense ads.
Here is when a platform like Adsterra makes the difference. You can earn more revenue with the same amount of traffic as compared to AdSense.
It's a great platform for both advertisers and publishers.
Launched in 2013, Adsterra was to be considered a newbie, but look at the numbers!
The popularity of Adsterra is increasing day by day as both publishers and advertisers want the best way to make money.
However, is it capable of standing on the same platform as Google Adsense?
Is it worth the hype it is getting?
Let's find out!
Adsterra Overview
In 7 years, Adsterra has been able to deliver its performance-based solutions to more than 250 countries and emerged as one of the top global solutions. It is among the top CPM networks that you can use to advertise your business or to monetize your traffic.
It meets the needs of both publishers and advertisers.
For Publishers:
Adsterra claims to have the highest CPM rates by offering publishers a quick setup process. Through a variety of web and mobile ad formats, Adsterra provides you with a source to make more money, keeping in mind the full protection of your ads from common malware and bad bots.
You can make a good amount of money by monetizing the traffic that you receive through your blog, application or Facebook page.
For Advertisers:
Adsterra can help advertisers meet their campaign objectives through payments model such as:
Moreover, it enables you to target high-quality traffic through the means of smart targeting and retargeting.
For successful performance, advanced optimization strategies such as budget caps and bid suggestions will help you creatively position your ads.
For potential advertisers, Adsterra offers two types of services:
How Does Adsterrra Work?
It's not rocket science to make Adsterra work and make some decent money for yourself. Adsterra has devised a simple method for you to get started. We're going to cover them in this segment.
Because Adsterra offers its services to both advertisers and publishers, we will cover both their setup methods.
Adsterra For Advertisers:
The Self-serve Platform (SSP) has a very simple user interface that will help you launch your campaign without many difficulties.
Here are the steps to follow:
In the process of creating a campaign, you will first have to decide the name of the campaign and the types of pricing, such as CPA, CPC, and CPM. Then, you'll fill the remaining fields of traffic type, landing URL, budget limit, budget capping, and targeted audience.
Even though Adsterra is an SSP platform, you'll have a dedicated personal account manager assigned to solve all your problems. Moreover, you can always assign a manager to take care of your campaigns.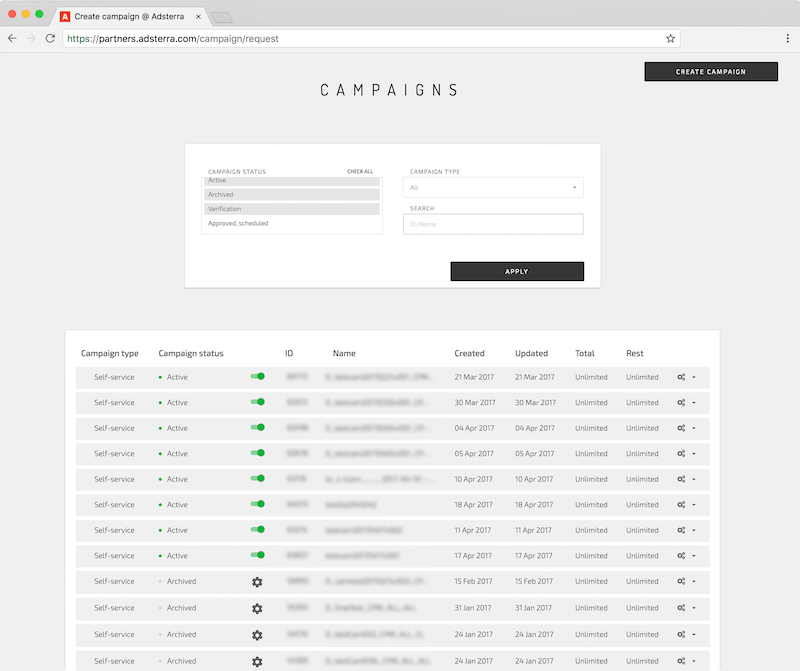 What is Retargeting
Retargeting is the process that will make sure that you get the maximum out of your advertising budget.
As an advertiser, you probably know that a very minimal percentage of traffic converts in the first attempt.
When you start as an advertiser, you will have to place a code on your landing page and as a user lands on your page a cookie gets stored on their computer, this will help the Adsterra platform to recognize the user and show your ad again later on other pages.

Adsterra For Publishers:
The process is divided into three easy steps to show how you can make money from your website's traffic:

Yes, it's that easy!
Although there are certain rules that Publishers need to abide by to run their accounts. 
Adsterra for Publishers: Why You Should Join
Adsterra is a great platform to monetize the traffic that you receive through your blog, application, or even on your Facebook page.
So, you can make money with Adsterra even if you don't have your own website.
Here are some of the highlights:
Easy Monetization For Your Blog
In the previous segment, we addressed how easy it is for publishers to start monetizing their websites with Adsterra. The bonus point is that you can not only monetize your blogs or websites but also your Facebook pages.
So, if you've created a good Facebook page that's full of user engagements, you can monetize your account.
All you have to do is place the code on your Facebook page and start earning with every click.
As Adsterra offers a number of different campaign formats (CPM/CPC/CPA/CPL/CPI) you can choose the one that you wish to go for a start making money.
For example, if you are choosing CPM format and you receive 50k pageviews every day and you are getting $2 for every 1000 views (CPM Rate), you will be making $2X50k = $100 per day, so $3000 every month.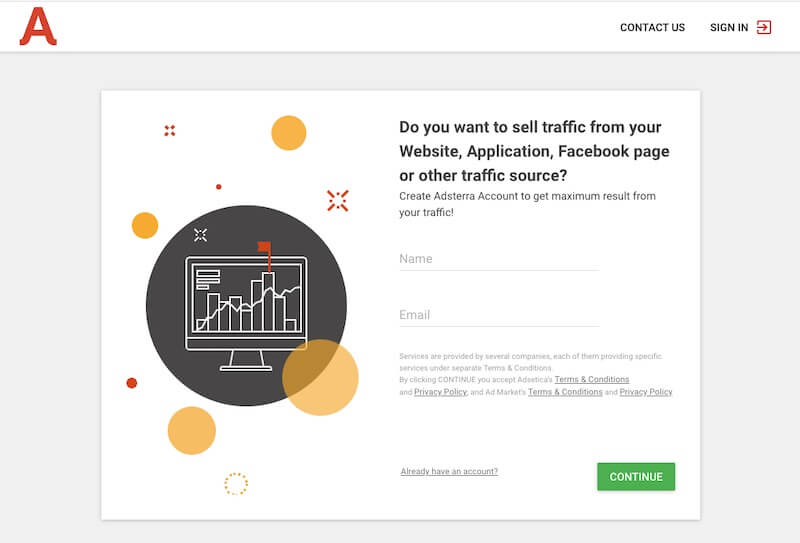 Wide Range of Ad Formats
Having a wide variety of advertisement options is not a cause for concern if you are an Adsterra advertiser.
Popunder ads are the most popular ad format offered by Adsterra, as these ads remain unrecognized until the window is closed. You can also use Retargeting with these ads.
Other Popular ad formats are:
Popunders, Web Push, Native Ads, Vast (video), Social Bar (OUR NEW FORMAT), Banners (Display)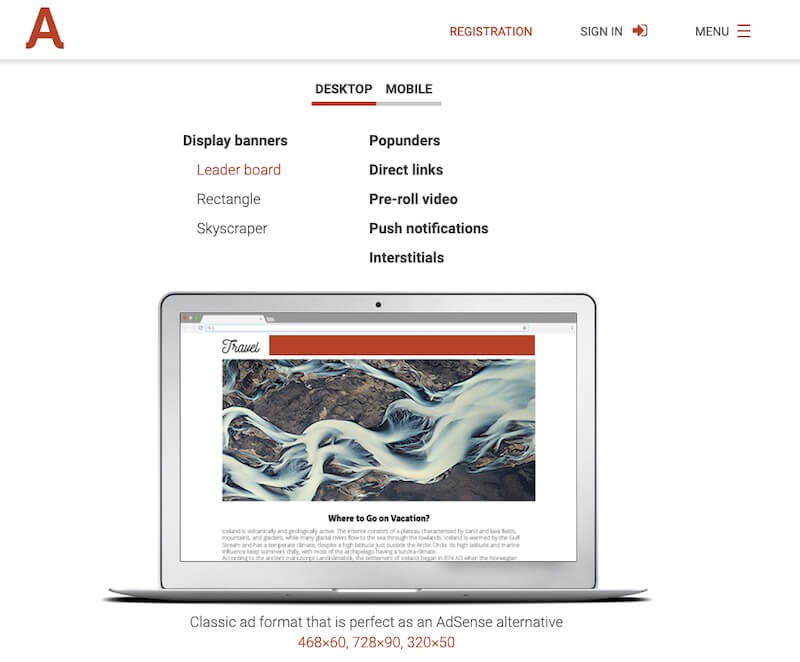 Social Bar: Multiply Your Ad Revenue
A revolutionary ad format by Adsterra that will help you to multiply your ad revenue.
When you display an ad on your site, not all the traffic converts to an ad impression. So, even if your site gets a 100k impression per month, that doesn't mean that the entire 100k impression will be counted for ad revenue.
This is primarily because the ad is not visible to a certain section of the audience. It could be because of the ad placement or some of those users are using adblockers.
Here is when the revolutionary Social Bar ad format by Adsterra helps you.
This ad format will have the highest visibility and even a user with adblocker will see that that helps you to get revenue for your complete traffic and impression.
Here are some of the advantages of using Social Bar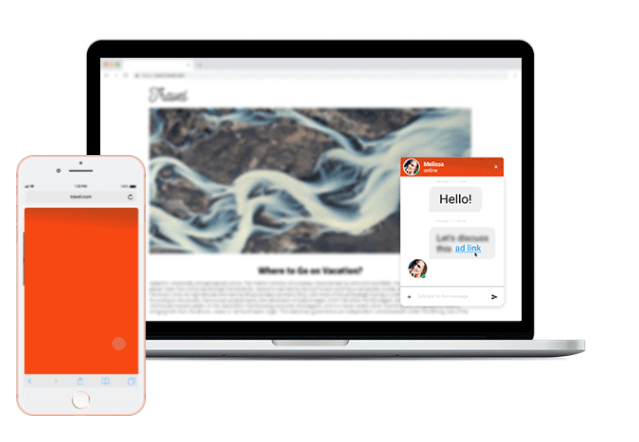 Customer Support and Security
The priority of the digital advertising business has been on protection as well as customer service. For customer service, Adsterra appoints a personal account manager to help you execute your campaigns more effectively.
In fact, customer service is a multilingual team that can guide you in the language you're comfortable with.
Adsterra has developed tons of security layers and third-party fraud detection systems to monitor the security of all campaigns and protect against bad bots.
No minimum Traffic Restriction and Geo-Targeting
As long as you drive quality traffic on your website, Adsterra has no problem with the quantity of traffic. In addition, as a publisher, you can use Geo-targeting to display different ads to different segments of your traffic.
Minimum Payout
When it comes to an ad platform, the minimum payout for the publishers is an important factor to consider., Depending on traffic numbers, the earning of publishers will be different.
There will be some publishers who will be earning thousands of dollars every month, but there will be some who will be making a lesser amount.
If the minimum payout is higher, you may not get paid every month if you don't meet the minimum threshold.
Here is an advantage with Adsterra, they offer a minimum payout amount of $5, which isn't that great. Such a minimum payout makes the platform suitable even for a new blogger with lesser traffic.
Comparison With Adsense
We will answer the "Is Adsterra capable of standing on the same platform as Adsense?" question that we raised at the beginning of the article by comparing both networks. 
Getting started with Adsterra is a lot easier than AdSense as the approval process of AdSense is stringent.
Google Adsense, owned by Google, has launched more than 4 million websites for advertising. Adsterra, being new to the industry, doesn't have too much client list to show off. It does, however, make its mark.
As far as Ad Quality is concerned, Adsterra uses its Popunders, Web Push, and Social Bar (new) format to give maximum benefits. The lead conversion rates of these formats appear to display positive signs relative to those of Adsense.
So, you will be making a lot more than AdSense for the same amount of traffic.
Both advertisement agencies have a minimum traffic requirement on par. Both companies have similar billing and payment policies.
Final Thoughts
Do we recommend Adsterra to our readers?
Yes!
It can not be denied that it is one of the fastest-growing CPM networks. The setup process is very easy. You'll get a dedicated personal account manager to solve your problems. Even, if you don't want to use SSP, you can delegate the control to a dedicated ad manager.
It might give Adsense tough competition in the future.