Adoperator.com is an ad network for publishers and advertisers.
What AdOperator offers for advertisers.
Three ad formats: ads in push notification messages, ads in notification messages floating at a website (in-page), popunders (clickunders) full-page traffic.
AdOperator.com operates the following volume of ad impressions daily: 300m Impressions of in-page push. 2.5-3B impressions in push notifications messages daily and 120m popunder views.
AdOperator.com sells native formats (push, in page) traffic using the cost per click model (CPC) and we sell popunder traffic using CPV (cost per view) model.
So you pay only if we send users directly to your website.
AdOperator.com sells traffic 98% accurate, no overspend of budget for clicks and no slowing down of your spend due to low campaign budget. (Not like google ads where you can lose your monthly budget in few hours)
Traffic quality filter blocks unwanted clicks by several parameters including specific suspicious IP lists and fraudulent behaviour detect.
You can create more than 1 ad for native formats (up to 4) in one ad campaign by using our built-in IMG editor.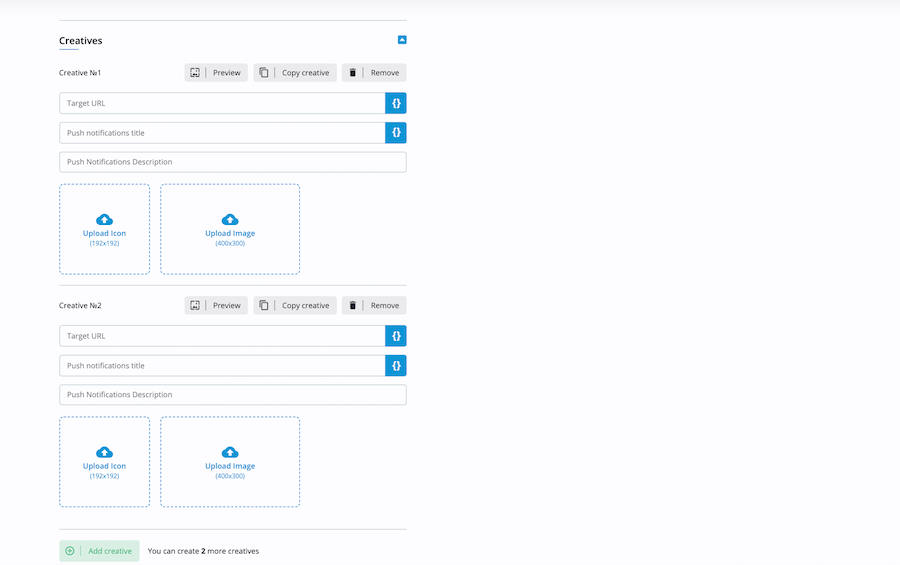 You can track multiple goals by using more than 1 postback for any campaign.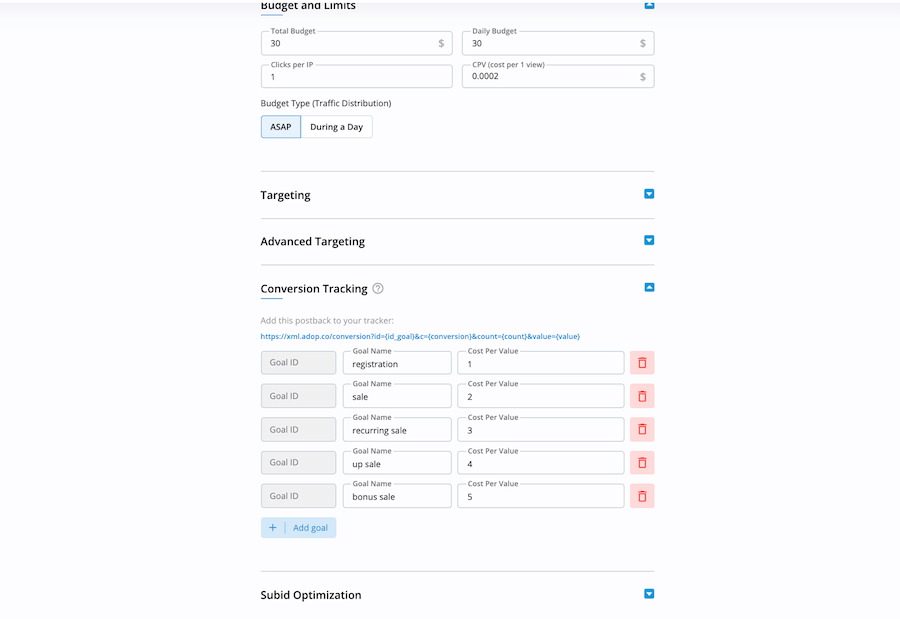 You can create your own IP blacklists and whitelists to filter traffic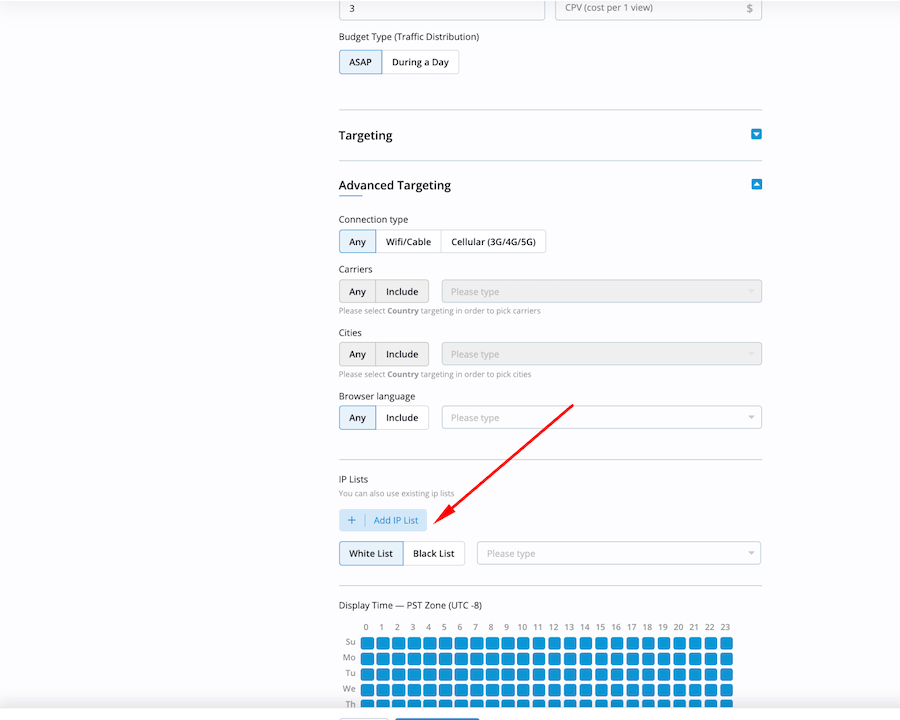 You have two different types of budget distribution for campaigns – («as soon as possible» and «during a day»)
When your campaign starts you can see amount of available impressions or views you can buy, that useful to understand when you need to set your bid higher or lower.

You can export your statistics for campaigns to CSV at ease.
Platform integrated with following trackers AdsBridge, BeMob, Keitaro, Binom, PeerClick and Voluum. For example to setup link with all necessary macroses clients of voluum need only to add traffic source
Payment methods for our clients are: webmoney, paypal, credit card, bitcoin, bank transfer, ethereum, litecoin, bitcoin cash, ripple, and if you have any – even gift code), you can also top up your account by using payoneer or capitalist payment systems as well (if you need payoneer then just follow your manager instructions.
Ask your manager for better understating rates and volume.
How AdOperator Can Help?
The affiliate market is booming every day. One of the biggest reasons for the popularity of this ad format across the globe is that all the adverts are sent directly to the users' personal devices as notifications. A key service provider of Push Ads around the world is AdOperator.
Here's a detailed and insightful guide on popular Push Ads service. From a comprehensive overview of the platform to the steps you should know for creating your AdOperator Campaign, this guide will cover it all.
Check it out now!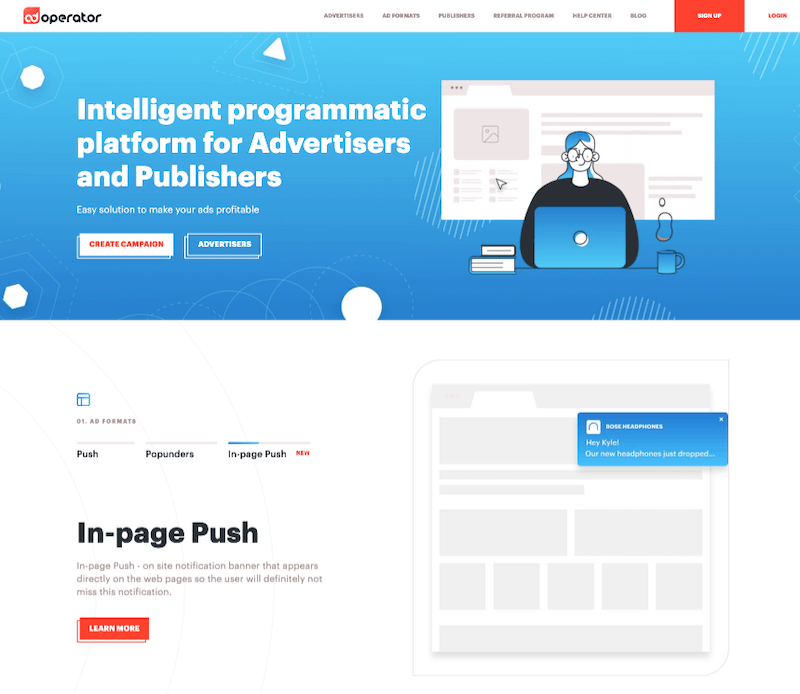 Why AdOperator?
There are many amazing features and tools available in AdOpertor.com that make it an amazing option for a ton of different businesses and business needs. The service offers a huge inventory of efficient and legit publisher sites from all across the internet. 
All of these sites are included from different niches for profitable push ads. It also allows the user to use the popular CPC bidding model for all of your ad campaigns.
Specific and precise targeting has always been profitable and with ad campaign services like AdOperator, this feature becomes a boon!
There are a few other major features available with AdOperator, such as the white and blacklist filters, mobile operator targeting, and IP-specific targeting.
The service allows you to see all of your stats in a highly detailed and simplified manner for all of your ad campaigns, enabling you to make important decisions for profitable ad campaigns in a very easy manner.
Getting Started With AdOperator
Getting started with the AdOperator platform is simple and easy. First, you need to signup on the platform.
You get two options yo choose from.
If you wish to advertise and drive targeted traffic to your business, you need to register as an advertiser. And if you want to monetize your website traffic, you can join as a publisher. They offer different ad formats for publishers (in-page, popunder, direct links) Payments by request

Payment and Funds
As you signup and login to your account as an advertiser, you will need to add funds to your advertiser account.
The process is simple, just click on the option to "Make a Deposit" and get going.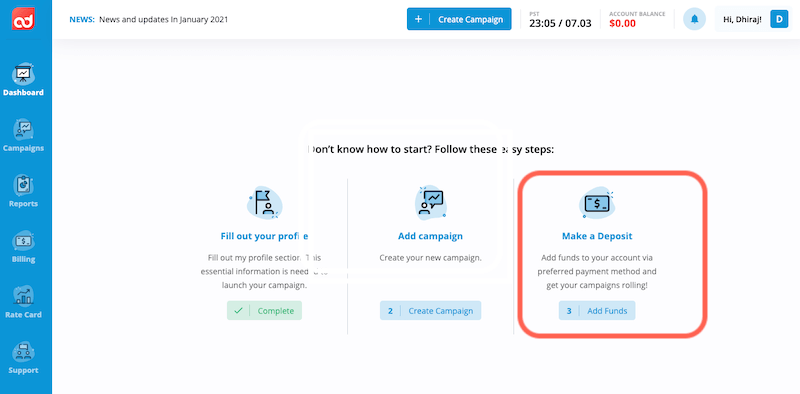 AdOperator.com offers different popular fund transfer mediums, such as Wire Transfer, Visa/MasterCard, PayPal, and Webmoney, CryptoPay. This is also a pay-first service where you will have to make prepayments for your ad campaigns. 
There are also a few set limits for different payment methods in AdOperator, for example, the minimum amount of deposit you can make using wire transfer is $500. For other payment and funding mediums like Paxum, PayPal,Webmoney, CryptoPay, the minimum deposit is only $100.
This deposit amount will cover a few different things like your PayPal commission, Credit Card, and Wire Transfer cuts. For other platforms like Paxum and CryptoPay, the amount for the commission is almost negligible.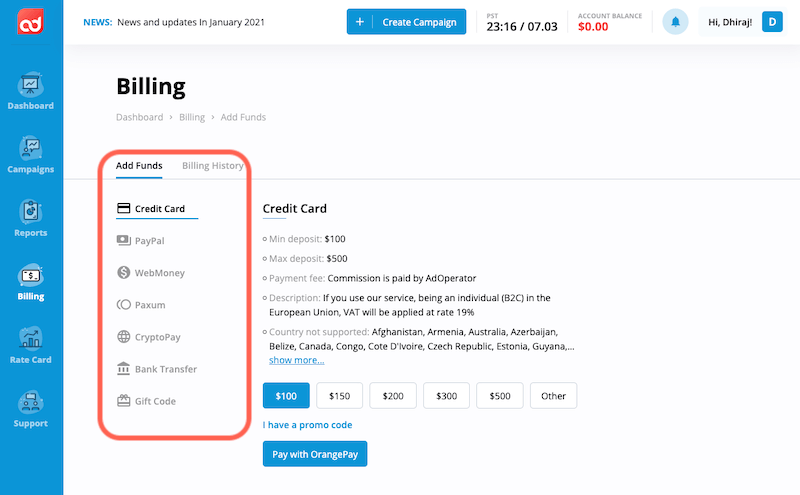 Creating Your AdOperator Campaign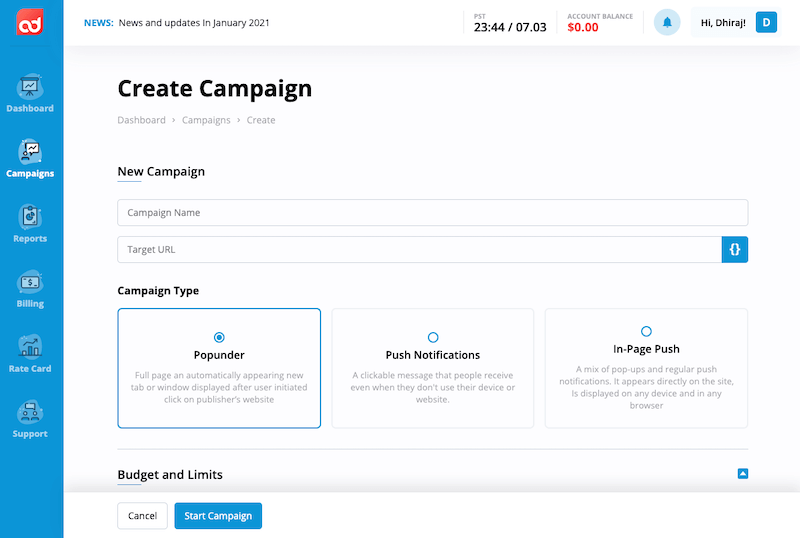 Creating your ad campaign with AdOpertor.com is very quick. You can get started in just a few simple clicks. 
First things first, you will have to start the process of creating your Ad Campaign with AdOperator by assigning a name for your campaign. Post naming it, you will have to get started with your creatives. Now you will have to work and upload your creatives on AdOperator.
You will also have to make sure that they are in line with the specified AdOperator ads rules and regulations. You will have to add in your campaign creatives like the URL, Title, Description, images (it comes with a built-in image editor)
On successfully uploading all of your files and creatives in the service, you can get a quick preview of the campaign before it is published.
You can analyze it for different devices like Android and Windows. Now comes the part where you will have to set the total daily budget of your ad campaigns, as well as for things like the cost per IP, and the included CPC rate.
There are a few different ad types to select from.
It is also recommended that you utilize the ASAP budget type for your ad campaigns on AdOperator, if you need more traffic and volume of visitors.
After doing all the above-mentioned steps, now comes the part where you can select and set up the geo-target location for all of your targets across the globe.
All of your ad campaigns will run every day of the week until the days for specific campaigns are not configured. All of your campaigns will run on all major devices and operating systems easily.
You can also set up the limit of incoming traffic sources by choosing specific domains, IP zones.
Targetting
This option demands you to create and set up a goal for your ad campaigns.
You will have the option to set your target audience. You can choose the target countries, operating system, browser etc, to make sure that you get highly targeted traffic with higher conversion potential.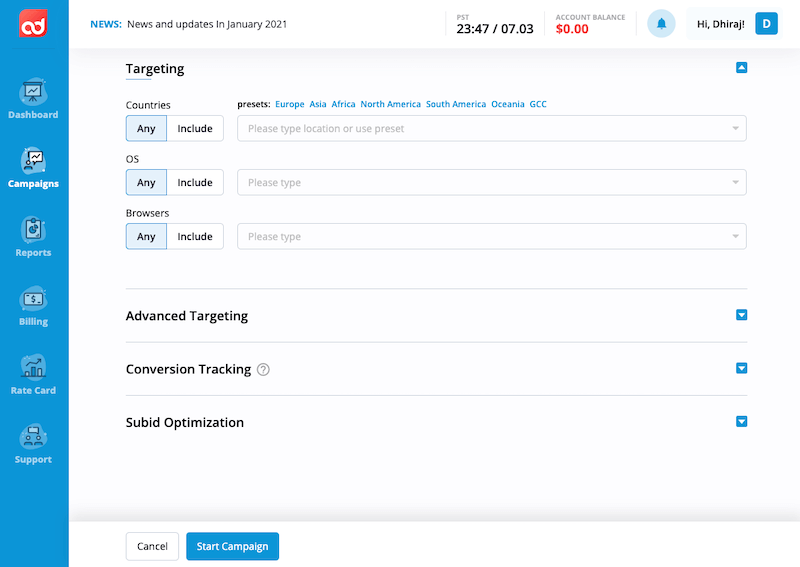 Another interesting feature or tool you get with AdOperator is the amazing conversion tracking tool. You can track the conversions from anywhere in the
The service has also added the conversion price feature for smart biddings, such as MAX CPC and MIN CPC. You can also add the "1" in case you don't pass conversion in the post-pack.
On getting completed, you can create campaigns and run them as intuitively as possible.
Publishers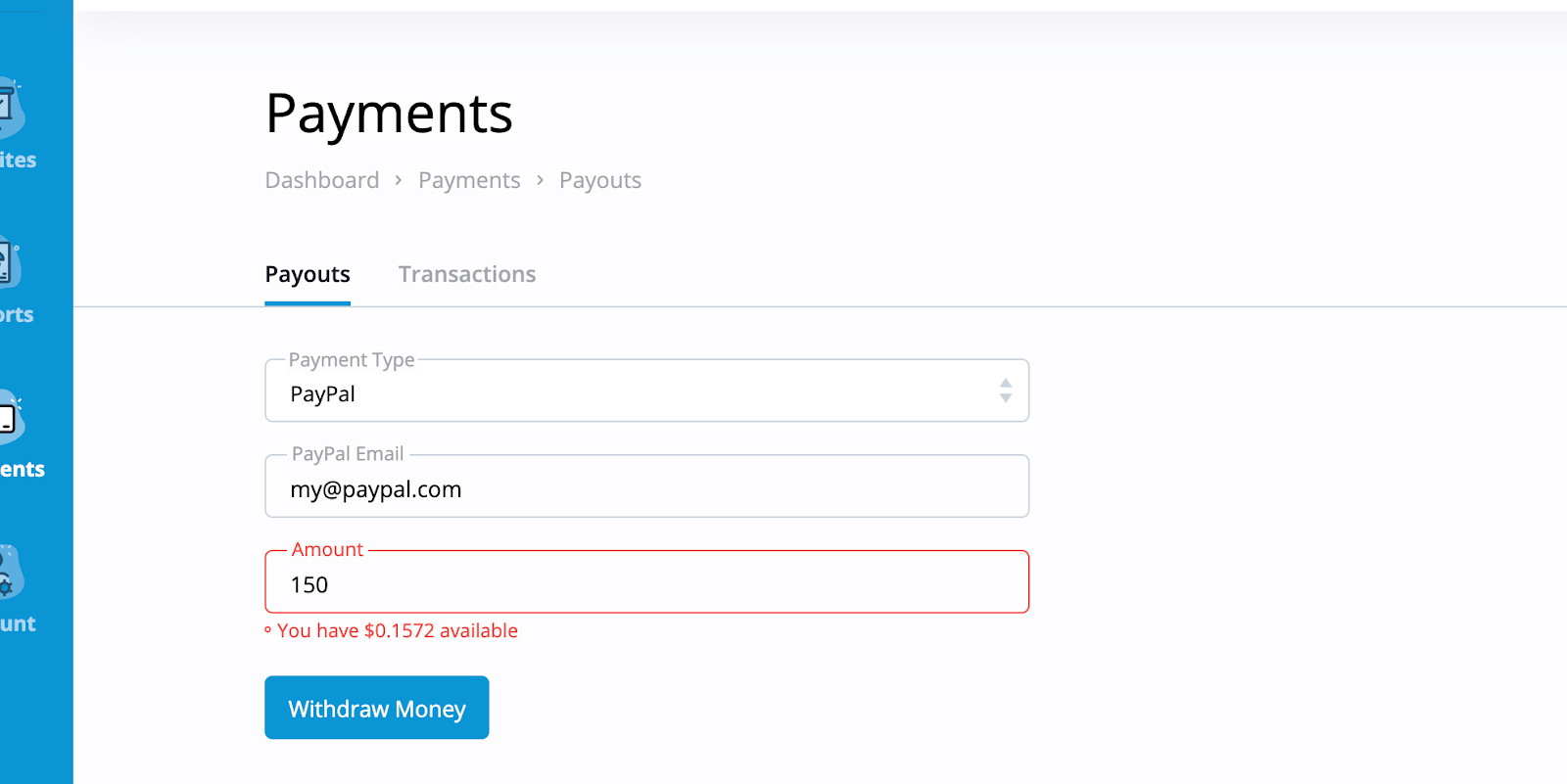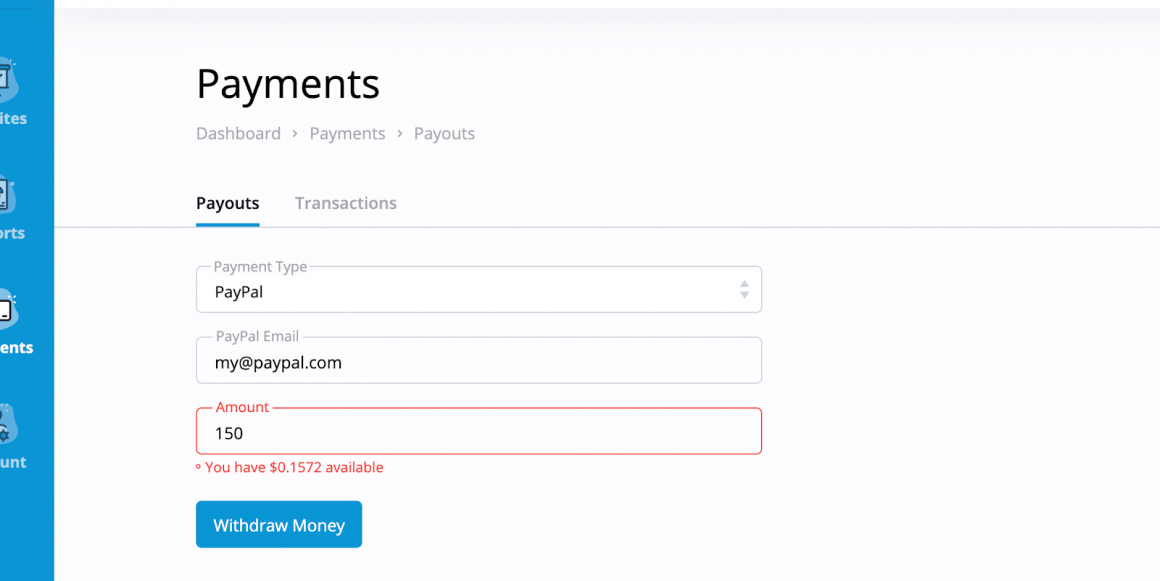 Agency Program
Takeaway
We are sure that you have taken up a ton of different insights and info about AdOperator.
The platform is simple, powerful, and user-friendly. Kudos to the people in the back working around the clock all days of the year.
For amazing and feature-packed tools like AdOperator.com, it has always been suggested that you allow your employees and team members to try the tool out for a few days before investing heavily in Push Ads. 
Overall, AdOperator is worth a try for sure!