Having an organized and universally accessible repository of the world's information is perhaps the most significant breakthrough man has ever witnessed in today's digital age.
However, the privilege to exploit this information is finite. Search engine like Google remains adamant in their duty to ensure that only genuine, insightful, and updated content is being circulated online. 
Over the years, Google has rapidly developed search algorithms to fulfill this duty.  In response to these algorithmic changes, webmasters have also come up with sophisticated ways of improving their rankings in Google's Search Engine Results Pages (SERPs). 
This article explores one of the most fundamental ways through which website owners rank their pages in the SERPs: guest posting.
Here, we will look into how it functions as a reliable Search Engine Optimization (SEO) strategy. Plus, let's get to know some powerful guest posting tips to guide you through.  
What is Guest Posting?
Guest posting, as its name suggests, is essentially publishing content as a guest on someone else's blog or website. Web marketers usually do this to establish exposure, authority, and backlinks.
However, the actual process of contributing content isn't that simple. In 2014, Google's former Head of Search Quality, Matt Cutts, has marked the "decay and fall of guest posting" for SEO purposes.
This comes after a growing number of websites have reportedly published articles containing spammy links with the hopes of manipulating their search engine rankings.
Although this statement has marred the strengths of Guest Posting as a link-building tactic, there are still a lot of reputable sites today that make use of this method in good faith. 
THINK: How do you maximize the advantages of Guest Posting in 2019 without subscribing to potential link schemes? Here are some powerful tips: 
Tip: Identify Partner Websites that Will Match Your Content Pitch 
When pitching for a guest blog content, it's important to identify which sites match your niche. In the process called prospecting, you identify potential partner links or so-called "prospects." In this step, your goal is to come up with a rich database of partners who are most likely to accept your content pitch. 
In prospecting, there are techniques that can help refine your search results.
One is maximizing Google's search strings or combinations of character operators and keywords to produce more relevant search results.  Here are some of the most common search strings that can help in your prospecting:
"keyword" inurl: contributors
"guest post" "keyword"
"guest author" "keyword"
inurl: "keyword" contributor 
"keyword + "write for us"
"keyword + "guest post"
Here are examples of how search strings can help narrow down your search: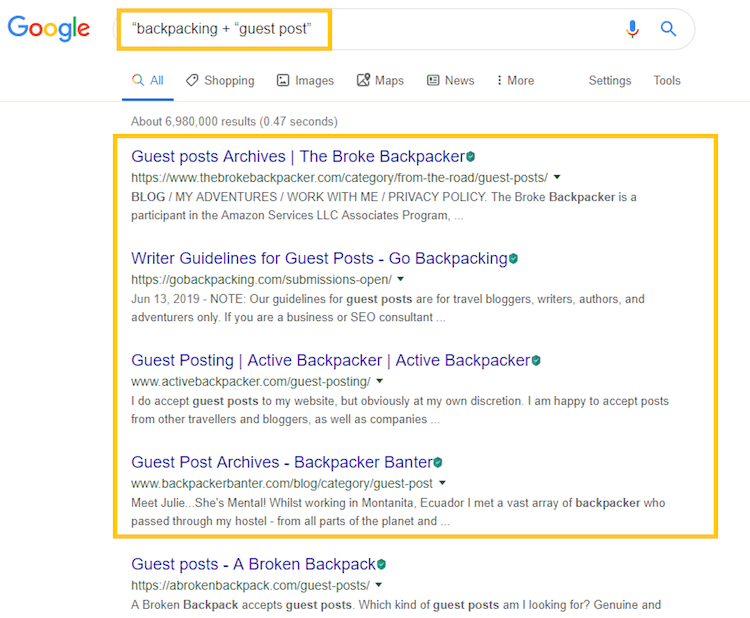 Ultimately, by devising the right prospecting tactics, you are able to filter, sort, and easily create a rich prospecting database that can serve as a springboard for successful content collaborations.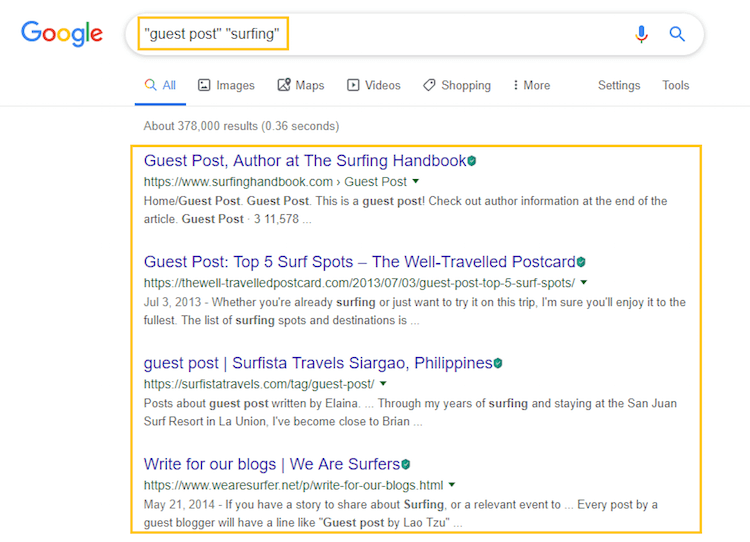 Tip: Write Relevant, Contextual, and Insightful Content 
Remember Matt Cutts's bold declaration that guest blogging is nothing but a poor spammy practice? Well, it all boils down to how low-quality websites have latched onto "guest blogging" as a mere link-building strategy.
Now, how do successful brands still manage to use guest blogging as a powerful way to generate quality and legitimate traffic? By adding value. 
Experts from the largest link-building marketplace for SEOs, NO BS Marketplace, tell us that relevant, contextual, and insightful content is still king.
Once you've successfully built connections with quality influencers and publishers that are relevant to your brand, it's time to deliver content that matches your link and anchor text.
Here are a few ways you can approach content production for guest blogs:
Create Valuable User Experience  
A brand's sincerity and consistency in creating valuable user experience are at the core of every successful SEO strategy. There's no shortcut in achieving an exceptional search ranking.
It takes a consistent build-up of trust and friendship with your target market that propels your brand to achieve optimum growth.
Therefore, earning backlinks shouldn't be your primary goal when creating powerful guest posts. Rather, it should be to inform and educate a market which can, in turn, bring awareness and advocacy to your brand.